In this post I'm sharing a delicious Old Fashioned Strawberry Shortcake Recipe.

Hey Friend! I hope you're doing well. I'm excited to share a favorite springtime dessert with you today, along with a little bit of personal news.
I'm writing this recipe post and it is exactly my five year blogiversary! What? I can hardly believe that it has been five years since I began Julia's Simply Southern. It has been such a fun and rewarding experience too…along with a few unexpected surprises along the way.
I remember thinking about starting a blog to share my recipes and love of cooking and when I hit the publish button on that very first post. It was for carrots.
Did a gazillion people read it? No, but some folks did and I was thrilled. I was doing exactly what I wanted which was share recipes and whether one person or many read it then I'd be a happy camper.
I never could have realized that more and more people would read my posts as the years went on and that I'd not only be sharing recipes, but become a writer, photographer and try my best food stylist in the process.
All of this just so I can present my recipe dishes as best as possible. I'd also have to learn to edit photographs, various technical plugins for a website, and so much more. If you're wondering….YES, it has made my head spin at times too.
It's a lot of work these days and I truly love being able to share with you all each week. So here's to five wonderful years and counting! (glass clink)
Traditional Strawberry Shortcake Recipe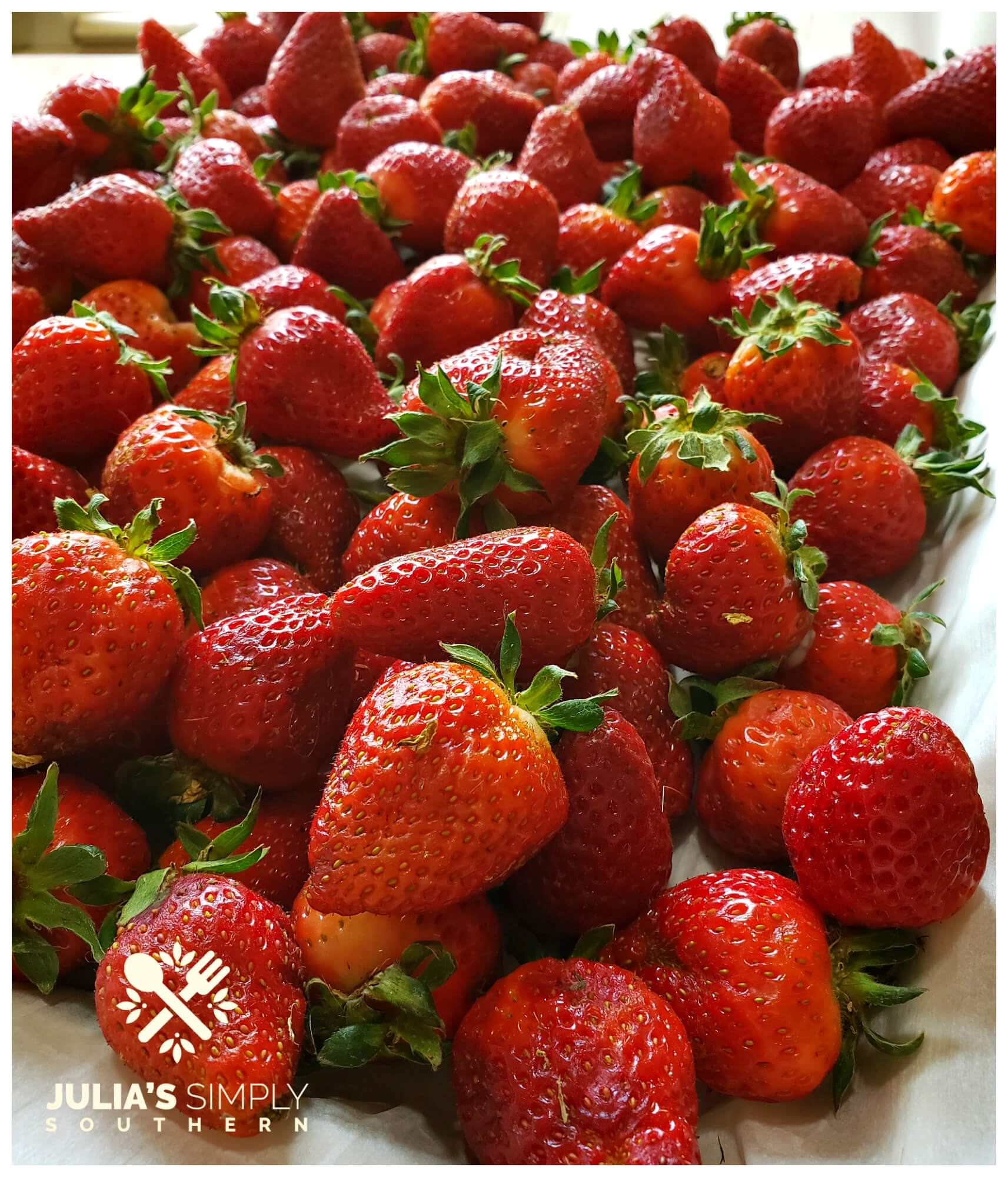 Now, let's talk about red ripe beautiful spring strawberries! April is the beginning of strawberry season here in South Carolina.
I pass the strawberry farm in the morning and see the harvest workers picking berries by hand and in the afternoon I stop by the farm stand to purchase those fresh berries. The world can be a wonderful place.
A gallon or two of strawberries to eat as they are, make desserts or jam. Since strawberries are highly perishable, you'll want to make sure you buy whatever you can use up rather quickly.
Strawberries can be refrigerated to make them last a little bit longer but that does take away the luster and that fresh strawberry aroma.
So first springtime dessert is strawberry shortcakes. A dessert that most people tend to enjoy in my experience.
Classic Strawberry Shortcake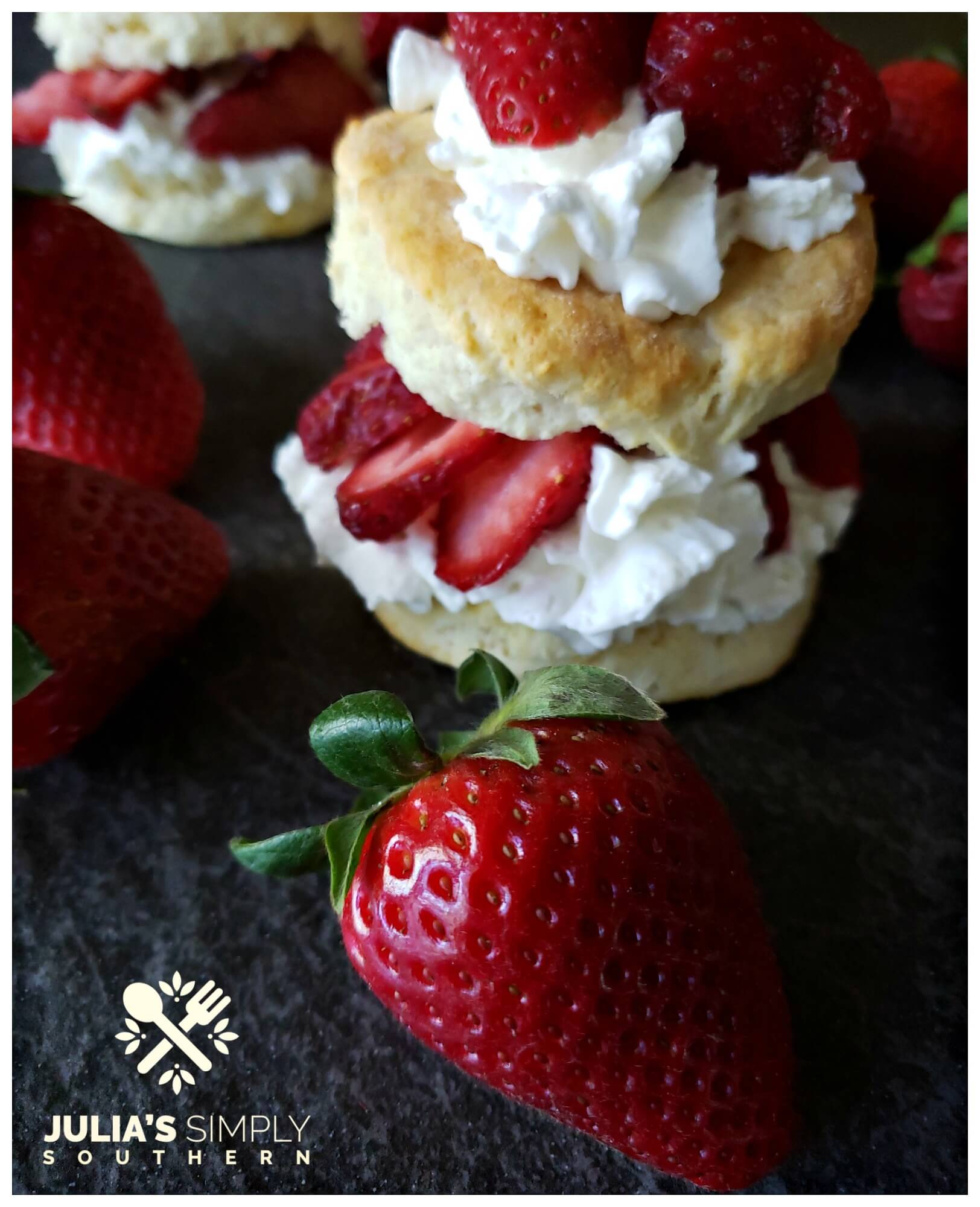 Shortcakes are a recipe that have been around for centuries. It is basically like a sweetened biscuit dough.
When making shortcakes, do not use a rolling pin. You'll just hand pat the dough out and cut with a biscuit cutter. Easy as making biscuits!
After a few minutes in the oven your shortcakes are ready for layering with whipped cream and strawberries. A basic simple recipe that is so delicious.
I clean and slice up the strawberries fresh to use with my shortcakes but some folks like them a bit sweeter so they can be macerated.
Macerated strawberries are berries that have been sliced, coated in sugar and allowed to sit for several hours or overnight.
Macerated strawberries also release some of the juices so you have a bit of syrup for your strawberry shortcake dessert.
For this recipe I'm using a little over three cups of freshly sliced strawberries. If you prefer to macerate them, add about a quarter cup of sugar, stir then cover to sit for several hours.
Flaky Strawberry Shortcake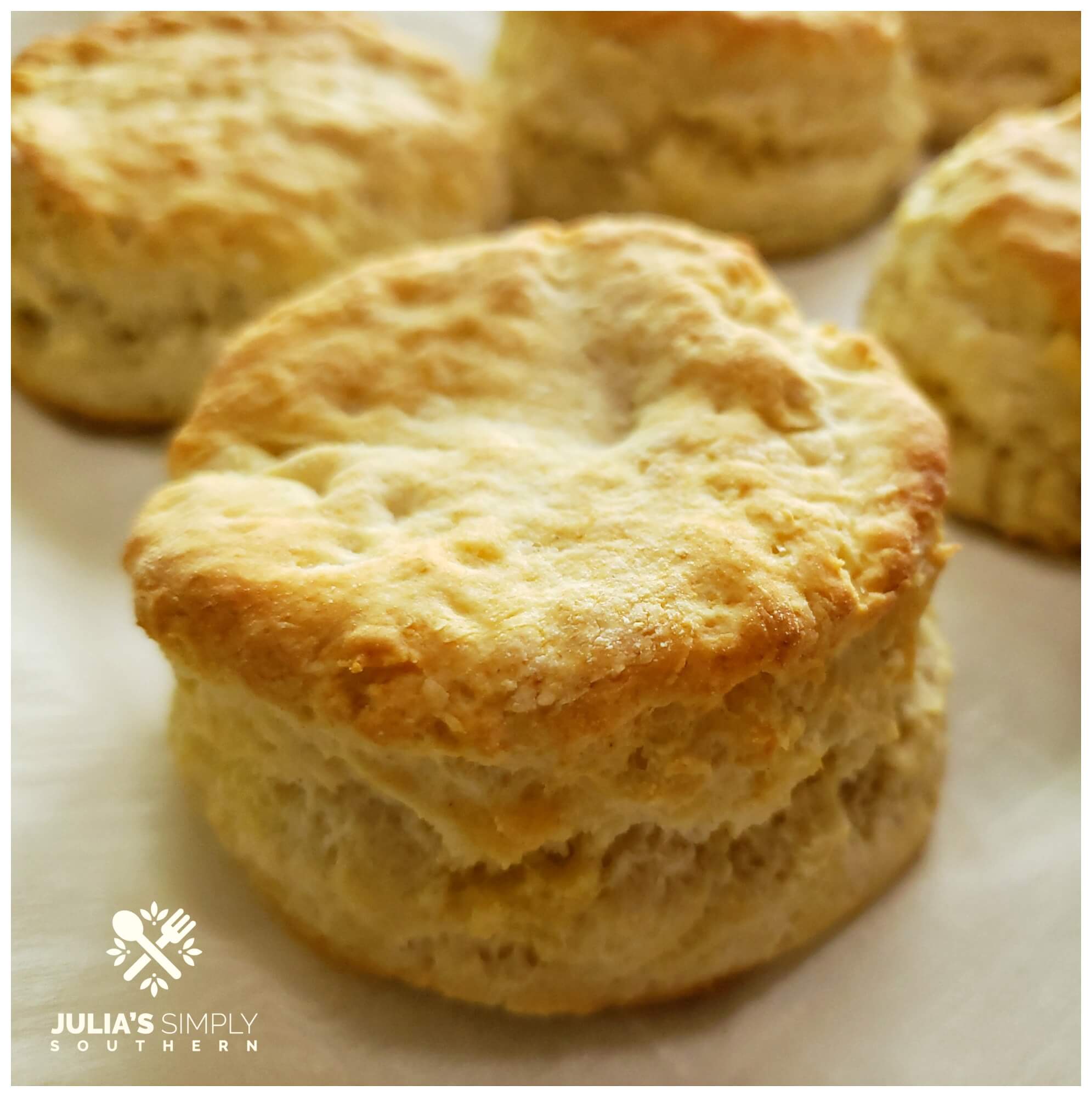 The shortcakes can be made ahead of time and stored until ready to use in a plastic storage bag.
Here's what you'll need to make fresh strawberry shortcake: self rising flour, brown sugar, butter, heavy whipping cream, confectioner's sugar, and fresh local strawberries.
Do y'all remember the strawberry shortcake cartoon? HaHa! It was sort of a big deal when I was growing up. I remember strawberry shortcake and all of her friends.
Okay, focus Julia, back to the recipe…
If you'd rather not bother with making your own fresh whipped cream (although, I do recommend it) you can just use store bought whipped cream or dessert topping.
More dessert recipes you might enjoy: Peach Galette, Hummingbird Cake, Banana Pudding
Old Fashioned Strawberry Shortcake Recipe
Yield: 1 Dozen
Old Fashioned Strawberry Shortcake Recipe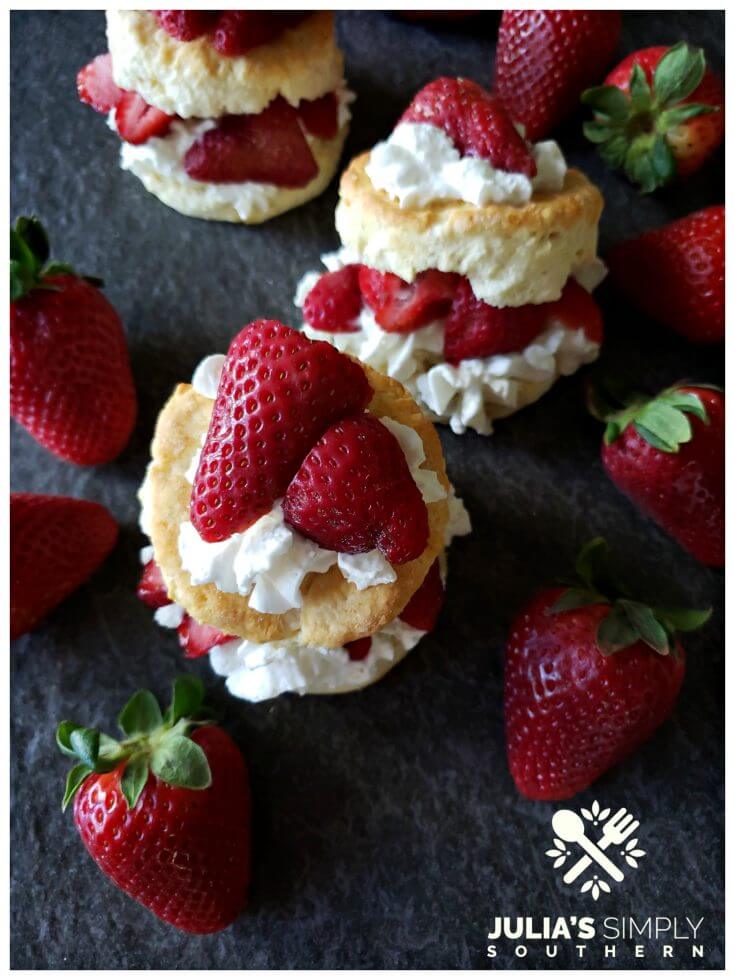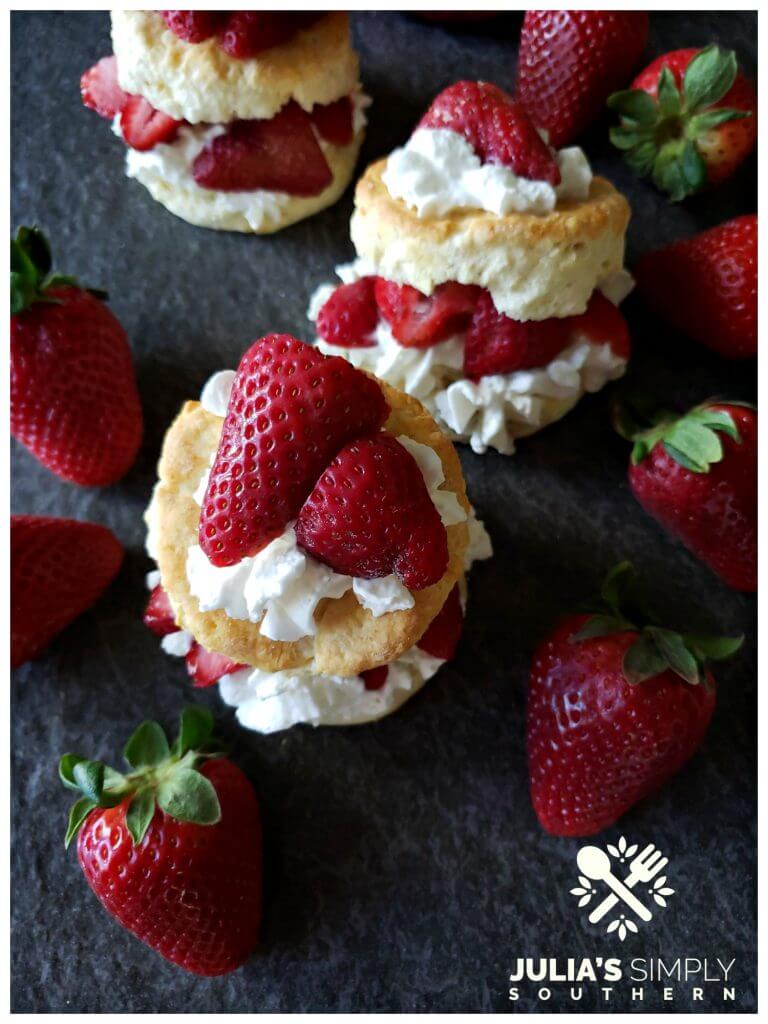 Traditional strawberry shortcake dessert with fresh seasonal berries, sweet flaky shortcakes and whipped cream area classic favorite dessert
Ingredients
Shortcakes
2 c Sifted Self Rising Flour
1/2 c Light Brown Sugar
1 Stick of Butter, chilled and cut into small cubes
Whipped Cream
1 c Heavy Whipping Cream
2 tbs Confectioner's Sugar
Strawberries
3-4 c Fresh Local Ripe Strawberries, rinsed and sliced
Instructions
Shortcakes
Preheat oven to 400°F (204°C)
Combine the flour and brown sugar in a mixing bowl then work in the butter with a pastry blender.
Place the dough on a floured work surface and pat into ½ inch thickness. Do Not Roll.
Cut the dough into desired shapes (square or circles) and place on a parchment lined baking sheet.
Bake 20 to 25 minutes until golden brown on top.
Fresh Whipped Cream
Chill a metal or glass mixing in the freezer for a few minutes
Remove the bowl from the freezer and add the heavy cream and whip until peaks form, sweeten with confectioner's sugar as you mix.
Strawberry Shortcake
Half each shortcake and layer with whipped cream and sliced strawberries.
Notes
Store bought whipped cream can be used if desired.
If preferred, the strawberries can be macerated for extra sweetness: toss sliced strawberries with ¼ cup of granulated sugar and a splash of lemon juice. Cover and let sit for several hours or overnight.
Oven cooking times can vary. Keep an eye on the shortcakes the first time you bake them. you just want them golden brown on top and adjust times if necessary.
Recommended Products
As an Amazon Associate and member of other affiliate programs, I earn from qualifying purchases.
Nutrition Information:
Yield:
12
Amount Per Serving:
Calories:

297
Total Fat:

16g
Saturated Fat:

9g
Trans Fat:

1g
Unsaturated Fat:

5g
Cholesterol:

43mg
Sodium:

318mg
Carbohydrates:

38g
Fiber:

4g
Sugar:

18g
Protein:

4g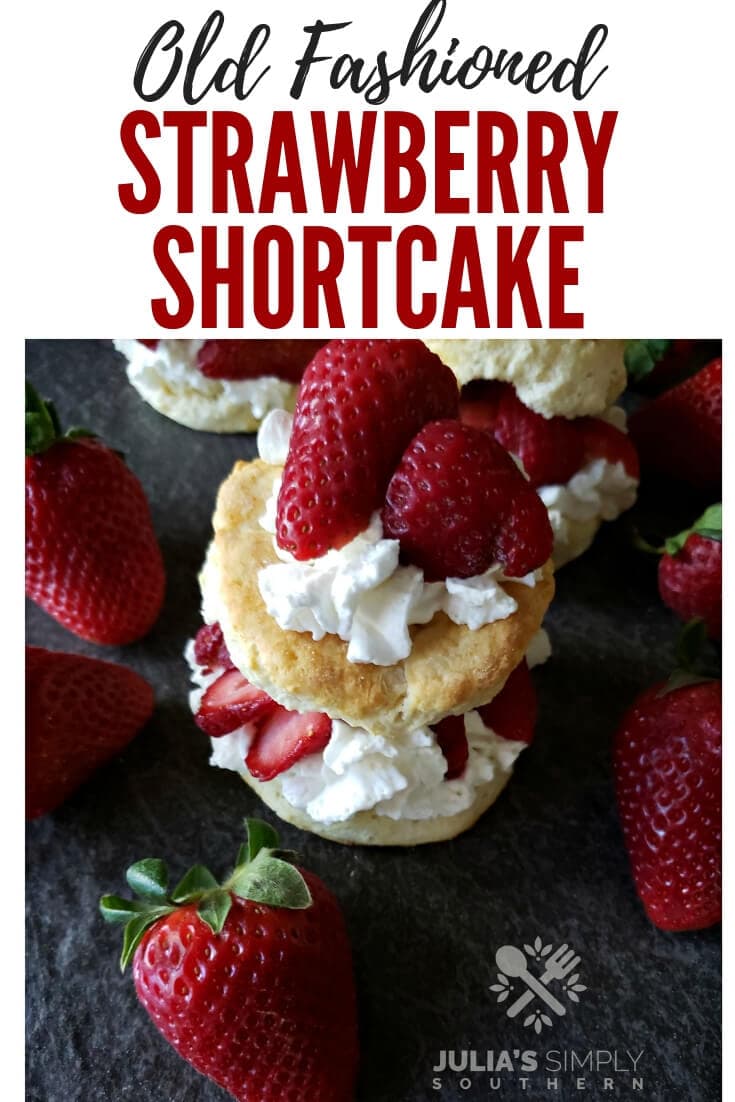 Thank you for stopping by! While you're here, you can sign up for our free email newsletter and follow along on Facebook, Instagram and Pinterest.
Know someone who enjoys strawberry desserts? Share this post.
See this recipe at Weekend Potluck and Meal Plan Monday
Meet Julia
Author of Julia's Simply Southern
Hey Y'all! I'm Julia, the cook and writer behind the recipes here at Julia's Simply Southern. I began my website so that I could share easy to follow recipes that anyone can use to put a home cooked meal on the dinner table. Thanks so much for stopping by!
Follow me on Facebook | Twitter | Instagram | Pinterest | YouTube