In this post I'm sharing how to make a Gas Grilled Whole Chicken Recipe Spatchcock Style.
Hey Y'all! It's close to being the 4th of July and it has been hot as blazes! To avoid heating up the kitchen we've been doing a bit more grilling, which suits me just fine.
A few months back my favorite mayonnaise company, Dukes, released a new line of barbecue sauces.
Since I'm a devoted fan I had to grab up a few to try. (By the way, this post is not sponsored by Dukes. I'm just telling y'all about it cause I tried them with this recipe.)
They have a couple of traditional type flavors, an Alabama White sauce and a Carolina Gold sauce. They're all good but I do like my homemade Carolina Gold barbecue sauce better. Sorry Dukes.
We really enjoyed the 'Bama White sauce on the grilled chicken.
Whole Grilled Chicken Butterflied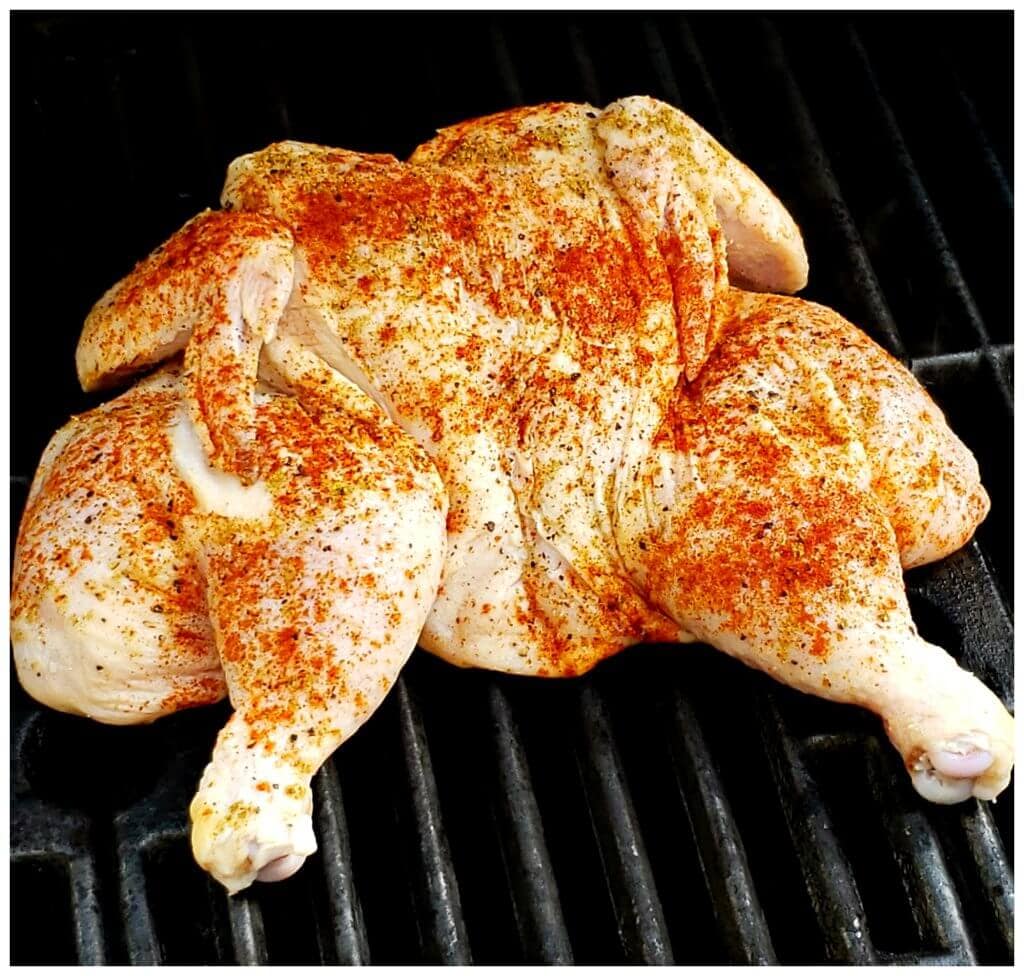 Cooking a whole chicken on the grill is so easy and delicious! By simply removing the backbone ensures that it cooks perfectly tender and juicy without over-cooking.
Once the backbone is removed (which you can keep and freeze for making stock later) turn the chicken over and kind of press down the breast area to flatten it out.
This is known as spatchcock style but some folks simply refer to it as butterflied.
Gas Grilled Whole Chicken Recipe Spatchcock Style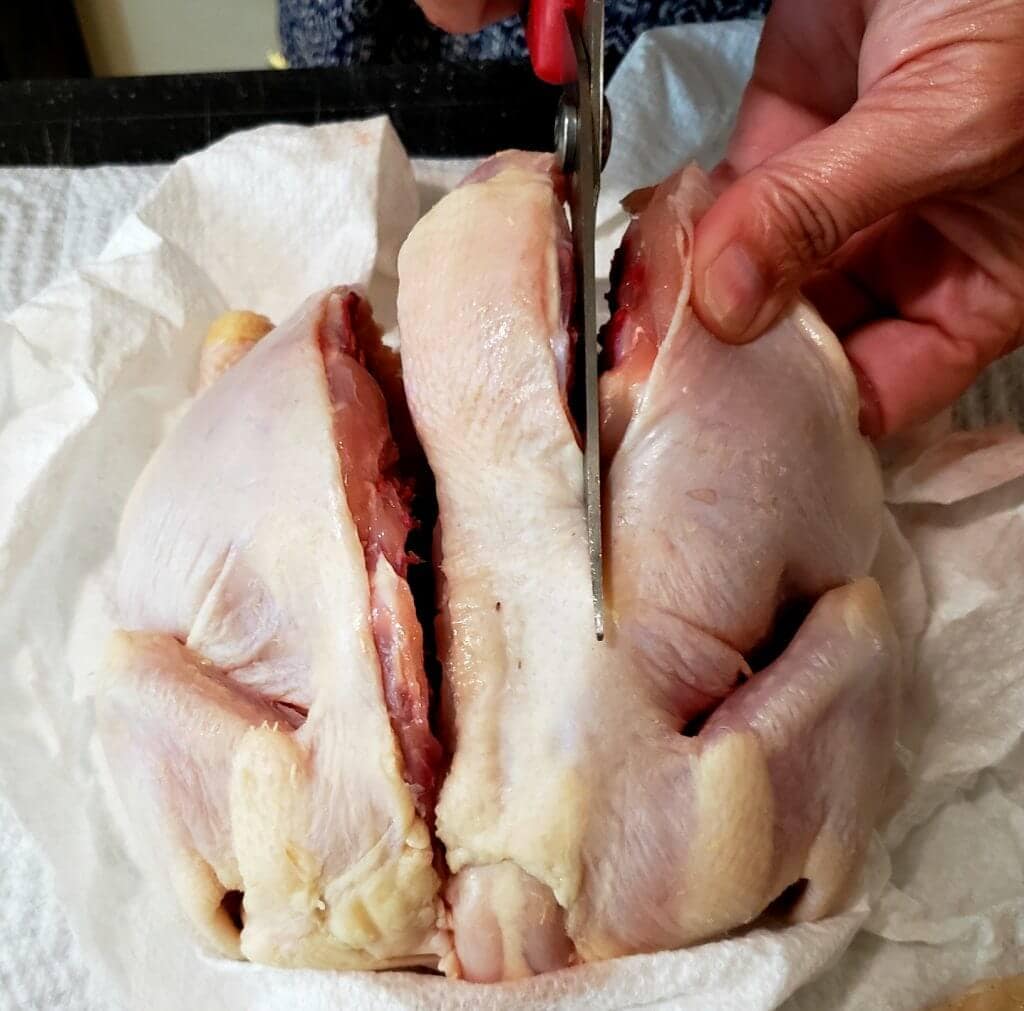 Grilling a Whole Chicken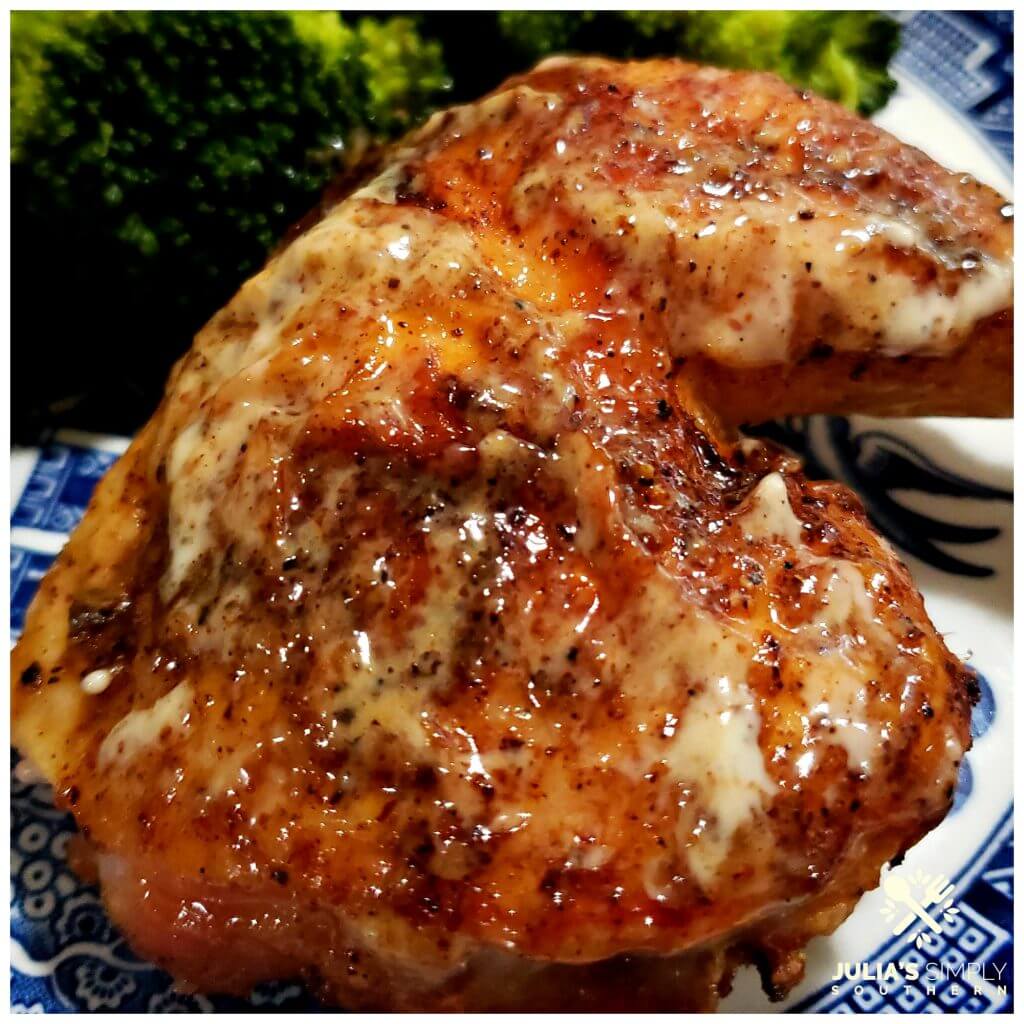 Of course you can season your chicken however you like. At a minimum, salt and pepper it well.
You can also use whatever sauce your family prefers. As I mentioned, I made this recipe using a white barbecue sauce that I seasoned very simply before cooking.
On a previous occasion, the hubs seasoned the chicken with a rub and we finished it off with a traditional style sweet, spicy and smoky BBQ sauce.
The method and cooking times remain about the same for a 2 to 4 pound chicken.
We enjoy a cold beverage sitting out by the grill until supper is ready.
Summer Grilling Recipe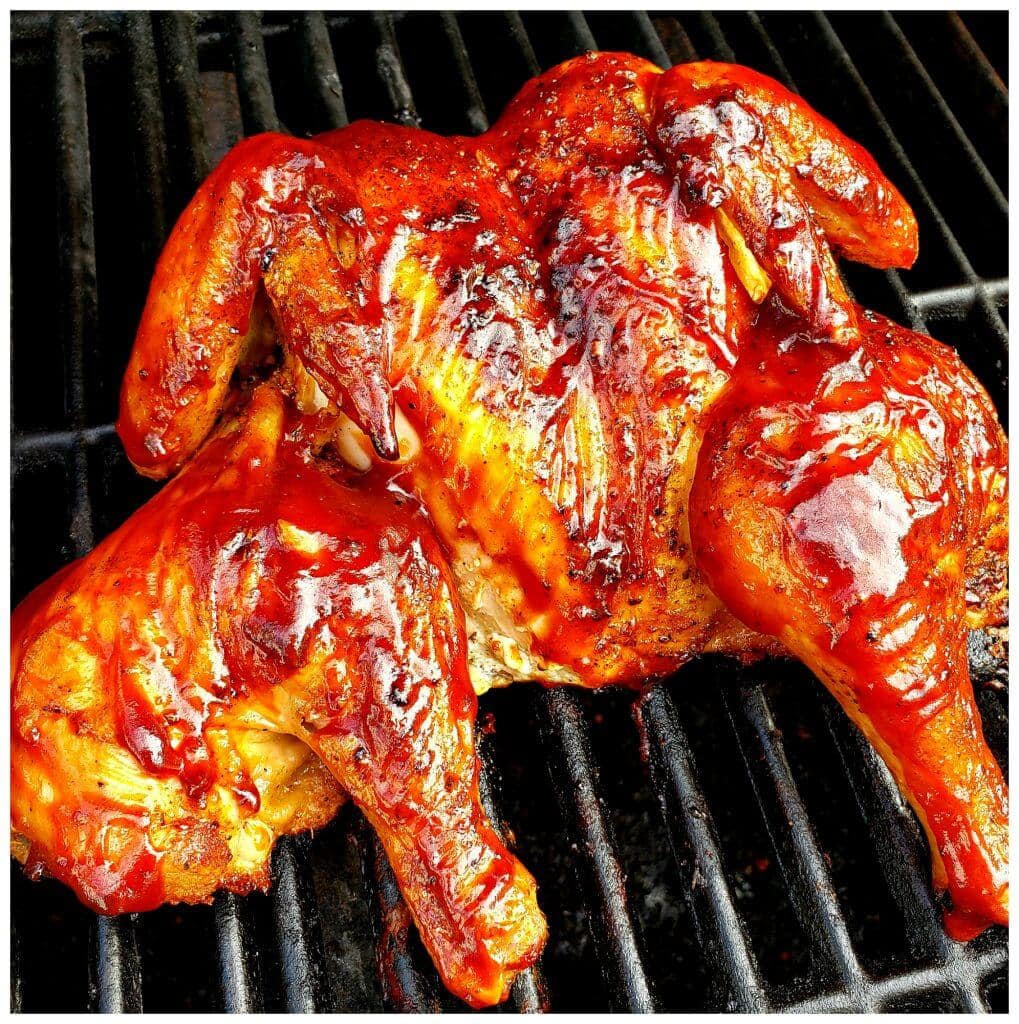 Depending on how we season the chicken and which sauce we finish it with determines which sides we like with it.
That makes this grilled chicken recipe so versatile so dinner never gets boring.
With a more traditional type of finishing sauce we likes sides such as baked beans, coleslaw, a cool cucumber salad or potato salad.
With the white sauce finish, a fresh steamed vegetable, a side salad, or roasted vegetable medley seems perfect.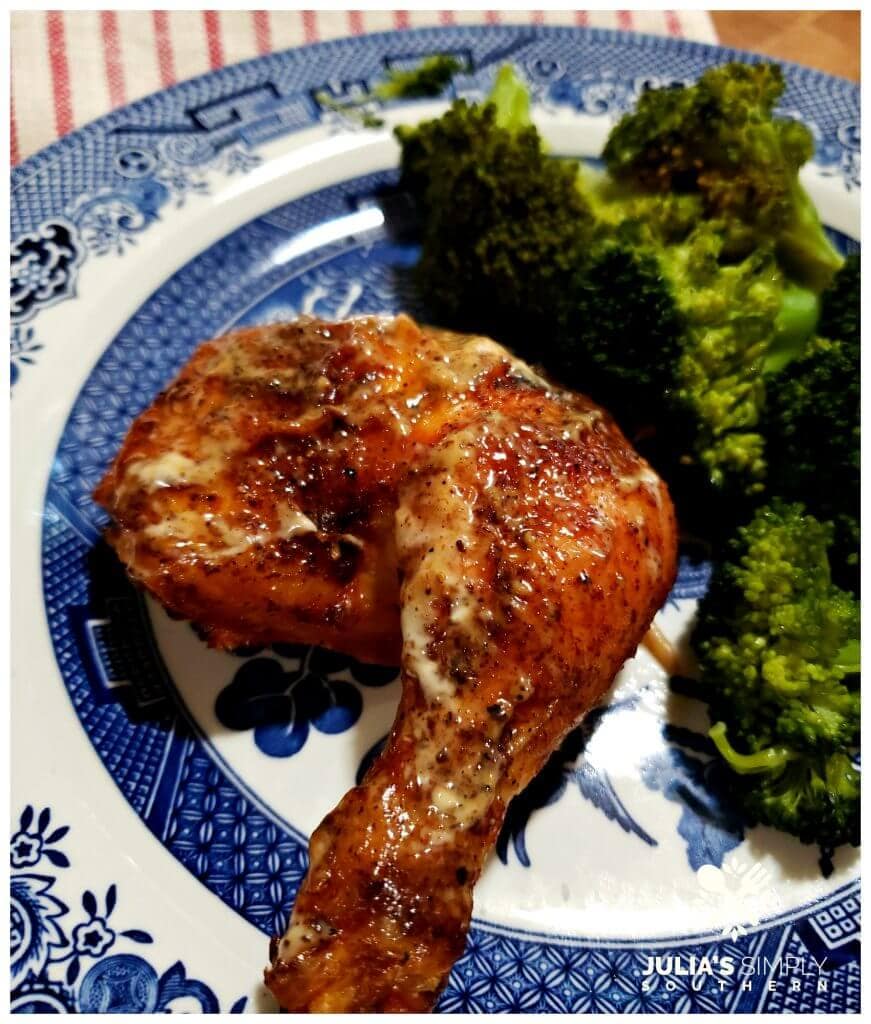 True story….I used to be terrible at grilling foods in my younger days. A gas grill with a thermometer made sense for me because that made it like an oven (in my head at least) and I had better results.
Of course with experience over the years I got better too. I don't always do the grilling at our house but I enjoy it when I do.
Who's the grill master of your home?
Below you'll find a full printable recipe card for making this juicy and delicious Gas Grilled Whole Chicken Recipe Spatchcock Style.
Yield: 1 Grilled Whole Chicken
Grilled Whole Chicken Recipe with Barbecue Sauce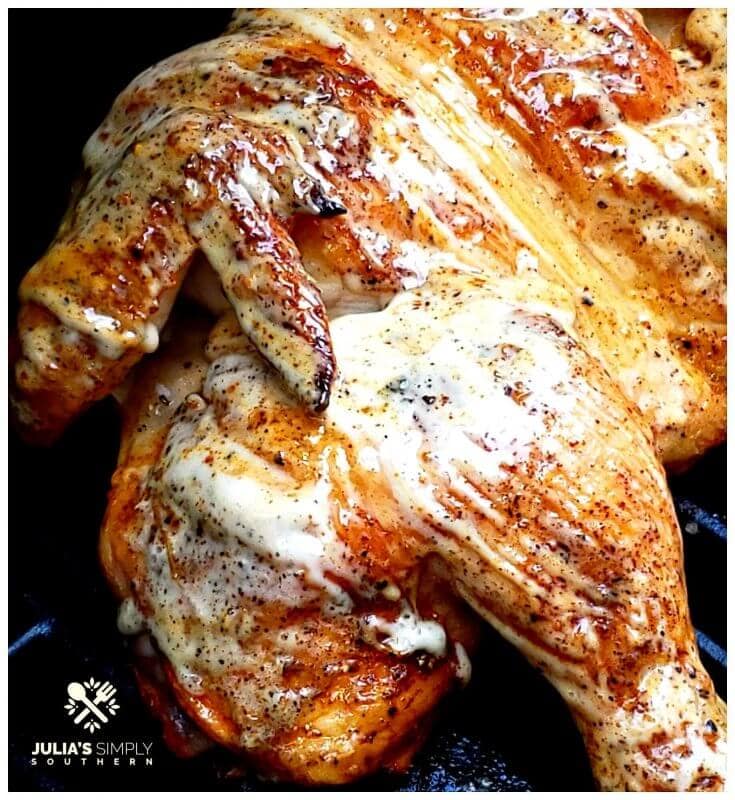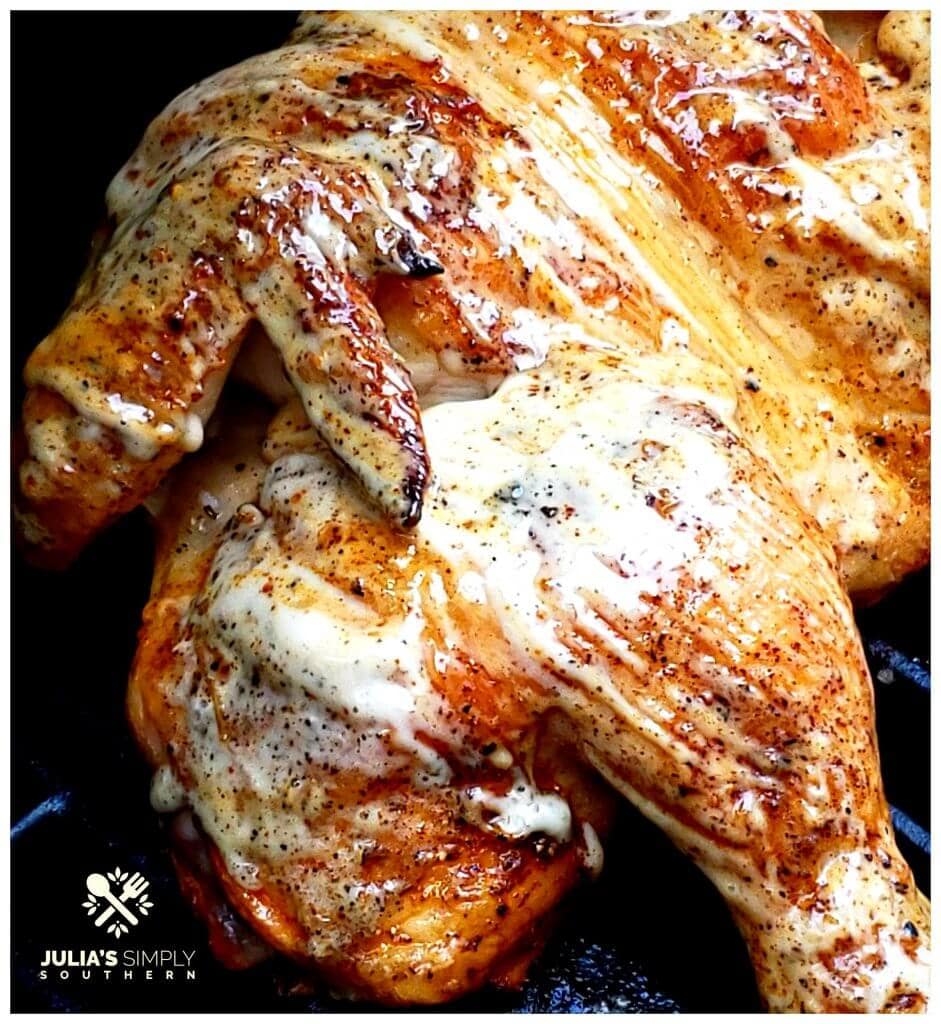 A juicy and delicious whole chicken cooked on a gas grill perfectly and finished with a tangy barbecue sauce of choice.
Ingredients
2.5 lb Whole Chicken
1/2 tbs Vegetable Oil
Salt and Cracked Black Pepper, to taste
1/4 tsp Onion Powder
1/4 tsp Poultry Seasoning
Few Dashes of Paprika
1 c Alabama White Barbecue Sauce (or sauce of choice)
(See notes for recipe variations)
Instructions
Preheat your Grill.
Place your chicken on a paper towel lined cutting board. Be sure to check the cavity and remove the neck and internal organs.
Use paper towels to dry the skin of the chicken.
Place the chicken breast side down and use kitchen shears to cut along each side of the backbone to remove it. Next, turn the chicken breast side up and gently press down to flatten the chicken (spatchcock).
Place the chicken on a foil lined sheet pan and brush with vegetable oil; season with salt, pepper and poultry seasoning. Sprinkle a few dashes of paprika over the skin to give the chicken beautiful color during cooking.
Use long tongs to place the chicken on the grill breast side up. Adjust grill settings to maintain a cooking temperature of between 375°F to 400°F. Close the lid and cook 35-45 minutes or until the internal temp of chicken is 165°F.
During the last 15-20 minutes of grilling; brush the chicken with barbecue sauce and finish cooking.
Allow the chicken to rest 5-10 minutes before cutting.
Notes
Variation recipe: Use a rub seasoning and finish with a traditional smokey, sweet and spicy sauce.
Adjust cooking times for a chicken larger than 4 pounds.
A gas grill with thermometer ensures proper temperature is maintained during cooking.
Use a meat thermometer if needed to ensure doneness.
Always use a plastic cutting board when handling meat.
Recommended Products
As an Amazon Associate and member of other affiliate programs, I earn from qualifying purchases.
Nutrition Information:
Yield:
4
Serving Size:
1
Amount Per Serving:
Calories:

814
Total Fat:

41g
Saturated Fat:

11g
Trans Fat:

0g
Unsaturated Fat:

25g
Cholesterol:

249mg
Sodium:

690mg
Carbohydrates:

29g
Fiber:

1g
Sugar:

23g
Protein:

78g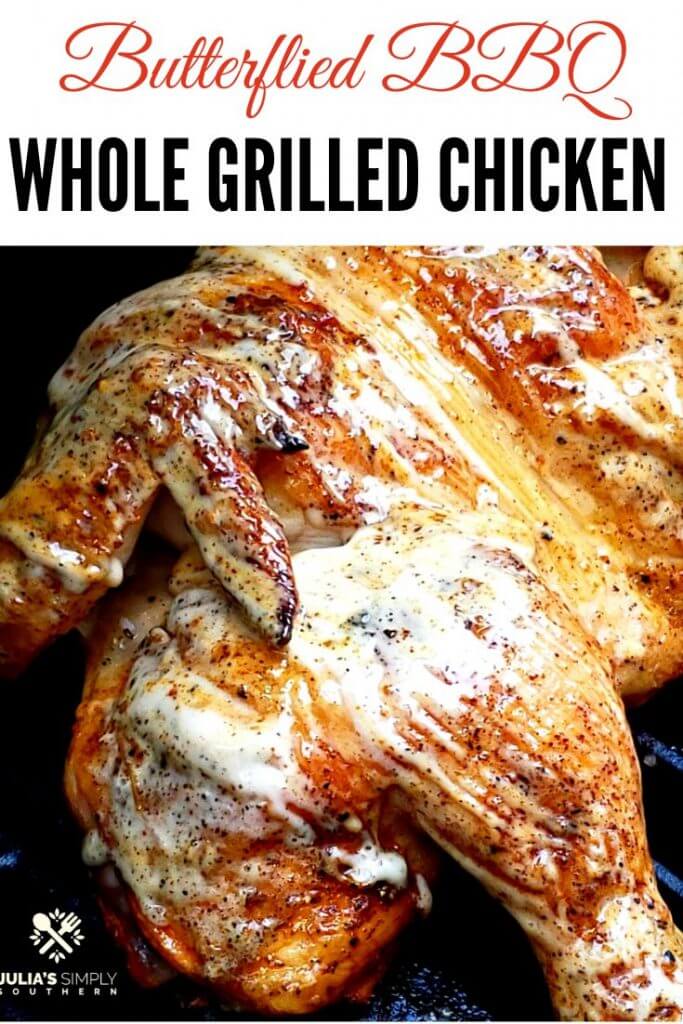 I think that next time I use a white sauce that I'm gonna try making my own using Southern Bite's Alabama White BBQ Sauce recipe.
This grilled chicken recipe was proudly shared at the Weekend Potluck
Check out these Blackstone Griddle Recipes from Or Whatever You Do
Meet Julia
Author of Julia's Simply Southern
Hey Y'all! I'm Julia, the cook and writer behind the recipes here at Julia's Simply Southern. I began my website so that I could share easy to follow recipes that anyone can use to put a home cooked meal on the dinner table. Thanks so much for stopping by!
Follow me on Facebook | Twitter | Instagram | Pinterest | YouTube