In this post I'll be sharing the cook time and best tips for How Long to Grill Chicken Breast at 350 degrees F.
Chicken is one of the most popular meats consumed. It's a family friendly protein that kids love to eat too (even if you have to turn a chicken breast into chicken tenders).
Since skinless chicken breasts are probably the most popular choice, I'm often asked for recipes on how to prepare them.
The great thing about boneless chicken breasts are that there are numerous ways to prepare them to enjoy a variety of delicious meals.
With the requests for the recipes using boneless skinless breast of chicken, folks also want tips for grilling them. Well my friend, I've got ya covered on the grilling too.
So today, I'm gonna share how to make juicy chicken breasts on the grill, so let's get cooking.
Grilled Chicken Breast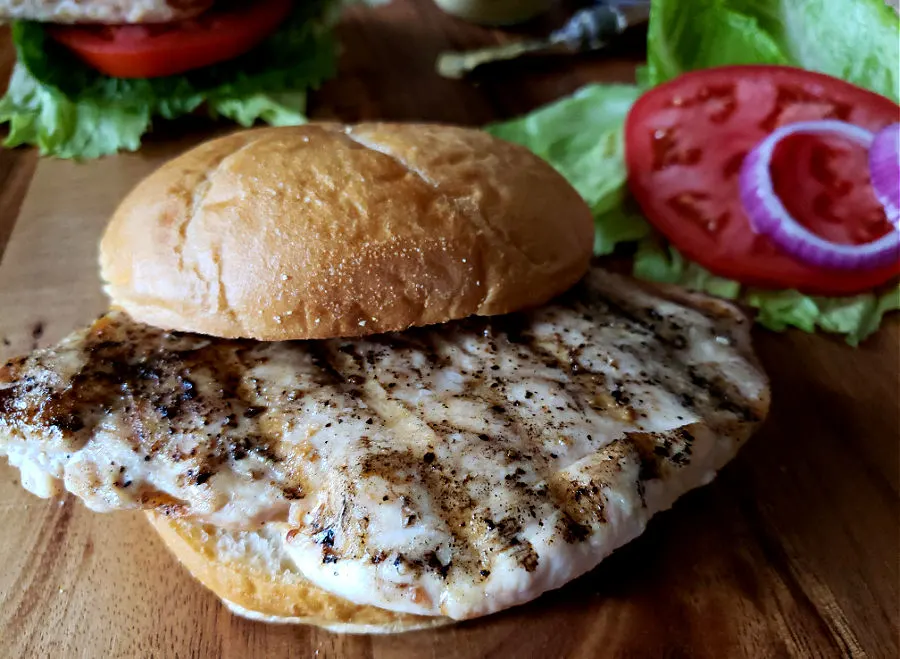 How Long to Grill Chicken Breast at 350
The juiciest grilled chicken breasts are even easier to master if you know the grill temperature while cooking. I prefer using our gas grill which has a thermometer for monitoring the temperature.
Another handy tool is an instant read meat thermometer, which I also consider to be an essential cooking tool. Every home kitchen should have one.
Tips for Grilling Boneless Skinless Chicken Breast
Here's what you'll need to prepare the grilled chicken breasts:
Boneless Skinless Chicken Breasts – whether you have large chicken breasts or smaller breasts doesn't really matter as long as you follow a simple technique to ensure even cooking time.
Olive Oil – adds flavor and helps the seasoning adhere to the chicken.
Seasonings – Kosher salt and freshly cracked black pepper are all that are needed to make delicious grilled chicken breasts that are perfect as a main protein served with sides, served on sandwiches or sliced and served on salads.
Grilling Chicken Breast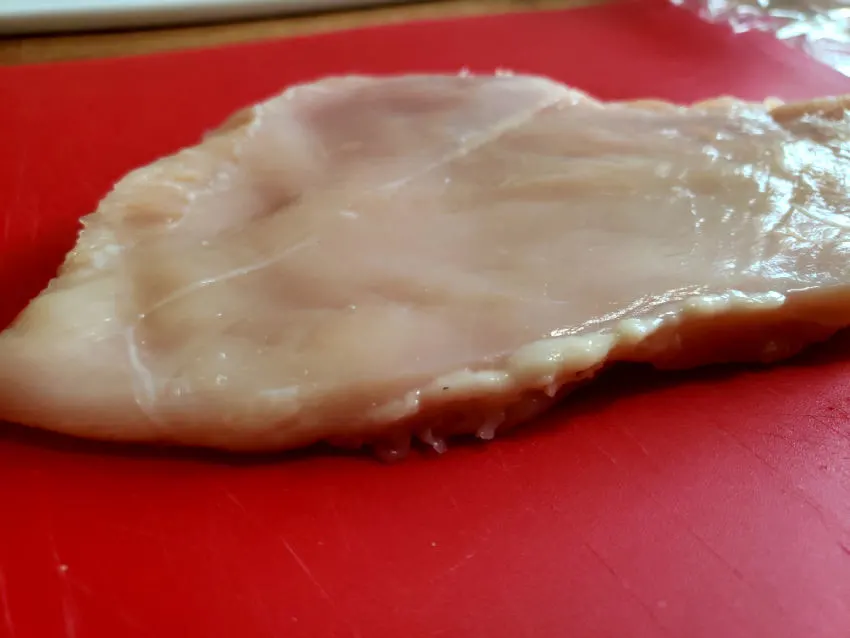 First, prepare the chicken by drying it off with a couple of paper towels. Next place each chicken breast on a cutting board (or mat) and cover with plastic wrap, then use a meat tenderizer (or rolling pin) and pound the chicken starting with the thickest part of the breast.
By taking the time to even out the thickness of the chicken breast will allow for even cooking and is a great way to ensure that you don't over-cook the chicken and dry it out.
The cooking time will ultimately depend on how thick your chicken breasts are.
Simple Steps for Grilled Chicken Breast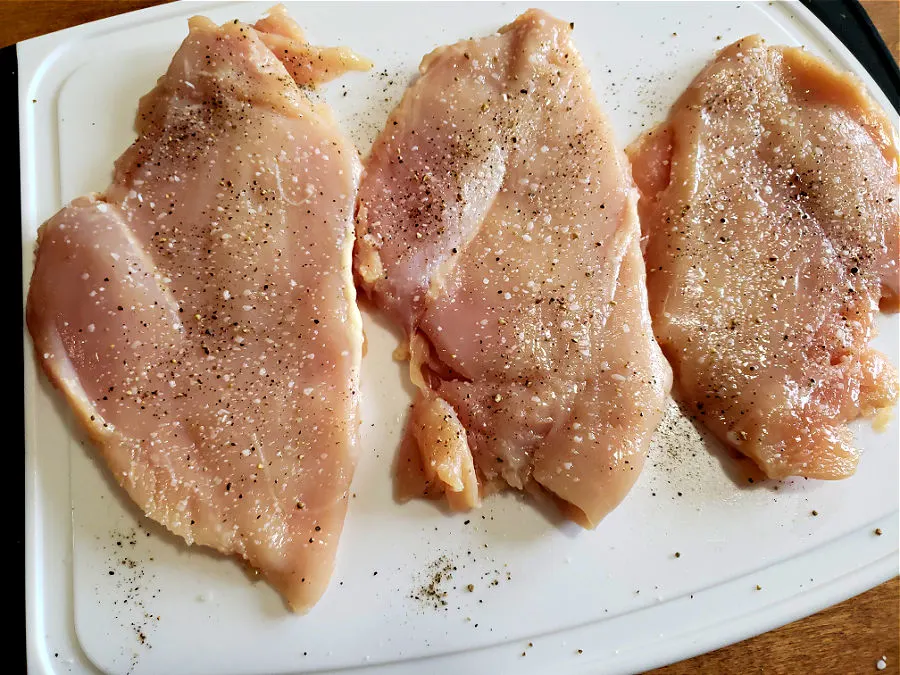 Now it is time to season the chicken. Don't underestimate the power of a simple seasoning of salt and pepper to add big flavor.
You can certainly use other seasonings if you want to. Some great options for seasoning chicken include garlic powder, onion powder, paprika or spice things up with a bit of Creole seasoning.
Marinade mixes that you can find at most grocery stores are another way to add flavors that you enjoy to grilled chicken.
I brush a small amount of olive oil over both sides of the chicken breasts which also helps the seasonings adhere to the meat.
Gas Grill Chicken Breasts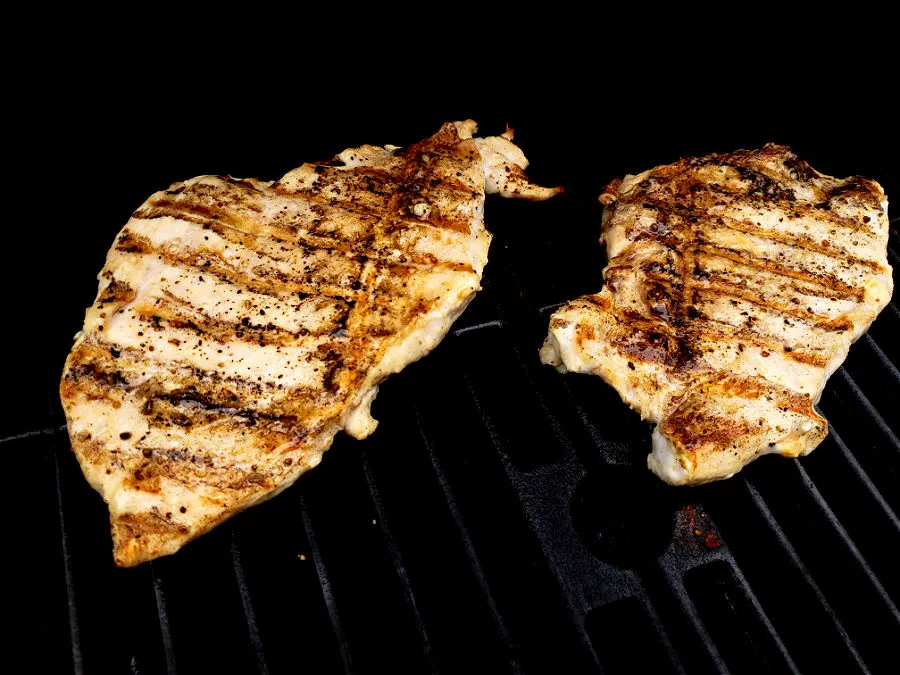 For the next step, it is time to heat up and prepare the grill for cooking. I like to pre-heat the grill with the lid closed on a high temperature setting.
Once the grill is hot, use a grill brush to clean the grill grates. The grill is now ready for the chicken.
Every grill is different so it is important to become familiar with your particular grill. Adjust the heat settings so that you get the grill temperature to a constant medium-high heat at 350°F.
Once again, the best way to maintain temperature is to have a grill thermometer.
When the heat is where it needs to be at the preferred temperature range, add the chicken breast to the grill over indirect heat using grill tongs.
How long to grill chicken breast on gas grill?
Grill the chicken breasts seven to eight minutes per side. Allow the chicken to cook so it gets those nice grill marks on the meat. There's no need to flip back and forth.
This would be the same process if you happen to be cooking on a charcoal grill.
I'm going to mention it yet again that the cook time will vary depending on how thick your chicken breast are.
Cooks Note: Skipping the step of preparing the breast (as mentioned above) will result in longer cooking times, uneven cooking and possibly dry chicken.
The chicken is done when the meat feels firm if you press it with the tongs and the internal temperature of the chicken has reached 165°F. To ensure doneness, check the the thickest part of the chicken with an instant read meat thermometer.
Remove the chicken from the grill, and for the best results, let the chicken rest for at least five minutes (ten is better) before serving to allow the juices to redistribute through the meat.
I know that this may seem like a basic recipe but that is all you need for flavorful chicken cooked on your grill.
Grilled Chicken Breast Sandwich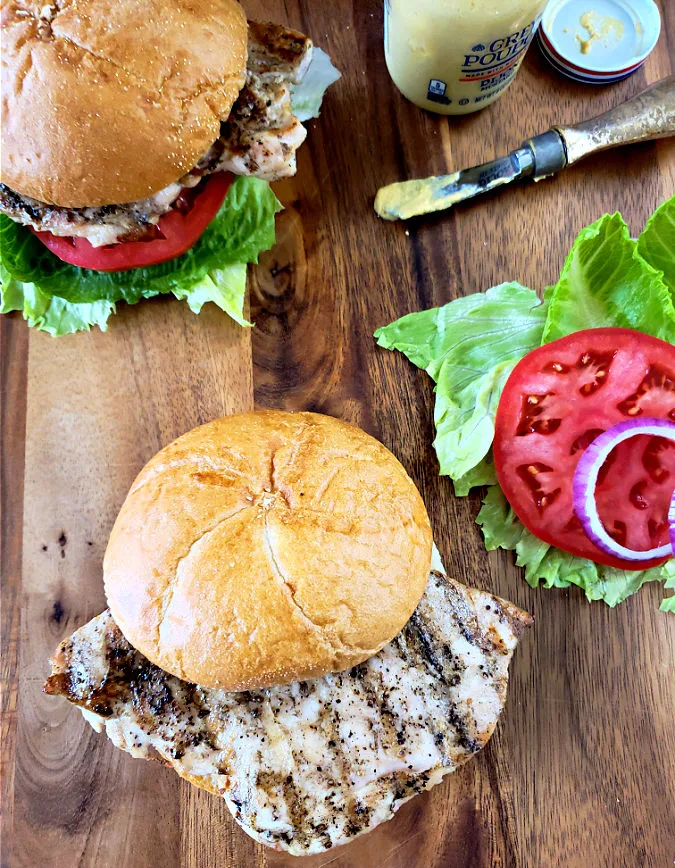 How to serve grilled chicken breast? Enjoy the chicken as the main course served with your favorite sides.
What to serve with grilled chicken breast? Pineapple coleslaw, macaroni salad, a delicious salad, baked beans or other favorite sides that you enjoy with chicken.
If you like, you can finish your chicken by basting with a finishing sauce to add extra flavor, such as bbq sauce.
Grilled chicken are also great for making tasty chicken salads, either the spread or cut into strips to enjoy with salad vegetables like lettuce, tomato, cucumber and onion.
A tasty grilled chicken sandwich is also a delicious meal option. Just serve your chicken with those beautiful sear marks on a toasted bun with mayo or mustard and your favorite sandwich toppings. We enjoy a grilled chicken sandwich with lettuce, tomato, pickles and a few rings of red onion.
How Long to Grill Chicken Breast at 350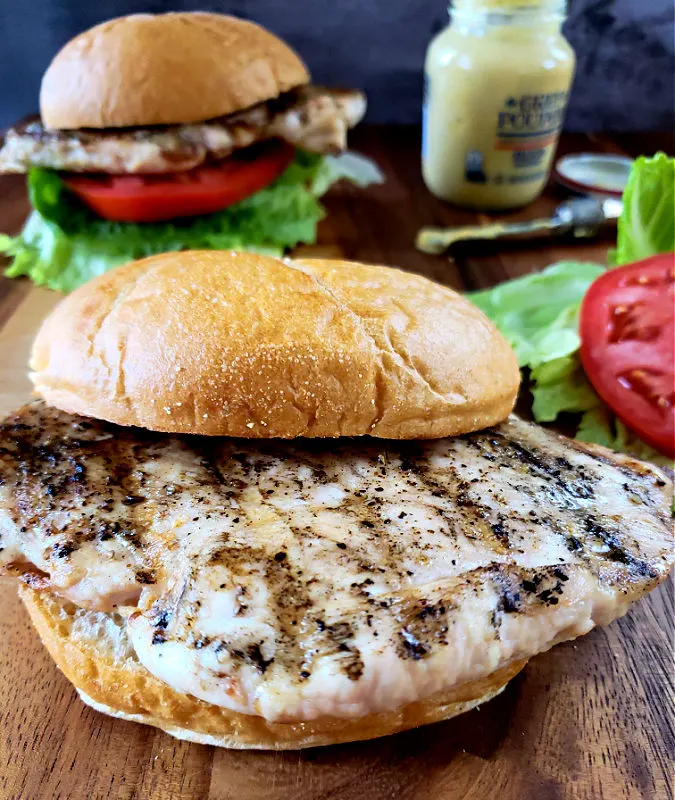 Doesn't that sandwich look tasty? It is so delicious and couldn't be easier to make.
Funny thing is that I had three grilled chicken breasts for sandwiches but one mysteriously disappeared from my kitchen. I'm thinking (meaning I know without a doubt) that hubs sneaked and there and ate it.
Printable Recipe Card
Yield: 3 Chicken Breasts (or four)
How Long to Grill Chicken Breast at 350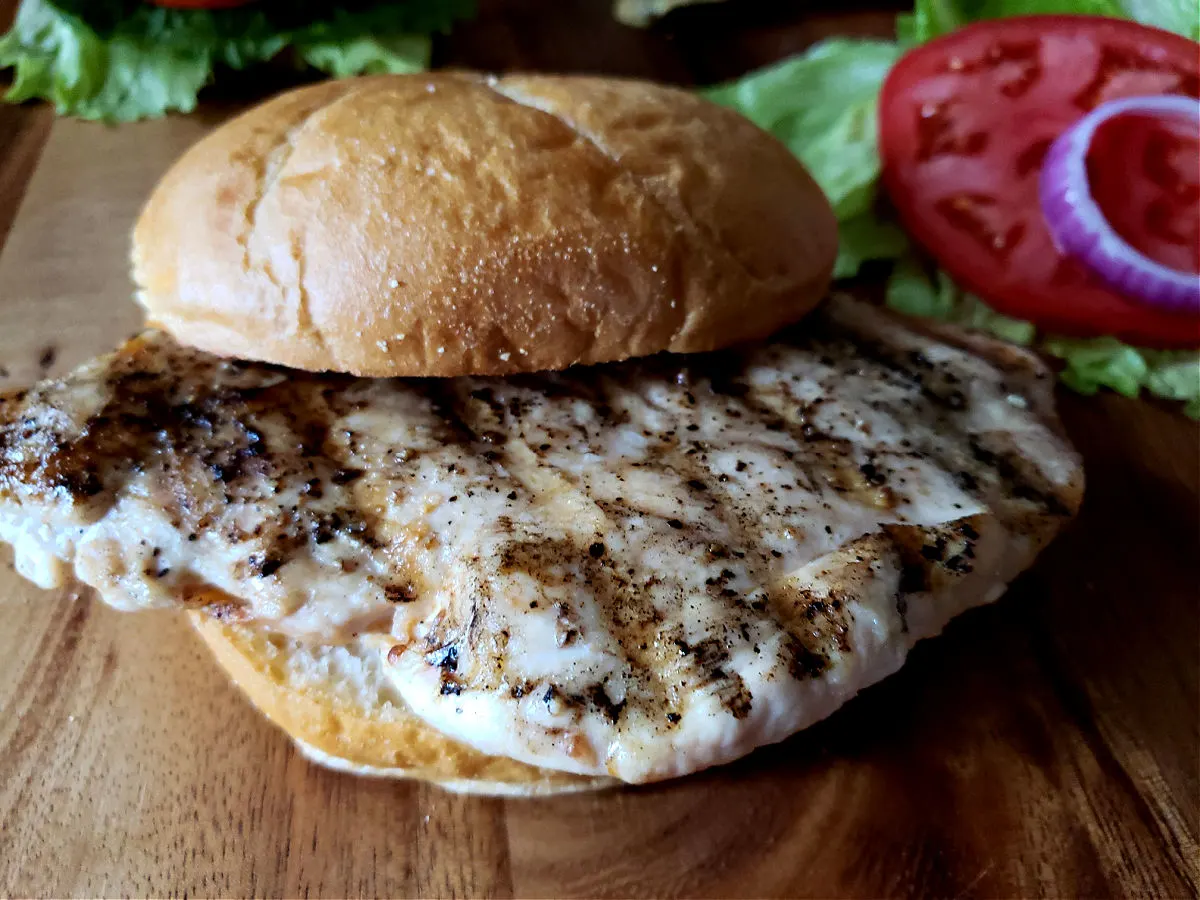 Delicious skinless chicken breast cooked perfectly on a grill at 350 degrees f to ensure the juiciest chicken breast to enjoy as a main protein, salad topper or on a tasty sandwich.
Ingredients
1½ pounds Boneless Skinless Chicken Breasts (or the amount that you need to feed your family)
½ tablespoon Olive Oil
1 teaspoon Kosher Salt, or to taste
1 teaspoon Cracked Black Pepper, or to taste
Instructions
Preheat the grill to 350°F (167°C)
Prepare the chicken by covering each breast piece with plastic wrap and pounding out to an even thickness for even cooking. (See post for tips)
Brush a light layer of olive oil on both sides of the chicken breast pieces.
Season both sides of the chicken liberally with kosher salt and black pepper.
Adjust the grill setting to maintain the 350°F temperature
Grill the boneless chicken breasts 7 to 8 minutes per side until an internal temperature of 165°F is reached. (Use an instant read meat thermometer if unsure and to avoid over-cooking).
Notes
Thicker chicken breasts pieces may take 8 to 12 minutes per side. Pounding the breasts pieces so that they are even thickness reduces cooking time and ensures even cooking throughout the meat.
Recommended Products
As an Amazon Associate and member of other affiliate programs, I earn from qualifying purchases.
Nutrition Information:
Yield:
4
Serving Size:
1
Amount Per Serving:
Calories:

297
Total Fat:

8g
Saturated Fat:

2g
Trans Fat:

0g
Unsaturated Fat:

5g
Cholesterol:

145mg
Sodium:

441mg
Carbohydrates:

0g
Fiber:

0g
Sugar:

0g
Protein:

53g
More Tips for Grilling Chicken Breasts
Preheat the Grill – an important step no matter what type of grill you are using.
Clean the Grill
Use a Grill Thermometer– so that your grill becomes like an oven for easy use maintaining temperature.
Use a Meat Thermometer – to ensure doneness for safe consumption to avoid food illness.
Don't over do it with oils on meat – it can cause flare ups.
Keep the Lid Closed – also helps prevent oxygen flare ups of the flame and also helps cook the food faster.
Don't over-crowd the grill – give everything plenty of room.
Don't over-cook the chicken – follow the steps in this post to ensure you have the results that you want for the juiciest delicious chicken breasts.
Now that spring is upon us and the weather will be improving, I am sure that a lot of use will be rolling out the grill to cook up some delicious meals to enjoy!
The Latest Recipes
Popular Recipes
How Long to Grill Chicken Breast at 350
Thank you so much for stopping by! I am so glad that you did. I know that you'll love how juicy and delicious your chicken breasts are after grilling following these simple steps in preparing them.
Be sure to subscribe to my email list while you are here. Subscribers get weekly newsletter updates via email with all of the latest recipes and news here on the blog so that you never miss a thing.
Meet Julia
Author of Julia's Simply Southern
Hey Y'all! I'm Julia, the cook and writer behind the recipes here at Julia's Simply Southern. I began my website so that I could share easy to follow recipes that anyone can use to put a home cooked meal on the dinner table. Thanks so much for stopping by!
Follow me on Facebook | Twitter | Instagram | Pinterest | YouTube