In this post I am sharing how to make the best Carolina Gold BBQ Grilled Chicken with marinated boneless breast.
You wouldn't think that grilling boneless chicken breast would be a difficult task and it's not when done correctly. I can't even tell you the number of times that I've cooked chicken breast to death on the grill leaving it dry and not very tasty.
Thankfully, experience and practice has made my grilling skills much better than it used to be.
Carolina Gold Chicken Recipe
Marinating chicken breasts also makes a big difference so that you have juicy flavorful chicken when grilling. So, I suppose you're getting quite a few things out of this post…the sauce, a marinade recipe and how to on grilling.
Okay…I have a little funny story before we get to cooking. (You can skip down to the recipe card if you're in a rush)
This grilled chicken is the first thing I've made on our gas grill that we've had for not quite a year and a half since we moved into this house.
Why? I had to sneak to make it. HAHA! For some unbeknownst reason to me, my husband doesn't let me use the grill. He takes good care of it, washes it….maybe doesn't think I'll take care of it. Who knows.
I also chose the coldest day in January to go out and grill chicken to share with y'all. Here I am today, a day in February, indoors writing this post and it's supposed to be seventy three degrees outside. Maybe I'm doing things all wrong. Nah! I have fun no matter what and the food is always good.
Juicy Marinated Grilled Chicken with Mustard BBQ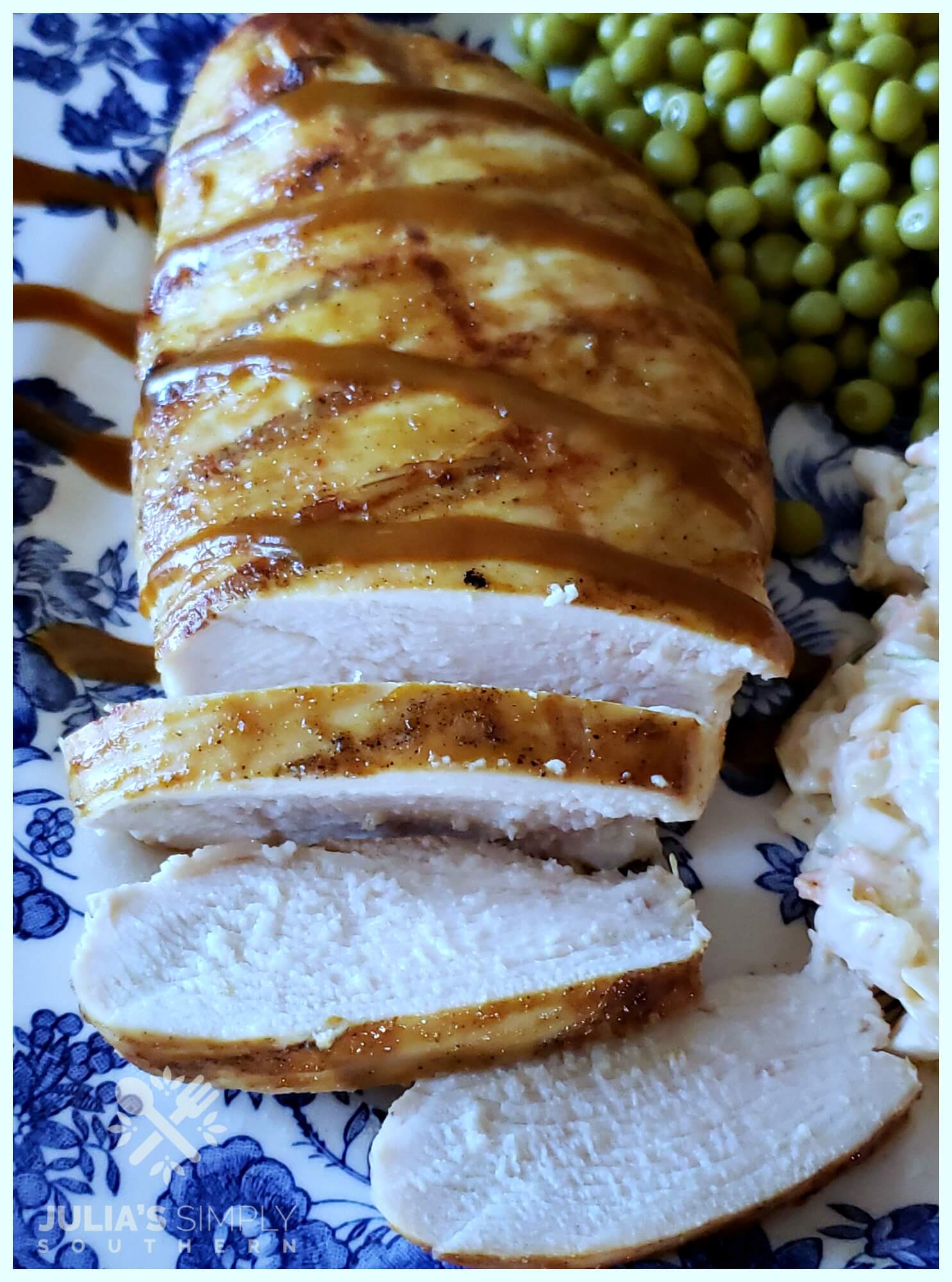 Grilled Chicken Marinade
How do you make a basic marinade for chicken or pork? It's really easy and this recipe is versatile so you can change things up by whatever seasonings and herbs you decide to add to the base recipe.
The basic marinade recipe itself is good to ensure juiciness of the meat when left as it is and great if you're finishing with a sauce, such as barbecue.
Here's what you'll need for the marinade (You'll find the full recipe further down in the post): Oil (vegetable or olive), apple cider vinegar, lemon juice, Worcestershire, sugar, salt, garlic cloves, onion powder and white pepper.
Just mix all of the marinade ingredients up in a large plastic storage bag, then add the chicken or pork and let it hang out in the fridge for up to four hours.
Change things up with the marinade, depending on how you want your final dish to turn out. For Italian style chicken add some Italian seasoning or for a spicy dish add some creole seasoning.
Easy Grilled Chicken Breast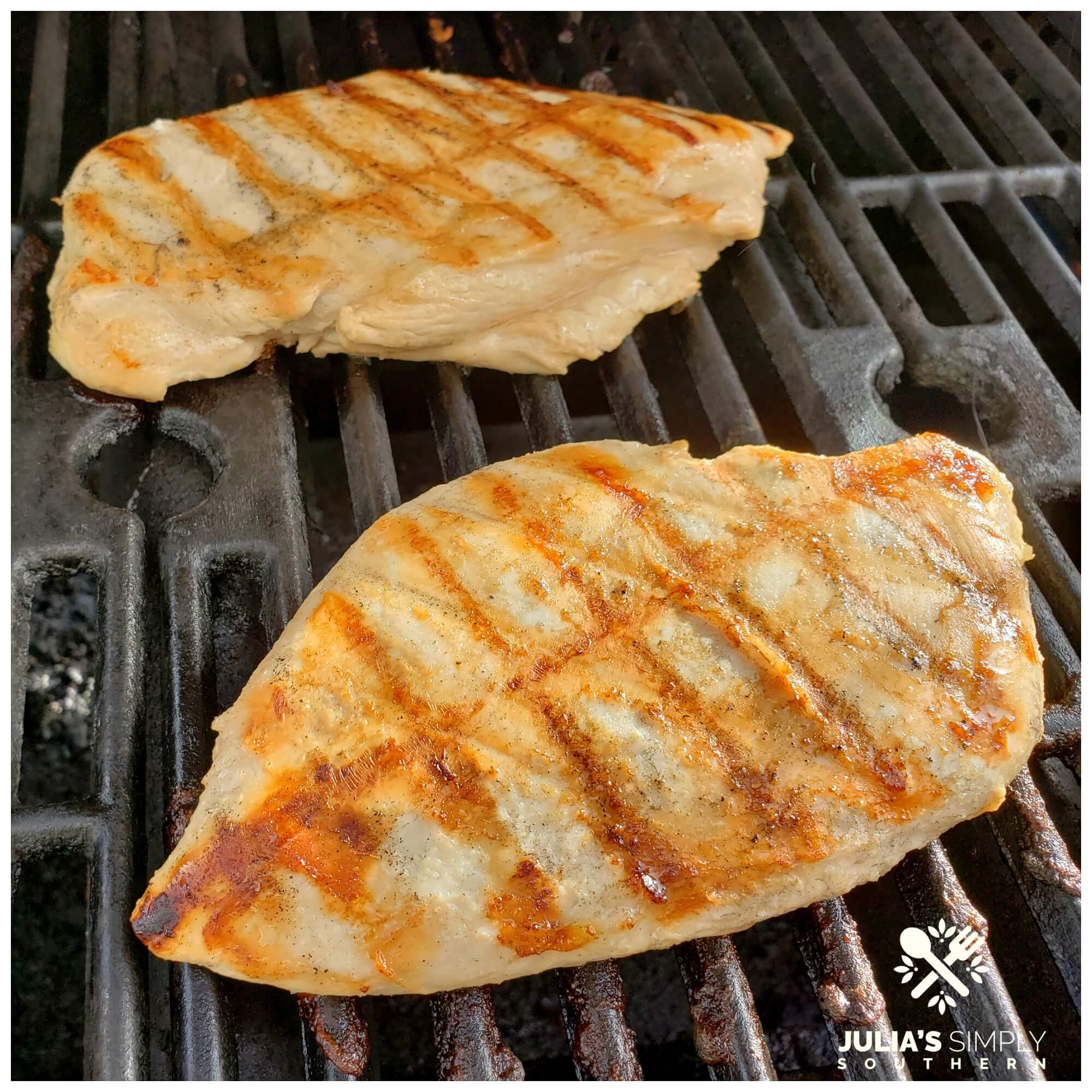 Our finishing sauce is delicious authentic S.C. mustard barbecue sauce. it's a real treat y'all! In case you missed my post for this Carolina Gold sauce, you can find it HERE.
The mustard based barbecue sauce can be made days ahead of time and lasts for a couple of months when stored properly in the refrigerator. If it lasts that long.
Southern Grilled Chicken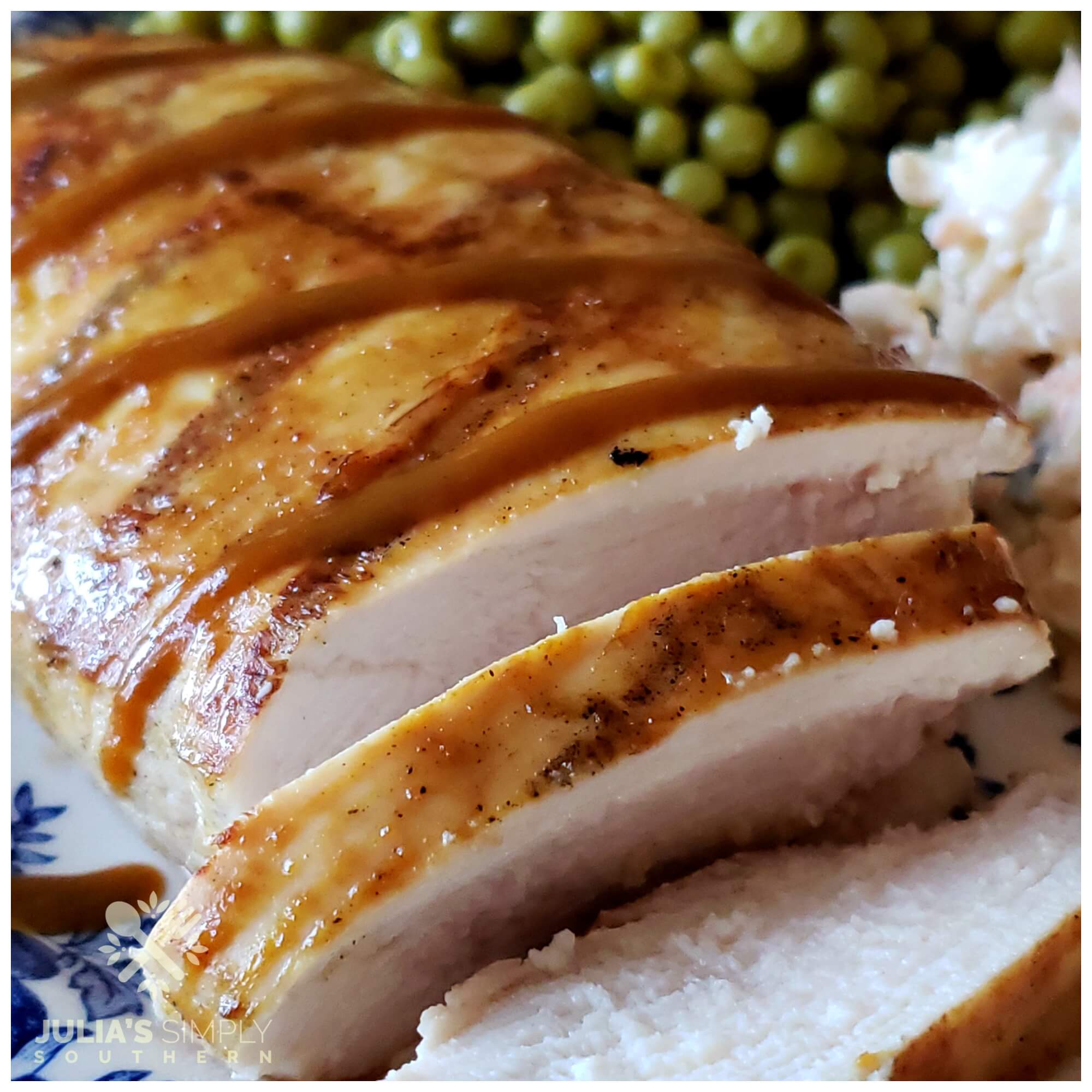 When it's time to grill the chicken breasts, begin by heating your gas grill. I simply turn on all of the burners to the high setting, light the grill and close the lid to let it get hot.
Here are the easy steps to grilling the chicken…
Step 1: While waiting for the grill to heat up, take the marinating chicken out of the refrigerator. Before removing the chicken pieces from the marinade bag, pound the chicken pieces down to even them out. I use my wooden rolling pin for the task.
You're not trying to beat them to death and make them super thin. You just want everything sort of level for even cooking. It makes grilling easier.
Step 2: Place the chicken breasts on the hot grill and reduce the heat. Turn off the burner directly under the chicken if needed to avoid flare ups. Grill the chicken breasts for 7-8 minutes per side, or until done. Slightly turn each piece halfway through cooking on each side for nice grill marks.
The chicken breasts should reach an internal temperature of 165°F before it is considered safely done.
During the last two minutes of cooking, brush some of the Carolina Gold BBQ sauce over the chicken.
Allow the chicken to rest for five minutes then serve with extra Carolina Gold sauce, if desired.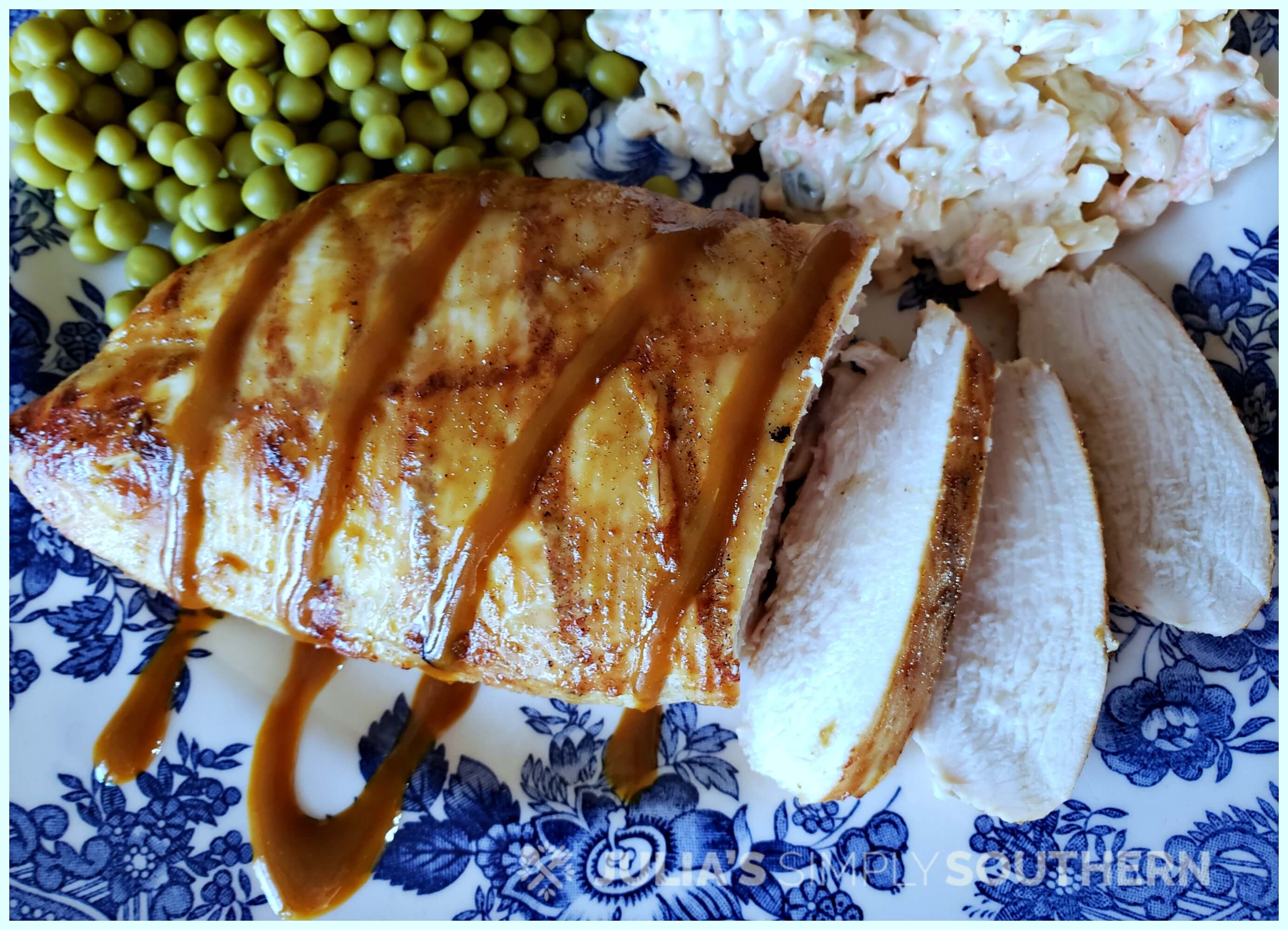 Yield: 1.5 lbs Grilled Chicken
Carolina Gold BBQ Grilled Chicken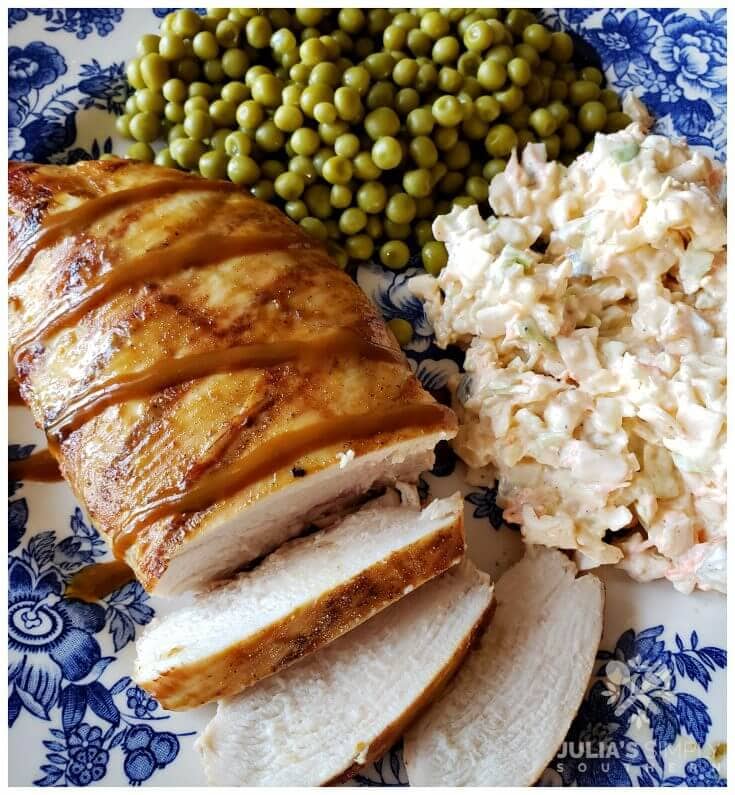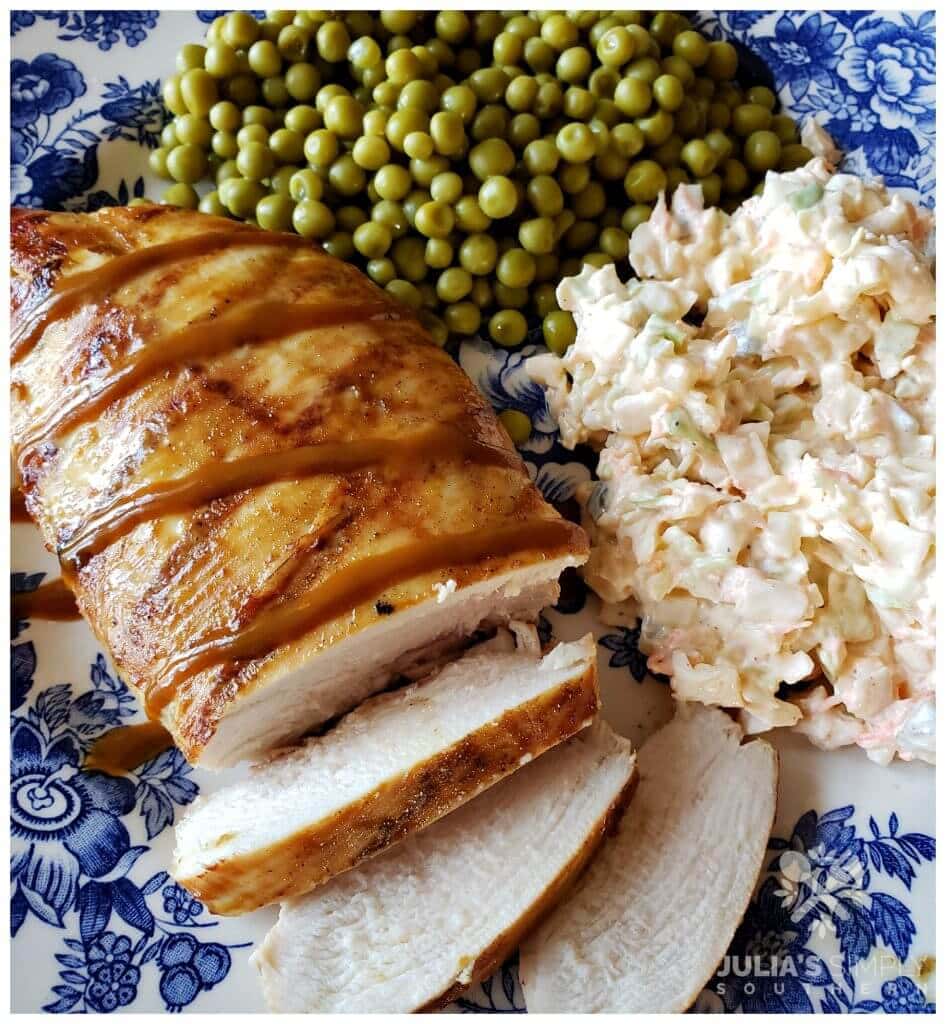 Delicious Carolina Gold barbecue chicken, marinated then grilled to perfection.
Prep Time
4 hours
10 minutes
Total Time
4 hours
26 minutes
Ingredients
1-1.5 Boneless Skinless Chicken Breasts
Marinade
1/4 c Vegetable or Olive Oil
1/4 c Apple Cider Vinegar
1 tsp Lemon Juice
1 tsp Worcestershire Sauce
1 tsp Granulated Sugar
1 tsp Kosher Salt
2 Cloves of Garlic, rough chopped
1 tsp Onion Powder
1/4 tsp Ground White Pepper
Grilling and Finishing Sauce
Instructions
Prepare the marinade by combining the oil, vinegar, lemon juice, Worcestershire, garlic and seasonings in a large plastic storage bag.
Add the raw chicken breast pieces to the marinade and seal to close then refrigerate up to 4 hours.
Heat a gas grill until hot for cooking.
Before removing the chicken pieces from the marinade, pound them to even out for equal cooking.
Add the chicken pieces to the hot grill and reduce the heat.
Grill for 6-8 minutes per side, until done, when the chicken breast have an internal temperature of 165°F (74°C).
During the last 2 minutes of grilling, brush a layer of Carolina Gold sauce over the chicken.
When done, allow the chicken to rest 5 minutes.
Serve with extra Carolina Gold sauce, if desired.
Recommended Products
As an Amazon Associate and member of other affiliate programs, I earn from qualifying purchases.
Nutrition Information:
Yield:
4
Serving Size:
1/2 Chicken Breast
Amount Per Serving:
Calories:

276
Total Fat:

9g
Saturated Fat:

2g
Trans Fat:

0g
Unsaturated Fat:

6g
Cholesterol:

86mg
Sodium:

273mg
Carbohydrates:

15g
Fiber:

2g
Sugar:

11g
Protein:

32g
Carolina Gold BBQ Grilled Chicken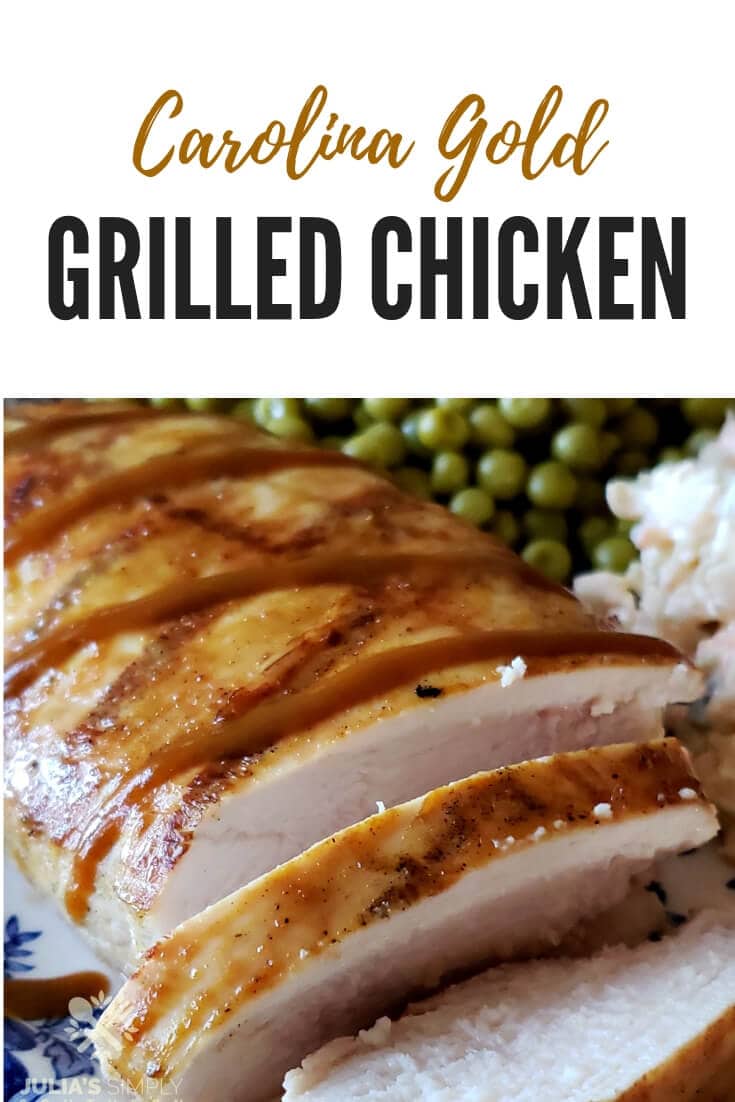 See this recipe at Weekend Potluck
See this recipe at Meal Plan Monday
Meet Julia
Author of Julia's Simply Southern
Hey Y'all! I'm Julia, the cook and writer behind the recipes here at Julia's Simply Southern. I began my website so that I could share easy to follow recipes that anyone can use to put a home cooked meal on the dinner table. Thanks so much for stopping by!
Follow me on Facebook | Twitter | Instagram | Pinterest | YouTube