In this post I'll be sharing a recipe using a popular pantry staple for Fried Spam and Potatoes.
When I was a young child there were times where my mother would slice up Spam and fry it up for dinner. I hated it too! Like many of you, I grew up in a house where it was "you'll eat it or starve".
Of course there was no chance that I'd starve to death. I could make a meal out of a buttered piece of cornbread and bypass my share of sliced Spam.
Fast forward to back in March of 2020 when the store shelves were being emptied as folks were preparing to hunker down for a while and I grabbed a can of Spam from the store shelf.
Why did I do that knowing that I didn't care for it, or so I thought, and haven't had it in at least forty three years? Because it is shelf stable, that is why. Plus there wasn't a lot of stuff left on the shelves to choose from.
There was another reason too. Lots of folks love the stuff. I thought to appeal to my wide range of readers (and we all have different tastes in food) that I should do a recipe with Spam for the blog.
People were eager to find shelf stable meal options in the past year and still are. I was seeing post after post on social media where a lot of people didn't know how to cook. They never really had to in our world of convenience.
That can of Spam sat on my pantry shelf for almost a year. I was afraid of it. I felt sure that if I didn't like it as a child then nothing would be different now. Well, you know what? I was wrong.
Spam Fried Potatoes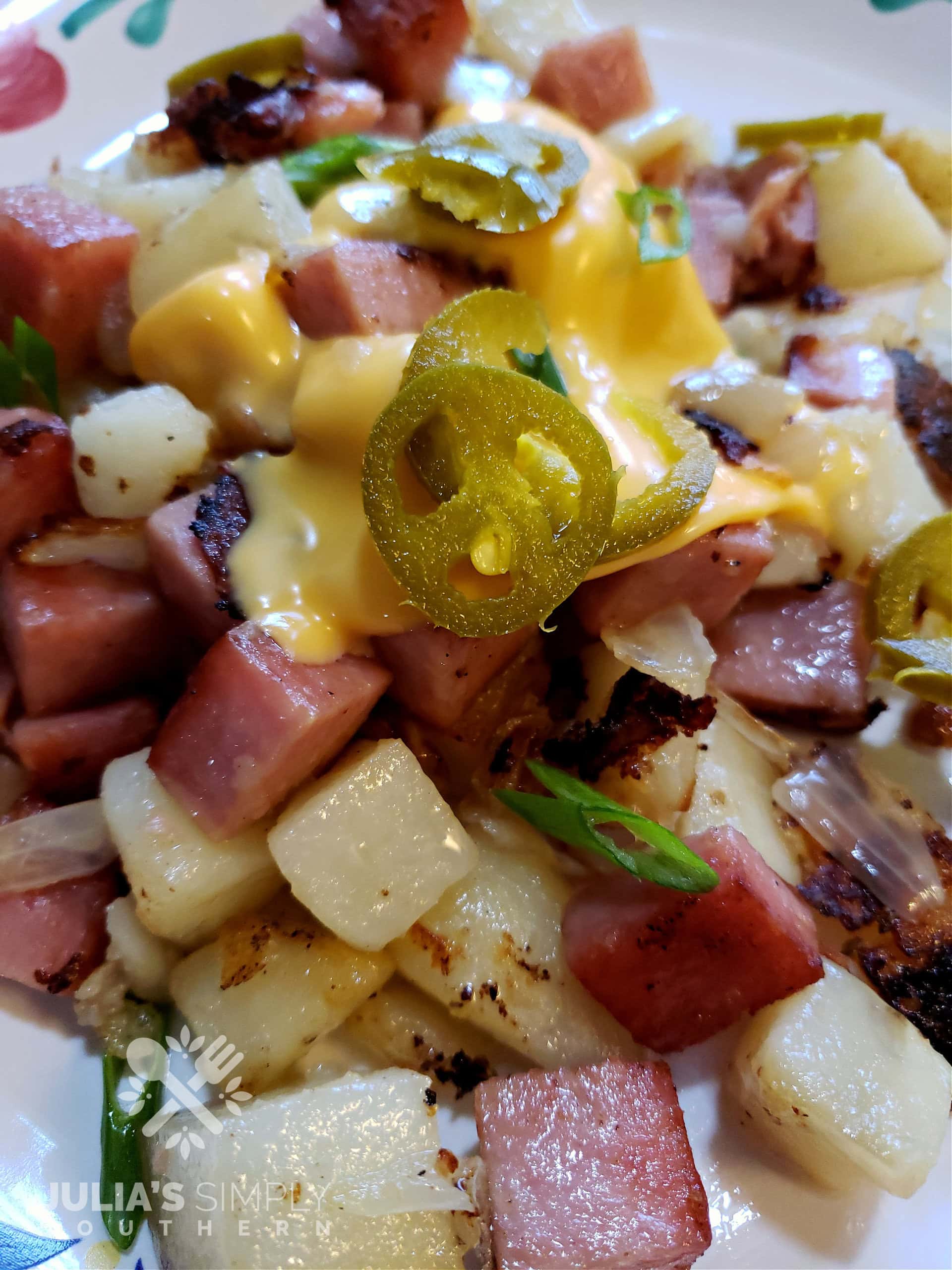 A decision was made that I'd fry up a skillet of potatoes with Spam for our supper.
Did you know that Spam is made with just six ingredients? It's not preservative packed like you might assume. It's shelf stable for years too. I could have put off this recipe until almost 2024 if I wanted to.
My husband suggested serving it with melted cheese and slices of pickled jalapenos (which he eats on almost everything). I thought that was a great idea!
You know what else? We really liked our meal.
Would I buy Spam again to keep on hand? You can betcha bootie I will.
Now in all honesty I'm not gonna claim to love the stuff. I probably wouldn't even enjoy it just sliced and cooked as mother made it. But in a potato skillet, it was quite good.
Spam and Potatoes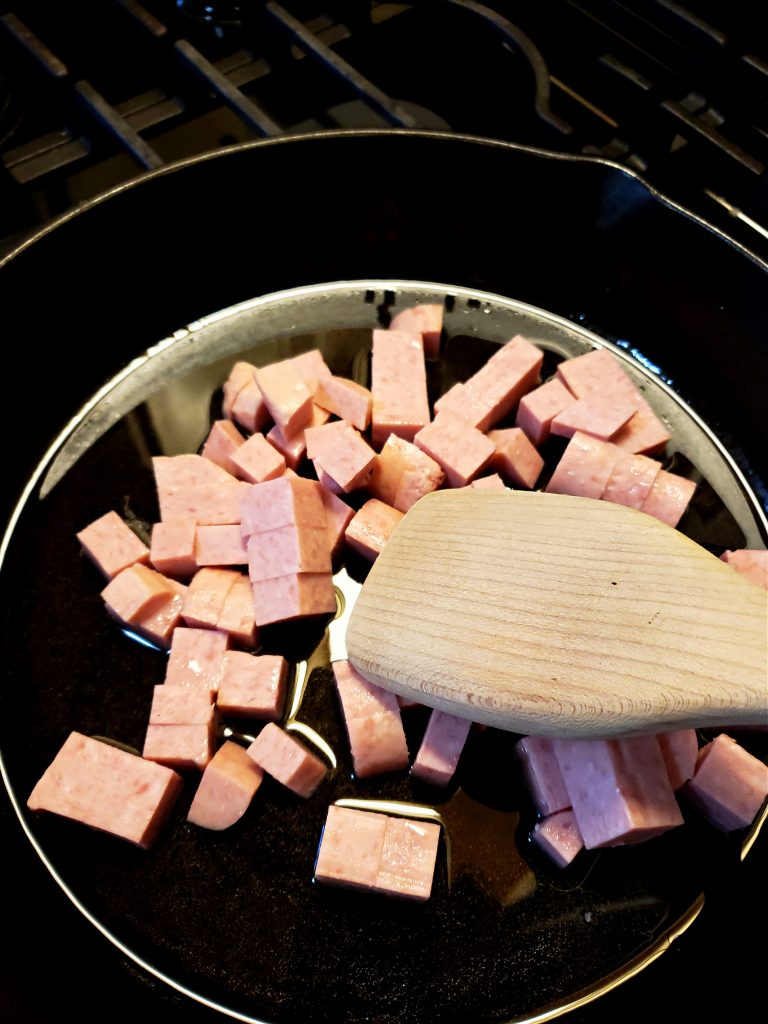 Probably the only unpleasant part of preparing the recipe was the initial smell when you open the can. I have that same reaction though when I open one of those cans of Chunky soup that hubs loves to eat occasionally.
After that it was smooth sailing. I sliced it up into cubes and into a hot cast iron skillet it goes.
Pan Fried Spam Potatoes with Onions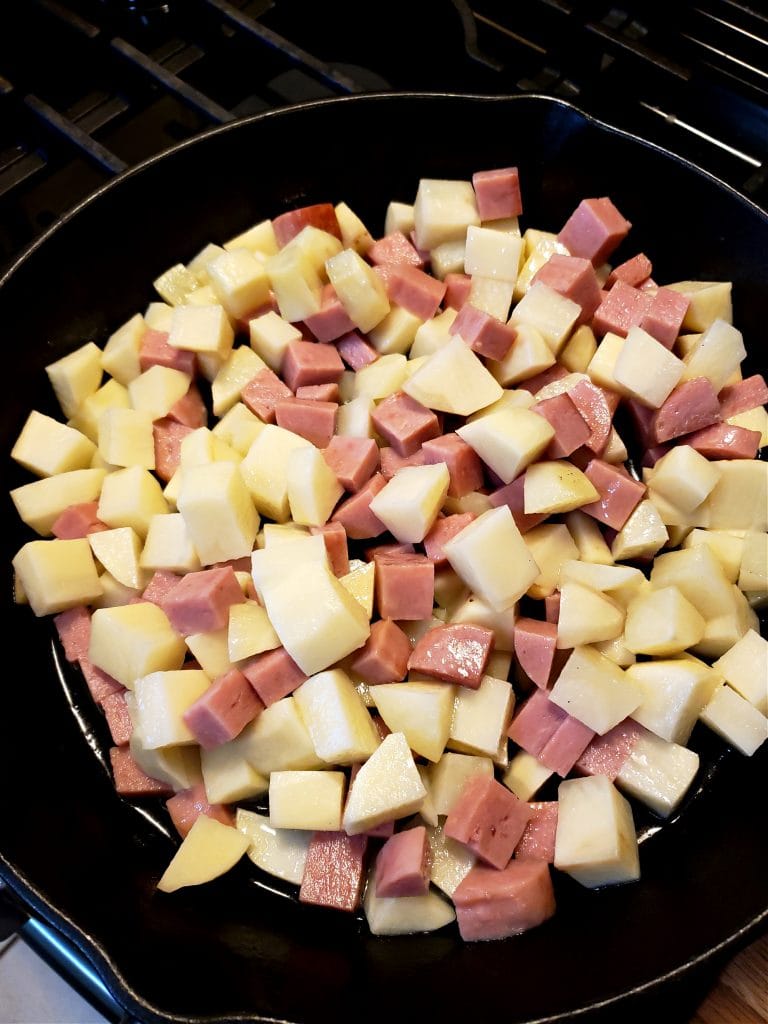 After allowing the Spam to cook a few minutes then I added the cubed potatoes and some diced onion.
I love the combination of onion with fried potatoes.
Then it's just a matter of frying and turning until the potatoes are softened and everything is browned as you'd like it.
Family Friendly Spam Recipes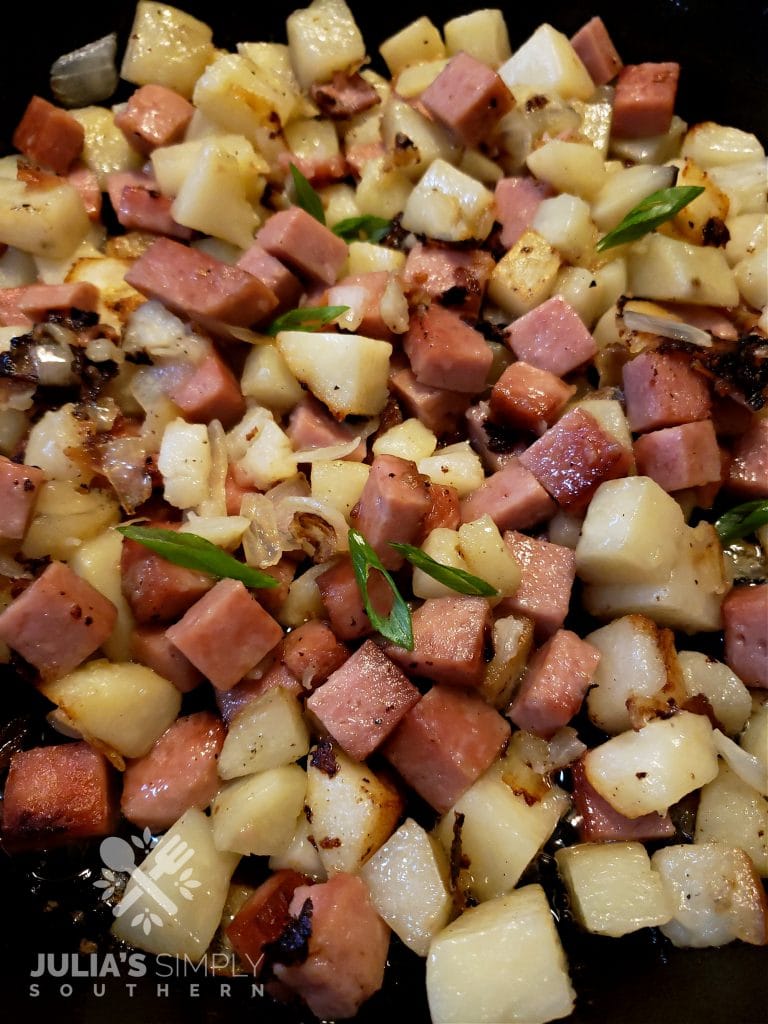 After I seasoned everything then I added a couple of slices of American cheese on top of the Spam and potatoes to melt then plated it up.
It was good! It really was! I'm still a little bit surprised myself. I'd tell you if I didn't like it.
So if you're on the fence with Spam then maybe you should try it fried with potatoes.
This dish would also work fine for breakfast or dinner. A versatile recipe, budget friendly product and shelf stable…you can't go wrong.
Yield: 1 Family Skillet Meal
Fried Spam and Potatoes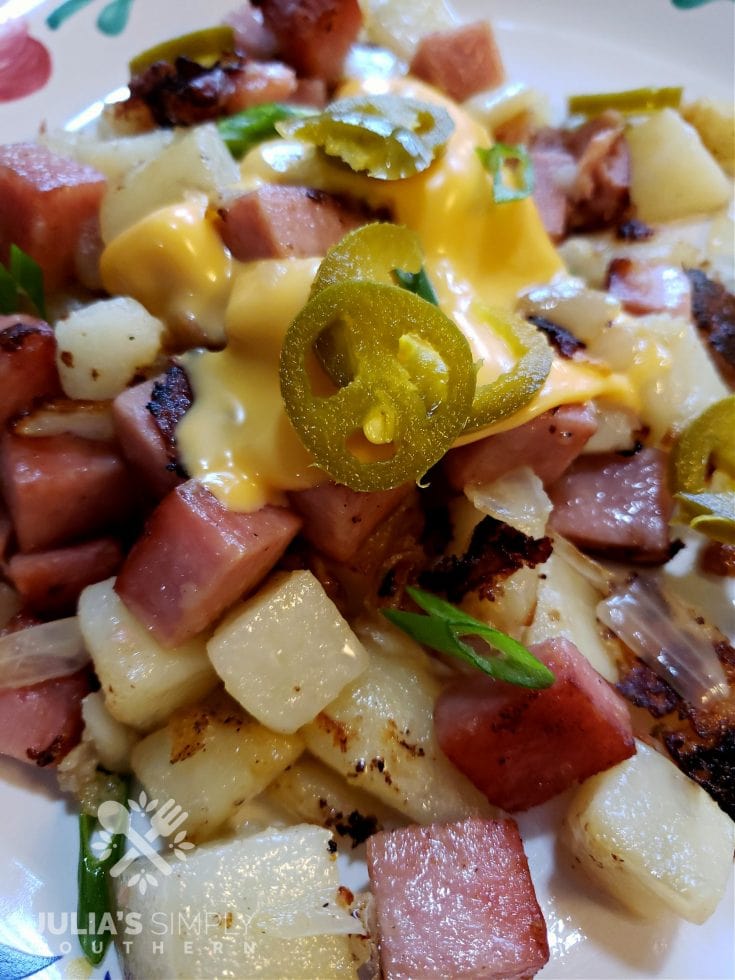 A delicious budget friend meal using the popular pantry staple, Spam. The combination of pan fried Spam and potatoes is a delicious family meal.
Ingredients
⅓ cup Vegetable Oil, for frying
12 oz. Can of Spam, diced
4 Russet Potatoes, medium/large in size peeled and diced
1 Small Onion, diced
Salt and Ground Black Pepper, to taste
Optional
Sliced Cheese and Pickled Jalapeno Slices
Instructions
Heat oil in a large skillet over medium.
Add the diced Spam, potatoes and onion; fry turning occasionally until potatoes are tender and golden brown.
Optional: Add cheese slices on top to melt before serving.
Recommended Products
As an Amazon Associate and member of other affiliate programs, I earn from qualifying purchases.
Nutrition Information:
Yield:
6
Serving Size:
1
Amount Per Serving:
Calories:

412
Total Fat:

28g
Saturated Fat:

7g
Trans Fat:

0g
Unsaturated Fat:

20g
Cholesterol:

42mg
Sodium:

711mg
Carbohydrates:

29g
Fiber:

3g
Sugar:

2g
Protein:

11g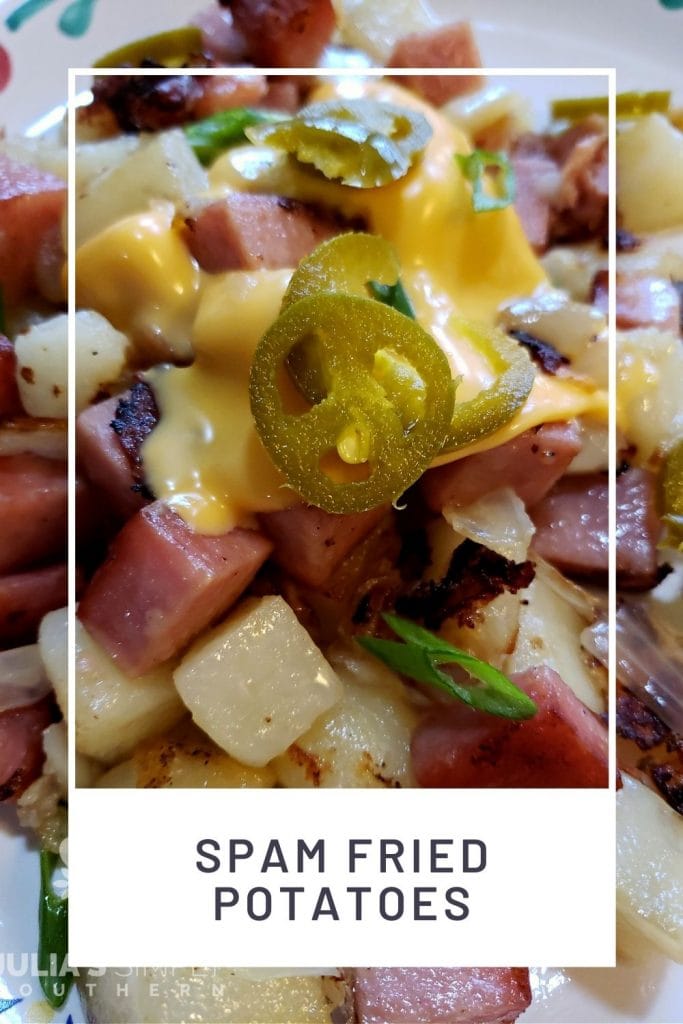 You Might Also Enjoy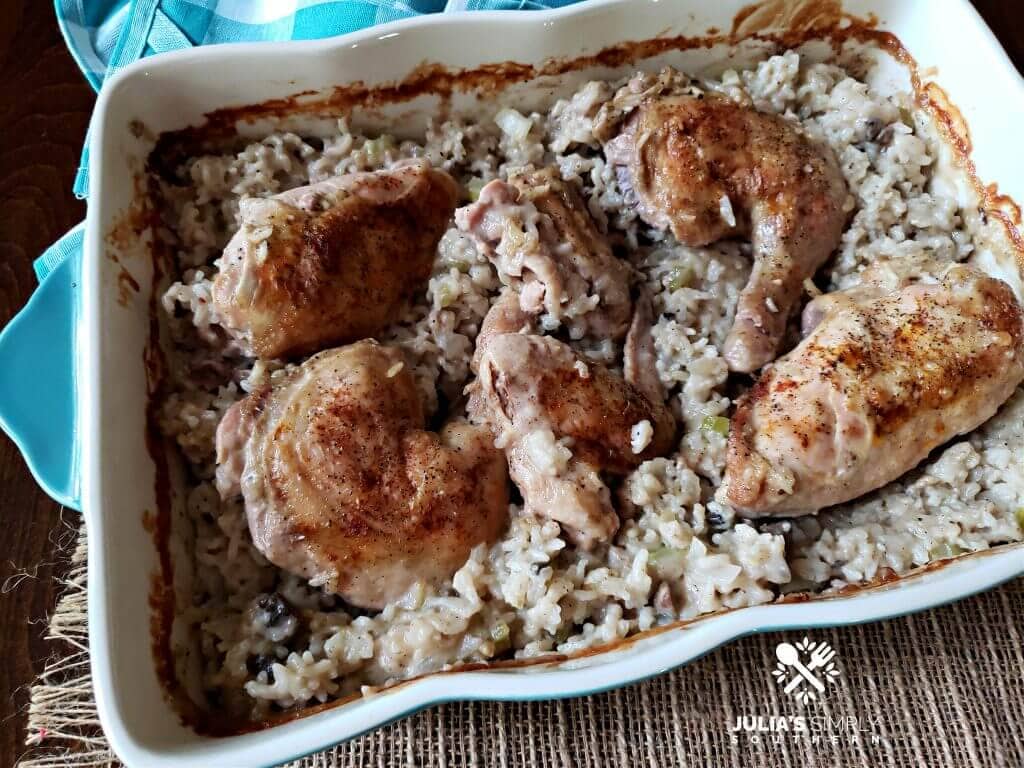 Check out this Traeger Chicken Pot Pie from Or Whatever You Do
Check out the Latest Recipes
Thank you for stopping by and spending a few minutes with me here on the blog. I hope that you enjoy the recipe!
Be sure to subscribe to my email list while you're here and never miss the latest recipes and news here on the blog.
Meet Julia
Author of Julia's Simply Southern
Hey Y'all! I'm Julia, the cook and writer behind the recipes here at Julia's Simply Southern. I began my website so that I could share easy to follow recipes that anyone can use to put a home cooked meal on the dinner table. Thanks so much for stopping by!
Follow me on Facebook | Twitter | Instagram | Pinterest | YouTube