In this post I'll be sharing my moist and delicious Easy Crock Pot Cornbread Dressing Recipe.
Y'all, let me tell you, there is nothing quite like gathering around the table with family and friends, sharing a hearty, soul-warming meal that's been cooked with love.
And today, I've got a recipe that's near and dear to my heart, a true Southern classic that's sure to make your taste buds dance and your heart sing – my Crock Pot Cornbread Dressing. Not only are you going to love how delicious it taste, you're gonna love how easy it is to make.
Now, friend, when it comes to Southern cooking, we take our comfort food seriously, and this cornbread dressing is no exception.
Down here, we love to share those dishes that brings folks together for the holidays, special occasions, or just any day you want a taste of home.
And with the help of your trusty crock pot, it's easier than ever to whip up a batch that's moist, flavorful, and oh-so-delicious cornbread dressing.
So, whether you're planning a big family feast or simply want to enjoy some down-home comfort food, join me in the kitchen as we make this Crock Pot Cornbread Dressing.
Southern Cornbread Dressing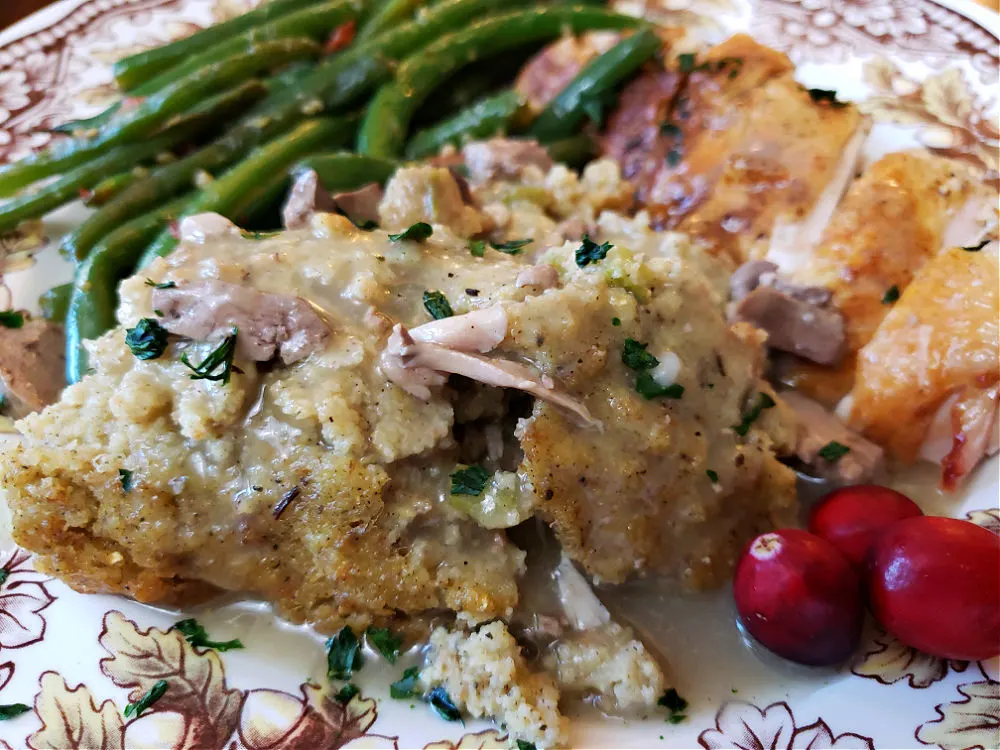 Oh my word, Y'all! Does that not look so delicious? Perfectly moist cornbread dressing, which is wonderful on its own, or covered in a generous helping of giblet gravy like we have here.
This is the perfect side for big Thanksgiving dinners, Christmas dinner, or anytime you want to serve up a plate of lovingly prepared good food to those you love.
Preparing the crockpot stuffing in your slow cooker also saves that valuable oven space that you'll need Thanksgiving morning for other dishes.
Crock Pot Cornbread Dressing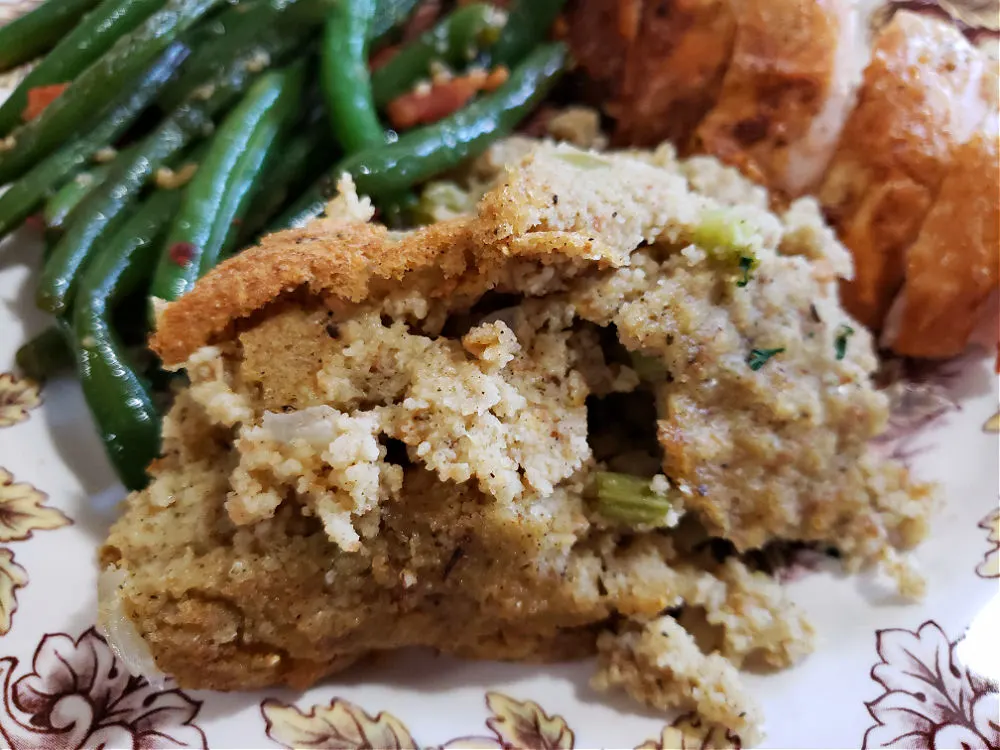 What to Serve with Crock Pot Cornbread Dressing?
Crock Pot Cornbread Dressing is a delightful Southern comfort food dish that pairs wonderfully with a variety of other dishes to create a well-rounded meal. Here are some delicious options to serve alongside your dressing:
Roast Turkey or Chicken: Traditional roast turkey or chicken is a classic choice to serve with cornbread dressing, especially for holiday dinners like Thanksgiving.
Gravy: A rich and flavorful gravy, whether it's turkey gravy or a hearty giblet gravy, drizzled over the dressing adds extra moisture and delicious flavors.
Cranberry Sauce: Sweet and tangy cranberry sauce compliments the savory flavors of the dressing. I'm not sure we could do Thanksgiving dinner with the cranberry sauce.
Green Beans: this is one of our must have sides for holiday meals, whether it is country style green beans or fresh sautéed with a kick….we are a green bean loving bunch at our house.
Mashed Potatoes, Potato Salad, Sweet Potato Casserole or Sweet Potato Soufflé: all great choices for a holiday feast to enjoy with the cornbread dressing.
Deviled Eggs: These classic Southern appetizers can be a tasty addition to your meal. I also think it is an un-official law that deviled eggs are a requirement for the Thanksgiving meal. I like to serve mine up with a relish tray.
Remember, the key is to create a balanced and well-rounded meal with a combination of textures, flavors, and colors. Having a variety of choices for everyone to enjoy is all that matters. The side dishes are the real star on turkey day.
What do I need to make Cornbread Dressing?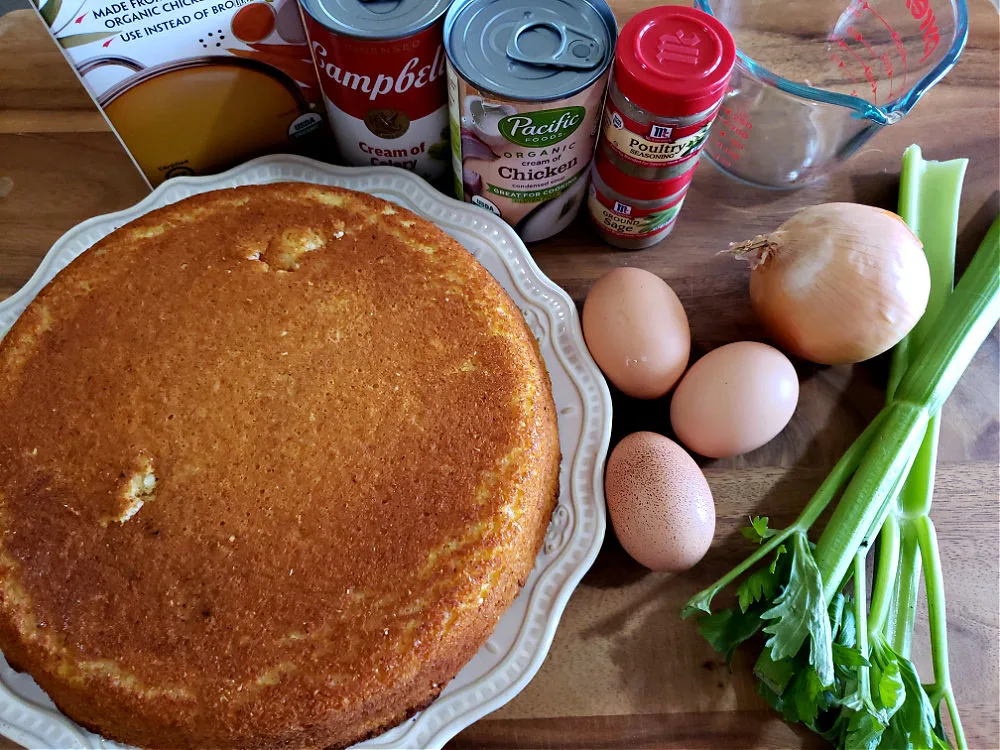 Here are the simple ingredients that you'll need to make this crockpot cornbread dressing:
Homemade Cornbread: for me, classic Southern cornbread is the most important main ingredient. To make your own cornbread is so easy and takes the most basic ingredients. If you really prefer to use a boxed mix, or mix packet, do not use the sweet cornbread mix.
Celery: adds flavor, aromatics and texture.
Onion: adds flavor, aromatics, and texture.
Cream Soup: you'll need a can of cream of celery soup and a can of cream of chicken soup, which adds flavor and moisture to the dressing recipe.
Seasonings: kosher salt, cracked black pepper, poultry seasoning, and ground sage (optional). Most tend to agree that you need both poultry seasoning and the sage in dressing, but some prefer to leave out the sage. It's up to you and your tastes.
Chicken Stock or Chicken Broth: adds richer flavor and helps in combining the cornbread mixture to create a more moist dressing. Nobody wants dry dressing this holiday season.
Large Eggs: help to bind everything together.
Butter: small pieces of butter to dot the top of the dressing for extra moisture, flavor, and help browning.
You'll also need cooking spray to mist the crockery before filling it with your delicious cornbread dressing mixture on Thanksgiving day.
Options and Additions
The ingredients that I have shared above deliver that classic Southern flavor that we love in our cornbread dressing. That list gives you everything that you need to make an easy dressing for your meal in a basic recipe.
There are options and additions that you can add, if you like. You may opt for a Jiffy mix, or other mix, but remember my suggestion and do not use a sweet cornbread mix. It will ruin your dressing.
You may opt for another flavor of creamed soup, like cream of mushroom soup. Some folks like to add old bread to the cornbread cubes, or cornbread crumbs. Other folks like to add green onions, bell peppers, sausage and additional seasonings.
If you're preparing this recipe for a regular meal and want to add shredded rotisserie chicken to make it a casserole is a favorite family recipe. Transforming it into a casserole is also one of the great recipes to share at a weekend potluck with friends, family gatherings, or church socials.
The steps for making Crock Pot dressing are so easy…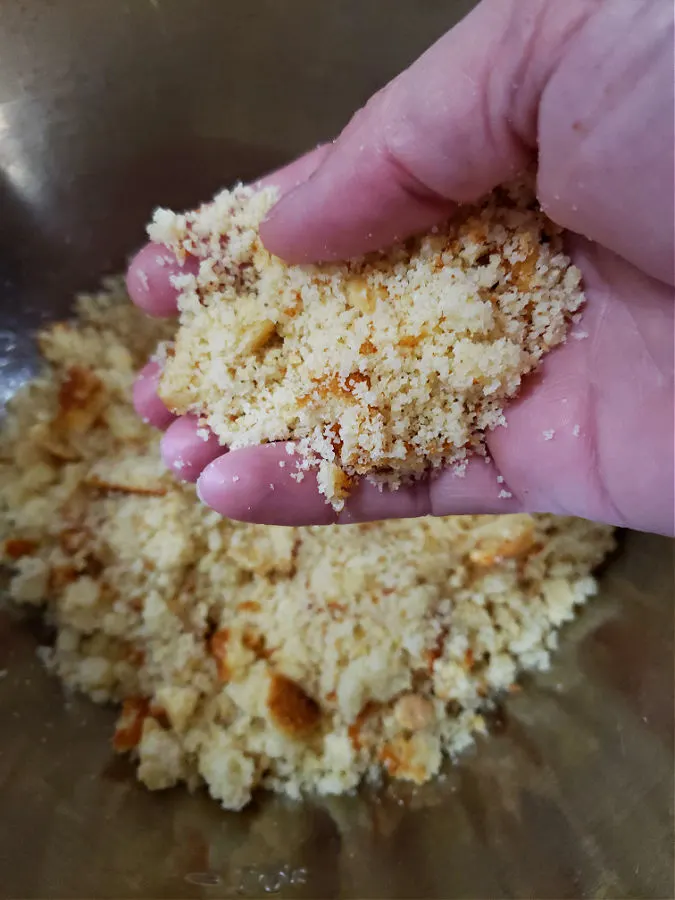 To begin, crumble the classic Southern cornbread into a large mixing bowl. You'll want a large bowl that can hold all of your ingredients with generous room for mixing things up.
A time saving tip is to make your cornbread a few days ahead and wrap it in plastic wrap and store on your countertop.
Since you'll be crumbling it up anyways, it doesn't matter if you prepare the cornbread in a cast iron skillet, baking dish, or cake pans.
You can also make the cornbread weeks in advance and freeze until needed for your stuffing mix.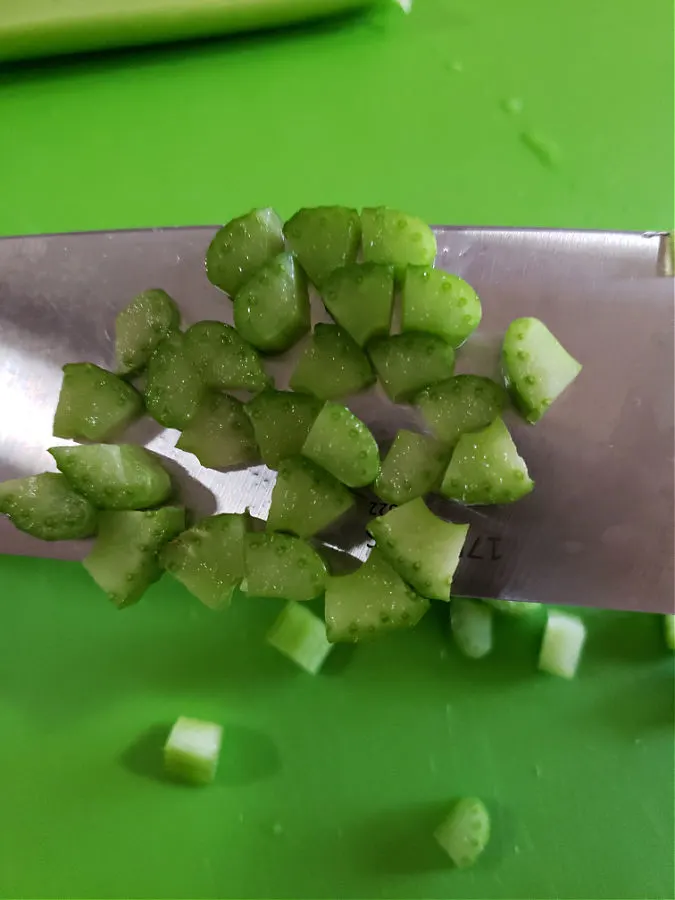 The next step in this perfect side dish for your holiday meal is to add the diced celery and onion to the bowl with the cornbread crumble.
I prefer that the celery and onion are diced into small pieces. How about you?
The BEST Slow Cooker Cornbread Dressing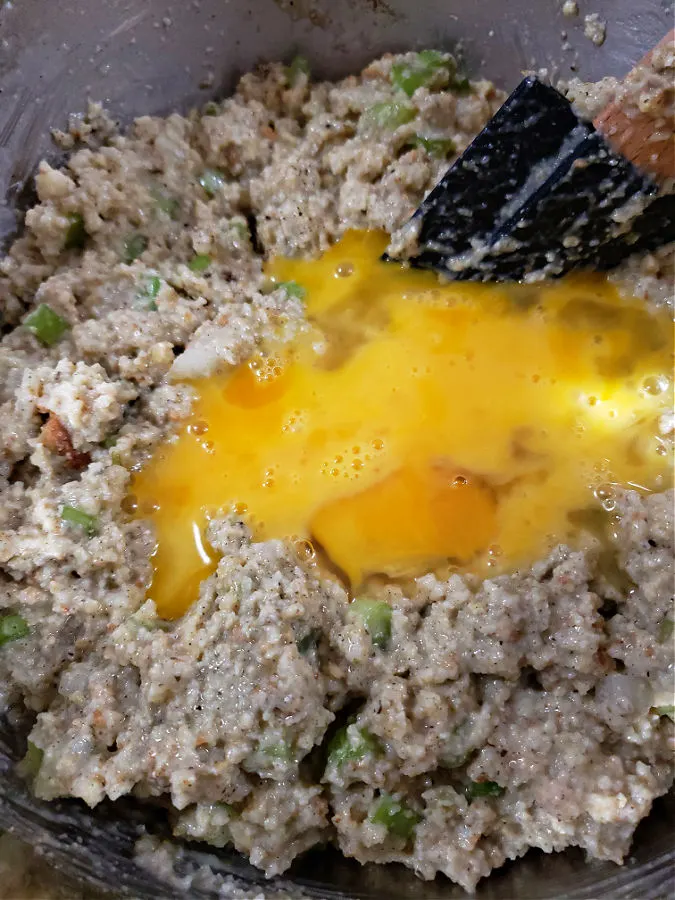 Next, add the creamed soups, salt, pepper, poultry seasoning (a blend of thyme, sage, marjoram, rosemary, pepper, and nutmeg), ground sage (if using), and chicken stock. Stir everything together with a spatula to combine with the cornbread crumbs.
Take a small taste test of your dressing mixture and adjust any seasonings that you may want to tweak to suit your tastes.
Once the cornbread dressing mixture is to your liking, add the beaten eggs in last and mix to combine with the rest of the mixture.
Moist and Delicious Crock Pot Stuffing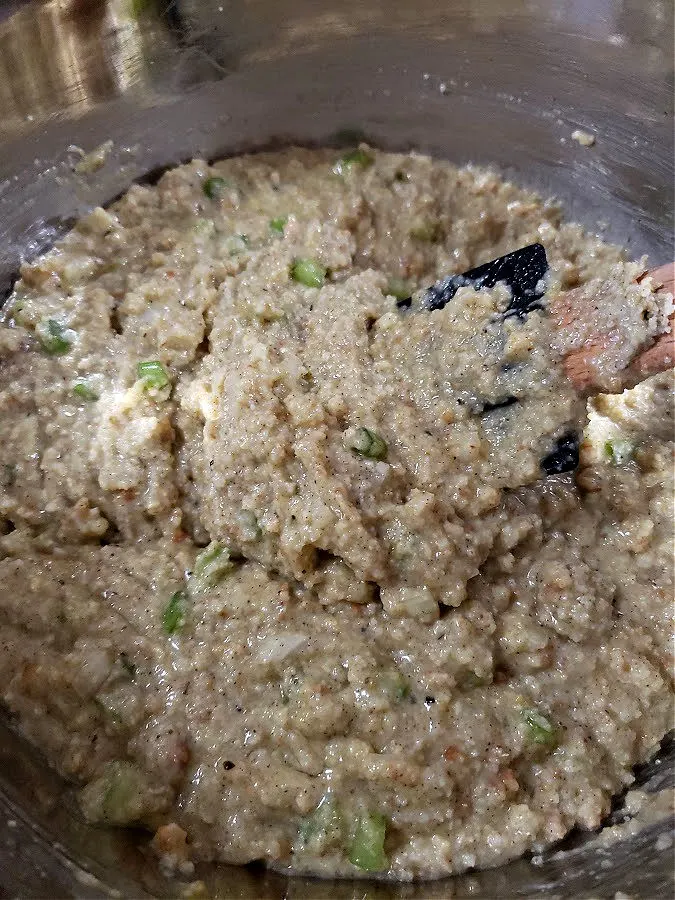 This is how your Southern cornbread dressing mixture should look when it is ready to go into your slow cooker.
It is a very moist dressing mixture without being overly soupy. You can see the seasonings and the aroma smells wonderful.
Lightly spray the pre-heated crockery with non-stick spray. Now, transfer the mixture to the crockery of your slow cooker.
Slow Cooker Thanksgiving Dressing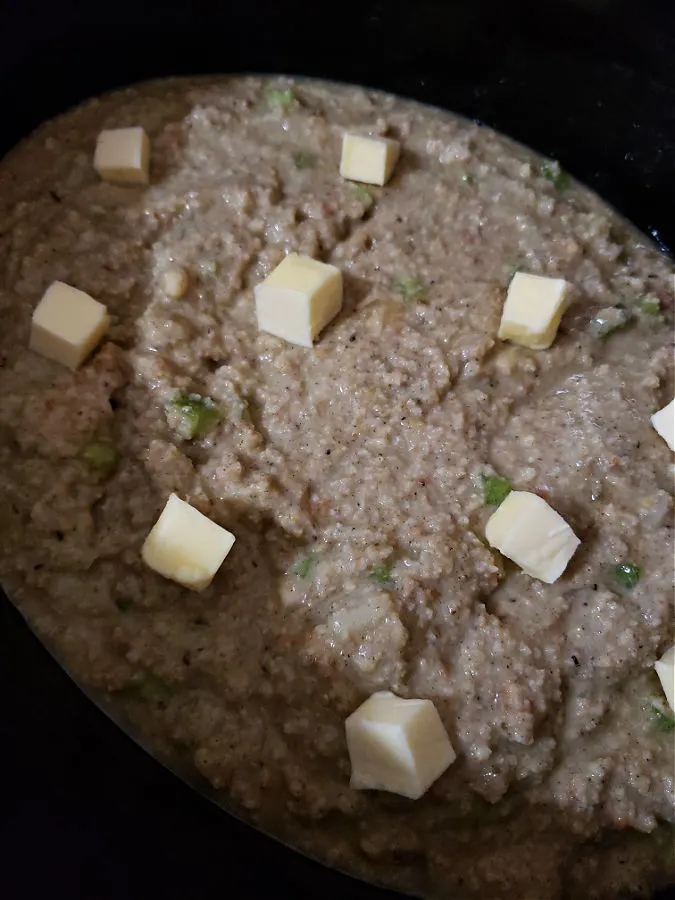 Cut up two tablespoons of butter into small pieces and place on top of your Southern cornbread dressing mixture.
As the dressing cooks in your slow-cooker, the melted butter will also work to keep things moist while adding flavor and help give a bit of browning to the dressing.
Homemade Cornbread Dressing in the Crock Pot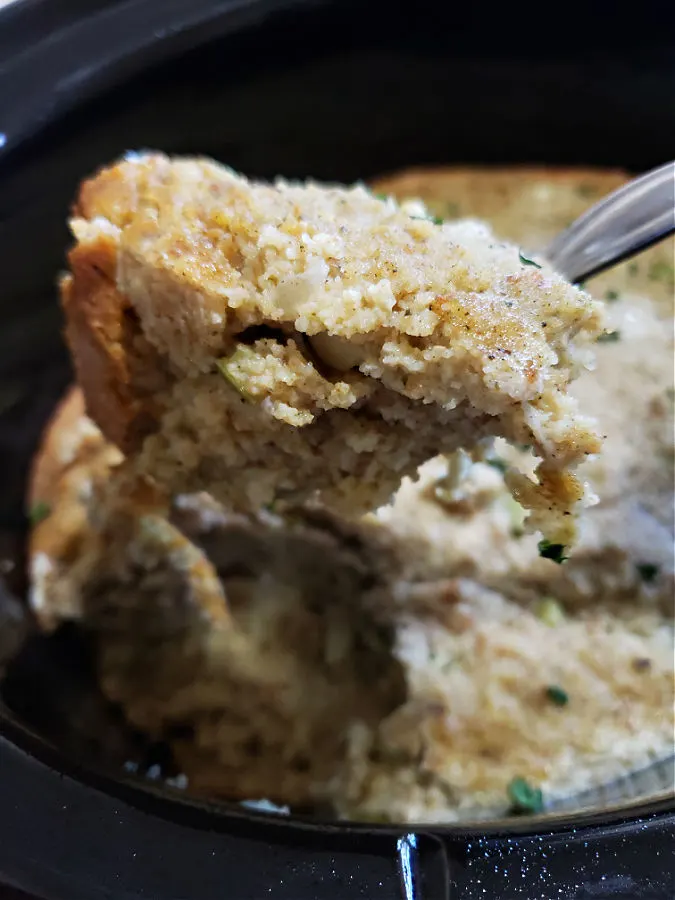 The cooking time should take four hours on the low setting and your slow cooker dressing is ready to serve.
I told ya that was an easy slow cooker recipe to help you prepare your Thanksgiving meal! That didn't take a bit of hard work, other than perhaps chopping up the celery and onion.
Even if this is your first time preparing cornbread dressing, I know this easy Crock Pot version will be successful for you.
Oh, and before I forget, if you are wondering "can you keep dressing warm in a Crock Pot?", the answer is yes. Lower it to the warm setting and serve your dressing straight from the slow cooker.
Easy Crock Pot Cornbread Dressing Recipe Card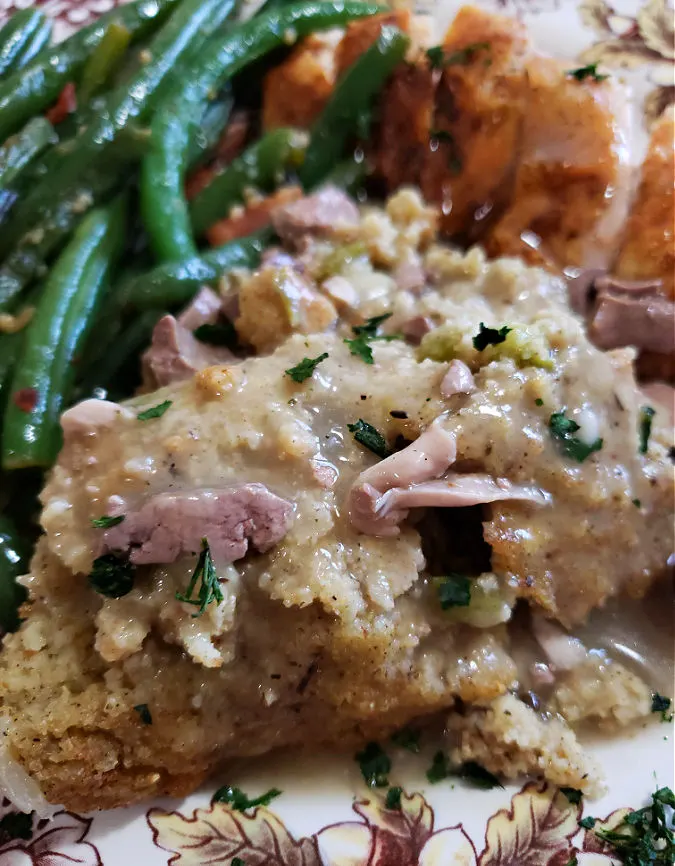 Below is the printable recipe card with the ingredients and steps to help you prepare the very best Crock Pot Cornbread Dressing.
Remember, you will find additional information and helpful tips within the blog post, so be sure to check it out.
Yield: 1 Side Dish
Easy Crock Pot Cornbread Dressing Recipe: Moist and Delicious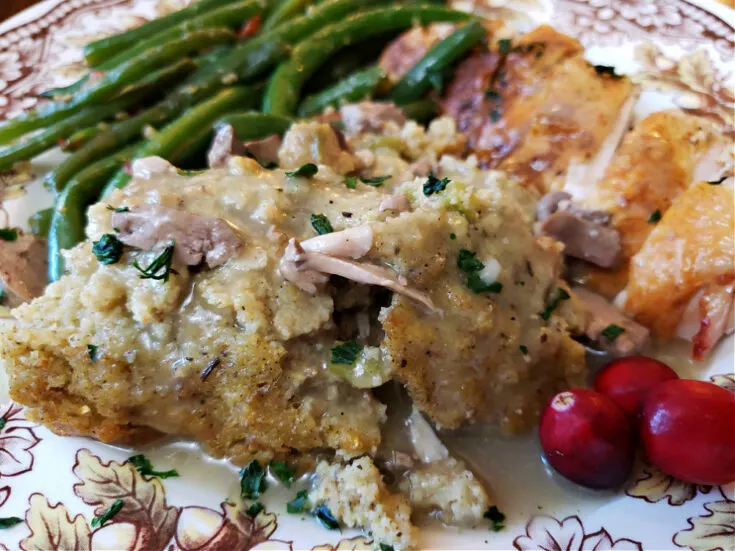 Y'all get ready to savor the flavors of the South with my Crock Pot cornbread dressing recipe. This Southern holiday side dish is perfect for everyday meals too and cooks up moist and delicious in your slow-cooker. Serve up the crockpot dressing with roasted turkey or chicken, cranberry sauce, and more of your favorite comfort food sides.
Total Time
4 hours
15 minutes
Ingredients
1 Cake of Cornbread, crumbled (about 6½ cups)
1 cup Celery, diced
1 Small Onion, diced
10.5 ounce Cream of Celery Soup, undiluted
10.5 ounce Cream of Chicken Soup, undiluted
½ teaspoon Kosher Salt, or to taste
¼ teaspoon Freshly Cracked Black Pepper, or to taste
1½ tablespoon Poultry Seasoning (I use McCormick), or to taste
½ tablespoon Ground Sage (optional), or to taste
1½ cups Chicken Stock (or broth)
3 Large Eggs, slightly beaten
2 tablespoons Butter, cut into small cubes
Instructions
Preheat the Crock Pot crockery on the low setting.
Crumble the cornbread into a large mixing bowl.
Next, add the diced celery, diced onion, creamed soups, chicken stock and seasonings to the cornbread; stir to combine.
Taste for seasoning and adjust if needed.
Next, add the beaten eggs and stir to combine with the cornbread mixture.
Lightly spray the crockery with non-stick cooking spray then transfer the cornbread dressing mixture into the pre-heated crockery.
Add butter pieces to the top of the cornbread mixture, cover with the lid then cook on the low setting for 4 hours.
When done, the Crock Pot setting may be lowered to "warm" and the cornbread dressing served straight from the slow cooker.
Notes
The cornbread can be made a few days in advance and stored wrapped in plastic wrap on the countertop or made weeks ahead and frozen until needed.
The cornbread dressing mixture can be made the day before and refrigerated overnight until ready to cook. Give the mixture a stir before adding to the Crock Pot for cooking.
More tips, serving suggestions, and ingredient options can be found in the full blog post.
Recommended Products
As an Amazon Associate and member of other affiliate programs, I earn from qualifying purchases.
Nutrition Information:
Yield:
8
Serving Size:
1
Amount Per Serving:
Calories:

185
Total Fat:

11g
Saturated Fat:

4g
Trans Fat:

0g
Unsaturated Fat:

6g
Cholesterol:

93mg
Sodium:

612mg
Carbohydrates:

16g
Fiber:

1g
Sugar:

5g
Protein:

6g
This recipe may serve more depending on appetite and serving size.
Helpful Tips for Holiday Meals
When it comes to making those special meals for your loved ones, there are a few helpful tips I've picked up over the years that can make your holiday feasts extra special.
First things first, don't be afraid to use butter, sugar, canned cream of something soup and all those delicious ingredients that make holiday dishes taste like a warm hug from Grandma.
Remember, planning is key, so make a list, check it twice. Write out your menu, write out your grocery store list, and do the shopping a week or so in advance. The grocery store will be so busy the closer you get to the holiday. Doing it in advance will be much more pleasant and calm experience.
Set your table, unless you plan to serve buffet style where everyone just grabs a plate and sits wherever they please.
Oh, and don't stress, honey, the holidays are about spending time with family and friends, so enjoy every moment and savor the flavors of the season.
It is best to work with recipes that you've tried in advance. Nobody wants a disappointment in a dish that doesn't turn out right on the big day.
Preparing the cornbread dressing in your Crock Pot, I have a 7 quart model and that is what was used to create this recipe. Other size models may need to have the cooking time adjusted.
Kitchen tools need to prepare slow cooker Thanksgiving dressing
To prepare Crock Pot cornbread dressing, you'll need a few essential kitchen tools and equipment to make the process smooth and efficient:
The Slow Cooker – as mentioned above, I used a 7 quart model of Crock Pot.
Mixing bowls, whisk, spatulas, measuring cups and spoons
Knife and cutting board
Cooking spray and a timer
skillet or casserole dish to prepare your cornbread ahead of time.
Popular on the Blog
The Latest Recipes on the Blog
Easy Crock Pot Cornbread Dressing Recipe
So there you have it, darlin'! A mouthwatering Crock Pot Cornbread Dressing paired with a delightful array of sides to make your Southern feast complete.
Whether you're gathering around the table for a special occasion or just want to savor some good ole comfort food, this meal is sure to warm your heart and satisfy your soul.
From the rich and savory dressing to the tender roast turkey, zesty cranberry sauce, and all the fixings in between, every bite is a taste of Southern hospitality and love.
So, whip up this spread, share it with your loved ones, and create cherished memories that'll last a lifetime.
Before you take off, please add your email address to my list to receive my weekly e-newsletter. Subscribers receive the latest recipes and news from here on the blog delivered straight to your inbox so you never miss a thing.
Until next time, y'all, keep cooking with love and filling your hearts with thankfulness!
Meet Julia
Author of Julia's Simply Southern
Hey Y'all! I'm Julia, the cook and writer behind the recipes here at Julia's Simply Southern. I began my website so that I could share easy to follow recipes that anyone can use to put a home cooked meal on the dinner table. Thanks so much for stopping by!
Follow me on Facebook | Twitter | Instagram | Pinterest | YouTube