In this post I'll be sharing a Southern Self Rising Biscuits Recipe.
Y'all, I love homemade biscuits! Once you get the knack for making biscuits then you can easily make your own scratch made biscuits about as quick as it takes to bust open a can.
Well, almost, but you can be sure they'll be a whole lot better.
I remember watching Nanny make biscuits. She had this huge green colored Tupperware bowl that she kept flour in.
Nanny didn't even bother messing up another bowl, she would made a little well in the tub of flour and make biscuit dough not bothering to measure a thing.
Once she had the amount of biscuit dough that she wanted, she would pull it out and leave the rest of the flour untouched.
My great-grandmother, whom Nanny lived with, didn't care for her making the dough right in the flour bowl and I remember they'd always squabble about it.
I sure miss both of them and cherish those memories. They taught me an awful lot…about everything really.
Nanny once told me that when you get "the feel" for making biscuits that it is always easy after that. She was right.
Southern Buttermilk Biscuits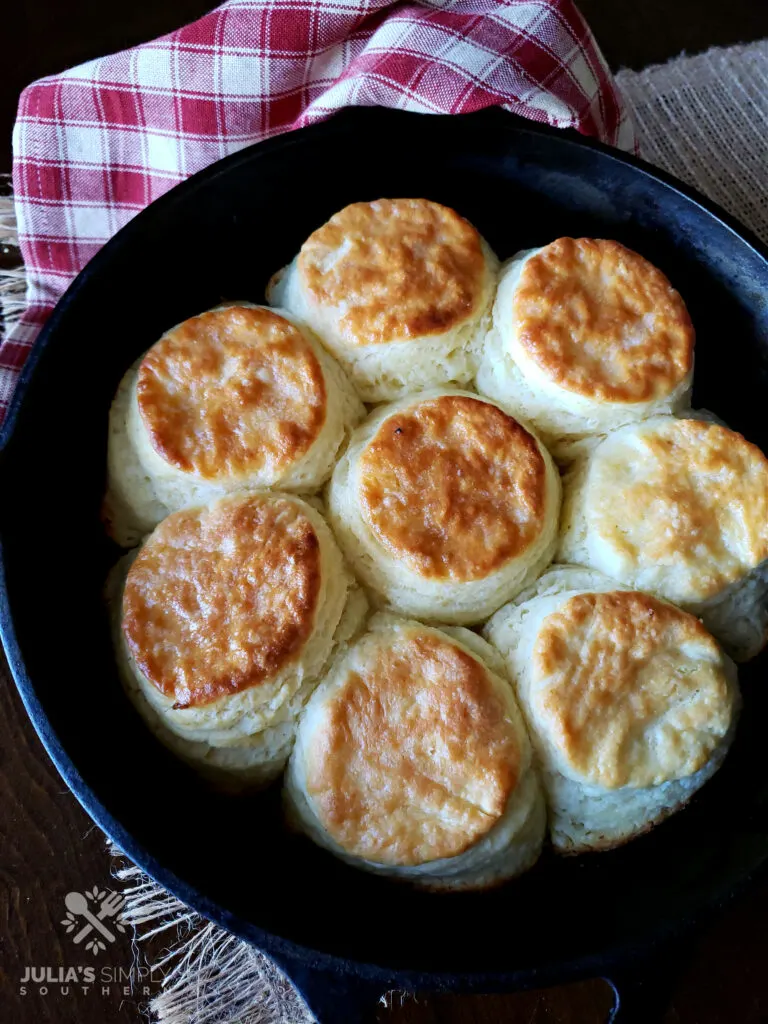 There are a couple of key points when making Southern biscuits from scratch.
You need soft winter wheat flour – You must have leavening agents for biscuits to rise and the self rising flour already has them mixed in so there's no need to add any. If you're using an all purpose type of flour then you would need to add baking soda, baking powder and salt.
You'll need some fat, butter or shortening.
Biscuit dough will require some liquid, buttermilk or sweet milk will do. Did anyone else grown up with whole milk being called sweet milk?
The oven has to be piping hot when the biscuits go in for baking.
So when making Southern self rising biscuits, you only need 3 ingredients.
What is the best flour to make biscuits? My choice of flour is the White Lily brand, unbleached self rising. That's the bag with the red dot on the front. I also keep White Lily all purpose on hand for other recipes.
Homemade Buttermilk Biscuits with Self Rising Flour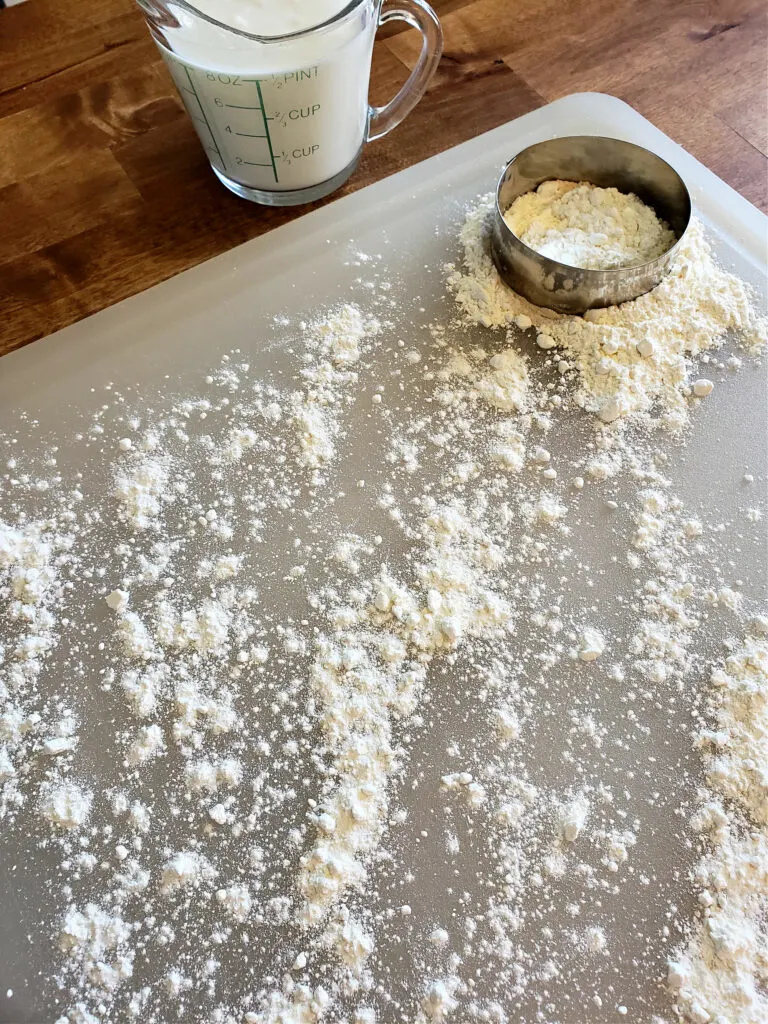 When preparing biscuits, you will need a floured work surface to roll out your dough.
A bit of extra flour off to the side, no more than a quarter cup, is always nice in case you need it for dusting the bowl or your tools.
Normally I almost always just use my hands to press out my biscuit dough but I've had so many requests to share how to make biscuits using a rolling pin that I'm gonna share doing it that way.
Folks tend to find their own particular favorite ways to prepare biscuits once they get the hang of making them. Some like rolling pins and some don't.
I don't mind using a rolling pin but think that when you're just starting out learning to make biscuits that sometimes that rolling pin makes it too easy to overwork the dough
You never want to over-work biscuit dough because it can activate too much of that natural gluten in the flour and they just don't turn out right.
How Do You Make Southern Buttermilk Biscuits from Scratch?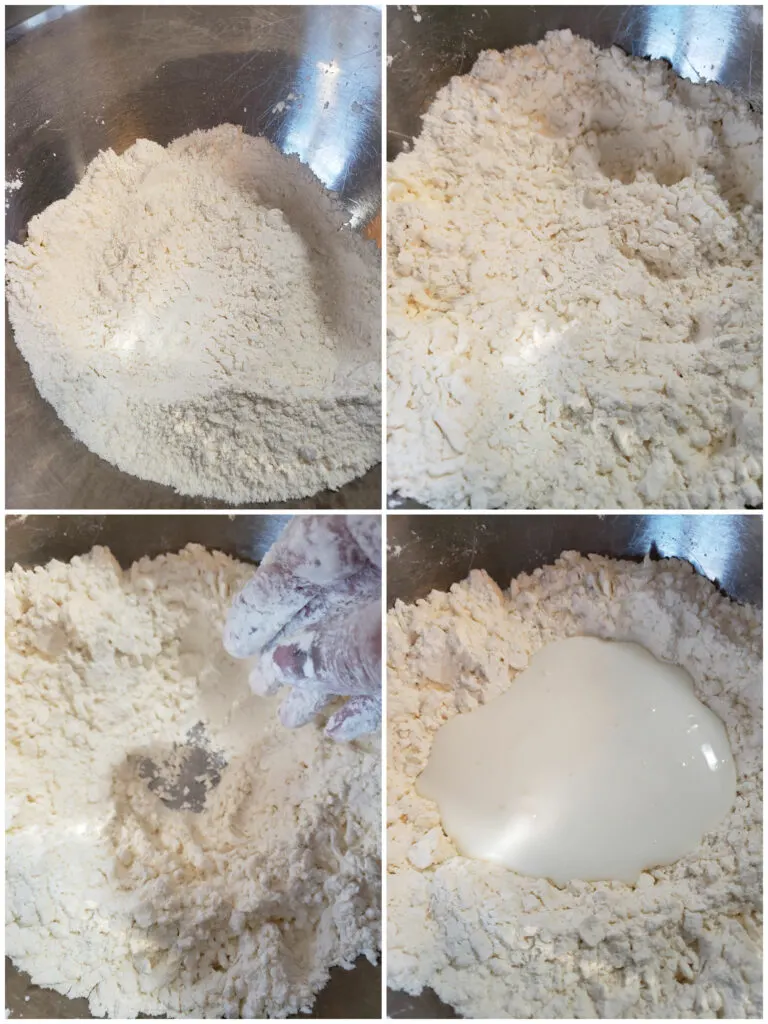 Begin by adding your self rising flour to a large mixing bowl then you'll cut in the fat.
How do you cut fat into flour? There are several ways that you can cut in your butter or shortening (or combination of the two) into your flour.
Use a pastry cutter to mix it into the flour.
Pinch off the fat and work it into the flour with your hands.
Use a food processor to pulse it in to combine.
Use the tines of a fork to cut it in.
My favorite method: I freeze the butter and grate it in then use my fingers to really work it into the flour.
Back when I would use a 50/50 butter and shortening mix, I would also freeze the shortening to grate in. The shortening starts to melt faster than butter from the heat of your hands and it's a bit messy. The butter is much easier for grating.
Once the fat is cut in and the flour now looks mealy (top right photo), make a little well (bottom left photo) then add your cold buttermilk.
Buttermilk adds a nice bit of flavor to homemade biscuits and I always have it on hand for cooking anyways.
I never cared for drinking buttermilk but remember Nanny drinking a glass or having cornbread and buttermilk. Lots of folks used to enjoy eating leftover cornbread covered in buttermilk or sweet milk, like cereal of sorts.
Are biscuits better with butter or shortening? Either fat will make some delicious biscuits but I've switched off to just using butter only and I'll tell you why. About a year or so ago, I was watching my friend Stacey Little from Southern Bite make biscuits.
He made a statement about why he liked using butter only and it stuck with me and made perfect sense.
The point that he made was leftover biscuits made with shortening would have a taste of that shortening when they were cold. I never really thought about it but he was right of course. I knew exactly what he was talking about.
Then he said "why not enjoy that butter flavor in cold biscuits", or something to that effect. Well yeah! I like butter. So now I'm team butter all the way.
Easy Southern Biscuits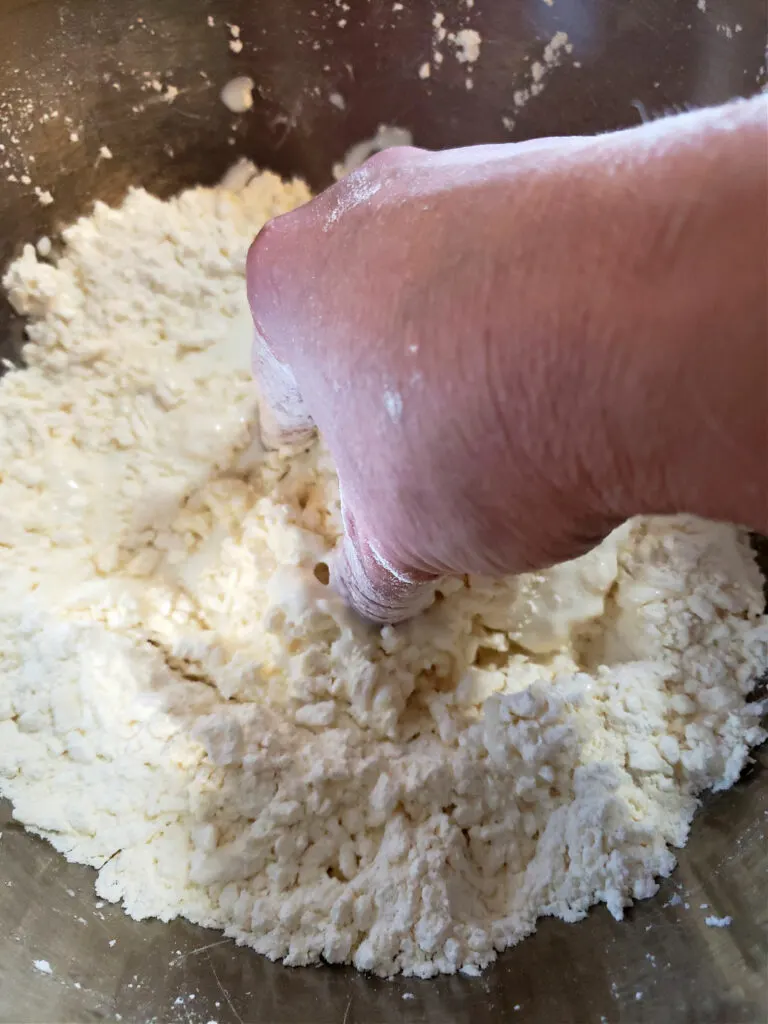 Next, the buttermilk needs to be combined with your flour mixture. Since I already have a "flour hand" from working in the butter, I just use my hand to combine everything together.
A spatula would also work just fine but since I've got to work with the dough with my hands after turning it out anyways…why not just dig in.
Fluffy Homemade Biscuits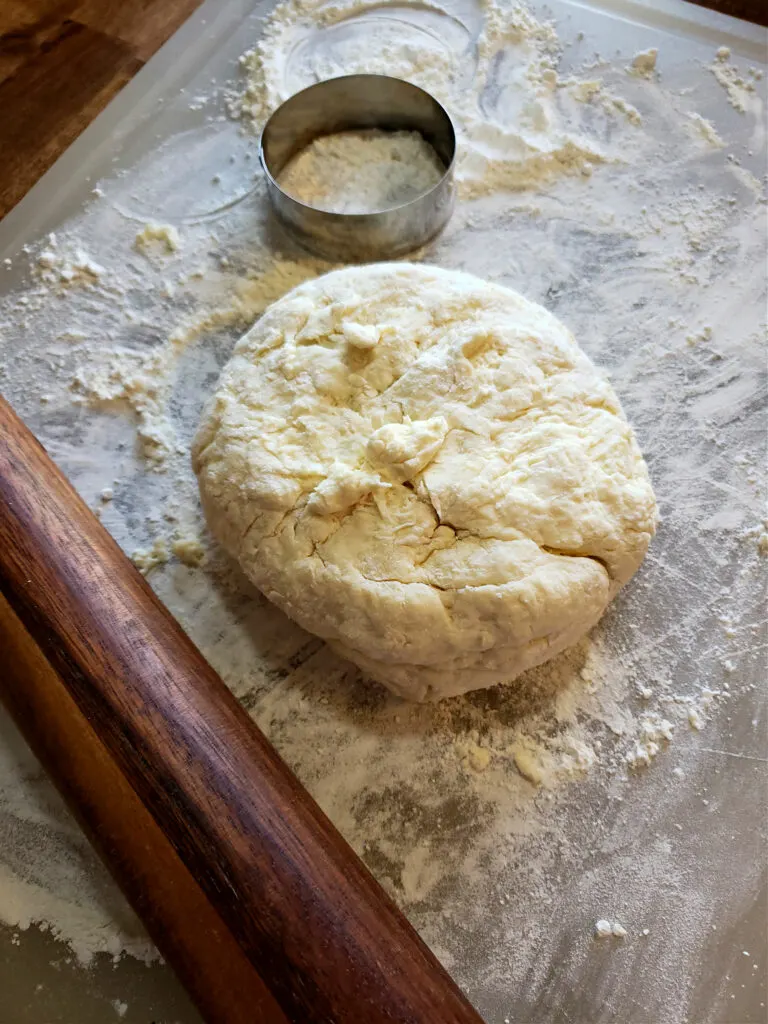 Now for the fun part…rolling out the biscuits. Dust the dough with a little flour and use your hands to gently go around the dough and pat making sure it's not too sticky.
If it seems too wet or sticky, add a bit more flour.
Layered High Rise Biscuits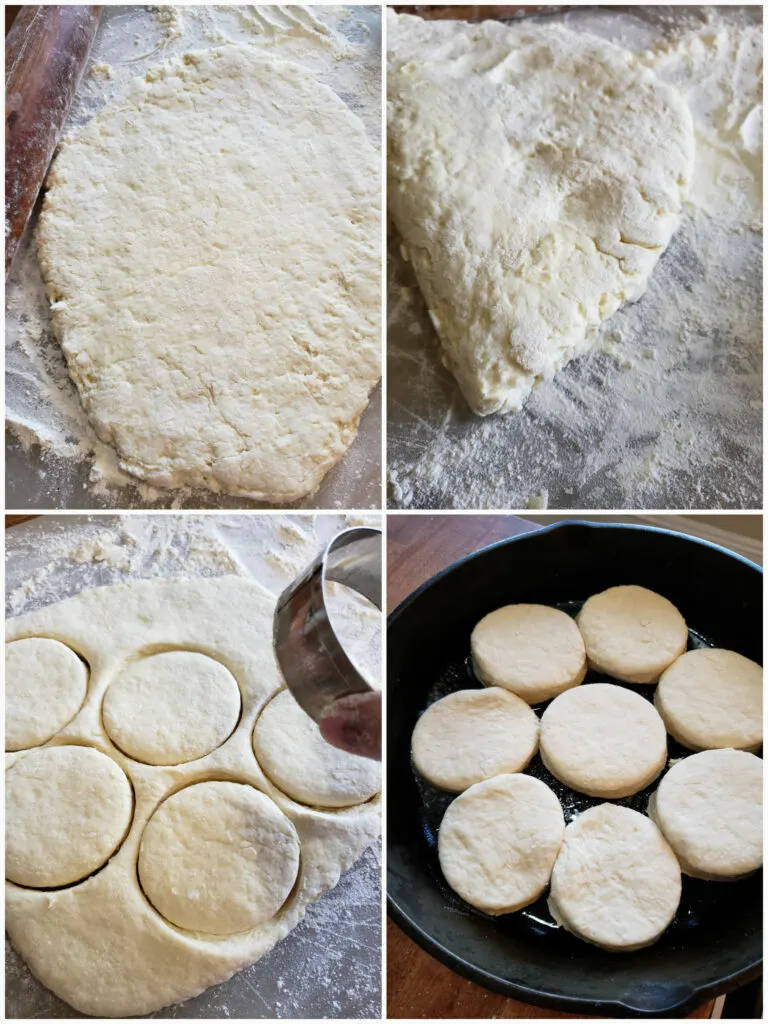 Take a little flour from your small working pile and rub some over your rolling pin. Roll the dough out, shape is not that important, until it is about an inch thick.
We're about to add some fluffy layers to these biscuits y'all! Take half of the rolled dough and fold it over the other half. Repeat the rolling and folding a couple of more times.
You've just created layers in your biscuits. Easy peasy, right?!
After the dough is rolled out the final time as evenly as possible, use a biscuit cutter to push straight down and straight back up to cut the biscuits. No twisting!
It might be a natural tendency to want to twist when cutting biscuits but don't do it. It will pinch the edges of the biscuits and they may not rise as they should.
Transfer the biscuits into a cast iron skillet or on a baking sheet so that they touching. Biscuits that touch rise high, biscuits that are spread apart give your crispier edges. Your choice. Either way they'll be delicious.
Now this is completely optional but something that I've taken to doing. I add a tablespoon of butter to the skillet and pop it in the oven for a couple of minutes to melt before putting my biscuits in the pan.
Put your biscuits into a super hot oven to bake until golden brown. That will take up to 20 minutes, give or take. I think this particular batch was in 17 minutes.
The hot oven activates those leavening agents to push those biscuits up.
Best Buttermilk Biscuits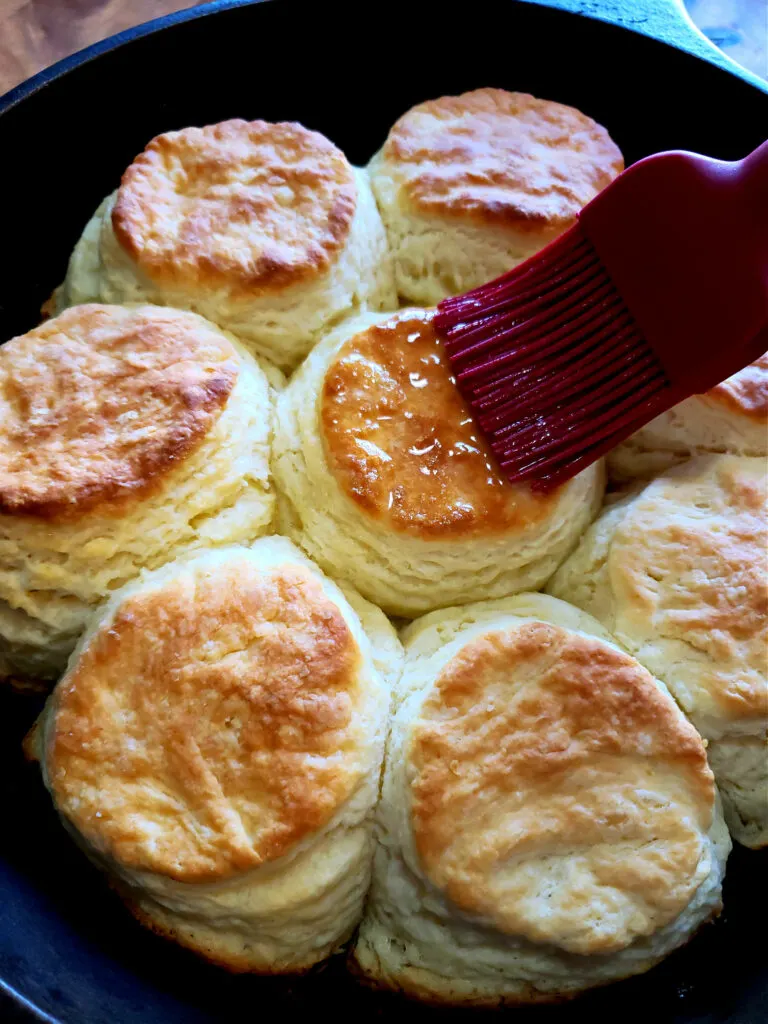 By the way, you can never have too much butter. When those biscuits come out of the oven have a couple of tablespoons of melted butter ready so you can brush the tops.
Southern Self Rising Biscuits Recipe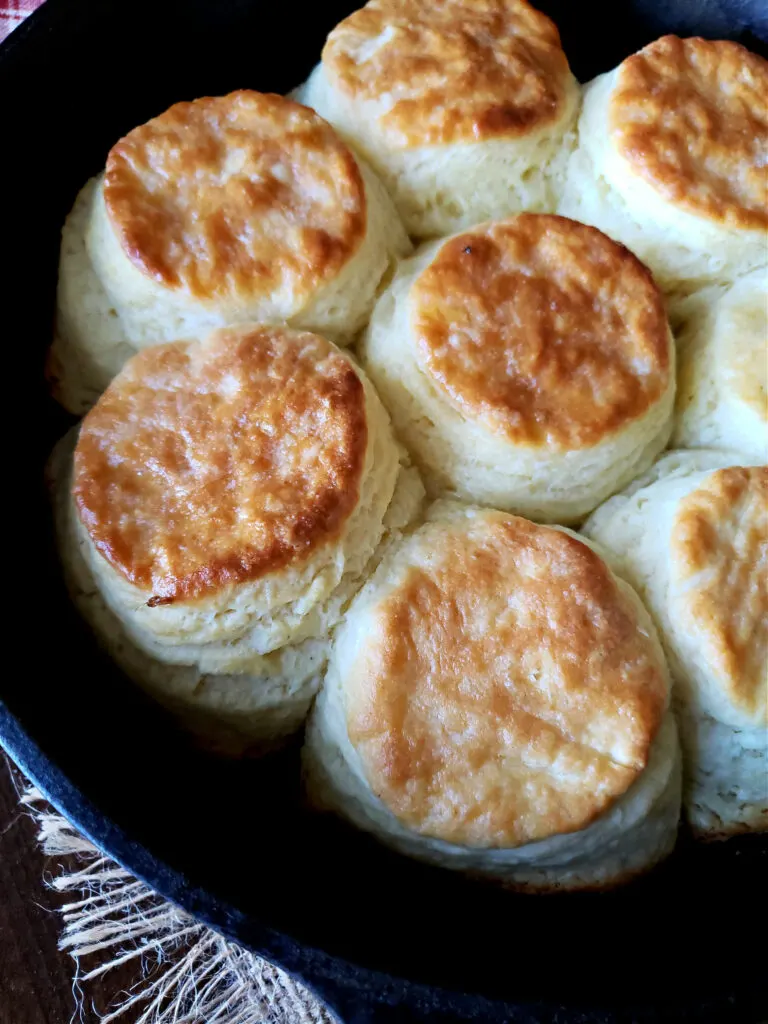 Look at those beautiful mile high flaky biscuits y'all! Don't they look amazing? I sure think so!
Enjoy homemade buttermilk biscuits as a bread side to any meal, or use them to make breakfast sandwiches or top them with some sausage gravy. So many delicious possibilities!
Thank you for bearing with me so that I could explain every step along the way to ensure that you have great results making your scratch made biscuits.
Making homemade biscuits is one of those things that does take a few times of practice to get it right. If they don't turn out pretty, so what, they'll still be good. You'll master this Southern Self Rising Biscuits Recipe in no time at all.
Below you'll find the recipe and instructions (a shorter version) in the printable recipe card.
Yield: 8 Biscuits
Southern Self Rising Biscuits Recipe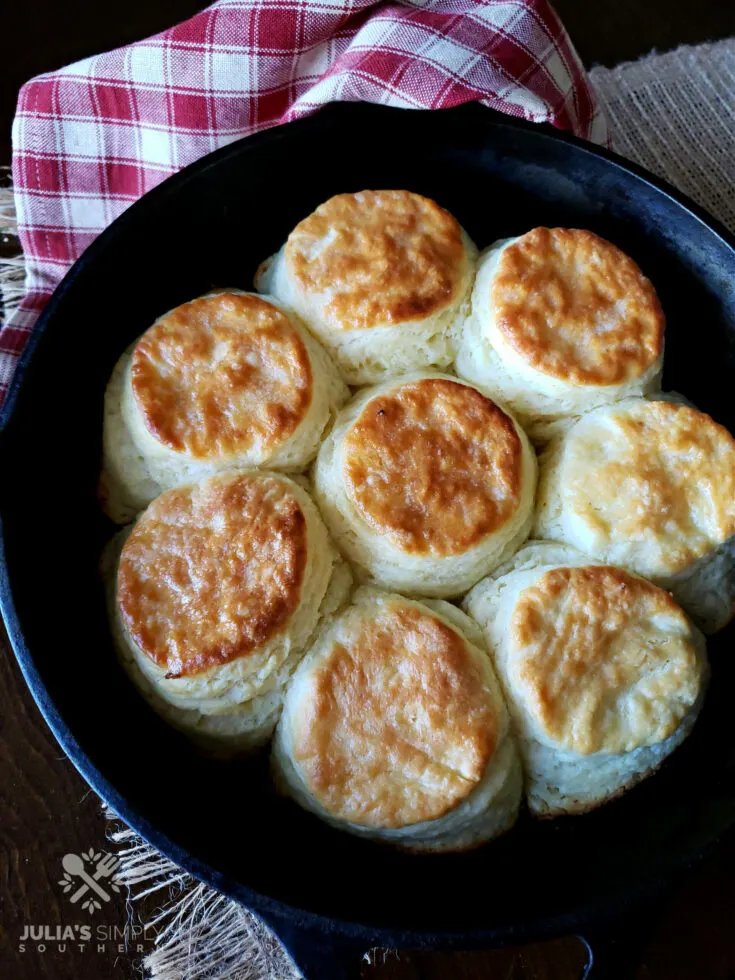 Delicious Southern buttermilk biscuits from scratch made with self rising flour. These fluffy biscuits and flaky and so delicious.
Ingredients
2 cups of Self Rising Flour (White Lily Unbleached recommended)
1 Stick of Butter
1 cup of Buttermilk
¼ cup of Additional Flour, for dusting and rolling dough
2 tablespoons of Melted Butter to brush the biscuit tops after baking
Instructions
Before you start gathering your supplies together, pop a stick of butter in the freezer for 10-20 minutes and let it get really cold.
Preheat your oven to 450°F
Prepare the Work Area
You'll need a little flour to dust your work area (a table or cutting board), a rolling pin, box grater or pastry blender and biscuit cutter
Making the Biscuits
Add 2 cups of self rising flour to a large mixing bowl. Remove the butter from the freezer and cut into the flour (see the post for more details on options for cutting in the fat).
Create a well in the flour mixture and add the buttermilk. Using a spatula or your hand work the flour mixture into the buttermilk. Dough will be sticky.
Turn the biscuit dough out onto a floured surface. Dust the dough with a bit of flour and turn until it is no longer sticky to the touch.
Roll the dough out to about an inch thickness, turn half of the dough over onto the other half; repeat rolling and folding 2 more times then give a final roll out to about an inch thickness.
Use a biscuit cutter to cut out the biscuits and place into a cast iron skillet or on a baking sheet so that the biscuits are touching. Using a skillet will yield 8 biscuits, get up to 12 using a baking sheet.
Bake 15 to 20 minutes until golden brown as desired.
Brush the top of the fresh baked biscuits with melted butter then serve.



Recommended Products
As an Amazon Associate and member of other affiliate programs, I earn from qualifying purchases.
Nutrition Information:
Yield:
8
Serving Size:
1
Amount Per Serving:
Calories:

418
Total Fat:

23g
Saturated Fat:

12g
Trans Fat:

1g
Unsaturated Fat:

9g
Cholesterol:

39mg
Sodium:

605mg
Carbohydrates:

46g
Fiber:

2g
Sugar:

2g
Protein:

6g
More Tips for Baking Good Biscuits
Don't over work the biscuit dough
Practice! It takes most folks a few tries to get the hang of making biscuits.
Use the different techniques suggested in the step by step guide in the post to see what works best for you.
Southern biscuits are made with flour made from soft winter wheat. Order popular Southern flour brands to create Southern style biscuits if the stores in your area don't already carry them. Popular soft wheat flour brands include: White Lily, Southern Biscuit Flour Brand, King Arthur and Gold Medal.
Don't open the oven for at least 15 minutes after placing the biscuits in for baking to avoid heat loss in the oven.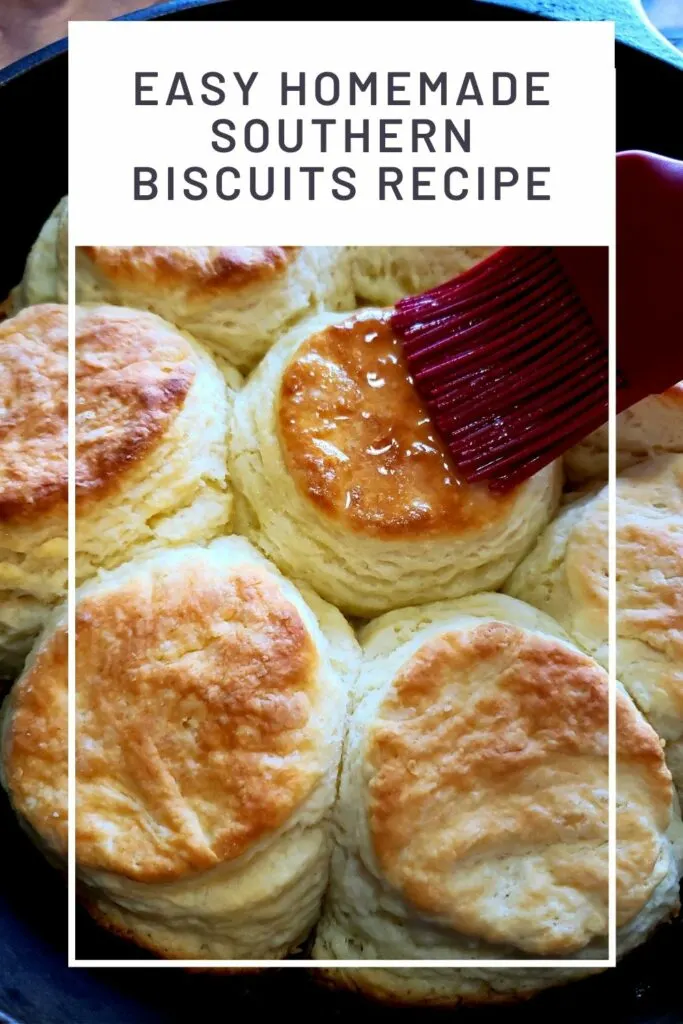 Thank you so much for stopping by! I'm so happy that you did.
I know that you'll be making wonderful homemade biscuits to enjoy with your meals and hope that my long winded explanation through the process help.
Be sure to subscribe to my email list while you're here. Subscribers receive a weekly newsletter from me with the latest recipes that have been posted and any news here on the blog.
Southern Self Rising Biscuits Recipe
Meet Julia
Author of Julia's Simply Southern
Hey Y'all! I'm Julia, the cook and writer behind the recipes here at Julia's Simply Southern. I began my website so that I could share easy to follow recipes that anyone can use to put a home cooked meal on the dinner table. Thanks so much for stopping by!
Follow me on Facebook | Twitter | Instagram | Pinterest | YouTube