In this post I'll be sharing a delicious homemade sausage bread recipe. This cheesy sausage bread loaf is amazing and you'll think so too!
Y'all, I'll admit that it took me a bit to get this recipe just right. A few month back I had a week of recipe fails trying to make a sausage bread using short cut methods, such as pizza dough, puff pastry and french bread dough. Not good at all!
I didn't like how they looked and the taste just wasn't what I wanted it to be. So, I put the project on hold until after the holidays and got to thinking about it again in the new year.
"Julia", I said (um, yes, I do talk to myself sometimes) "you are just gonna have to make this from scratch." No short cuts and no baking mixes.
I knew that would be the only way that I was gonna get the sausage bread that I was dreaming up in my head that was gonna be so delicious that I would love it enough to share with all of you.
Sausage and Cheese Bread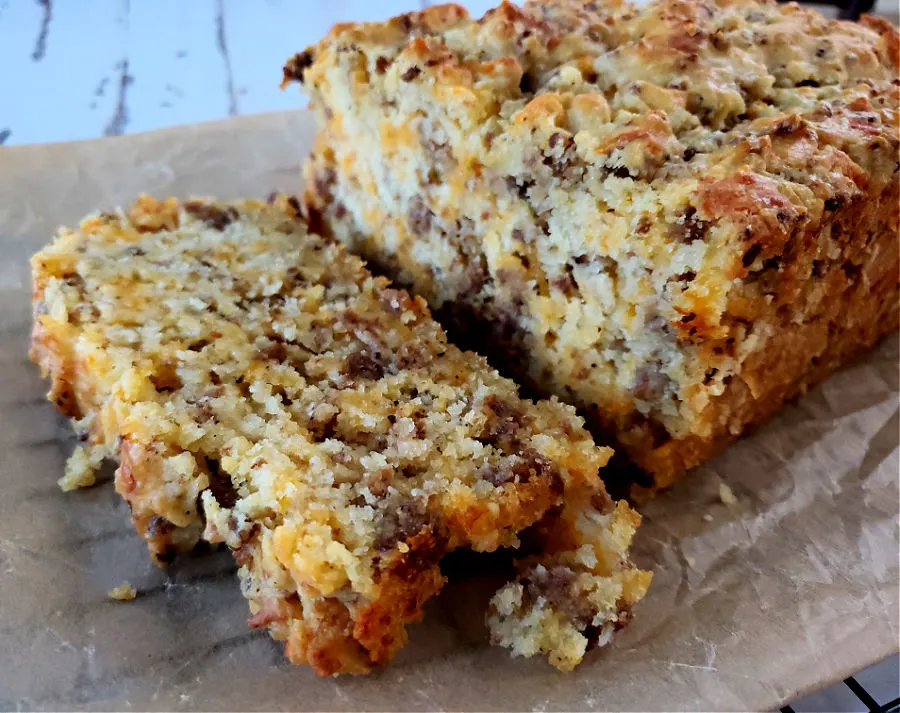 Of course, I would also want this recipe to remain one that is simple and easy to prepare. Well, after I grabbed my mixing bowl and ingredients and made the bread that I felt was a success, I made it a couple of more times to test out.
Beautiful results every test run and it is ready to share. Oh. My. Word! It is so delicious! I love it, hubs loved it and the neighbors all loved it. It's like a biscuit loaf that is loaded with zesty breakfast sausage and cheddar cheese with the rich taste of butter. How can you go wrong with that?
Please excuse me while I drool all over myself just thinking about how wonderful it tastes.
Doesn't that look good, y'all? Enjoy a slice of this moist sausage cheese bread for breakfast or lunch. It is perfect on its own, but you can dress it up too.
Serve it with an egg cooked your way or spoon over some hot country gravy. YUM!
So, my friend, if you have trouble making biscuits then grab your loaf pan and let me walk you through how to make this easy homemade sausage bread recipe that is gonna knock ya socks off. It's a crowd pleaser!
Old Fashioned Biscuit Bread with Sausage and Cheddar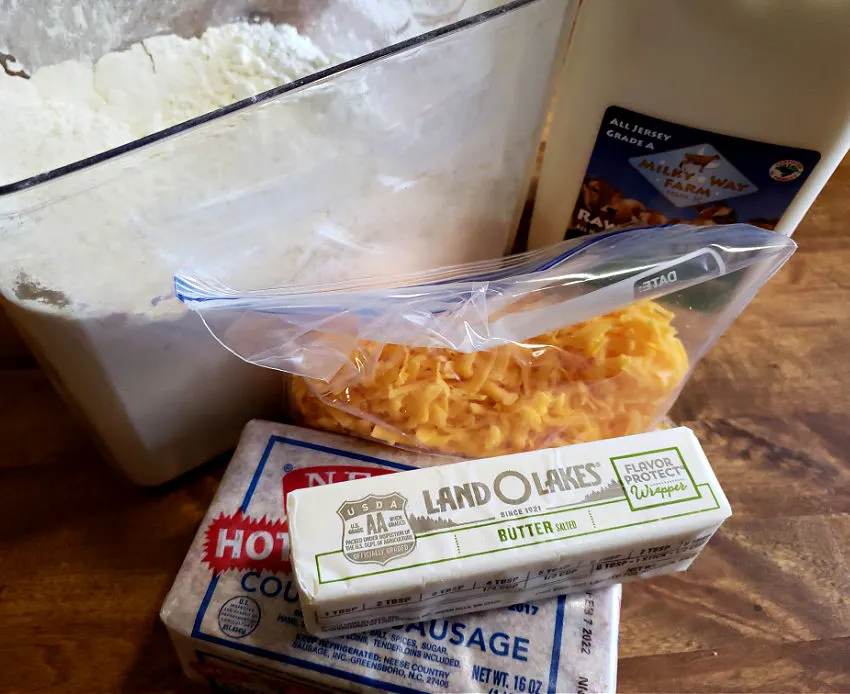 How to make homemade sausage bread? Here's what you'll need to make this easy recipe for sausage cheese bread from scratch.
Pork Sausage – we really like breakfast hot sausage so that is what I used. The red pepper flakes add so much flavor. I used the Neese's brand in this particular recipe. Breakfast sausage is one of our favorite ingredients to enjoy a delicious Southern style breakfast and it is great added to recipes. Use the breakfast sausage you like best in the recipe.
I've seen other food bloggers use sweet Italian sausage (or hot Italian sausage) and if that's what you like then use that. Their creations of a sausage bread reminded me of a stromboli or calzone. Something that was dipped in pizza sauce. I'm not saying that is right or wrong, but it is not what I think of as being sausage bread.
Butter – a whole stick of butter for flavor and the dough is gonna swim in all of the glorious melted butter while it bakes to prevent sticking and make the outer edges so rich and delicious.
Self Rising Flour – my brand of choice is White Lily unbleached self-rising flour, which is the best for making biscuits and this amazing sausage bread.
Cheddar Cheese – I prefer sharp cheddar, freshly grated. Grate your own cheese for the best results. It melts better and tastes better.
Buttermilk – helps form the dough and adds tangy flavor to quick bread recipes. While I am no fan of drinking buttermilk, I do keep it on hand for cooking at all times.
That's an easy grocery list, right? You might already have everything that you need to make this recipe.
Why you'll love this recipe
It's easy to make with simple ingredients
It's delicious! The whole family will love it.
It re-heats beautifully in the oven or microwave.
Sausage bread is also great for special occasions, like Christmas morning, or when you have guests to feed.
Breakfast Sausage Bread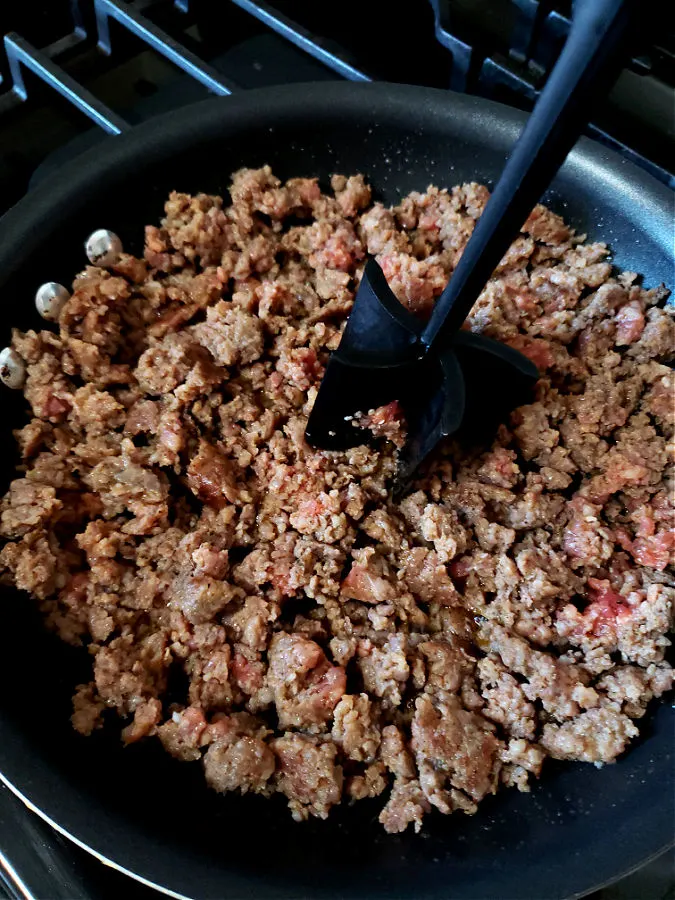 The first step in making this sausage bread recipe is to cook the sausage. Using a large skillet over medium-high heat, cook the breakfast sausage until brown and crumble sausage as it cooks to break apart the meat.
Once the minced meat has cooked through and is no longer pink, use a slotted spoon to transfer the sausage to a small bowl with a paper towel in the bottom to drain off any excess grease.
Allow the sausage mixture to cool slightly. It doesn't have to cook down to room temperature, just long enough so that it doesn't melt the cheese before you get the dough combined.
This is a good time to preheat your oven too if you haven't done so already. Place the butter in the loaf pan and allow the butter to melt in the oven as it heats up while you work on the dough mixture.
Cheesy Sausage Bread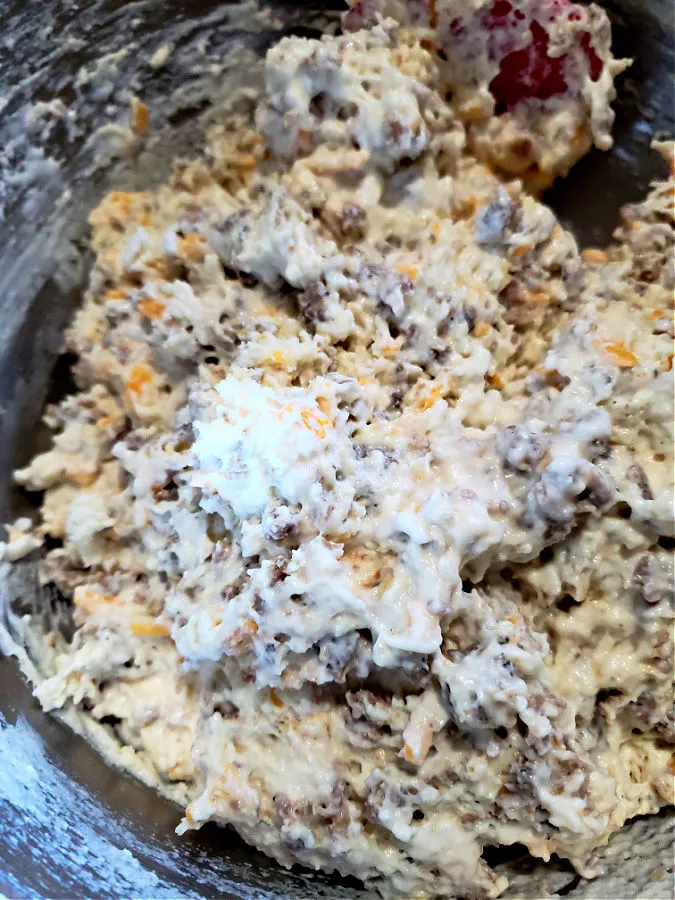 Next, using a large bowl, gently toss together the flour and shredded cheddar cheese, then add the sausage and stir to combine.
To bring it all together, add the buttermilk and gently stir with a spatula or wooden spoon until all of the flour is moistened. The dough will look wet and sticky.
Sausage Bread Loaf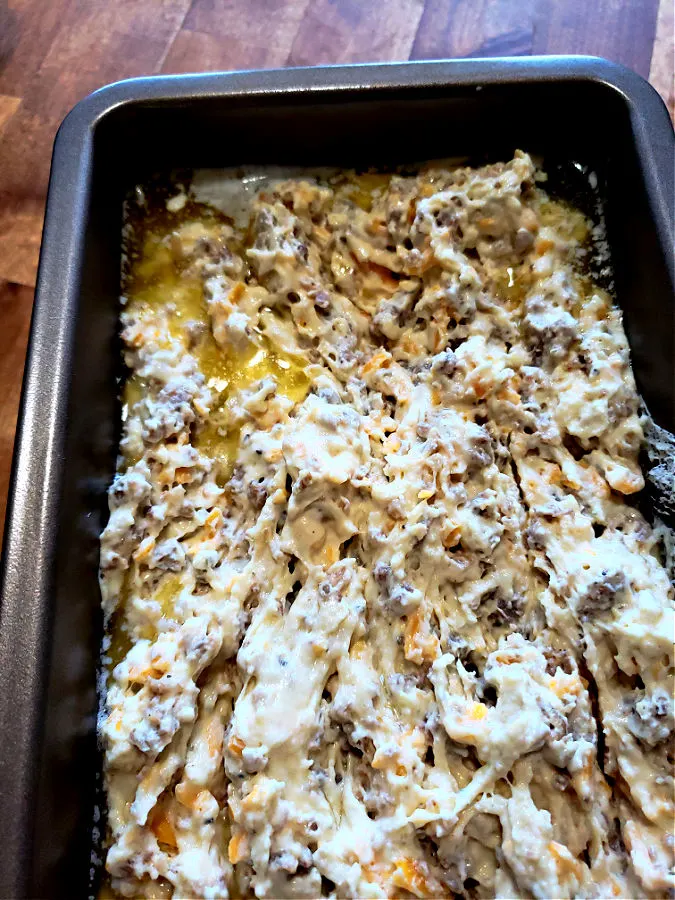 Using potholders, carefully remove the loaf pan that has been heating in the oven with the melted butter.
Transfer the sausage cheese bread dough to the loaf pan. The melted butter will find it's way into the nooks, crannies, up the sides and on top of the bread. Swimming in butter and you know it is gonna be so good!
If you feel nervous about the dough possibly cooking over your loaf pan then you can sit the loaf pan on a baking sheet before placing it into the oven. I didn't and had no issues what-so-ever.
There is no need for an egg wash with this bread but if you really like to do that then feel free. I just brushed a little more butter (about a tablespoon that I melted in the microwave) over the top once it was out of the oven.
Once the bread is golden brown and out of the oven, place the loaf pan on a cooling rack and let it cool for a few minutes, then turn the bread loaf out onto a sheet of parchment paper and place it back on the cooling rack too cool down.
The cheesy breakfast sausage loaf slices are delicious warm or cooled down to room temperature. Like a delicious buttery sausage and cheese biscuit would be.
BEST Sausage Bread Recipe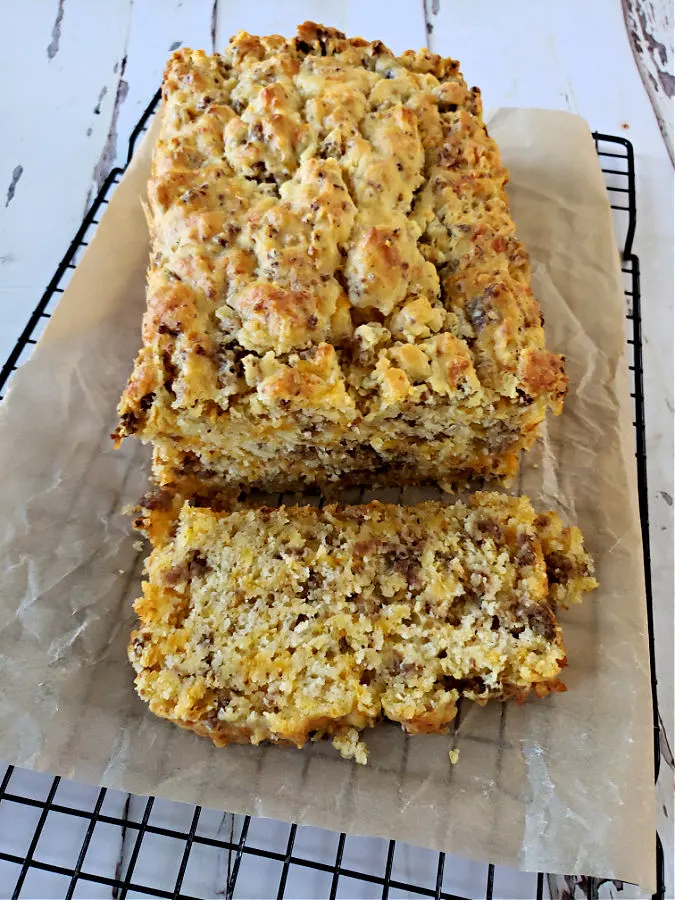 What to serve with sausage bread? This bread is delicious on its own or with a side of fresh fruit, an egg cooked your way, breakfast grits or country gravy.
Enjoy it with whatever breakfast foods you like and enjoy.
The leftover bread can be wrapped in plastic wrap or placed into an airtight container and refrigerated. Slices can be re-heated in a warm oven or placed into the microwave covered with a paper towel.
Homemade Sausage Bread Recipe
Yield: 1 Loaf
Sausage Bread Recipe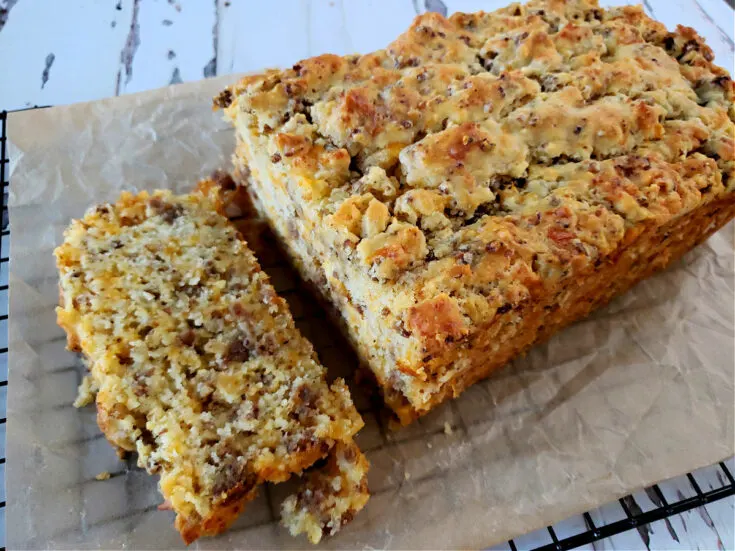 A delicious sausage and cheese loaf made from scratch using simple ingredients. This delicious sausage bread is perfect for breakfast, lunch or special occasions.
Total Time
1 hour
5 minutes
Ingredients
1 pound Hot Pork Breakfast Sausage, or mild if preferred (I used Neese's)
1 stick of Butter, melted (8 tablespoons)
2½ cups Self Rising Flour (like White Lily brand)
1 cup Sharp Cheddar Cheese, grated (4 ounces)
1½ cups of Buttermilk
Instructions
Preheat oven to 350°F (176°C)
Cook the pork sausage in a skillet over medium to medium-high heat, breaking apart as it browns to mince (8-10 minutes). Use a slotted spoon to transfer the cooked breakfast sausage to a paper towel lined bowl to drain off any excess grease. Set aside to cool slightly.
Next, place the stick of butter into a 9x5 loaf pan; place the pan into the hot oven to melt the butter while you prepare the dough.
Next, add the flour to a large mixing bowl along with the cooked sausage and grated cheddar cheese. Stir to toss the ingredients together then add the buttermilk and stir to combine. The dough will be wet and sticky.
Use potholders to carefully remove the loaf pan from the hot oven and transfer the sausage bread dough mixture to the pan and into the melted butter.
Bake 45 minutes or until golden brown. (See Notes)
Optional: melt and additional tablespoon of butter in the microwave to brush over the top of the bread once it has been removed from the oven, if desired.
Allow the sausage bread loaf to cool in the pan on a cooling rack for a few minutes before turning out to cool. Enjoy the sausage bread slices warm or at room temperature.
Notes
Cook's note: I use a gas oven for cooking and baking so adjust cook times if needed for your type of oven.
The leftover sausage bread should be wrapped in plastic wrap and refrigerated.
To reheat the sausage bread slices, place in a pre-heated 350°F oven until warmed through, about 5 minutes. Bread slices may also be warmed in the microwave, covered with a paper towel for 30 seconds to 1 minute, or until warmed through.
Recommended Products
As an Amazon Associate and member of other affiliate programs, I earn from qualifying purchases.
Nutrition Information:
Yield:
10
Serving Size:
1 slice
Amount Per Serving:
Calories:

399
Total Fat:

26g
Saturated Fat:

12g
Trans Fat:

1g
Unsaturated Fat:

12g
Cholesterol:

76mg
Sodium:

958mg
Carbohydrates:

26g
Fiber:

1g
Sugar:

2g
Protein:

15g
the number of servings and nutritional values vary according to how thick the bread is sliced
Popular Recipes
Check out the Latest Recipes
Homemade Sausage Bread Recipe
Thank you so much for stopping by! I am so glad that you did. I know that you will love this scratch made sausage bread just as much as we do. The flavors are amazing!
Take a moment to subscribe to my email list while you are here. Subscribers receive a weekly newsletter, from yours truly, delivered to your inbox with all of the latest recipes and news here on the blog so that you never miss a thing.
Meet Julia
Author of Julia's Simply Southern
Hey Y'all! I'm Julia, the cook and writer behind the recipes here at Julia's Simply Southern. I began my website so that I could share easy to follow recipes that anyone can use to put a home cooked meal on the dinner table. Thanks so much for stopping by!
Follow me on Facebook | Twitter | Instagram | Pinterest | YouTube