In this post I'll be sharing a recipe for Easy Sausage Stuffed Mushrooms. These stuffed mushrooms are crazy good y'all!
Stuffed mushrooms are one of our favorite appetizers. The thing that I love about making them at home is the texture just seems so much better.
The different possibilities of tasty ingredients to stuff mushrooms caps means a variety of easy appetizer recipes at your disposal.
We really enjoy the flavor of baby Portobello mushrooms combined with the spicy sausage filling. The white button mushrooms would also work fine if that is what you prefer.
Sausage Stuffed Mushrooms with Cream Cheese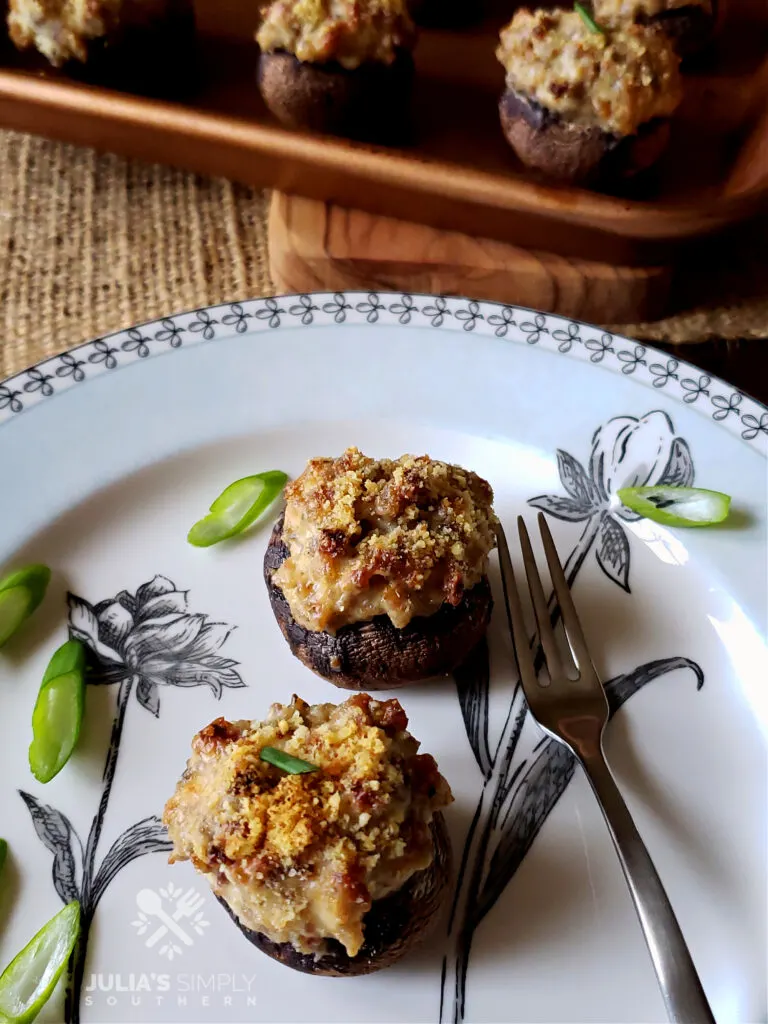 The Parmesan and bread crumb topping give these delicious stuffed mushrooms a nice little bit of crunch.
How do you keep stuffed mushrooms from getting soggy? Don't soak the mushrooms in water when cleaning. A damp paper towel should work fine to remove any dirt debris. If needed give the mushrooms a quick rinse then pat them dry with a paper towel.
Since mushrooms will naturally release some water while cooking, transfer them to a platter as soon as they come out of the oven so that they aren't sitting in the released moisture.
It is also best to avoid over-cooking stuffed mushrooms which will prevent them from being watery and too mushy. You want the mushrooms to still have a little bite.
Stuffed Baby Portobello Mushrooms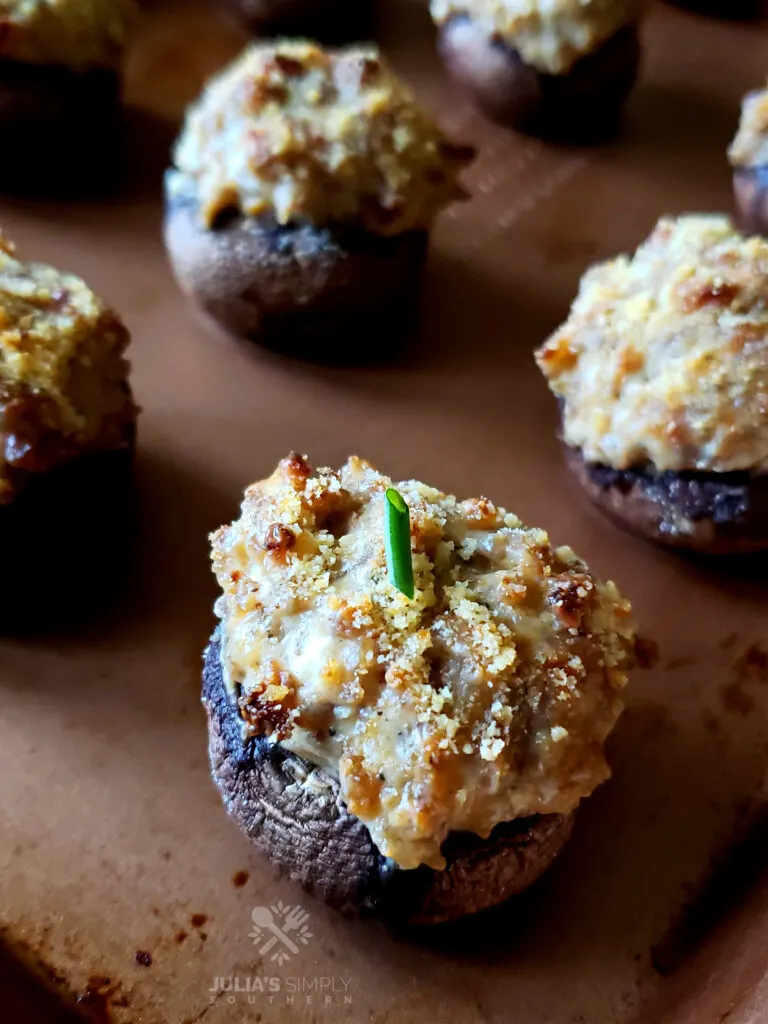 Baked stuffed mushrooms only need a few minutes in a hot pre-heated oven to brown the topping.
Mushroom Hors d 'Oeuvres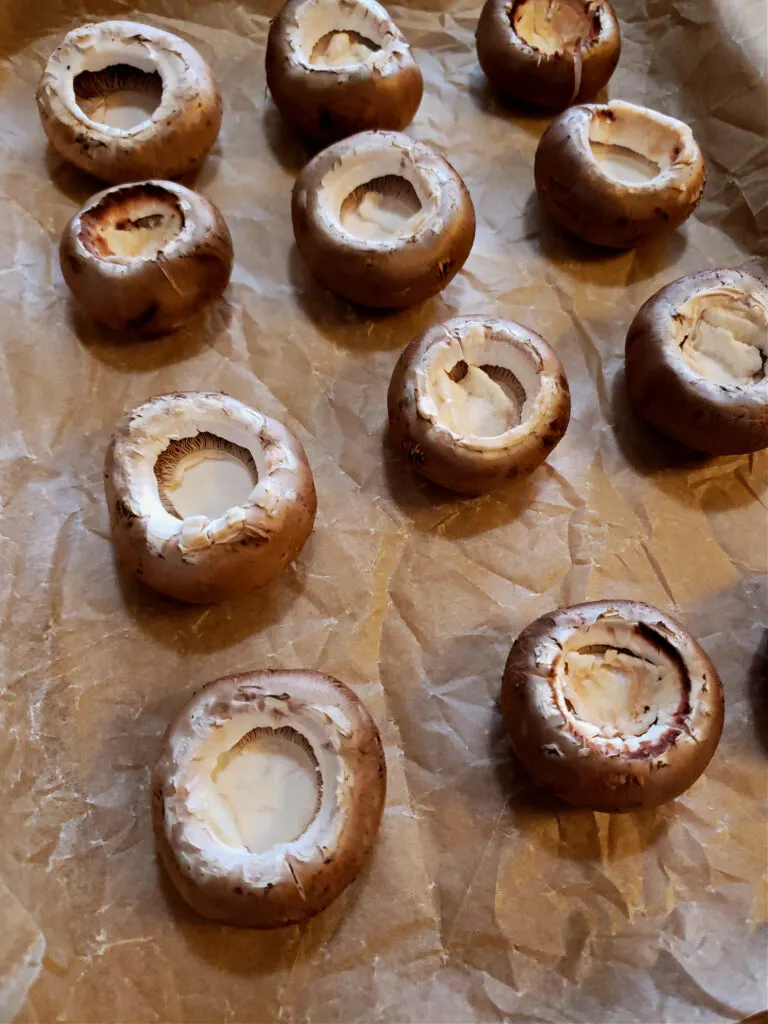 How do you clean mushrooms before stuffing? Prepare the mushrooms by gently removing the stems and wipe the caps with a damp paper towel then arrange them on a lined baking sheet.
Breakfast Sausage Stuffed Mushrooms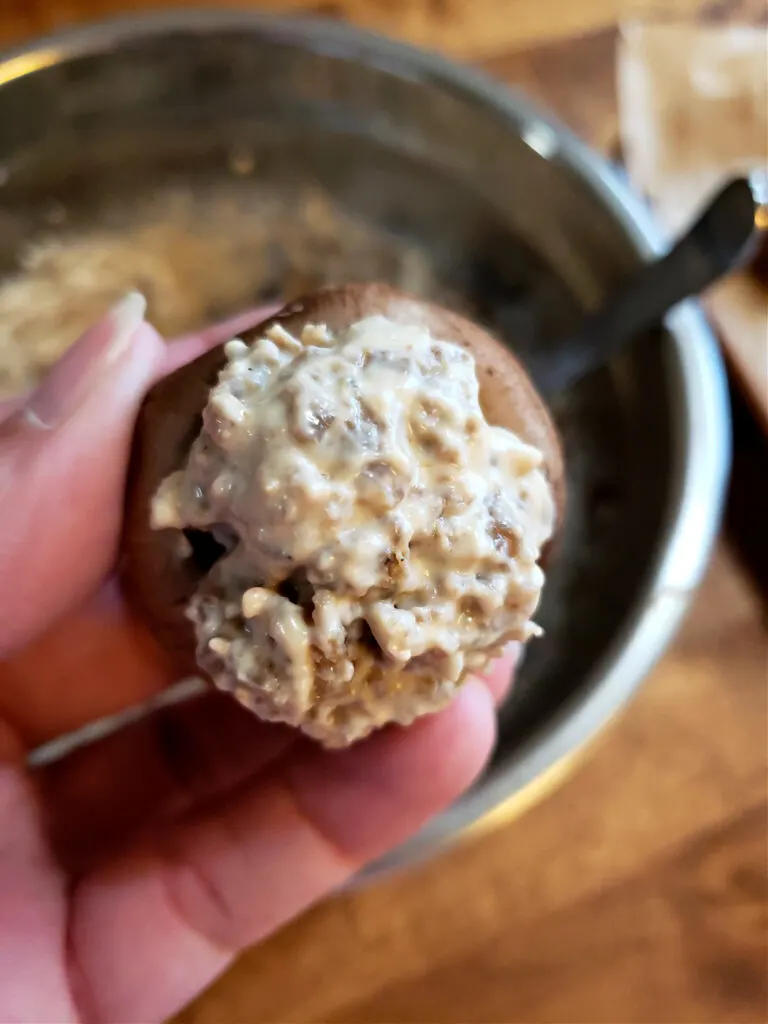 The breakfast sausage gets pre-cooked and drained before combining with softened cream cheese.
A small spoon or scoop work well to add the filling to the caps.
Cream Cheese Sausage Stuffed Mushroom Caps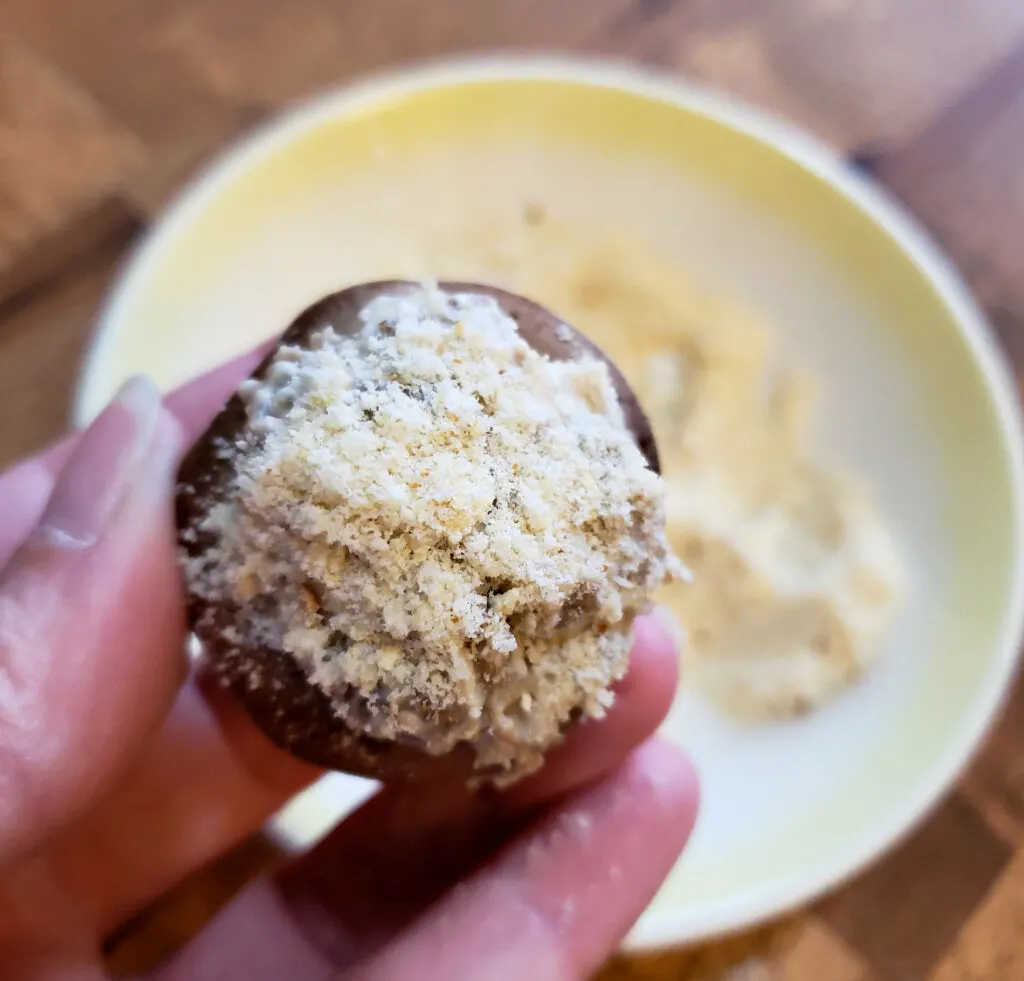 Once the mushroom caps are stuffed with the sausage mixture they are topped with the bread crumbs and parmesan before baking.
Simple Appetizers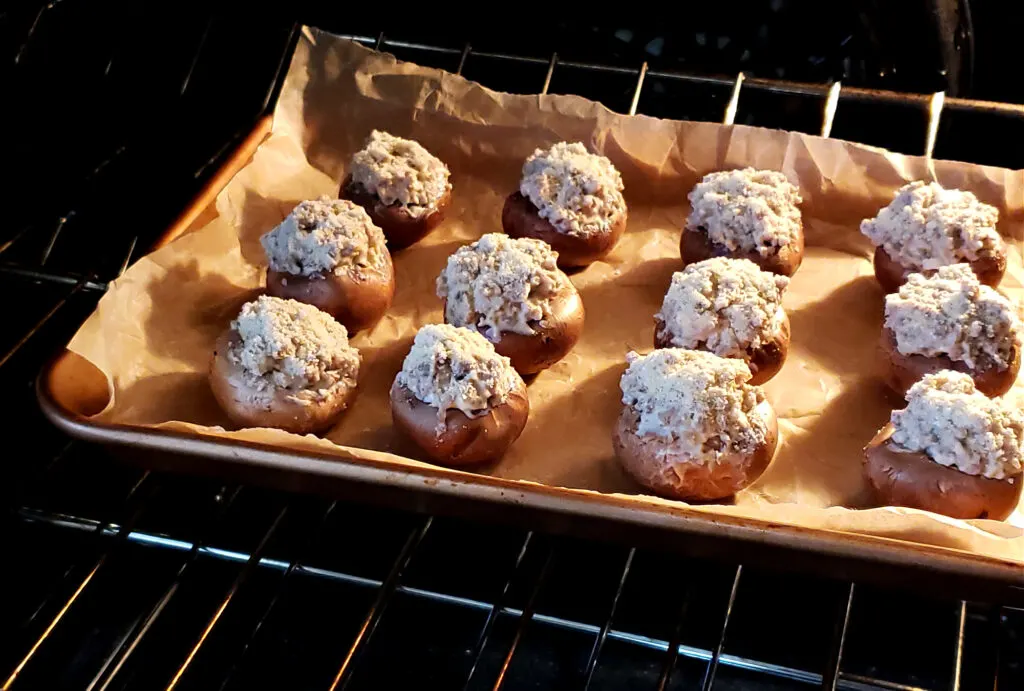 The oven should be pre-heated before placing the tray of stuffed mushrooms in to avoid them being in the oven too long.
Bake the stuffed mushrooms until the topping is nicely browned. If needed, you can switch over to the broiler for a minute to finish browning the tops as desired.
Easy Sausage Stuffed Mushrooms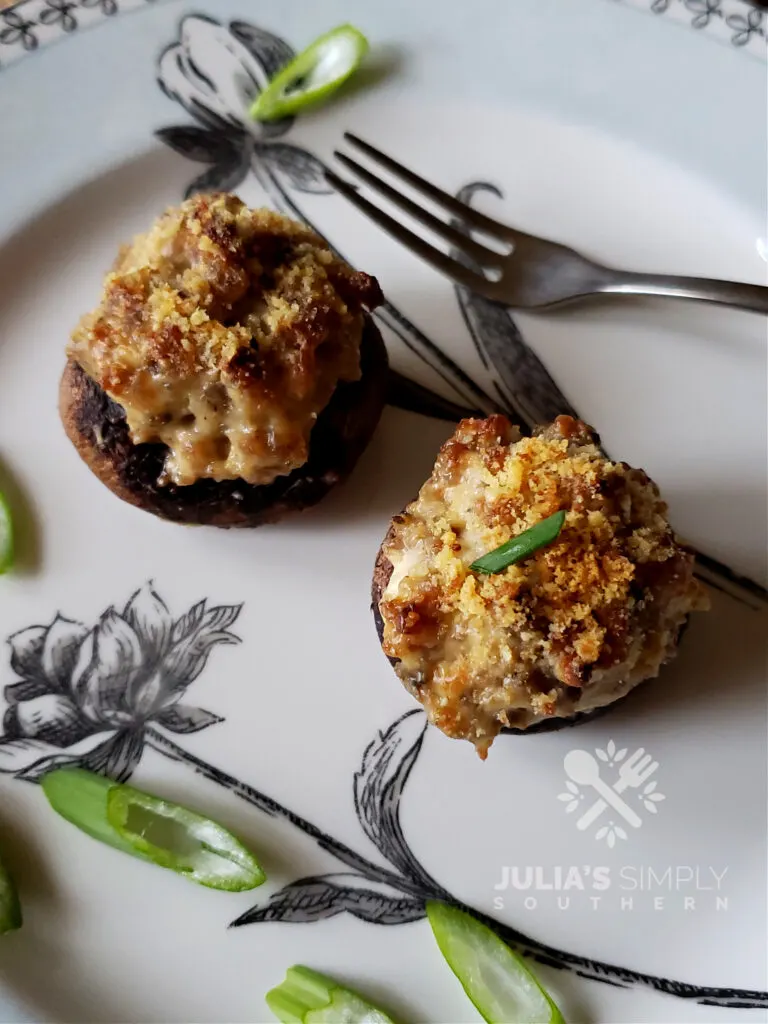 This easy sausage stuffed mushroom recipe is a real winner and my go to recipe for making this tasty appetizer at home.
Stuffed mushrooms are best cooled for about 5 minutes before serving.
How long do stuffed mushrooms last in the refrigerator? That's a funny question. What do you mean leftover stuffed mushrooms? HA! If you don't eat them all, the stuffed mushrooms will last up to 3 days in the fridge and can be re-heated in the oven or microwave.
We can't seem to help ourselves at this house and gobble them all up.
Below is the printable recipe card with all of the details to prepare these amazing Sausage Stuffed Mushrooms.
Yield: 1 Dozen Stuffed Mushrooms
Easy Sausage Stuffed Mushrooms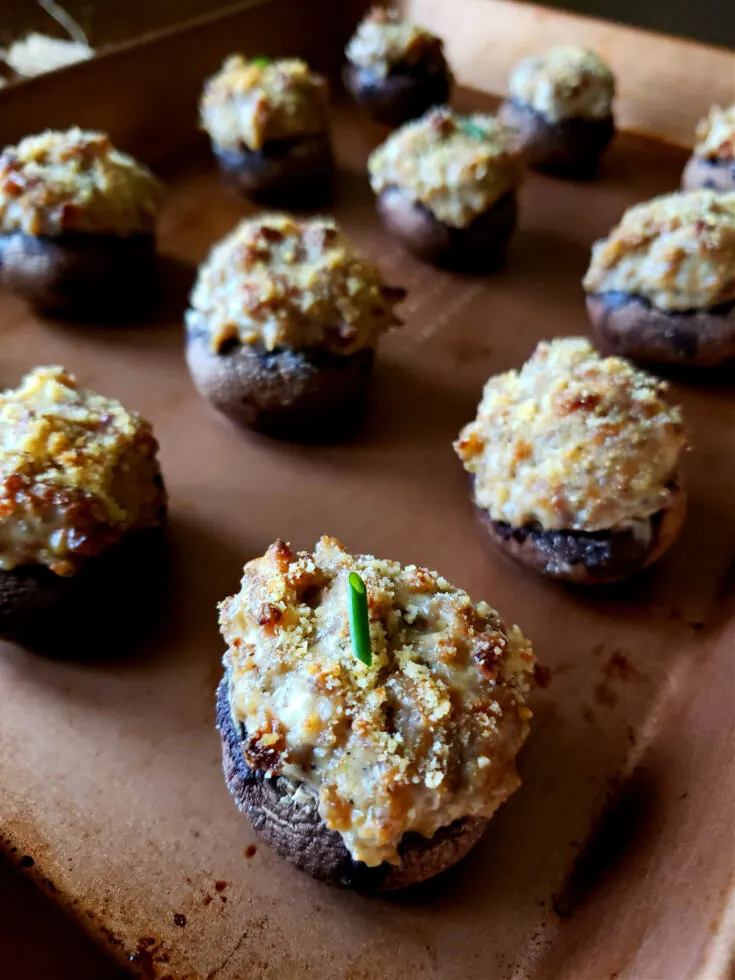 Delicious savory stuffed mushrooms with a sausage filling is an easy to prepare at home appetizer recipe.
Ingredients
8 ounces of Whole Mushrooms ( 1 dozen Baby Bella or White Button Mushrooms)
1/3 pound of Ground Pork Breakfast Sausage
3 ounces Softened Cream Cheese
1/2 tablespoon Plain Bread Crumbs
1 tablespoon Grated Parmesan
Instructions
Preheat oven to 350°F.
Remove the stems from the mushrooms and clean the caps by wiping with a damp paper towel; set aside.
In a small bowl; combine the bread crumbs and Parmesan and set aside.
Brown the sausage in a skillet, stirring until it crumbles and is cooked through. Drain well.
Combine the minced breakfast sausage with the cream cheese and spoon the mixture into the mushrooms caps.
Top the stuffed mushrooms with the bread crumb Parmesan mixture and place on a lined baking sheet.
Bake for 15 minutes until the top coating is lightly browned. If necessary, switch the oven over to broiling for 2 minutes to brown. Don't over cook the stuffed mushrooms.
Transfer the stuffed mushrooms immediately to a serving tray so they don't site in the released water on the baking sheet.
Notes
To triple the recipe and make 36 stuffed mushrooms:

36 Mushroom Caps
1 Pound of Breakfast Sausage
8 ounces of Cream Cheese
Topping mixture remains the same
Nutrition Information:
Yield:
12
Serving Size:
3 Stuffed Mushrooms
Amount Per Serving:
Calories:

74
Total Fat:

6g
Saturated Fat:

3g
Trans Fat:

0g
Unsaturated Fat:

3g
Cholesterol:

18mg
Sodium:

135mg
Carbohydrates:

2g
Fiber:

0g
Sugar:

1g
Protein:

3g
Can you freeze stuffed mushrooms? Yes, stuffed mushrooms can be frozen before baking.
What do you stuff mushrooms with?
Sausage Cream Cheese filling, like this recipe post
Seafood mixtures, such as crab are popular
Vegetarian style fillings can be made with the removed stems from the mushrooms.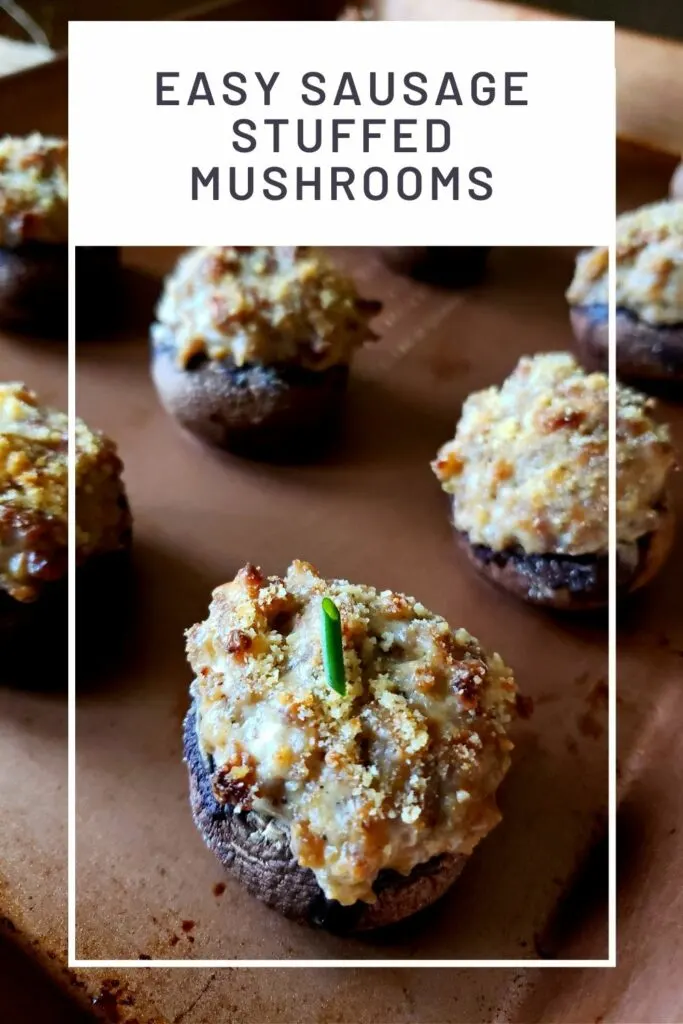 Can I buy stuffed mushrooms? Yes, you can, but I recommend making your own because they will be fresh and you know exactly what ingredients are in there.
You Might Also Enjoy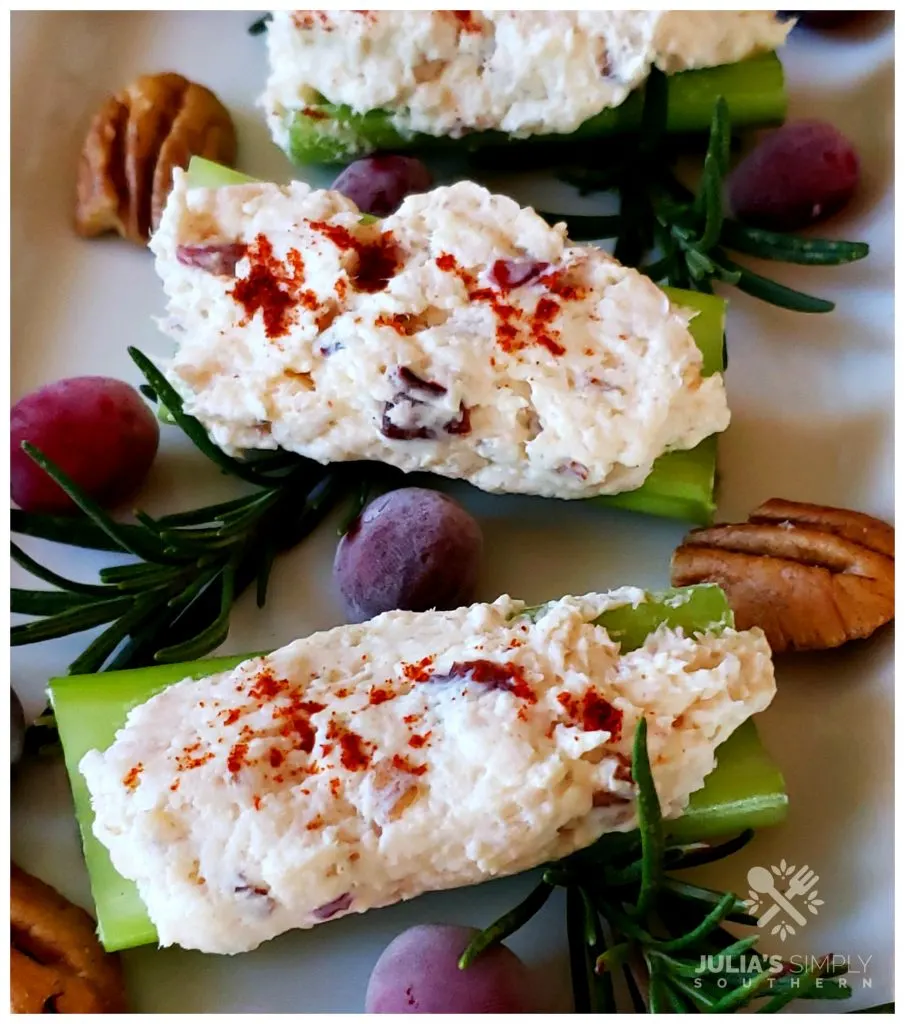 Thank you so much for stopping by! I am so happy that you did.
Entertaining never has to be complicated. Whether you are entertaining friends and family or just enjoying some family time at home, I have plenty of easy appetizers here on the blog for you to enjoy.
While you are here, be sure to subscribe to my email list. As a subscriber I'll send you a weekly newsletter with the latest recipe posts and news here on the blog.
Meet Julia
Author of Julia's Simply Southern
Hey Y'all! I'm Julia, the cook and writer behind the recipes here at Julia's Simply Southern. I began my website so that I could share easy to follow recipes that anyone can use to put a home cooked meal on the dinner table. Thanks so much for stopping by!
Follow me on Facebook | Twitter | Instagram | Pinterest | YouTube