In this post I am sharing the recipe for an amazing Breakfast B.L.T Sandwich.

If you're joining us here for the first time, I've spent the past few weeks sharing some classic favorite sandwiches. I mean the ones we all grew up with, such as fried baloney, tomato sandwiches, tuna salad and egg salad.
Stick around cause there will be one or two more coming up soon that I'm sure you'll love as well, like this awesome classic bacon, lettuce and tomato taken up a notch for breakfast with a perfectly cooked fried egg and a slice of classic American cheese.
Why limit this delicious sandwich to breakfast though…it would be delicious for any meal of the day.
Let's face it, most people love a classic B.L.T. sandwich. If they didn't then it wouldn't be on restaurant menus. There's certainly nothing better on a humid hot day in the South than a delicious sandwich. Anything to avoid heating up the kitchen!
Bacon Lettuce Tomato Sandwich with Egg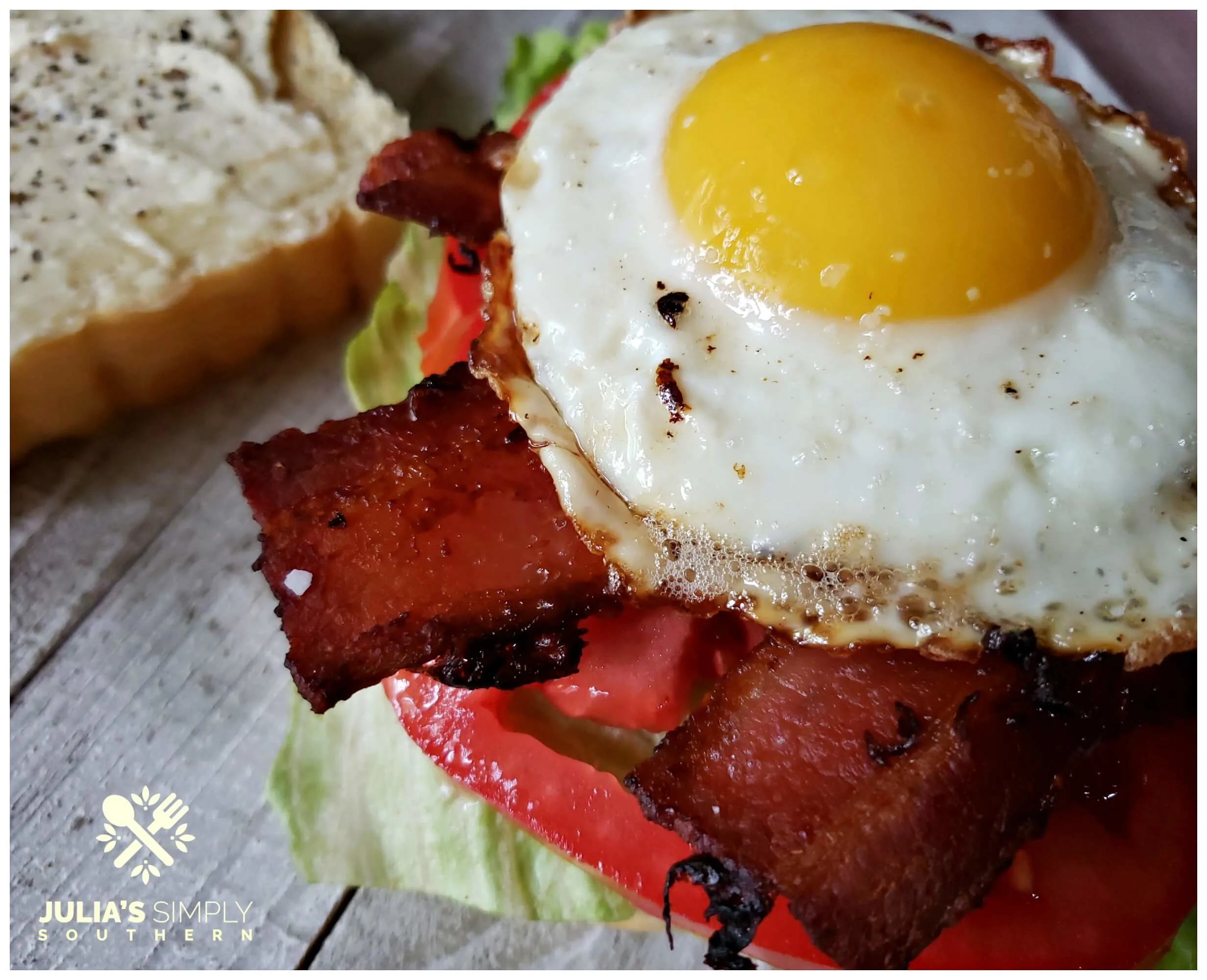 If you've ever wondered "How can I improve my BLT?", I'd say that adding a perfectly cooked egg and cheese will certainly do it.
I've had readers ask, "How much bacon do you put on a BLT?"….well honey, that depends on how much food you can comfortably fit in your mouth. HA! A few crispy pieces will do just fine but if you want more and can handle it without looking like a chipmunk with stuffed cheeks, do it.
Fried Egg Sandwich with Bacon, Lettuce and Tomato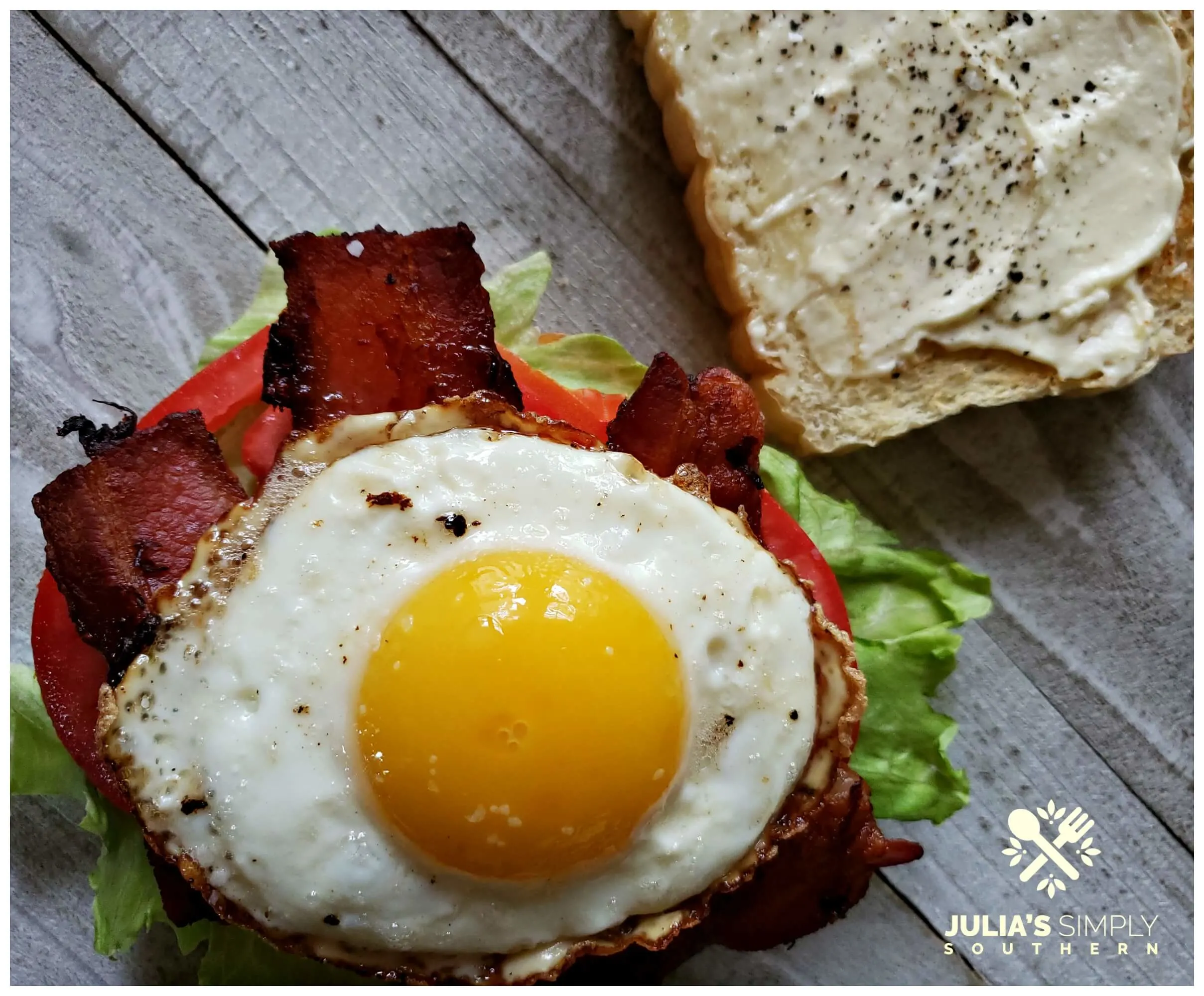 Classic BLT Sandwich ingredients list: Toasted bread slices, crisp Iceberg lettuce, ripe slicing tomatoes, cooked bacon, mayonnaise, salt and pepper. A breakfast BLT has just two more ingredients: a slice of cheese and a fried egg.
Easy enough, right? Of course it is! I've even heard that a sandwich made for you is even better and more delicious. I wouldn't know about that since I'm almost always the one who prepares food at our house. 😉
Ultimate BLT with Egg and Cheese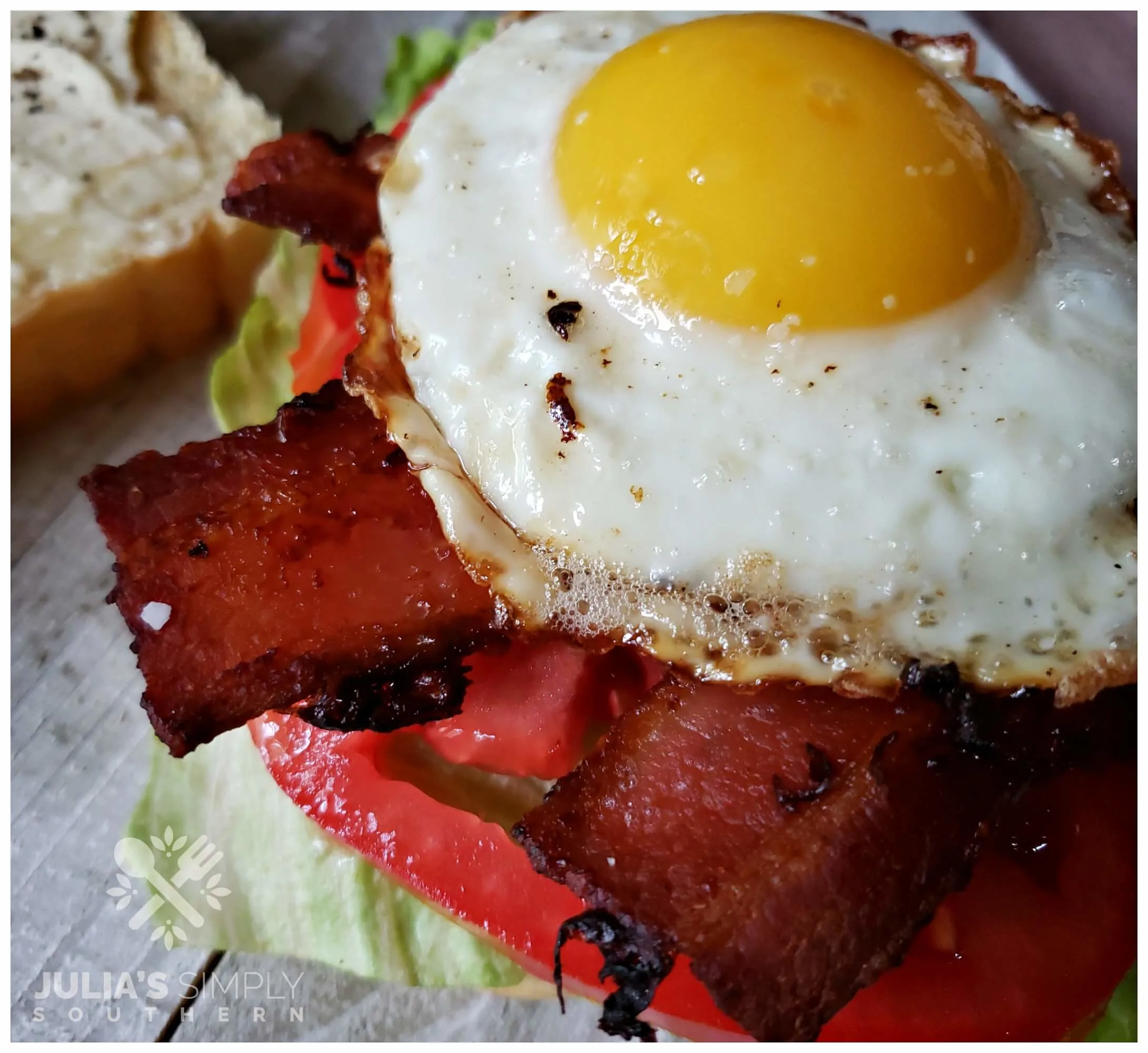 Wanna know how I got the idea for these sandwiches? Well, one day the mister and I were having breakfast at one of those country convenience stores that also have a grill/restaurant inside while out of town.
Someone else ordered a BLT with egg and cheese and we were still deciding on what to order when my husband saw this sandwich.
He asked what it was and the server taking orders told us and he ordered one and loved it so much that has become his regular breakfast sandwich when we visit there.
Breakfast B.L.T. Sandwich Recipe
Let's make this Breakfast B.L.T. Sandwich Recipe!
Yield: 1 Sandwich
Breakfast B.L.T. Sandwich Recipe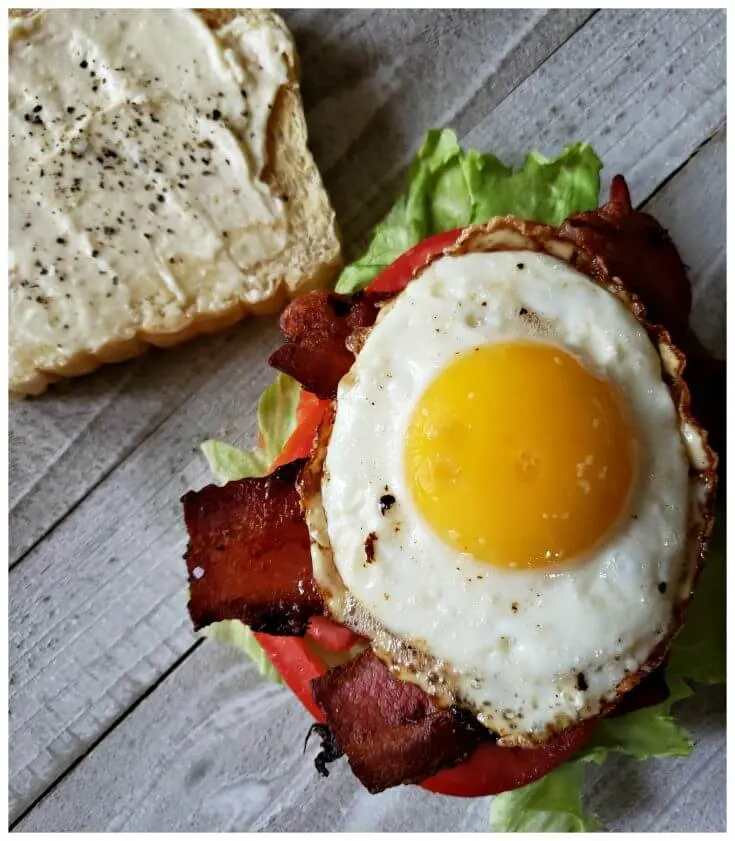 The ultimate bacon, lettuce and tomato sandwich taken up a notch for breakfast with a perfectly fried egg and cheese added.
Ingredients
2 Slices of Toasted Bread
Iceberg Lettuce
Sliced Rip Tomato
2 Slices of Crispy Bacon
1 tbs Mayonnaise
1 Fried Egg (over medium to hard works best)
1 Slice of American Cheese
Salt and Pepper, to taste
Instructions
Spread a layer of mayonnaise on toasted bread slices.
On the bottom half, add the sliced cheese, lettuce and tomato then top with the bacon pieces.
Add the fried egg on top and season with salt and pepper, if desired.
Top with other bread slice, cut diagonally and enjoy.
Nutrition Information:
Yield:
1
Serving Size:
1
Amount Per Serving:
Calories:

512
Total Fat:

32g
Saturated Fat:

9g
Trans Fat:

0g
Unsaturated Fat:

21g
Cholesterol:

229mg
Sodium:

675mg
Carbohydrates:

33g
Fiber:

4g
Sugar:

9g
Protein:

23g
More Recipes You Might Enjoy
Sausage, Egg and Cheese Breakfast Casserole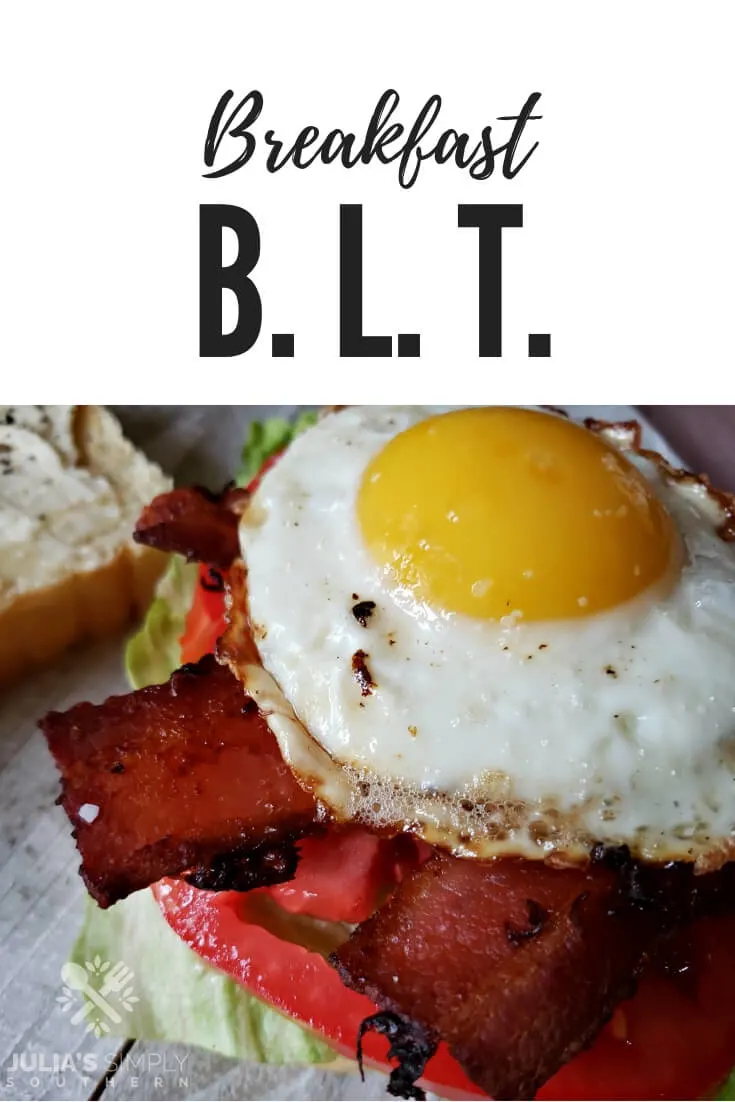 Thanks for stopping by! I hope that you'll try this sandwich soon. Feel free to share the recipe with a friend too.
You can also sign up for our free email newsletter, which I send out about once a month, with all of the new recipes that have been added.
You can also follow on Facebook, Instagram and Pinterest or join our Facebook Recipe Sharing Group.
See this recipe at: Foodie Friday, Weekend Potluck and Meal Plan Monday.
Breakfast B.L.T. Sandwich Recipe
Meet Julia
Author of Julia's Simply Southern
Hey Y'all! I'm Julia, the cook and writer behind the recipes here at Julia's Simply Southern. I began my website so that I could share easy to follow recipes that anyone can use to put a home cooked meal on the dinner table. Thanks so much for stopping by!
Follow me on Facebook | Twitter | Instagram | Pinterest | YouTube