In this post I'll be sharing my Best Roasted Potatoes Recipe using duck fat.
Y'all are gonna love these delicious oven roasted potatoes! These roasted potatoes have crispy outer edges and creamy soft centers. Perfection in every bite!
Unless you have been living under a rock then it is probably common knowledge that potatoes are one of the world's most popular foods.
Most folks love them and they can be prepared so many ways like mashed, baked, used in salads or soups and the list goes on and on.
Oven Roasted Potatoes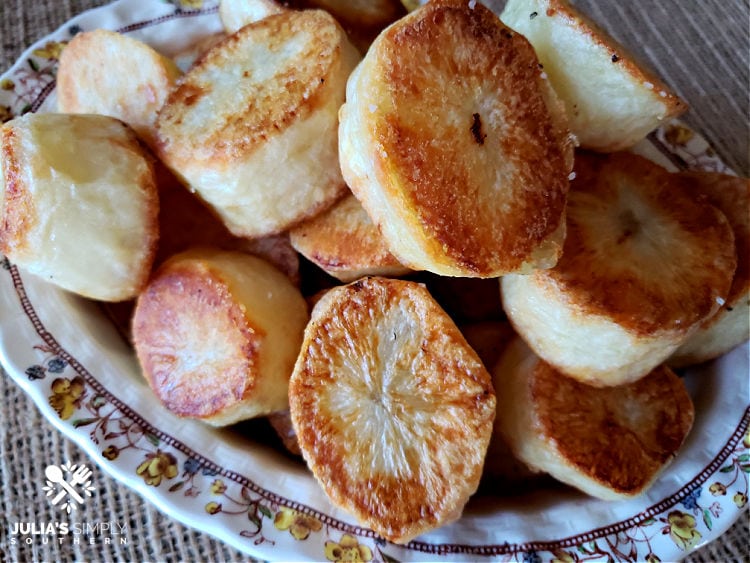 Check out how amazing those roasted taters look! YUM! Roasted potatoes make a great side to so many meals.
What type of potatoes are best for roast potatoes? A starchy potato works best, like Russet. Russet potatoes happen to be one of my favorites but it may also depend on what part of the world that you are in.
Our U.K. friends would use a King Edward potato because that is what is available in their country.
Yukon Gold will also work if that is what you prefer but it is a little less starchy.
Duck Fat Roasted Potatoes Recipe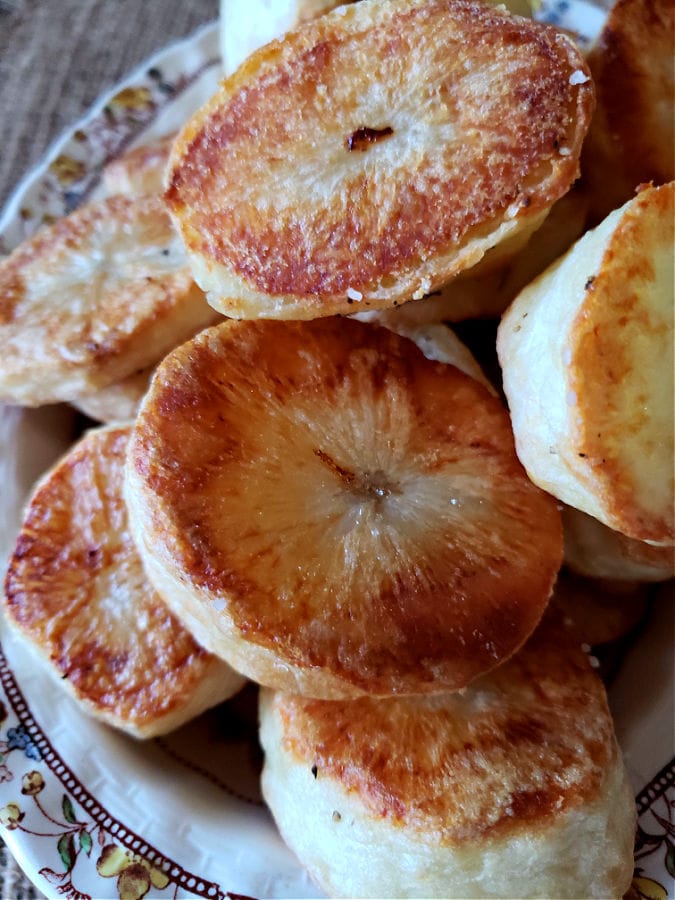 Is cooking with duck fat healthy? I'm glad that doctors now agree that using all natural animal fats like leaf lard (pig), tallow (cow) and duck fat are healthy nutritious options when compared to processed oils.
Duck fat holds up well to high heat and is rich in monounsaturated fat, which is good for the heart.
Cooking with duck fat is even a healthier cooking oil than olive oil. It also contains linoleic acid, a fatty acid used by the body to maintain healthy cells.
Duck fat offers rich flavor (but no, it doesn't taste like a duck) and doesn't get absorbed in foods like vegetable oils.
I now keep a jar of duck fat in my fridge at all times and love it. If you don't have duck fat however, don't let that stop you from making roasted potatoes. Just go with what you've got.
Crispy Creamy Roast Potatoes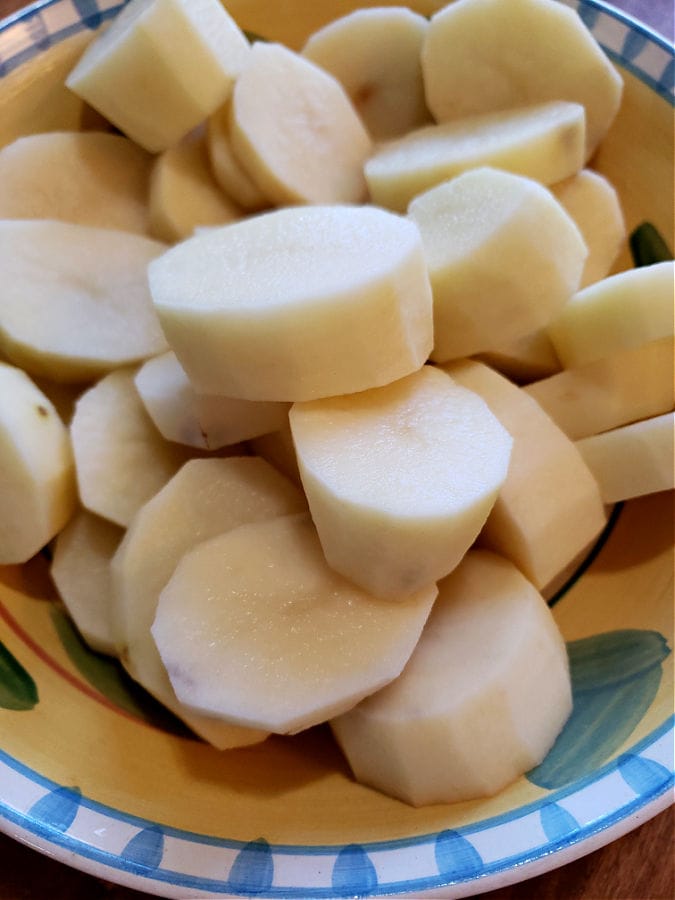 Of course to make our beautiful oven roast potatoes we have to do a bit of prep and that involves peeling and cutting the potatoes into chunks.
Simple 2 Step Roasted Potatoes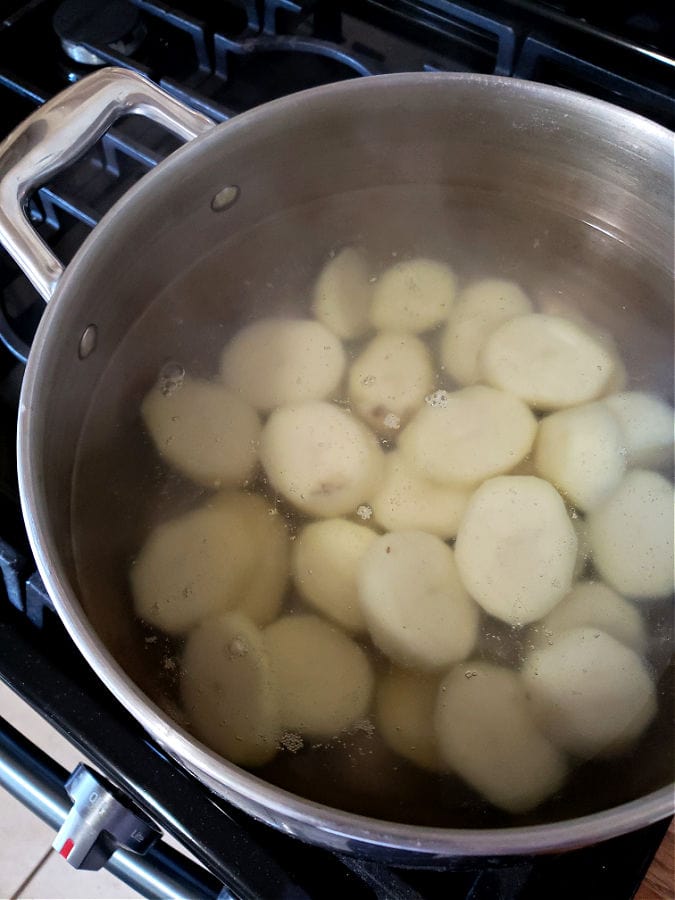 Do you have to boil the potatoes before roasting? Wait! What? Yes, this is the first step to making perfect roasted potatoes and the boiling step is what helps create that fluffy, soft and creamy center.
Amazing Roasted Russet Potatoes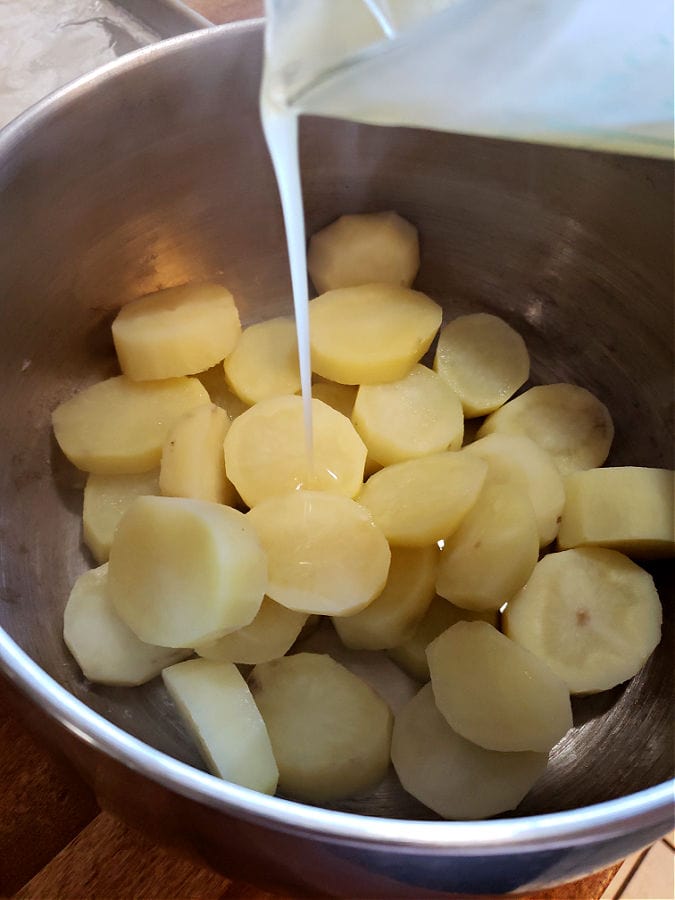 The next step after boiling the potatoes and draining them well is to drizzle some of that glorious duck fat over the potatoes.
Gently turn them so that every surface gets coated well.
How to Roast Potatoes in Duck Fat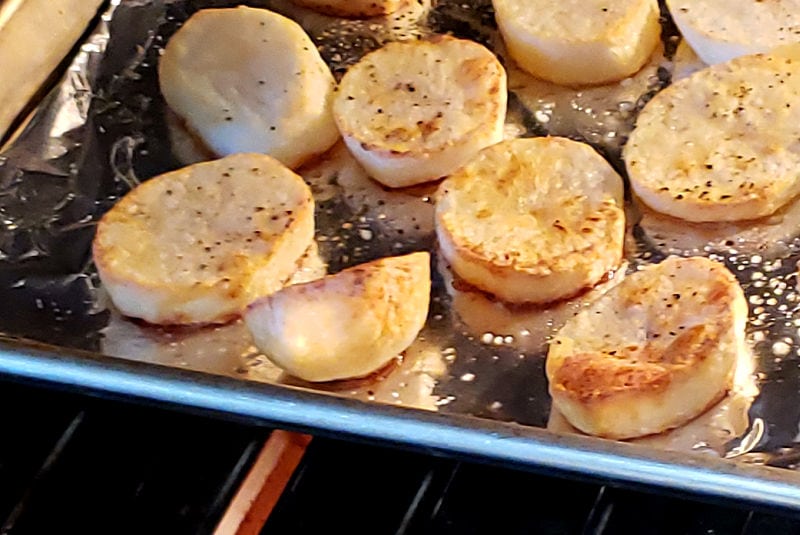 Add a bit of seasoning, salt and pepper, and arrange the potatoes on a lined baking sheet.
Place the pan in a hot oven and roast until golden brown.
How do I make roast potatoes crispy? A super hot oven, arranging the potatoes in a single layer and not over crowding and using a quality fat or oil.
If you'd like to you can turn the potatoes halfway through cooking in the oven. I don't but the bottoms will be getting a bit more of that beautiful brown crispiness.
Duck Fat Roast Potatoes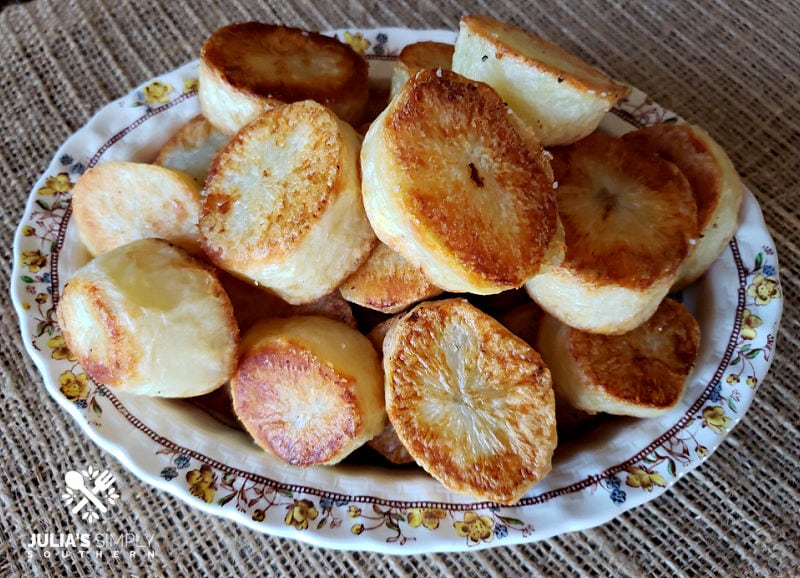 Once the potatoes have finished roasting in the oven, give them a bit more seasoning. Potatoes take a bit more salt than some veggies, then serve hot.
Best Roasted Potatoes Recipe
Yield: 8 Servings
Best Roasted Potatoes Recipe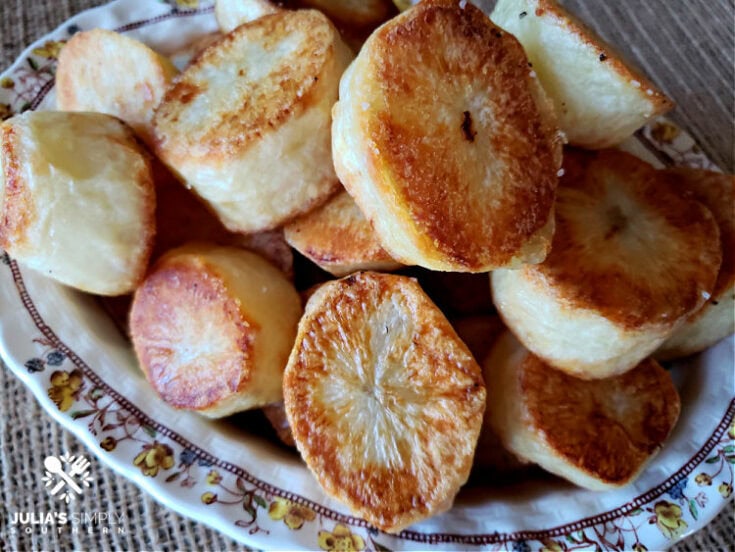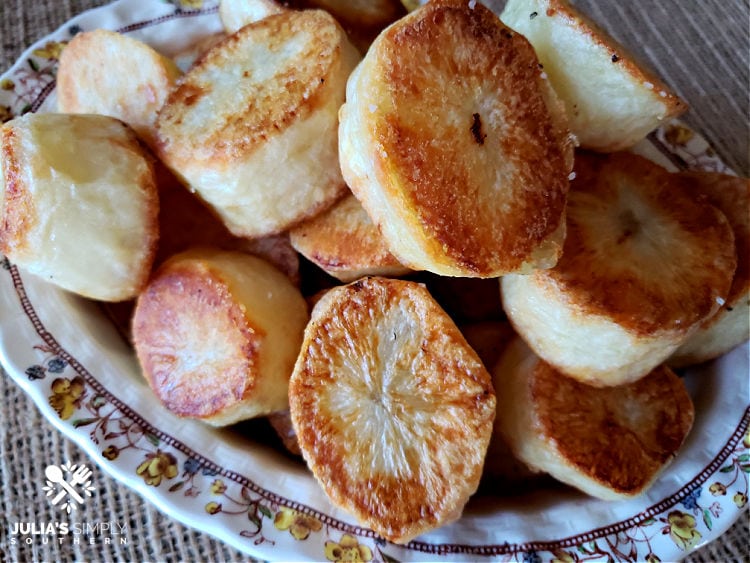 Perfectly oven roasted potatoes with duck fat with crispy outer edges and creamy center that everyone will love.
Ingredients
12 Cups of Water (3 quarts), for boiling
2 teaspoons of Kosher Salt, divided
6 cups of Russet Potatoes (peeled, washed and cut into chunks)
¼ cup of Duck Fat
Cracked Black Pepper, to taste
Instructions
Bring the water in a large pot to a full boil while prepping the potatoes.
Once the water is boiling, add a teaspoon of salt to the water then use a slotted spoon to carefully lower the potatoes into the boiling water. Set a timer and cook for 8 minutes.
Preheat oven to 450°F (200°C)
Drain the potatoes well, return to the pot and drizzle with duck fat; carefully turn the potatoes to ensure they are all coated.
Transfer the potatoes to a lined baking sheet in a single layer then season with a bit of salt and pepper. Roast 25-35 minutes or until golden brown. May turn potatoes half way through cooking if desired. Season with more salt as soon as the potatoes are taken out of the oven then serve.
Nutrition Information:
Yield:
8
Serving Size:
1
Amount Per Serving:
Calories:

222
Total Fat:

7g
Saturated Fat:

2g
Trans Fat:

0g
Unsaturated Fat:

4g
Cholesterol:

6mg
Sodium:

567mg
Carbohydrates:

37g
Fiber:

4g
Sugar:

2g
Protein:

5g
You Might Also Like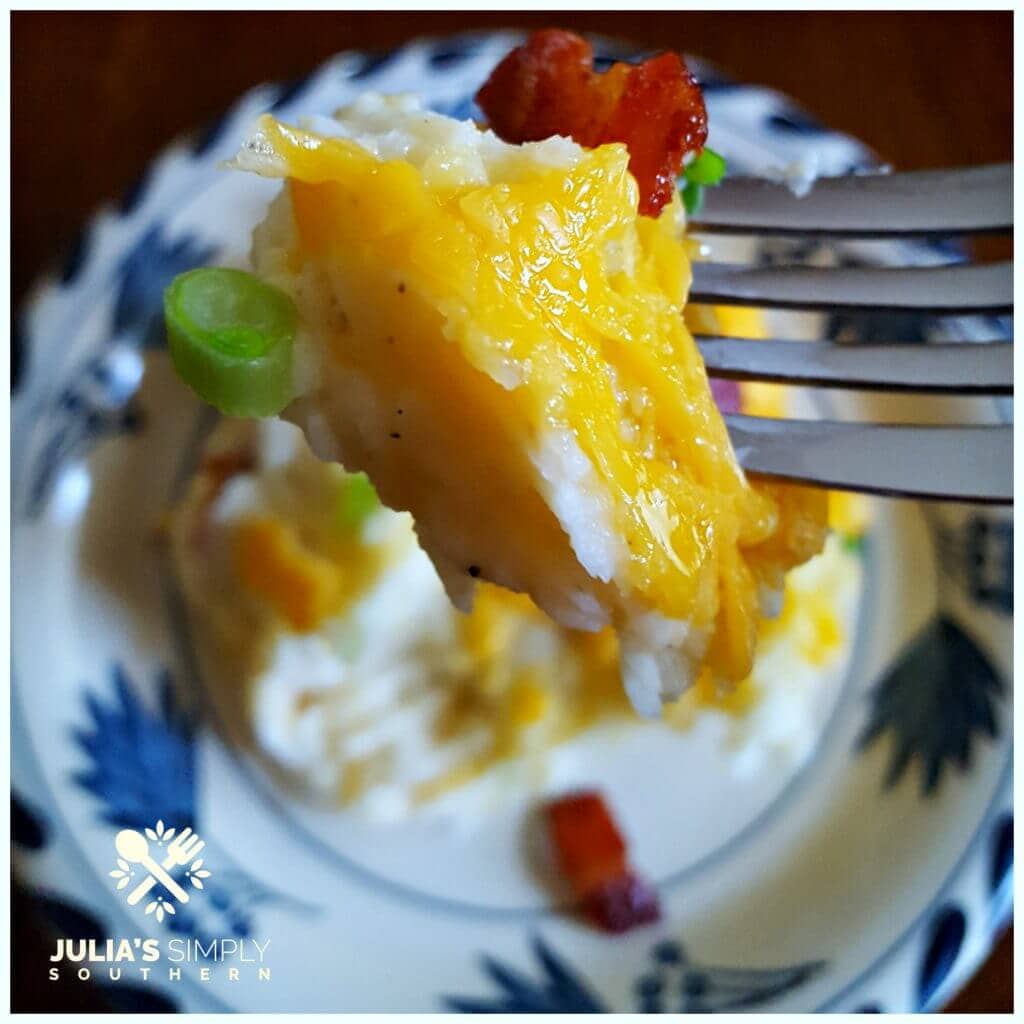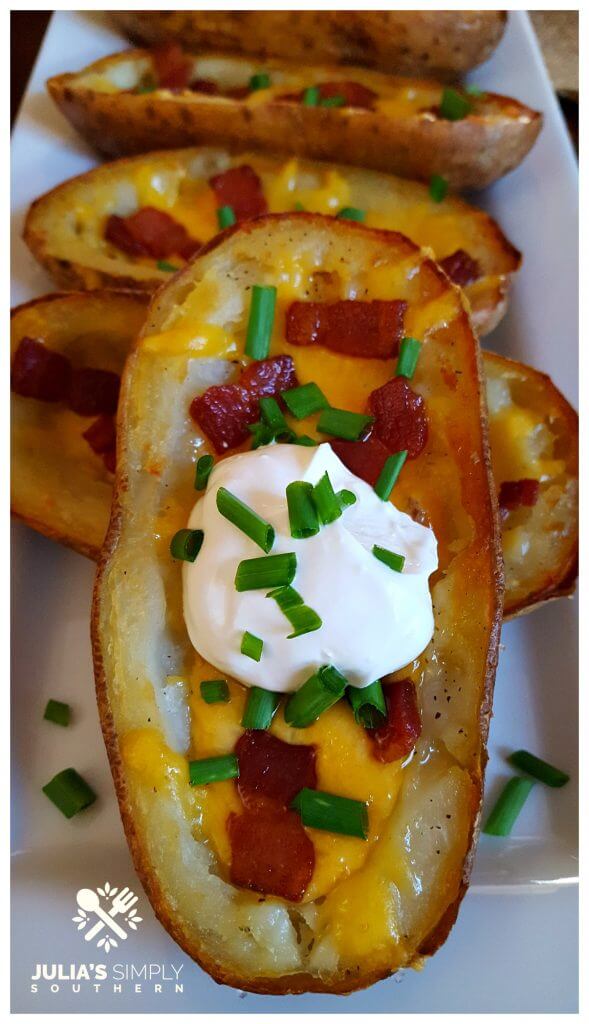 Silly Facts While Working on this Post
Every single time that I had to type fat, I typed out fast and had to correct it. Yes, even just then.
A couple of months ago when I was searching Amazon to purchase duck fat, I discovered that some folks use camel hump fat for cooking. I would guess that depends on what part of the world you're in.
Thank you so much for stopping by! I know that you and your family will love these incredible roasted potatoes using duck fat.
Be sure to subscribe to my email list while you are here. As a subscriber you will receive a weekly email from me with the latest recipes and news here on the blog so you never miss a thing.
Meet Julia
Author of Julia's Simply Southern
Hey Y'all! I'm Julia, the cook and writer behind the recipes here at Julia's Simply Southern. I began my website so that I could share easy to follow recipes that anyone can use to put a home cooked meal on the dinner table. Thanks so much for stopping by!
Follow me on Facebook | Twitter | Instagram | Pinterest | YouTube