In this post I'll be sharing a Strawberry Topping Recipe for Cheesecake. It is so delicious and easy to make!
When spring rolls around and those fresh strawberries start making their way to the market again it is hard not to think of all of the ways to enjoy them. One of my favorite ways is to prepare a batch of fresh homemade strawberry sauce topping.
Delicious strawberry topping is just one more ways to add a bit of extra splurge to delicious desserts, like a home baked cheesecake. Oh my word y'all, it is so sinfully delicious!
The fresh strawberry topping is what this post is all about but I think that the cheesecake is photobombing the sauce and trying to hog up all of the attention. HA!
Homemade Strawberry Sauce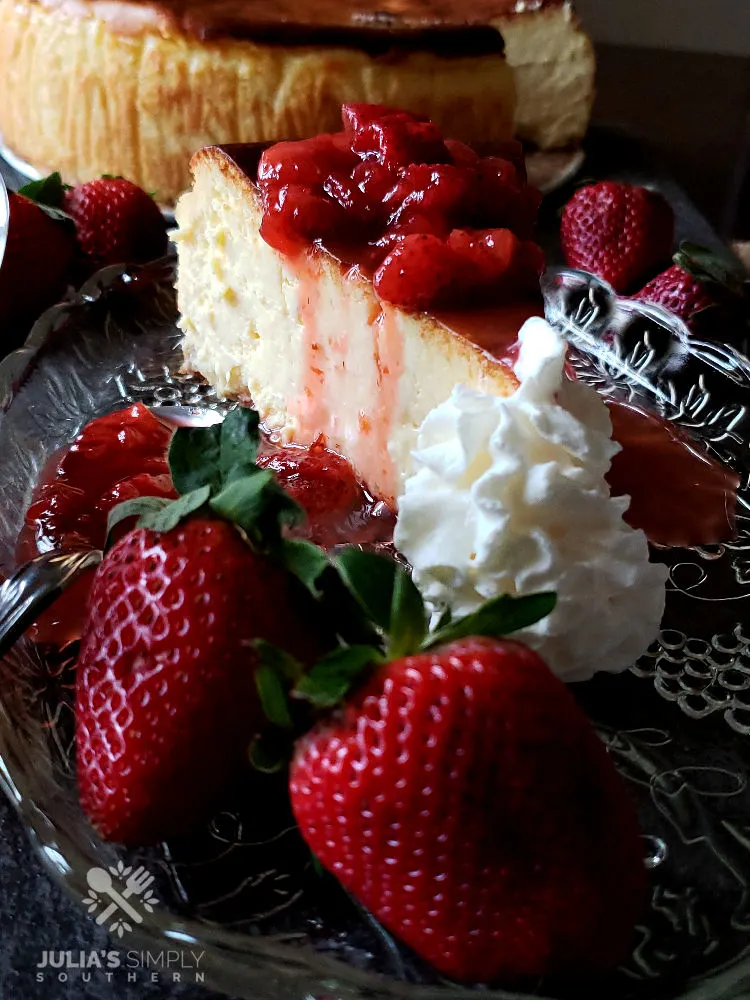 See what I mean friends? Doesn't have strawberry topping for cheesecake look amazing?
Maybe I should have made a scrawny no bake so it wasn't so deliciously distracting.
Since the homemade strawberry topping was the whole point of my post I thought it was natural that I'd need a slice of cheesecake as a prop of sorts for the photos.
I didn't even plan on spending much time on the cheesecake itself and was gonna pick up some ready made filling. Well wouldn't you just know that the store was out of it.
That left no choice but for me to bake a cheesecake. I asked hubs if he thought I should just grab a frozen one and he said "now you know that you will not be happy with it unless you make it yourself."
He was right but I didn't tell him that he was. That would just go straight to his head. So I grabbed everything that I would need for the cheesecake from the refrigerator along with my favorite Martha Stewart cheesecake recipe to make it.
This is the best cheesecake recipe y'all and the only way that I could possibly make it any better is to spoon some of my strawberry topping and add a big dollop of whipped cream, just like Cheesecake Factory does theirs.
I wish that y'all were here so I could share a slice with you cause it's a big honking cheesecake. I'll end up sending half over to the neighbors so they can enjoy some too.
Strawberry Dessert Topping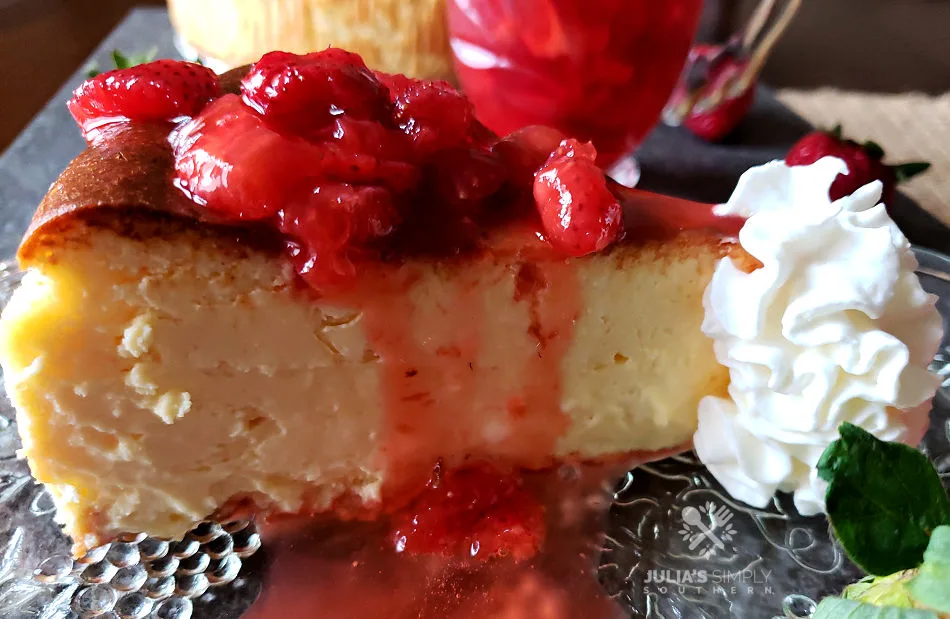 What do I need to make fresh homemade strawberry topping for cheesecake?
Fresh Strawberries – the strawberries are the star of this dessert sauce. If fresh strawberries are out of season you could opt for frozen berries if needed. I sure do love using fresh though when I can.
Sugar – regular white granulated sugar will not only sweeten the sauce but help in making the syrup.
Lemon Juice – a little acid works well when preparing sweet berry sauces or even jams and jellies.
Cold Water and Cornstarch – this will be used to create a little bit of a thickening slurry to add to the strawberry topping sauce at the end of cooking.
Fresh Strawberry Sauce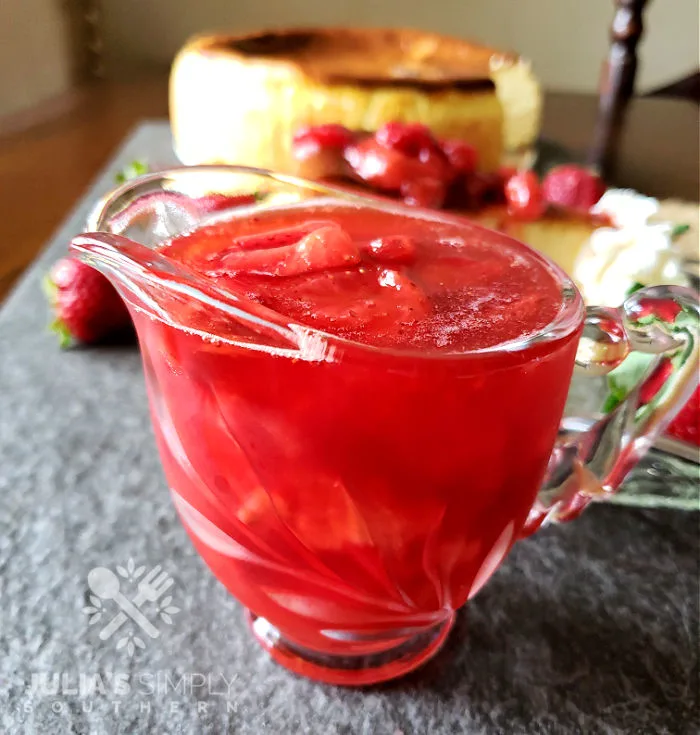 Is this strawberry topping recipe just for cheesecake?
You could easily enjoy this strawberry sauce on other favorite desserts too, such as:
Ice Cream
Sundaes
Pancakes
Waffles
French Toast
Crepes
In Dessert Trifles
Okay the breakfast stuff is not dessert but it teeters close enough to that category depending on how you serve it.
I think that gives a mouthwatering good idea at how handy this berry sauce will be in making many dishes extra special.
How do you make Strawberry Topping for Cheesecake from Scratch?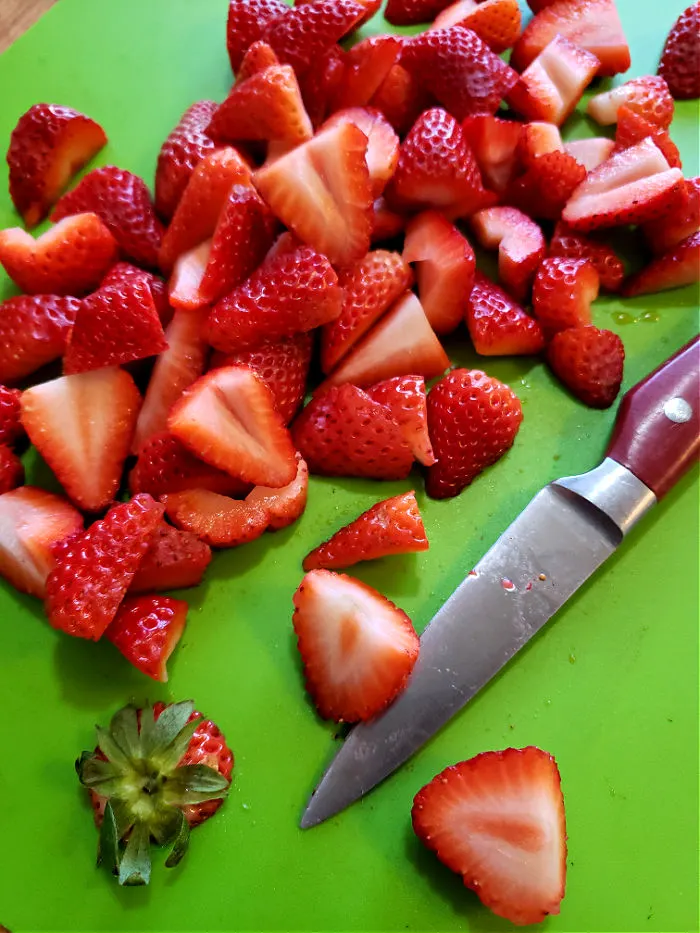 To begin, we need to wash the strawberries and prep them for the sauce. Cut the stems (called the hull or cap) off and cut out the white core using a paring knife. Give the berries a rough chop or just slice them up.
Strawberries are best stored at room temperature and shouldn't be washed until you are ready to use them. You could get an extra day or two storing them in the refrigerator but fresh strawberries are just one of those fruits that you want to use quickly.
If you don't think that you can use your fresh strawberries quickly enough then prep as above and freeze them to use another time.
Making the fresh strawberry topping will also allow you to enjoy the strawberry yumminess for a month or so if you keep it properly sealed and stored in the refrigerator.
That gives you plenty of opportunity to enjoy this strawberry sauce over all of your favorite dishes.
If you have access to fresh locally grown strawberries they will always be sweeter and juicier.
Recipe for Strawberry Topping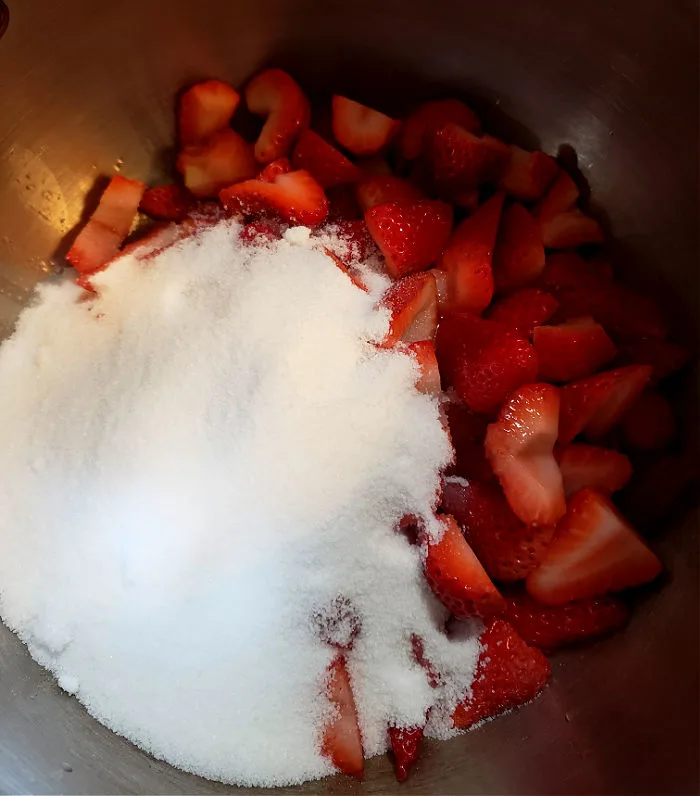 The next step, after the strawberries are prepped, transfer them to a large sauce pan and add the sugar.
Set your flame or stove burner to medium and stir to combine the berries and sugar together.
Strawberry Sauce for Desserts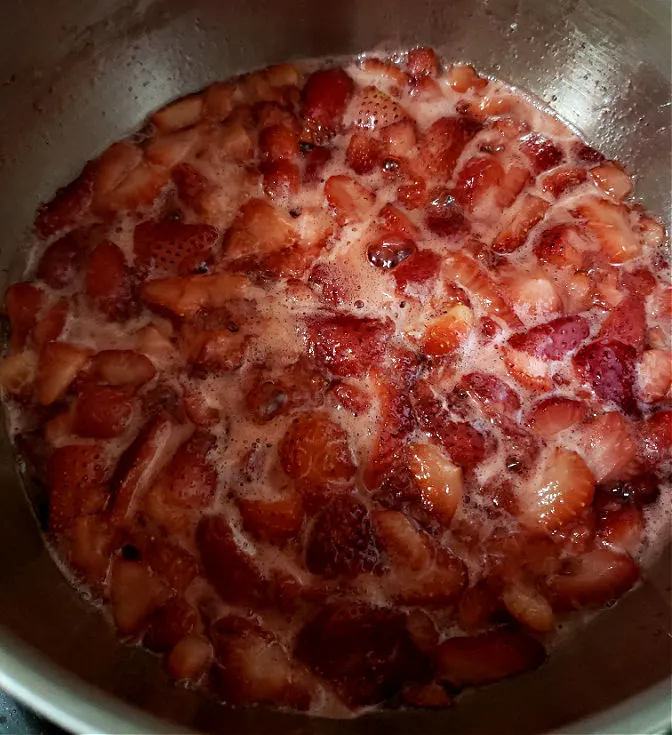 As the sweet berry mixture heats up it will start releasing juices and the sugar will dissolve into the juices.
Use a handheld potato masher to break up and crush some of the berries. You can do this as little or as much as you like to have the strawberries broken down.
I like to leave mine with some nice chunks of strawberries in the sauce.
Allow the strawberry topping to simmer for a few minutes and then add the thickening slurry and stir to combine. Simmer about another minute then remove the pot from the heat and cool.
When making a thickening slurry always use cold water and add it to a measuring cup first then add the cornstarch and stir it up to combine.
Homemade Strawberry Sauce (Topping)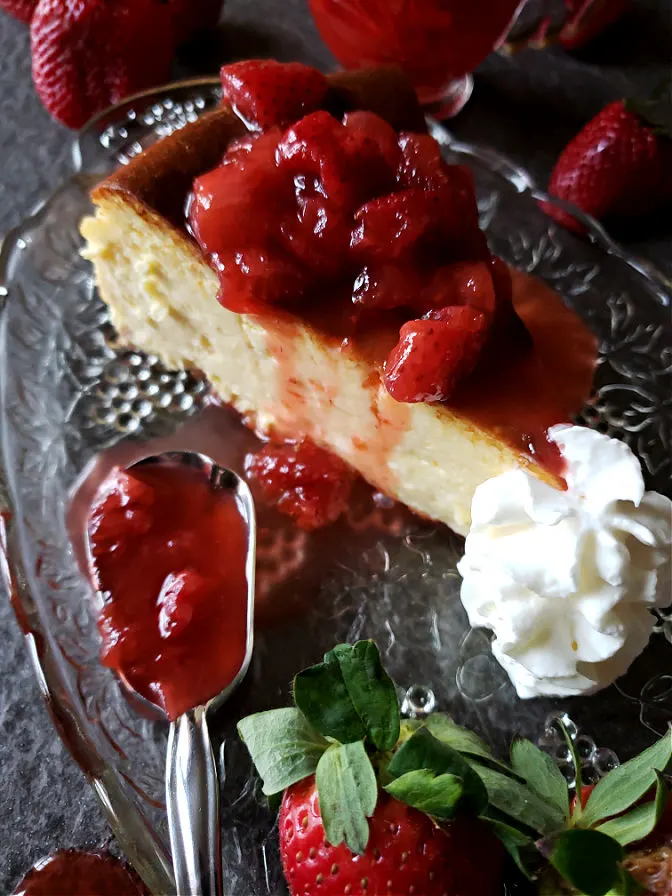 Once your scratch made strawberry topping has cooled down you can use it to top your dessert or transfer it to a storage container and place into the refrigerator.
You now have a batch of wonderful strawberry glaze sauce at your disposal when you'd like to spoon some over your favorite treats.
By the way, strawberries are not technically fruit. I call them fruit anyways and I'm too old to change the habit now.
Strawberry Topping Recipe for Cheesecake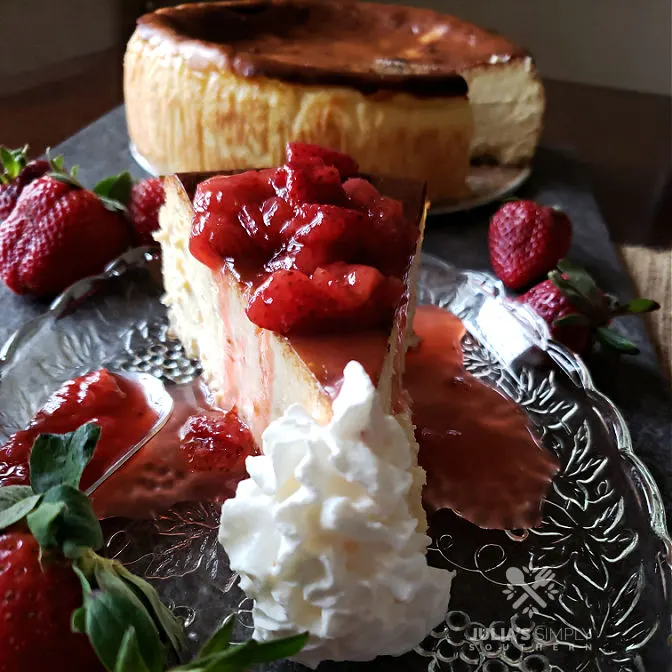 This strawberry topping recipe for cheesecake is just begging for you to make it and take a big ole bite of wonderful cheesecake.
Keep a few fresh strawberries on hand to enjoy alongside your dessert too. They are rich in vitamin c and so tasty to enjoy biting right into a fresh berry. Plus the fresh strawberries make a pretty garnish.
Printable Recipe Card
Yield: 1.5 Cups Dessert Sauce
Strawberry Topping Recipe for Cheesecake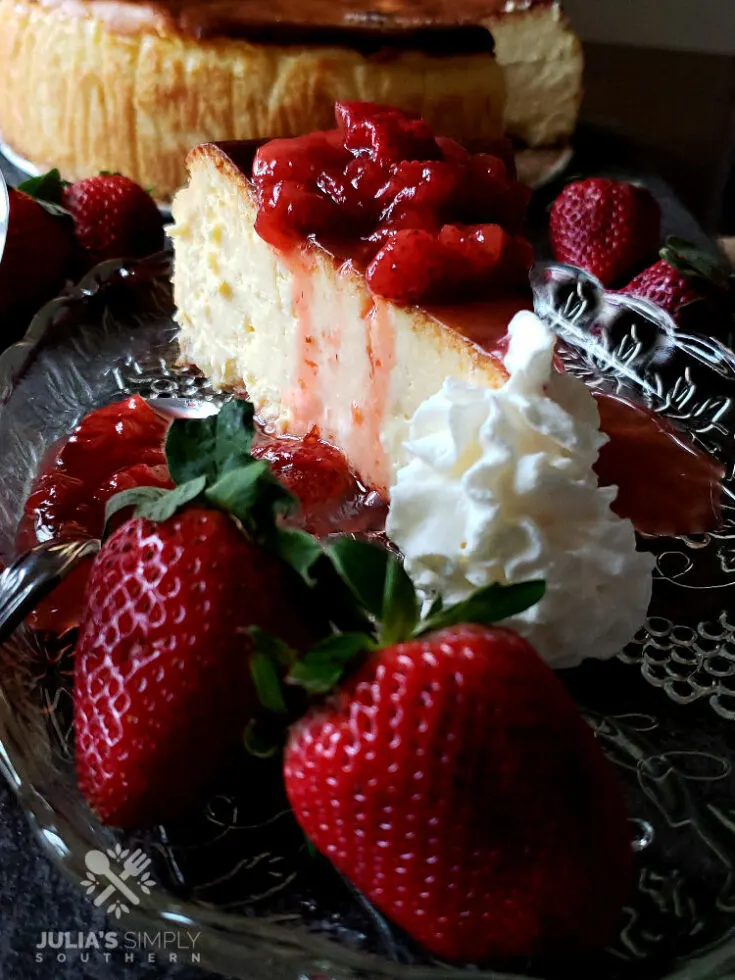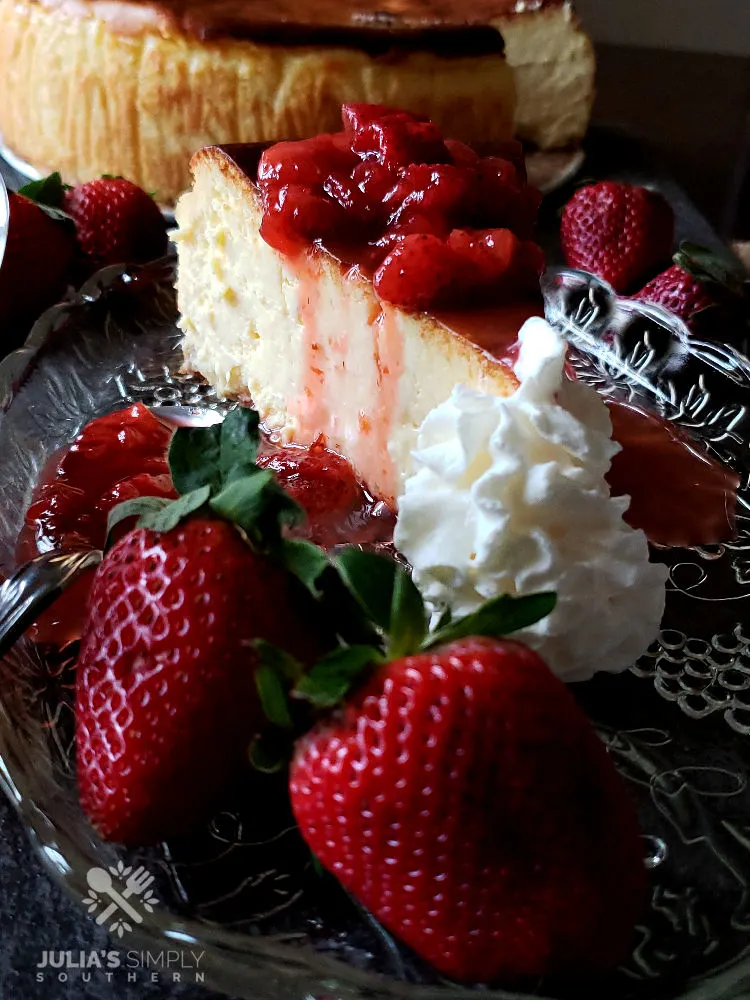 Fresh strawberry topping recipe for cheesecake and other desserts that you love a strawberry glaze sauce.
Ingredients
1 pound of Fresh Strawberries - washed and prepped
1 cup of Granulated Sugar
2 teaspoons of Lemon Juice
¼ cup of Cold Water
2 teaspoons of Cornstarch
Instructions
Place the prepared strawberries in a saucepan along with the sugar and lemon juice. Stir to combine. Bring to a simmer over medium heat.
Once simmering, use a handheld potato masher to crush and break up some of the berries and to release more of the natural juices.
Simmer for 5-7 minutes, stirring, until all of the sugar is dissolved.
Next prepare the slurry thickening mixture by adding the water to a measuring cup then add the cornstarch and stir to combine. Pour immediately into the strawberry topping mixture and stir to combine. Simmer for 1 more minute and remove from the heat.
Recommended Products
As an Amazon Associate and member of other affiliate programs, I earn from qualifying purchases.
Nutrition Information:
Yield:
12
Serving Size:
1
Amount Per Serving:
Calories:

78
Total Fat:

0g
Saturated Fat:

0g
Trans Fat:

0g
Unsaturated Fat:

0g
Cholesterol:

0mg
Sodium:

1mg
Carbohydrates:

20g
Fiber:

1g
Sugar:

18g
Protein:

0g
How to serve and when to put strawberry topping on cheesecake? I prefer to serve individual cheesecake slices with whipped cream then spoon some of the strawberry topping on top when serving.
You could cover the entire cheesecake if preferred if sharing the dessert with a crowd or have the sauce near by for those who wish to have some.
Can strawberry topping be frozen? Yes, if you prefer to freeze in portions for other uses it freezes well.
The Cheesecake
For the homemade cheesecake you'll need: graham crackers, salt, sugar and melted butter for the graham cracker crust. For the creamy cheesecake filling you will need: cream cheese, sugar, butter, sour cream (or Ricotta cheese), eggs, lemon zest and vanilla extract.
It really takes just a few simple ingredients to make an incredible dessert.
If you would like to try the amazing cheesecake recipe that I used: Lucinda's New York Style Cheesecake at Martha Stewart's website.
Tips for a Cheesecake
Use a springform pan – this type of baking pan is standard for cheesecake
A Water Bath – a water bath in the oven helps prevent cracks in your cheesecake and keeps it moist as it bakes.
Large Bowl – to combine the filling
Plastic Wrap – you'll want to wrap the cheesecake once completely cool for storing in the refrigerator.
Ricotta Cheese – can be used as a substitute for sour cream if needed.
You Might Also Like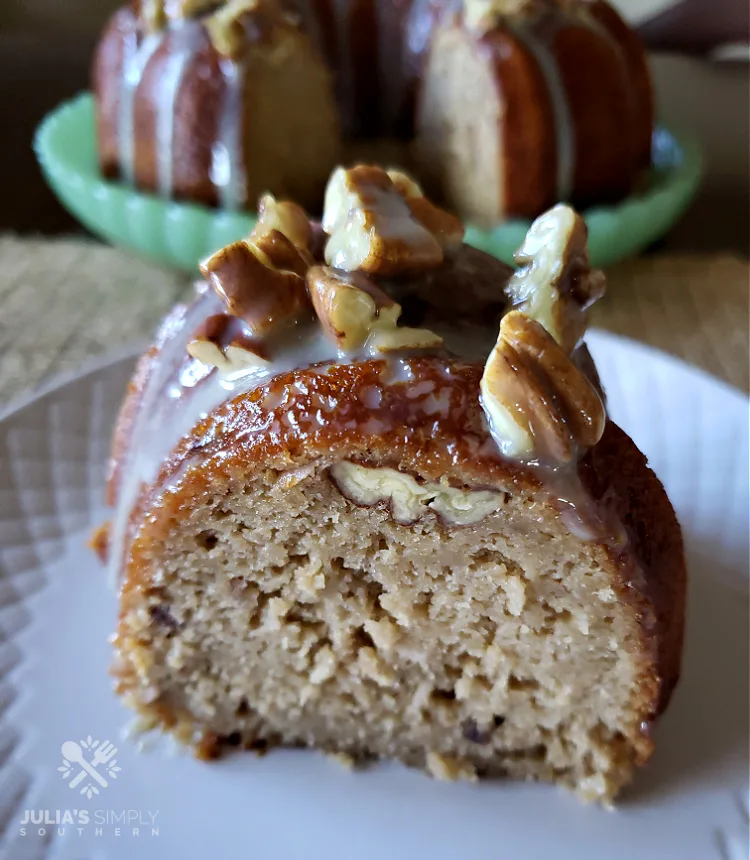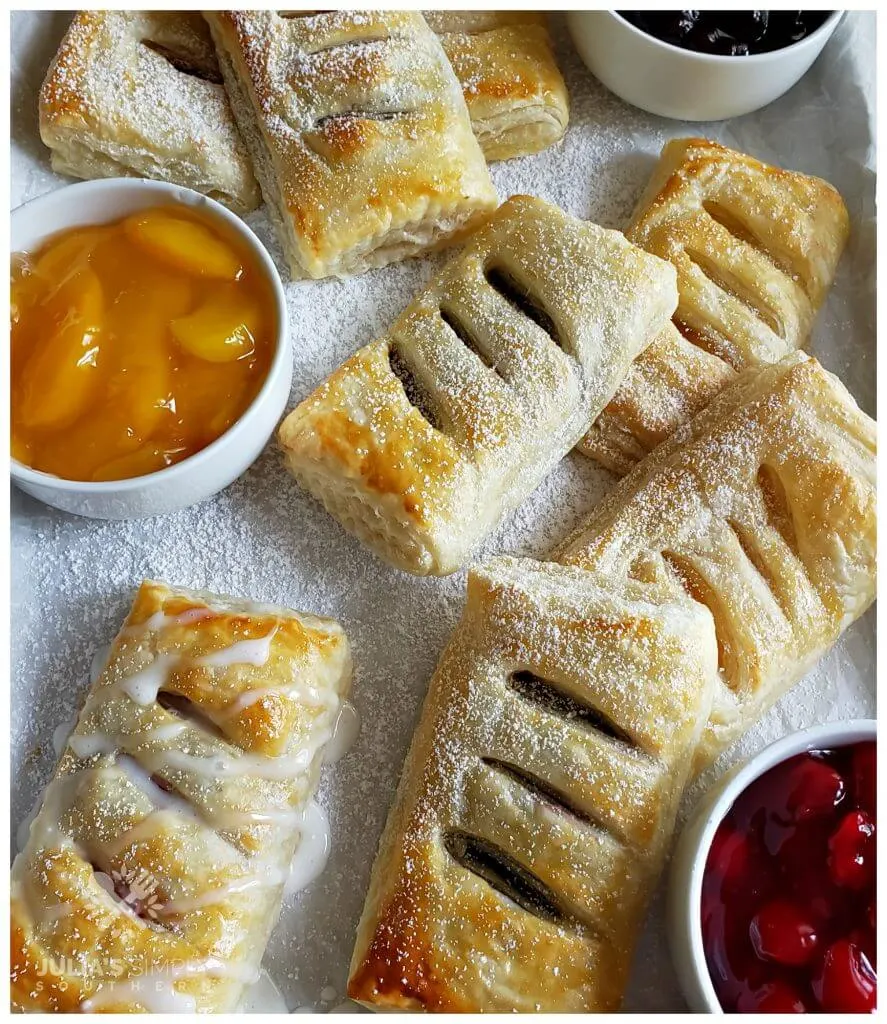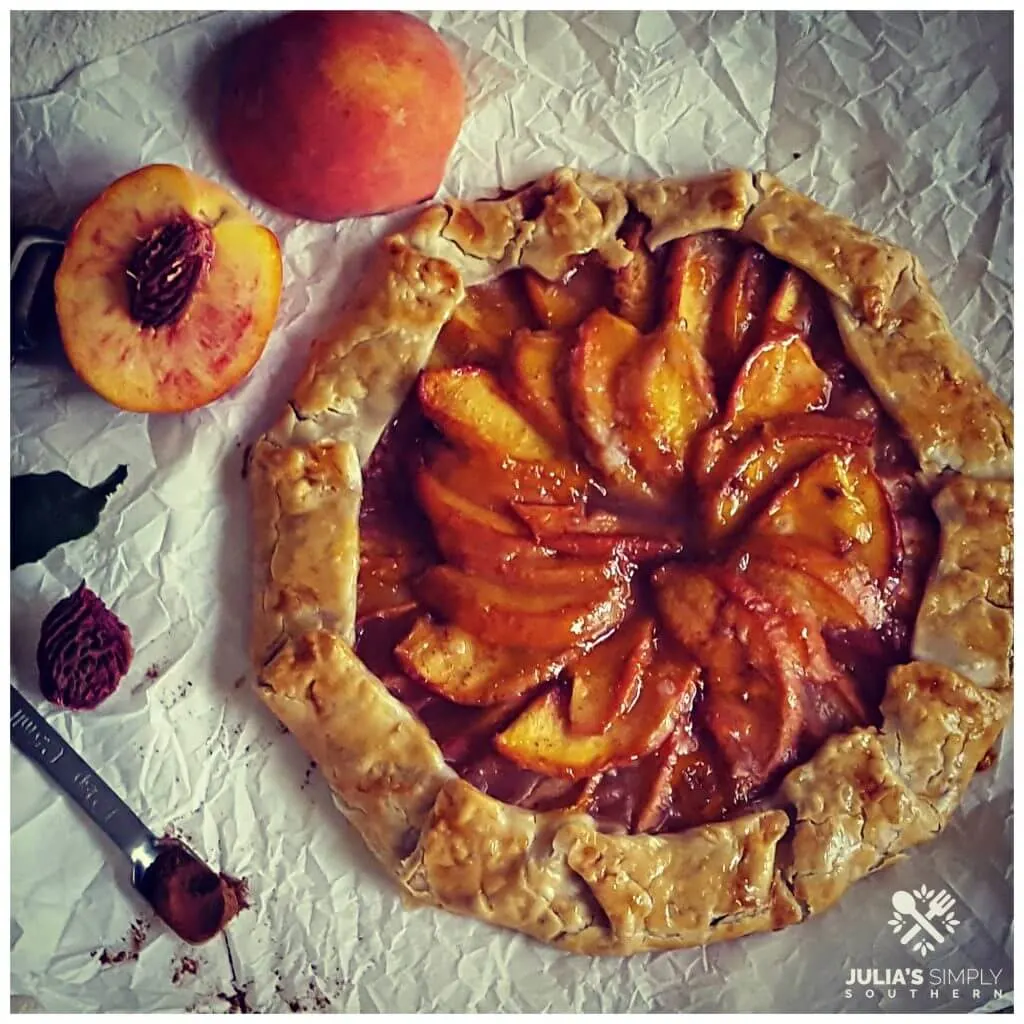 Looking for Something Else?
Strawberry Topping Recipe for Cheesecake
If you would like to try the cheesecake recipe that I used: Lucinda's New York Style Cheesecake at Martha Stewart's website.
Thank you so much for stopping by! I am so glad that you did. I know that you'll love this fresh homemade strawberry topping just as much as my family does. You'll also appreciate how easy it is to make.
Be sure to subscribe to my email list while you are here. As a subscriber you will receive a weekly newsletter from me with the latest recipes and news here on the blog delivered straight to your inbox so that you never miss a thing.
Check out the Latest Recipes
Meet Julia
Author of Julia's Simply Southern
Hey Y'all! I'm Julia, the cook and writer behind the recipes here at Julia's Simply Southern. I began my website so that I could share easy to follow recipes that anyone can use to put a home cooked meal on the dinner table. Thanks so much for stopping by!
Follow me on Facebook | Twitter | Instagram | Pinterest | YouTube