In this post I will be sharing an Easy Salsa Verde Chicken Recipe. It's a delicious Mexican style dinner at home that the whole family will love!
So, what is Salsa Verde? It is another type of salsa made with tomatillos to create a green salsa which can be used pretty much any way that you would a regular red salsa.
I've had Salsa Verde when dining out or even on the occasional trip to Mexico but I just never think to buy it at the grocery store.
Somewhere in the back of my mind I even thought that hubs didn't care for Salsa Verde. Well y'all, it was one of his trips to the grocery store where you never know what he'll be bringing home that he decides to buy a big ole jar of Salsa Verde.
Of course I was a bit surprised but he wanted to try it. So I have this jar of green salsa to use somehow and pretty much immediately thought that it would make a tasty chicken dish … and here we are.
Salsa Verde Chicken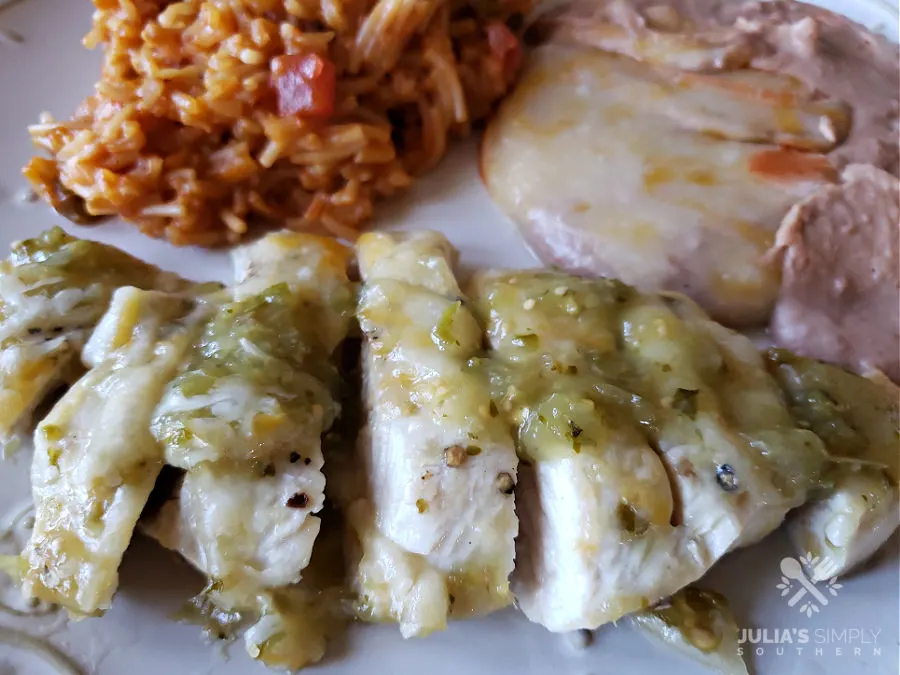 Doesn't that look delicious y'all? It is so good. Of course I had to add some cheese to the mix but this Salsa Verde boneless chicken breast dinner is a real winner. I will be making it again for sure.
What is Salsa Verde good with? This zesty green salsa is delicious with any of your favorite Mexican style dishes like tacos, burritos or quesadillas. You can even use it as a dipping salsa with tortilla chips. And of course it is amazing over chicken.
What does Salsa Verde taste like? I think that it just tastes like a zesty salsa but it is green. Some folks think that it has a bit of a tartness to it compared to the sweetness of a salsa made with red tomatoes. It is certainly delicious.
What do I need to make Salsa Verde Chicken?
Boneless Skinless Chicken Breasts
Kosher Salt and Black Pepper
Salsa Verde
Shredded Cheese
Baked Salsa Verde Chicken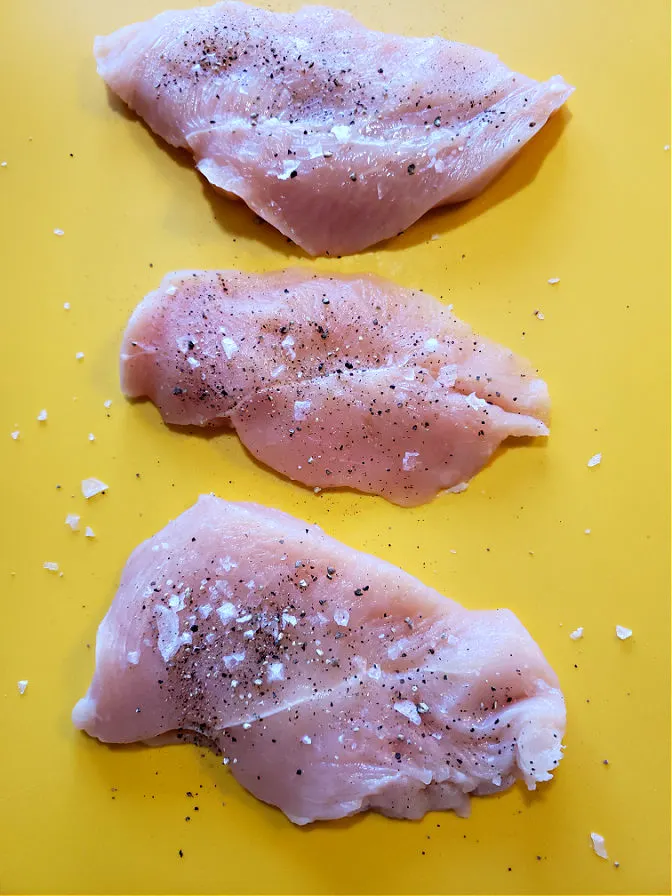 If you're anything like I am my friend then you're probably always on the lookout for new ideas for boneless chicken breasts. Sure, there are so many delicious ways to prepare them…. like my Herb Seasoned Fried Chicken Breast (a family favorite), but sometimes you just want something different.
That makes this easy Salsa Verde chicken recipe a real winner in my book because it is perfect for a stay home Mexican style dinner night.
The recipe is really simple too. I used the thin cut boneless skinless breast pieces that you can find at most stores now. If you can only find the regular cut that are thicker, just cover them in plastic wrap and pound them with a rolling pin to even them out so they cook through the same.
Season the breast pieces with a bit of Kosher salt and some freshly cracked black pepper.
Sear on the Stove Top Griddle to Add More Flavor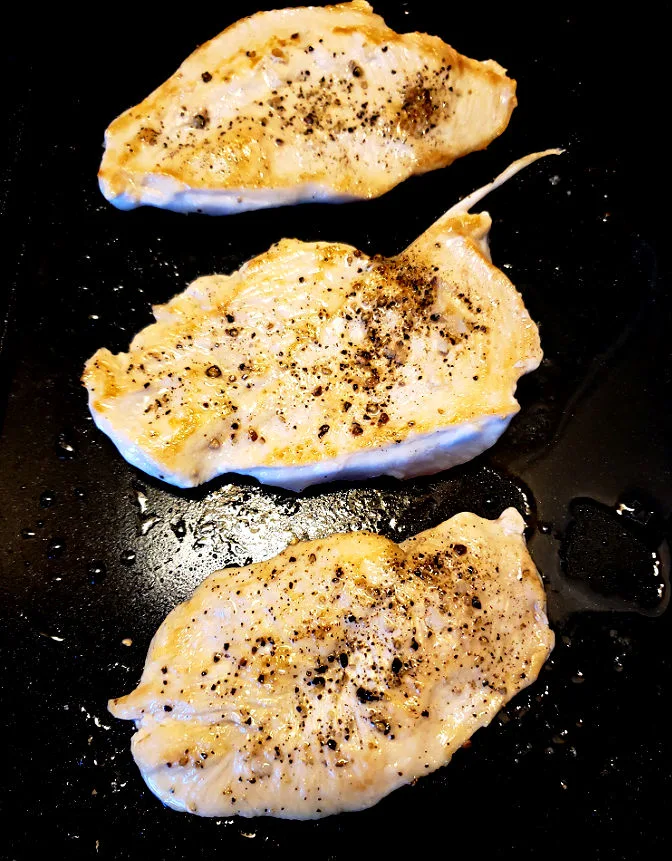 Next, I added just a little drizzle of oil to my hot stove top griddle and seared the chicken breast on each side. This step is optional and you could also use a skillet but let me tell you why it is good.
That little bit of sear on the chicken adds even more flavor and it only takes a few quick minutes. If you just don't have the time, that's okay, you can totally prepare this just using the oven, which is our next step anyways. I do suggest trying the sear though because I think you'll notice the tasty difference.
Cheesy Salsa Verde Chicken Bake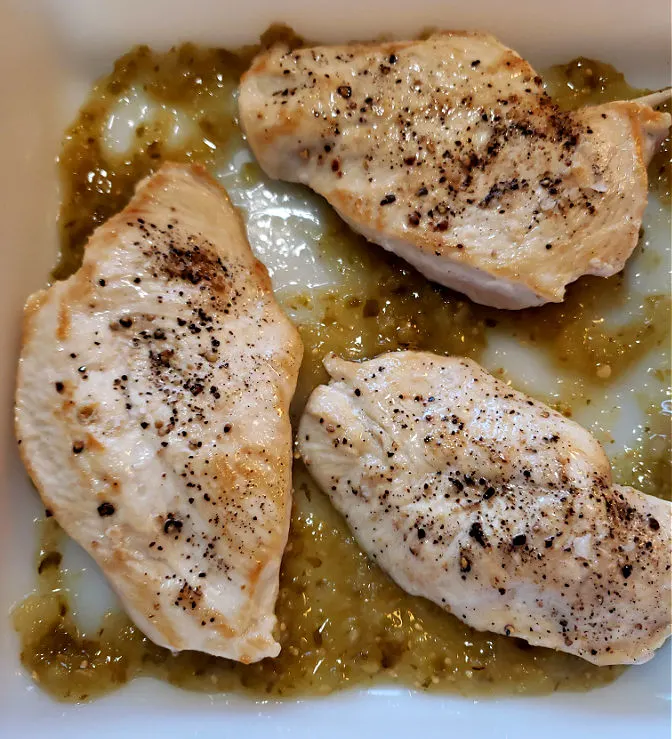 Next, add a little bit of the Salsa Verde to the bottom of a small baking dish. I'm just making three pieces of chicken in this recipe because that is what came in the pack and there is just two of us. You can adjust the amount to whatever you need.
Transfer the seared seasoned chicken breast pieces to the baking dish arranging them so that they aren't over-crowded for baking.
Baked Salsa Verde Chicken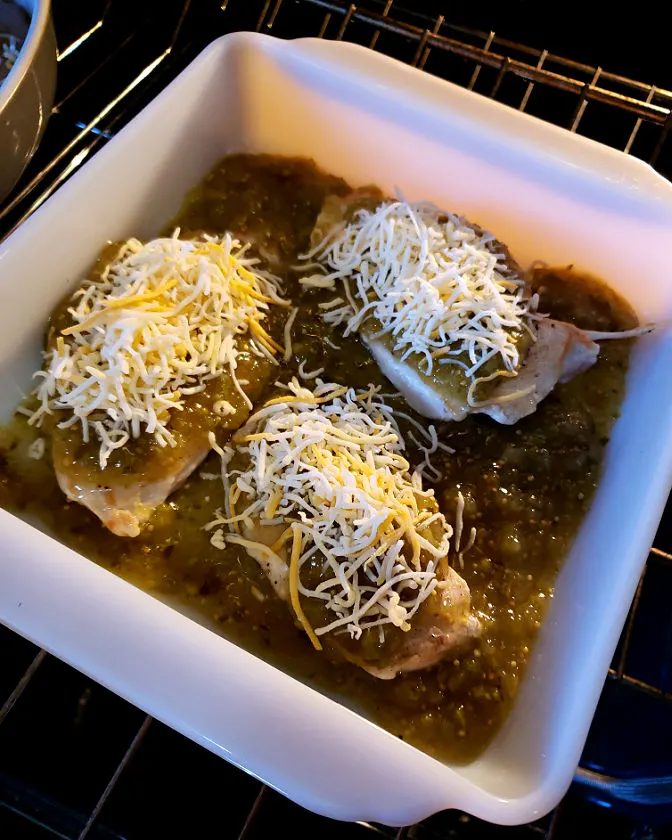 The next step is to add some more of that zesty Salsa Verde on top of each chicken breast then top with a big ole helping of shredded Mexican blend cheese.
If you're not a crazy cheese fan like I am then you can skip the cheese if you'd like.
Oh, by the way, in case you're wondering what store bought brand of Salsa Verde I am using, it is Goya medium Salsa Verde. I am assuming that there are different heat level options available just like regular salsa. The medium wasn't too hot and had a nice level of spiciness that we enjoyed.
Next, the Salsa Verde chicken will bake until it is cooked through and the cheese is melted.
What to Serve with Salsa Verde Chicken Breast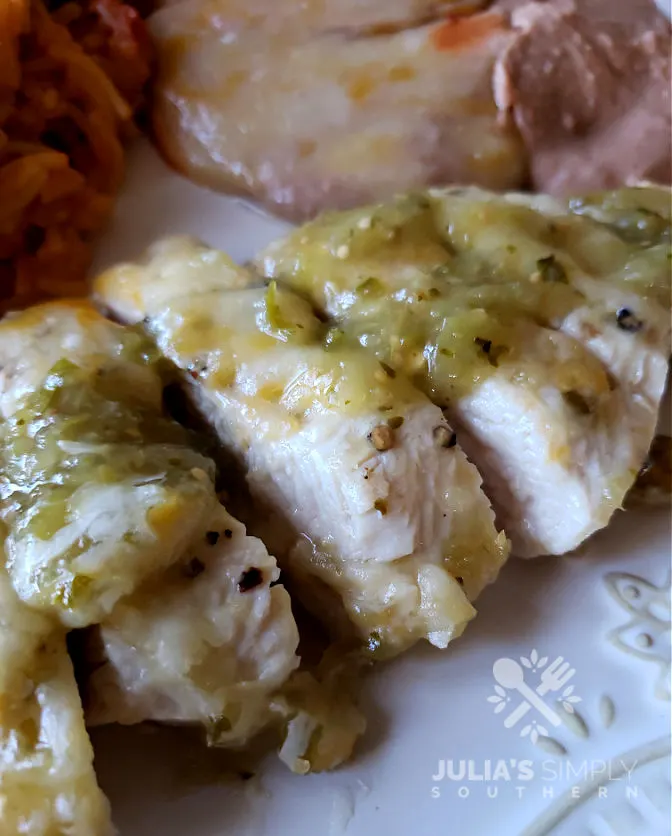 You'll have an amazing Mexican inspired chicken dinner on the table in less than half an hour.
Wondering what to serve with Salsa Verde Chicken Breast?
Refried Beans – a delicious classic side for Mexican cuisine.
Spanish or Mexican style Rice – a delicious red rice that is usually a bit on the zesty side.
Guacamole Salad – a fresh avocado salsa served on a bed of lettuce.
A Side Salad – fresh garden vegetables with your favorite dressing.
Mexican Corn – Elote corn covered in a mixture of mayonnaise, crema, spices and sometimes cotija cheese.
Tortilla Chips – served with salsa, cheese dip or guacamole.
Dorito Taco Salad with Catalina – a favorite family dinner side or potluck dish that everyone loves.
Recipe for Salsa Verde Chicken
Yield: 1 pound
Easy Salsa Verde Chicken Recipe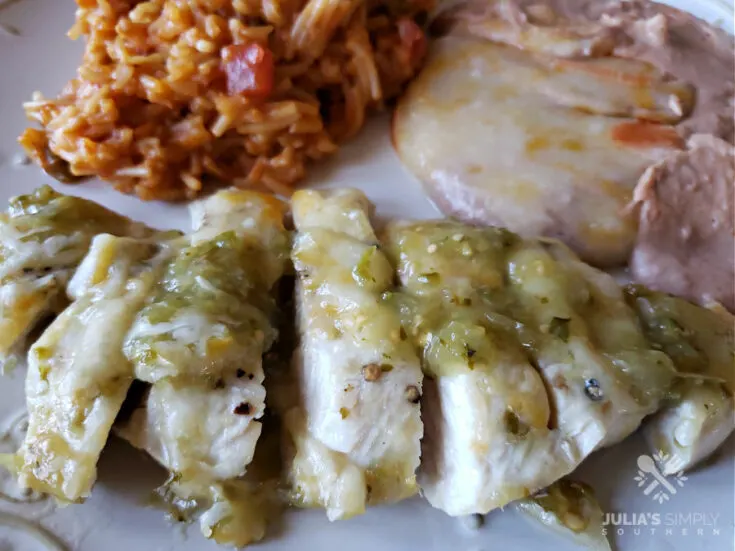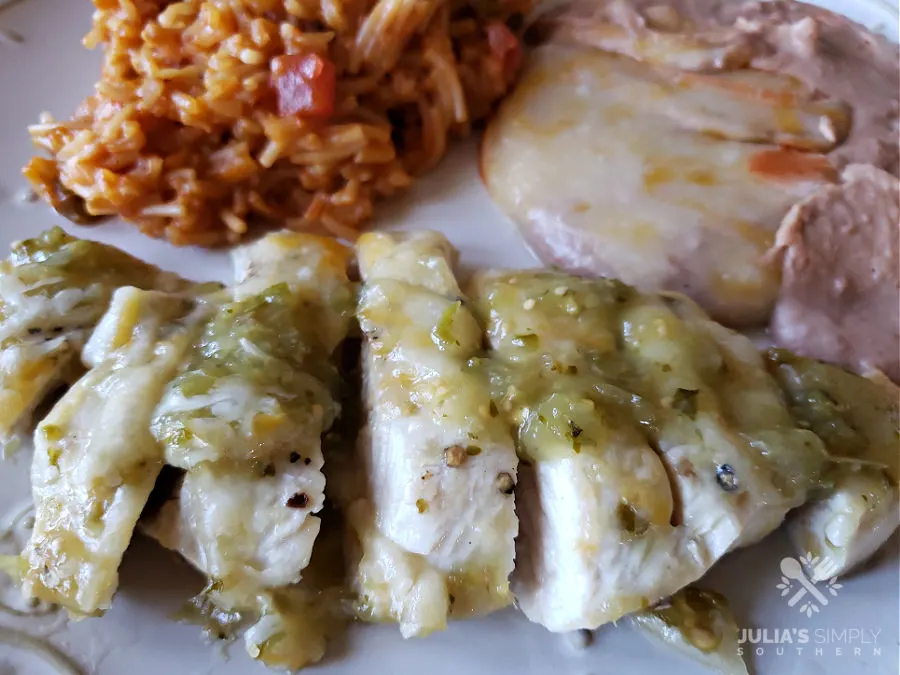 Delicious Salsa Verde Chicken baked for an easy fix Mexican style dinner at home that the whole family will love.
Ingredients
1 pound Thin Sliced Boneless Skinless Chicken Breasts
Kosher Salt, to taste
Cracked Black Pepper, to taste
1 cup Salsa Verde, medium green salsa
½ cup Shredded Mexican Cheese Blend
1 teaspoon of Cooking Oil
Instructions
Preheat oven to 350°F (177°C) and preheat Stove Top Griddle or Skillet over medium.
Season the chicken breast pieces with salt and pepper.
Add a teaspoon of cooking oil to the hot griddle or skillet and sear the chicken breast pieces on each side, 3 to 4 minutes per side. This step is optional but adds additional flavor.
Next, add ⅓ of the Salsa Verde to the bottom of a baking dish then transfer the chicken breast pieces to the baking dish. Top each chicken breast with the remaining Salsa Verde and some of the shredded cheese.
Bake 15 minutes.
Allow the chicken to rest for 5-10 minutes before serving along with your favorite Mexican style sides.
Recommended Products
As an Amazon Associate and member of other affiliate programs, I earn from qualifying purchases.
Nutrition Information:
Yield:
4
Serving Size:
1
Amount Per Serving:
Calories:

275
Total Fat:

10g
Saturated Fat:

4g
Trans Fat:

0g
Unsaturated Fat:

5g
Cholesterol:

110mg
Sodium:

682mg
Carbohydrates:

5g
Fiber:

1g
Sugar:

3g
Protein:

39g
You Might Also Enjoy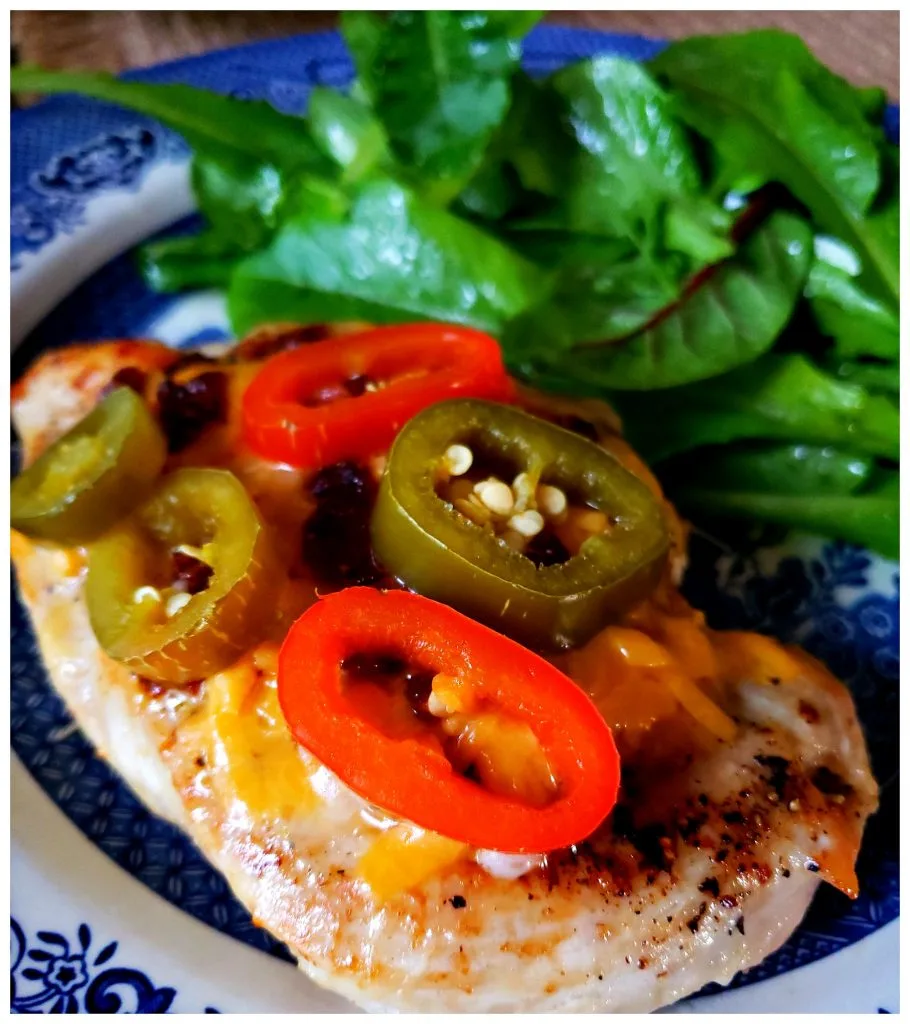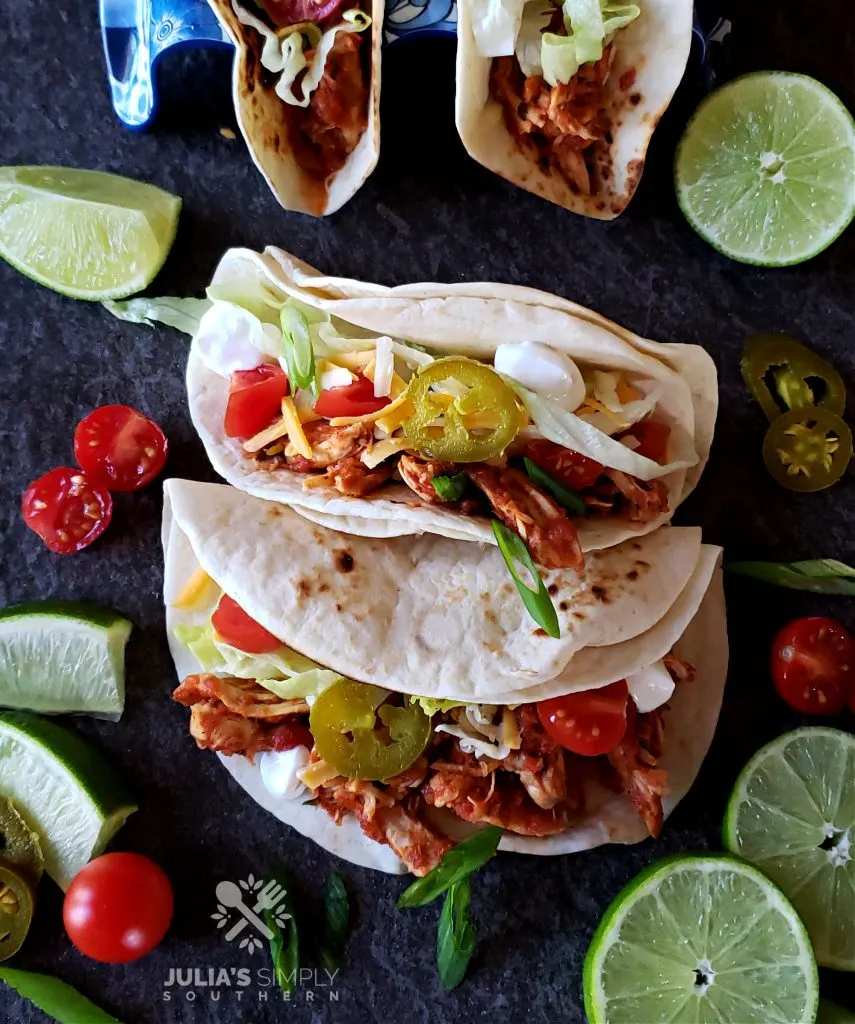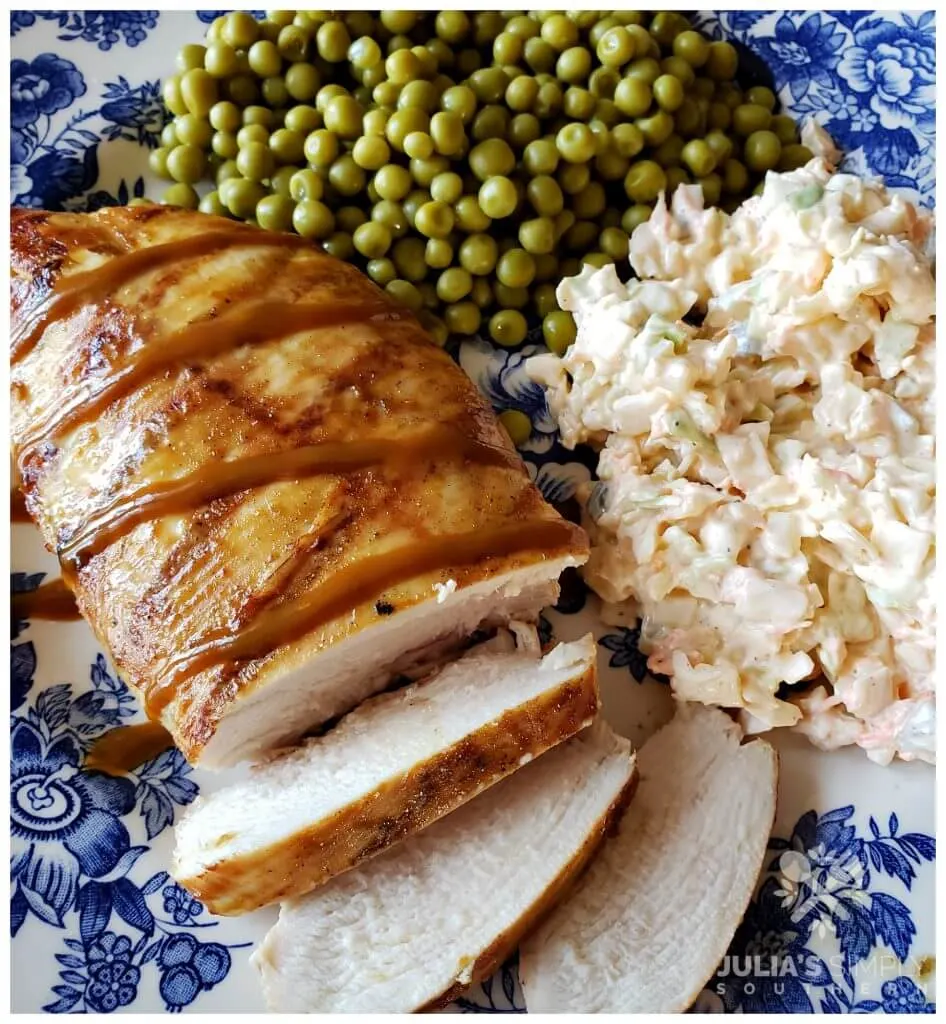 The Latest Recipes that you may have missed
Thank you so much for stopping by! I am so happy that you did. I know that you and your family will love this easy Salsa Verde Chicken dinner just as much as we do. It is a new favorite in our meal rotation and a perfect option when you need to put together an easy quick fix homemade meal.
And, if you are curious, hubs is now a bonafide lover of Salsa Verde so I am sure that I'll have more recipes to share in the future with this tasty green salsa mix.
Be sure to subscribe to my email list while you are here. As a subscriber you will receive a weekly email from me with all of the latest recipes, tips and news here on the blog so that you never miss a thing. They'll be delivered straight to your inbox.
Searching for something else?
Meet Julia
Author of Julia's Simply Southern
Hey Y'all! I'm Julia, the cook and writer behind the recipes here at Julia's Simply Southern. I began my website so that I could share easy to follow recipes that anyone can use to put a home cooked meal on the dinner table. Thanks so much for stopping by!
Follow me on Facebook | Twitter | Instagram | Pinterest | YouTube