In this post I'll be sharing an easy Crock Pot Macaroni and Cheese Recipe. It is delicious! You will love this simple slow cooker recipe.
This creamy crockpot mac reminds me of the baked macaroni and cheese that you get out at restaurants. You know, the kind of place where you find the macaroni listed in the vegetable sides section. I suppose that it would be like a lot of the home baked versions too.
In the South, we love our macaroni and cheese! It is my favorite comfort food of all time (the perfect comfort food in my book). The macaroni and cheese is almost always included for family gatherings and holiday dinners.
When preparing bigger meals, you often need to free up some of that valuable oven space, so this slow cooker Southern style macaroni and cheese if a perfect way to do just that.
Easy Crock Pot Mac and Cheese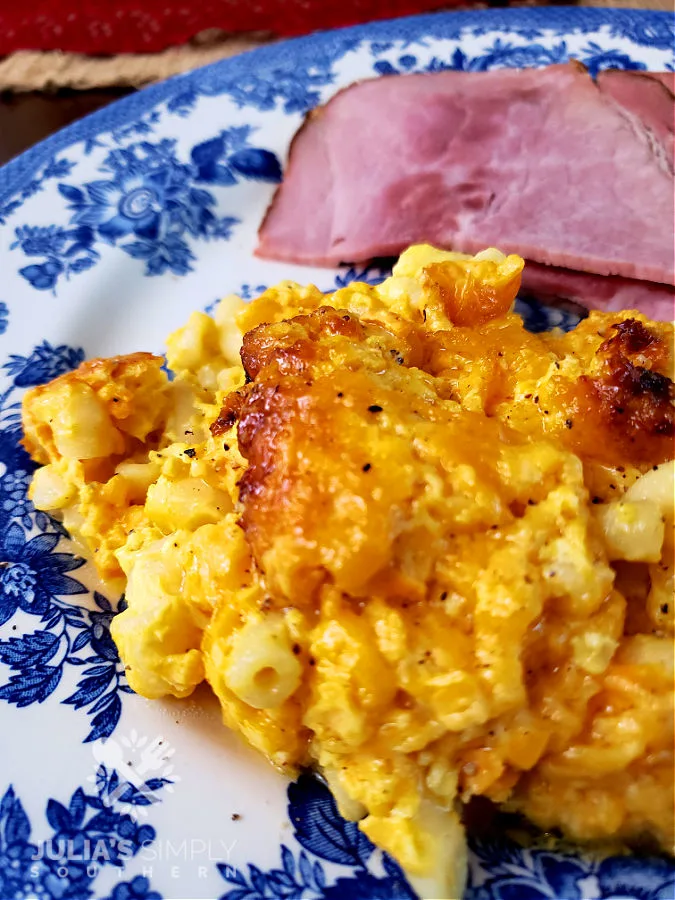 Oh. My. Word. Does that not look so delicious? It is creamy, cheesy and delicious! Just like that custard-style mac that we all love so much.
Easy dinners with delicious recipes for the win! I have eaten a lot of macaroni and cheese casserole in my lifetime and I'm here to testify that this is a great recipe.
For my family's holiday meals, I do serve my oven baked macaroni and cheese. I consider it my best mac. In fact, I consider my baked macaroni to be the best of the best. It is in a league of its own. My friends and family call it legendary. So if you haven't tried that one, be sure to check it out too.
Lawd help me y'all! I think I might be drooling over here talking about all of this amazing macaroni and cheese.
Southern Crock Pot Mac and Cheese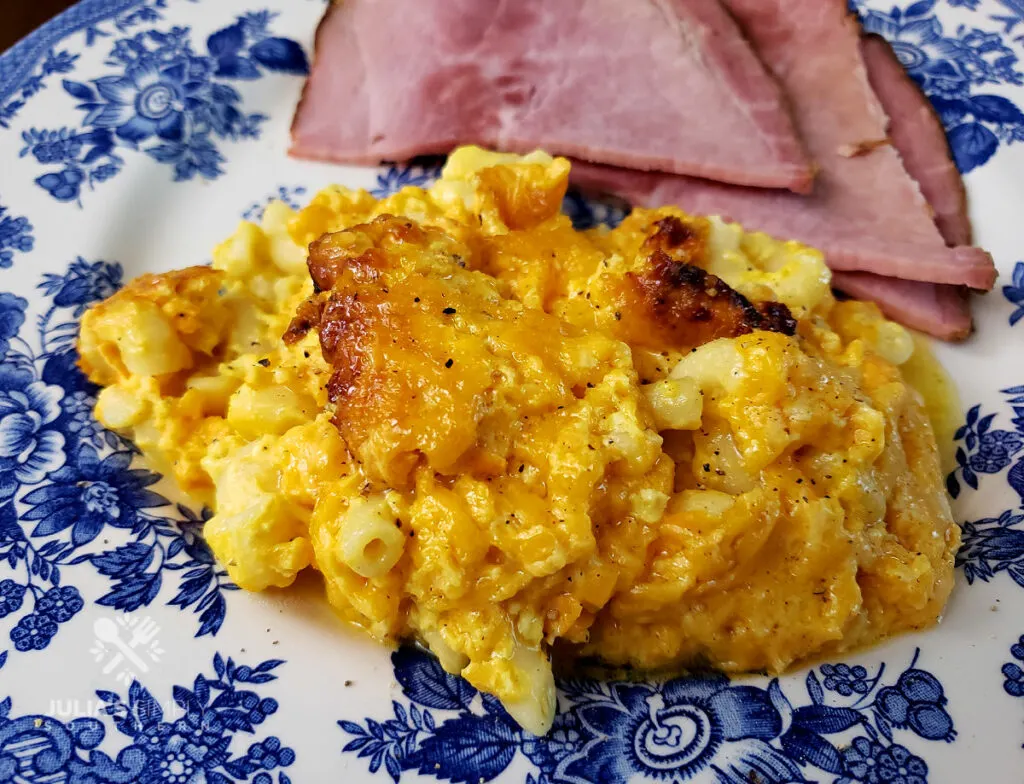 Croc Pot macaroni and cheese will become your favorite new recipe for a busy day. This is one of those dishes the whole family will love. Even your picky eaters.
What to serve with slow cooker macaroni and cheese?
Pork Chops
Holiday Turkey or Baked Ham
Meatloaf, hamburger steaks, country fried steak or other meat of your choice and don't forget a vegetable side or two.
My holiday dinner plate is typically filled with turkey, cornbread dressing, a generous helping of cheesy macaroni and green beans….with a deviled egg or two. I look forward to this plate of food all year long.
How to make Crock Pot Macaroni and Cheese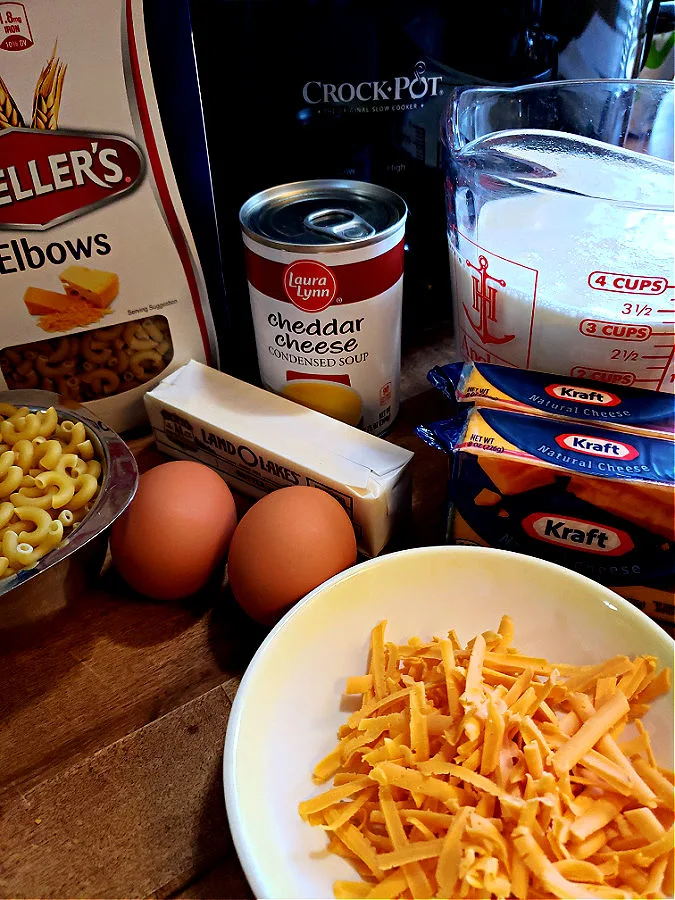 Here's what you will need to make this slow cooker macaroni:
Uncooked Pasta – elbow macaroni to be specific. I do like to parboil the pasta before adding it to the slow cooker but not all the way to al dente. It will still be slightly undercooked.
Slightly cooking the noodles before adding them to the Crock Pot will ensure that you don't over do it on the cooking time and end up with mushy mac.
Butter – adds flavor and richness.
Cheese Sauce – which consists of a cheddar cheese soup combined with whole milk (or regular milk as it is called at our house). This creamy sauce liquid mixture helps ensure you have a delicious creamy mac.
You can use evaporated milk if your prefer that for making your macaroni dish. You'll need two cans if you go that route.
Different Cheeses – I used extra sharp cheddar cheese and it must be freshly grated. Grating your own cheese ensured it melts better and is delicious. The pre-shredded store bought cheeses have anti-caking agent mixed in and that does interfere with the perfect meltiness of the cheese.
In addition to the regular cheddar cheese, I also add in a little bit of smoked cheddar cheese. Just a little bit adds such richness of flavor and that hint of smokiness that everyone will rave over. If you've never tried adding a little smoked cheddar, you should. It is a game changer!
Eggs – helps to create the Southern style macaroni and cheese.
Salt and Black Pepper – for seasoning. I add more black pepper than salt in my mac n cheese because the cheese is salty and I figure there's a salt shaker on the table if someone wants more. You can season according to your own tastes.
Tip and Alternative Options
TIP: If it is your first time making macaroni and cheese though, keep in mind that you can always add more seasoning to foods but you cannot take it away.
I want to mention a couple of alternative options with ingredients that can be commonly found in a macaroni and cheese recipe, depending on who's making it, of course.
A lot of folks like to add some sour cream. I never have but it can add richness and creaminess to the dish, same as adding a bit of cream cheese.
Some older recipes call for dry mustard powder. Personally, I don't care for the dry mustard in this recipe, but if that is what you're used to then by all means add some in.
Other seasonings may also be used if you prefer to add the flavors that you enjoy in a macaroni recipe, such as onion powder or garlic powder.
Bread crumbs are also a popular option for mac and cheese that deliver a crunchy topping.
Slow Cooker Macaroni and Cheese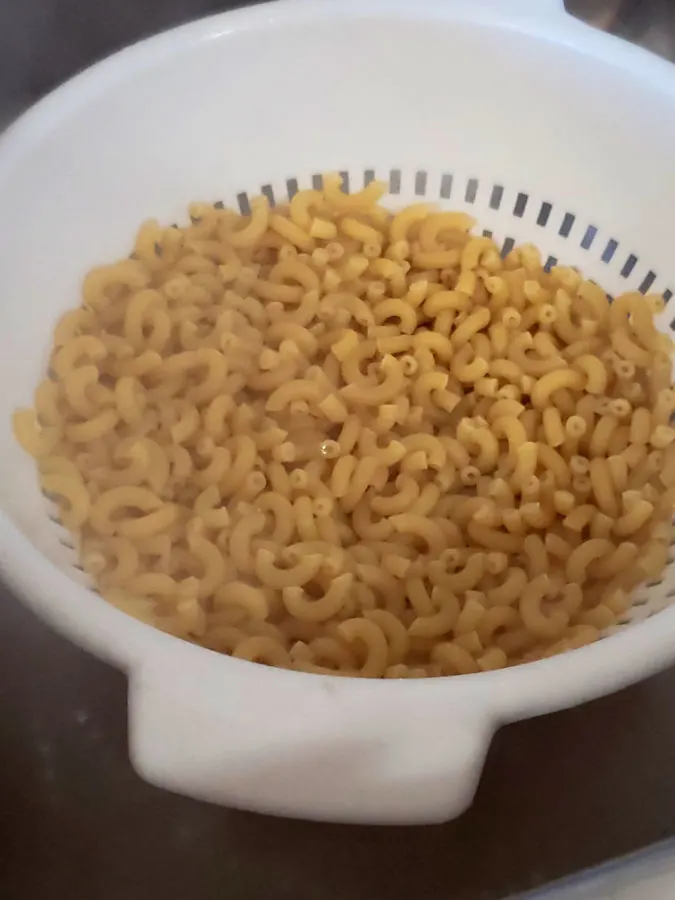 Don't get too close or you'll fog up your glasses. HA! Hot and steamy elbow noodles coming your way. Once you par boil the mac pasta, drain it well in a colander.
To pre-cook the elbow pasta, add water to a large pot then cover with a lid and heat on high on your stove top. Next, when the water is boiling, add some kosher salt along with the uncooked noodles. Be sure to stir so the macaroni doesn't stick together.
While waiting for the water to boil to cook the elbow macaroni, go ahead and add the butter to your slow cooker crockery, cover and set it to the high temperature to melt the butter.
This is also a great opportunity to grate the cheese, which I do with an old fashioned box grater, and it takes about two minutes. Set the cheese aside until needed.
The Secret to Creamy Crockpot Mac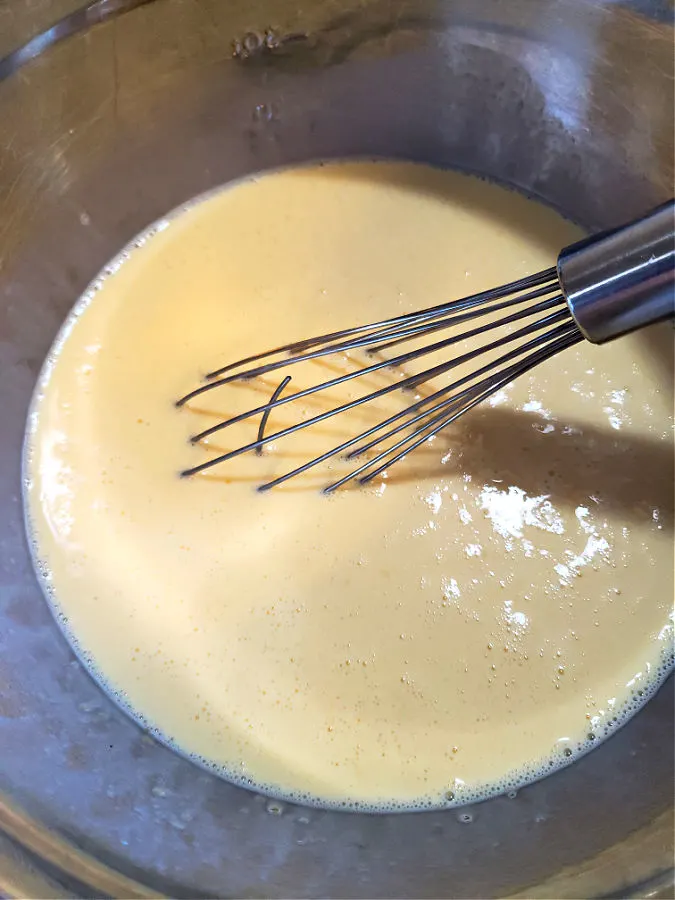 Use a large mixing bowl to combine the milk, eggs and condensed cheddar cheese soup. Don't under-estimate that cheddar soup because it is a wonderful ingredient for creamy crockpot mac.
Crock Pot Macaroni and Cheese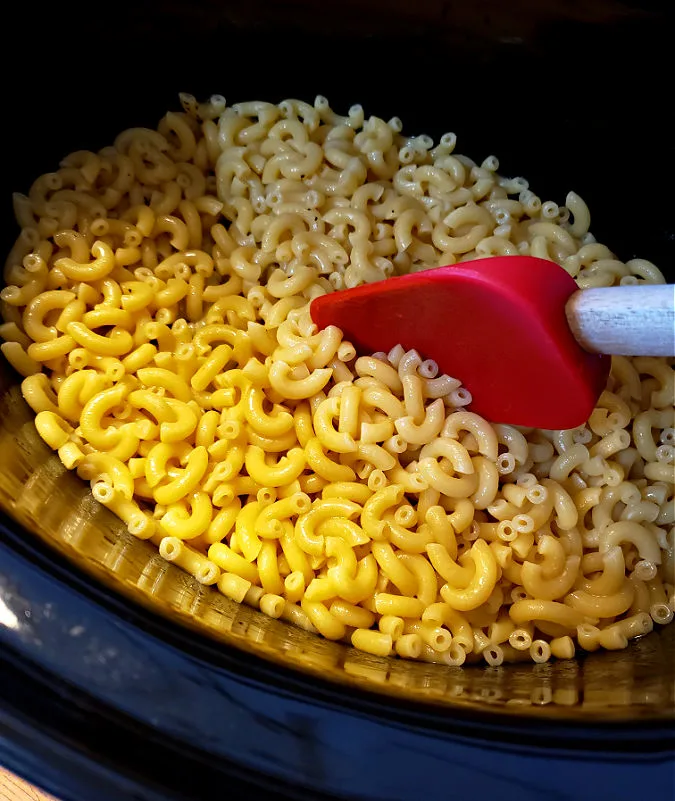 The next step, after you've drained the pasta and de-fogged your glasses, is to add the par boiled elbow macaroni to the crockery and stir to combine with the melted butter.
Foolproof Crockpot Mac and Cheese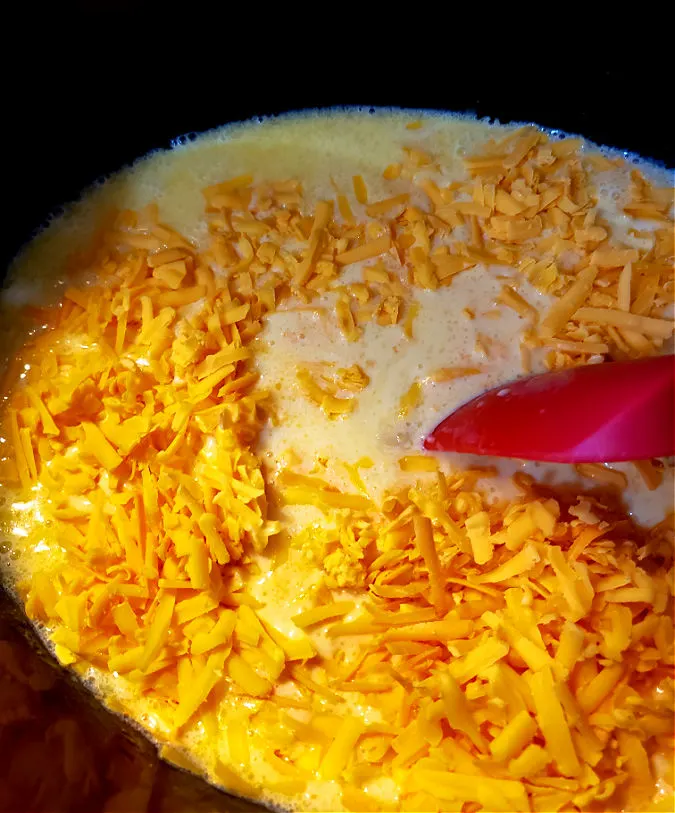 Next, add the liquid mixture along with half of the grated cheddar cheese. Gently stir to combine everything together.
Creamy Cheesy Macaroni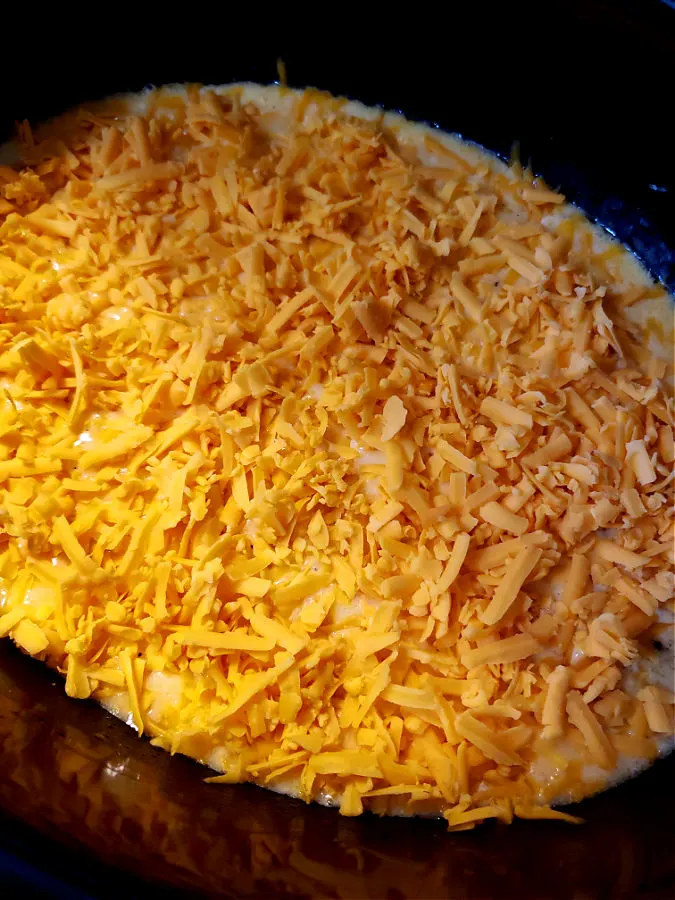 Use the remaining cheese to evenly spread on top of the macaroni then cover with the slow cooker lid, turn the cook setting down to low heat, and let it cook a few hours.
It Smells Amazing!!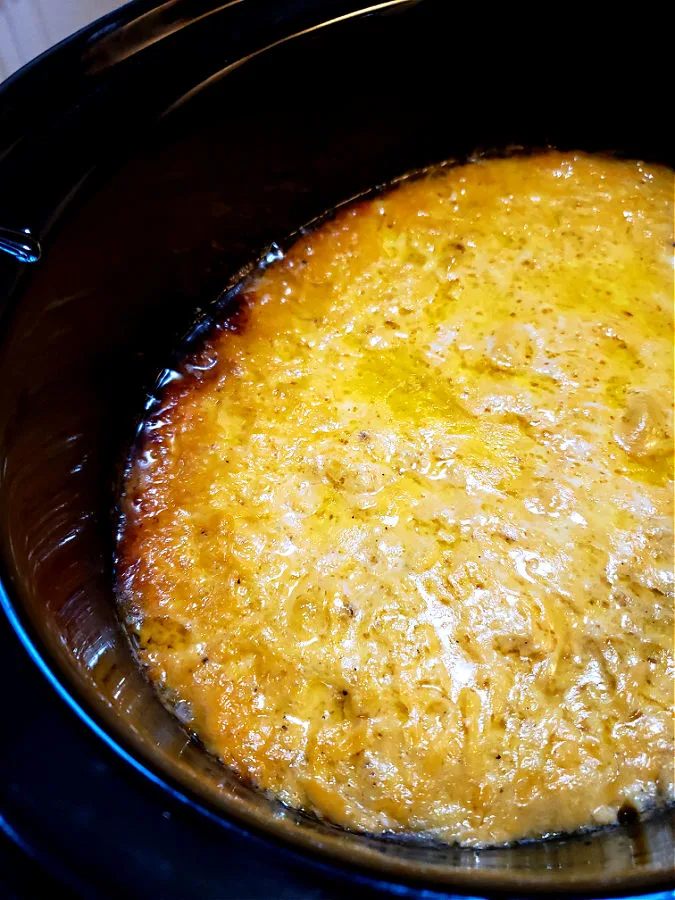 Enjoy the amazing aromas as your easy Crock Pot Macaroni and Cheese slow cooks to perfection. You'll get some of those beloved crispy brown bits around the edges as it cooks.
Crock Pot Macaroni and Cheese Recipe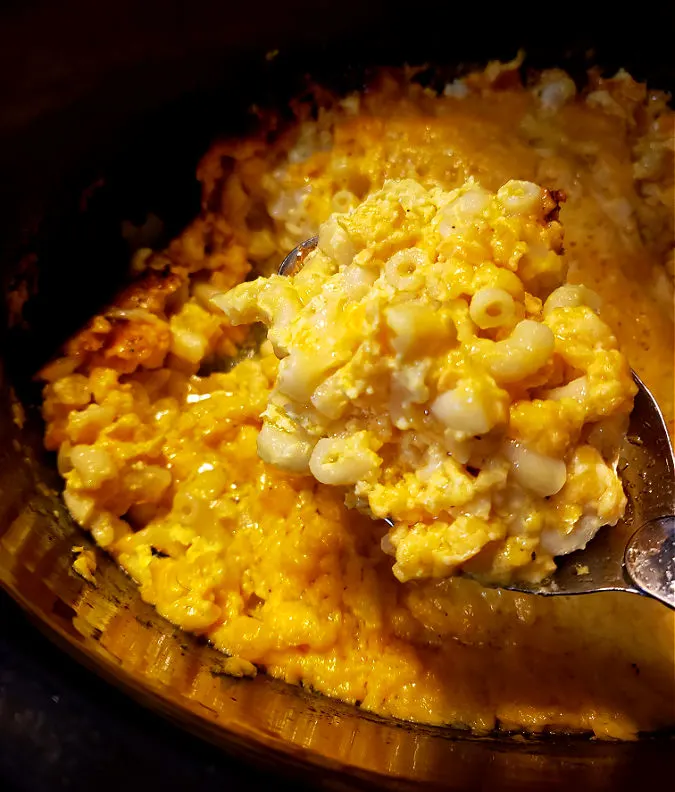 Just like with a baked macaroni, I think that this slow cooker mac and cheese needs to rest for a few minutes to kind of set up.
Carefully remove the crockery (using pot holders) from the heating shell and set the crockery some place to rest for about half an hour or so. Then, serve your delicious macaroni and cheese for your family dinner. It's so good!
If you can't do the baked version, for whatever reason, then this is the next best thing as far as I'm concerned. This crockpot recipe will become a family favorite if you love mac and cheese as much as I do.
Leftovers may be stored in an airtight container in the refrigerator for up to four days. Individual portions re-heat easily in a microwave oven.
Printable Recipe Card
Yield: 1 Side Dish
Crock Pot Macaroni and Cheese Recipe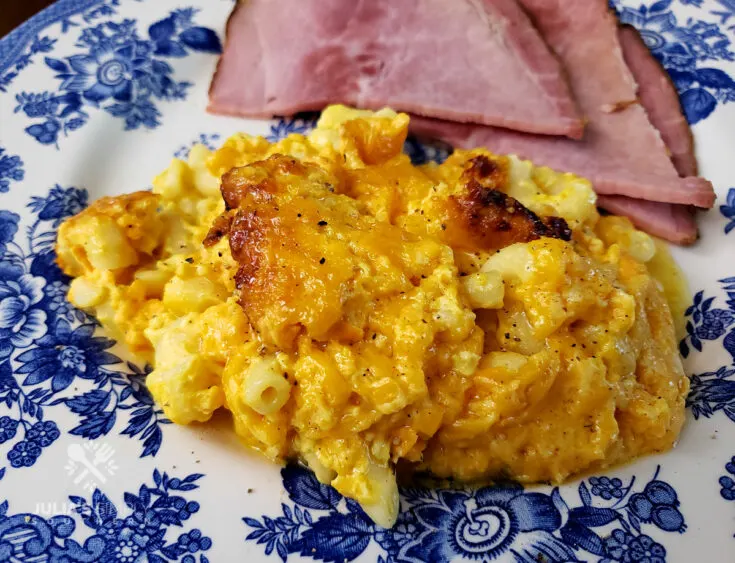 A rich, creamy and delicious Crock Pot macaroni and cheese recipe that your family will love for family dinners or holiday meals. It's delicious!
Total Time
3 hours
15 minutes
Ingredients
1 Stick of Butter (8 tablespoons)
2 cups Uncooked Elbow Macaroni Pasta (around 9.5 ounces)
4 cups Extra Sharp Cheddar Cheese, grated (two 8oz. blocks or one 16oz. block)
½ cup Smoked Cheddar Cheese, grated (optional)
3 cups Whole Milk
2 Eggs
10.75 ounce can Condensed Cheddar Cheese Soup
Salt and Black Pepper, to taste
Instructions
Place the stick of butter in the slow cooker crockery, cover with the lid, and set the Crock Pot on the high cook setting to melt the butter while you prep the rest of the ingredients.
Use a large pot and add enough water to par-cook the macaroni. Set the pot of water over high heat on your stove top, cover with a lid and bring to a boil. Once the water is rapidly boiling, add about a half a teaspoon of kosher salt to the water along with the elbow macaroni. Stir to prevent the pasta from sticking together. Cook the pasta 6 to 7 minutes, not completely done.
While the pasta cooks; in a large mixing bowl, whisk together the cheese soup, eggs and milk. Set aside.
Drain the elbow macaroni well and add it to the crockery and stir to combine the pasta with the melted butter. Carefully pour in the cheesy milk mixture, add half of the grated cheese and seasonings then gently stir to combine.
Top the macaroni mixture with the remaining cheese, cover with the lid, reduce the cook setting to low and slow cook for 3 hours. When done, carefully remove the crockery and set aside to allow the macaroni and cheese to rest for about half and hour and set up (optional but recommended) then serve.
Notes
See full post for alternative ingredients options and suggestions.
Recommended Products
As an Amazon Associate and member of other affiliate programs, I earn from qualifying purchases.
Nutrition Information:
Yield:
8
Serving Size:
1
Amount Per Serving:
Calories:

544
Total Fat:

40g
Saturated Fat:

23g
Trans Fat:

1g
Unsaturated Fat:

13g
Cholesterol:

157mg
Sodium:

807mg
Carbohydrates:

24g
Fiber:

1g
Sugar:

5g
Protein:

23g
If you're searching for something even easier then you might prefer a stovetop mac in a creamy cheese sauce. That comes together as easy as cooking your macaroni noodles until tender. Drain the elbow macaroni noodles and combine with a cheese product, like Velveeta, which tastes similar to American cheese, then give it a good stir. Other cheeses that you like can be added into the stove top version, such as white cheddar, parmesan cheese, mild cheddar or Monterrey jack to dress it up a bit. A homemade cheese sauce is also a great option for stove top macaroni and doesn't take a long time to prepare.
Check out the Latest Recipes on the Blog
Thank you so much for stopping by! I am so happy that you did. I know that you will love this easy recipe for Crock Pot Macaroni and Cheese.
Be sure to subscribe to my email list while you are here. Subscribers receive a weekly newsletter via email so that you never miss the latest recipes and news here on the blog.
Crock Pot Macaroni and Cheese Recipe
Meet Julia
Author of Julia's Simply Southern
Hey Y'all! I'm Julia, the cook and writer behind the recipes here at Julia's Simply Southern. I began my website so that I could share easy to follow recipes that anyone can use to put a home cooked meal on the dinner table. Thanks so much for stopping by!
Follow me on Facebook | Twitter | Instagram | Pinterest | YouTube