In this post I'll be sharing an old fashioned easy orange balls recipe, also known as snowballs.
Have you ever had the pleasure of enjoying an orange ball during the holiday season? They are pure joy and deliciousness! Perhaps your grandmother served them during the holidays like mine did.
My grandmother used to lay them out with her Christmas Eve spread of appetizers that we would enjoy when we would all gather together. Those are such wonderful memories.
The orange coconut balls are so flavorful and full of all of the flavors of the holiday season. Orange balls are a no bake cookie or some prefer to call them candy.
Best of all, it takes a few simple ingredients to make around fifty of these delicious orange balls. They can be made ahead too. Just keep them chilled until ready to serve.
Orange Coconut Balls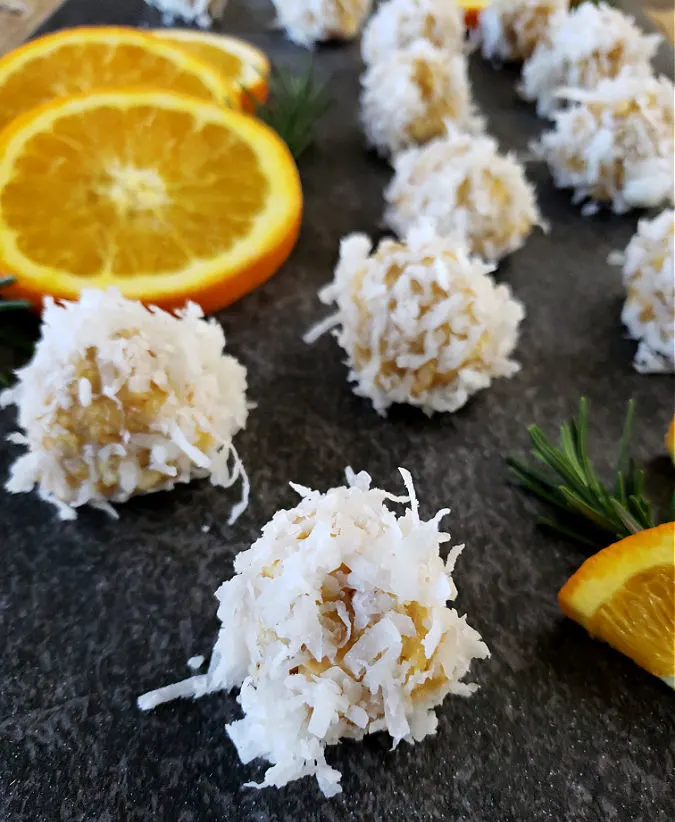 Y'all, look at that! Doesn't that look amazing? I wish that you could reach right up there and grab one of those snowballs to enjoy. Once you have one, you're gonna be hooked on these holiday goodies.
Yesterday, I dropped off my homemade holiday treats to family. Mama called me later on that evening and went on and on about how good those orange balls were. She's always loved them and I do too.
No Bake Orange Balls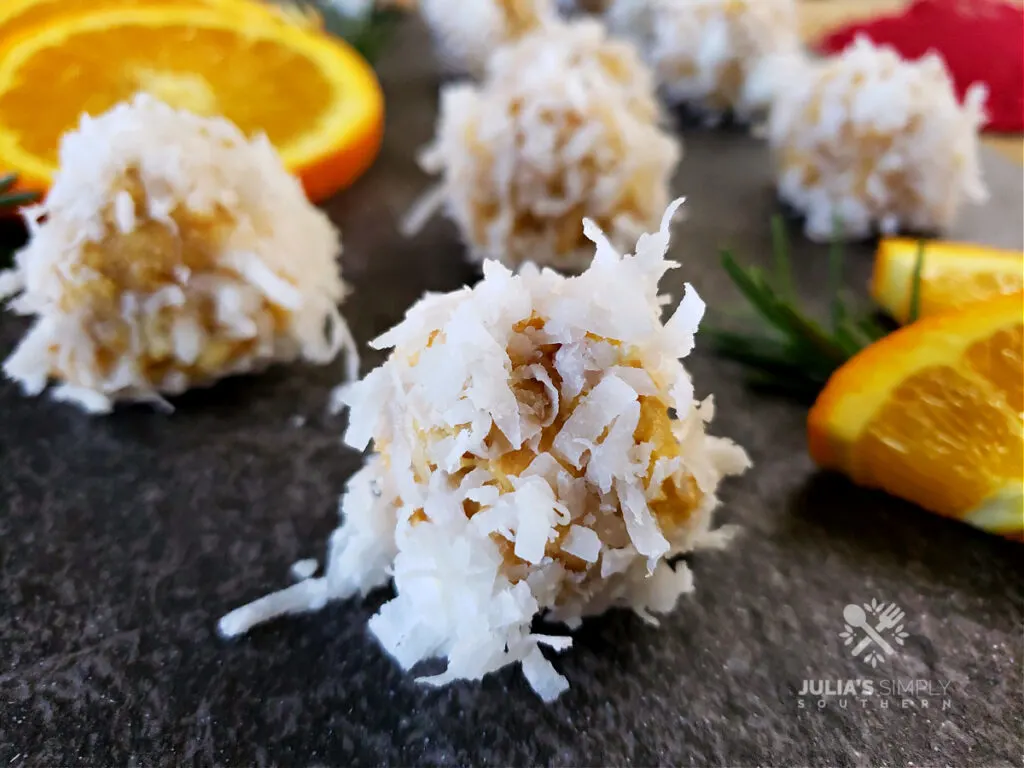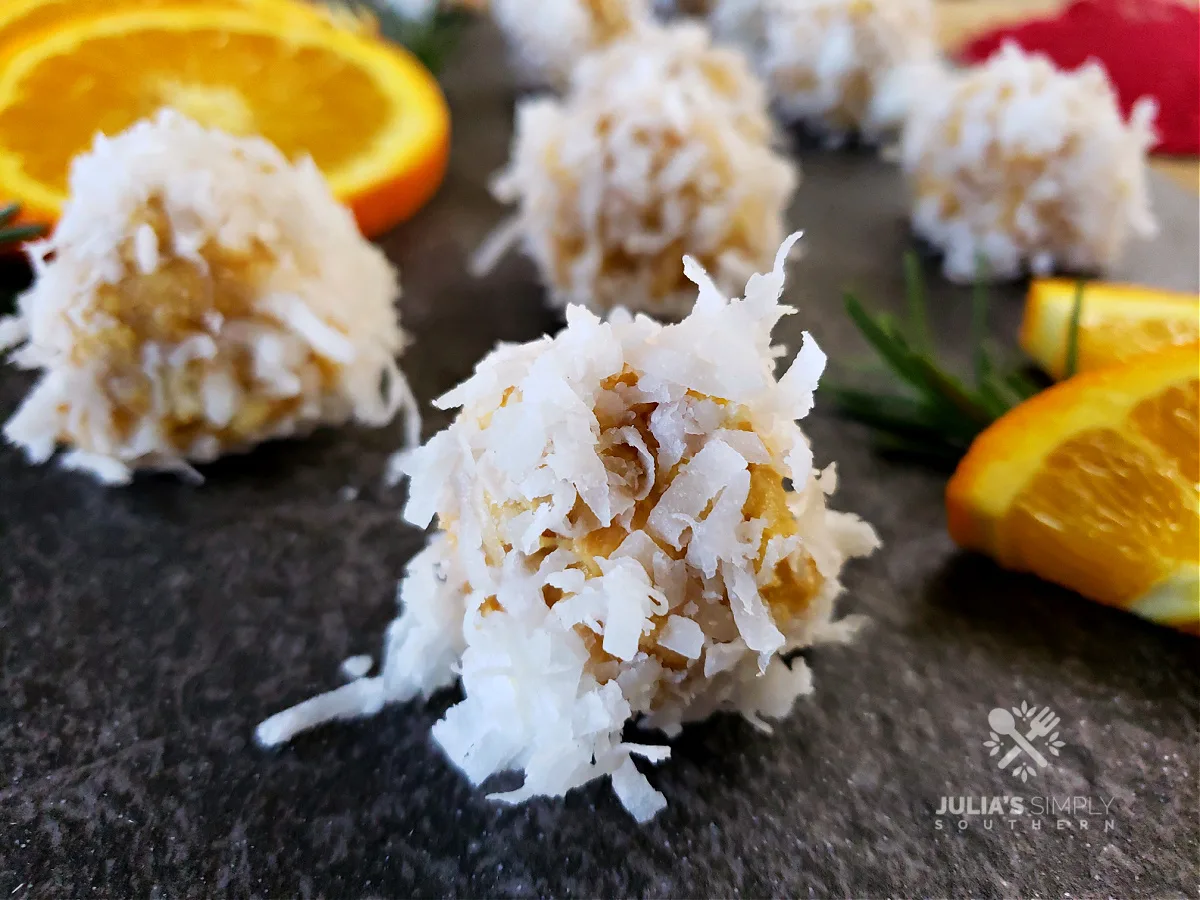 What do you serve with orange balls? The orange balls are a sweet treat that is served like an appetizer. Since they have to stay chilled, just place a few out with the rest of your appetizers and finger foods, then replenish the tray as needed.
Your guests will love these easy make no bake treats. While the orange balls are a classic Christmas treat, I think they would be great for showers throughout the year too.
What do I need to make Orange Coconut Snowballs?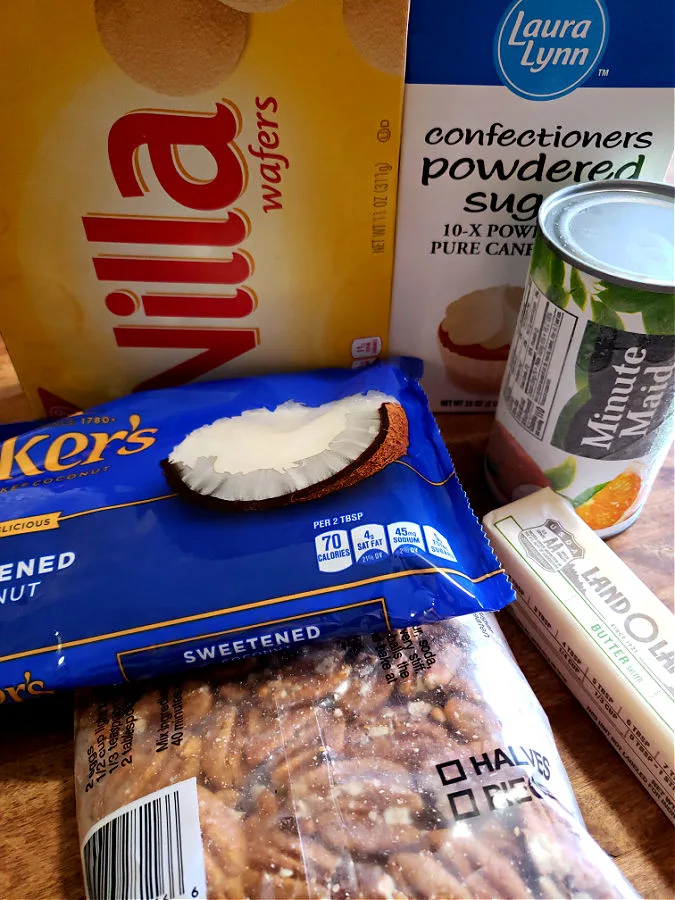 Here's a list of the simple ingredients that you'll need to make orange balls:
Vanilla Wafers – I used the Nilla vanilla wafer cookies in this recipe.
Orange Juice Concentrate – that stuff that hangs out in the freezer section at the grocery store. It adds amazing flavor to the orange balls. I do sit the juice concentrate out for about 15 minutes before making the recipe, but it does not have to be completely thawed.
Butter – a melted stick of butter helps in forming the dough and adds rich flavor.
Pecans – we put chopped pecans in our orange balls but this is optional. I just chop the up and add them in but if you want to take the time to toast the pecans, that will add additional flavor.
Confectioner's Sugar – powdered sugar adds more sweetness and helps in forming the dough. Some folks like to have some extra confectioner's sugar on hand to roll their orange balls in. We've always finished them by rolling in coconut though to make snowballs.
Flaked Coconut – to roll the orange balls and add rich coconut flavor. I think the coconut also makes these treats look perfect for the holidays.
How to make old fashioned Orange Balls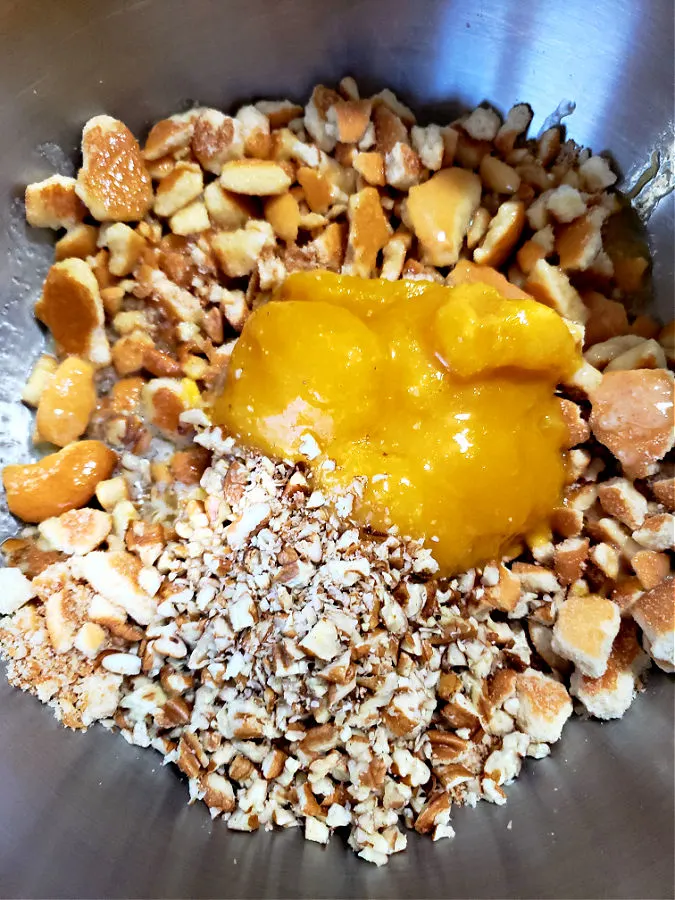 To make the orange balls, begin by crushing up the vanilla wafers into crumbles. Some folks like to do this in their food processor. I just snip open the bag and crunch the cookies up to break them up.
Just do whatever works best for you. The vanilla wafer cookies don't have to be in powder form because once combined with the wet ingredients, they turn to mush anyways.
One piece of kitchen equipment that I prefer to use for making the snowballs is my Kitchen Aid stand mixer. That is not required however. You could use your hand mixer, or your own two hands for that matter, to form the dough.
Add the crumbled cookie wafer crumbs, orange juice concentrate, chopped pecans and melted butter to the large bowl of the stand mixer.
Orange Juice Balls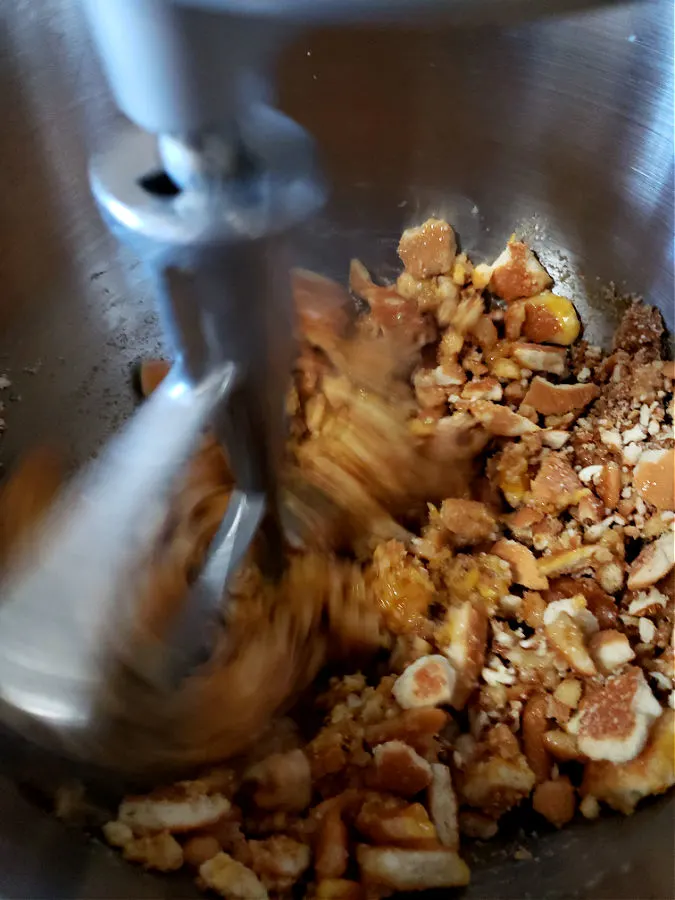 Next, using the paddle attachment, combine the ingredients on a medium mixing speed.
Orange Balls Christmas Candy (Cookies)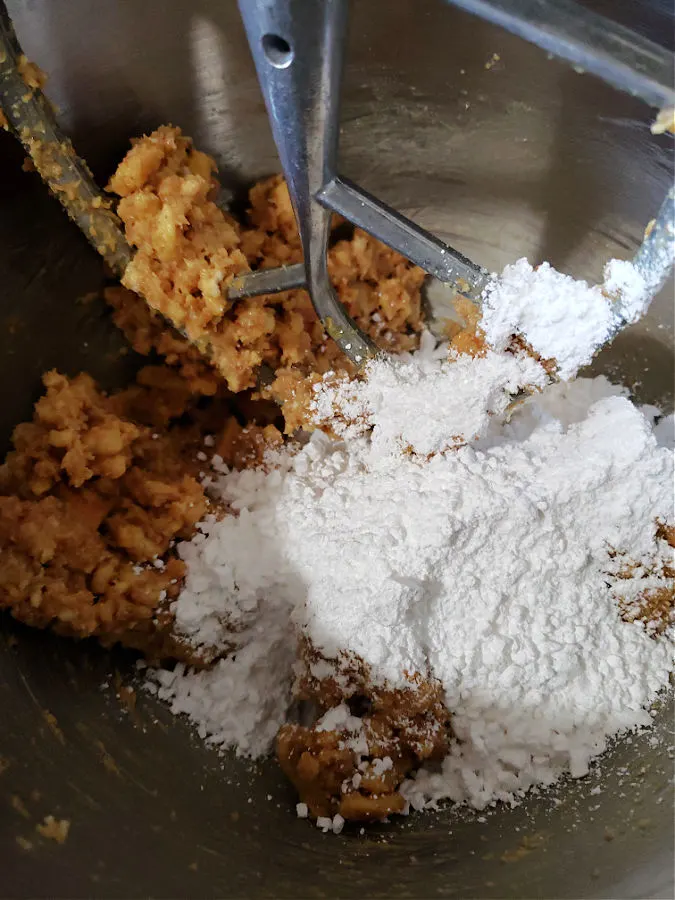 For the next step, add in the powdered sugar, then continue mixing until everything is well combined.
Orange Pecan Snowballs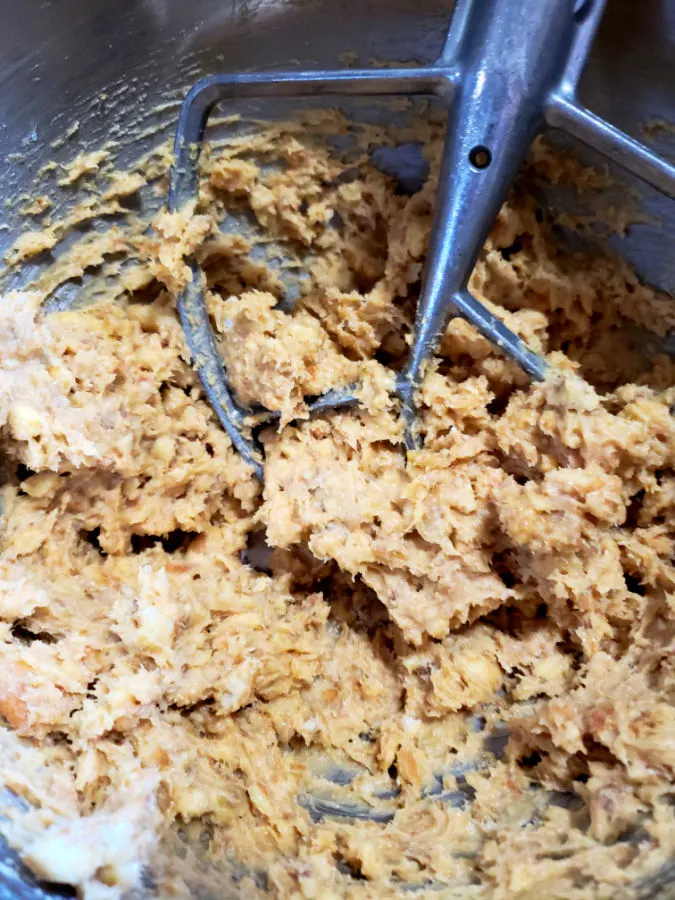 The dough for the orange snowballs will look like a sticky mushy mess and that is how it is supposed to look.
Coconut Orange Pecan Snowball Cookies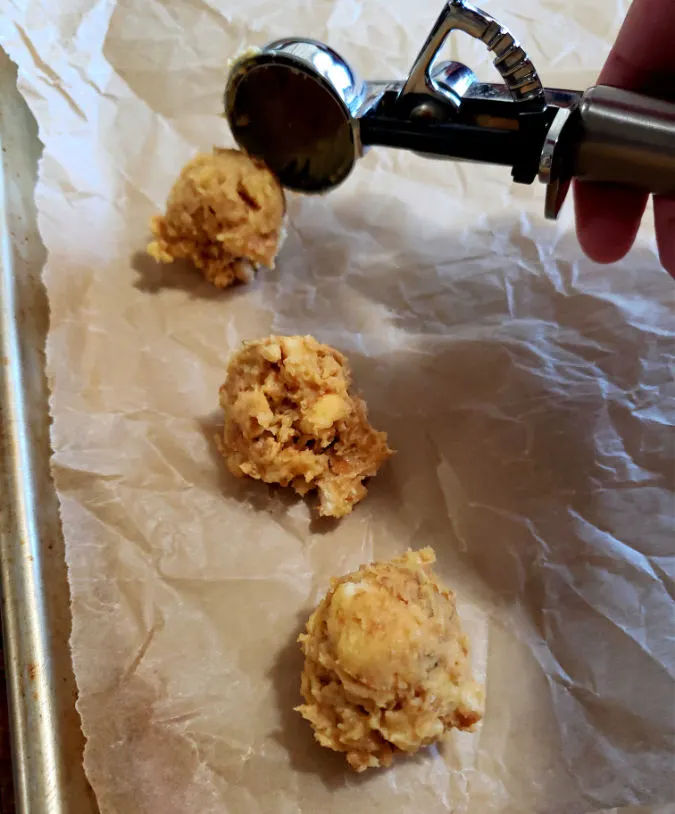 Line a baking sheet with parchment paper to prevent the dough from sticking. I like to use a one inch scoop to roll balls and place them on the lined baking sheet. Or, use a level teaspoon dough then roll dough in the palms of hand and place on the baking sheet.
Personally, I find that it is easier to keep the small balls mostly uniform in size by using the scoop and it makes the process go much faster.
Easy No Bake Orange Coconut Balls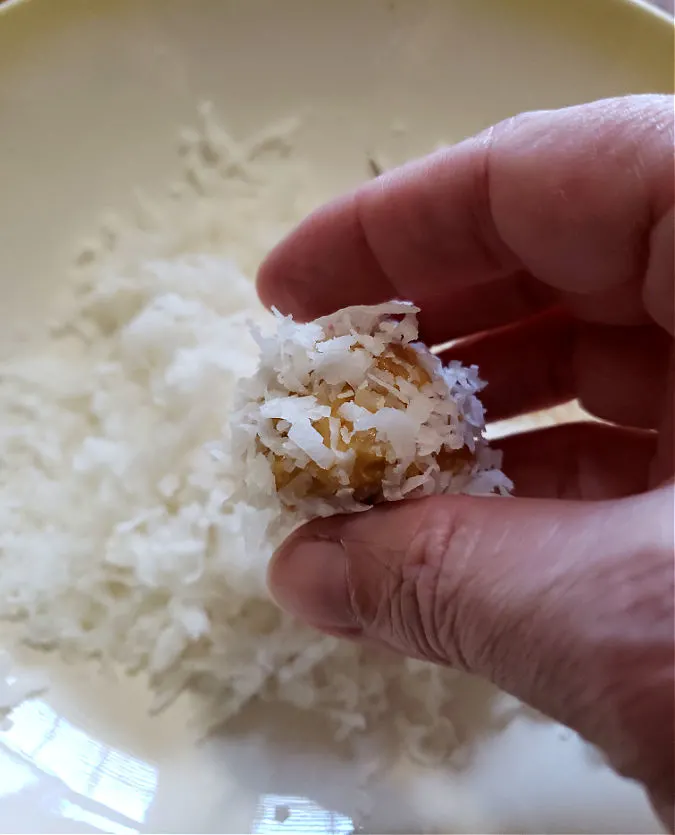 Do not chill the dough before rolling in the coconut. The room temperature dough is sticky and will hold the coating of coconut (or powdered sugar if you prefer).
Gently roll balls to coat in the coconut flakes then place them back on the lined baking sheet or in an airtight container.
Keep Chilled in the Refrigerator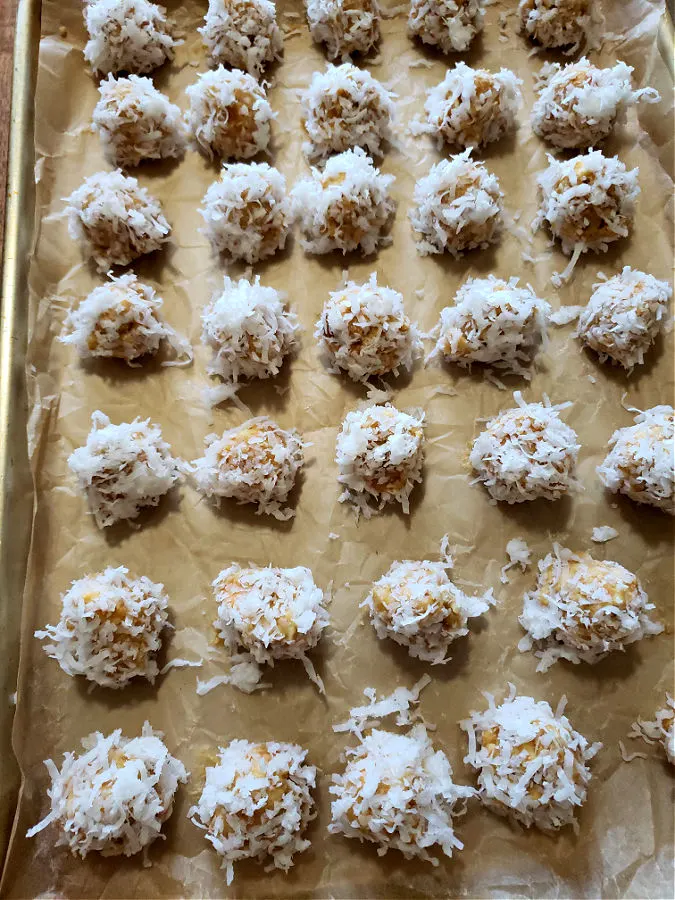 Once you have all of your orange balls coated in the coconut, place the sheet pans in the refrigerator to chill for at least four hours (or longer).
Orange balls would make a delicious treat to serve at cookie exchanges and would allow those attending to enjoy that wonderful orange taste in these coconut pecan treats.
These little Christmas cookies are so wonderful. I really enjoy the little bite of vanilla wafer crunch that I get occasionally by hand crushing the cookies. You don't get that texture if you process the wafers to powdered crumbs.
I want to mention again that the orange balls do need to be kept chilled and only serve small portions at a time and replenish your serving dish as needed.
The orange snowballs can also be kept frozen if made way ahead of time in an airtight container.
Easy Orange Balls Recipe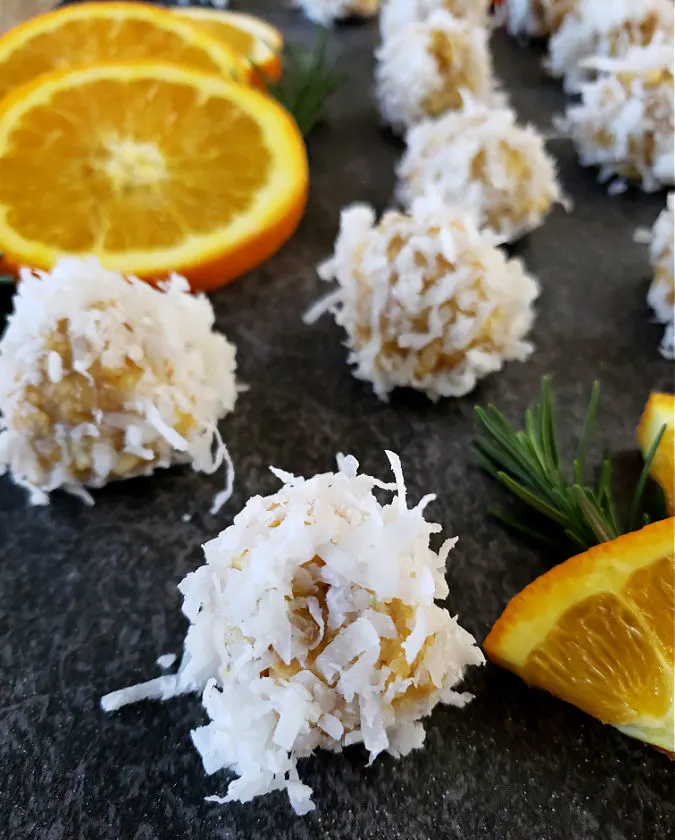 To serve the orange balls, I like to place them on a serving platter along with a few garnishes of fresh orange slices so that people know that these treats have wonderful orange flavor.
Easy Orange Balls Recipe Printable Recipe Card
Yield: 50 no bake cookies
Easy Orange Balls Recipe (Snowballs)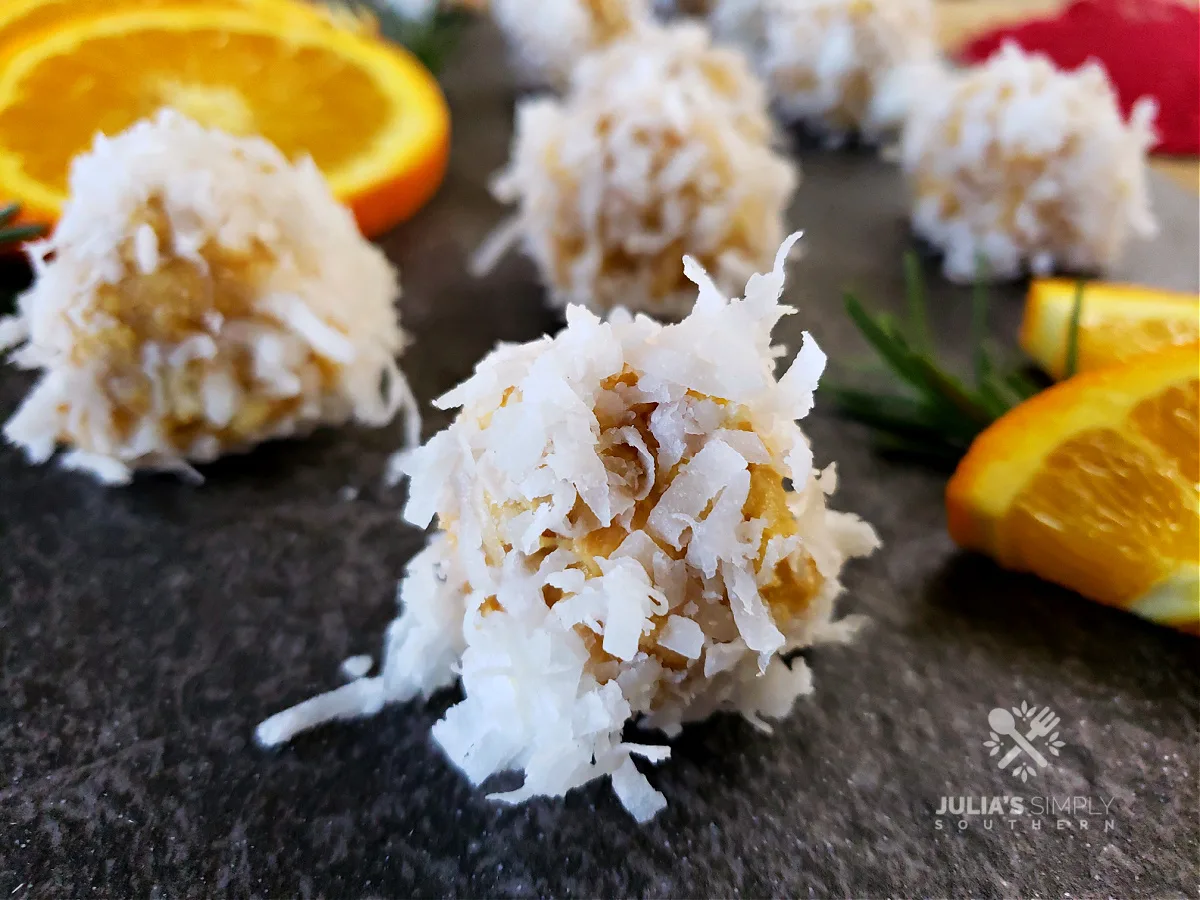 Old fashioned orange balls just like grandma used to make rolled in coconut are a classic holiday treat. These easy make orange balls require no baking and just need to be kept chilled until ready to serve.
Ingredients
11 ounce box Nilla Wafers Vanilla Wafer Cookies, crumbled
1 Stick of Butter, melted
6 ounce Orange Juice Concentrate (I used half a 12 ounce size)
½ cup Chopped Pecans
2 cups Confectioner's Sugar
3 cups Flaked Sweetened Coconut (Recommend Baker's), or more if needed
Instructions
Add the crumbled vanilla wafers, orange juice concentrate, pecans and melted butter to the large bowl of your stand mixer. (see notes) Using the paddle attachment; mix on a medium speed until combined. Next, add the confectioner's powdered sugar then continue to mix until combine. Dough will be mushy and sticky.
Line a baking sheet with parchment paper then use a one inch scoop to form orange balls, placing them on the lined baking sheet.
Next, after all of the balls are formed, gently roll them in the flaked coconut to coat and transfer the orange snowball back to the lined baking sheet; repeat until all are coated.
Refrigerate the orange snowballs until ready to serve. Please not that these orange balls do need to be kept chilled. Serve in small portions and replenish serving trays as needed.
Notes
Orange balls can be made ahead and frozen in an airtight container.
A stand mixer is not required but does make the job easier.
If preferred, orange balls can be rolled to coat in extra powdered sugar instead of coconut.
Do not chill dough before rolling in coconut to coat. The room temperature dough is sticky and the coconut will adhere better.
Recommended Products
As an Amazon Associate and member of other affiliate programs, I earn from qualifying purchases.
Nutrition Information:
Yield:
25
Serving Size:
2 orange balls
Amount Per Serving:
Calories:

203
Total Fat:

10g
Saturated Fat:

6g
Trans Fat:

0g
Unsaturated Fat:

4g
Cholesterol:

10mg
Sodium:

114mg
Carbohydrates:

27g
Fiber:

1g
Sugar:

19g
Protein:

1g
Check out the Latest Recipes
Easy Orange Balls Recipe
Thank you so much for stopping by, Friend! I am so glad that you did. I know that you will love these delicious orange balls. They are such a wonderful old fashioned treat.
After the holidays, don't forget to enjoy some delicious Purple Hull Peas to ring in the new year with lots of luck.
While you are here, be sure to subscribe to my email list. Subscribers receive a weekly newsletter delivered straight to your inbox with the latest recipes and news here on the blog so that you never miss a thing.
Meet Julia
Author of Julia's Simply Southern
Hey Y'all! I'm Julia, the cook and writer behind the recipes here at Julia's Simply Southern. I began my website so that I could share easy to follow recipes that anyone can use to put a home cooked meal on the dinner table. Thanks so much for stopping by!
Follow me on Facebook | Twitter | Instagram | Pinterest | YouTube