In this post I will be sharing my best Tuna Macaroni Salad Recipe. It is so delicious and you'll love how simple it is to make.
Way back when I was growing up, Mama would be a very basic tuna noodle salad. It was a very simple macaroni tuna salad that she would throw together with a little bit of mayonnaise, salt and pepper. Sometimes she would add pickle relish if she had some on hand.
That simple meal was one of her favorites during hot summer months and she would be happy as can be with a small bowl of her tuna noodle salad.
Tuna macaroni salad is a classic and you've likely had some version of it yourself. Cold tuna macaroni salad is a great quick fix meal for busy weeknights but can even be made ahead and chilled in the refrigerator until ready to serve. In fact, tuna macaroni salad is best served room temperature or chilled.
I make it occasionally for an easy meal but this macaroni salad with tuna makes a great side dish too. Well, over the years I've worked to come up with the perfect recipe with delicious ingredients and seasonings with the right amount of creamy dressing and I think I've nailed it.
This is seriously the the best tuna macaroni salad that I've ever tasted and I'm happy to be sharing it with you.
The Best Old Fashioned Tuna Macaroni Salad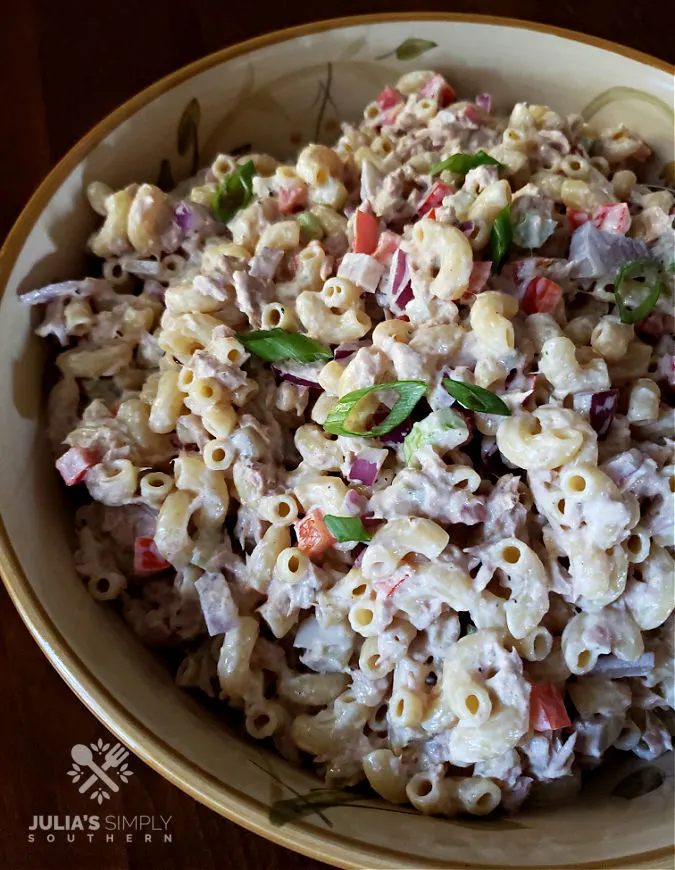 Doesn't that look delicious? It is so good!
Why you'll love this recipe: It is easy to make with just a few simple ingredients and is budget friendly.
Simple Tuna Macaroni Pasta Salad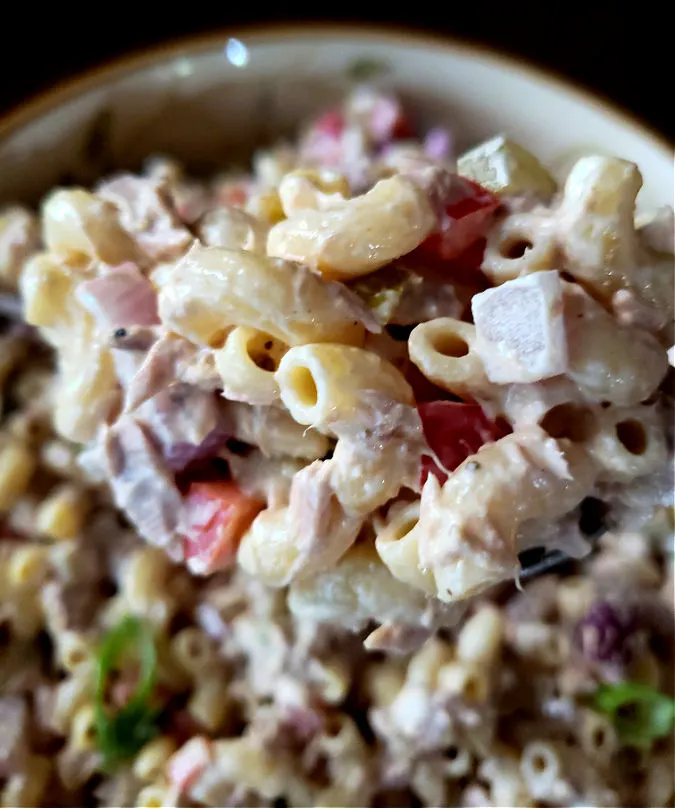 What you'll need to make this delicious tuna macaroni salad without peas:
Tuna Macaroni Salad Ingredients
Elbow Macaroni – we like the regular pasta best but you can use whole wheat pasta if that is your preference.
Tuna – I use a couple of the larger cans of tuna in my tuna mac salad. We prefer the chunk light tuna because it has good flavor. The solid white albacore tuna is milder in flavor and is sometimes confused for chicken, but is also a great choice for this pasta salad recipe.
Mayonnaise – use a good quality real mayonnaise that you enjoy. We are a Duke's mayonnaise household so that is my preference. If you want to lighten the dressing up a bit you could use half mayo and half plain Greek yogurt. I love mayonnaise so my tuna macaroni gets all mayo in the recipe.
Dill Salad Cubes – I love the taste of a dill relish with tuna. If you prefer a sweet pickle relish then go ahead and use that instead.
Lemon Juice – adds a bit of tang to the dressing and works well with tuna fish.
Seasonings – sea salt, black pepper, onion powder and Old Bay seasoning.
Red Bell Pepper – for color interest and the sweet red pepper is delicious in pasta salads. I used a large red bell pepper or use two smaller red bell peppers.
Celery – texture, flavor and color.
Red Onion – for mild subtly sweet onion flavor and color interest. I also slice up some green onions for garnish but that is completely optional.
Optional Ingredients: Some folks like to add a bit of sour cream, green peas, jalapeños, a little Dijon mustard, grated carrot or cheddar cheese in tuna macaroni salad. That is one of the best things about recipes such as this one so you can adjust things to suit your own taste.
Tuna Macaroni Salad Creamy Dressing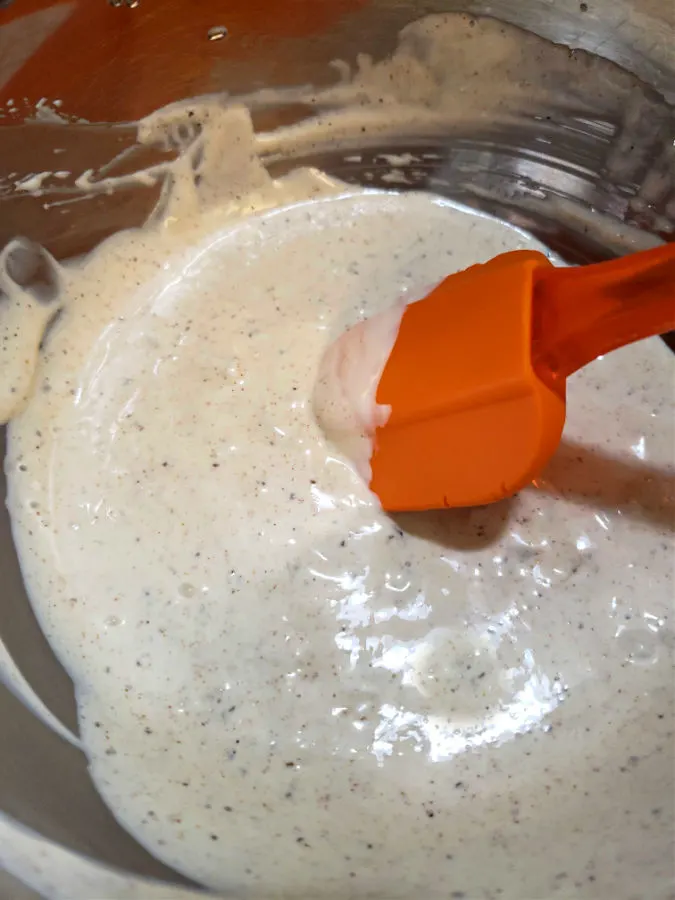 Start by getting your pasta going while you work on everything else. You'll want to cook the elbow macaroni noodles according to package directions until al dente and tender.
My general method for cooking pasta is to add some cold water to a large pot, cover it with a lid (helps it to boil faster), and bring to a boil. When boiling add some salt to the water then add the pasta and give it a stir. Cook for ten minutes and it should be perfectly tender.
Next, prepare the creamy dressing by combining the mayonnaise and seasonings together then set aside.
The tuna should be well drained so place a small colander over a small bowl and add the canned tuna so it can drain well while you prep the vegetables.
Dice the celery, onion and bell pepper into small pieces and have it ready to go when combining the whole thing together.
Southern Tuna Macaroni Salad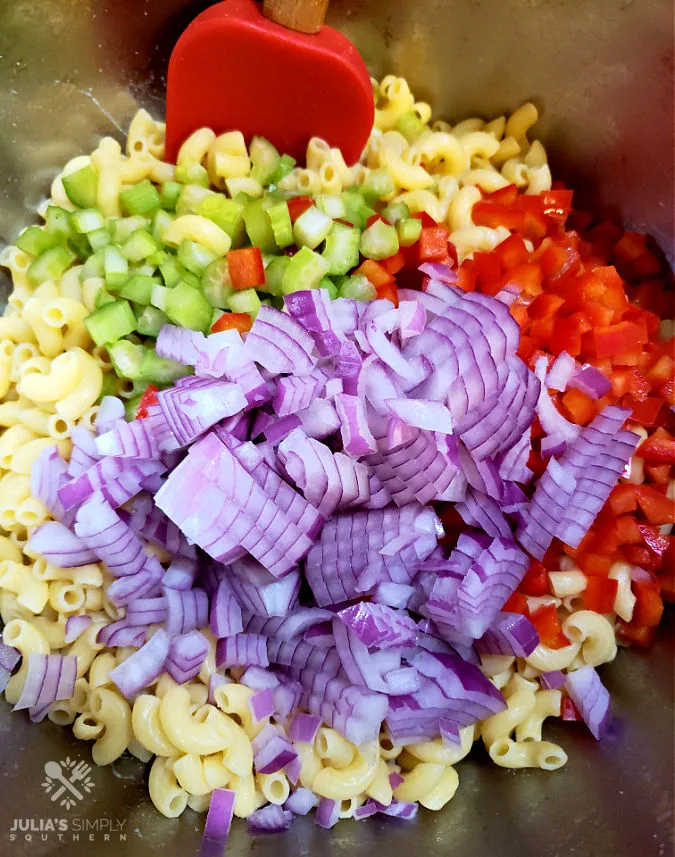 I love those bright colors in this salad!
Okay, this part is important…drain the pasta when it is done but do not rinse it. I repeat, do not rinse the cooked pasta.
Add the cooked pasta to a large bowl and use a spatula to stir it around to cool it down before adding the rest of the ingredients. It will start to stick together and that is perfectly fine because once you add the dressing it will separate.
Once the pasta has cooled and is no longer steaming, begin adding the diced vegetables.
A Simple & Delicious Meal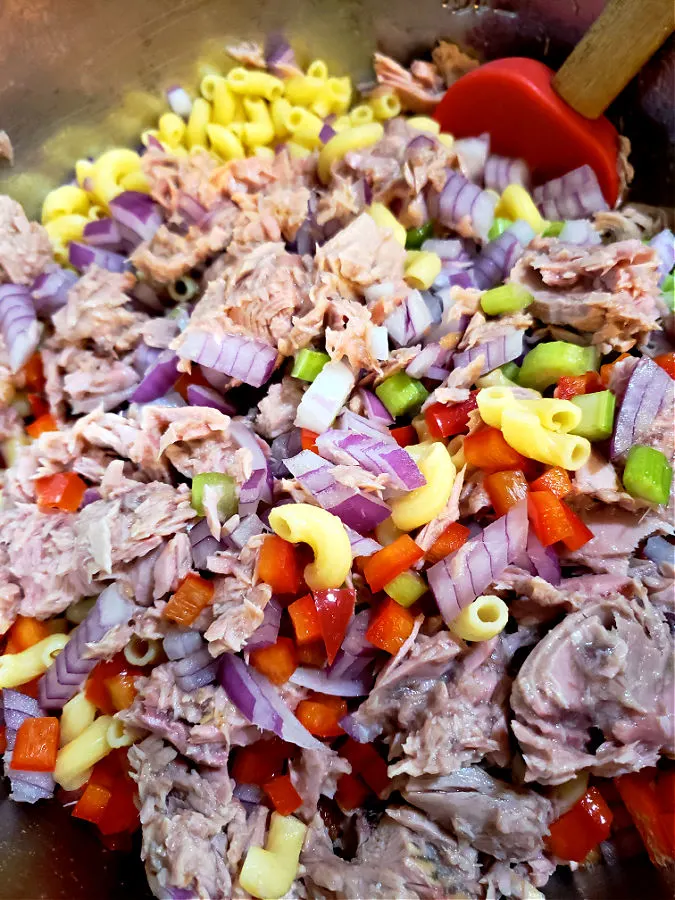 Next, add the drained flaky tuna and give the salad a gentle stir to combine the vegetables and tuna with the tender macaroni.
Southern Tuna Macaroni Salad
Finally, add the wonderfully seasoned creamy tuna macaroni salad dressing to the bowl and combine to bring the whole thing together.
Everything will be well coated in the dressing and it will be perfectly creamy and moist. Such a simple classic recipe and one of my favorite comfort foods.
Cold Make Ahead Pasta Salad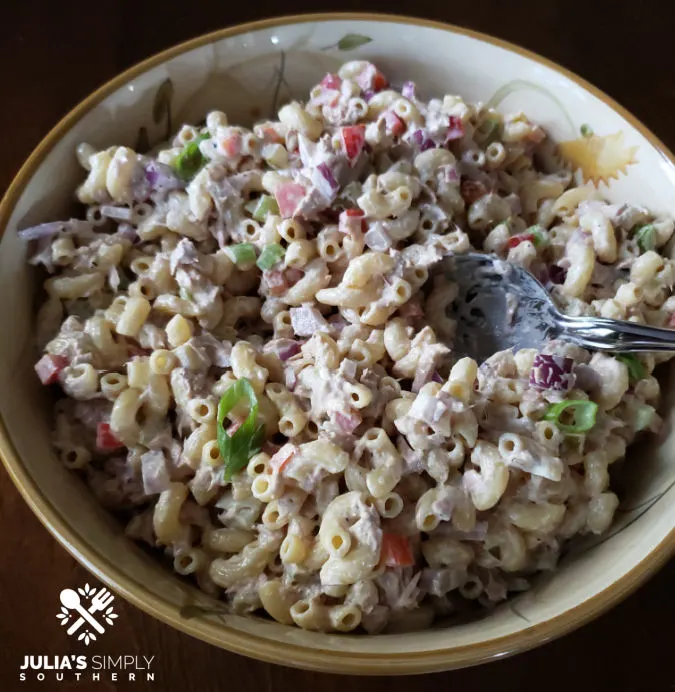 Like with most macaroni salads with a creamy dressing, the pasta is going to really absorb that dressing overnight in the fridge. The tuna macaroni salad will still be delicious and the pasta will boast all of the wonderful flavors of that creamy dressing that is has soaked up.
I've read some recipes that call for tossing the pasta with a small amount of olive oil before adding the creamy dressing which I think ruins everything that we love about a good macaroni salad. The pasta should absorb some of the creamy dressing in my opinion.
How long will tuna macaroni salad last in the refrigerator? The tuna macaroni salad will keep up to four days when refrigerated in an airtight container or well covered bowl.
BEST Tuna Macaroni Salad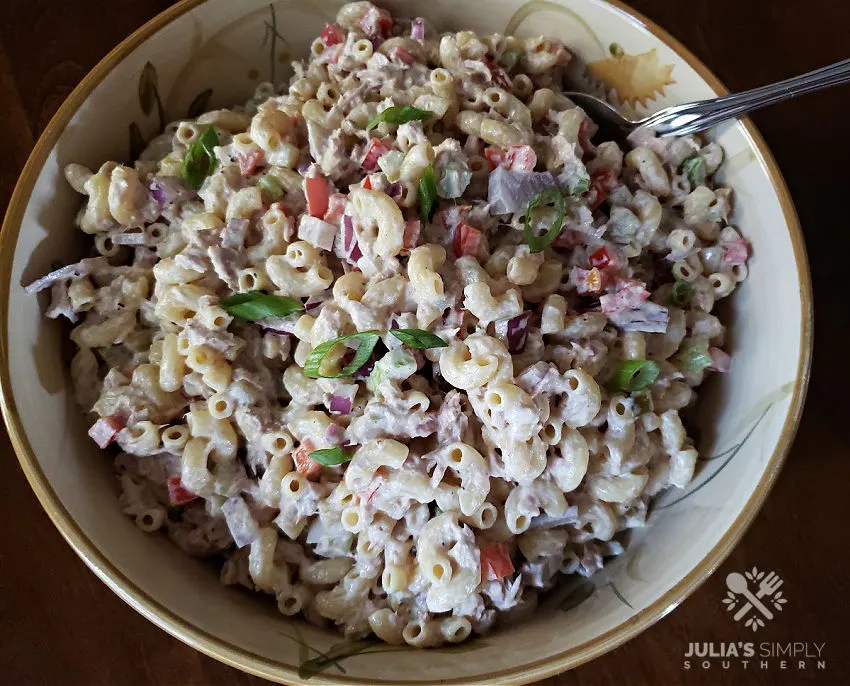 If you do want to freshen up your tuna macaroni salad so that it looks creamier and moist the next day, here's how I do it: in a small bowl add about a quarter cup of mayonnaise with a teaspoon of lemon juice and a couple of dashes of Old Bay then mix to combine.
This small amount of dressing tossed with your tuna macaroni salad will do the trick to freshen it up before serving.
My inspiration for the dressing came from my best tuna salad recipe that is also very popular and my instincts were spot on. This tuna macaroni salad recipe is incredible!
Mr. J. loved it too and I sent all of the leftovers with him to work the next day to share with all of the guys that he works with and they all loved it.
What to serve with tuna macaroni salad? Enjoy the tuna macaroni salad recipe as the complete meal or pair it with a side of fruit, potato chips, cup of soup or half a sandwich.
Printable Recipe Card
Below you will find the recipe card for this Tuna Macaroni Salad Recipe with ingredients and instructions for making it. Be sure to check out the full post for more tips making this delicious salad.
Yield: 1 Pasta Salad with Tuna
The BEST Tuna Macaroni Salad Recipe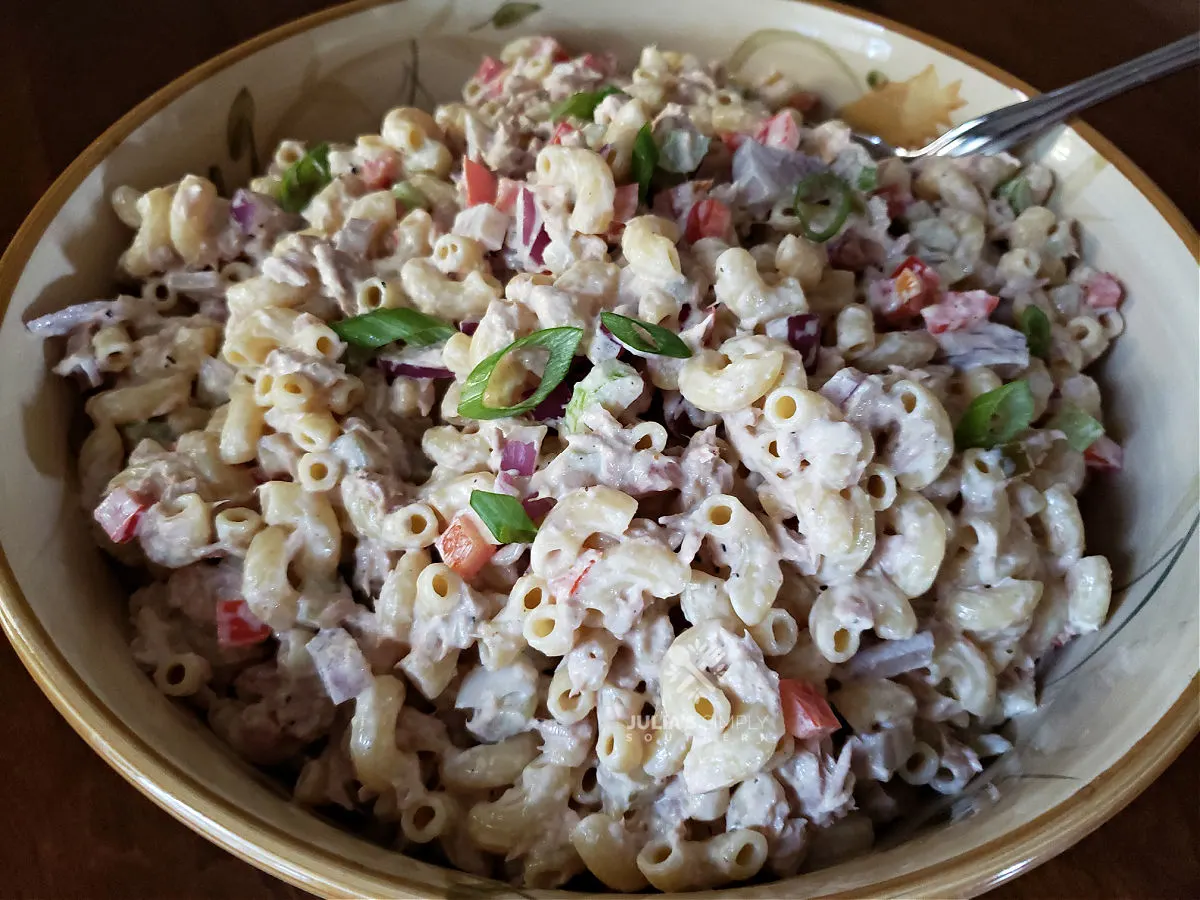 The best classic tuna macaroni salad recipe with petite diced vegetables in a perfectly seasoned creamy dressing. This tuna macaroni salad is great as a simple meal or as a side dish.
Ingredients
16 ounce box Elbow Macaroni, cooked according to package directions
2 - 12 ounce cans of Chunk Light Tuna in Water, drained
1¼ cup of Mayonnaise ( I used Dukes)
½ cup Dill Salad Cubes, with juices
1 teaspoon Lemon Juice
1 teaspoon Sea Salt
½ teaspoon Ground Black Pepper
½ teaspoon Onion Powder
1½ teaspoon Old Bay Seasoning
1 Large Red Bell Pepper, diced
¾ cup Celery, diced (2 large stalks)
1 Red Onion, diced
Instructions
Boil the pasta to cook tender, drain well. Do not rinse (see post). Transfer the cooked pasta to a large bowl and gently stir to cool.
Prepare the creamy dressing by combining the mayonnaise, lemon juice, sea salt, black pepper, onion powder and Old Bay in a small bowl; set aside.
Next, add the diced vegetables and drained tuna to the cooled macaroni and gently stir then add the dressing and mix to combine.
Enjoy the tuna macaroni salad at room temperature or after it has chilled in the refrigerator. May be refrigerated up to four days.
Notes
Optional: Tuna macaroni salad will absorb some of the dressing overnight. It may look less creamy but will still be delicious. If you want to refresh it, combine a quarter cup of mayo with a splash of lemon juice and couple of dashes of Old Bay then stir into the tuna macaroni salad to restore creaminess.
Recommended Products
As an Amazon Associate and member of other affiliate programs, I earn from qualifying purchases.
Nutrition Information:
Yield:
8
Serving Size:
1
Amount Per Serving:
Calories:

427
Total Fat:

27g
Saturated Fat:

4g
Trans Fat:

0g
Unsaturated Fat:

22g
Cholesterol:

45mg
Sodium:

540mg
Carbohydrates:

25g
Fiber:

2g
Sugar:

6g
Protein:

21g
Can you freeze tuna macaroni salad? Unfortunately, no. You may see conflicting opinions online but the mayonnaise separates and a mayonnaise based salad is never the same if frozen.
Popular Recipes
Thank you so much for stopping by! I am so happy that you did. If you enjoy old fashioned tuna macaroni salad then I know you are gonna love this recipe that I've perfected to be the very best. The seasoned dressing really makes it so wonderful!
Be sure to subscribe to my email list while you are here to receive weekly updates on the latest recipes so that you never miss a thing.
Meet Julia
Author of Julia's Simply Southern
Hey Y'all! I'm Julia, the cook and writer behind the recipes here at Julia's Simply Southern. I began my website so that I could share easy to follow recipes that anyone can use to put a home cooked meal on the dinner table. Thanks so much for stopping by!
Follow me on Facebook | Twitter | Instagram | Pinterest | YouTube