In this post I'll be sharing an easy Banana Bread Recipe with Self Rising Flour. Y'all, this is hands down the BEST banana bread ever!
Back when we had our "big" yearly snowfall, here in the blue ridge of South Carolina, I decided to go into the kitchen and do some baking. That was before the first snowflake even fell.
I think there must be some internal instinct that compels you to go do some baking if there is snow in the forecast. Maybe? Not really? Okay, it is just something that I like to do.
I believe that a lot of home cooks enjoy being in the kitchen making snow day goodies. Cooking is very comforting to me.
In the kitchen I had a bunch of overripe bananas staring at me and of course I immediately thought that I would play around with my banana bread recipe.
I have an easy banana nut bread recipe here on the blog, so you can check that out too, if you want. My original banana bread recipe is pretty much your average loaf of banana good made with all purpose flour. It's a good recipe but there's nothing special about it.
Can I use self rising flour in my banana bread? Yes! So, I got to thinking that I'm gonna simplify my recipe and the type of flour is not the only thing I switched up.
Using simple ingredients, I baked a loaf of my new easy banana bread recipe. It was amazing! I tested the recipe again the following week and again the next. Perfect results every time and it's the best banana bread that I have ever tasted.
My friend, please allow me to share how I make it because you're gonna want to enjoy this delicious moist banana bread too.
Moist Banana Bread with Self Rising Flour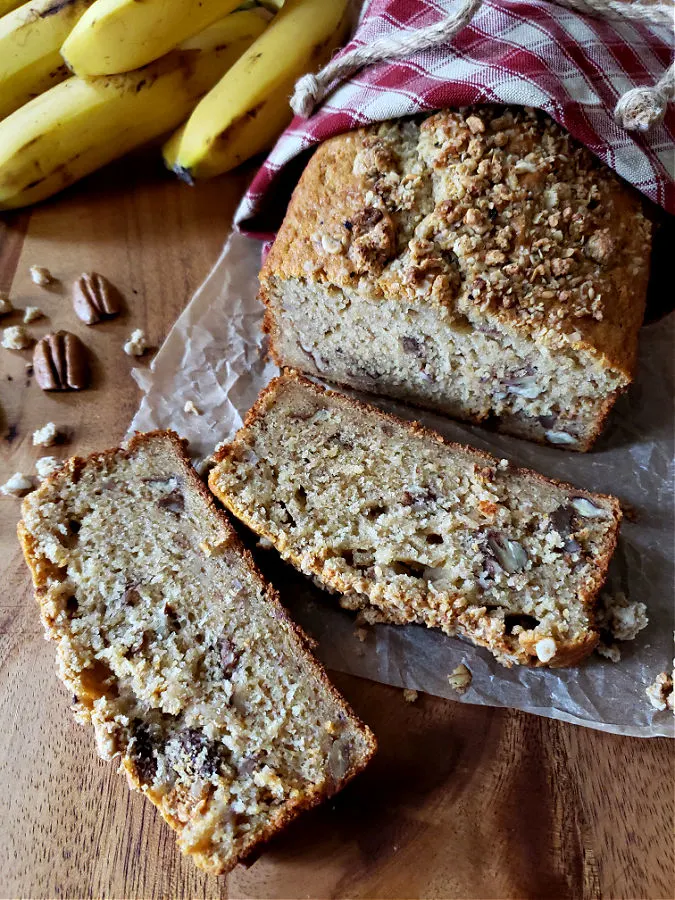 Doesn't that look delicious? We just love this easy bread recipe and those really ripe brown bananas are just perfect as the star ingredient.
With the change of flour recipes, that meant that I could leave out adding baking soda, baking powder, and salt because the self rising already has those ingredients.
I also went with an ingredient, that may surprise you, to replace sour cream, mayonnaise or cooking oil to keep the bread moist.
The white sugar got replaced with light brown sugar. That kick of molasses in brown sugar makes this bread even more special.
To finish the beautiful banana bread batter, a sprinkling of granola over top before baking.
This is now officially my favorite recipe for banana bread.
Easy Banana Bread Recipe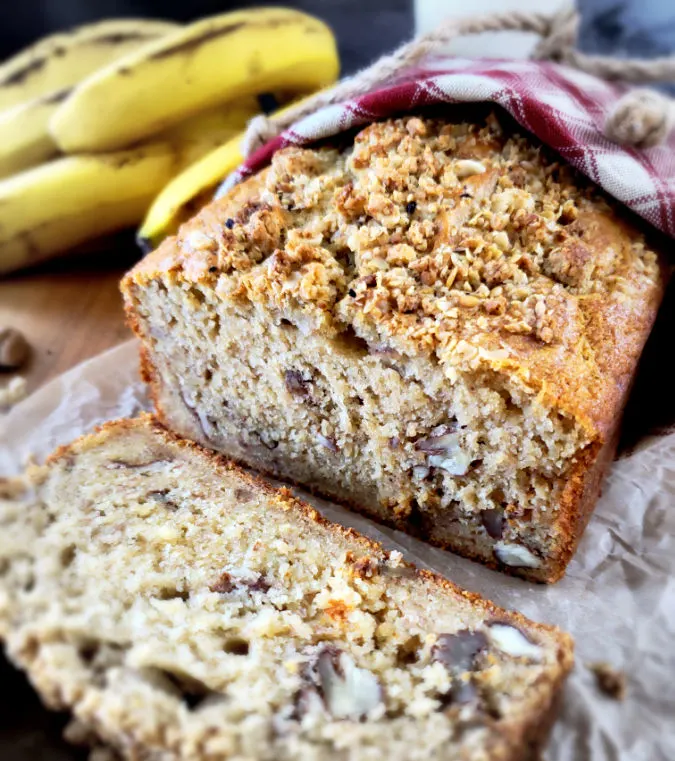 What to serve with banana bread? I gotta say that this banana bread is pretty darn delicious on its own or served with a cup of coffee.
Banana bread can be served for breakfast, as a snack or for dessert. Perhaps with a scoop of ice cream or a dollop of whipped cream.
Banana bread is also delicious with a smear of peanut butter and fresh sliced bananas or other fruit. A cream cheese spread would also be so delicious with this popular quick bread.
How to make Banana Bread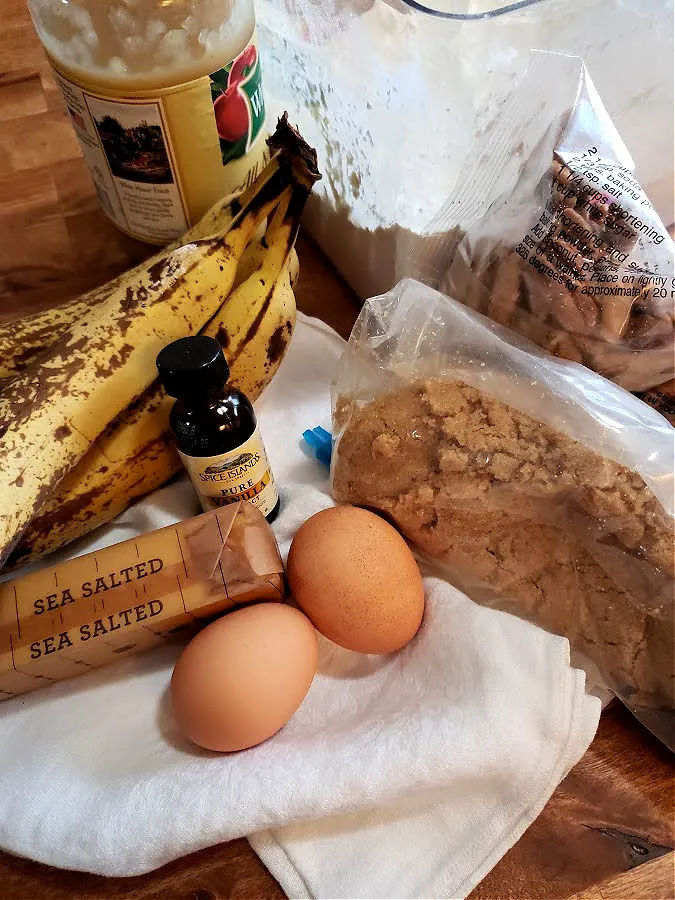 What do I need to make this banana bread recipe with self rising flour?
Butter – adds flavor and helps the batter to rise while baking. Butter also helps create a tender texture in baked goods.
Light Brown Sugar – made from sugar and a small bit of molasses to add additional rich and sweet flavor and helps keep the bread moist.
Eggs – help with leavening and texture and acts as the glue that holds everything together.
Eggs also add a lot of nutrition to baked goods and extra richness. Use the freshest eggs available when baking.
Vanilla Extract – for flavoring.
Self-Rising Flour – simplifies the recipe and ensures a consistent rise. The flour is also an important ingredient for making the batter.
Bananas – are essential for making "banana" bread and the more ripe the better. The ripest bananas with dark peels have a wonderful natural sweetness.
Applesauce – adds flavor, nutrition and replaces fats by being a substitute for oils or sour cream and helps keep the bread super moist.
The applesauce also helps to keep the banana bread stay fresh longer. Leftover banana bread properly wrapped in plastic wrap tastes delicious up to a week at room temperature.
Pecans – nuts are optional but we enjoy chopped pecans in our banana bread. Walnuts are great too.
Granola – optional but recommended for visual appeal and adds more flavor and texture to the bread. Any granola mix that you prefer is fine. In one of my test loaves, I used Harvest Farms Organic vanilla and blueberry granola and wow, that was so yummy.
The ingredients above are all that I used for my recipe but you may want to add chocolate chips or other seasonings, such as ground cinnamon to add additional flavors that you enjoy.
Banana Bread Recipe Self Rising Flour Brown Sugar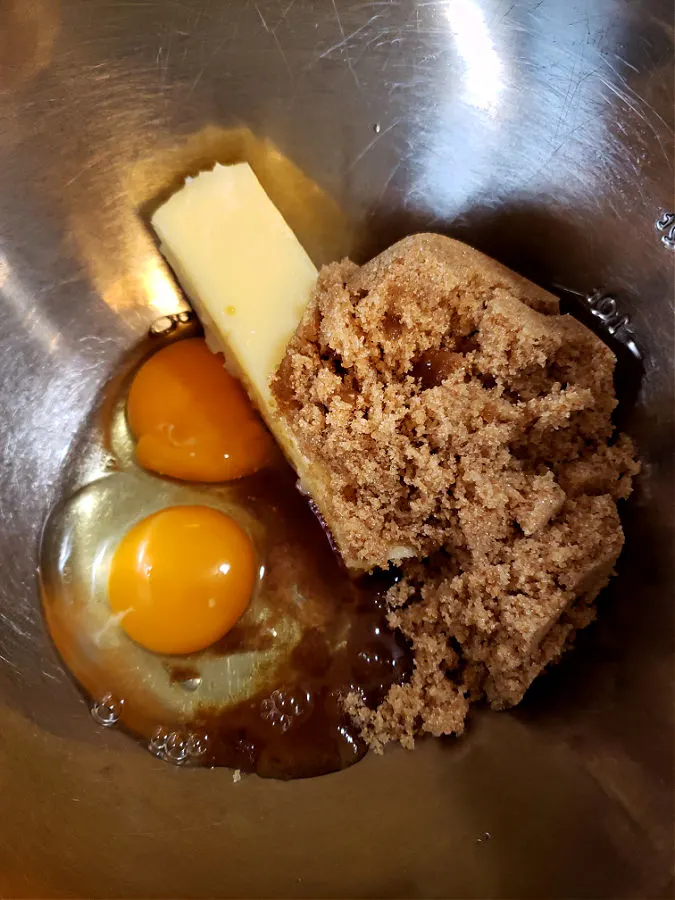 The first thing is to heat oven and grab yourself a large mixing bowl, an electric mixer, and your ingredients.
Add the wet ingredients to the mixing bowl, which are the light brown sugar, large eggs, vanilla and butter that is softened to room temperature. Use an electric hand mixer on the high speed setting to combine everything together until smooth.
There is no need to over-mix, just until it is combined works perfectly.
Cook's Note: You can also use melted butter in this recipe if you don't have really soft room temperature butter. I have personally tested making banana both ways and they both work the same.
Next, add the dry ingredients, which are the couple cups self rising flour. Using your hand mixer, combine flour with the wet mixture.
The Star Ingredient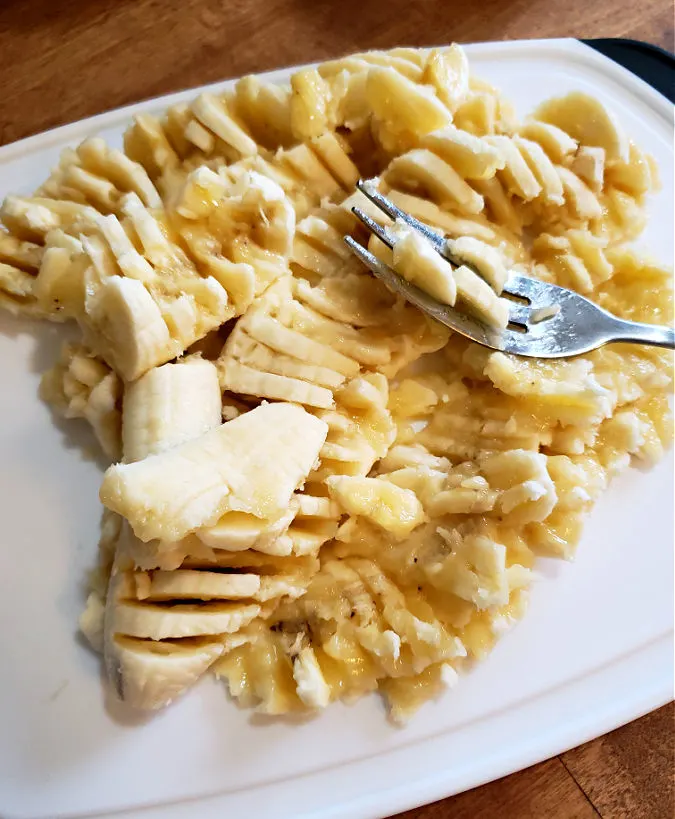 Overripe bananas add the best banana flavor with natural sweetness to this self rising flour banana bread recipe. In fact, the more ripe the bananas, the better!
The next step is to add mashed bananas into your large bowl along with the applesauce and mix to combine everything together.
Banana Nut Bread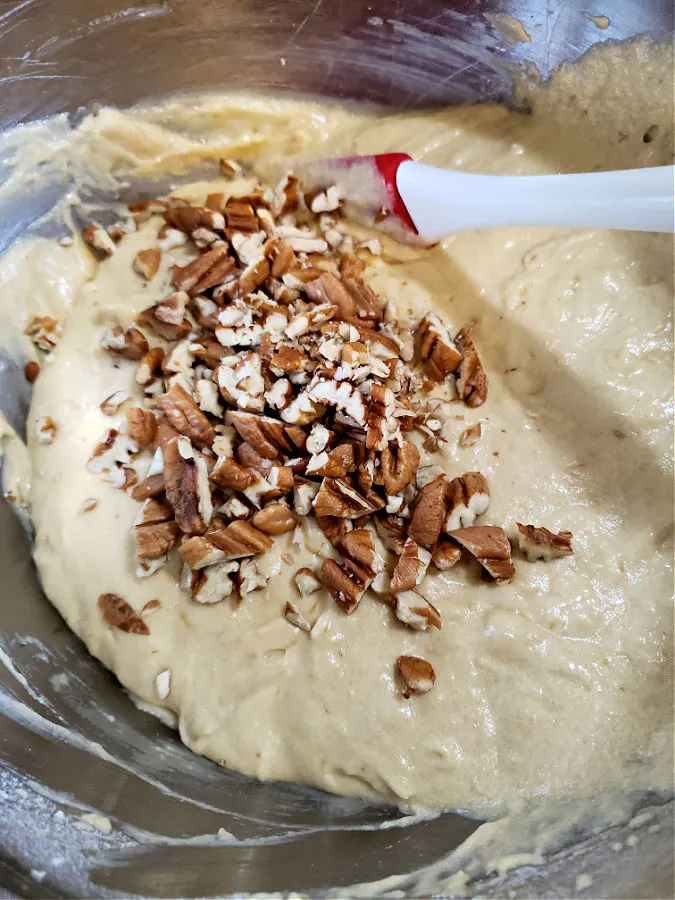 The batter for this banana bread is so beautiful and silky. If you are using chopped nuts, add them in and stir to combine.
We like the texture that the nuts add to the banana bread and we always have a stash of pecans on hand in the freezer for baking.
Banana Bread Recipe with Self Rising Flour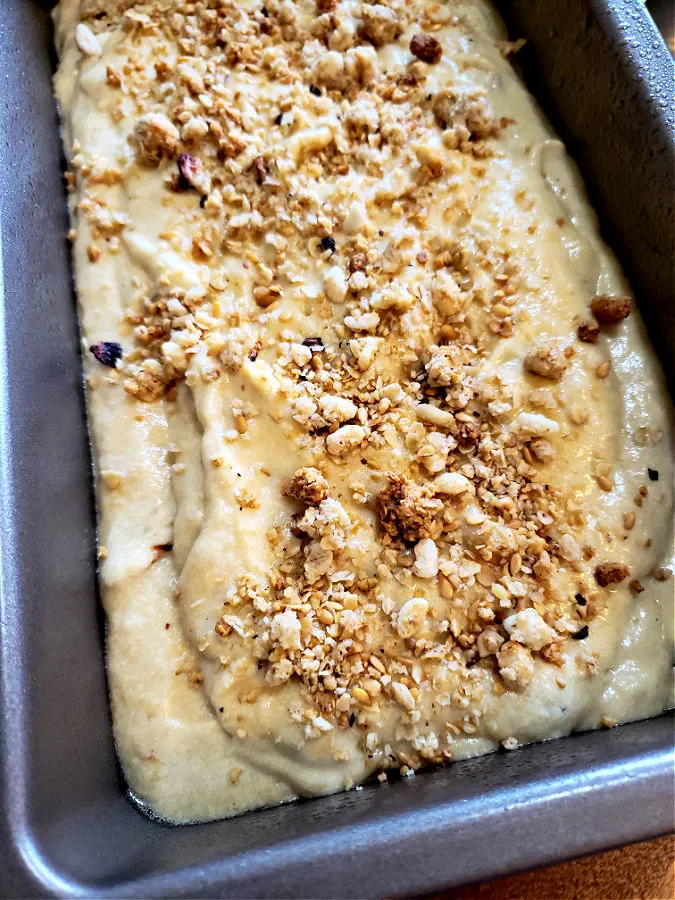 Lightly spray a 9 inch by 5 inch loaf pan then transfer the bread batter mixture, using a rubber spatula, to the loaf pan for baking. Sprinkle a little bit of granola over top of the bread dough, if using.
The granola is optional but really adds a special finishing touch to this bread and adds another layer of flavor and texture.
Place the bread into a preheated 350 degrees F (Fahrenheit) oven and bake until golden brown.
I bake in a gas oven and it takes my banana bread loaf exactly one hour to bake perfectly. Use a toothpick and insert it into the middle of the loaf to test for doneness.
The toothpick should come out clean when your bread is completely done.
Amazing Banana Bread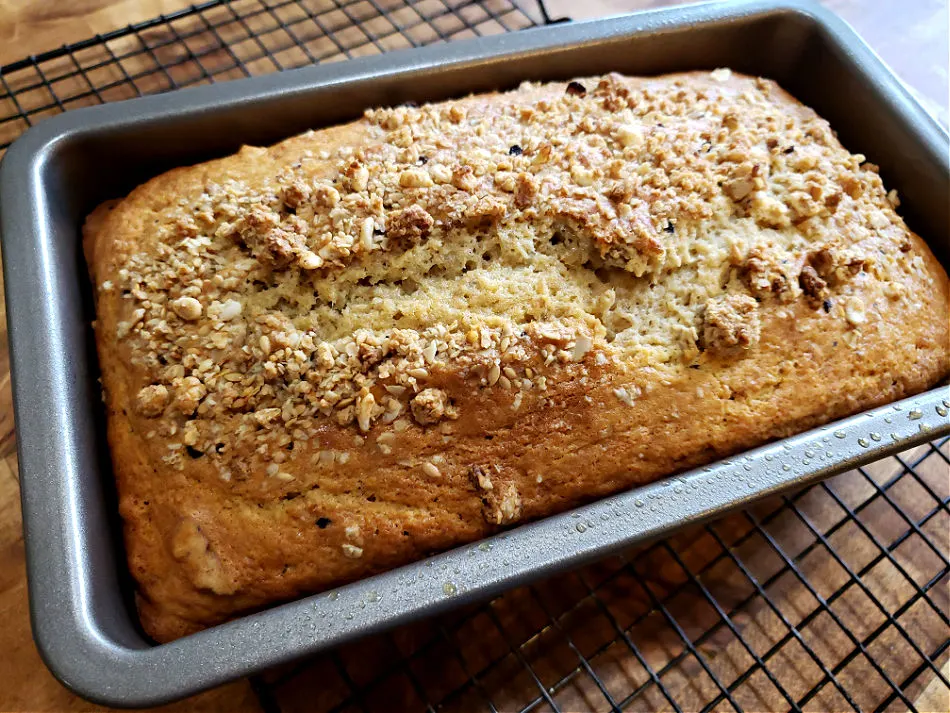 Carefully transfer the hot loaf pan, using oven mitts, to a wire rack and allow to cool for a few minutes.
Once the pan has cooled down enough to safely handle with your bare hands, place a sheet of parchment paper on the wire rack and turn out the banana bread loaf to finish cooling.
Allow the bread to cool to room temperature before slicing.
After enjoying a slice of your fresh baked delicious banana bread, be sure to wrap it well in plastic wrap to keep it fresh and moist.
The bread can be stored right on your countertop, up to a week, if it lasts that long.
Banana Applesauce Bread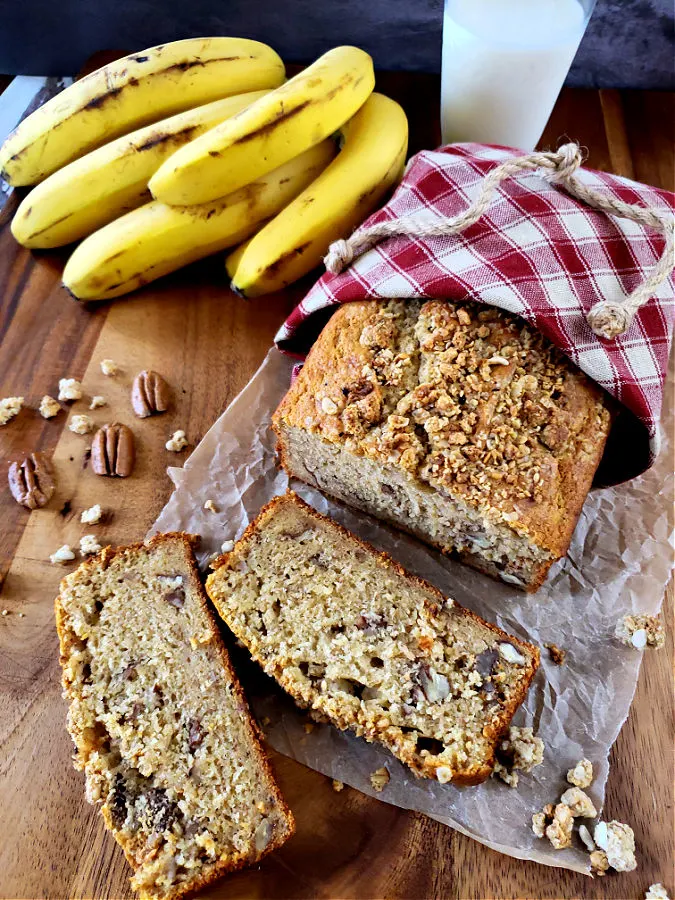 If you wanted to make this bread recipe into baked gifts, divide the batter into mini loaves pans and bake. The baking time will be a lot less however and you will need to keep an eye on it. Since I've never made it into mini loaves I'm not sure how long they will take.
If you were keeping count, this is a six ingredient banana bread recipe with two additional optional ingredients. So simple and so very delicious.
Printable Recipe Card
Yield: 1 Loaf
Banana Bread Recipe with Self Rising Flour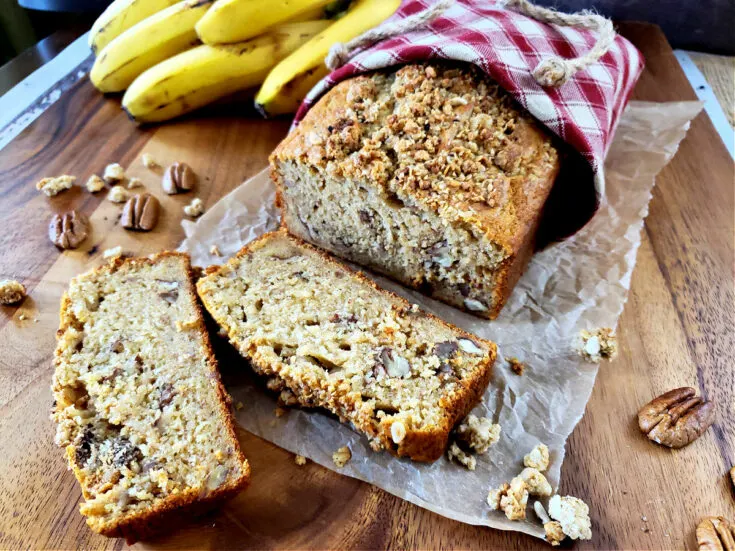 This is the best banana bread recipe made with overripe bananas, self rising flour and simple ingredients to bake up a simple, delicious and moist (with no extra fats or oils thanks to applesauce) loaf of banana bread. It is a treat for the taste buds.
Total Time
1 hour
10 minutes
Ingredients
1 Stick of Salted Butter, softened to room temperature ( 8 tablespoons) (can also used melted butter, if desired)
¾ cup Light Brown Sugar, lightly packed
2 Eggs
1 teaspoon Pure Vanilla Extract
2 cups Self Rising Flour (I use White Lily unbleached self-rising flour)
3 Ripe Bananas, peeled and mashed
¾ cup Applesauce (I used White House All Natural Plus)
½ cup Pecans, chopped (optional)
2 tablespoons Granola (optional, I used Harvest Farms Organic but any brand will do)
Instructions
Preheat oven to 350°F (176°C).
In a large mixing bowl, combine the butter, light brown sugar, eggs and vanilla extract together using an electric hand mixer.
Next, add the self rising flour and mix to combine then add the mashed bananas and applesauce. Continue mixing until combined.
Stir in the chopped pecans.
Lightly spray a 9x5 loaf pan with non-stick cooking spray and use a rubber spatula to transfer the banana bread batter to the pan.
Sprinkle the top of the bread mixture with granola then bake for 1 hour until golden brown. (Cooks Note: I use a gas oven and it takes my loaf an hour. If you have a really hot oven then check the bread at 45 minutes.) Use a toothpick to test for doneness.
Use oven mitts to carefully transfer the hot loaf pan to a wire rack and allow to cool enough to handle. Once cooled turn the bread out onto a sheet of parchment placed on a wire rack and completely cool before slicing.
Notes
Chocolate chips and other spices, such as cinnamon, can be used, if desired to switch up the flavors in your banana bread.
Wrap the cooled loaf in plastic wrap and store at room temperature where it will remain fresh and moist up to one week.
Nutrition Information:
Yield:
8
Serving Size:
1 Slice
Amount Per Serving:
Calories:

406
Total Fat:

18g
Saturated Fat:

8g
Trans Fat:

0g
Unsaturated Fat:

9g
Cholesterol:

77mg
Sodium:

488mg
Carbohydrates:

56g
Fiber:

3g
Sugar:

26g
Protein:

6g
You might also enjoy:
The Latest Recipes
Popular Recipes on the Blog
Self Rising Flour Banana Bread Recipe
Thank you so much for stopping by! I am so glad that you did. I know that you are gonna love this great recipe for banana bread using simple ingredients. It really bakes up the best banana bread that you ever tasted.
Be sure to subscribe to my email list while you are here. Subscribers receive a weekly newsletter delivered straight to your inbox with all of the latest recipes and news here on the blog so that you never miss a thing.
Meet Julia
Author of Julia's Simply Southern
Hey Y'all! I'm Julia, the cook and writer behind the recipes here at Julia's Simply Southern. I began my website so that I could share easy to follow recipes that anyone can use to put a home cooked meal on the dinner table. Thanks so much for stopping by!
Follow me on Facebook | Twitter | Instagram | Pinterest | YouTube