In this post you'll discover how to make Short Cut Small Batch Potato Salad (for 2 to 4 people).
Y'all, I have a confession to make…..I have difficulties just cooking for two people and that is all there is in this house. When I make a dish like my Southern Potato Salad, it is always for holiday meals and I'm making no less than five pounds of it.
I can't tell you the number of times that the hubs walks into the kitchen and asks "who's coming to dinner?", and there's no one coming to eat with us. Sigh!
Good thing I enjoy sharing food with the neighbors. I have gotten into the habit of freezing too if possible. Potato salad is just not one of those things that freeze.
The big batches I make are perfect for holidays and cookouts where there are lots of folks to eat it up but sometimes you just want some potato salad for every day meals.
This recipe is slightly different than my Southern potato salad but remains along the same lines of a mayonnaise mustard base. OH, and I've added bacon….cause it's bacon and bacon is a good thing. See the bacon?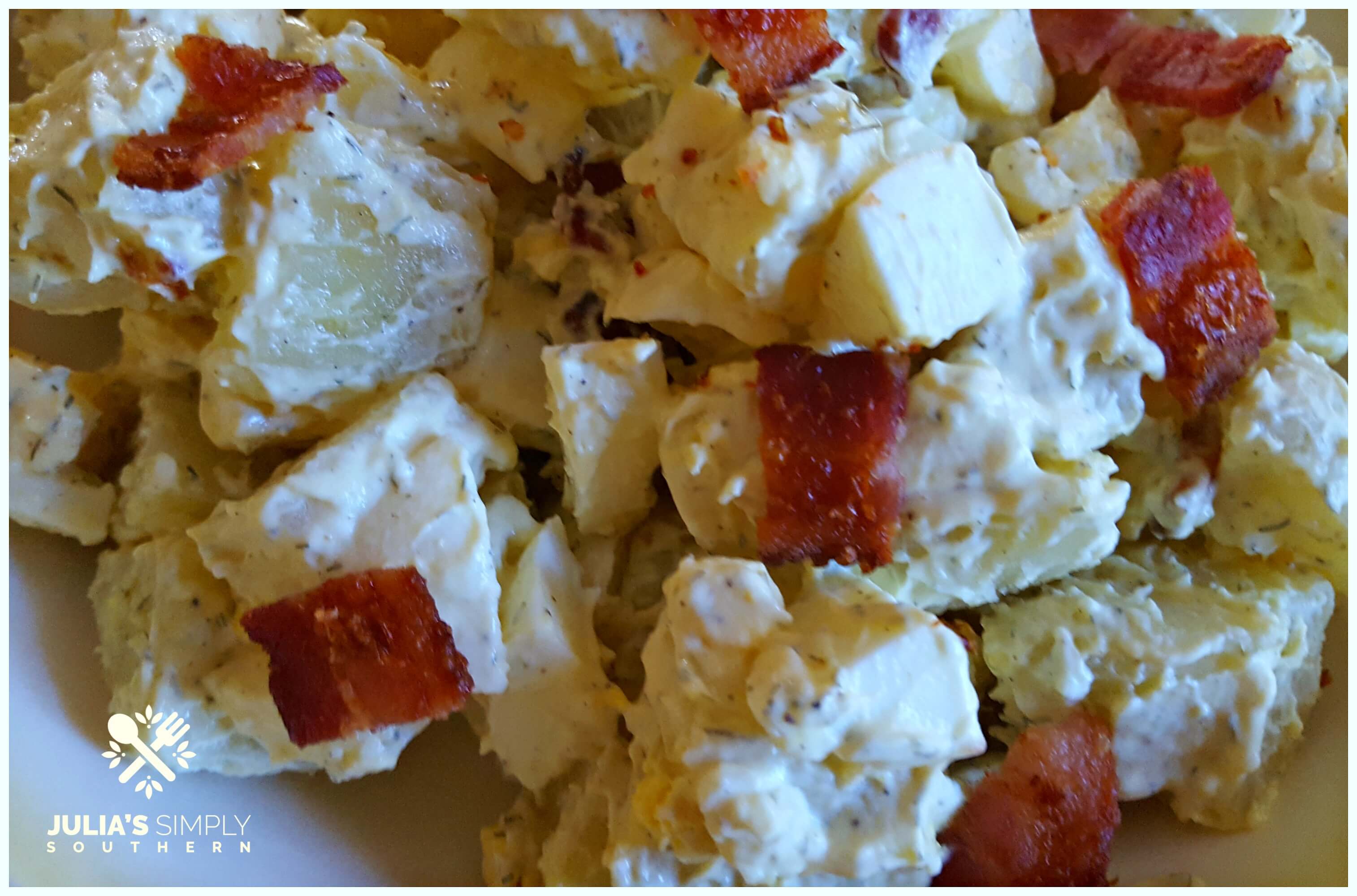 Short Cut Small Batch Potato Salad with Bacon and Dill
Potato salad tastes so good the next day so even making a small batch you need to have some leftover for tomorrow. Are you with me on that?
What makes this short cut potato salad? A few things, such as peeling and cubing the potatoes so they cook faster, having boiled eggs on hand in the fridge (hubs is also on a "diet" and eats boiled eggs for a protein snack), and having cooked bacon on hand.
For some reason it is instilled in us that holiday meals are supposed to be time consuming and very involved. I don't know why, it just is. I go about making potato salad a different way for holidays.
The potatoes in this recipe keep their shape well and you will not end up with mashed potato salad. Timing the potatoes while they cook ensures the perfect potato pieces.
Southern Potato Salad Recipe
Here's what you'll need for this recipe (Find the full printable recipe at the bottom of this post): Russet potatoes, water, boiled eggs, salt, pepper, dried dill week (fresh would be good too), mayonnaise, yellow mustard, and cooked bacon.
Please, please, please for the love of all that is good in the world – use mayonnaise in potato salad and not that….something whip stuff in a jar.
Potato Salad Recipe Without Onion
If you're familiar with my traditional Southern Potato Salad Recipe (or your own recipe for that matter), you probably noticed a few things missing from the ingredients above. In my short cut version I do not add onion, pickle juice or dill pickle cubes. You can certainly add those if it suits you better. I enjoy a bit of variety myself from time to time.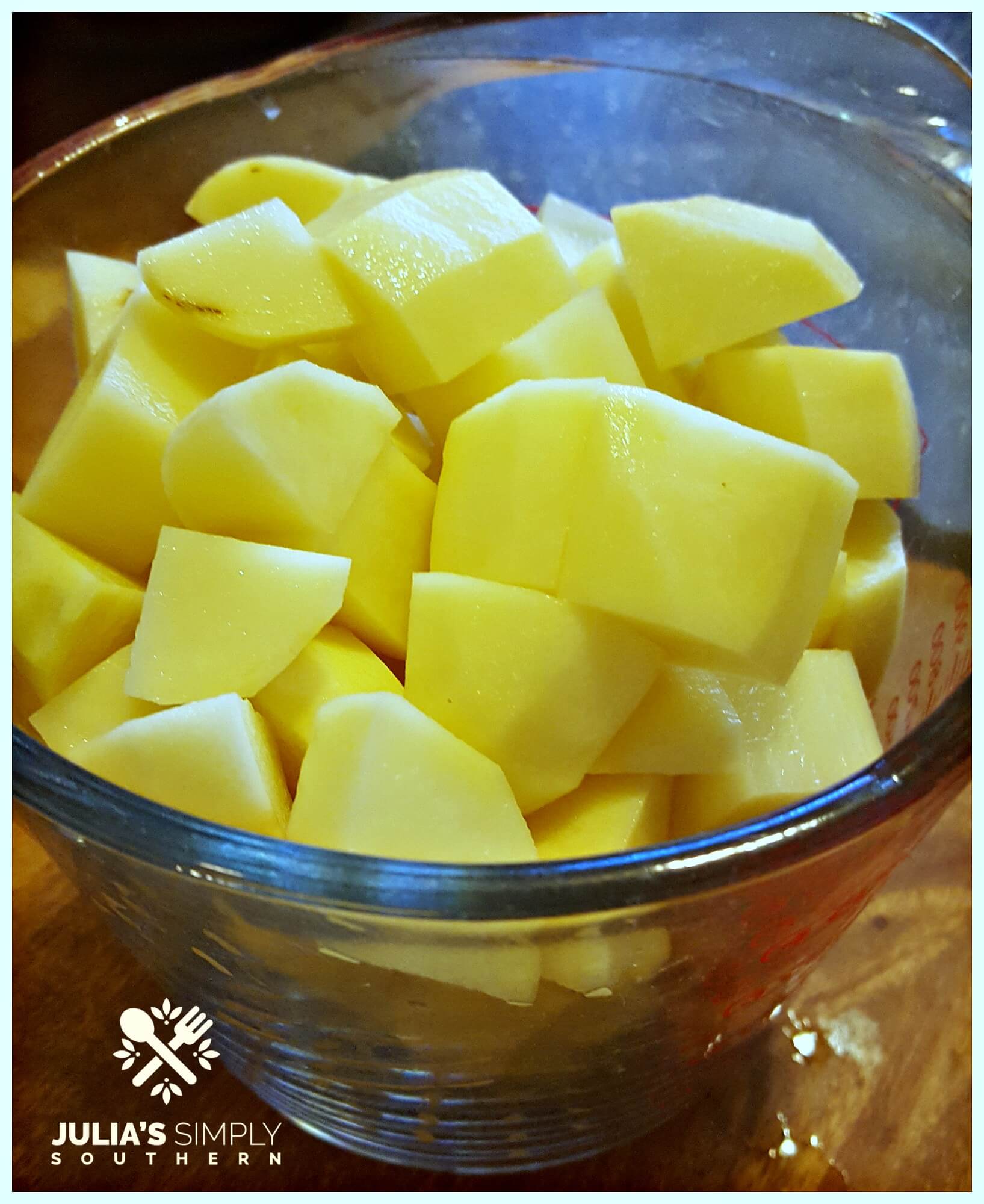 This potato salad recipe can be done, start to finish, in less than 30 minutes. So let's make some!
Easy Potato Salad for Two
Step 1: Peel, wash and cut the potatoes into bite size cubes. Add the potatoes to a pot and add the water. Bring the potatoes to a simmer. As soon as they begin to simmer, set a timer and cook for 8 minutes over medium heat. Once the cooking time is finished, drain the potatoes well in a colander and add to a mixing bowl.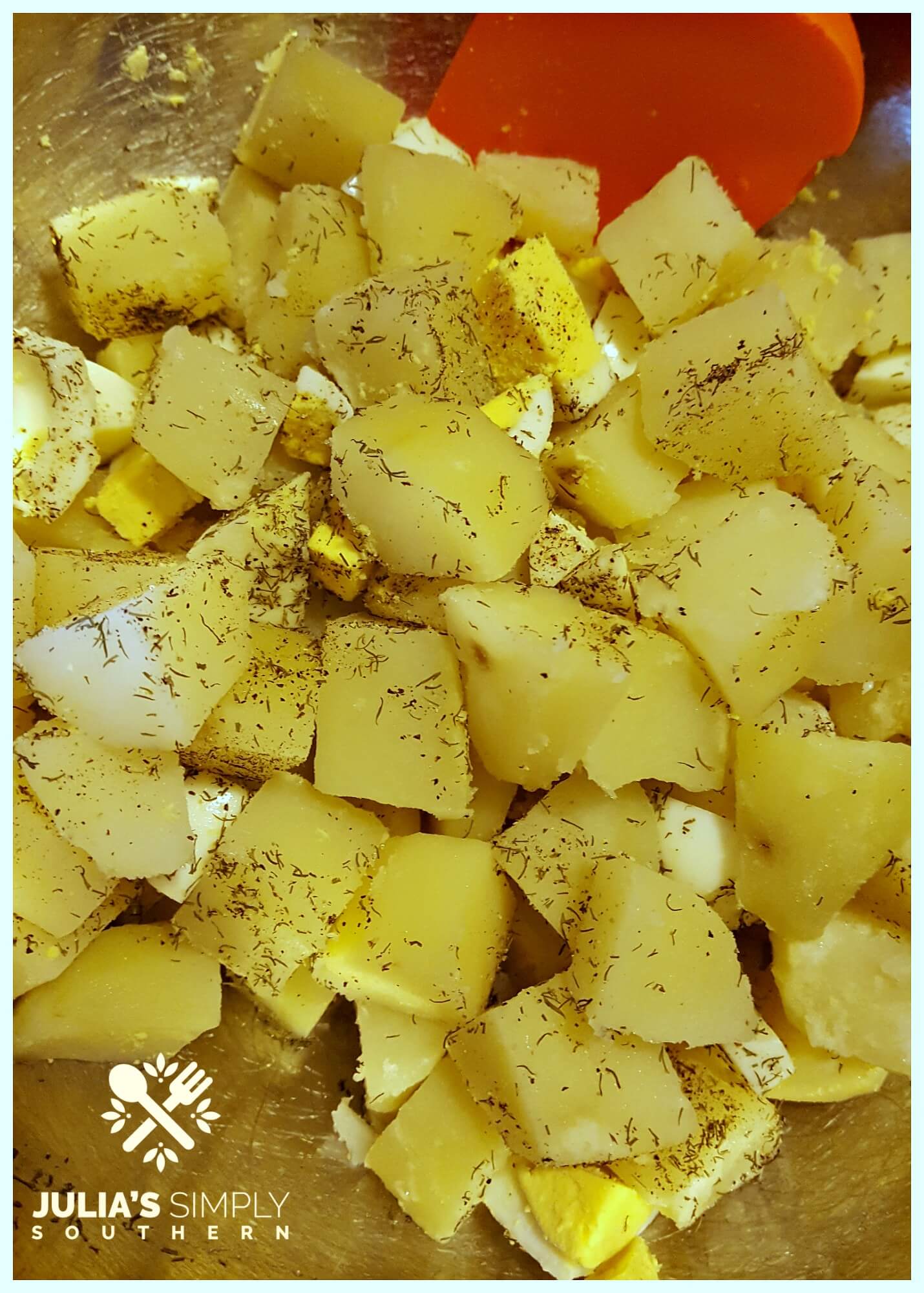 Step 2: Next, add the chopped boiled eggs, salt, pepper, bacon pieces and dill to the cooked potatoes. Lightly stir the mixture to incorporate the ingredients together.
Step 3: Next, make the potato salad dressing. In a small bowl combine mayonnaise with mustard then add to the potato mixture. Use a spatula to mix all of the ingredients together. Reserve a few pieces of the cooked bacon for garnish if desired. Cover and chill until ready to serve.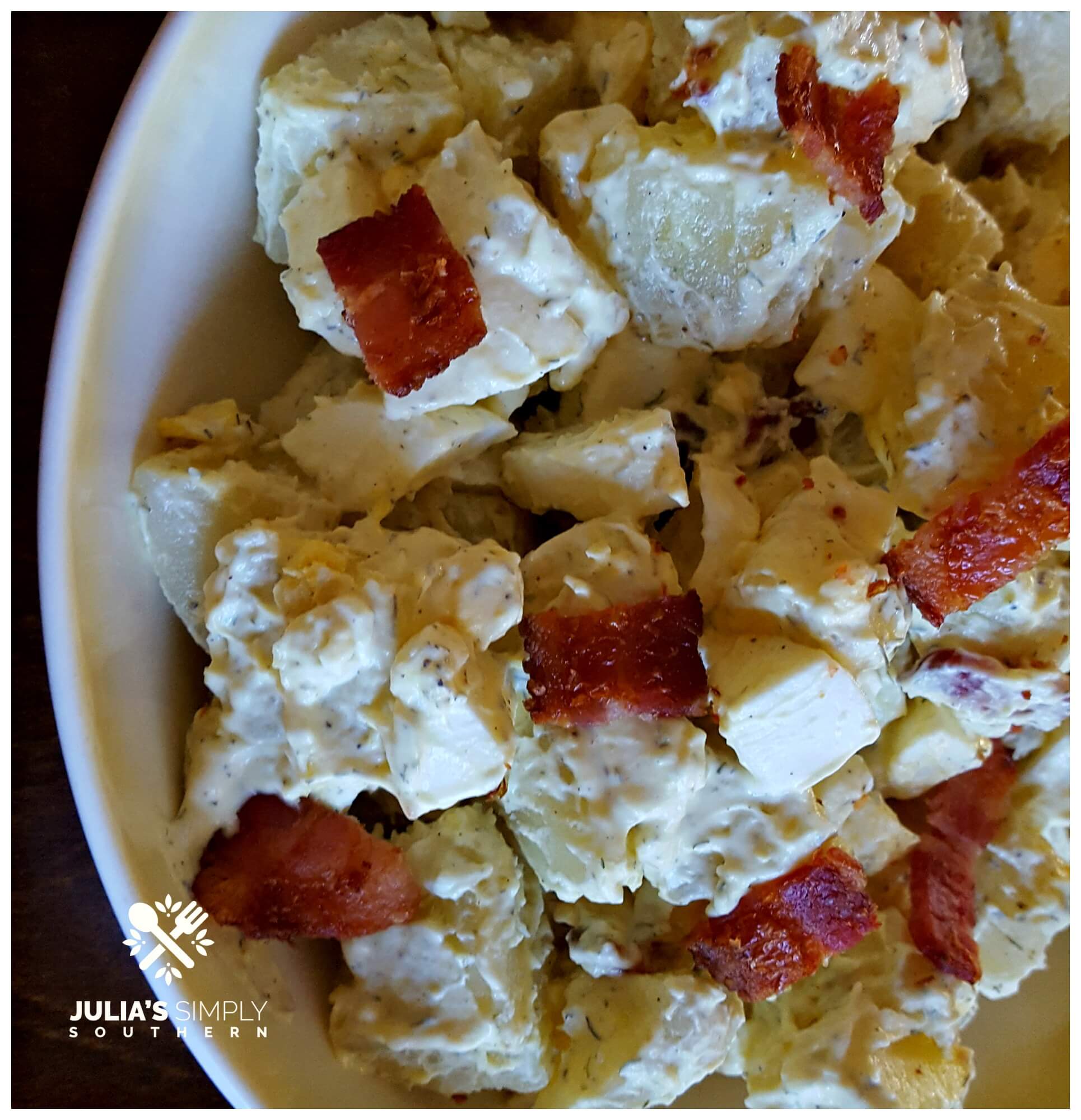 Southern Potato Salad with Bacon
Yield: 6 Servings
Short Cut Small Batch Potato Salad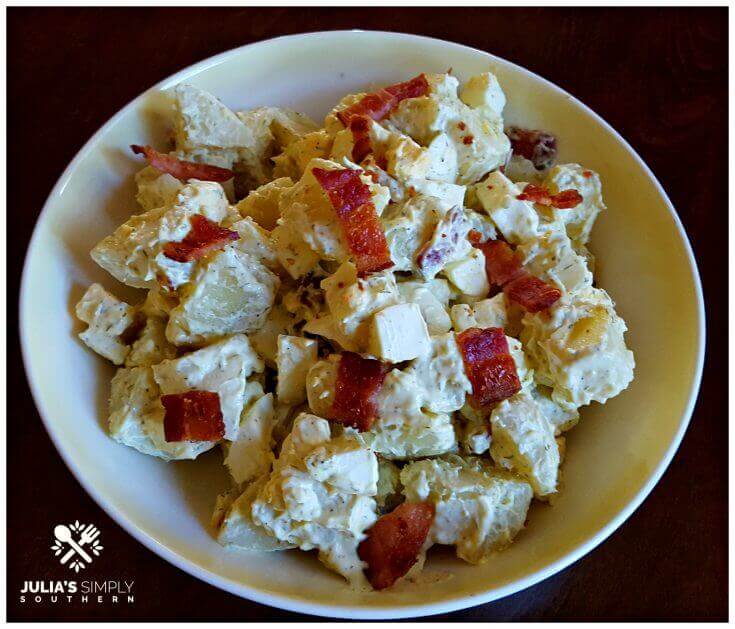 Southern style short cut small batch potato salad with bacon, perfect for two to four people.
Additional Time
5 minutes
Ingredients
5 c Cubed Russet Potatoes (about 6 small potatoes or 3 large)
4 c Water
3 Boiled Eggs, chopped
2 Strips of Cooked Bacon, chopped
1/2 tsp Salt, or to taste
1/4 tsp Ground Black Pepper
1/2 tsp Dried Dill Weed
1 c Mayonnaise
1.5 tsp Yellow Mustard
Instructions
Peel, wash and cut the potatoes into bite sized cubes.
Add the potatoes to a cooking pot and cover with water.
Bring to a simmer over medium heat. Once simmering, set a timer and cook the potatoes for 8 minutes.
Next, drain the cooked potatoes well in a colander and add to a mixing bowl.
Next, add the salt, pepper, dill and cooked bacon to the potatoes and lightly mix together.
Next, prepare the dressing by combining the mayonnaise and mustard in a small bowl then add to the potato mixture.
Using a spatula, combine the ingredients until everything is coated with the dressing mixture.
Cover and chill until ready to serve.
Notes
Reserve a few pieces of cooked bacon for garnish, if desired.
If you do not have boiled eggs and cooked bacon on hand, no worries, it takes about ten minutes to prepare and can be done while the potatoes cook. Save time by boiling the eggs with the potatoes.
Recommended Products
As an Amazon Associate and member of other affiliate programs, I earn from qualifying purchases.
Nutrition Information:
Yield:
6
Serving Size:
1 cup
Amount Per Serving:
Calories:

228
Total Fat:

18g
Saturated Fat:

3.5g
Cholesterol:

99mg
Sodium:

669mg
Carbohydrates:

11.6g
Fiber:

0.4g
Sugar:

2.8g
Protein:

5.7g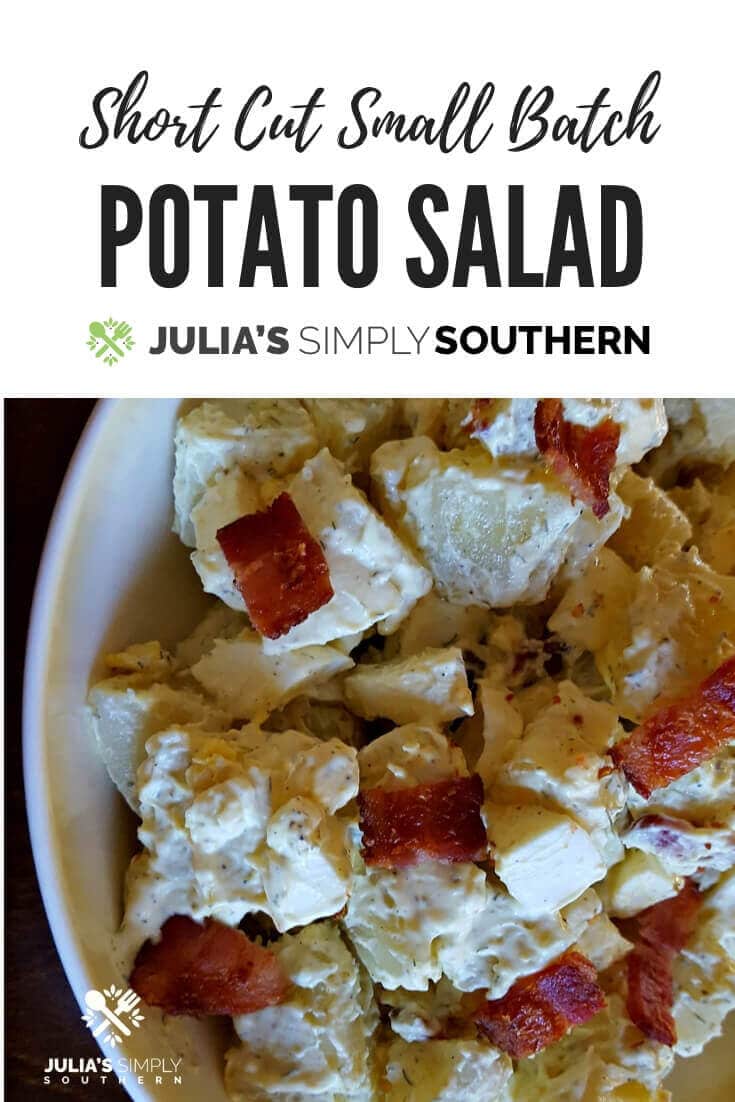 Don't forget to Pin and Share, we appreciate your support!
Other recipes you might enjoy: Southern Egg Salad, Italian Pasta Salad, and Classic Carrot Raisin Salad
You can also search for recipes by using the recipe index tab or the search bar at the top of the page.
See this recipe at the Weekend Potluck and Meal Plan Monday
Meet Julia
Author of Julia's Simply Southern
Hey Y'all! I'm Julia, the cook and writer behind the recipes here at Julia's Simply Southern. I began my website so that I could share easy to follow recipes that anyone can use to put a home cooked meal on the dinner table. Thanks so much for stopping by!
Follow me on Facebook | Twitter | Instagram | Pinterest | YouTube