In this post I'll be sharing my Southern Style Crock Pot Green Beans recipe. It has been a popular request and since y'all asked for it, here it is!
It is so easy to prepare tender green beans in your slow cooker that tastes just like the ones that Granny used to make.
Green beans are one of the favorite side dishes for holiday meals. My green beans are just like you find on the menu of the great soul food restaurants that serve up the best meat and three meals.
At our house the green beans are an absolute must for Thanksgiving dinner. My husband loves green beans. He considers green beans as a comfort food.
One of my favorite childhood memories was sitting out on the porch with my grandmothers and mom snapping and prepping string beans that would be used for supper. Very happy memories indeed.
I can't wait to share this recipe with you, so let's get to cooking!
BEST Southern Crock Pot Green Beans Recipe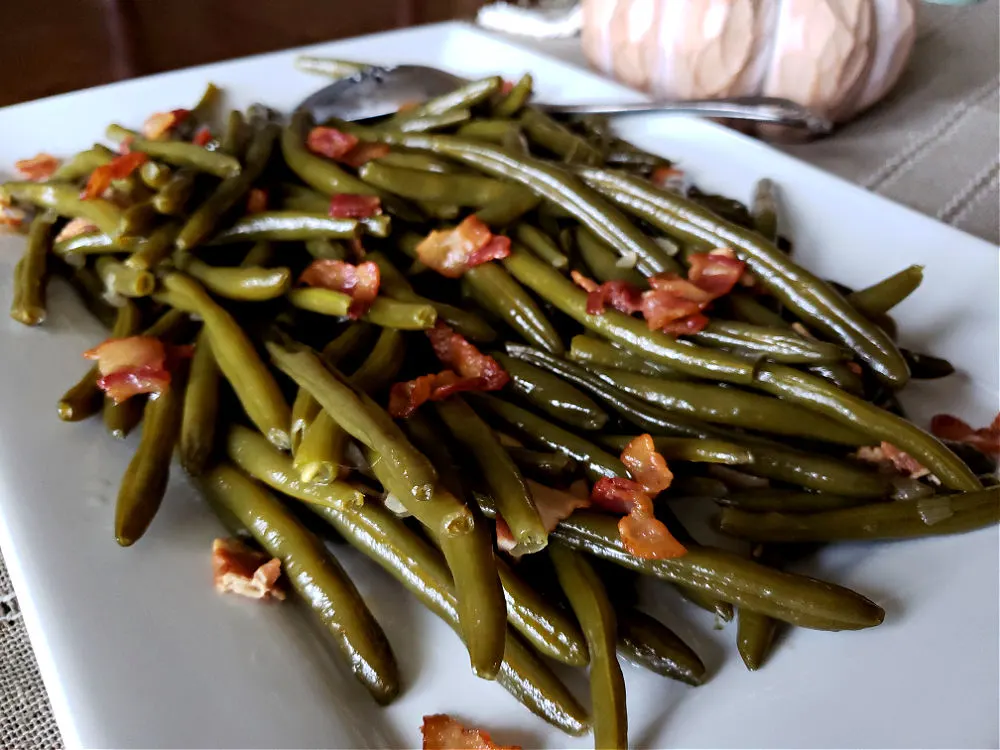 Does that look good or what? There is nothing like a great side dish made with love that has plenty of flavor. That is what good ole country style cooking is all about…flavor!
Best of all, it only takes a handful of ingredients to make green beans that are perfect for special occasions or your weeknight meals.
What do I need to make Green Beans in Crock Pot?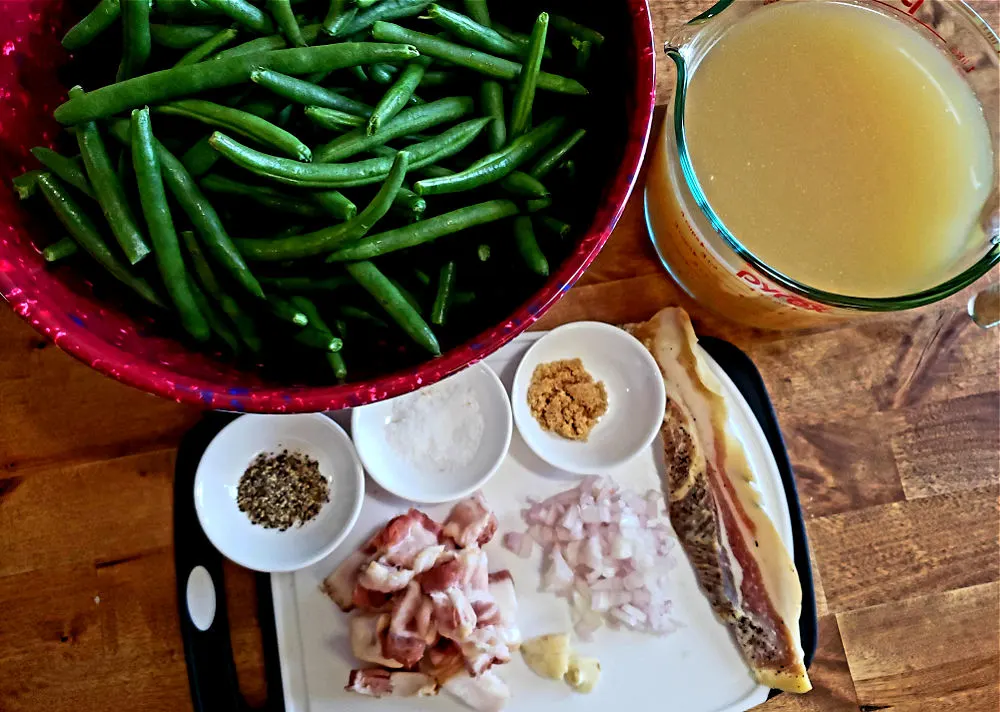 Here's what you'll need to make Southern style Crock Pot green beans:
Green Beans – fresh is what I used in this recipe but you could use canned if you want to.
Bacon – slices of bacon cut into pieces add a nice smoky flavor to this recipe. We'll use a small amount of the bacon drippings too.
A little bit of bacon grease is often the secret ingredient of a delicious Southern recipe. These days I prefer pasture raised bacon from one of our local farms if I can get it or uncured from the grocery store.
Country Ham Side Meat – adds more rich savory flavor to vegetables as they cook. Since we're using bacon the side meat is optional, but I do recommend it if you can.
Chicken Stock – or chicken broth will add flavor. I use the Costco Kirkland brand organic chicken stock because I really like it and get a good deal. I only mention it because y'all are always asking me what brands that I use.
Water
Shallot or Diced Onions – I used a small shallot but whatever onions you might have on hand will work fine. Yellow onion is a great all purpose cooking onion. I also find that I am especially fond of Vidalia onions when they are in season for this recipe.
Garlic
Seasonings – freshly ground black pepper, Kosher salt, brown sugar and a little bit of red pepper flakes.
Feel free to use other seasonings that you might enjoy, such as garlic powder, onion powder, or cayenne pepper.
Fresh Green Beans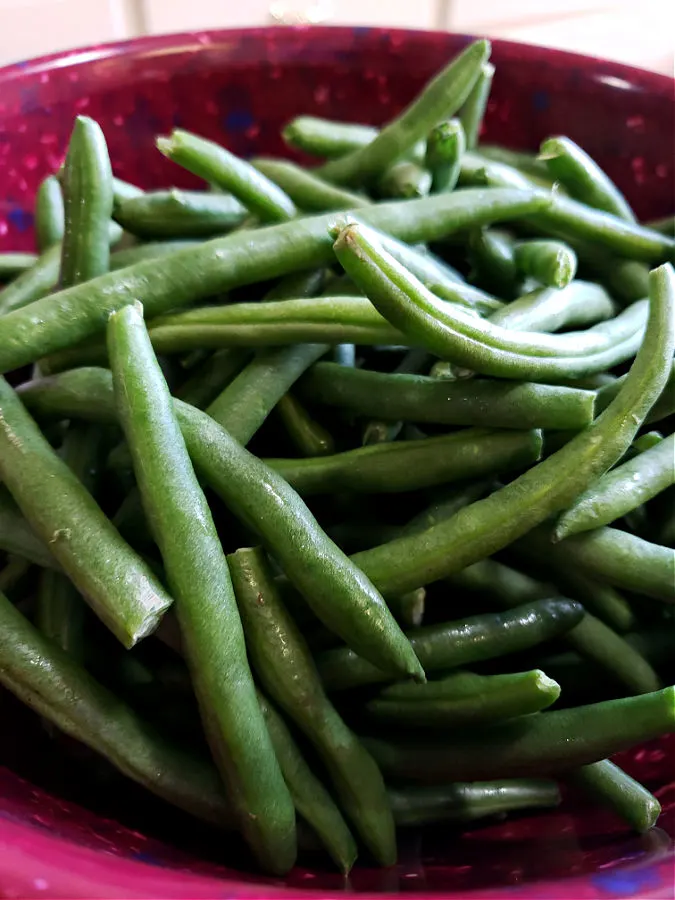 The fresh green beans should be washed and trimmed to prepare them for cooking. Preheat your slow cooker on the high heat setting with the lid on while you prep.
There may be options that you can find at your local grocery store for packaged green beans that have already been washed and trimmed. Those are fine but I would still check through the beans just to be sure they have been prepped properly.
What is seasoning meat?
Y'all, let us talk about seasoning meat for a minute. If you aren't familiar, seasoning meat is used for cooking collard greens, soups, dried beans and other vegetables to add so much flavor.
Types of seasoning meats include: bacon, smoky ham hocks, smoked turkey legs, country ham bits (or strips – side meat), or turkey necks. I'll leave a great option in the affiliate links section of the recipe card.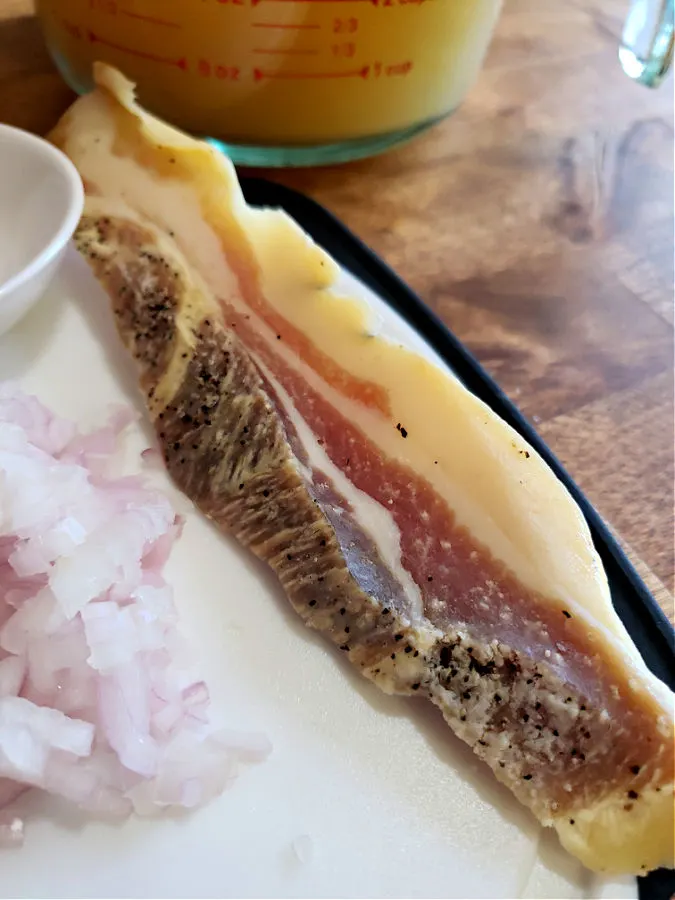 In the photo above is a strip of country cured ham, often labeled side meat, that is used in preparing savory recipes. Country ham products are also shelf stable until opened, and then need to be refrigerated.
The seasoning meat is essential for preparing authentic traditional recipe Southern style green beans.
So, for flavorful green beans that the whole family will love, don't skimp on the seasoning meat.
Slow Cooker Green Beans with Bacon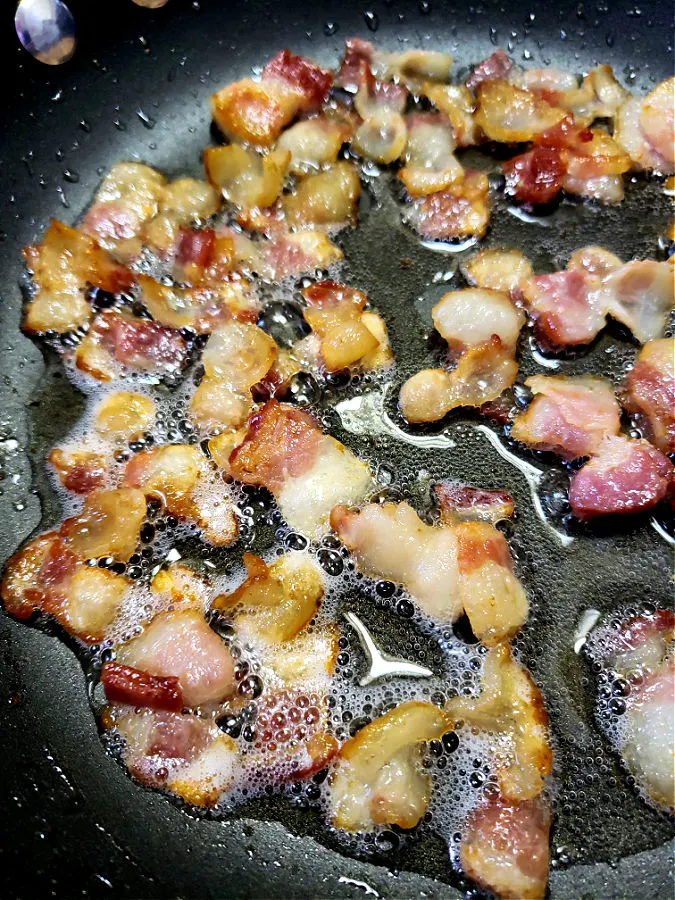 We've prepped the green beans, so the next step is to crisp up some bacon. Heat a large skillet over medium heat. Once the skillet is hot, reduce to medium low heat to cook the bacon pieces slowly so that they don't burn.
Once is the bacon is as crisp as you like it, use a slotted spoon to transfer the crispy bacon pieces to a small bowl and set aside.
Crock Pot Green Beans Recipe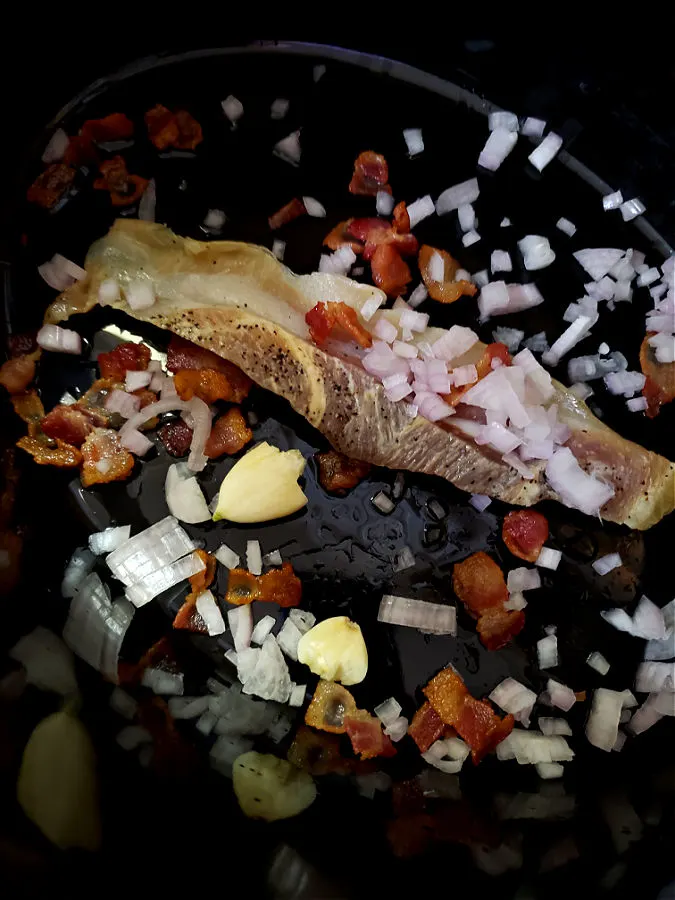 Next, add a tablespoon or so of the rendered bacon fat to your pre-heated crockery. You will also add about half of the cooked bacon, crushed garlic, diced shallot or onion, and the seasoning meat.
Allow these ingredients to cook for a minute or two so that they start to release their flavor.
Easy Green Beans Recipe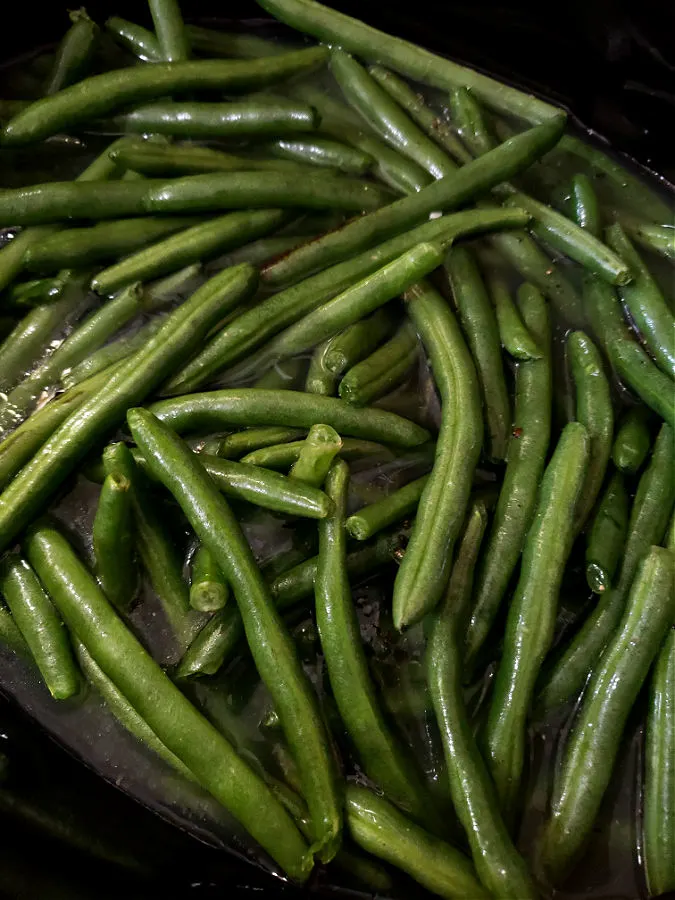 Lastly, add the fresh beans, chicken stock or broth, water, salt, pepper, brown sugar and red pepper flakes. Gently stir the cover the crockery with the lid.
What is the cooking time for Southern classic green beans in the Crock Pot? The cook time will vary on the heat setting. It could also be determined by your own preferences and how tender you like the beans as well as the age of your slow cooker.
We like this family favorite side with beans that are nice and tender. The canned green beans will cook faster if using, so just know that the fresh beans will take a little longer.
The beans handle the long cooking times very well though.
If cooking on the low heat setting, you could start them the evening before and let them slow cook all night. The cooking time on low for me takes 10-12 hours. On high it takes 6-8 hours.
Recipe for Crock Pot Green Beans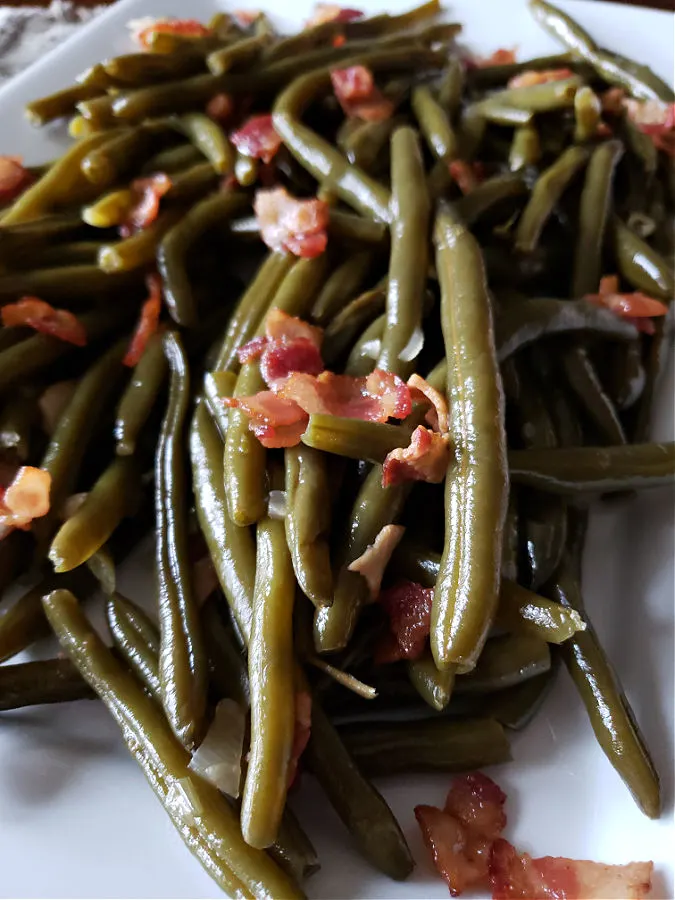 Below you will find the printable recipe card with all of the details for preparing this Southern green beans recipe in your slow cooker.
Yield: 2 pounds
Southern Style Crock Pot Green Beans Recipe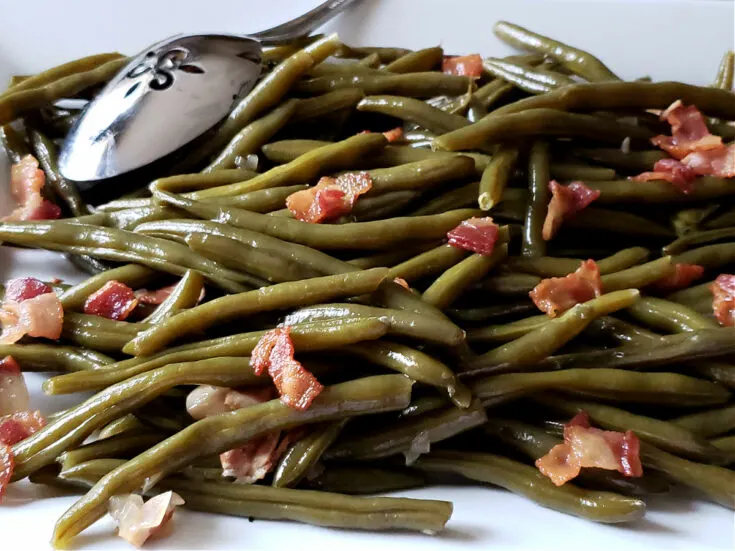 Delicious Southern style crock pot green beans made with fresh green beans in the tried and true traditional way with bacon and the perfect seasonings. These green beans are just like the ones that Granny used to make or the ones you find in the great soul food restaurants. Enjoy these delicious slow cooker green beans for weeknight meals, Thanksgiving dinner, Christmas or other special occasion gatherings.
Total Time
8 hours
15 minutes
Ingredients
4 Strips of Uncured Bacon, sliced into pieces
1 tablespoon Bacon Fat, reserved from cooking bacon
2 ounces Country Ham Cooking Pieces (side meat or seasoning meat) - optional
2 pounds Fresh Green Beans, washed and trimmed
4 cups Organic Chicken Stock, or broth
2 cups Water (I prefer filtered water for cooking)
1 Small Shallot, diced (or use 1/4 cup chopped onion)
1 clove Garlic, peeled and smashed
½ teaspoon Ground Black Pepper, or to taste
1 teaspoon Kosher Salt, or to taste
1 teaspoon Brown Sugar
Pinch of Red Pepper Flakes, or to taste, optional
Instructions
Preheat the slow cooker crockery on the high heat setting covered with the lid.
Preheat a large skillet over medium then add the bacon pieces, reduce the heat to medium low, and cook until crispy. Allow the bacon to cook slowly to render its fat to avoid burning.
Remove the crispy bacon pieces with a slotted spoon transferring them into a small bowl and set aside.
Next, add a tablespoon of the rendered bacon drippings to the hot crockery.
Place the seasoning meat (side meat) into the crockery, along with half of the cooked bacon pieces, diced shallot and crushed garlic clove. Give a gentle stir and allow the slow cooker to heat the shallot and garlic for a minute or two so that they begin to release their flavor.
For the next step; add the fresh green beans, pepper, salt, brown sugar, chicken stock, water and red pepper flakes to the crockery.
Cover with the lid, reduce to the low heat setting and slow cook 10-12 hours on low (or 6-8 hours on the high setting), or until the beans are the desired tenderness; stirring occasionally.
Transfer the green beans to a serving dish and garnish with the reserved bacon pieces.
Notes
See post for options on seasonings and seasoning meats.
I prefer slow cooking on low for many hours. The beans hold up well. The Crock Pot green beans could be started the evening before and slow cooked overnight, if desired.
Leftover green beans can be stored in an airtight container in the refrigerator for up to 4 days.
Recommended Products
As an Amazon Associate and member of other affiliate programs, I earn from qualifying purchases.
Nutrition Information:
Yield:
8
Serving Size:
1 cup
Amount Per Serving:
Calories:

167
Total Fat:

8g
Saturated Fat:

2g
Trans Fat:

0g
Unsaturated Fat:

5g
Cholesterol:

21mg
Sodium:

623mg
Carbohydrates:

15g
Fiber:

3g
Sugar:

7g
Protein:

11g
What to Serve with Crock Pot Green Beans?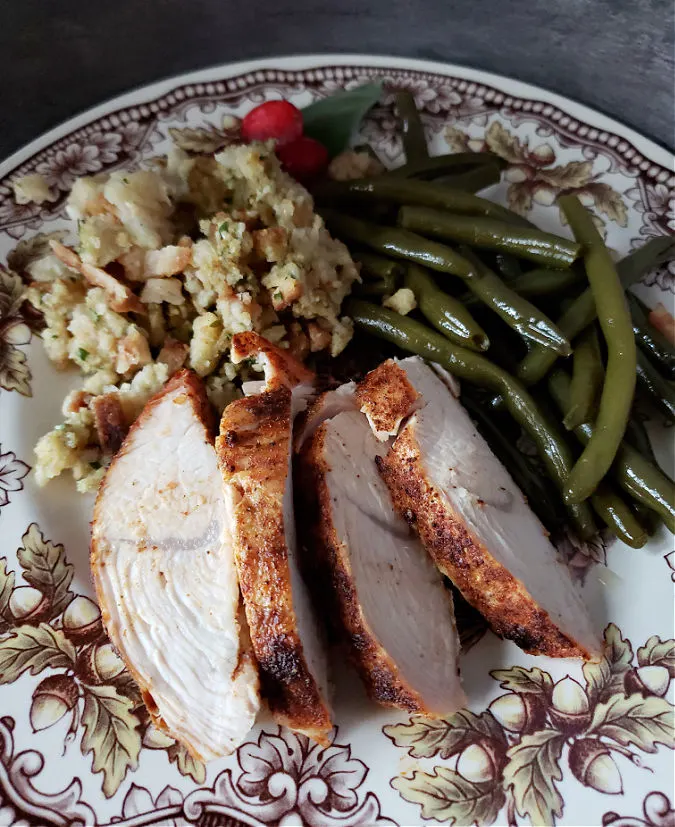 These delicious Southern green beans are an easy side dish recipe for any main dish (turkey, ham steaks, roasted chicken, and more) being served at weeknight meals, Christmas dinner, Easter, or Thanksgiving dinner.
Crock pot green beans are delicious paired with other sides too: Southern mayonnaise biscuits, mashed potatoes, mac and cheese, potato salad, and so much more. I could go on and on with delicious side options.
You might also enjoy this recipe for Green Beans Almondine from A Beautiful Plate.
Additional Tips for Southern Style Green Beans
Crock Pot Green Beans and Potatoes – add drained canned new potatoes to the crockery with the beans the last 1-2 hours of cooking. Fresh baby reds or other baby potatoes may also be used when washed, peeled (if desired), and added to the beans in the crockery for the last 4 hours of cooking.
Pressure Cooker – fresh Southern style green beans can be prepared in the Instant Pot, if desired, using high pressure. I don't use an IP. but am happy to offer trusted recipes from friends. if you email to request.
Leftover Green Beans – may be stored in an airtight container (keep some of the tasty broth too) in the refrigerator for up to four days.
Canned Green Beans – if you wish to use canned green beans in this Crock Pot recipe, you'll need a 32 ounce can.
Popular Recipes
The Latest Posts
Thank you for stopping by! I am so glad that you did! I hope that you will prepare and enjoy a batch of these Southern style Crock Pot green beans soon. You will enjoy this delicious side just as much as we do.
While you are here, be sure to sign up to receive my emails. Each week I send out an e-newsletter to subscribers with the latest recipes and news here on the blog so that you never miss a thing.
Until next time, love and happy cooking!
Meet Julia
Author of Julia's Simply Southern
Hey Y'all! I'm Julia, the cook and writer behind the recipes here at Julia's Simply Southern. I began my website so that I could share easy to follow recipes that anyone can use to put a home cooked meal on the dinner table. Thanks so much for stopping by!
Follow me on Facebook | Twitter | Instagram | Pinterest | YouTube