In this post I'll be sharing an easy Crock Pot Turkey Breast Recipe.
A bone in turkey breast is a great option if you need less turkey for smaller holiday meals. The turkey breast can also offer additional turkey to a whole turkey if you need more for larger meals.
The bone in turkey breast looks kind of funny without his legs or wings but that's okay….it's still super delicious.
Cooking this bone in turkey breast in your slow cooker is so easy, even if it is your first time cooking a turkey.
First, and this is very important, the turkey must be thawed. Properly and safely thawed in the refrigerator. You'll need to give it two or three days to fully thaw before cooking.
Slow Cooker Turkey Breast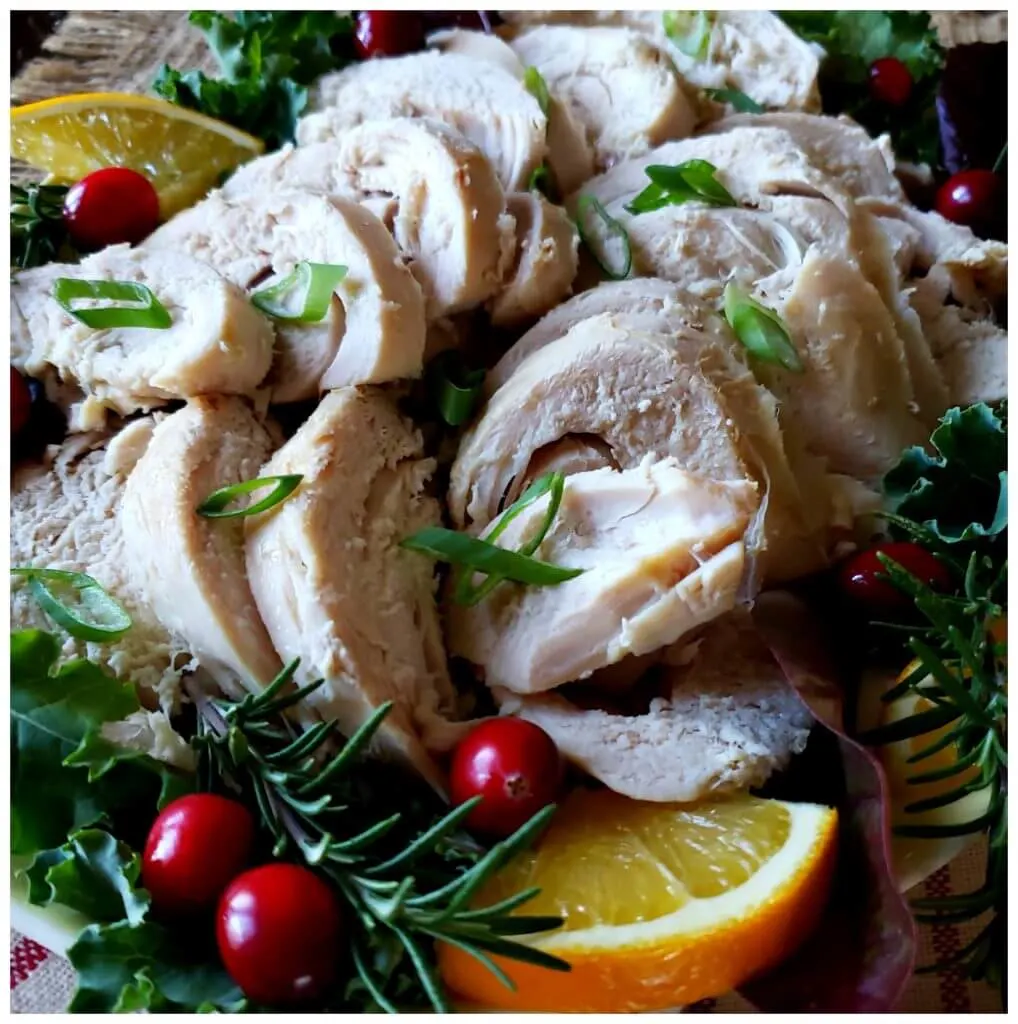 Depending on your slow cooker, this turkey breast will be fully cooked in about 5 hours on the low setting.
My Crock Pot seems to be one of those over achievers and gets the job done pretty quick.
You'll always want to check the internal temperature of your turkey with an instant read thermometer to be sure that it has reached 165°F or more.
Since a turkey breast is white meat and can easily dry out you'll want to be sure to not over cook it.
Besides being a fantastic holiday meal option for smaller gatherings, I also think that a turkey breast is easier to handle.
As we age (sorry to mention it) trying to handle a heavy whole turkey can become difficult and possibly dangerous so a turkey breast is much more manageable.
How to Cook a Turkey Breast in a Crock Pot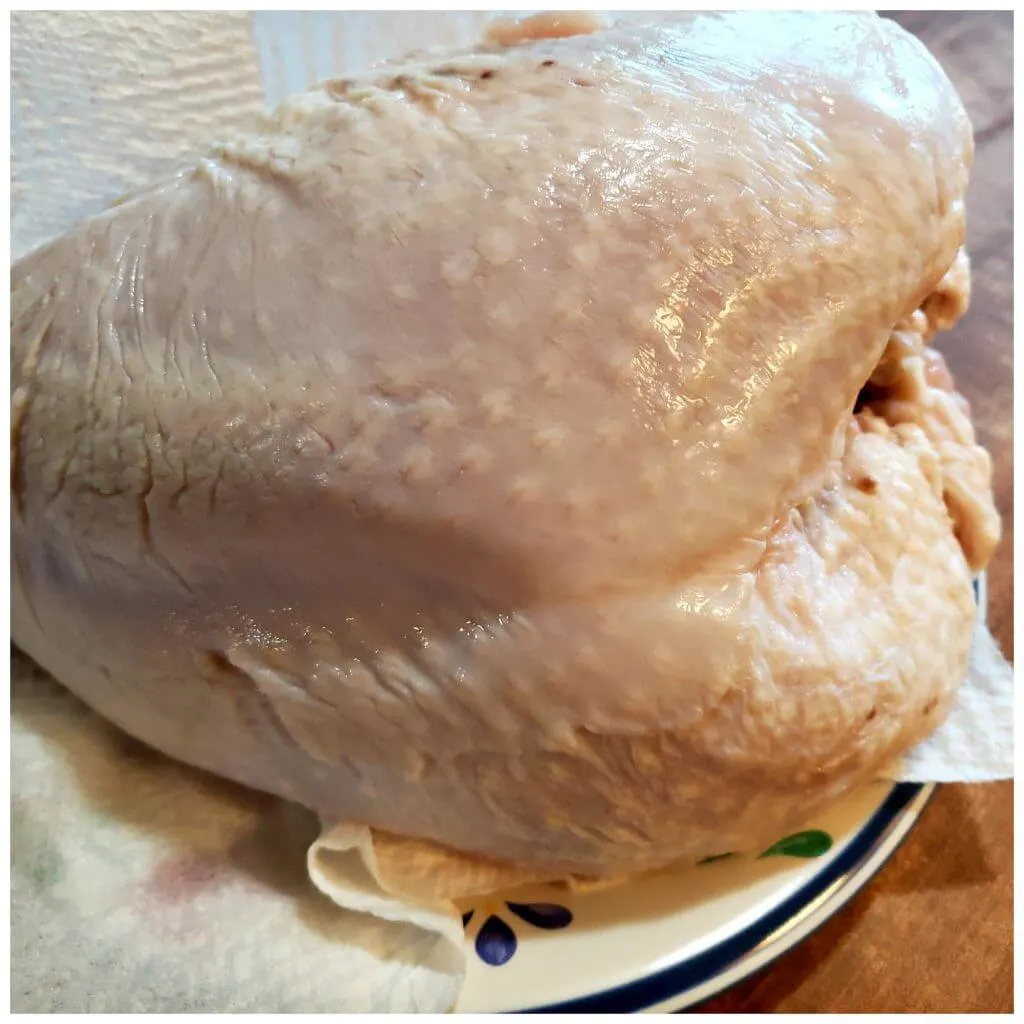 To prep the turkey, remove it from the packaging it came in from the store and place on a paper towel lined plate.
Take a few paper towels and thoroughly dry the turkey skin. Get into all of the nooks and crannies too. This will make rubbing him down in butter much easier.
Without his turkey legs or wings he kind of just lays on his side. Personally, I don't present the turkey before carving so this doesn't really concern me.
I'll slice the meat up and place on a garnished platter. If you typically enjoy showing off your cooked turkey then the breast may be tricky to display.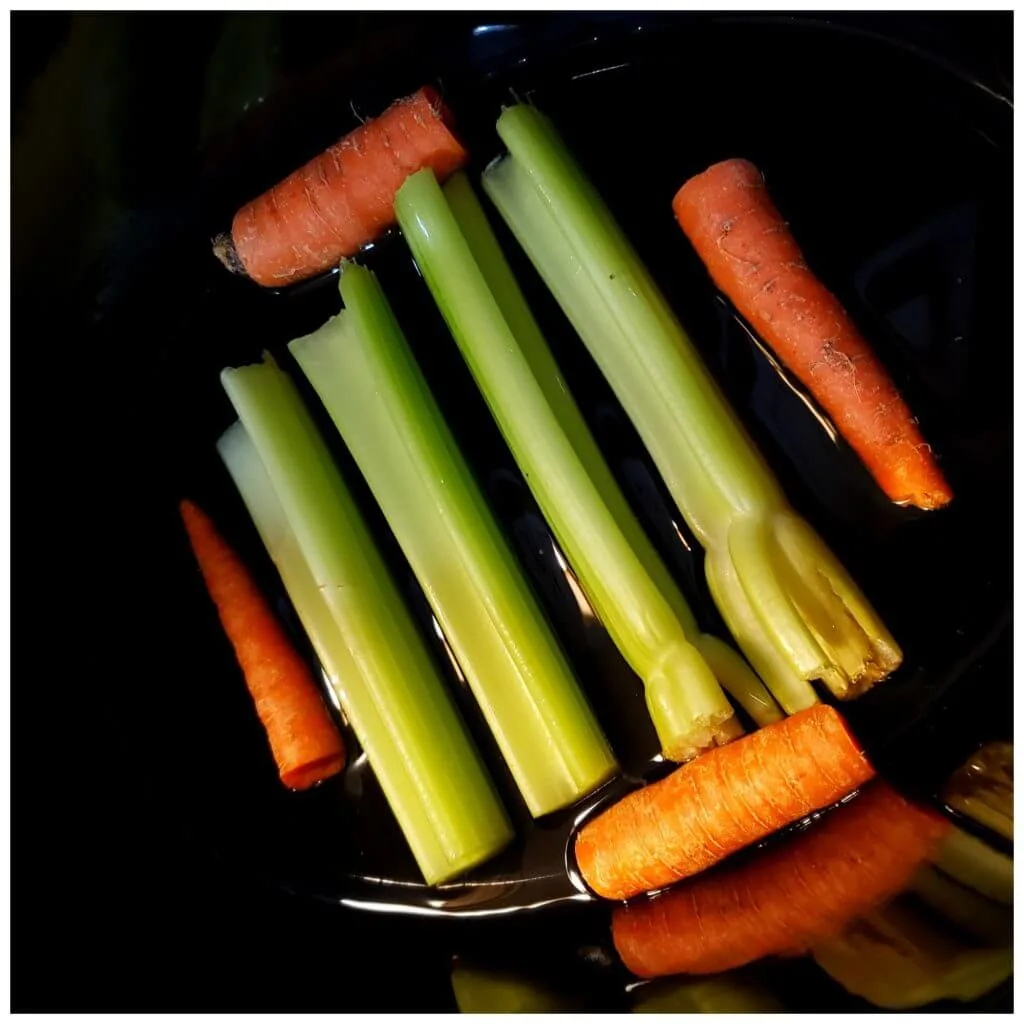 I like to preheat my Crock Pot by placing the lid on and turning it to the high setting while I work on prepping.
This easy step makes getting the turkey breast to temperature faster.
Place a few aromatic vegetables, like celery and carrots, on the bottom of your slow cooker crock for the turkey to rest on during cooking.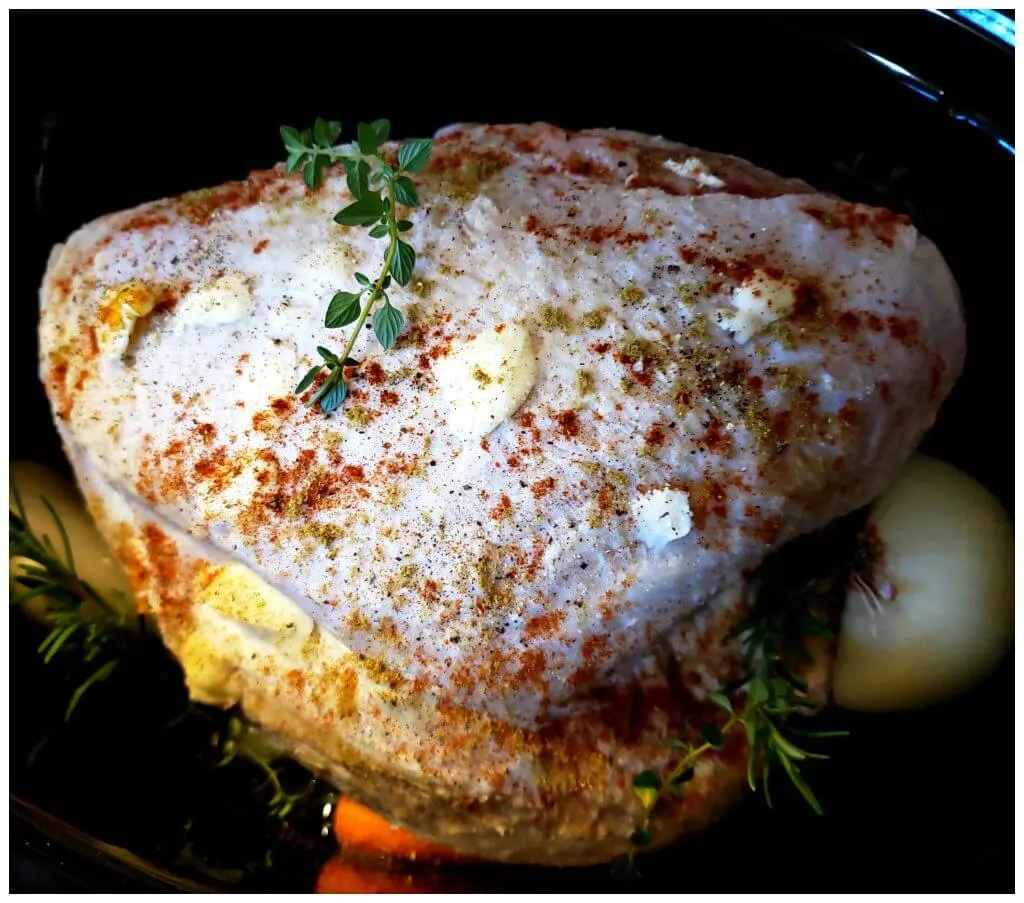 Turkey massage coming right up! Rub softened butter under the skin and over the skin then season.
In the spirit of trying to make things less fussy with this meal I kept the seasonings pretty basic with salt, pepper, poultry seasoning and paprika.
Preparing a turkey breast in your slow cooker will keep the skin softer than roasting.
If you enjoy the turkey skin then you can transfer it to a baking dish after cooking and pop it in the oven to crisp the skin. I opted to skip this step and just removed the skin before slicing to serve.
Place the seasoned turkey breast in the slow cooker. I added in a peeled onion that I cut in half, a few sprigs of herbs and a little chicken broth to the cooking crock for additional aromatics and to help keep things moist.
Easy Crock Pot Turkey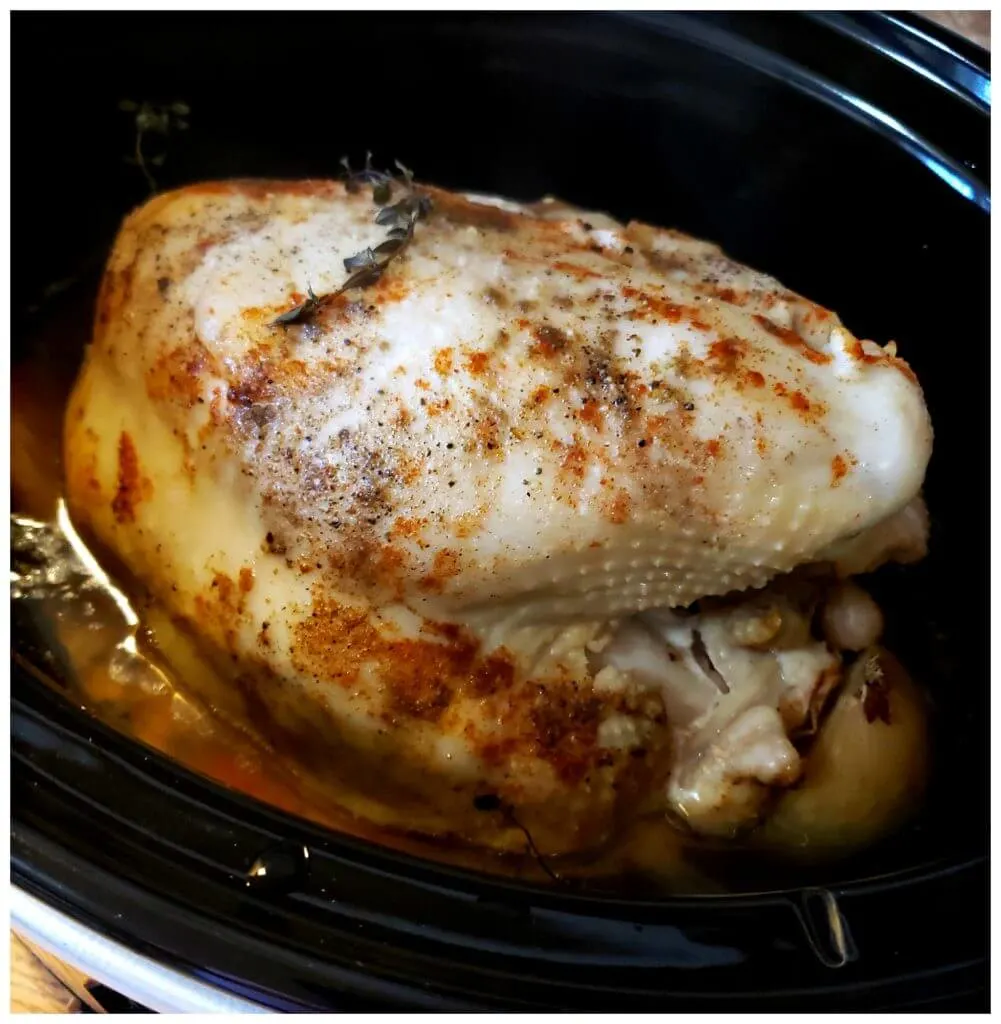 Cook the turkey breast on the high setting for about half an hour then reduce it down to the low setting.
Once on the low setting it will take about five additional hours to fully cook.
Again, depending on your slow cooker, you may need to adjust the cooking time.
If you prefer to keep cooking on the high setting then it should take about three additional hours of cooking.
Be sure to check that internal temperature.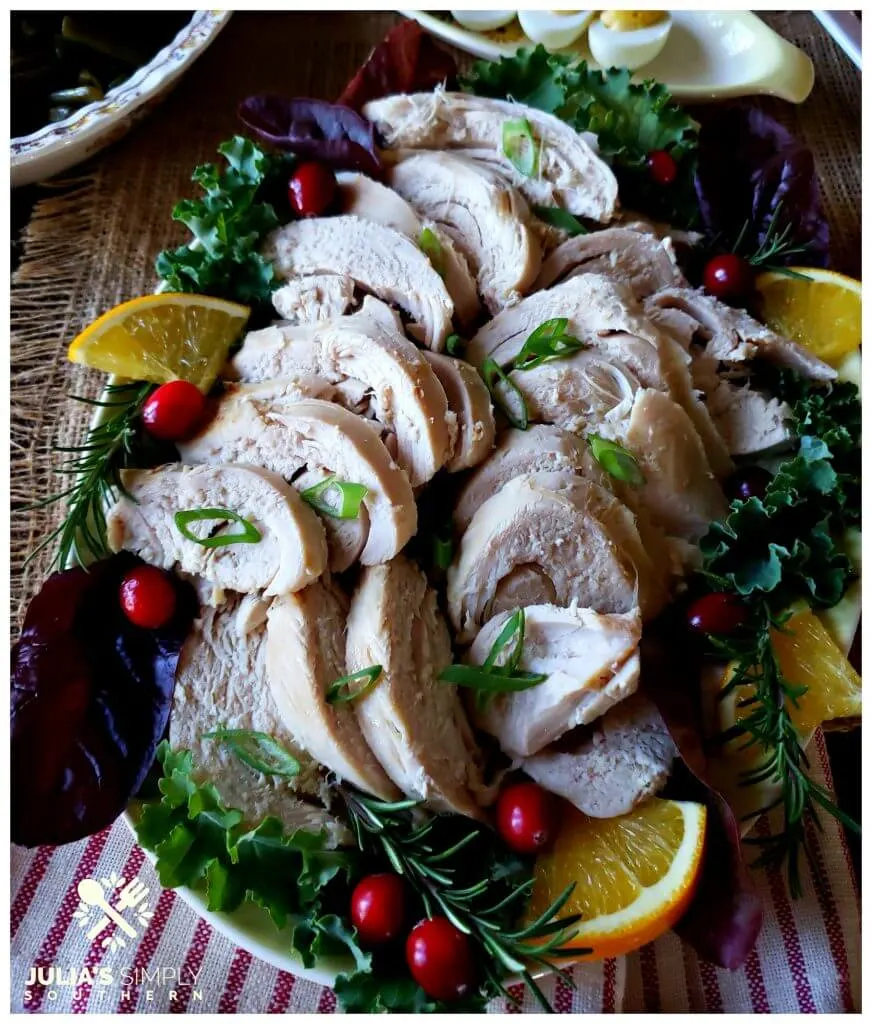 Next, transfer the cooked turkey to a plate and cover with aluminum foil then allow it to rest for a few minutes before carving.
This step also ensures that your turkey breast will be moist and delicious so don't skip it.
Carve your turkey and place on a serving platter. You can garnish the platter if you like. It makes a pretty presentation but certainly not required for a delicious meal.
I harvested a few kale leaves, purple lettuce and rosemary from the garden to garnish my platter and added a few orange slices and whole cranberries. I had all of these items on hand so it wasn't a big deal.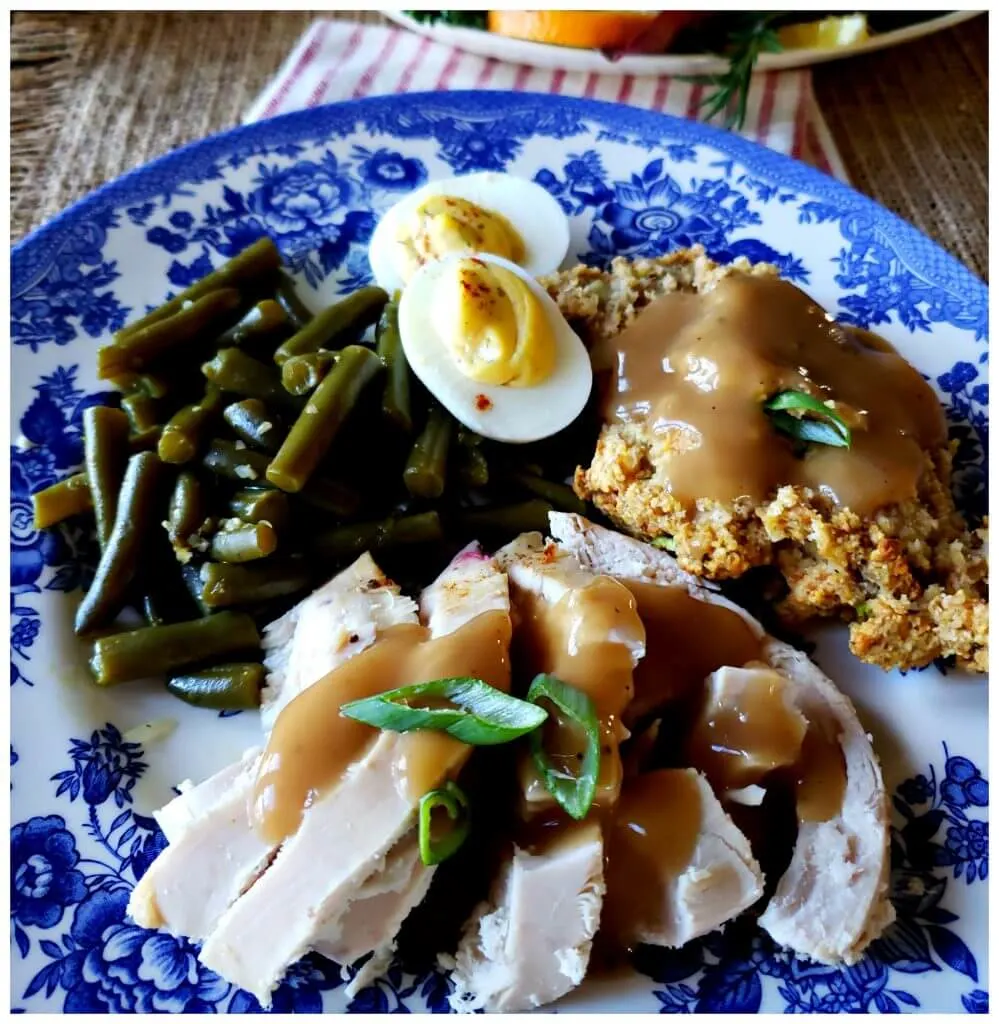 Doesn't that look so delicious? The turkey was perfect topped with a little gravy and served with dressing, my husband's favorite green beans and deviled eggs.
This was a perfect small scale holiday meal and we enjoyed it.
I'm fairly certain in saying that no matter what size your gathering, deviled eggs are a requirement.
Small Holiday Menu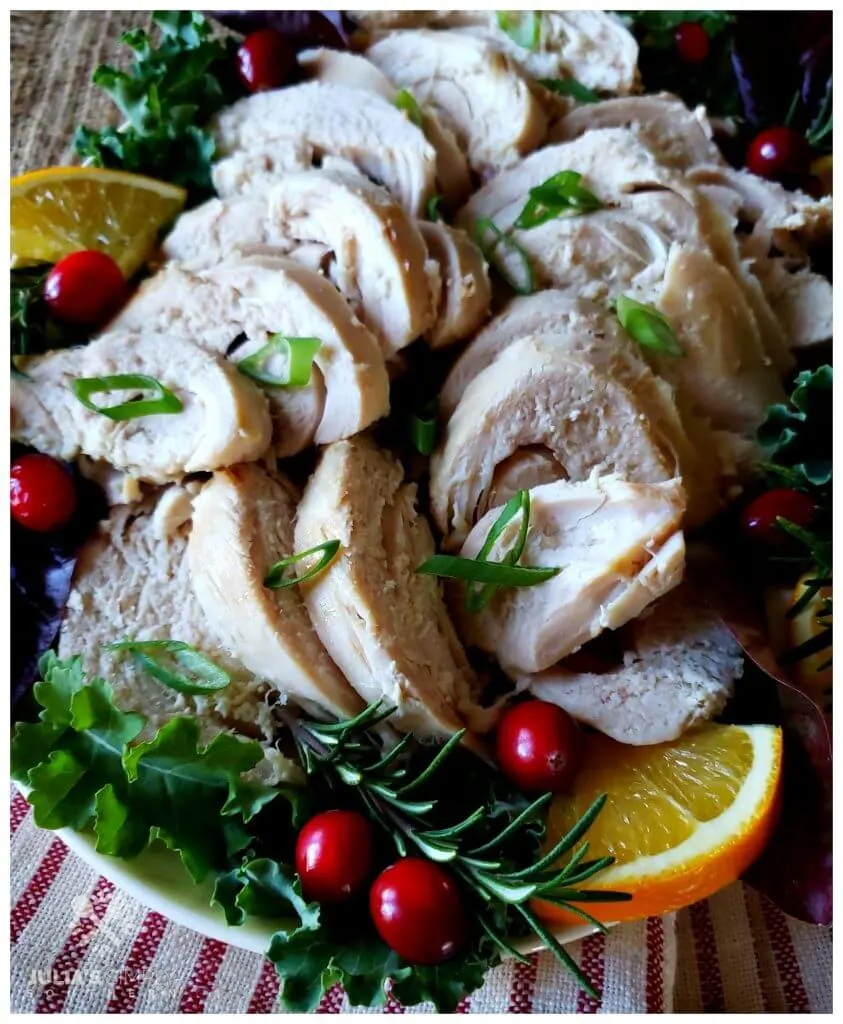 What are some of your favorite must have holiday side dishes that you enjoy with your turkey or ham dinner?
Be sure to check out more turkey recipes after the recipe card.
Crock Pot Turkey Breast Recipe
Yield: 1 Cooked Turkey Breast
Crock Pot Turkey Breast Recipe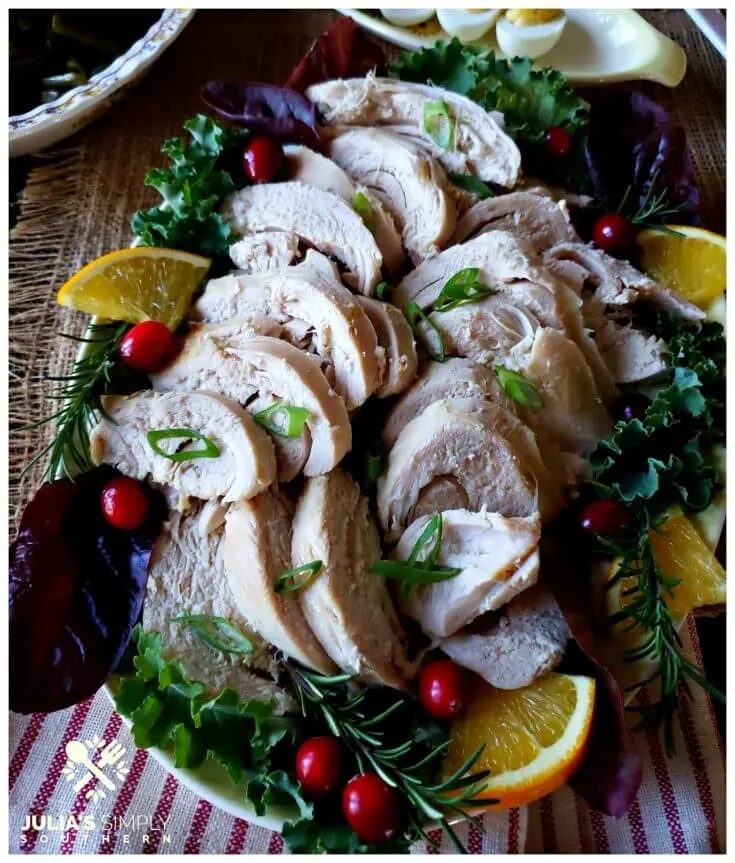 Delicious juicy turkey on a smaller scale for holiday meals with this bone in turkey breast cooked in your Crock Pot.
Cook Time
5 hours
30 minutes
Total Time
5 hours
40 minutes
Ingredients
1 c Broth or Water
6-8 lb. Bone In Turkey Breast (thawed)
2 Stalks of Celery, cut in half
2 Carrots, cut in half
1 Onion, peeled and halved
1 tbsp. Butter, softened to room temperature
1/2 tsp Salt
1/2 tsp Black Pepper
1/4 tsp Paprika
1/4 tsp Poultry Seasoning
Sprig of Fresh Rosemary
3 Sprigs of Fresh Thyme
Instructions
Turn the slow cooker on high and place lid on to preheat while prepping.
Place the celery and carrots on the bottom of the cooking crock so that the turkey breast can rest on them while cooking.
IMPORTANT: Be sure that your turkey is thawed. Remove the turkey from the store packaging and dry with paper towels; set aside on a plate.
Rub the turkey with softened butter and season inside and out. Place the turkey breast in the slow cooker.
Add additional aromatics around the turkey - onion, rosemary and thyme.
Place the lid on the slow cooker and cook oh High for 30 minutes. Reduce to the Low setting and continue to cook 5 hours or until the internal temperature of the turkey reads 165°F or higher.
Transfer the cooked turkey breast to a platter, cover with foil and allow to rest for 20 minutes before carving.
Notes
Season the turkey breast to suit your own taste. If you don't have fresh herbs on hand then don't sweat it.
Place turkey slices on a garnished platter for serving, if desired.
Allow 2-3 days for turkey breast to fully thaw in the refrigerator before cooking.
The bone in turkey breast may be cooked entirely on the high setting, if desired, and will take around 3 hours. Check internal temperature for doneness and adjust cooking times if needed.
Recommended Products
As an Amazon Associate and member of other affiliate programs, I earn from qualifying purchases.
Nutrition Information:
Yield:
6
Serving Size:
About 4 ounces
Amount Per Serving:
Calories:

382
Total Fat:

78g
Saturated Fat:

23g
Trans Fat:

1g
Unsaturated Fat:

43g
Cholesterol:

109mg
Sodium:

381mg
Carbohydrates:

5g
Fiber:

1g
Sugar:

2g
Protein:

1095g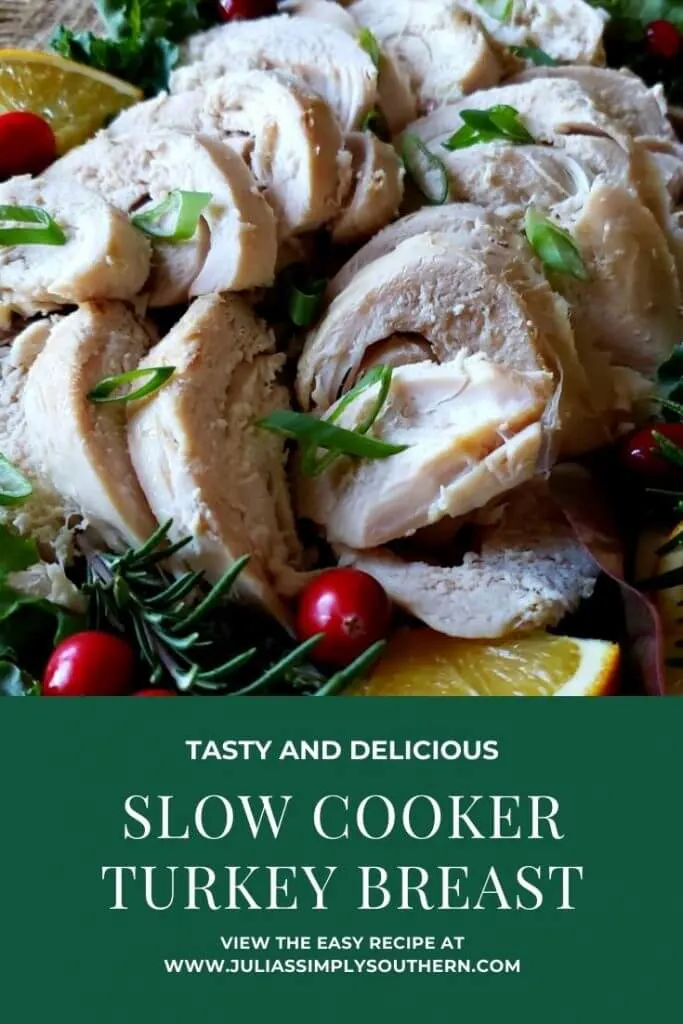 You Might Also Enjoy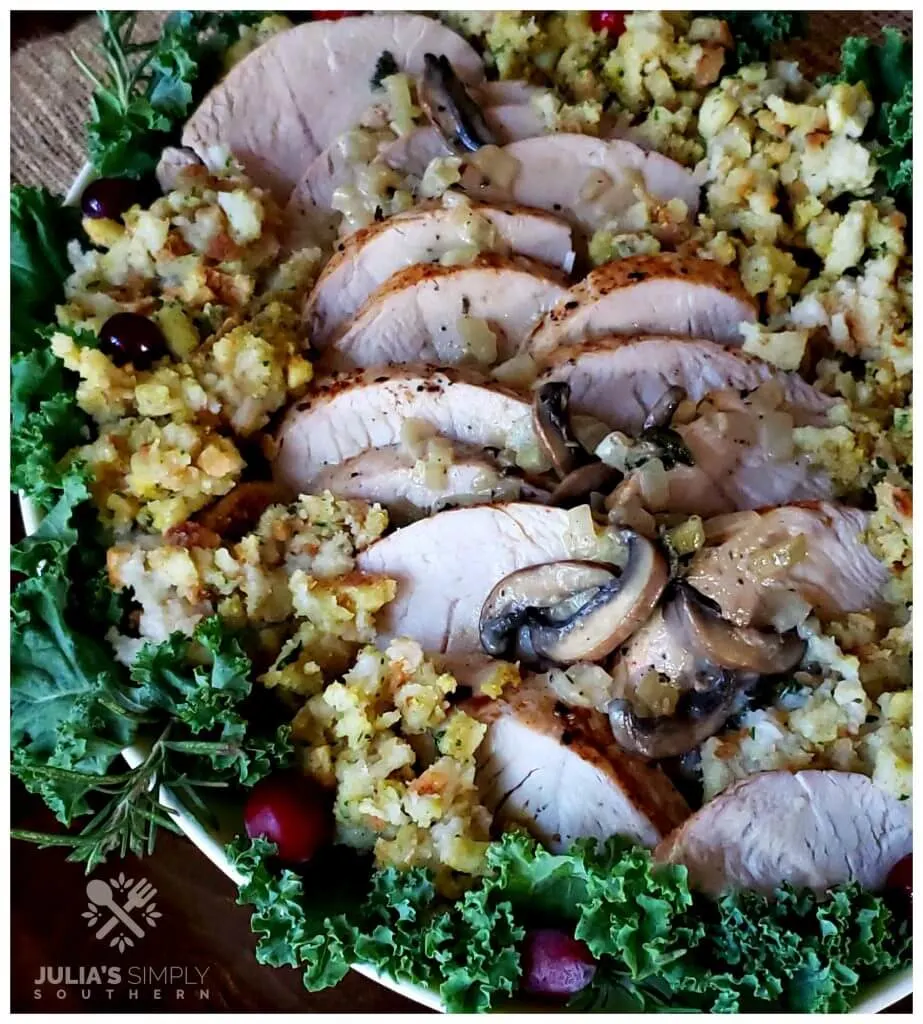 A turkey breast tenderloin is another great option for a small scale Thanksgiving dinner. It is a boneless turkey breast and can be cooked in about half an hour.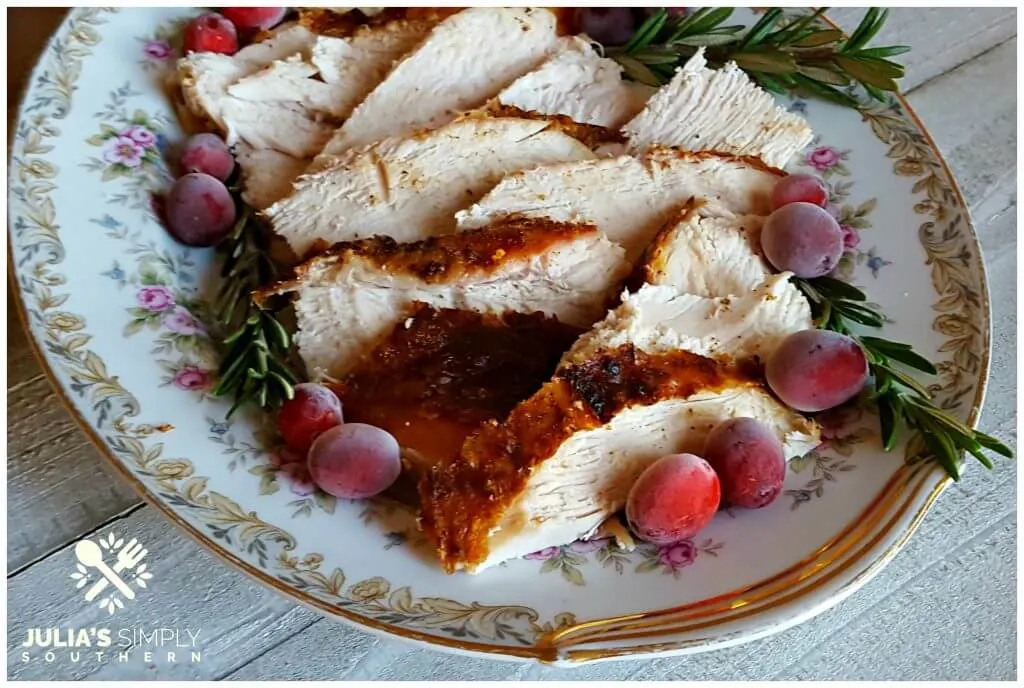 Need to free up oven space? Grilling a turkey breast is another delicious option for smaller holiday gatherings.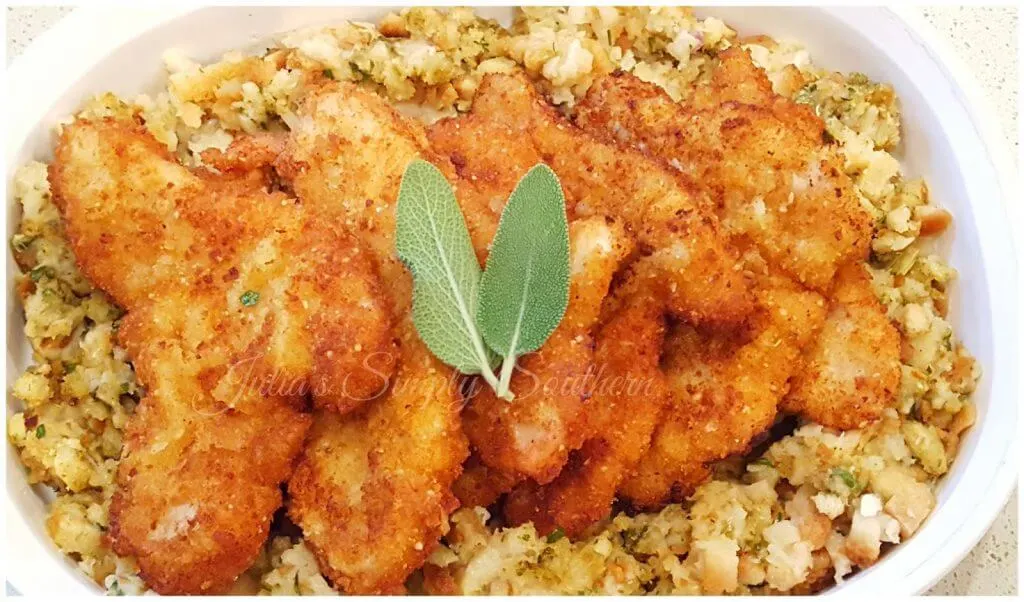 Breaded turkey breast cutlets are another easy to prepare and delicious option if you're having Thanksgiving for two or four people.
I hope that you enjoy this Crock Pot Turkey Breast Recipe just as much as we do. It is so delicious!
Thank you so much for stopping by. I am so glad that you did.
Be sure to subscribe to my email list so that you never miss my latest recipes here on the blog.
I send out a weekly newsletter to keep you up to date on all that is happening.
Happy Holidays!
You can also see this turkey recipe shared at the Weekend Potluck.
Meet Julia
Author of Julia's Simply Southern
Hey Y'all! I'm Julia, the cook and writer behind the recipes here at Julia's Simply Southern. I began my website so that I could share easy to follow recipes that anyone can use to put a home cooked meal on the dinner table. Thanks so much for stopping by!
Follow me on Facebook | Twitter | Instagram | Pinterest | YouTube