In this post I'll be sharing an Easy Mississippi Pot Roast recipe.
We've all heard of the Mississippi pot roast, right? It is very likely that you have. The recipe is wildly popular and delivers an easy prep beef roast that is delicious with a slight kick in every bite.
Why is it called Mississippi Pot Roast? Thanks to a home cook named Robin Chapman, a resident of Mississippi, who took a recipe from her aunt in the 1990's and adapted it so that it was less spicy for her children. Her family loved it.
Robin began sharing her roast recipe and it became very popular. She called it "the roast" but the name Mississippi pot roast was eventually coined as a tribute to the state of origin and the name stuck.
You may be thinking "Julia, why are you sharing this recipe when it is on so many websites already?" Well, you're right, it is and maybe I was feeling left out. Nah, haha! One reason is that I want to be able to provide content on my site for my readers that I believe you'll enjoy.
A second reason is that I had never tried the Mississippi pot roast until a few months ago. Yes, I knew how popular it is and I see it floating all over the web too.
Mississippi Pot Roast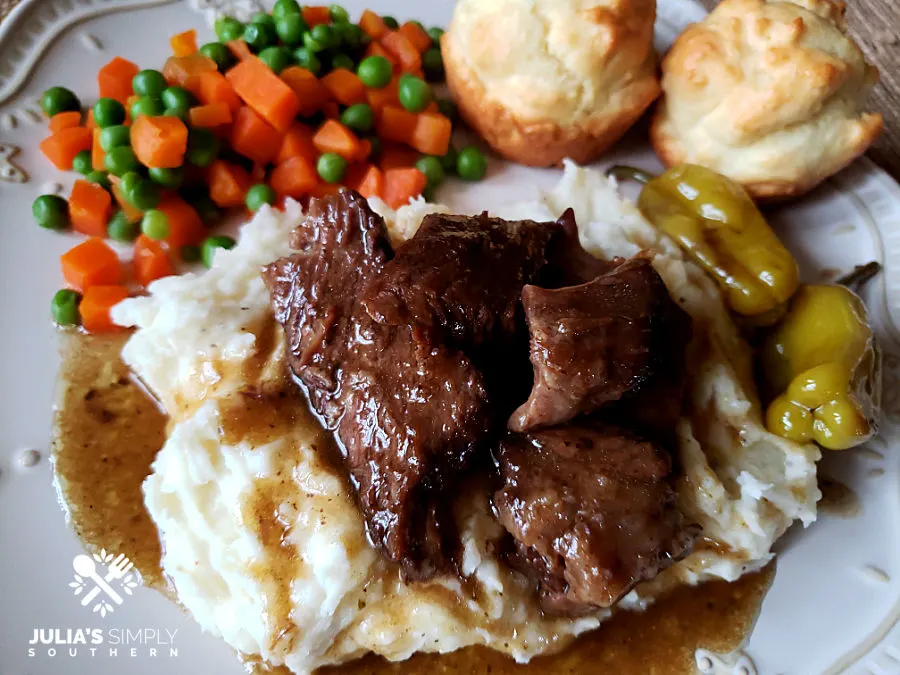 Well I got to wondering if it was really worth all of the hype and decided that I was gonna make this roast rather than my classic old fashioned pot roast recipe and see how we like it.
What does Mississippi Pot Roast taste like? This beef roast is kind of zesty and it is certainly a different experience from a more traditionally prepared roast.
Did we like it? We are a house divided on the matter. I thought that the MPR was delicious and flavorful and enjoyed the zing and tastes that you don't get from a pot roast prepared with carrots, potatoes and onions and such.
Mr. J. however wasn't so crazy about it. Meh! Bless him, he is a pot roast purist and would much rather have my old fashioned pot roast.
That's okay, at least we tried it, right! If you've never had MPR then you should try it too! There is no reason not to given how easy it is to make.
Crock Pot Mississippi Pot Roast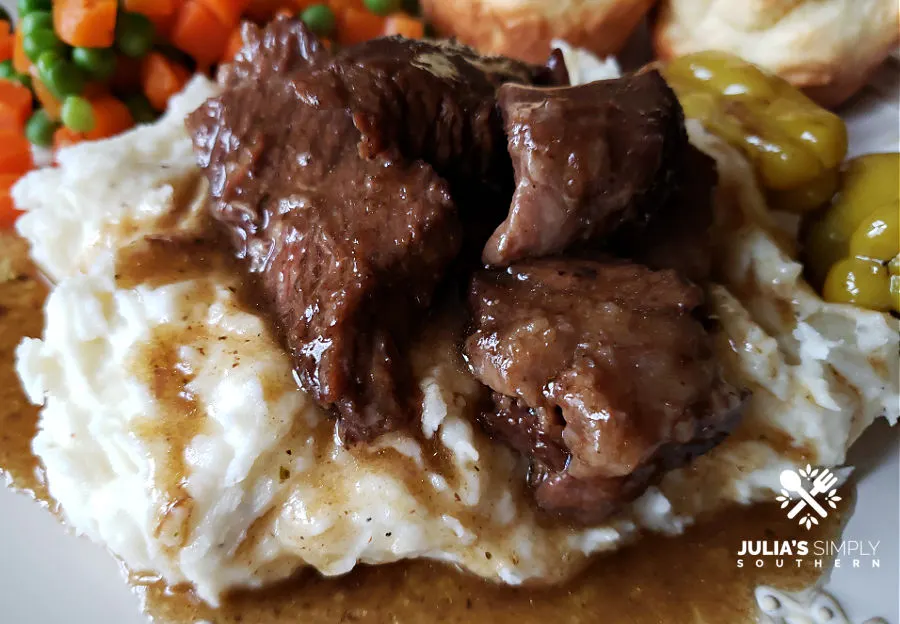 What do you eat with Mississippi pot roast? Anything that you would normally serve with a beef roast works perfect alongside MPR. Mashed potatoes, roasted potatoes, rice and just about any vegetable side dish would all be great.
I'm sure everyone would be agreeable to a tasty homemade side of bread to go along with it too, such as biscuits, cornbread or mayonnaise rolls.
The Mississippi pot roast makes a delicious gravy as it slow cooks and I just had to have it with mashed potatoes. Delish!
Doesn't that look good y'all?
What do I need for the recipe?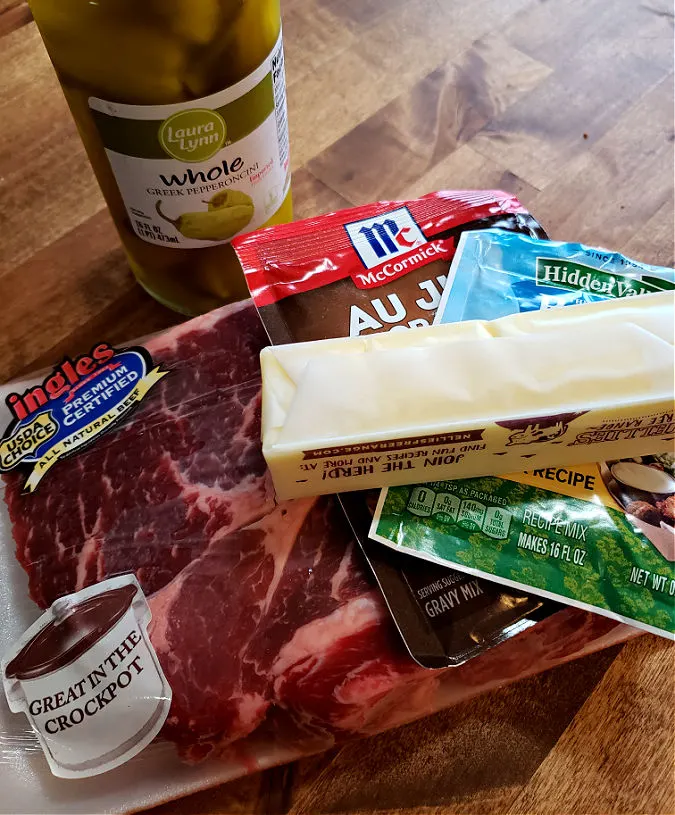 What is different about Mississippi Pot Roast? The 5 simple ingredients are not what you might expect for a beef roast and that makes it different from the norm.
What do I need to make Mississippi Pot Roast in the Crock Pot?
Beef Roast – I prefer a chuck roast for this recipe because of the good fat content to meat ratio that helps to make the beef so flavorful and moist. If you have another cut of roast that you prefer, feel free to use that instead.
Pepperocini – a whole jar of pepperocini peppers with the juice. That's different for pot roast, right? The pepperocini give this roast the zesty zing factor but not too spicy.
Ranch Dressing Mix Packet – the ranch mix adds flavor and helps in the making of the gravy.
Au Jus Gravy Packet – helps create the gravy as the roast cooks.
Butter – cause butter makes everything better of course so go ahead and throw a stick of that in too.
I recently saw a Crock Pot Mississippi Chicken recipe on my friend's website that I want to try soon. I think that the hubs will really like the chicken version even though he didn't go for the beefy one.
5 Ingredient Pot Roast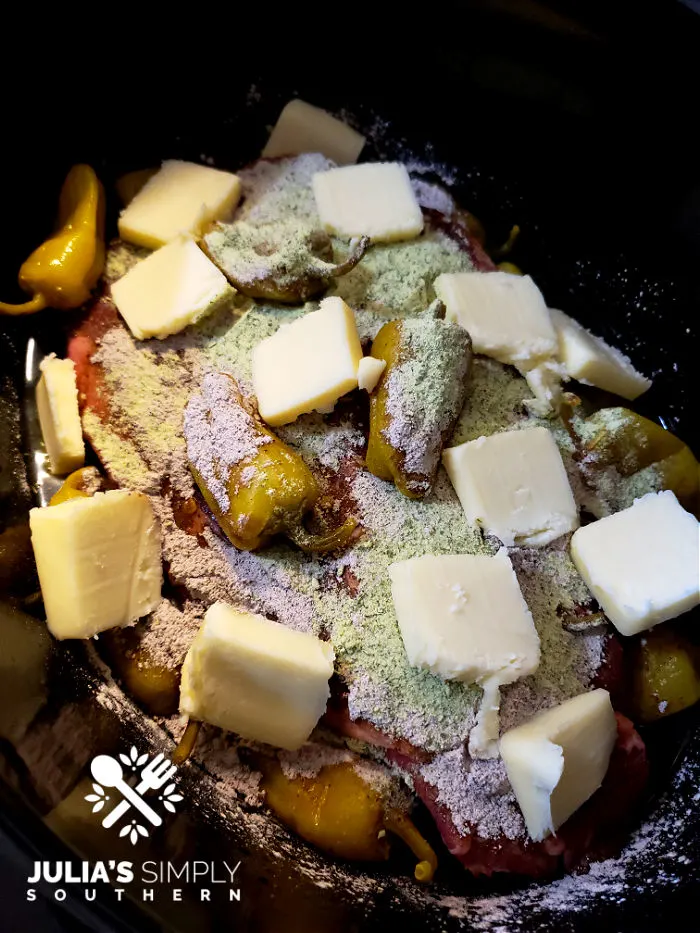 Should you sear a pot roast? Normally I would say yes! Searing the meat before roasting adds a ton of rich flavor that you cannot get otherwise.
I chose not to this time because the majority of the recipes I researched just threw everything in the slow cooker to keep things simple and that is what I did. I do think that searing would have made it even better though.
When making any recipe in my Crock Pot, I like to place the lid on the empty crockery and pre-heat it on the high setting while I get everything together.
Once I had everything, I placed the beef roast in the slow cooker and added the rest of the ingredients and let it do it's thing on the low setting and enjoyed the aromas over the hours that it cooked.
Crock Pot Mississippi Pot Roast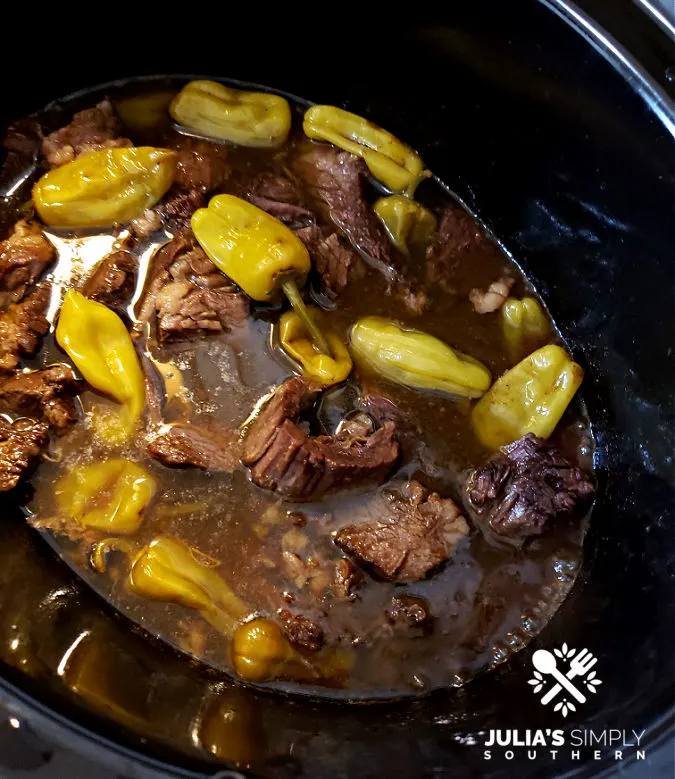 Eight hours later and this is what I ended up with. Not bad for a ranch pot roast with peppers, eh?
The meat was tender from slow cooking in those wonderful juices and I was able to break it apart using a couple of forks before serving.
Easy Beef Pot Roast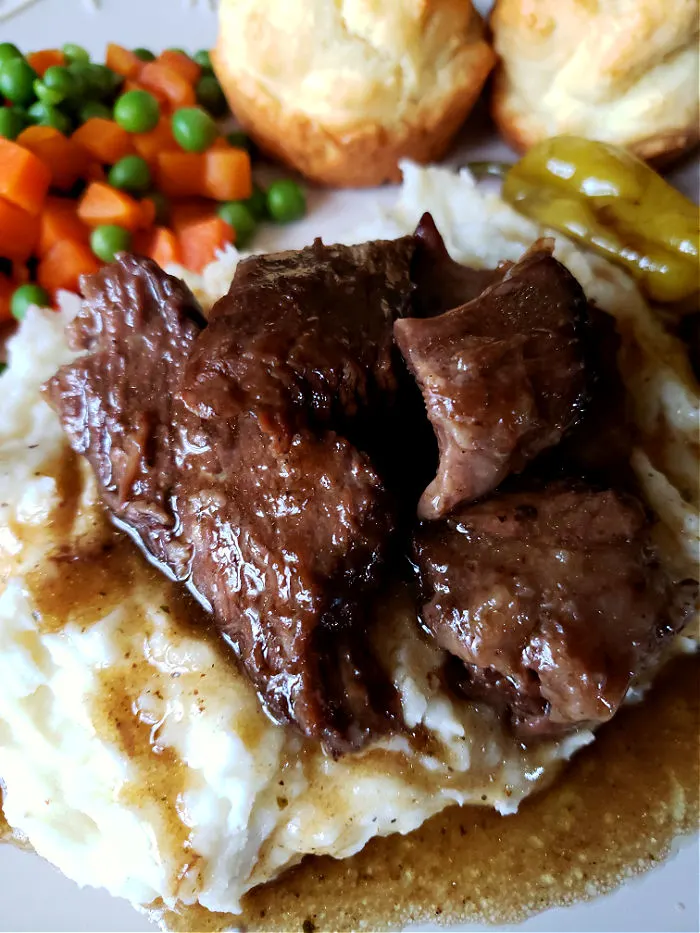 Below you will find the printable recipe card for this easy roast beef recipe.
Yield: 1 Roast Beef
Easy Mississippi Pot Roast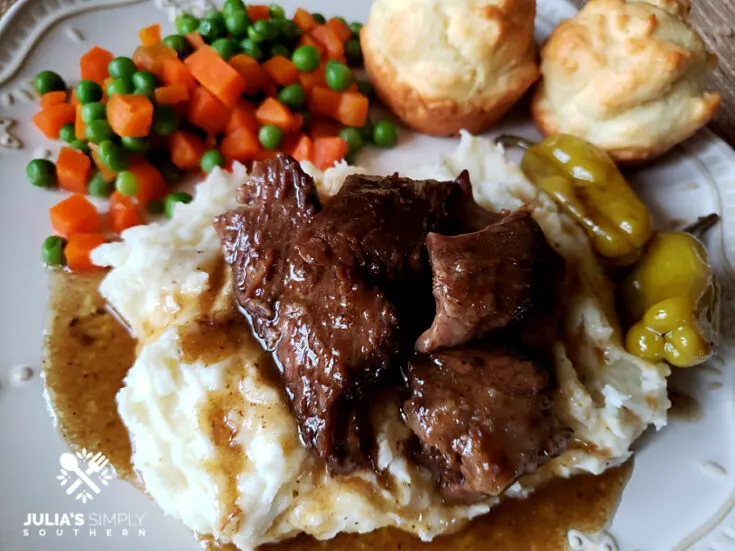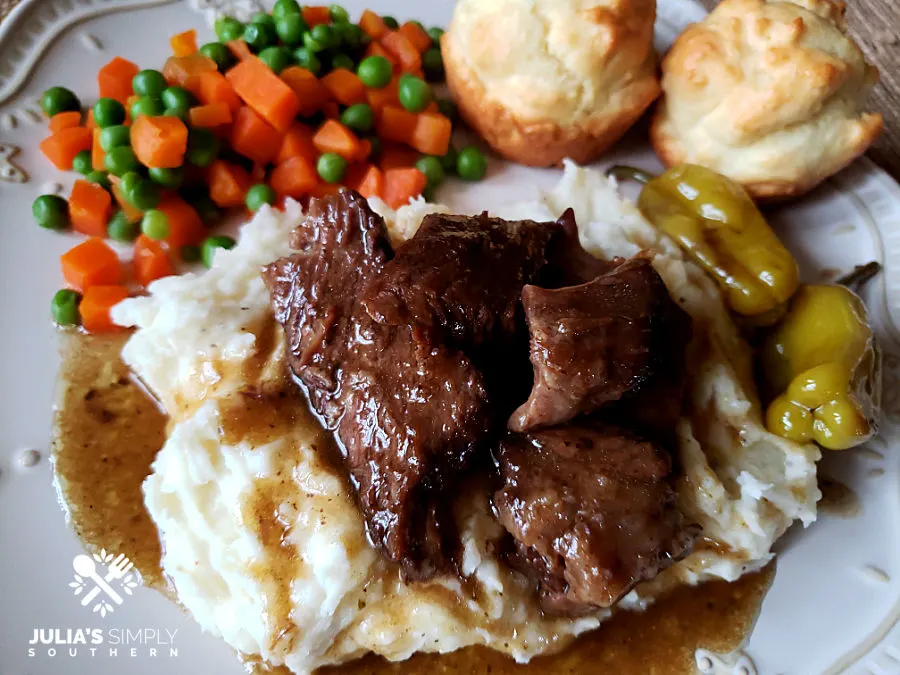 Is Mississippi pot roast all that it is hyped up to be? Find out along with the easy recipe to prepare it in your slow cooker for a tasty family meal.
Total Time
8 hours
5 minutes
Ingredients
1 Beef Chuck Roast (2 to 3 pound roast)
16 ounce Jar Whole Pepperocini, with the juices
0.40 ounce Packet Ranch Dressing Seasoning
1 ounce Au Jus Gravy Packet
1 Stick of Butter, sliced
Instructions
Place the chuck roast in the slow cooker crockery then add the remaining ingredients.
Slow cook on the low setting for 8 hours or until the meat is tender.
Notes
The gravy made with the roast is a bit runny but delicious. If you would like to thicken it up a bit, make a thickening slurry with 1 cup of cold water then add 1 teaspoon of cornstarch and mix to combine. Pour the slurry into the gravy and stir until thickened.
Recommended Products
As an Amazon Associate and member of other affiliate programs, I earn from qualifying purchases.
Nutrition Information:
Yield:
8
Serving Size:
1
Amount Per Serving:
Calories:

167
Total Fat:

14g
Saturated Fat:

8g
Trans Fat:

1g
Unsaturated Fat:

5g
Cholesterol:

40mg
Sodium:

897mg
Carbohydrates:

7g
Fiber:

1g
Sugar:

5g
Protein:

3g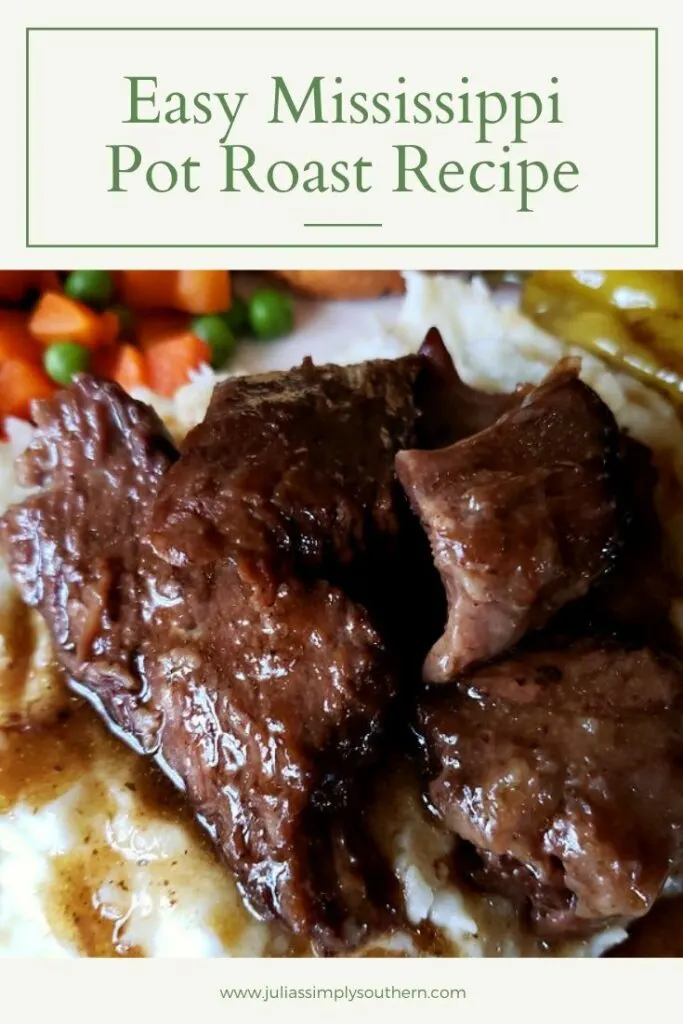 What are the different cuts of beef roasts?
Chuck Roast – perhaps one of the most popular cuts of meat for pot roast, the chuck roast has good marbling throughout the meat and flavorful.
Beef Brisket
Bottom Round
Tri Tip
Eye Round
Prime Rib
Bottom Round
Tenderloin
These are all the most common beef roast that you usually find in your local Wal Mart or grocery store's meat selection area. Butcher shops and specialty meat shops may have other cuts available as well.
The chuck roast used to be considered one of the more budget friendly choices but I'm not so sure if that is still true with the prices on beef products that I've seen lately.
I'll admit to watching the sales ads before picking up a roast. I've seen some chuck roasts that costs $25.00 or more and am like WHAAAAT.
Tip for Tender Pot Roast
If you've ever had a pot roast turn out tough, it is likely that it was cooked too fast. A roast recipe such as the MPR needs to cook long and slow for the most tender meat.
Check out the Latest Recipes on the Blog
Thanks for stopping by!
Thank your for stopping by! I am so glad that you did. I know that you'll enjoy this tasty dinner recipe.
Be sure to subscribe to my email list while you are here. Subscribers receive a weekly newsletter from me with the latest recipes and news here on the blog so that you never miss a thing.
Meet Julia
Author of Julia's Simply Southern
Hey Y'all! I'm Julia, the cook and writer behind the recipes here at Julia's Simply Southern. I began my website so that I could share easy to follow recipes that anyone can use to put a home cooked meal on the dinner table. Thanks so much for stopping by!
Follow me on Facebook | Twitter | Instagram | Pinterest | YouTube