In this post I'll be sharing the recipe for Southern Salmon Patties and Grits. It is one of my favorite meals. Of course my family loves grits with just about anything.
Why you'll love salmon patties and grits? Well, seafood and grits are a great combination and we love it in the South. Fried fish and grits, shrimp and grits and Cajun fish and grits are among the top favorites. It is such a delicious meal, very filling and budget friendly.
Grits have been a staple in the South for centuries and paring it with seafood, which is also easily accessible in the low-country of South Carolina, just seems as natural as putting peas and carrots together.
All of our Southern states which boarder the ocean have their versions of seafood and grits and I haven't had one that wasn't mouthwatering delicious.
Salmon Cakes and Grits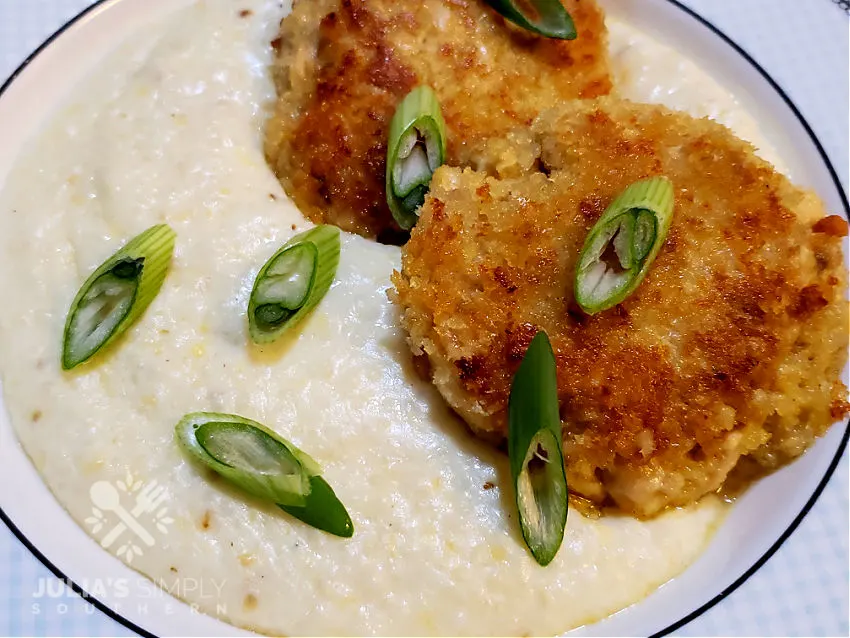 What do you need to make the Salmon Patties?
Canned Salmon – I prefer skinless/boneless red salmon but have been informed many times that some of y'all like the bones. If you do then of course get the canned salmon that you prefer. If you happen to have a leftover cooked fresh salmon filet you could flake it off and use that to make the patties as well. Pink salmon works just fine too.
Eggs – which are a binder to hold the shape of the salmon patties. The eggs are also the only thing that really needs to be cooked which is why salmon patties cook up so quickly.
Mayonnaise – also a binder and keeps the salmon moist.
Lemon Juice – adds fresh citrus flavor to seafood.
Seasonings – the seasonings are perhaps the most important part of making delicious salmon patties. If they aren't seasoned well then they don't taste good. My seasonings of choice are salt, pepper, and Old Bay.
Bread Crumbs or Cornmeal – a small bit of bread crumbs go into the filling and a coating on the outside give the salmon cakes a nice crunch. If you don't have bread crumbs (I love using Panko for this recipe) then cornmeal is a great option that lots of folks love.
Optional – finely diced bell pepper and onion are wonderful in salmon patties but if you don't have any or just don't want to fool with it then just leave it out.
How do you make Salmon Patties?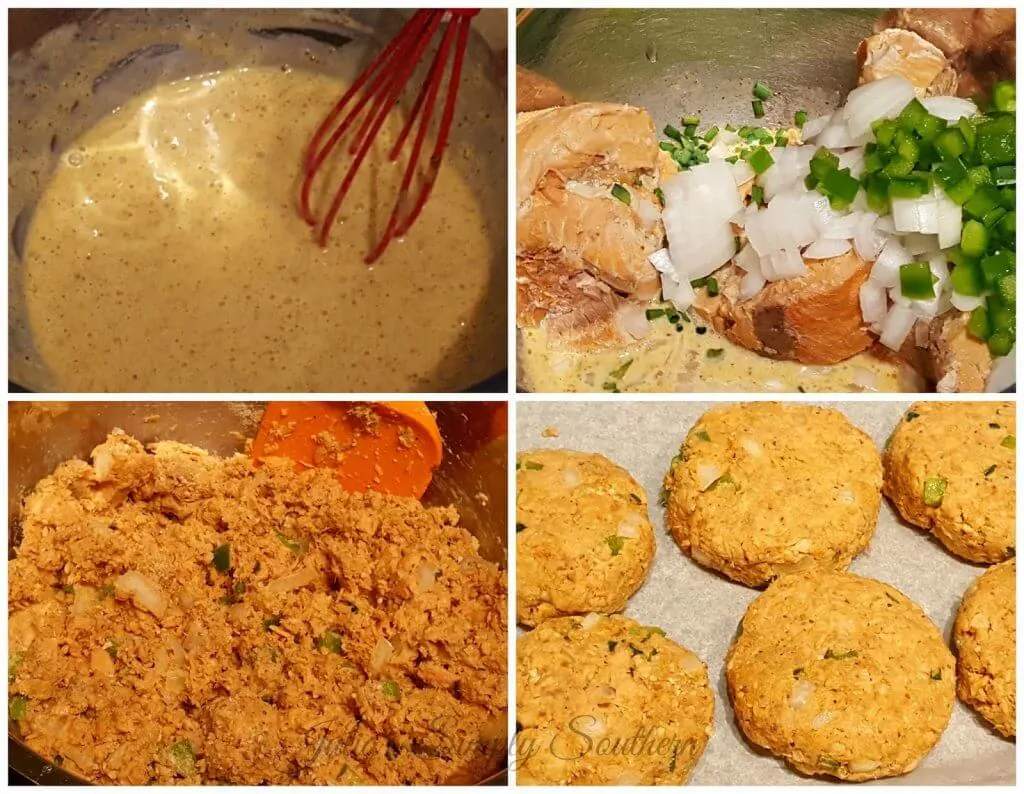 If you have the time to prep your salmon patties ahead and let them hang out in the refrigerator for a couple of hours to set up then I recommend doing it that way. I usually do but if I'm in a rush then it is perfectly acceptable to make your patties and put them right into a hot skillet with a little oil to cook right away.
Prepare the wet ingredients together in a mixing bowl then add your drained cans of salmon, seasonings, bread crumbs and veggies then combine. Form into patties then dredge the patties in the remaining bread crumbs. Place the patties on a lined baking sheet and refrigerate until ready to cook.
As I mentioned, the salmon cakes cook up quick. You only need to cook them for a couple of minutes on each side to brown the bread crumbs and the heat will cook the egg.
The great thing about salmon patties is that you can scale the recipe down to make what you need. Now since there are just the two of us to cook for I can make a few small croquettes from a single can of salmon. You'll want enough to serve at least two salmon patties on top of your bed of creamy grits.
What to serve with salmon patties? Grits are the obvious choice for this post but the salmon cakes are also a delicious protein for any dinner. Just serve them up as your meat along with your favorite sides like a salad, roasted vegetables, or coleslaw just to name a few. It's truly a great meal anyway you decide to serve salmon cakes.
Salmon Patties and Grits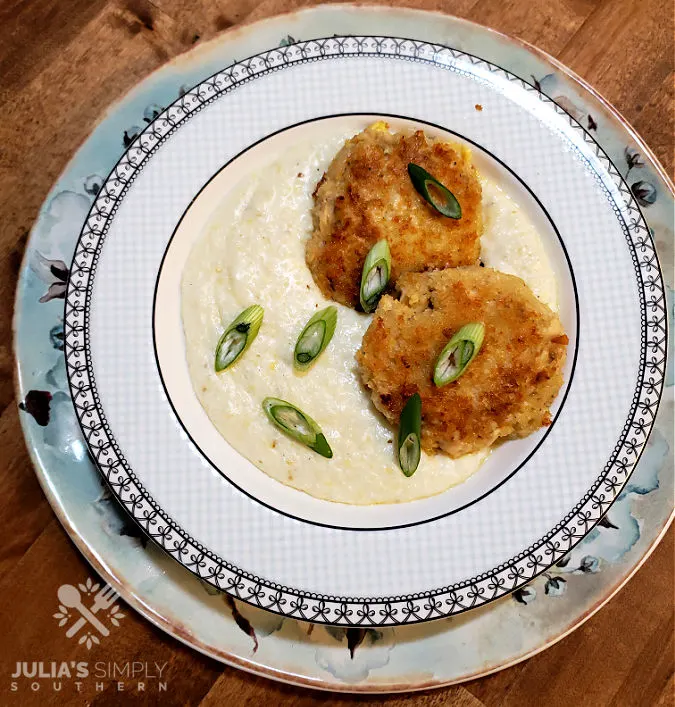 Where can I find the ingredients to make salmon patties and grits? Most grocery food stores should have everything that you need to make this meal. I realize that grits may be a regional thing and if you can't find good stone ground grits, which I prefer, then order them online.
I love that we live in a time where we can order just about anything we like and have it delivered to us. That would have been so handy when I was on an extended summer visit outside of the South in my twenties and had to have my mother ship Duke's mayonnaise to me.
Seafood and Creamy Grits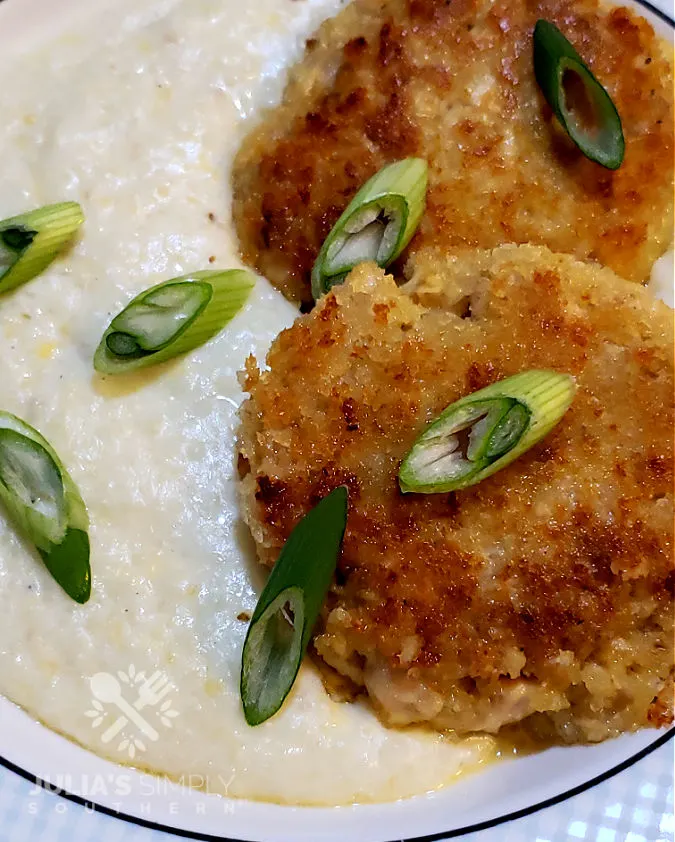 When should I make salmon patties and grits? Anytime that you want an easy fix delicious meal that doesn't take long to prepare.
You can have salmon patties and grits on the table for your family in about half an hour. It's a tasty meal for breakfast, lunch or dinner.
This has become a regular in our meal rotation and we have it at least once a month. You will love the flavor of the seasoned salmon patties with the creamy grits.
Not a fan of grits? That's okay too, but I'm giving you the side eye (wink), and serve them on a bed of creamy mashed potatoes.
What do I need to make stone ground grits?
Quality Stone Ground Grits – stone ground grits are a Southern favorite but use whatever brand or style of grits that you like the best. You know what you and your family will enjoy the most better than anyone else.
Water
Heavy Cream – ensures creamy grits that are rich and delicious
Butter – adds additional flavor and creaminess.
Salt and Black Pepper – for seasoning the grits.
Southern Salmon Patties and Grits Recipe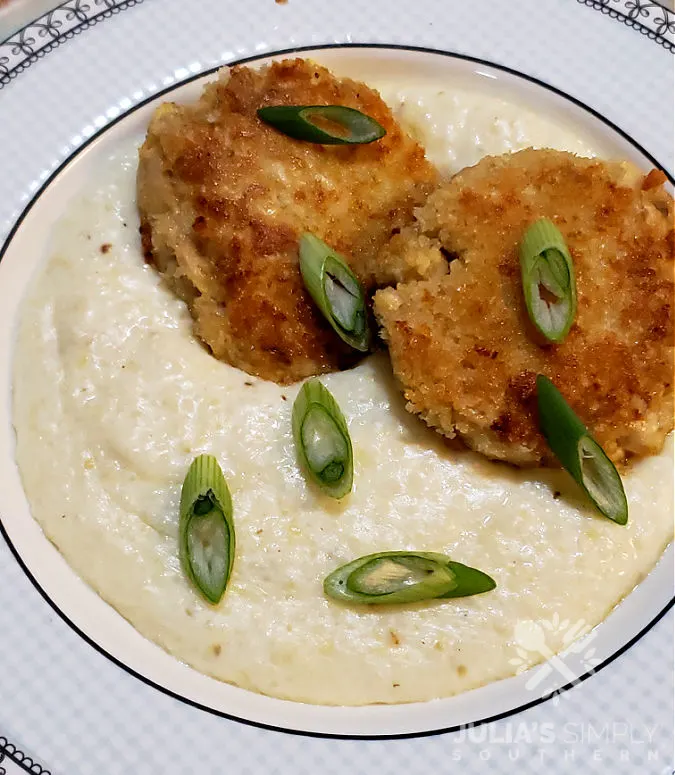 Now that you have the two important components to make the Southern salmon patties and grits meal, all we have to do is put them together.
Portion the grits into serving bowls and top with a couple of your perfectly seasoned salmon patties. You can garnish with a few slices of scallion if you like.
I also have to set out the bottle of Lawry's seasoning for hubs because he loves sprinkling it on grits whenever he eats them.
I just sample the grits and add a little more salt and pepper if needed and we enjoy our meal.
When it is just the two of us I only use a half of cup of uncooked grits and the one can of boneless and skinless salmon so it's a pretty cheap meal overall. A good rule of thumb with grits is that your 1 part of dry uncooked grits will equal four times that cooked. So that half a cup for us comes out to two cups each.
Southern Salmon Patties and Grits
Yield: 4 Servings
Southern Salmon Patties and Grits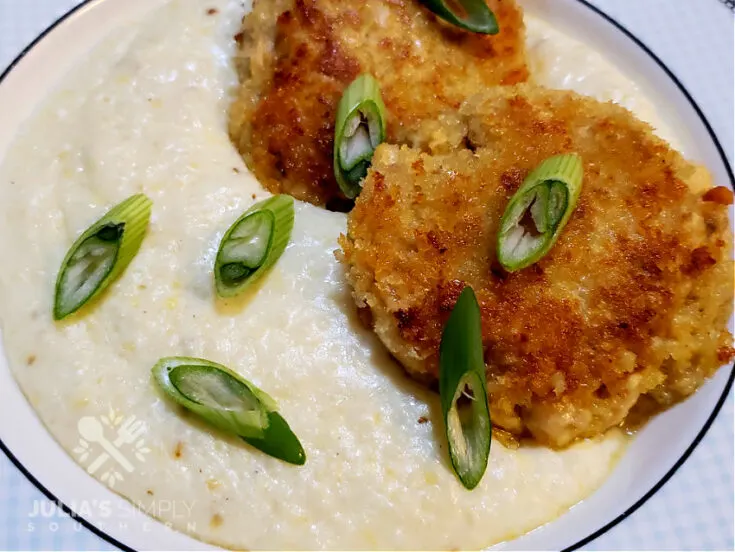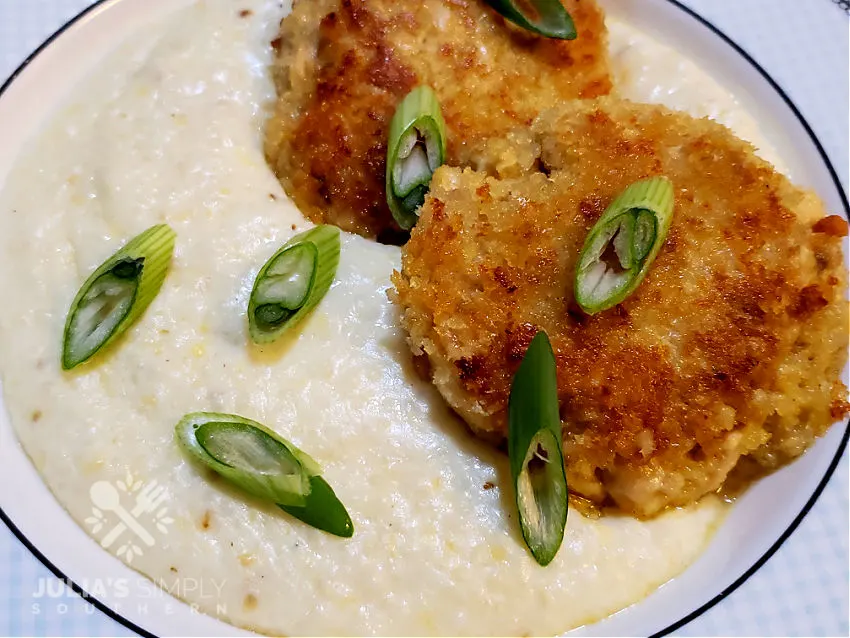 A delicious comforting meal of salmon patties and grits. This is a wonderful quick fix meal and budget friendly too.
Ingredients
8 Cooked Salmon Patties
4 cups of Cooked Stone Ground Grits
Spring Onions (optional for garnish)
Instructions
Prepare salmon patties and grits, recipes follow.
Portion creamy grits into serving bowls and top with a couple of salmon patties. Garnish with sliced spring onion, if desired.
Notes
A delicious budget friendly meal
Recommended Products
As an Amazon Associate and member of other affiliate programs, I earn from qualifying purchases.
Nutrition Information:
Yield:
4
Serving Size:
1
Amount Per Serving:
Calories:

396
Total Fat:

48g
Saturated Fat:

9g
Trans Fat:

0g
Unsaturated Fat:

35g
Cholesterol:

72mg
Sodium:

411mg
Carbohydrates:

74g
Fiber:

5g
Sugar:

4g
Protein:

64g
See More Seafood Recipes at Julia's Simply Southern
Yield: 8 Servings
Salmon Croquettes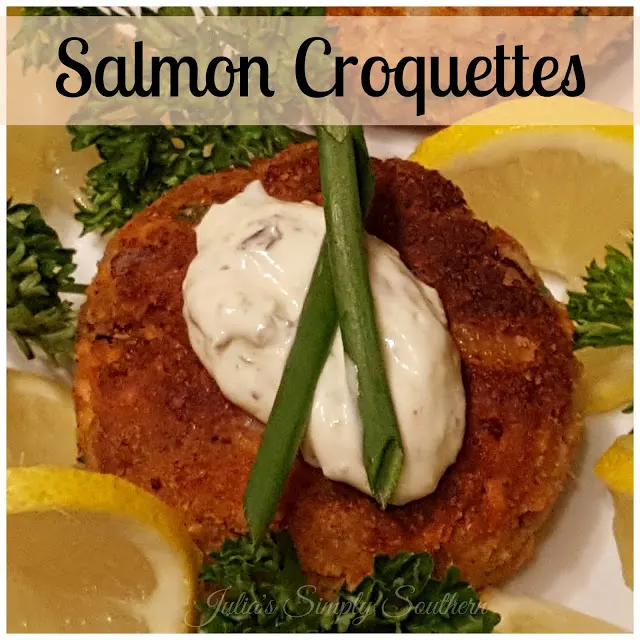 Classic Southern style salmon patties, seasoned perfectly and delicious.
Additional Time
30 minutes
Ingredients
3 6 oz Cans Red Salmon (Skinless/Boneless), drained
2 Eggs, beaten
1/4 c Mayonnaise
1 tsp Sea Salt
1 tbs Old Bay Seasoning
Cracked Black Pepper, to taste
1 tbs Fresh Squeezed Lemon Juice
1 tbs Chives, chopped
1 Small Onion, finely diced
1/4 c Green Bell Pepper, finely diced
1.5 c Bread Crumbs, divided
1/2 c Vegetable Oil
Instructions
Drain canned salmon and set aside.
In a mixing bowl mix beaten eggs and mayonnaise together.
Add salt, Old Bay, pepper, and lemon juice together.
Add canned salmon, onion, and bell pepper. Stir to combine everything together.
Add 1 cup of the bread crumbs to the mixture and stir to combine with the salmon mixture.
Form your salmon mixture into croquettes, or patties if you prefer to call them.
Dredge each croquette into the remaining 1/2 cup of bread crumbs to coat each side.
Place croquettes on a parchment lined baking sheet and chill in the refrigerator for 30 minutes to 1 hour before cooking. I find that chilling helps to maintain a nice shape during cooking. If you don't have the time, you can cook them right away.
Heat vegetable oil in a skillet over medium heat until hot for frying.
Add salmon croquettes and cook to brown on each side, 3-4 minutes per side. Turn carefully during cooking.
Drain cooked croquettes on a paper towel lined plate to remove excess oil before serving.
Nutrition Information:
Yield:
8
Serving Size:
1
Amount Per Serving:
Calories:

303
Total Fat:

29g
Saturated Fat:

4g
Trans Fat:

0g
Unsaturated Fat:

23g
Cholesterol:

90mg
Sodium:

570mg
Carbohydrates:

16g
Fiber:

1g
Sugar:

2g
Protein:

19g
Yield: 4 Servings
Southern Style Grits Recipe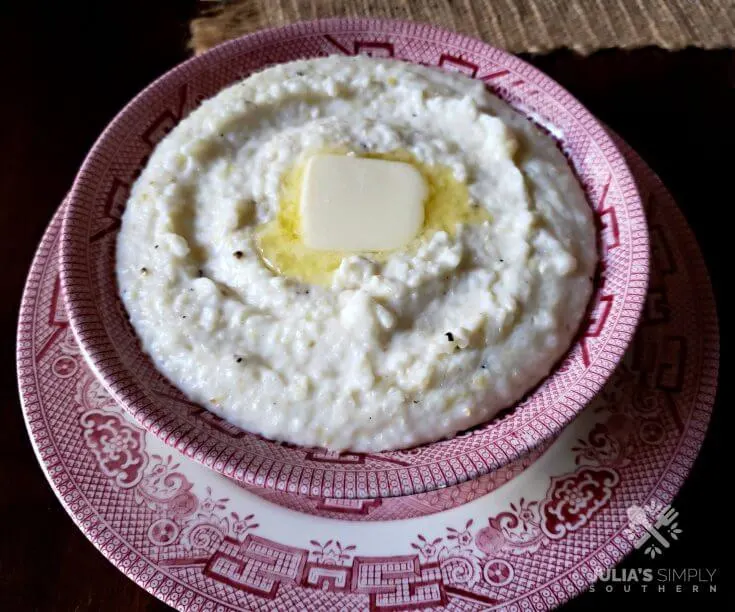 Delicious creamy breakfast grits prepared Southern style.
Ingredients
2 c Water
2 c Heavy Cream
1 c Stone Ground Grits
1 tsp Salt
Cracked Black Pepper, to taste
4 tbs Butter, plus more for serving
Instructions
Add water, heavy cream, butter, grits, and seasonings to a medium sauce pan and bring to a boil over medium high heat.

Cover the pot with a lid and reduce the heat to medium low, simmer for 20 minutes (for thinner grits) or 30 to 40 minutes (for thicker creamier) or until thickened as desired. Stir the grits every 5 minutes during cooking to avoid sticking to the pot and to prevent lumps.

Serve hot with a pat of butter.
Notes
Depending on the brand of grits being used, be sure to check the label for instructions and cooking times as they may vary.
Recommended Products
As an Amazon Associate and member of other affiliate programs, I earn from qualifying purchases.
Nutrition Information:
Yield:
4
Serving Size:
1
Amount Per Serving:
Calories:

347
Total Fat:

55g
Saturated Fat:

35g
Trans Fat:

2g
Unsaturated Fat:

16g
Cholesterol:

65mg
Sodium:

511mg
Carbohydrates:

12g
Fiber:

1g
Sugar:

4g
Protein:

4g
Thank you so much for stopping by! I am so glad that you did. I know that you'll enjoy salmon patties and grits just as much as we do. It's a bowl full of deliciousness!
Be sure to subscribe to my email list while you are here. As a subscriber you will receive a weekly newsletter from me with the latest recipes and news here on the blog so that you never miss a thing.
Meet Julia
Author of Julia's Simply Southern
Hey Y'all! I'm Julia, the cook and writer behind the recipes here at Julia's Simply Southern. I began my website so that I could share easy to follow recipes that anyone can use to put a home cooked meal on the dinner table. Thanks so much for stopping by!
Follow me on Facebook | Twitter | Instagram | Pinterest | YouTube