In this post I'll be sharing an Easy Roast Turkey Wings Recipe.
Turkey wings are a delicious way to enjoy a tasty turkey dinner without having to go through the trouble of dealing with a whole turkey.
Turkey wings are often over-looked but are a great option for your family Sunday dinner or small Thanksgiving gatherings. In fact, the turkey wings are so easy to work with and make a great option for weeknight meals too.
Why you'll love this recipe? It's a new recipe option for your collection and an easy recipe to make a delicious meal. Turkey wings are meaty and delicious and cheap. Seriously, if you want budget friendly options for a holiday meal then turkey wings are for you. Depending on what you served with the wings, you could feed two to four people for around ten dollars.
Folks love chicken wings and turkey wings are just like them except a lot bigger. So turkey wings are a must try recipe if you've never had them. I find myself now wondering just how many turkey wings could someone eat at a game day gathering. The drumette of a turkey wing is as big as a chicken leg. No joke!
Crispy Baked Turkey Wings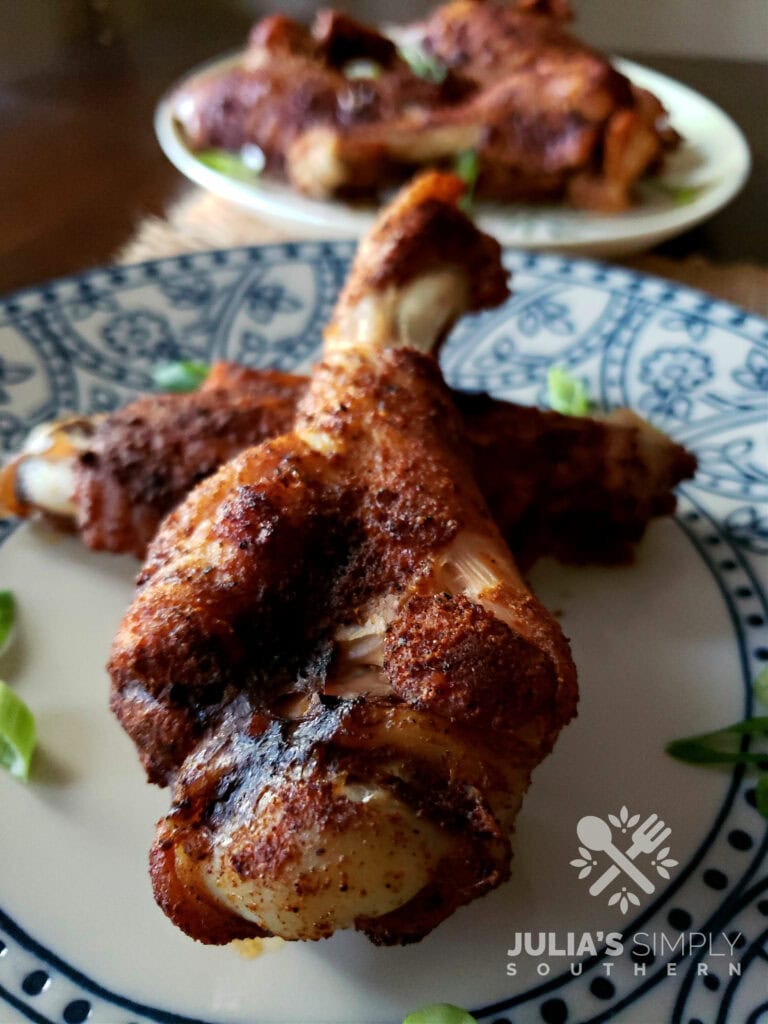 Doesn't that look delicious? My crispy baked turkey wings recipe is so simple and it's really the seasonings that make it delicious. You likely already have the seasonings needed on hand to make these wonderful crispy skin turkey wings.
By the way, if you prefer turkey legs (dark meat) like my best friend Angela does, then you can use this same recipe for cooking the legs.
Just use your favorite turkey part and adjust cooking times if needed. Breast pieces are the favorite for many and I have plenty of recipes here on the blog for those who prefer the turkey breast. Whichever parts that you choose will be easier than wresting a whole bird into the oven.
Best Crispy Turkey Wings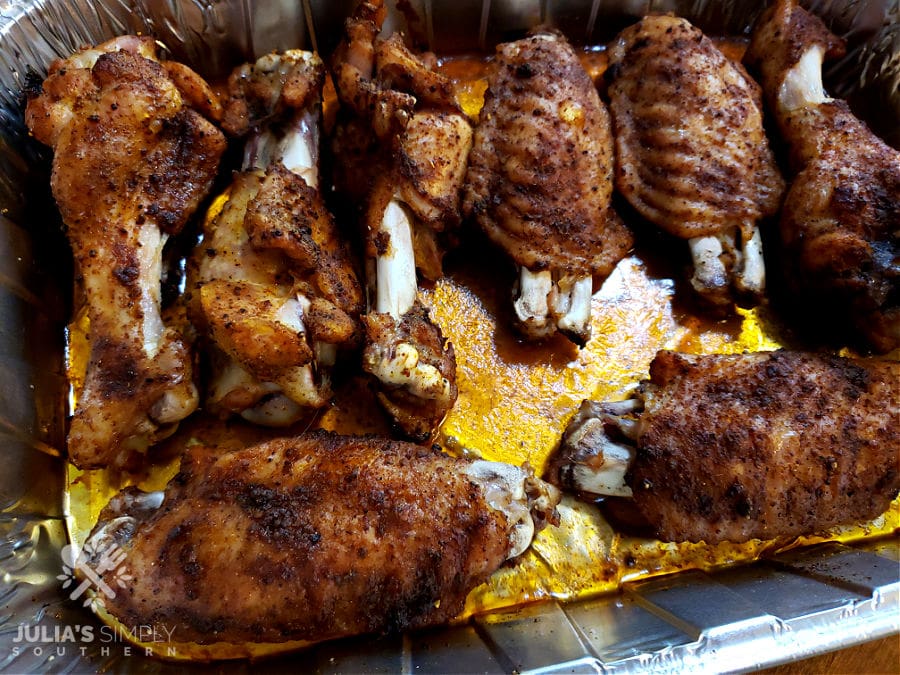 The meat on the turkey wings becomes so tender and pulls away from the bones. Leave them crispy as above and enjoy as hearty appetizers or with your favorite sides. The pan drippings can be transformed into a delicious simple gravy with the help of some chicken stock or turkey stock and a thickening slurry.
If you prefer a smothered turkey wings meal: once the wings are crispy like this, just drain off the rendered juices and make a gravy with it or use a store bought jar gravy and cover the wings then return to the oven to bake until the meat is literally falling off of the bones.
Where do you buy fresh turkey wings?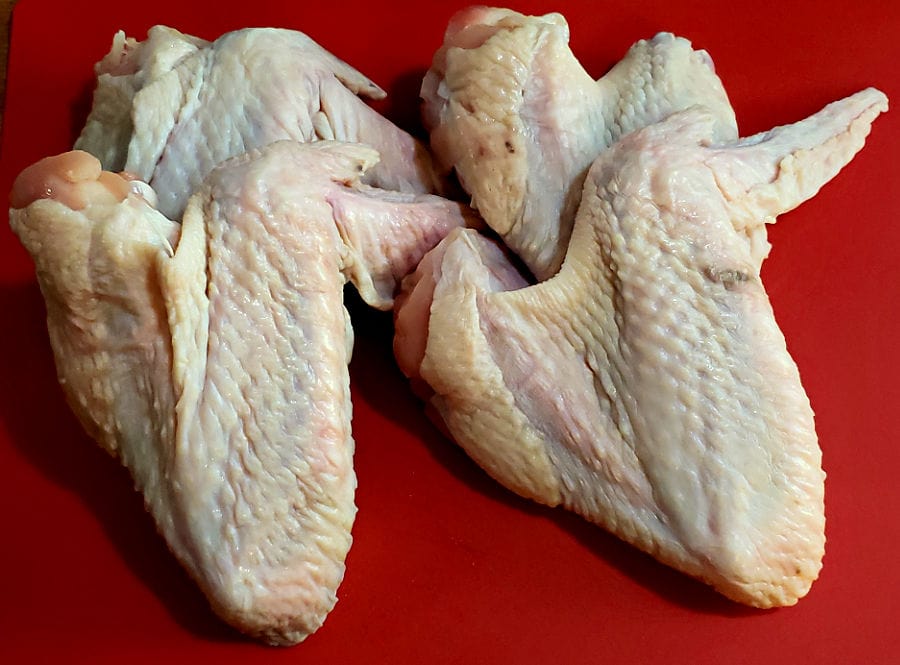 In case you're wondering where to buy fresh turkey wings, I get them from my local grocery store. They are usually available at Wal Mart also. Even better if you can get them from your local farm store.
My local grocery store is hit or miss on fresh turkey wings. I'll usually find a single pack with two whole wings. I'll go ahead and buy it then freeze it until I see another pack available to purchase. When I have enough, I cook 'em.
I mentioned how budget friendly turkey wings are earlier. A package with two whole wings runs about $2.50 where I live.
The turkey wings only come whole as far as I've seen so you can leave them whole if you like or cut them up. I prefer to cut them up.
Parts of a Turkey Wing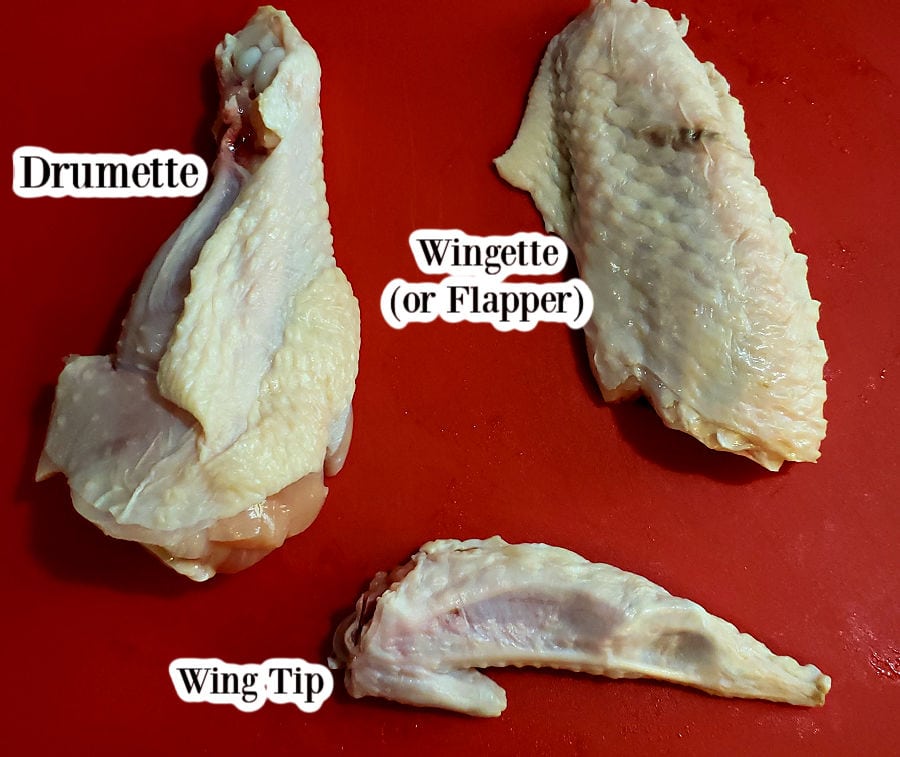 The parts of turkey wings are just like a chicken wing would be. When cutting them up, you'll easily find the connecting joints and your knife will slice right through it leaving you with a big meaty drumette, a wingette (or flapper) and the tip.
I don't bother cooking the turkey wing tips. They can be discarded or add them to your collection of poultry parts in the freezer to use in making a rich nutritious bone broth or stock.
Baked Turkey Wings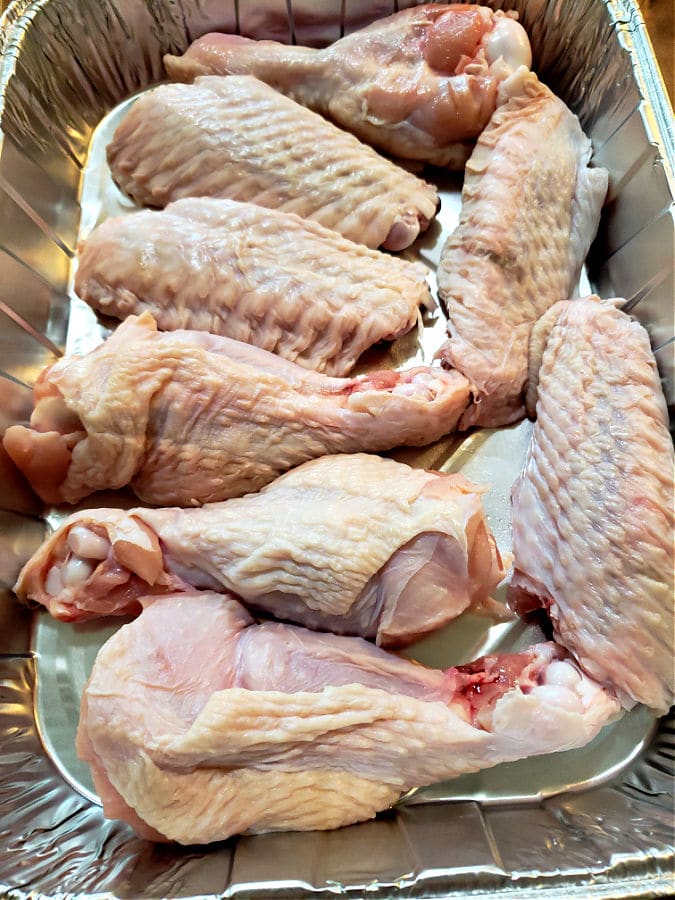 Here's what you'll need to make the recipe:
Turkey Wings – I find that four whole wings cut up is more than plenty for us and easily feeds four (depending on appetite). Cut the wings up to separate into parts.
Olive Oil – to massage over the washed and dried turkey wings so that the seasonings adhere to the meat. You could also use melted butter or a vegetable oil if preferred.
Seasonings – to enhance the flavor of the turkey wings. You can season turkey wings with whatever you enjoy with poultry to suit your own tastes. Below, I'll share the blend of seasonings that I used in this recipe.
You'll also need a large roasting pan or casserole dish and some aluminum foil. I opted to also go with an aluminum baking pan for easy clean up.
A meat thermometer is a great tool to have on hand to checking the internal temperature of cooked meats to ensure that it has reached the recommended temperature range for safe consumption.
Be sure to wash your turkey wings under fresh running water then dry thoroughly with paper towels. Carefully drying the wings will make them much easier to cut up. Place the separated turkey wings into your baking dish and rub down with the olive oil.
How to Season Turkey Wings?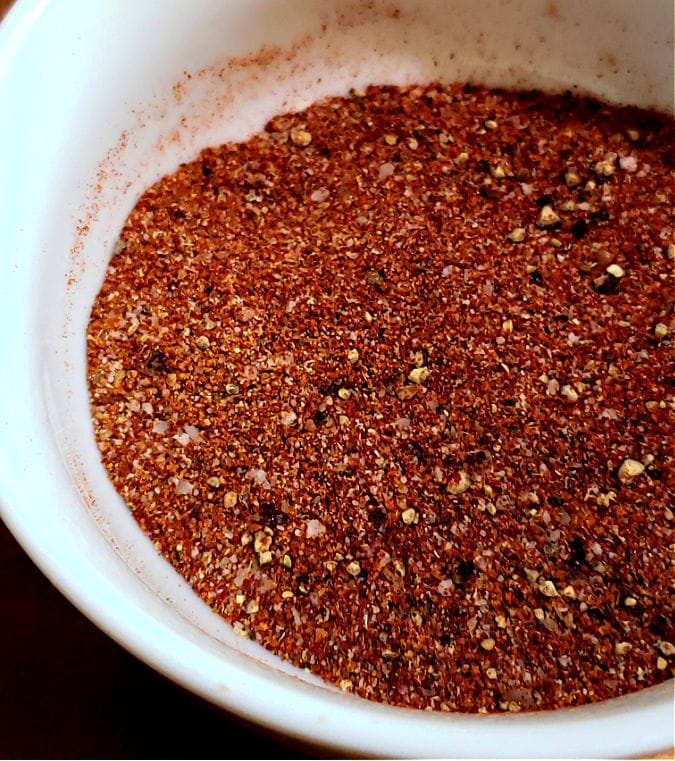 Seasonings for turkey wings:
Salt – the salt enhances the flavor of the turkey meat.
Black Pepper – fresh ground black pepper is a wonderful spice to add to meats.
Creole Seasoning – I used Tony Chachere's Creole Seasoning which adds a touch of heat. You could use a little cayenne pepper instead if that's what you already have on hand.
Onion Powder – adds great flavor to the meat.
Garlic Powder – adds delicious flavor to the turkey wings.
Paprika – a mild spice that gives poultry that beautiful color as it bakes in the oven.
Poultry Seasoning – a great flavor blend and adds notes of those traditional holiday flavors that we all love.
Combine the seasonings and spices together in a small bowl and set aside until ready to season the meat.
If you want to add fresh herbs or aromatics to the bottom of your baking dish for your turkey wings recipe then do. The wings can rest on top of them and absorb all of those wonderful flavors. Some great options would be to add celery stalks, slices of onion, bay leaves, sprigs of thyme or rosemary. If you enjoy a smokey flavor then a smoked paprika would be an excellent way to add some smokey flavor to your wings.
How to Oven Roast Turkey Wings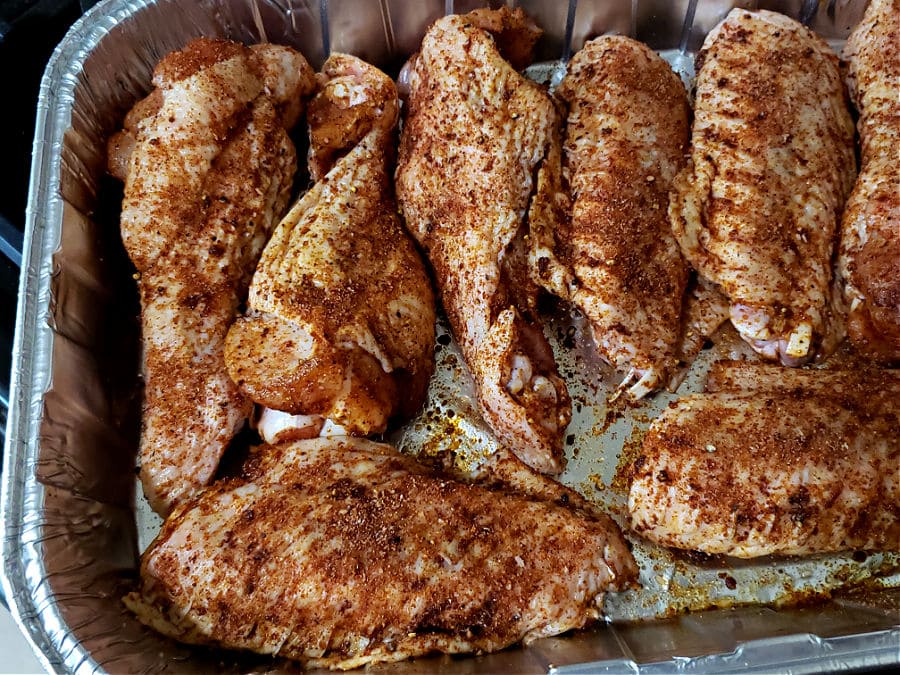 Sprinkle about two-thirds of the seasoning mixture over all sides of the wings then use your hands to gently massage the seasonings into the meat.
Arrange the turkey wings so that they are in a single layer in your baking dish then sprinkle more of the seasoning blend over the turkey wings to add a nice coat, as desired, before baking.
Cover your baking pan tightly with aluminum foil and bake to slow roast the turkey wings so that they are nice and tender.
Turkey Wings Recipe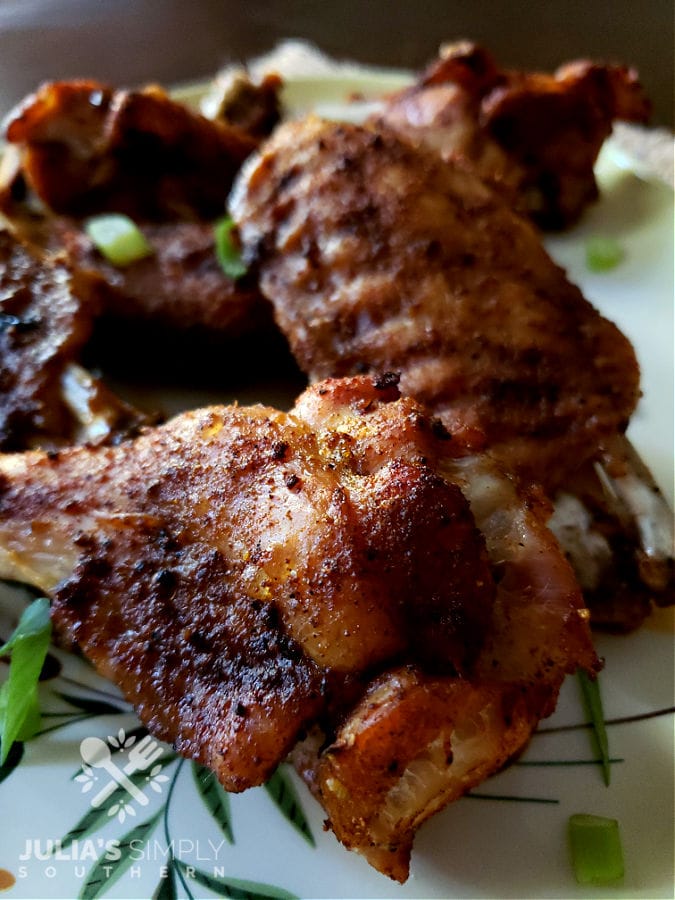 What to serve with roast turkey wings?
If you'll be enjoying your crispy turkey wings as an appetizer, you can serve them along with your favorite sauces like barbecue sauce or buffalo sauce.
When enjoying the turkey wings as part of your main meal then serve them with any of your favorite side dishes.
A few tasty options would include: Southern cornbread dressing, the best baked macaroni and cheese, green beans, potato salad and deviled eggs. Just thinking about it is making my mouth water.
Don't forget to add a few tasty desserts to your menu plan, like old fashioned sweet potato pie.
Easy Roast Turkey Wings Recipe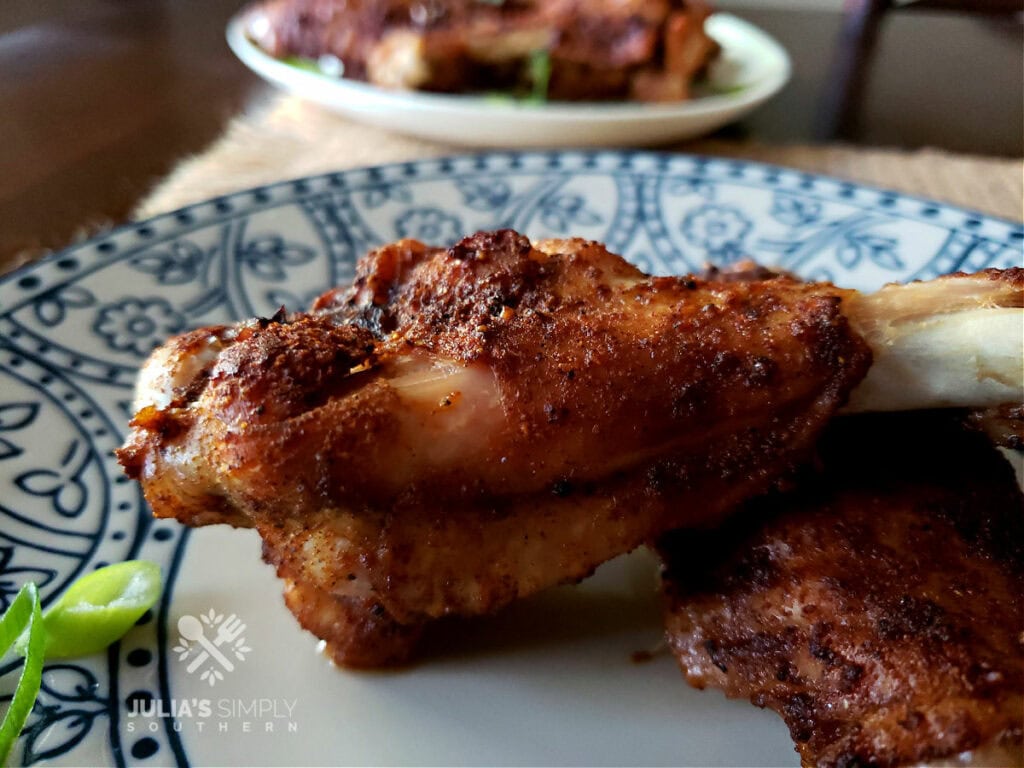 Below you will find the printable recipe card with all of the details for making this easy roast turkey wings recipe.
Yield: 8 Turkey Wings
Roast Turkey Wings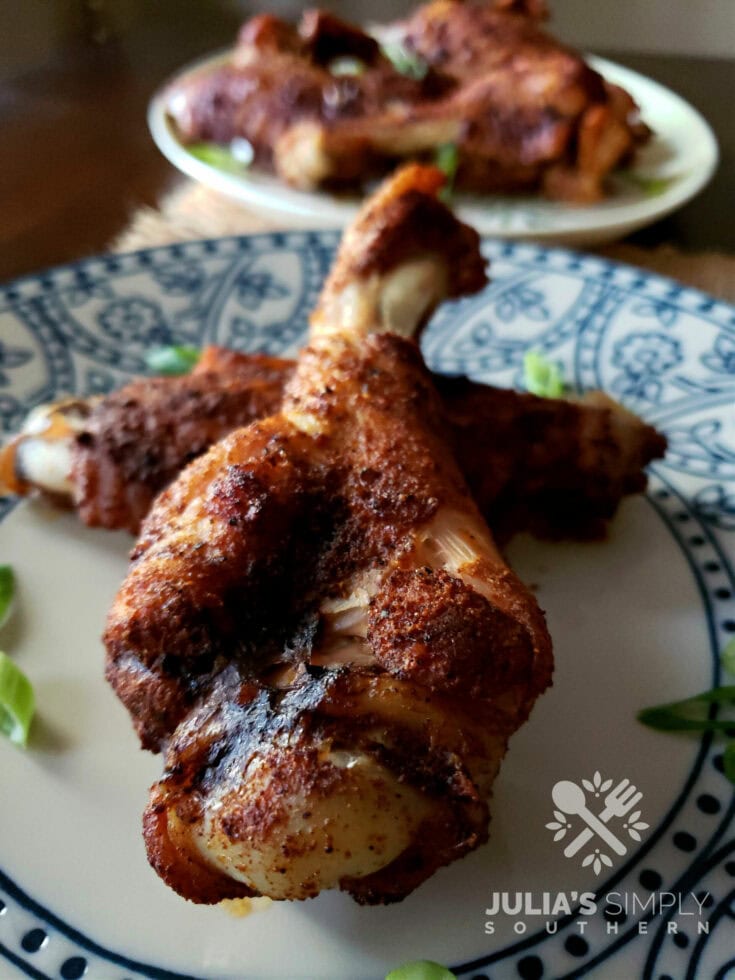 Delicious and tender turkey wings seasoned perfectly that are slow roasted in the oven until the skin is nice and crispy. Enjoy as an appetizer or delicious meal along with your favorite side dishes.
Cook Time
2 hours
20 minutes
Total Time
2 hours
40 minutes
Ingredients
3 pounds Turkey Wings (four whole wings)
1½ teaspoon of Kosher Salt
1 teaspoon of Ground Black Pepper
1 teaspoon of Creole Seasoning
1 teaspoon of Onion Powder
1 teaspoon of Garlic Powder
1½ teaspoon of Paprika
1 teaspoon of Poultry Seasoning
2 tablespoons of Olive Oil
Instructions
Preheat oven to 350°F.
Prep the turkey wings by rinsing under water then pat dry with paper towels. Transfer the wings to a cutting board and cut up to separate the the drumettes, flappers and tips. Discard the tips or freeze to make stock.
Transfer the turkey wings to a roasting pan or casserole dish and arrange in a single layer.
Pour olive oil over the turkey wings and massage in to coat all sides.
Prepare the seasoning blend by combining the seasonings and spices together in a small bowl. Sprinkle ⅔ of the seasoning mixture over the wings, front and back, then massage the seasoning into the meat and skin.
Use the remaining seasoning blend to lightly sprinkle over the turkey wings (you may not need to use it all).
Cover the baking dish with aluminum foil and place into the oven and bake for 2 hours.
Carefully remove the foil from the baking dish and return to the oven, raise the temperature to 400°F and cook an additional 20 minutes or until the skins are crisp as desired.
Allow the roast turkey wings to rest for 10 minutes before serving.
Notes
Turkey wings are cheap for budget friendly meals.
If you want smokey flavored wings, use smoked paprika in your seasoning blend.
The seasoning mix can be adjusted to suit your own tastes.
Recommended Products
As an Amazon Associate and member of other affiliate programs, I earn from qualifying purchases.
Nutrition Information:
Yield:
4
Serving Size:
1
Amount Per Serving:
Calories:

849
Total Fat:

49g
Saturated Fat:

13g
Trans Fat:

0g
Unsaturated Fat:

32g
Cholesterol:

176mg
Sodium:

152mg
Carbohydrates:

2g
Fiber:

1g
Sugar:

0g
Protein:

94g
Check out the Latest Recipes on the Blog
Thank you so much for stopping by! I am so glad that you did and I know that you'll love this easy roast turkey wings recipe just as much as my family does.
Be sure to subscribe to my email list while you're here so that you never miss the latest recipes and news here on the blog. As a subscriber, you will receive a weekly newsletter from me to keep you up to date.
Meet Julia
Author of Julia's Simply Southern
Hey Y'all! I'm Julia, the cook and writer behind the recipes here at Julia's Simply Southern. I began my website so that I could share easy to follow recipes that anyone can use to put a home cooked meal on the dinner table. Thanks so much for stopping by!
Follow me on Facebook | Twitter | Instagram | Pinterest | YouTube