In this post I'm sharing how to make a Peach Upside Down Cake.

I'm sitting here this morning, looking out the window, and just smiling because it has been a great summer. I've sort of taken a break the past couple of weeks off and feel refreshed. Ready for the very busy second half of the year.
One of my favorite things about summer time in the South is fresh local peaches. Oh my stars, they are just so juicy and sweet. So, so good!
I picked up a half peck of peaches last week and with it just being two of us, have made quite a few desserts and had peaches left for freezing.
I love sharing a couple of recipes with peaches during the season, such as an easy peach galette, bourbon peaches, and a reader favorite peach cobbler.
That being said…y'all are GONNA LOVE this peach upside down cake. It is easy and bakes up to perfection every time.
Southern Peach Upside Down Cake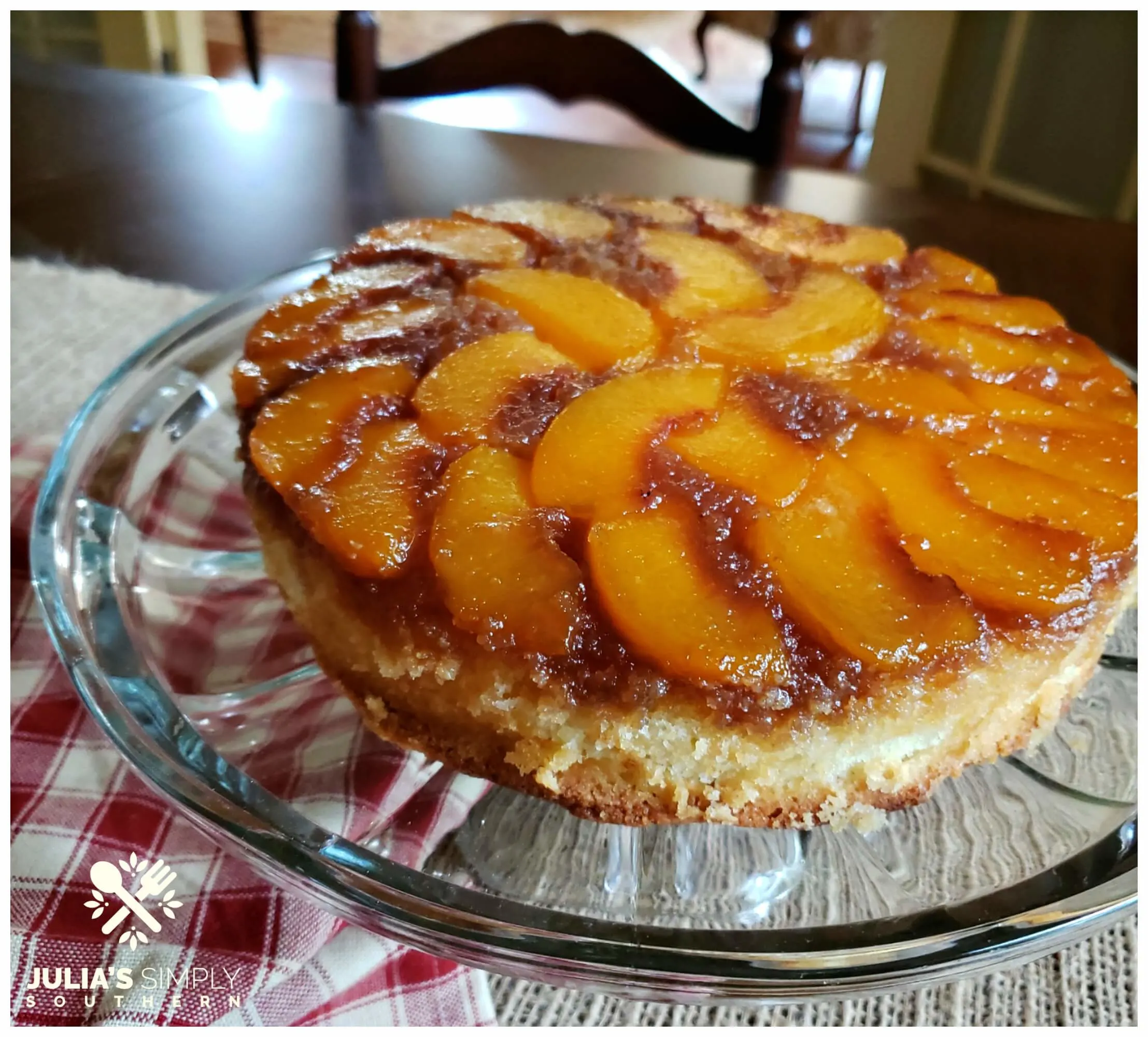 To bake this cake you'll need an eight or nine inch round cake pan. If you're partial to using your cast iron then you can use a skillet if you prefer.
Should I use Freestone or Clingstone Peaches? You could use either but this cake works especially well if you use the freestone variety of peaches will ripen later in summer. Freestone peaches are easy to work with and look great in desserts.
Are fresh peaches better? If it is the season and you can get fresh local peaches then by all means please do. There is nothing like the sweetness of a tree ripened peach.
Can I use frozen or canned peaches for this cake? You can, if you don't have access to fresh peaches. If you've frozen fresh summer peaches yourself – bonus! 😉
Summer Peach Dessert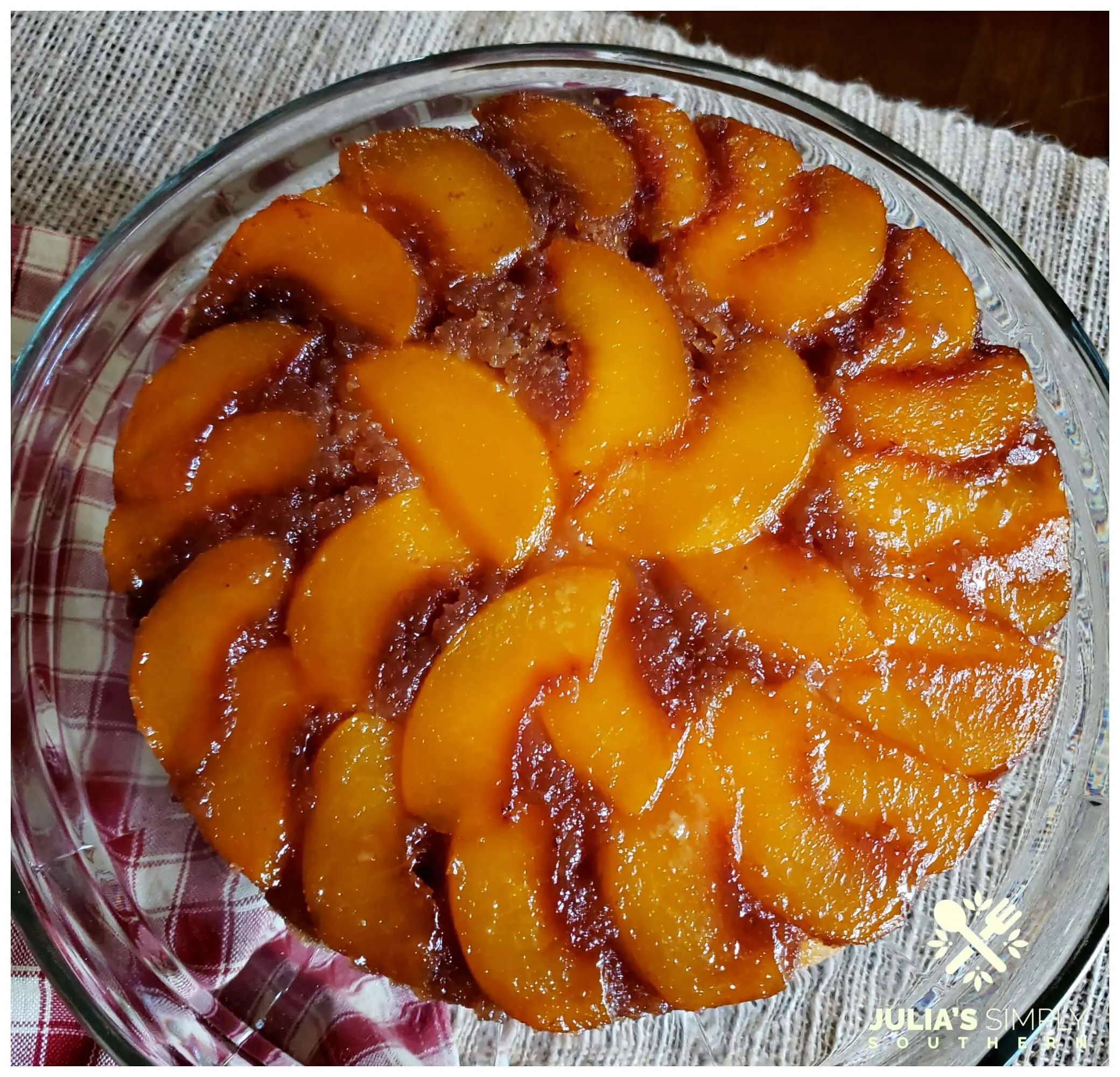 What freestone peach did you use for this cake? For this particular cake I used a peach called "pretty lady" but I love all freestone peaches.
It takes just a few minutes to prep this cake for the oven. While I was working on this cake, it took me a minute or two longer because I had to slice and peel a third peach because we kept eating the slices I already had done. It happens. HA!
This recipe uses self-rising flour, can I use all purpose? Of course but you'll need to add a couple more ingredients for leavening. Here's what you'll need if you're using all purpose flour: 1.25 tsp baking powder and a pinch of salt in addition to the other ingredients.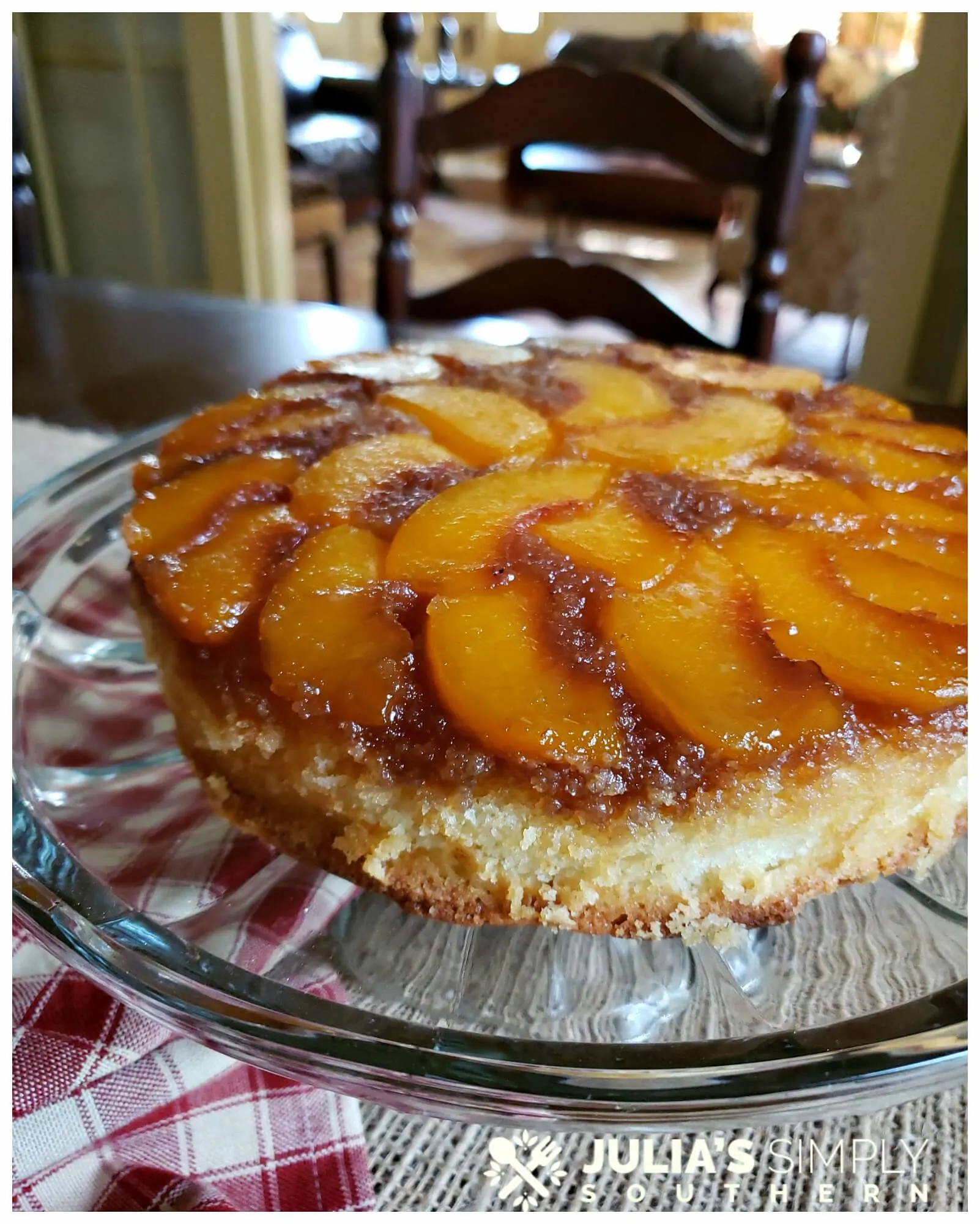 Can I put cherries on top like on a pineapple upside down cake? Sure you can if you like. Go ahead and add a few candied cherries, halved, between the peach slices.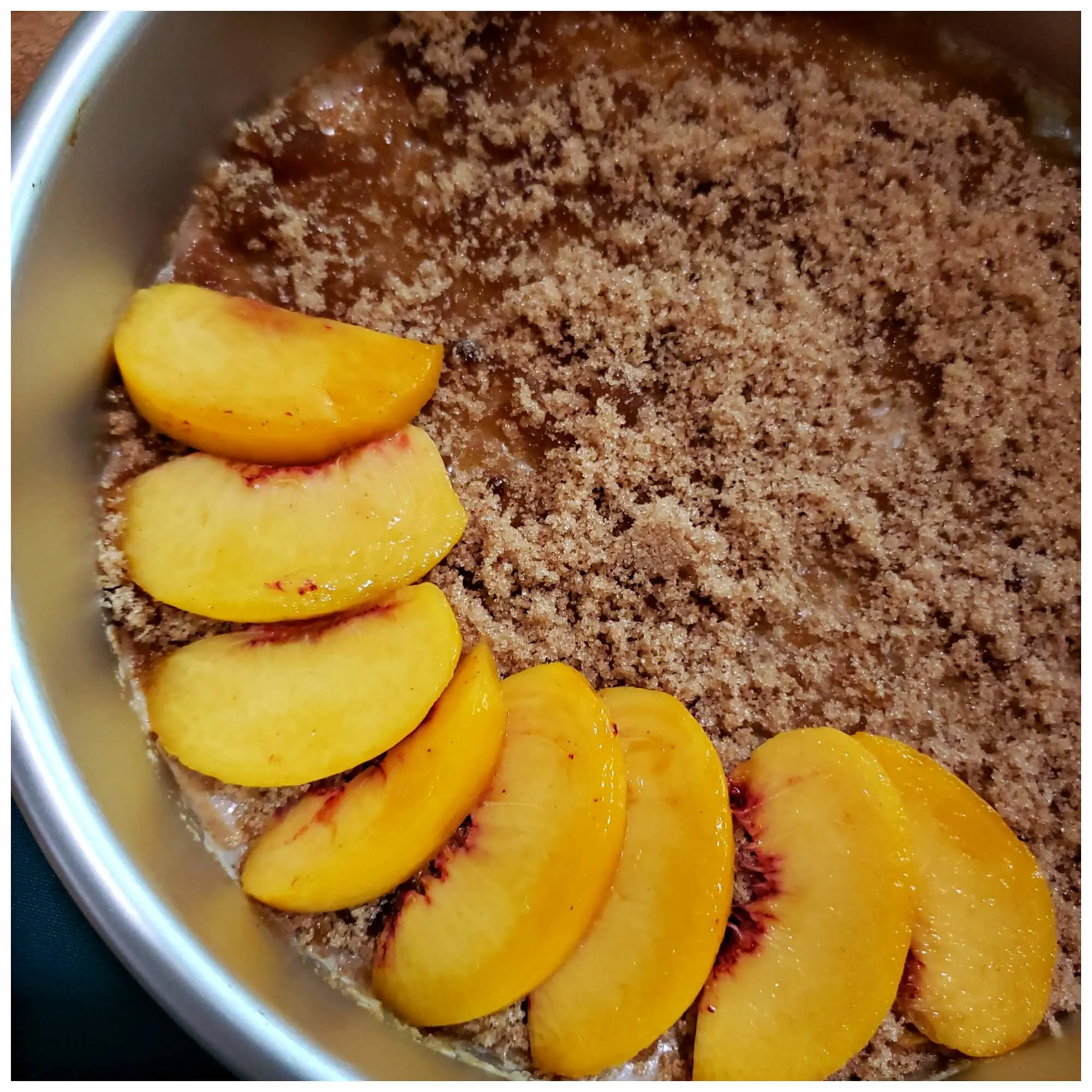 Yield: 1 cake
Peach Upside Down Cake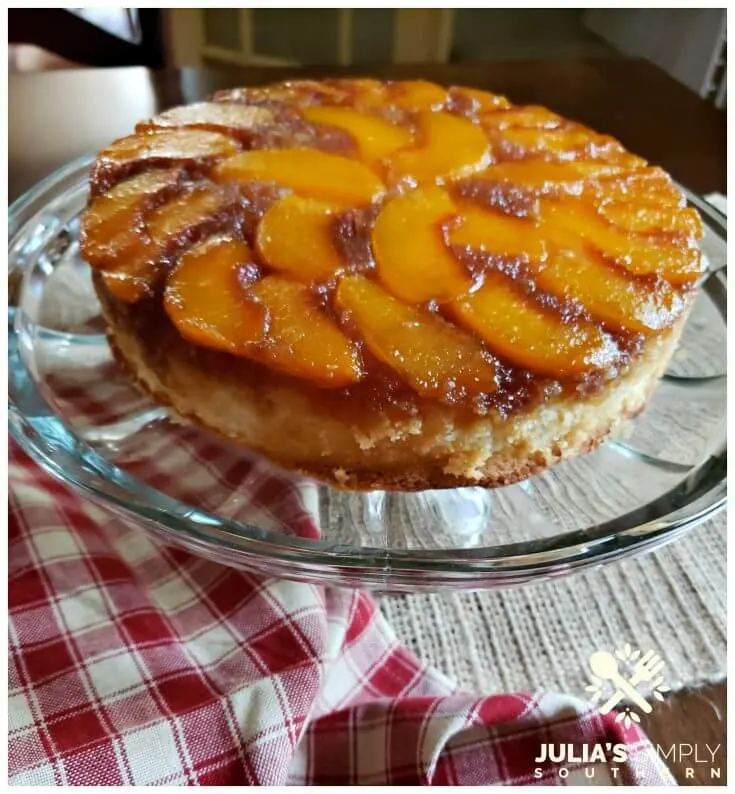 Fresh summer peach upside down cake dessert.
Ingredients
1.5 Stick of Butter, divided (softened to room temperature)
1/2 c Light Brown Sugar, packed
2 c Fresh Summer Peach Slices (2-3 peaches) peeled
3/4 c Granulated Sugar
1 Egg
1 tsp Vanilla Extract
1.25 c Self Rising Flour
1/2 c Whole Milk
Instructions
Preheat oven to 350°F (176°C)
Place 1/2 stick into an 8" round cake pan and place into the oven while it is heating up to melt the butter.
When the butter is melted, remove the pan from the oven and sprinkle in the brown sugar to coat the bottom of the pan.
Arrange the peach slices in a single layer over the sugar layer.
In a bowl, cream the granulated sugar and 1 stick of softened butter until fluffy.
Next, add the egg and vanilla extract then mix to combine.
Next, add the flour and mix to combine.
Then add the milk and mix to combine with the flour mixture.
Spoon the cake batter over the peaches evenly.
Bake for 45 to 50 minutes or until a toothpick inserted comes out clean.
Cool the cake for 10 minutes then invert on a cake platter.
Peach upside down cake can be served warm or room temperature.
Notes
If the cake remains in the baking pan longer than ten minutes of cooling it may stick when inverted.
Do not grease the baking pan for this particular cake recipe.
Cover the leftover cake with plastic wrap and store at room temperature or in the refrigerator.
Recommended Products
As an Amazon Associate and member of other affiliate programs, I earn from qualifying purchases.
Nutrition Information:
Yield:
8
Serving Size:
1 slice
Amount Per Serving:
Calories:

371
Total Fat:

19g
Saturated Fat:

11g
Trans Fat:

1g
Unsaturated Fat:

6g
Cholesterol:

70mg
Sodium:

388mg
Carbohydrates:

49g
Fiber:

1g
Sugar:

34g
Protein:

4g
Thanks for stopping by! Be sure to share this recipe with friends.
While you're here, you can sign up for our free email newsletter so you never miss a new recipe and follow us on Facebook, Instagram and Pinterest.
If you would like to check out more dessert recipes on Julia's Simply Southern, you can use the search box up top or click HERE to browse through the index.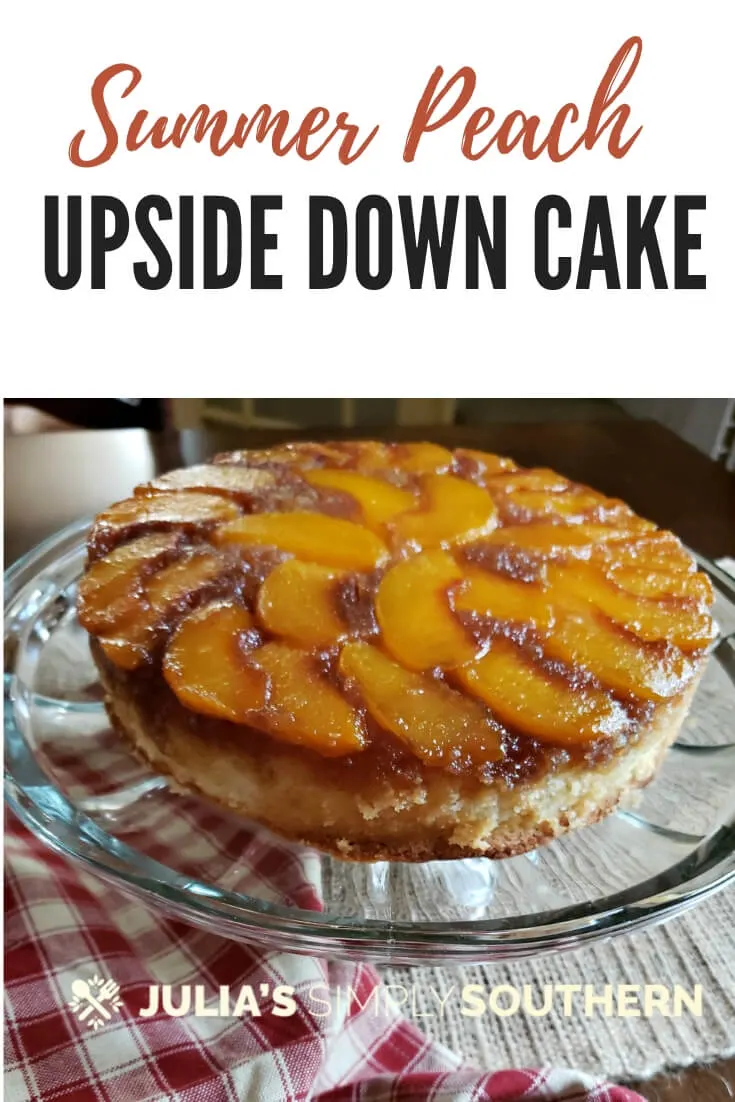 The Best Recipes Are Made With love
See this recipe shared at Weekend Potluck and Meal Plan Monday.
Meet Julia
Author of Julia's Simply Southern
Hey Y'all! I'm Julia, the cook and writer behind the recipes here at Julia's Simply Southern. I began my website so that I could share easy to follow recipes that anyone can use to put a home cooked meal on the dinner table. Thanks so much for stopping by!
Follow me on Facebook | Twitter | Instagram | Pinterest | YouTube