In this post I am sharing how to make a Southern Style Easy Peach Cobbler with Coconut Sugar. This Easy Peach Cobbler with Fresh Peaches (Low Sugar & Diabetic Friendly) is so delicious!
If you're one of the many people concerned about usage of granulated sugar then you're gonna love this recipe!
I must confess that I didn't set out with the intention of making a healthier version of my classic Old Fashioned Peach Cobbler. The reason it happened is quite simple….I was out of sugar.
We've been taking steps to incorporate healthier choices and exercise into our routine for the past few months. You know what? It's working too!
One of the things we cut back on is white granulated sugar. I said cut back not doing away with it completely. The reason being that we were going through a lot of sugar for coffee and tea.
We tested a few natural sweeteners because I am very much against artificial sweeteners and agave and coconut sugar are among our favorites.
I am so glad that I decided to go ahead with making my peach cobbler and substituting the coconut sugar (link to brand I used in recipe card)!
Southern Peach Cobbler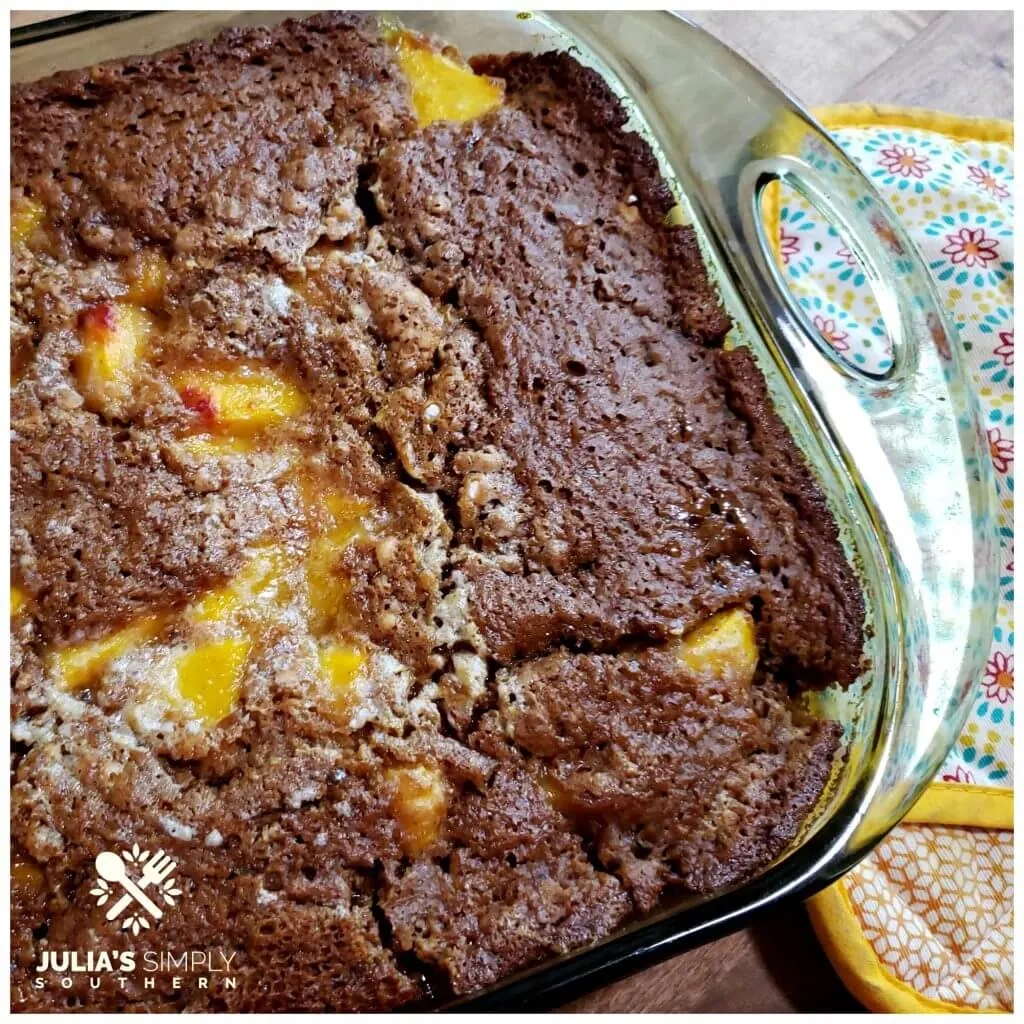 I was a bit nervous about how it would turn out but when I saw it, then tasted it, I knew we had a winning recipe here that I had to share with y'all.
Is coconut sugar healthier than sugar? Coconut sugar is still a sweetener and should be used sparingly. It is a bit healthier than sugar because it does offer some nutrients and is diabetic friendly.
How much coconut sugar do you use in place of sugar? Coconut sugar can be used in the same measurements as refined sugar. It's an easy 1:1 substitute in recipes.
What nutrients does coconut sugar offer? Coconut sugar includes magnesium, potassium, zinc, iron, B vitamins and amino acids.
Where does the coconut sugar come from? The coconut blossom is the source of coconut sugar.
Fresh and Easy Peach Cobbler
What was different using coconut sugar? The only noticeable difference was the end color of the baked cobbler. It looked more like a chocolate cobbler (from the brown color of coconut sugar) than the traditional light color.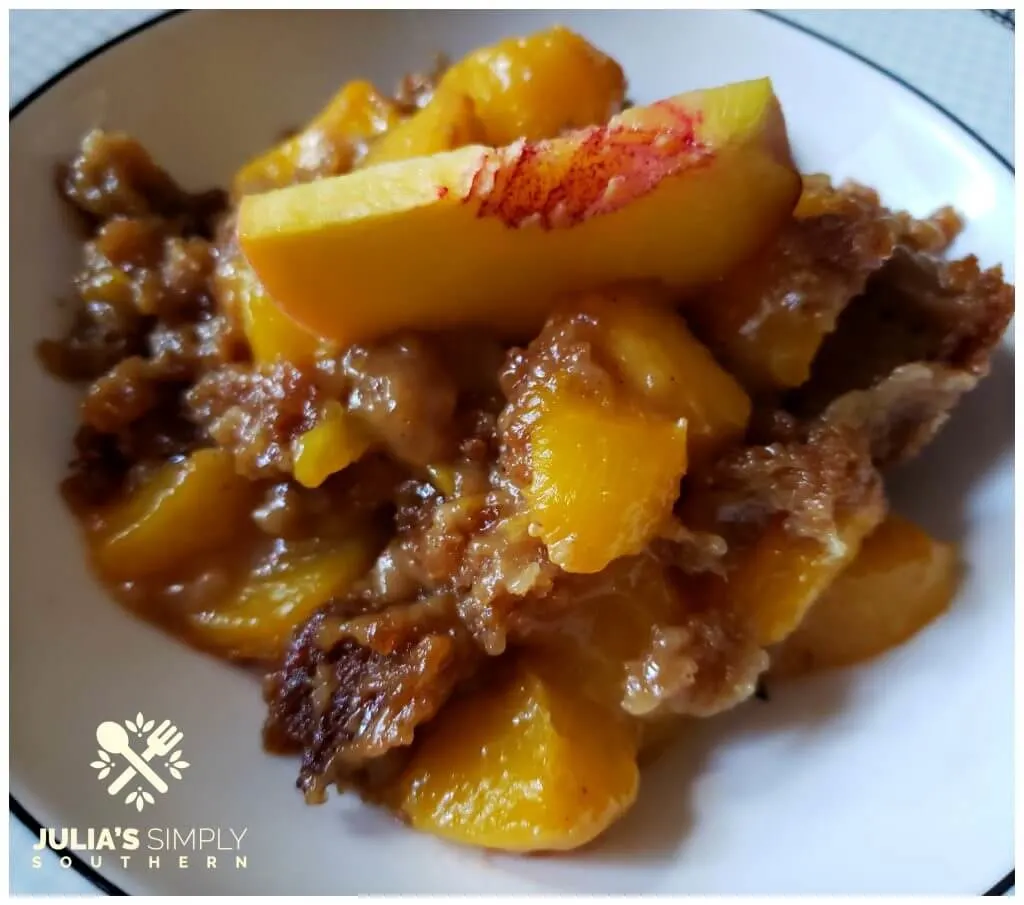 So, when it comes down to being on the fence about switching things up with your choice of sweeteners…I say go for it. You might be truly surprised at the wonderful natural choices that are so delicious.
I wholeheartedly recommend trying this version of peach cobbler. You're gonna love it!
If you'd like to try some of the other peach desserts on this site: Peach Galette (Easy). Bourbon Peaches (Easy), Peach Upside Down Cake (Easy).
Low Sugar Peach Cobbler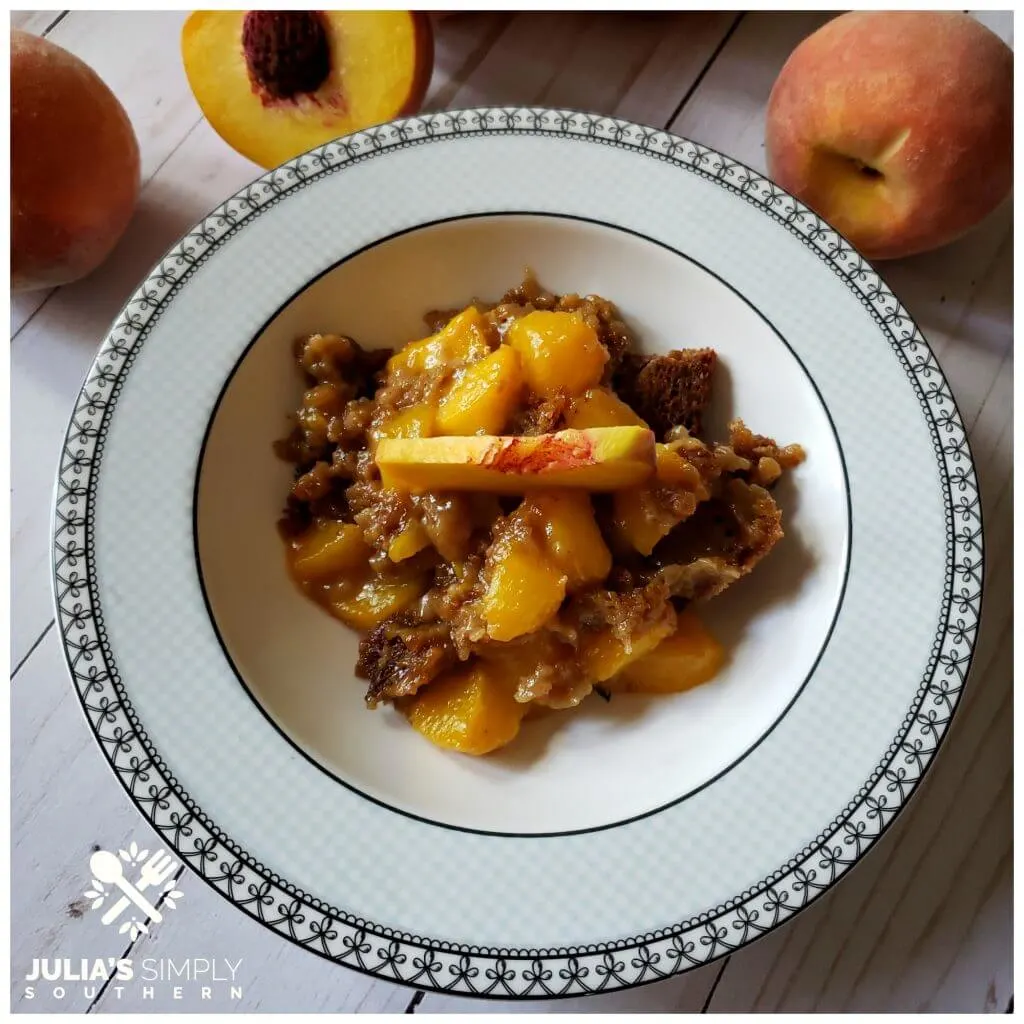 I know that there are many of you who love my old fashioned peach cobbler recipe (thank you), this recipe follows along that recipe using coconut sugar instead.
It's a really easy and delicious version that I know you'll enjoy.
Peach Cobbler Recipe with Coconut Sugar
Let's make this Easy Peach Cobbler with Fresh Peaches (Low Sugar & Diabetic Friendly) recipe.
Yield: 1- 8 x 8 Cobbler
Easy Peach Cobbler with Fresh Peaches (Low Sugar & Diabetic Friendly)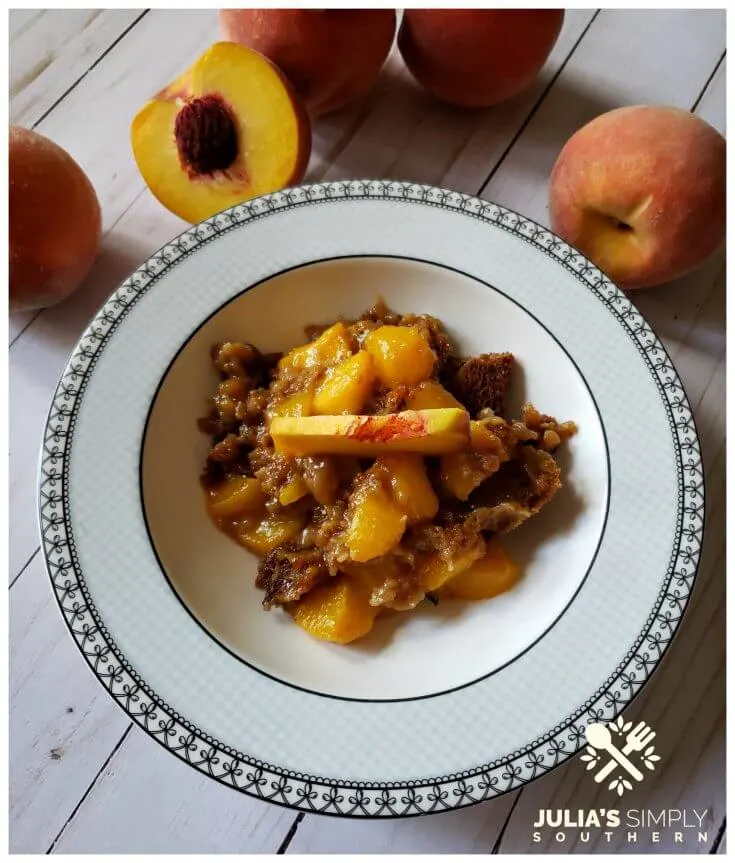 Delicious Southern style peach cobbler made with coconut sugar. This recipe is great for those who are on a diabetic friendly diet or searching for alternate sweeteners.
Ingredients
1 Stick of Butter
3 Fresh Freestone Peaches, peeled and sliced
1 c Self Rising Flour
1 c Coconut Sugar
1 c Whole Milk
Dash of Cinnamon
Instructions
Place a stick of butter in a square baking dish then place it in a cold oven.
Preheat the oven to 350°F and allow the butter to melt in the baking dish.
Peel and slice peaches and set aside.
Remove the baking dish with melted butter from the oven.
Prepare the cobbler batter by combining the coconut sugar, flour, milk and cinnamon together in a mixing bowl.
Spoon the batter into the melted butter but do not stir to combine.
Next, spoon the fresh cut peaches over the batter mixture then bake for 45 minutes.
May be served warm or cool.
Notes
Local tree ripened peaches work best if they're available in your area.
Peach cobbler may be covered and refrigerated up to 3 days.
Recommended Products
As an Amazon Associate and member of other affiliate programs, I earn from qualifying purchases.
Nutrition Information:
Yield:
9
Serving Size:
1
Amount Per Serving:
Calories:

261
Total Fat:

11g
Saturated Fat:

7g
Trans Fat:

0g
Unsaturated Fat:

3g
Cholesterol:

30mg
Sodium:

258mg
Carbohydrates:

39g
Fiber:

1g
Sugar:

28g
Protein:

3g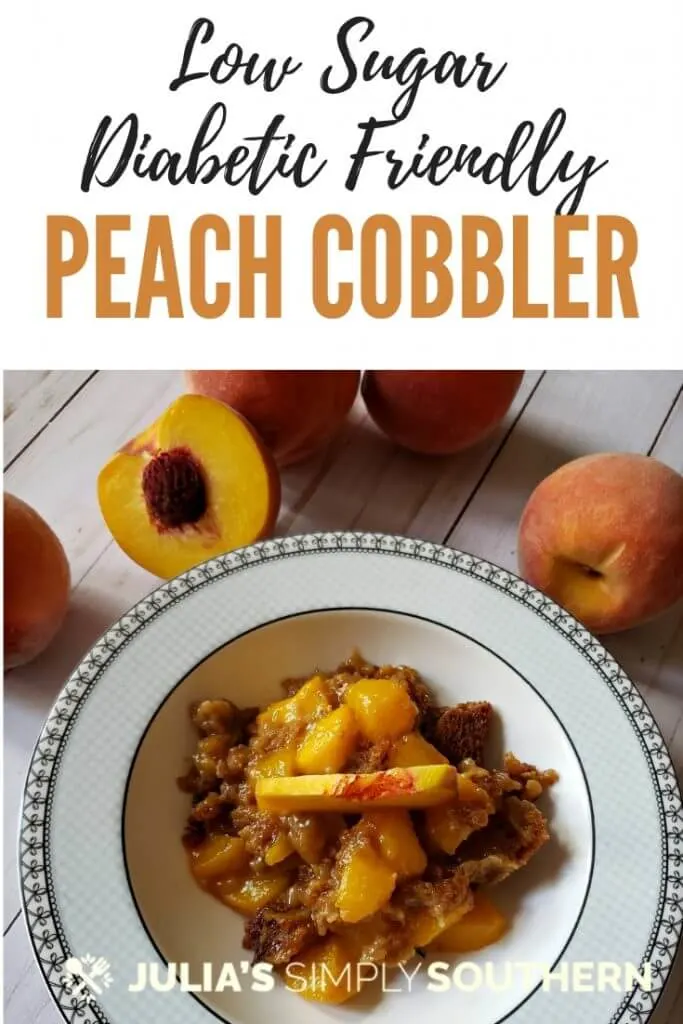 See this recipe shared at the Weekend Potluck and Meal Plan Monday.
Meet Julia
Author of Julia's Simply Southern
Hey Y'all! I'm Julia, the cook and writer behind the recipes here at Julia's Simply Southern. I began my website so that I could share easy to follow recipes that anyone can use to put a home cooked meal on the dinner table. Thanks so much for stopping by!
Follow me on Facebook | Twitter | Instagram | Pinterest | YouTube