In this post I'll be sharing an easy Old Fashioned Strawberry Pie Recipe that is made with fresh strawberries.
This classic strawberry pie recipe is so delicious! An easy strawberry pie that requires no baking, other than pre-baking the pie crust, making it a perfect anytime dessert. Y'all know that I love a good no bake pie.
Strawberry season happens at different times depending on where you are. For those of us who love those beautiful red fresh berries, it is a happy time of year. In my neck of the woods, the season starts mid April.
Depending on the weather, strawberry season can run through June. I often see it slow down near the end of May when it starts getting hot though. You can bet that I'm gonna eat as many of those sweet berries as I can while they last.
Strawberry Pie with Jell-O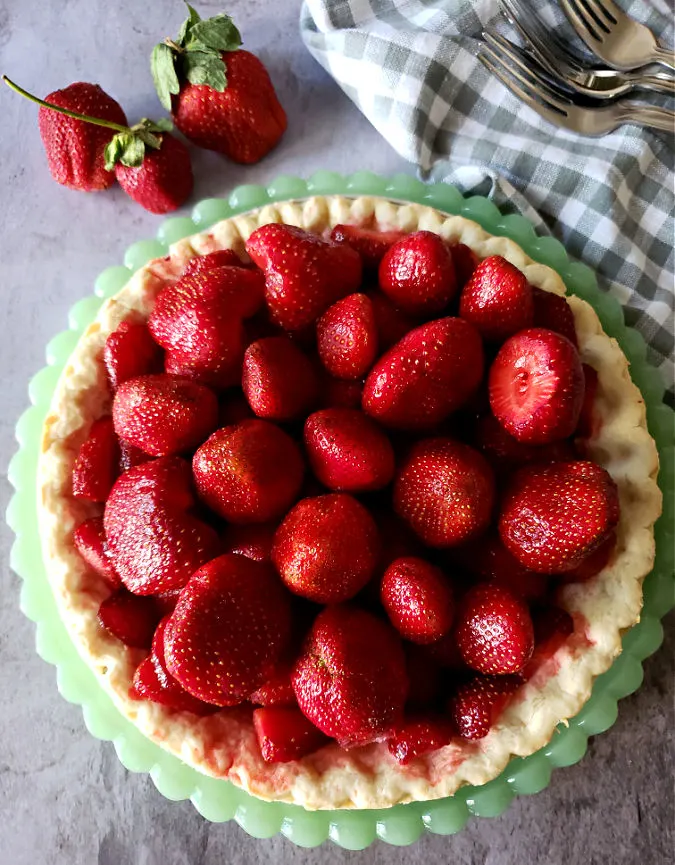 Does that look amazing or what!! Oh my stars! This is a classic favorite and everyone seems to love it. I think that this pie look impressive too, but is super easy to make. You will love it!
What to serve with fresh strawberry pie? Whipped cream or Cool Whip would be great and enjoy a scoop of ice cream with it if you like.
I love a scoop of vanilla ice cream with most pies and cobblers. It just seems to compliment the desserts so well.
What do I need to make Strawberry Pie
To make this old-fashioned strawberry pie, here is what you will need:
Fresh Strawberries – ripe strawberries are best for this easy strawberry pie.
Pie Shell – a deep dish preferred to hold all of those fresh berries.
Strawberry Jell-O – the strawberry Jello adds texture, flavor and aids as a thickening agent in the filling.
Cornstarch – aids in thickening.
Sugar – to sweeten the pie.
Water – helps create the sweet glaze filling.
Fresh Strawberries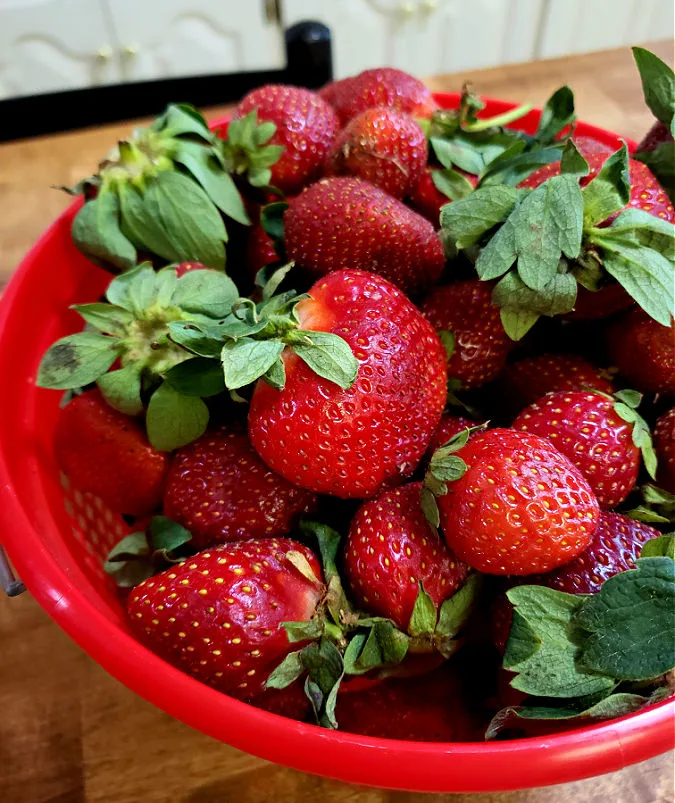 Check out the gallon of fresh strawberries at the peak ripeness that I picked up from a local farmer. They are naturally sweet and so good.
You could make two of these pies if you wanted to use the whole gallon for one type of dessert but I prefer making one pie and saving the rest for something else.
If you don't have any local produce stands or farms around, just get yourself some strawberries from your local grocery store.
Fresh Strawberry Pie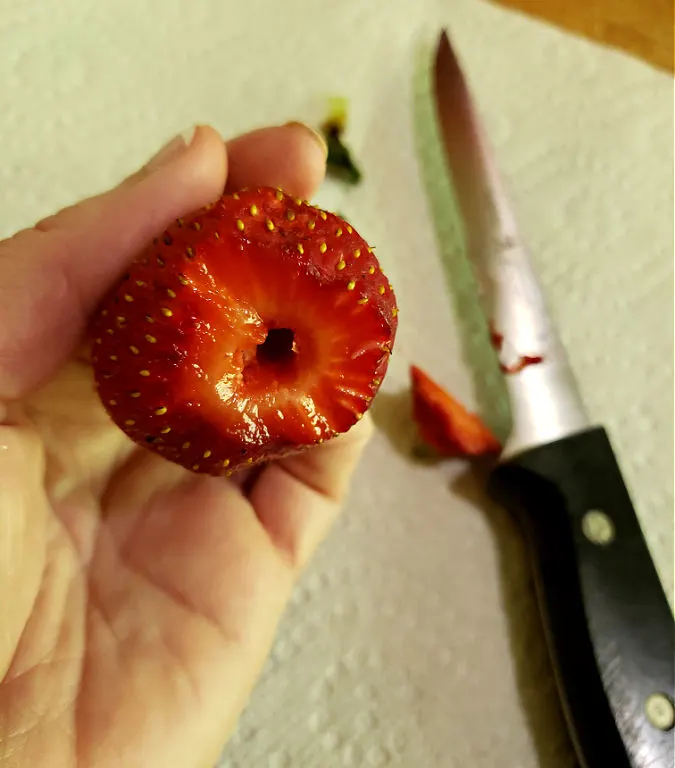 Start by prepping the fresh local strawberries by removing the stems, hulls (if needed), and giving them a good wash.
Check for insects and worms. You may find some with organic strawberries that have been freshly picked. Out of the entire gallon, I only found one berry that I had to discarded.
I add the berries to a colander in batches and give them a good wash under cold water. Some folks prefer to soak them in a diluted vinegar bath then rinse them well.
Tossing the berries with some lemon juice will aid in maintaining texture so they don't soften as fast, as well as keeping the red color bright. I don't worry about the lemon juice myself however, because we use the strawberries up really fast at our house.
Strawberry Season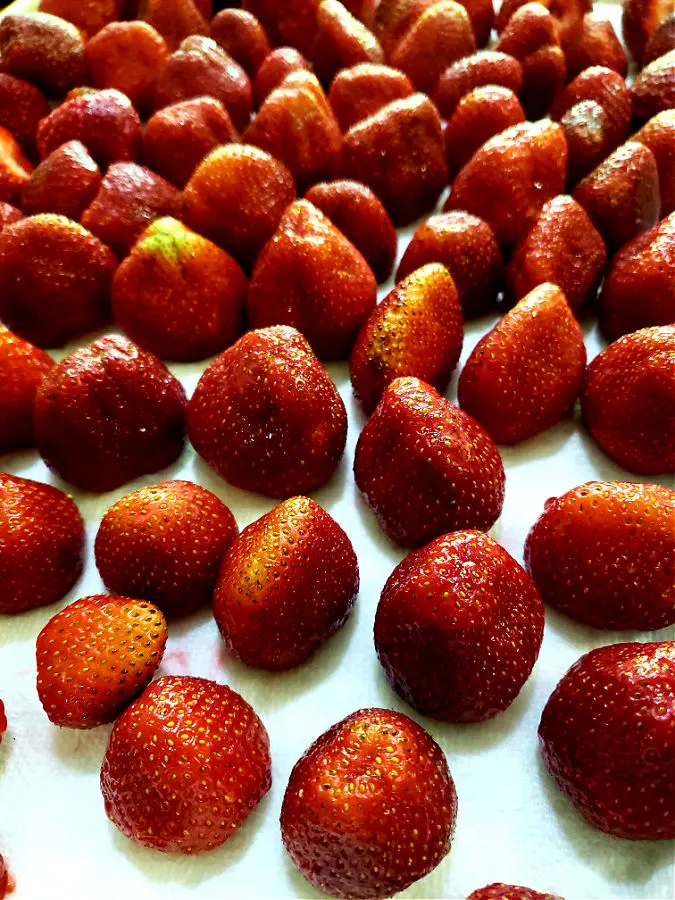 I love when South Carolina strawberry season rolls around. Many enjoy going out to a local farm to pick their own. As fun as strawberry picking is, I usually just buy a bucket that has been picked in the farm store.
After washing the berries, line a baking sheet pan with a couple of paper towels and place the wet strawberries on the pan to dry completely. I usually pop the sheet pan in the refrigerator while they dry, which takes about half an hour or so.
What Pie Crust for Strawberry Pie?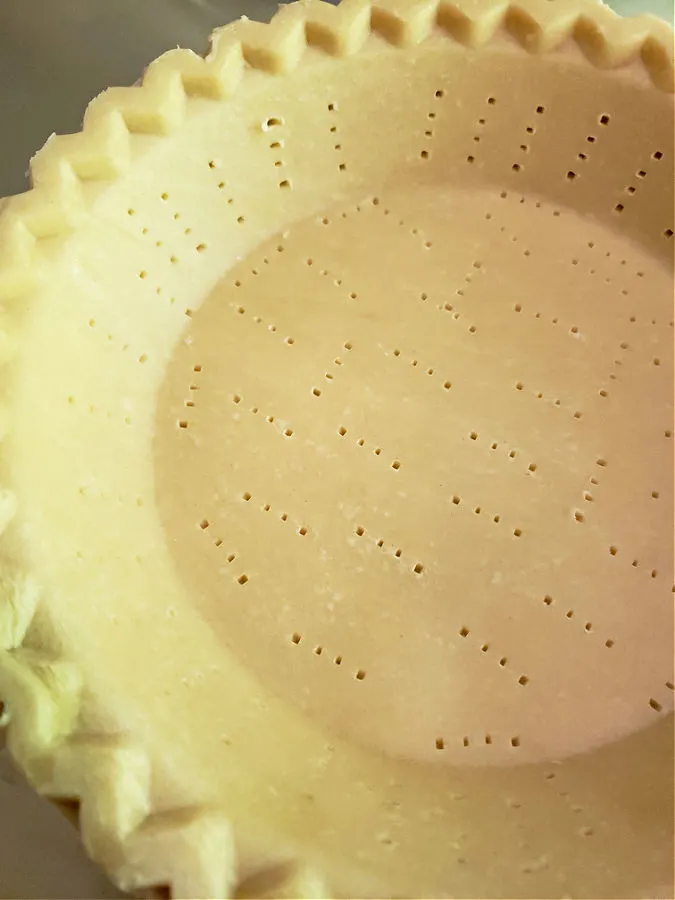 The type of pie crust that you use for your fresh strawberry pie is a matter of personal preference. I've said it before in other posts that I have absolutely no problem using a store bought frozen pie shell, or store bought refrigerated pie crust sheets.
They are delicious and save me the extra steps of making my own. You can make your own homemade pie crust however, if you prefer. It takes just a few simple ingredients and a food processor.
I really prefer the classic flaky pie crust for this no bake strawberry pie. The pie shell will need to be pre-baked however.
Other folks enjoy a graham cracker crust. Use what you like best
Pre-Baking the Frozen Pie Shell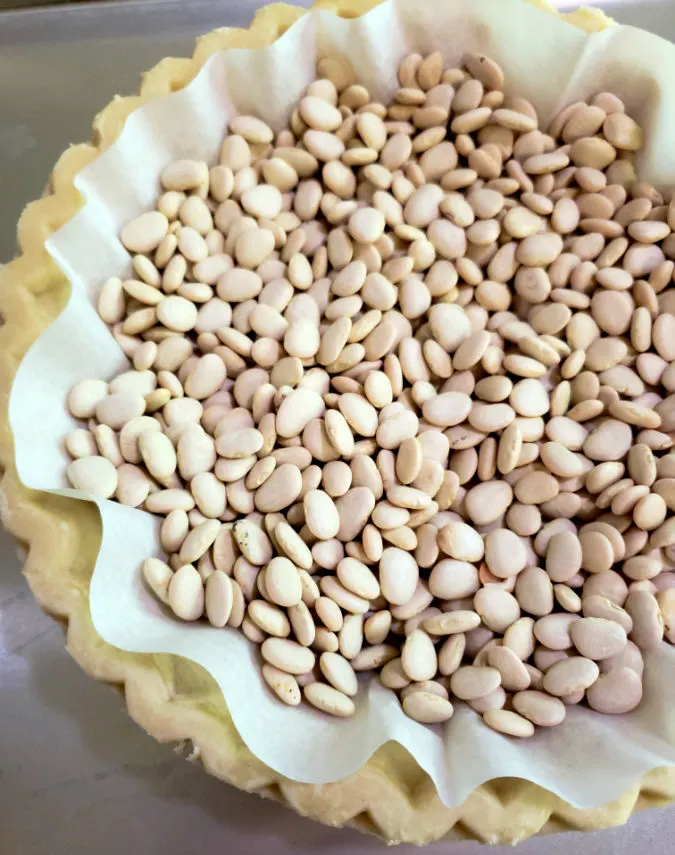 The package instructions for pre-baking the pie shell only calls for pricking the pie dough with the tines of a fork along the sides and bottom of the pie crust. I do this step but I add one more step of my own, which is optional, and I like to use pie weights.
The pie weights just help ensure that you will have the perfect pre-baked pie crust without any of it bubbling up in the oven.
There are pie weights that you can purchase but I use dried beans and a round of parchment as my weights. The dried beans are only used for this purpose and then saved in a mason jar until needed again.
This is the same method that my grandmother used for a pie weight and it is one of those food memories that has stuck with me. So, I do it like she did.
After you have your pie crust set up to bake, follow the manufacturer's instructions. I used a Marie Callender's because I like how they look and are a wonderful flaky crust.
If you want you can brush the edges with an egg wash before baking. I don't but it is an option. After baking, allow the pie crust to cool completely then carefully remove the pie weights, if using them.
Strawberry Pie Filling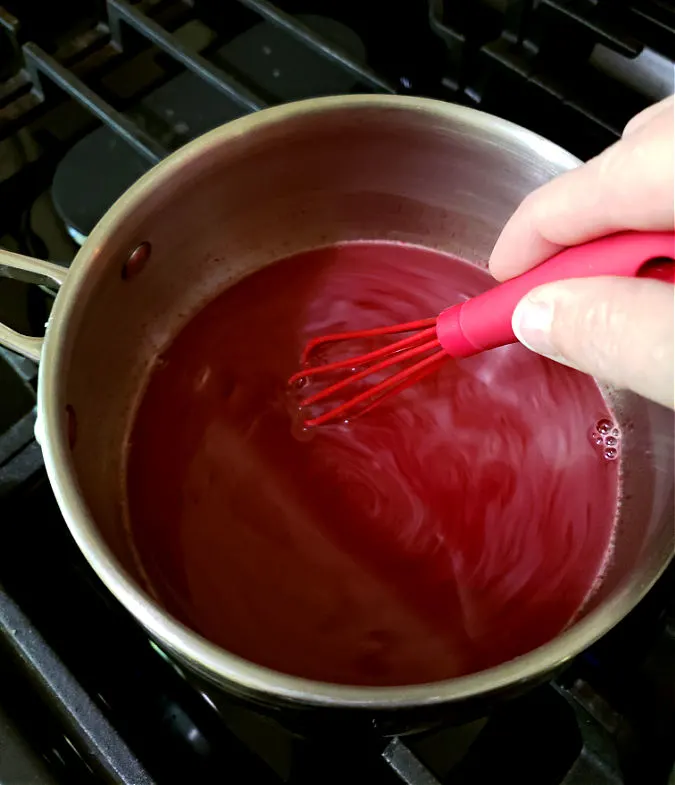 To make the filling mixture; add the package of strawberry Jello, cold water, granulated white sugar, and cornstarch to a small saucepan over medium heat.
Whisk to combine the strawberry gelatin mixture, cornstarch, the cup water and cup sugar until everything is dissolved and bring to a boil. You'll boil the mixture just a few short minutes until thickened.
Once thickened, remove from the burner and set aside then cool to room temperature.
I want to mention, just in case it may be unclear, do not follow the directions on the box of Jell-O. You just want the powder to add to this pie filling mixture and follow the directions given in this recipe post.
Old Fashioned Strawberry Pie Recipe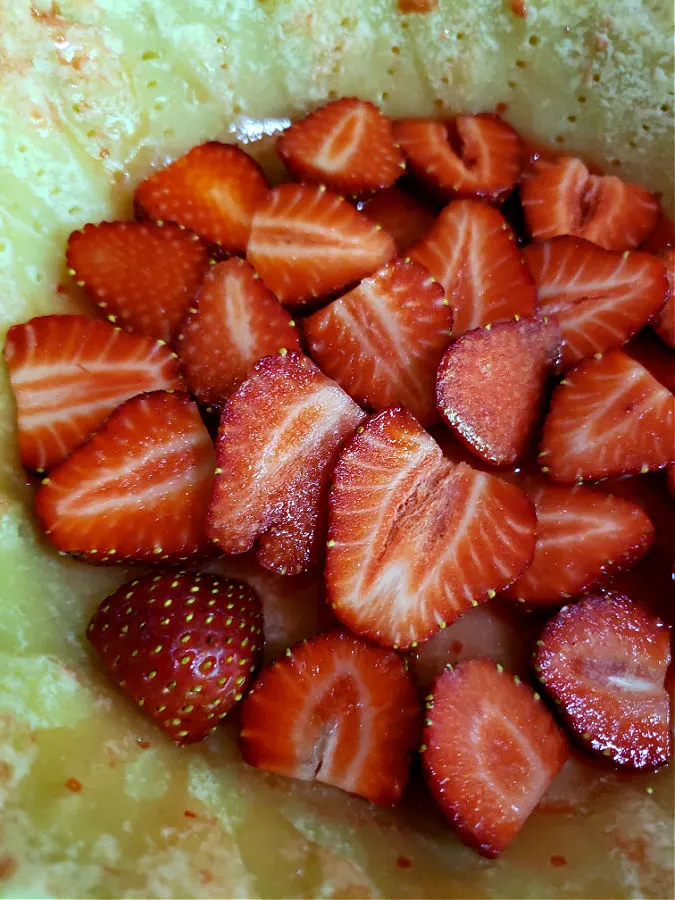 Time to assemble the pie! Spoon a little of the strawberry filling into the bottom of the pie crust then add the strawberries.
I like to add a couple of rows of sliced strawberries first, then add a layer of halved berries with a top layer of whole strawberries. That way there are plenty of strawberries for your fresh strawberry filling.
Once the berries are arranged the way that you like them, spoon over the remaining filling mixture making sure to cover all of the strawberries.
No Bake Strawberry Pie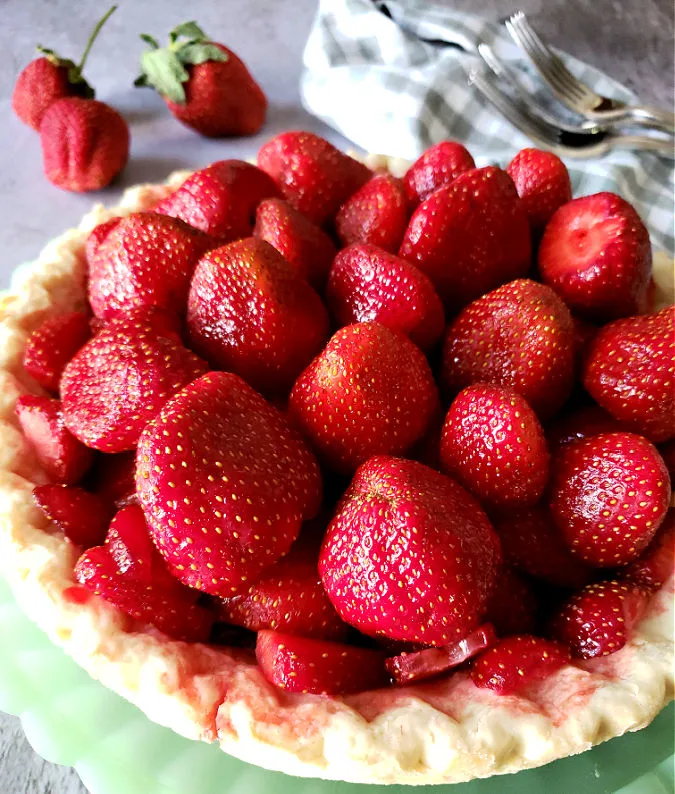 Refrigerate the pie to finish setting up for at least two hours, or until ready to serve.
Leftover strawberry pie may be loosely covered with plastic wrap and refrigerated. The pie will last up to four days refrigerated.
Printable Recipe Card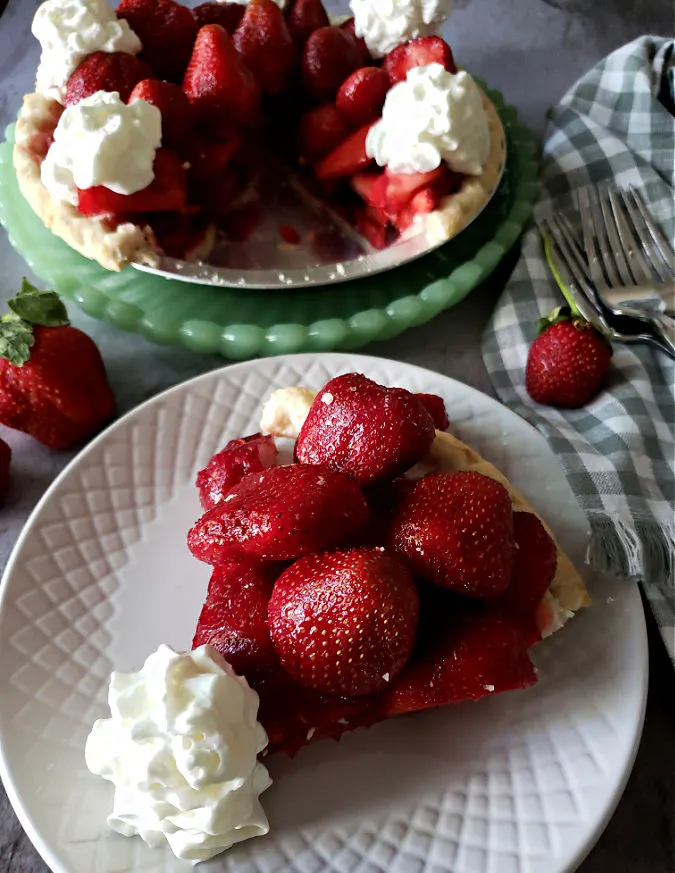 This pie is perfect with plenty of whipped cream. YUM!
Old Fashioned Strawberry Pie Recipe - Easy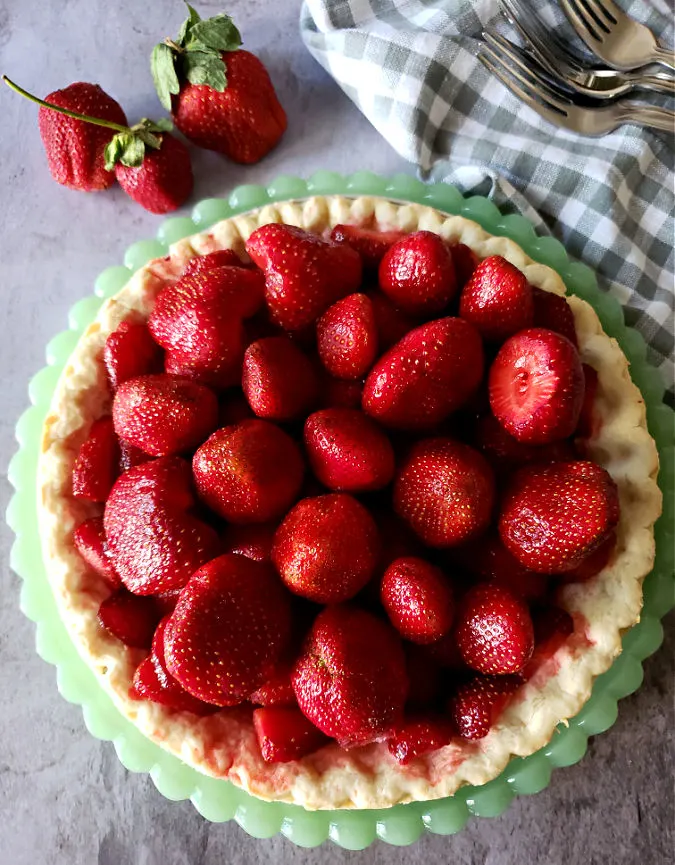 This EASY Strawberry Pie made with fresh strawberries at their peak of ripeness if just like the old fashioned strawberry pie that Grandma used to make. It is a simple dessert made with just a few ingredients that everyone loves. Enjoy it with whipped cream or Cool Whip or add a scoop of vanilla ice cream on the side.
Ingredients
2 pounds Fresh Strawberries (around 2 pints or 1/2 a gallon)
1 Frozen Deep Dish Pie Shell, baked (or make your own)
3 ounce Package Strawberry Jell-O
2 Tablespoons Cornstarch
½ cup Sugar
1 cup Cold Water
Instructions
Prep the strawberries by removing the stems and any hull that is not ripened if needed then wash them well and add to a paper towel lined baking sheet and allow to dry thoroughly.
To pre-bake the crust: Preheat oven to 400°F. Thaw frozen pie shell for 10 minutes on the countertop. Use a fork to prick the bottom and sides of the crust. Use pie weights, if desired (see post) then bake for 12 to 15 minutes. Allow the pie shell to cool completely. Or follow the package instructions for the pie shell that you are using.
Prepare the filling by adding the Jell-O, cornstarch, sugar and water to a small saucepan and whisk to combine. Bring to a boil over medium heat and allow to boil until thickened; about 4 minutes. Allow the strawberry filling mixture to cool to room temperature.
To assemble the pie: spoon some of the filling mixture into the bottom of the pie shell then add strawberries. I like to add a couple of layers of sliced strawberries, then some halved ones and topped with some whole berries. Spoon the remaining filling mixture over the berries until it has all been added to the pie then refrigerate the pie for at least 2 hours before serving so that it finishes setting up.
Serve with Whipped Cream, Cool Whip dessert topping, or ice cream.
Notes
See full post for all of the tips and recommendations with step by step photos for making this fresh strawberry pie.
Nutrition Information:
Yield:
8
Serving Size:
1 slice
Amount Per Serving:
Calories:

150
Total Fat:

2g
Saturated Fat:

1g
Trans Fat:

0g
Unsaturated Fat:

1g
Cholesterol:

0mg
Sodium:

34mg
Carbohydrates:

32g
Fiber:

3g
Sugar:

21g
Protein:

2g
Popular Recipes on the Blog
Latest Recipes
Old Fashioned Strawberry Pie Recipe
Thank you so much for stopping by! I am so glad that you did. I hope that you get to enjoy some wonderful fresh strawberries soon and will make this delicious old fashioned strawberry pie recipe with some of them.
Be sure to to sign up for my newsletter while you are here. Email subscribers get a weekly update from me with the latest recipes and news here on the blog so that you never miss a thing.
Until next time, friend, love and happy cooking!
Meet Julia
Author of Julia's Simply Southern
Hey Y'all! I'm Julia, the cook and writer behind the recipes here at Julia's Simply Southern. I began my website so that I could share easy to follow recipes that anyone can use to put a home cooked meal on the dinner table. Thanks so much for stopping by!
Follow me on Facebook | Twitter | Instagram | Pinterest | YouTube