In this post I'm sharing my favorite Traditional Southern Fried Chicken Recipe.
I know that you're probably thinking that making fried chicken at home is somewhat of a commitment. It is, but it is so worth it. You will spend a good 30-45 minutes standing by your stove to make this soul food classic.
For me, fried chicken fills my mind with memories of my grandmother, special family dinners, and church covered dish suppers. Happy memories indeed.
My family loves my fried chicken. I don't make it often enough truly and opt for my easier boneless fried chicken most of the time. When I get the request for "regular" (bone in) fried chicken, I happily oblige.
I've previously shared my sweet tea fried chicken, which is also delicious, but it's taken me too long to get my tried and true classic pan fried chicken shared. Shame on me but here it is y'all!
Traditional Southern Fried Chicken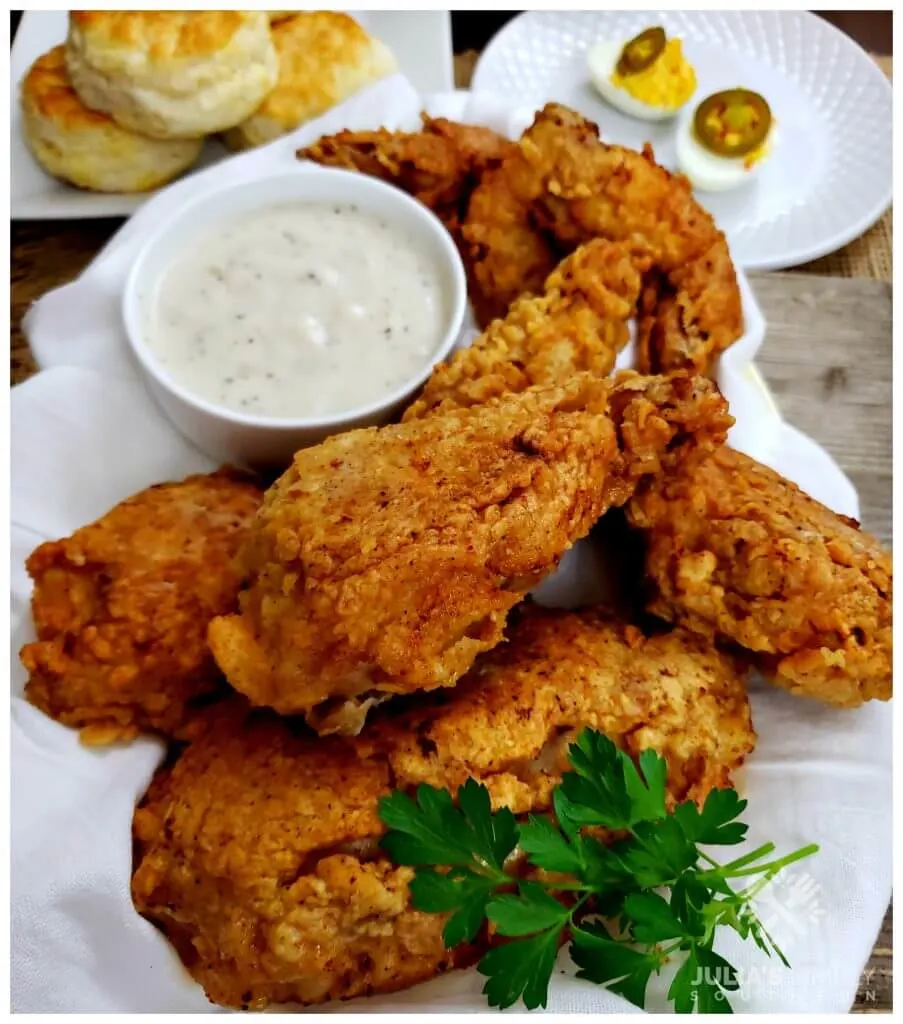 I recall sharing one of the photos of my fried chicken on Facebook and my first cousin, twice removed, commented that it looked just like my grandmothers.
Well, I don't think that I could have received a higher compliment in my books and I was beaming a smile ear to ear.
"I know when you think about the South, you think about fried foods, but we eat a tremendous amount of vegetables. I have my own garden, so vegetables have always been a big part of my life. I love broccoli. I love fresh beets. It's not all about the fried chicken and the biscuits. You don't want to make a steady diet of just lettuce. You don't want to make a steady diet of fried chicken." ~ Paula Deen



Buttermilk Fried Chicken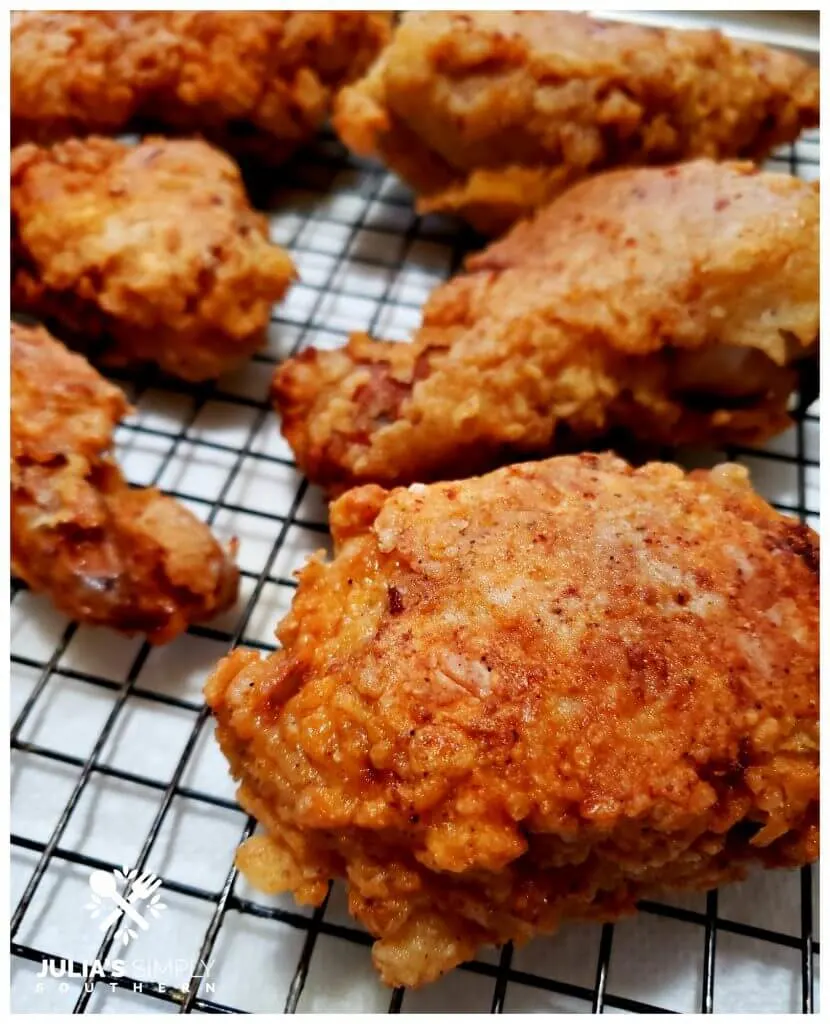 Here are a few of my thoughts to enjoy perfect fried chicken:
Buy a whole chicken and cut it up yourself. It is much cheaper to buy a whole chicken and easy to get the hang of cutting it up yourself.
Fried chicken tastes better when it has cooled a bit, still warm but closer to room temperature. If you try to eat fried chicken right out of the grease you'll just burn your mouth and not get to taste the wonderful seasonings.
The true secret to Southern fried chicken is in the seasonings. If you don't get this step right then you've totally missed out on why everyone loves bonafide Southern fried chicken.
People are making fried chicken all around the world and calling it "Southern" but it's not. We know it when we taste it because it is not seasoned properly.
There are many ways to prepare fried chicken but for the traditional style, it gets marinated in buttermilk overnight.
Skillet Fried Chicken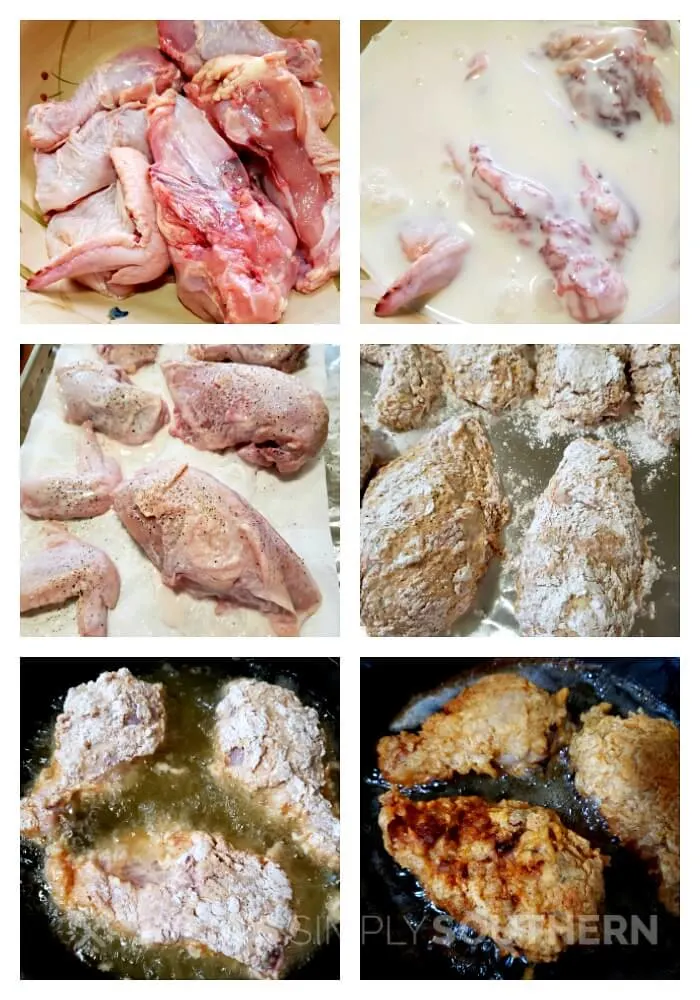 How do I make a traditional fried chicken recipe?
When it comes time to fry your chicken pieces, gently dry some of the buttermilk off of them and set aside on a sheet pan.
Make a well seasoned flour mixture for dredging. You'll also need a wet mixture for the dredging process.
Dredge the chicken pieces in the dry mixture, then the wet mixture, then the dry mixture; set aside until ready to fry.
Heating your cooking oil is important when frying chicken. If it is not hot enough then your chicken will sit in the oil longer and become greasier.
I prefer using my cast iron skillet to pan fry my chicken. The cast iron holds the heat well and you don't use as much oil as deep frying.
The best comfort food will always be greens, cornbread, and fried chicken. ~ Maya Angelou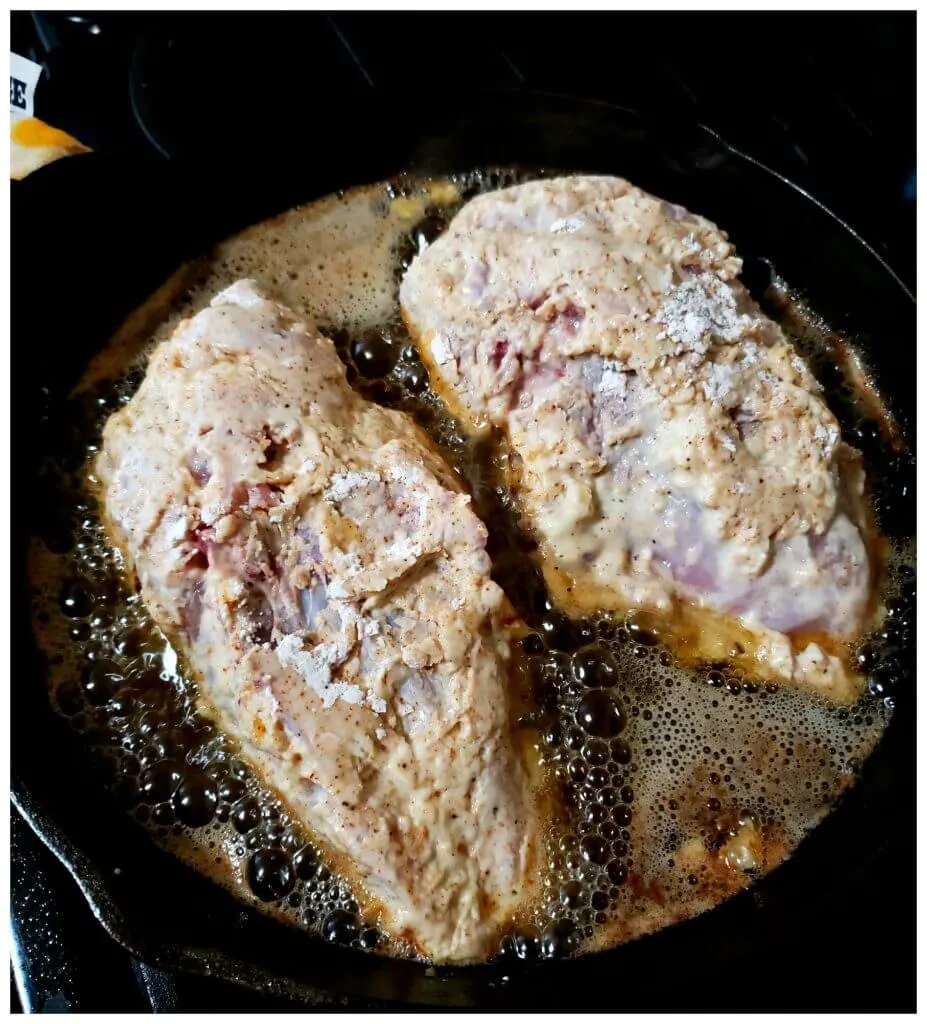 Begin by frying the dark meat pieces (legs and thighs) and wings. Don't over crowd your skillet and cook in as many batches as needed.
Fry on each side turning as needed until golden brown on all sides.
The wings will cook a bit faster, in about 10 minutes. The dark meat pieces will take 12-15 minutes.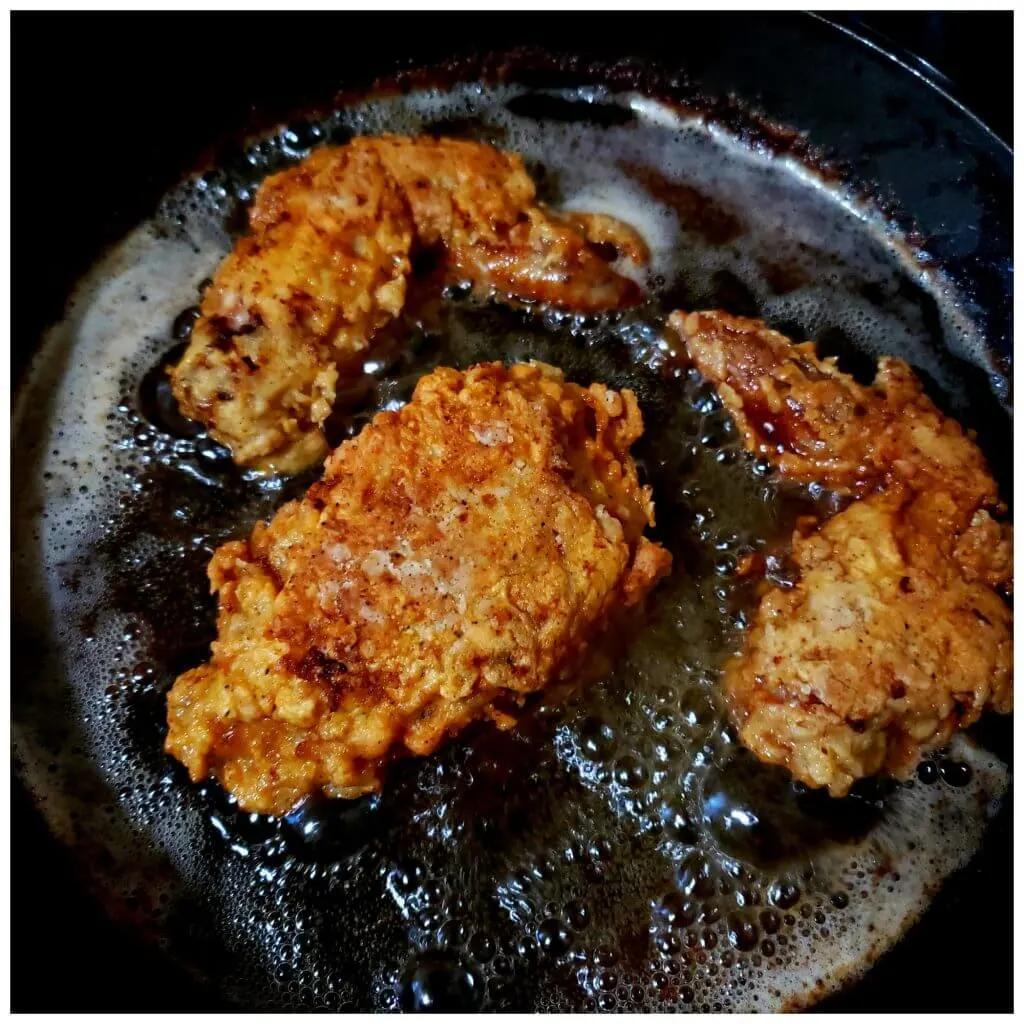 The chicken breasts are last to fry and will take around 15-18 minutes until done.
Frying chicken in the right oil temperature (325°F to 350°F) will ensure that your chicken is perfectly done when golden brown on all sides.
Practice makes perfect when learning to fry chicken. Be sure to check the internal temperature of your chicken for doneness with an instant read thermometer until you get the hang of it.
Chicken should be cooked to an internal temperature of at least 165°F for safe consumption.
Traditional Southern Fried Chicken Recipe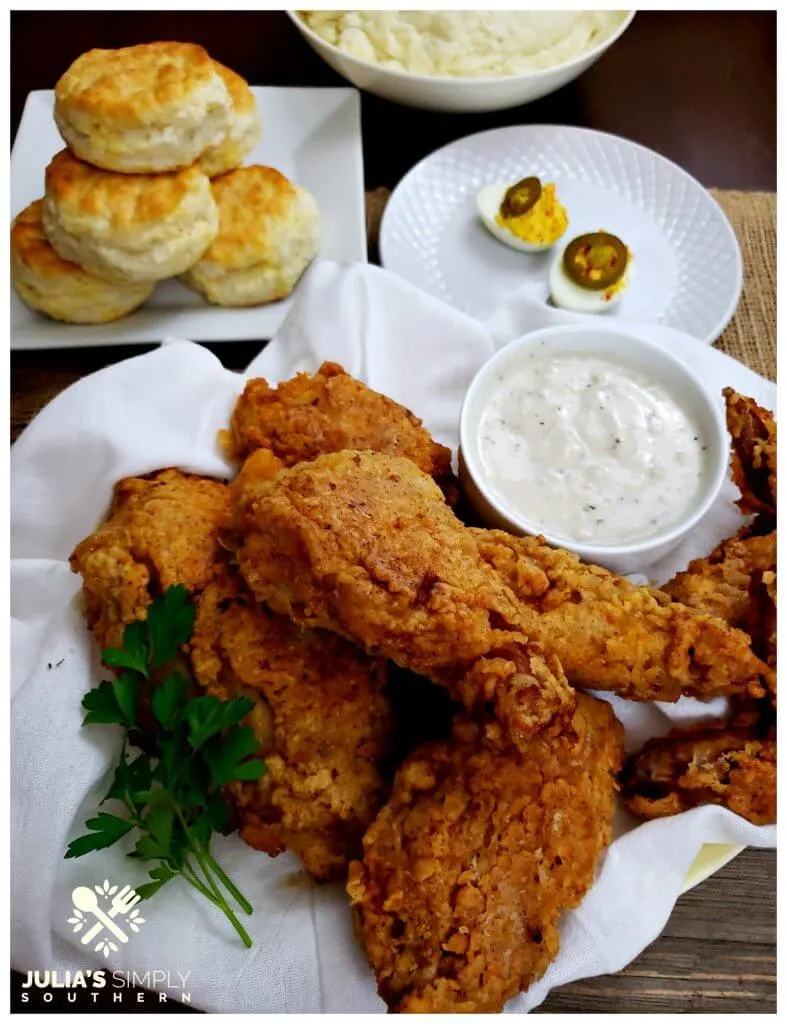 Here's what people are saying about this recipe
Susan: "This turned out beautifully. The family just loved how the chicken was so juicy and crispy! This is a keeper."
Melanie: "Everyone loved it. My kids fought over who was going to take the leftovers cold for lunch the next day!!"
Charmaine: "This will now be my go to recipe for chicken…amazing!"
Step by Step Fried Chicken Recipe
Yield: 8 pieces Fried Chicken
Traditional Southern Fried Chicken Recipe Tried and True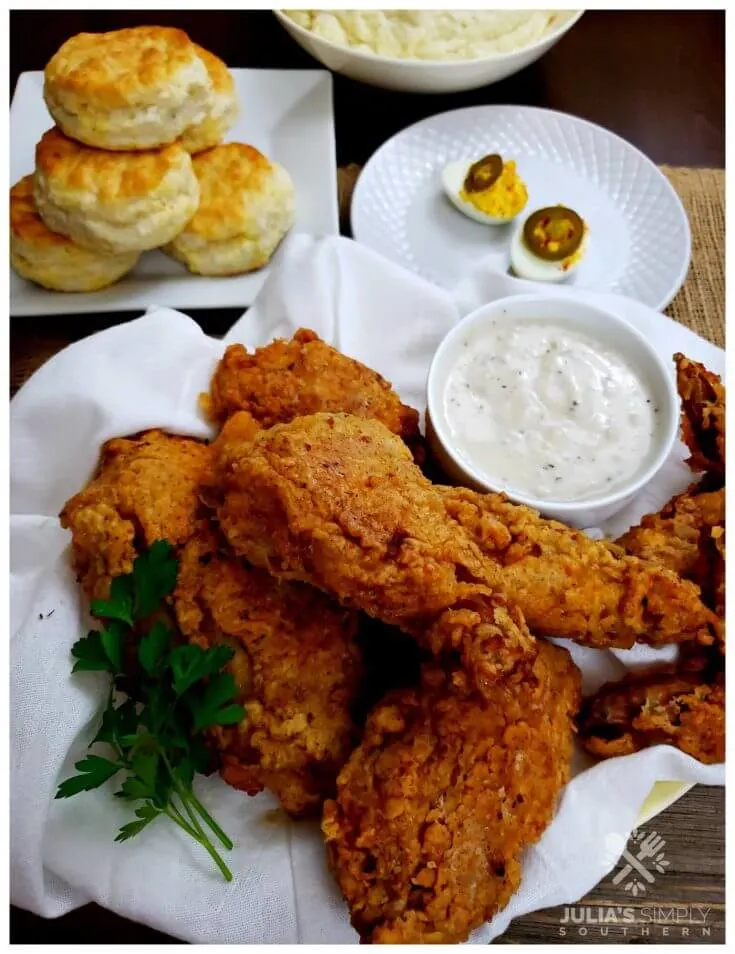 Tried and true recipe for classic Southern fried chicken that is pan fried crispy and golden brown.
Ingredients
2.5-3 lb Whole Chicken, cut up into 8 pieces
Marinade
2 c Buttermilk
2 tsp Hot Sauce
Dry Dredge Mixture
2.5 c All Purpose Flour
1.5 tsp Salt
1 tsp Ground Black Pepper
1/4 tsp Poultry Seasoning
1/4 tsp Garlic Powder
1/4 tsp Onion Powder
1 tsp Paprika
1/2 tsp Creole Seasoning (or Cayenne Pepper)
Wet Dredge Mixture
1 Egg, beaten
1 c Buttermilk
Other
2 c Peanut Oil, for frying (or Vegetable Oil)
Instructions
Combine the Marinade: In a large mixing bowl, combine two cups of buttermilk with 2 teaspoons of hot sauce; add the chicken pieces and make sure they're all coated well. Cover and refrigerate at least 4 hours to overnight.
Frying the Chicken
Add peanut oil to a cast iron skillet and heat over medium low.
Prepare the dry dredge mixture by combining the flour and seasonings together in a large bowl; set aside.
Prepare the wet dredge mixture by whisking together the egg with a cup of buttermilk in a large bowl; set aside.
Remove the chicken pieces from the marinade and place on a paper towel lined sheet pan. Use a paper towel to gently dry the chicken pieces slightly.
Dredge each chicken pieces in the dry dredge mixture, then wet, then dry; shake off excess. Place dredged chicken pieces on a foil lined sheet pan. Repeat until all pieces are done.
Cooking in batches; begin by adding the chicken legs, thighs and wings to the hot oil making sure not to over crowd the skillet.
Use tongs to turn every 5 minutes, fry the chicken until crispy and golden brown (12-15 minutes).
Transfer the cooked chicken pieces to a paper towel lined sheet pan with a cooling rack placed on top to drain excess cooking oil.
Continue with frying the remaining breast pieces, turning as needed (15-18 minutes) until crispy and golden brown.
Transfer the breasts to the lined sheet pan when done.
Serve after chicken has cooled 10 minutes.

Notes
Save the neck and backbone from your chicken to freeze for making stock.
Use an instant read thermometer if needed to test for doneness. Chicken should reach an internal temperature of at least 165°F.
Cooking oil should be between 325-350°F for frying.
Allow chicken to cool slightly until warm before serving for best flavor.
Season the skin of the chicken with a pinch of salt and pepper before dredging for added flavor.
Recommended Products
As an Amazon Associate and member of other affiliate programs, I earn from qualifying purchases.
Nutrition Information:
Yield:
8
Serving Size:
1
Amount Per Serving:
Calories:

320
Total Fat:

14g
Saturated Fat:

4g
Trans Fat:

0g
Unsaturated Fat:

3.5g
Cholesterol:

96mg
Sodium:

311mg
Carbohydrates:

35g
Fiber:

1g
Sugar:

5g
Protein:

124g
You might also like this recipe for Air Fried Pork Chops from Back to My Southern Roots.
You can also see this fried chicken recipe shared at Weekend Potluck.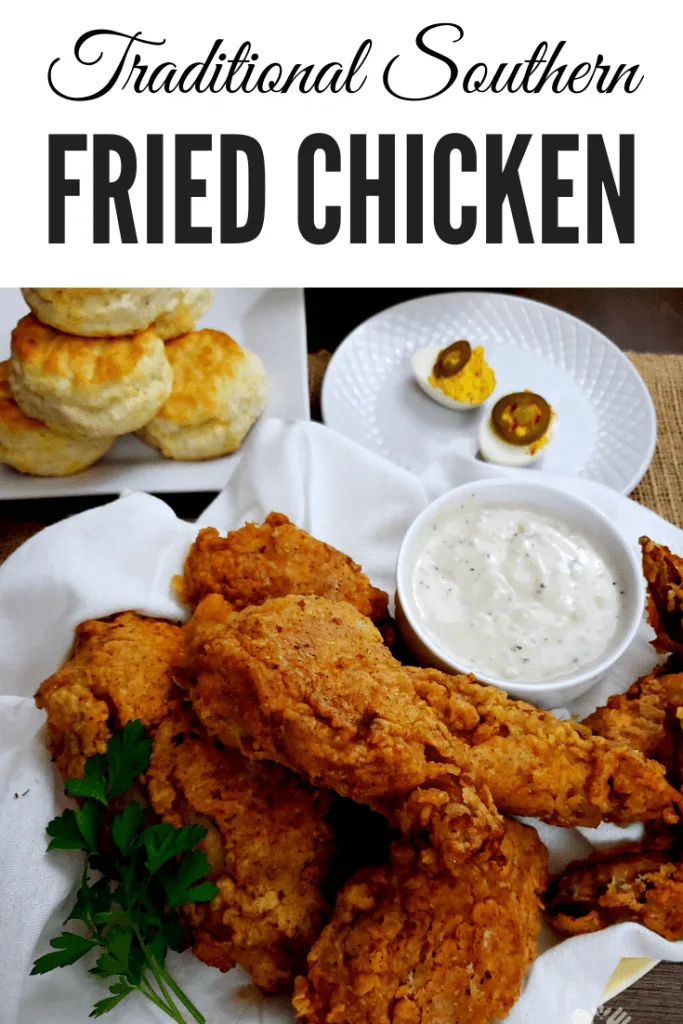 Thank you so much for stopping by! I'm so happy that you did. I know that you'll love this amazing Southern fried chicken just as much as my family does.
Be sure to subscribe to my email list while you are here. As a subscriber you will receive a weekly newsletter from me delivered straight to your inbox with the latest recipes and news here on the blog so that you never miss a thing.
Meet Julia
Author of Julia's Simply Southern
Hey Y'all! I'm Julia, the cook and writer behind the recipes here at Julia's Simply Southern. I began my website so that I could share easy to follow recipes that anyone can use to put a home cooked meal on the dinner table. Thanks so much for stopping by!
Follow me on Facebook | Twitter | Instagram | Pinterest | YouTube