In this post I am sharing a recipe for delicious Low Carb Air Fried Chicken.
I s'wanee, it seems that everyone and two of their friends go on a diet in the new year. Perhaps not a bad idea for a short while after all of the rich holiday food we've been enjoying.
While I am not especially a fan of "diets", we have made a decision in this house to add more healthy recipes into our meal planning.
For me that does not mean unrealistic torture of not eating what I want to. It means that instead of having bread every day, I'll limit that to one or two days. That sort of thing. Plus adding in some healthier recipes.
Que the trumpets, here it comes….so here we are and my first recipe this year is one for the air fryer. Air fried chicken to be specific. It's healthy and delicious and I promise that you'll love it too!
Does this mean that this Southerner will be giving up traditional fried chicken? Well, of course not. It means that I'll have air fryer chicken more often and enjoy the traditionally prepared fried chicken occasionally.
Air Fried Chicken Dinner Salad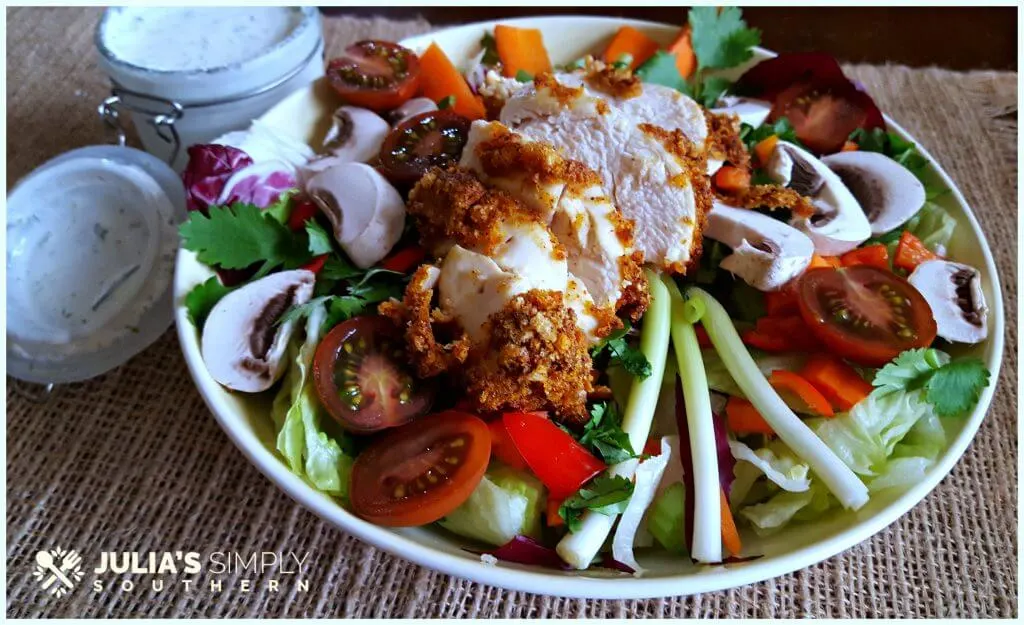 It's likely that you've heard the term "air fryer". They're about as trendy as the "instant pot" these days. Until recently I owned neither. I'm a very traditional cook and am just more comfortable using the stove and oven.
I have been interested in getting an air fryer though because so many cooks that I trust have said such good things about them. Well, I must've done something right cause Santa brought me one for Christmas.
I didn't waste any time using it either. So I decided to go in both feet first and make fried chicken in my new air fryer. I was truly shocked that the texture of the meat was truly like that of fried chicken. That was a big plus that all the hype was true in that regard.
Was there any downside in my first attempt? Yes, that chicken was bland. Ugh. That's okay though…I learned right away that you just need to season a bit more than you might think you need to when using an air fryer.
Low Carb Air Fried Chicken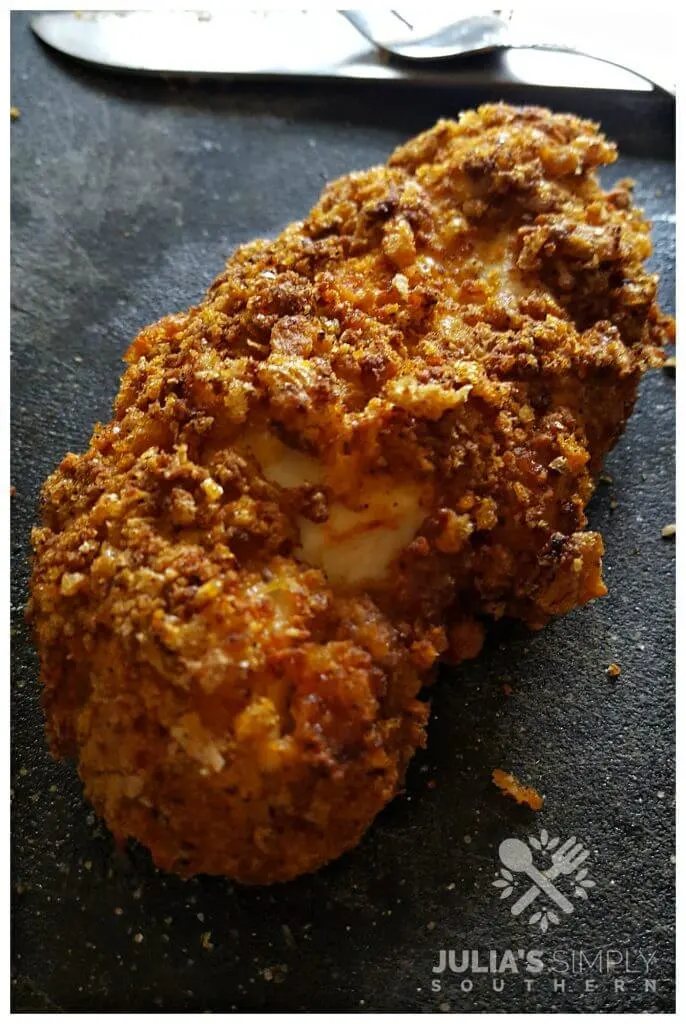 The end result are these beautiful crispy, low carb, juicy and flavorful chicken breasts that I'm sharing with y'all. I'm truly excited to be sharing the easy recipe, they are so good!
Mr. Simply Southern loved this air fryer chicken recipe too, so that's a big plus. I'll be making this air fryer chicken recipe on a regular basis.
The air fried boneless chicken breasts make a great main course or you can slice it up and top a salad like I have. It was a delicious dinner salad and I felt so healthy while I was eating it.
Buttermilk Fried Chicken Air Fryer
There are a few different air fryer models on the market so I feel I should mention that you should adapt the recipe for your particular model. The model that I received for Christmas is a Power Air Fryer Oven. The most popular model on the market is probably the Ninja.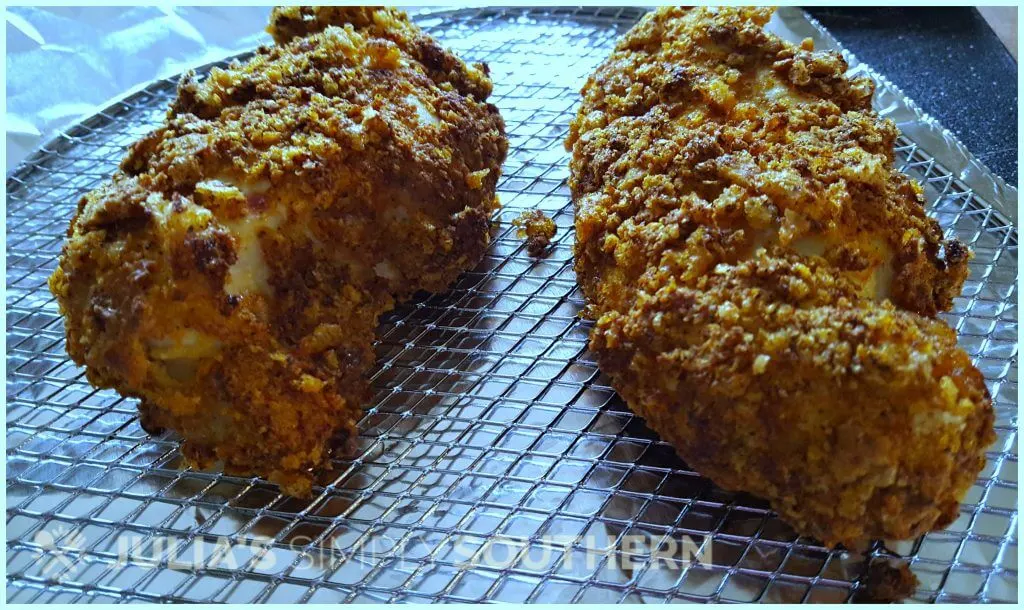 Tips for using an air fryer to make crispy chicken
Be sure to read the instructions for any new appliance carefully.
Don't be afraid to experiment. Remember, the first batch of fried chicken I made I thought was bland and needed more seasoning.
Don't over crowd the food. Air fryers work by circulating hot air.
Rotate or flip foods halfway through cooking to ensure even crispiness.
Air Fried Chicken Calories
Air fried chicken has up to 70% less calories than traditional oil fried chicken. That is amazing to me y'all.
Tip: Use almond flour in the recipe to make this Keto friendly.
Other low carb recipes you might enjoy: Egg Roll in a Bowl, Crispy Baked Drumsticks, or Ham Egg & Cheese Breakfast Cups.
Low Carb Air Fried Chicken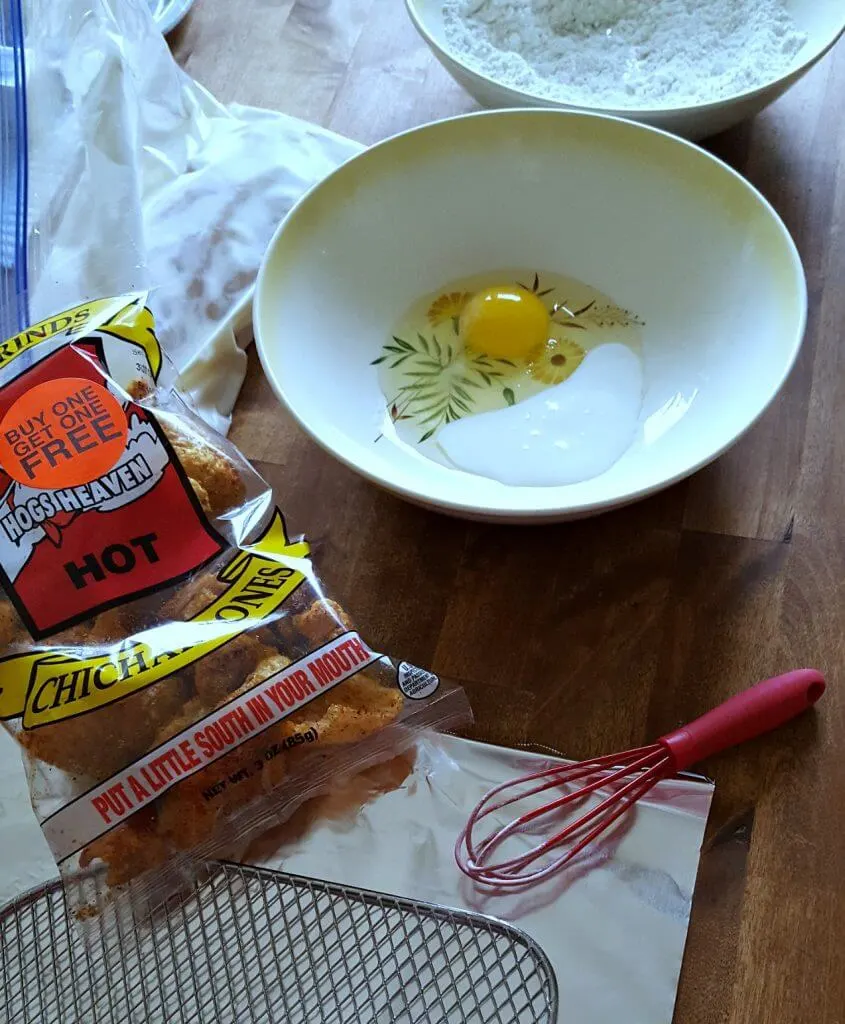 How to Make Easy Air Fryer Chicken
Here's what you'll need to make this chicken low carb and flavorful: boneless skinless chicken breasts (I chose boneless breast meat, but you can also prepare an air fryer whole chicken), buttermilk, hot sauce, flour, a few seasonings, an egg and hot pork rinds. Yes, pork rinds, you read it right.
A final coating of crushed hot pork rinds lowers the carbs of this fried chicken and adds a lot of flavor….which is a necessity when cooking it in the air fryer.
Bonus: pork rinds are really, really cheap. Seriously, I almost always find them on BOGO sale at the grocery store. I love not spending a fortune to eat healthier meals.
So, here's how I made this amazing chicken…
Steps to Prepare the Recipe
Step 1 : Marinate the chicken overnight in some buttermilk with a few dashes of hot sauce. This is good step to know however you choose to make your fried chicken 😉
Step 2: Prepare the breading station. In one bowl, combine the flour and seasonings together. Use a second bowl to combine an egg with a couple tablespoons of buttermilk. In a large plastic storage bag, add the pork rinds crush them up. I used my rolling pin to crunch them all up. It was fun…I'm not gonna lie!
Step 3: Use a pair of tongs to take the chicken pieces out of the buttermilk marinade then dredge first in the seasoned flour mixture, then in the egg mixture, then add them to the bag with the crushed pork rinds. After all of the chicken pieces are in the bag, seal it up and toss around to coat the chicken. Add the chicken to the tray or compartment of your air fryer for cooking.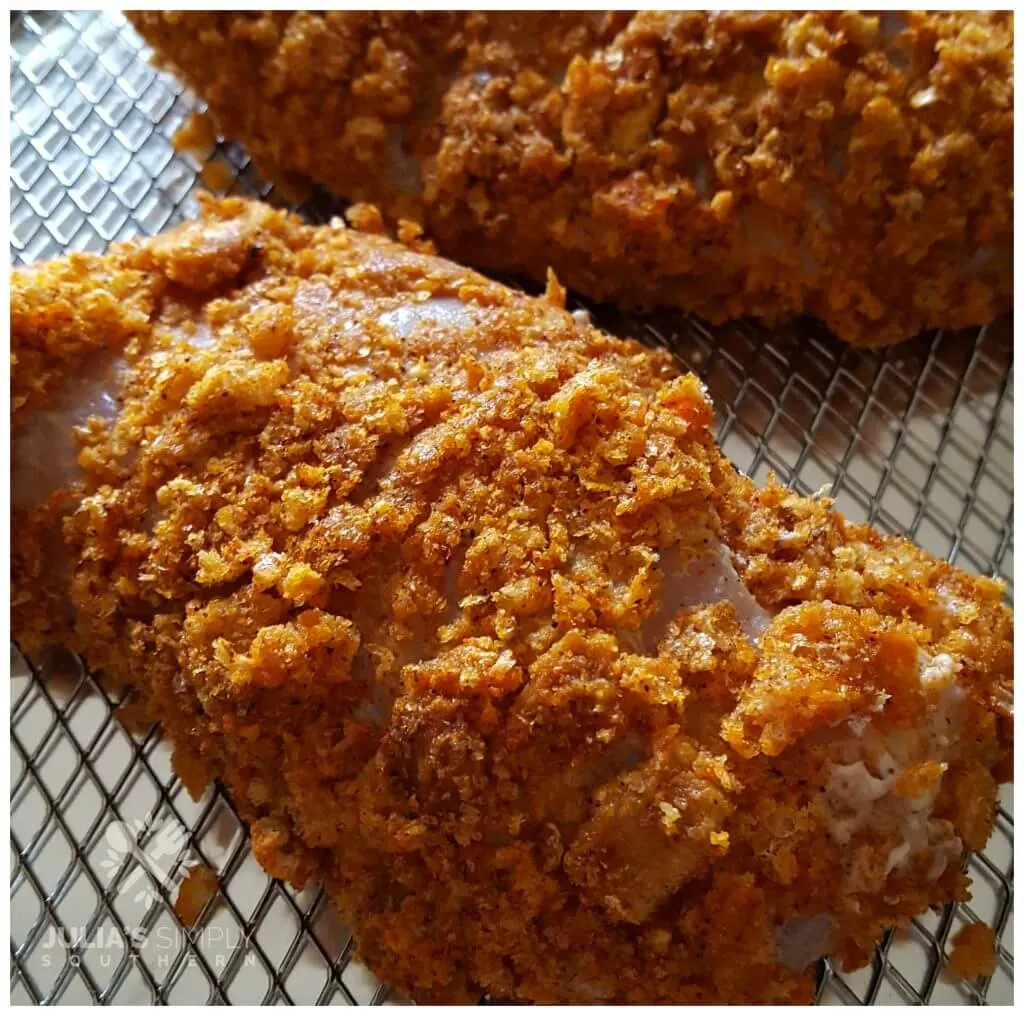 Set the air fryer to 370°F and cook 20 to 25 minutes. The internal temperature of the chicken should be 165°F for safe consumption. (Cook and adjust settings as needed for your particular air fryer model)
Allow the chicken to rest for 5 minutes before slicing.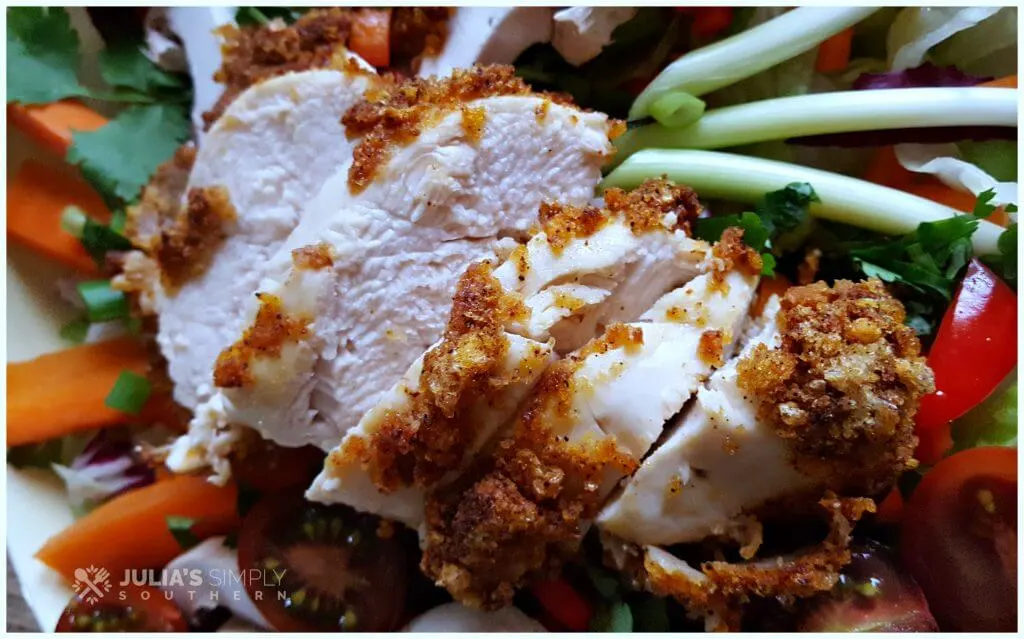 Yield: 1 pound of chicken
Low Carb Air Fried Chicken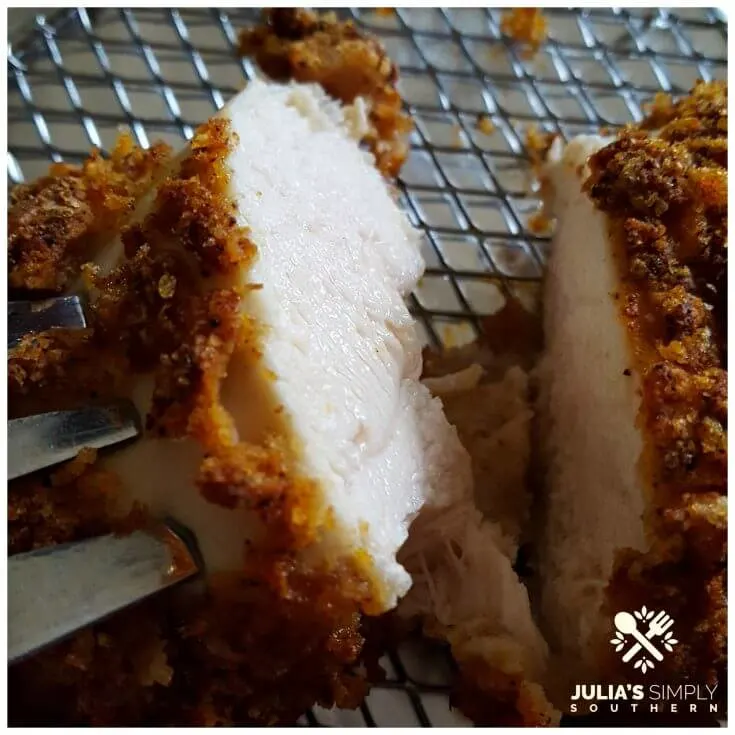 Delicious and flavorful low carb air fried chicken with a crunchy coating the whole family will love.
Ingredients
1 to 2 lbs Boneless Skinless Chicken Breasts
1 c Buttermilk (for marinade)
Few dashes of Hot Sauce
2/3 c Flour
1 tsp Salt
1/2 tsp Black Pepper
1/2 tsp Garlic Powder
1/2 tsp Onion Powder
1 Egg
2 tbs Buttermilk (for wet dredge mixture)
3 oz Hot Pork Rinds, crushed
Instructions
Marinate the chicken pieces overnight in a cup of buttermilk with a few dashes of hot sauce.
Set up the dredging station.
In a bowl, combine the flour and seasonings.
In another bowl, combine the egg and buttermilk.
In another bowl, or a plastic storage bag, add the crushed pork rinds.
Use tongs to remove the chicken from the marinade and dredge in the flour mixture, then the egg mixture, and finally in the crushed pork rinds.
Cook the chicken using the air fryer setting at 370°F for 20 to 25 minutes (until internal temperature of the chicken breasts are 165°F)
Notes
Adjust settings according for your particular air fryer model.
Use a meat thermometer if needed to ensure doneness.
Recommended Products
As an Amazon Associate and member of other affiliate programs, I earn from qualifying purchases.
Nutrition Information:
Yield:
4
Serving Size:
1/2 Piece
Amount Per Serving:
Calories:

123
Total Fat:

5g
Saturated Fat:

1g
Trans Fat:

0g
Unsaturated Fat:

2g
Cholesterol:

52mg
Sodium:

258mg
Carbohydrates:

4g
Fiber:

0g
Sugar:

1g
Protein:

18g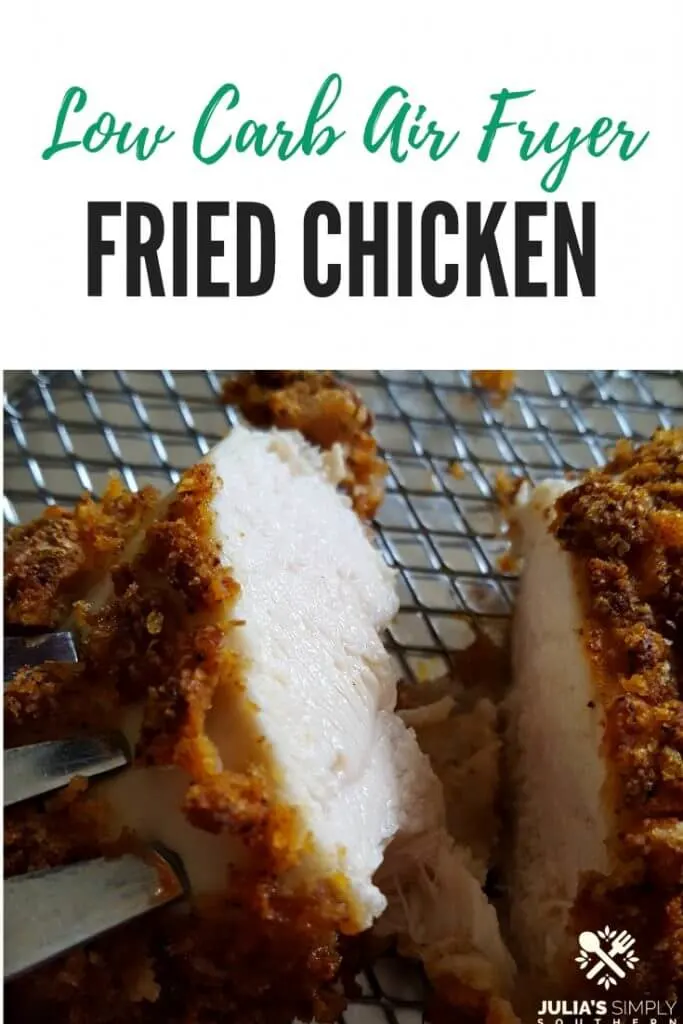 See this recipe at Weekend Potluck
Meet Julia
Author of Julia's Simply Southern
Hey Y'all! I'm Julia, the cook and writer behind the recipes here at Julia's Simply Southern. I began my website so that I could share easy to follow recipes that anyone can use to put a home cooked meal on the dinner table. Thanks so much for stopping by!
Follow me on Facebook | Twitter | Instagram | Pinterest | YouTube