Check out this delicious recipe for flavorful chicken tenders. Pickle Fried Chicken Tenders offer a delicious hint of dill pickle flavor and it's not overwhelming. Pucker your lips and enjoy each bite! It's the real dill y'all! Sorry, I couldn't resist a little punny. I'll admit though, I crack myself up more often than anyone else. HA!
If you love dill pickles as much as we do, you'll love these chicken breast tenders. Kids will love this meal too. This recipe will easily feed 4 to 6 people depending on appetite. Find the printable recipe card at the end of this post.
I was intrigued to create this recipe after seeing a sign on a billboard for one of those popular chicken places and thought to myself – "I'm gonna make it!"
The Adventure of Trying New Recipes
I honestly didn't know what I was getting into with this recipe, being new territory and all.
The thoughts that came to mind were that I would either be wasting nearly ten dollars worth of chicken or my instincts were right and it would be delicious.
If you're quite serious about your love for pickles, I'm also sharing a way to amp up the flavor too along with a delicious dipping sauce recipe. Pickles are obviously a big dill (sorry, I did it again 😉 ) since you'll often find a spear served alongside sandwiches.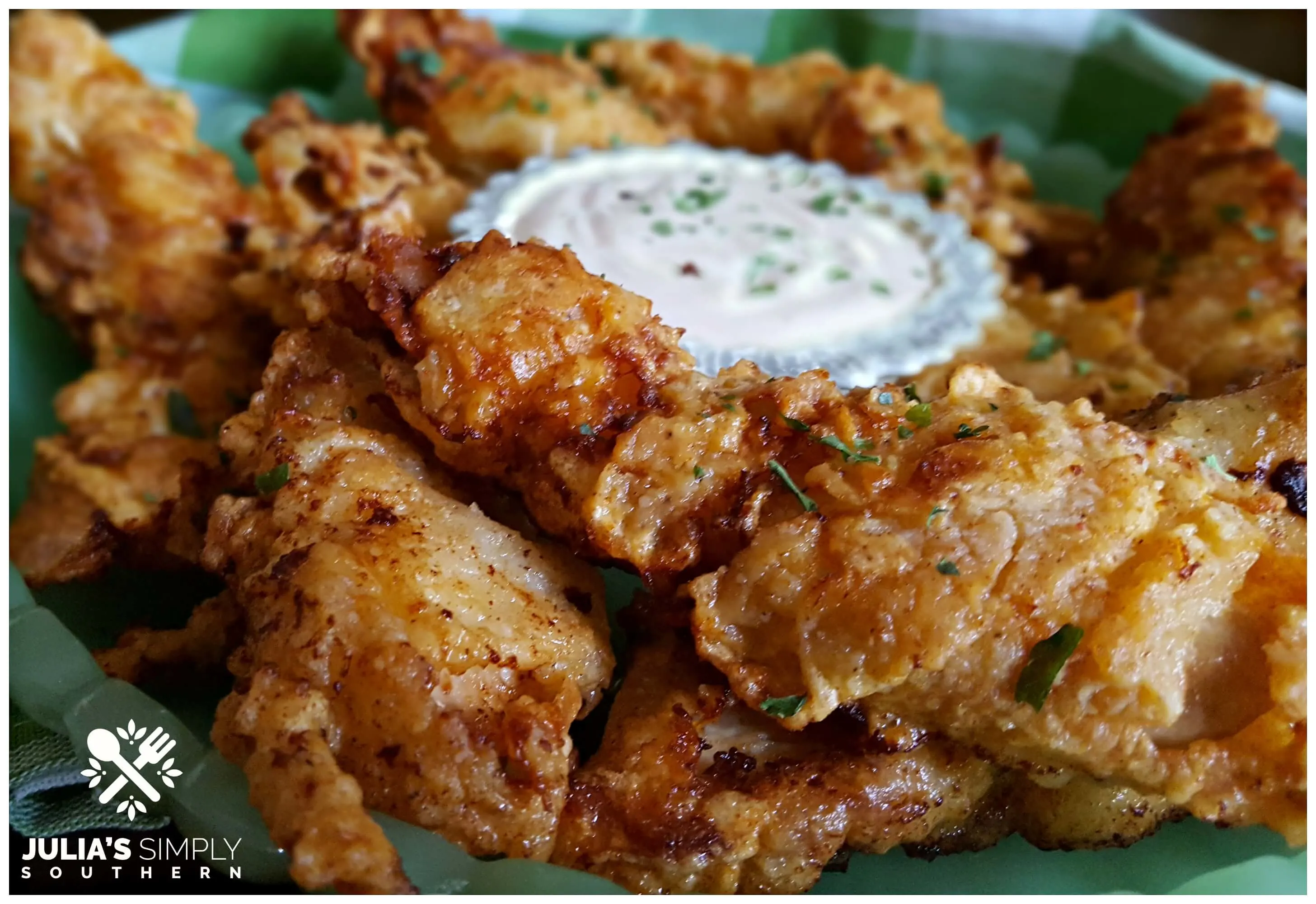 ---
Did you know that pickle juice has many beneficial uses?
That's right it sure does, so save that pickle juice to use a variety of ways. Here are just a few ways to make use of it:
Use it as a brine, just as I've done with this fried chicken tenders recipe.
Drinking pickle juice helps soothe muscle cramps. This really works because I've done it and it works like a charm.
Pickle juice contains sodium and potassium which can help you get hydrated faster.
Use pickle juice to drizzle into salads such as coleslaw and potato salad for extra flavor. I use it in both. For potato salad, I drizzle a little pickle juice over my cooked potatoes before adding the rest of the ingredients. I must admit that folks love my potato salad recipe. The pickle juice just adds that right something to make it special!
Apparently pickle juice kills weeds. I haven't tried this myself but apparently the mix of vinegar and salt does the trick.
So save that pickle juice so you have plenty on hand the next time you can incorporate it with one of these ideas.
---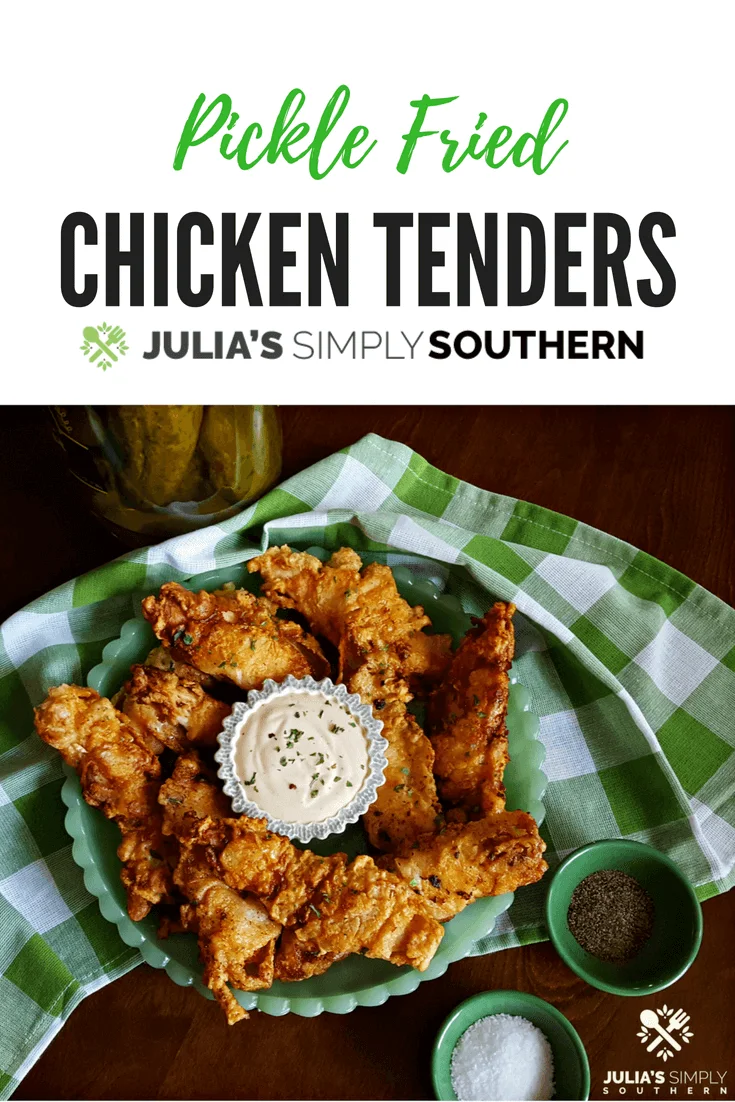 Easy Pickle Brined Chicken Tenders
Here's what you'll need to create this delicious chicken tenders recipe and step by step directions on how to make it:
Thin boneless and skinless chicken breasts, dill pickle juice, an egg, buttermilk, water, some all purpose flour (self rising is okay too), and a few seasonings plus oil for frying. If you want to try the optional dipping sauce recipe, you will need mayo, hot sauce, ketchup, dried dill, dill pickle juice and chopped dill pickles (optional)
Step 1: Brine the chicken. Cut the breast pieces in half and place into a gallon size plastic storage bag. Next add the pickle juice and allow the chicken to marinate in the pickle juice overnight in the refrigerator. Drain and discard pickle juice used to marinate when ready to cook the chicken.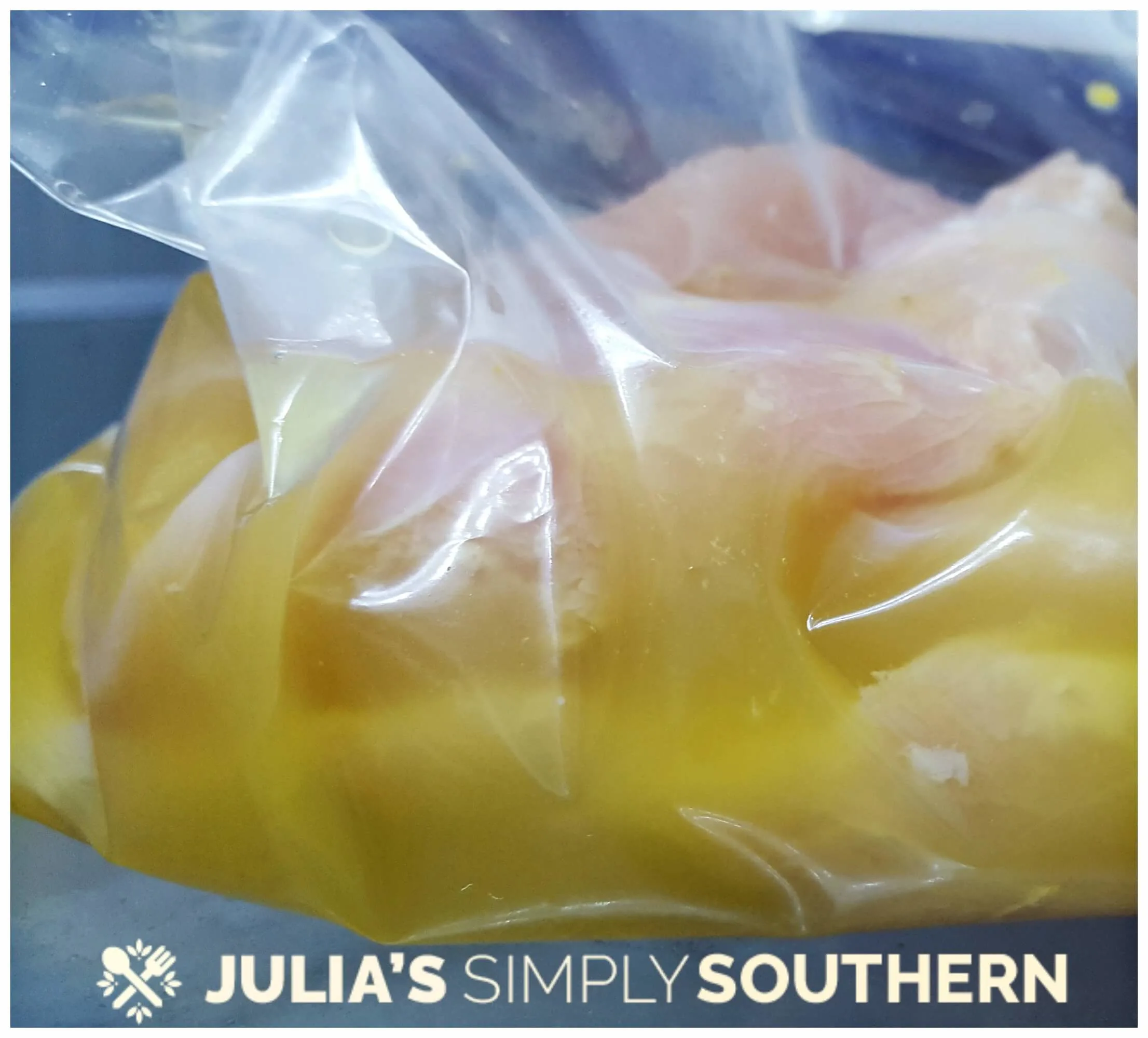 Next Step: Prepare to cook the chicken pieces. Set up your breading station with the wet mixture and dry mixture. When breading chicken tenders, dredge first in the dry mixture then wet and once more in dry. Save time by dredging all of your chicken tenders and placing on a foil lined baking sheet.
Pickle Fried Chicken Tenders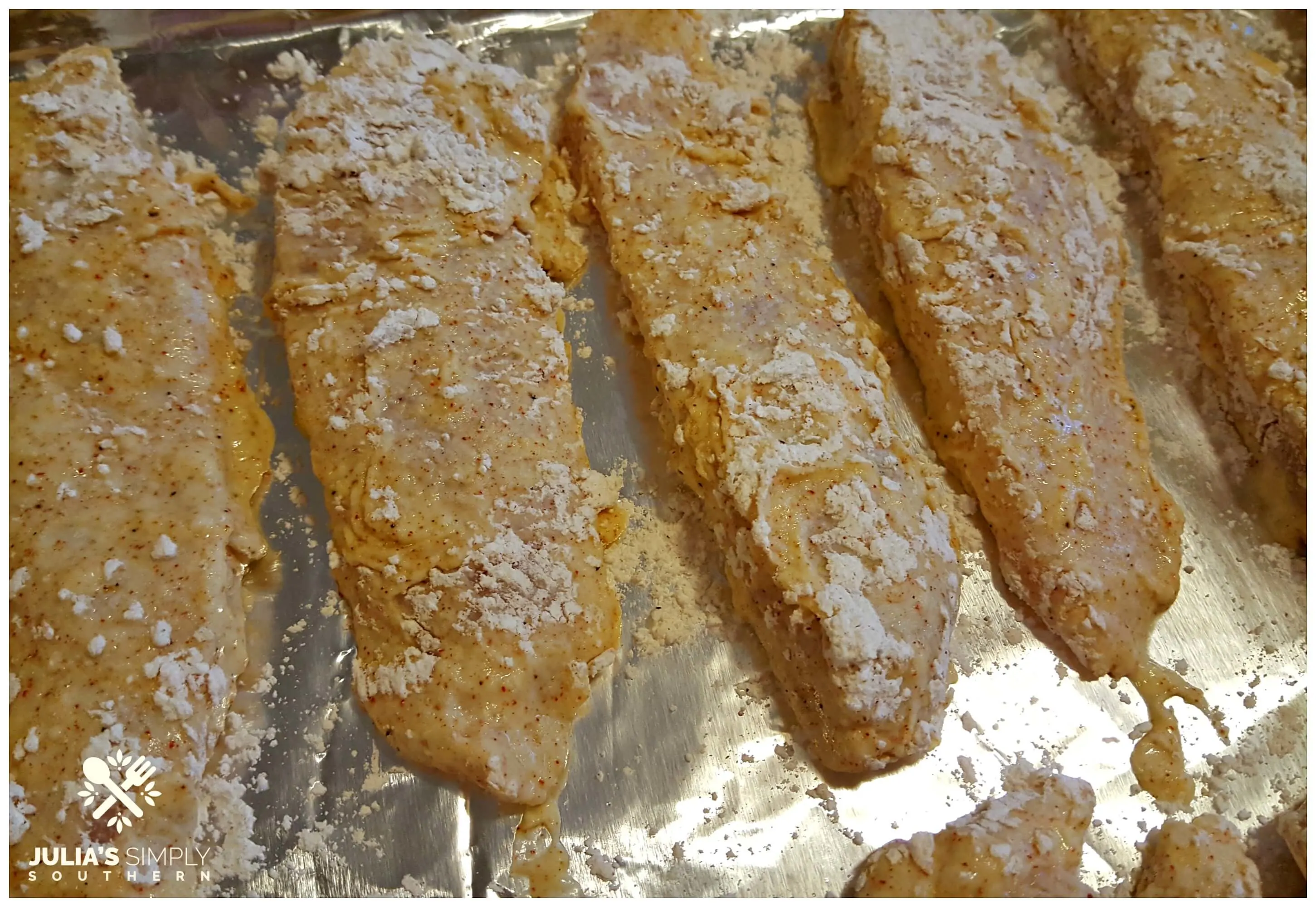 Step 3: Bring the cooking oil to temperature for frying in a large skillet over medium heat. Cook the chicken tenders in batches to avoid over-crowding, about 6 minutes per side or until browned as desired.
The internal temperature of boneless chicken breast tenders should be 165°F (73.89°C). Remove cooked chicken pieces to a cooking rack over a paper towel lined baking sheet to drain of excess oil.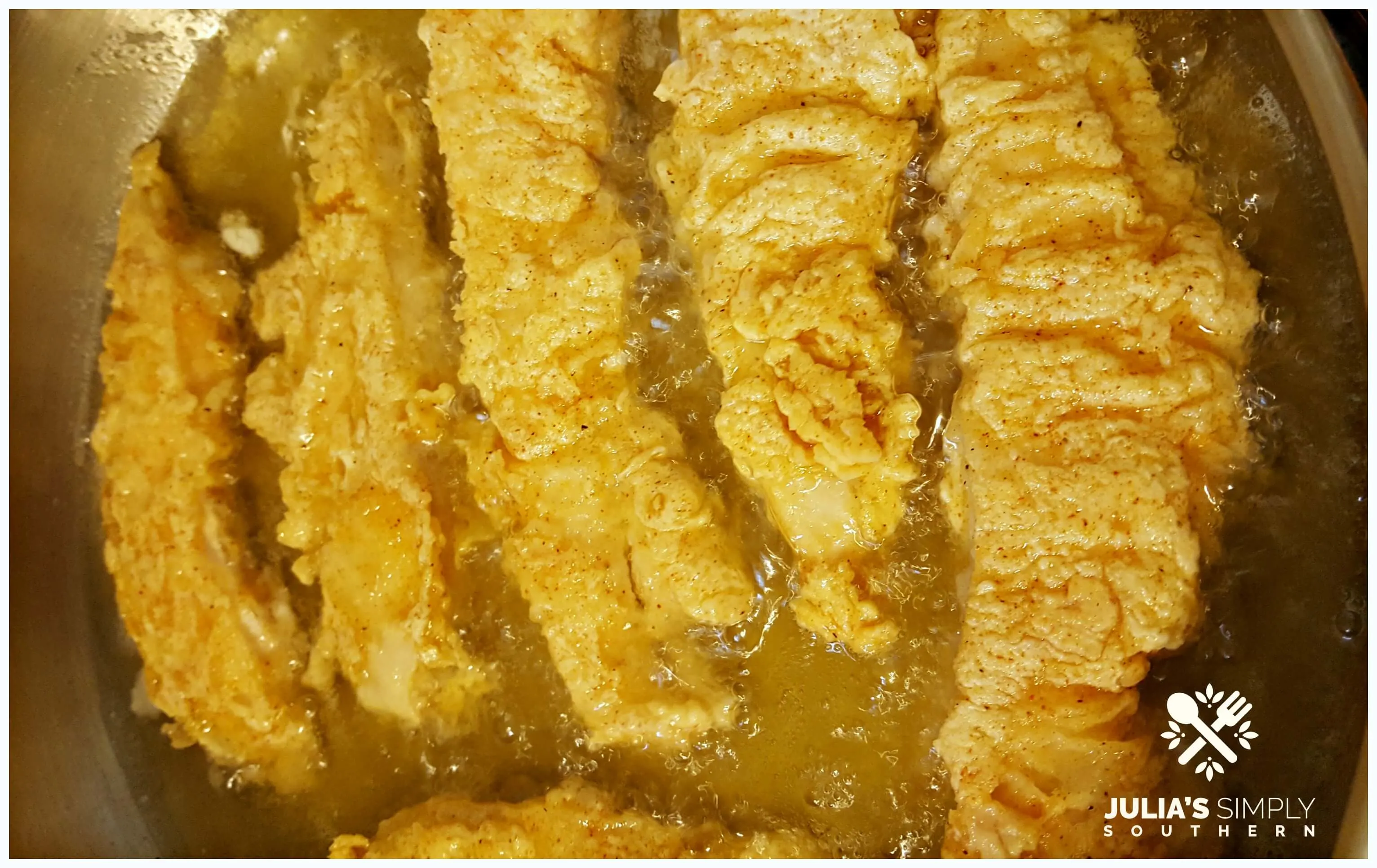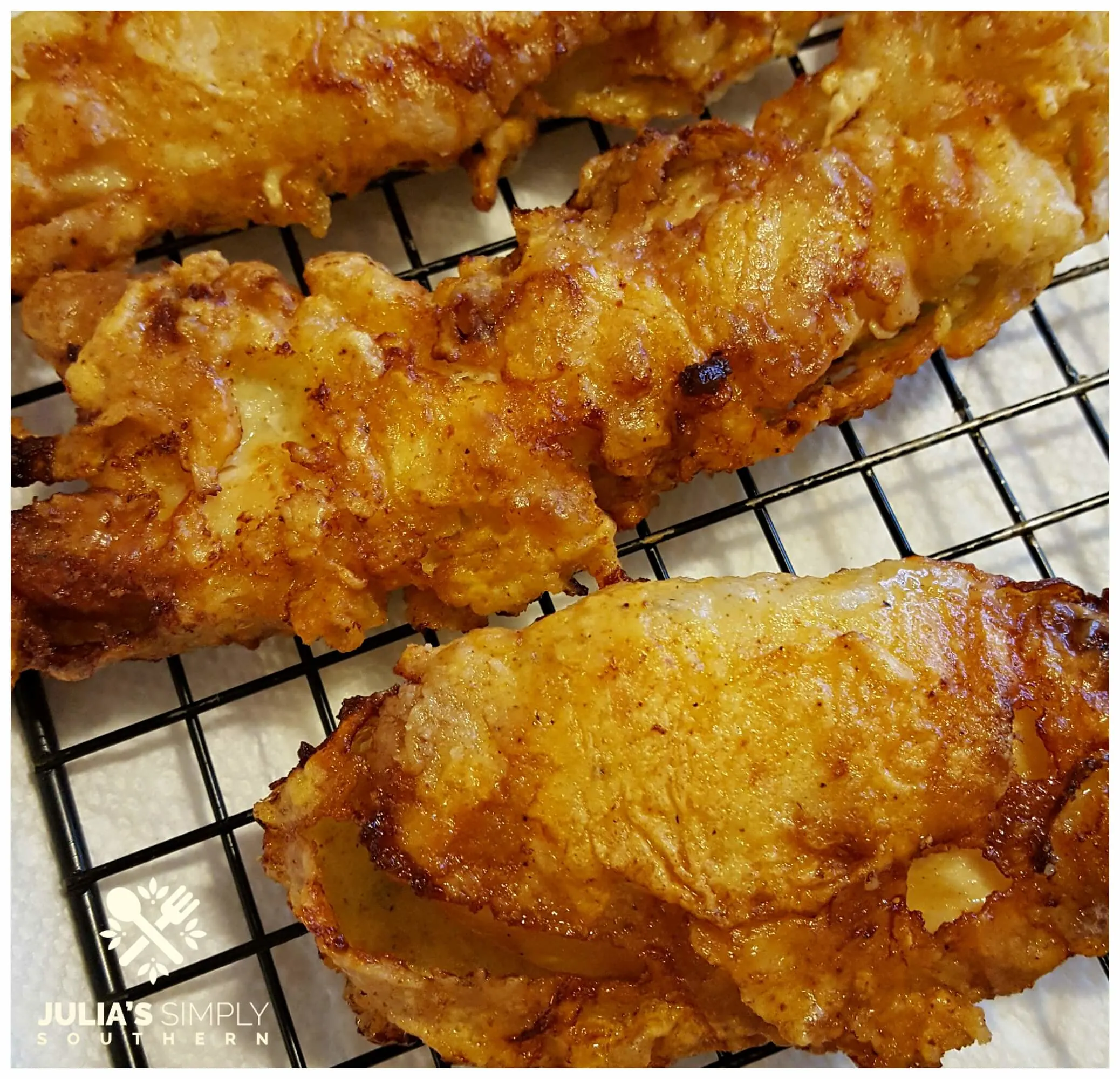 Cook's Note: You will get the flavor of the dill pickle in the chicken tenders with just brining in the juice. It is not over-whelming but present.
If you have extra dill pickle juice on hand and desire a more intense pickle flavor, dip the cooked Dill Chicken Tenders, after removing excess oil, into dill pickle juice before serving. Serve with your favorite dipping sauces if desired.
Step 4: Dill Pickle Dipping Sauce ( optional ) Combine mayonnaise, hot sauce, ketchup, dried dill, dill pickle juice and chopped dill pickle if using together in a small bowl. This sauce can be made ahead the night before. Serve with cooked chicken breast tenders.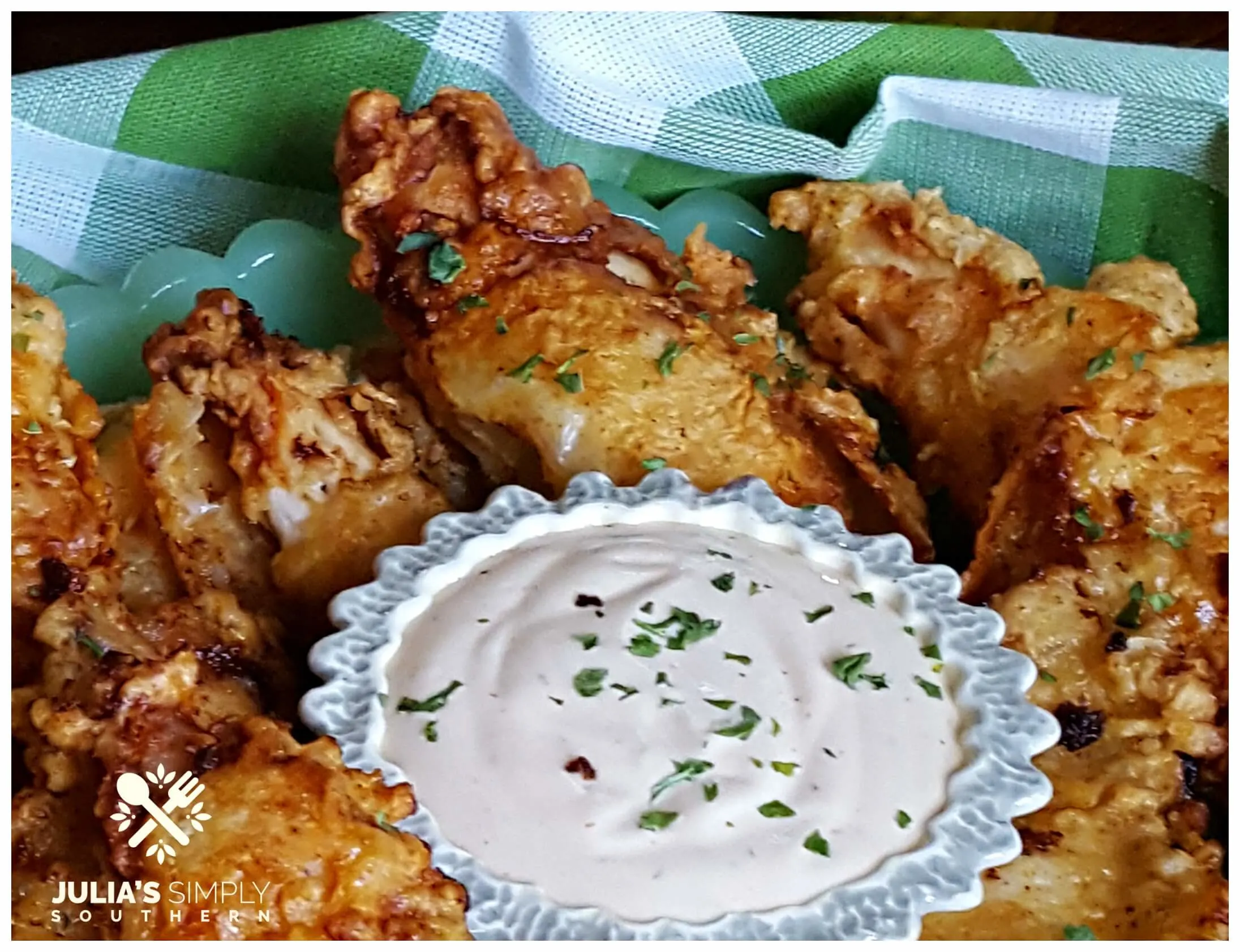 Easy Pickle Fried Chicken Tenders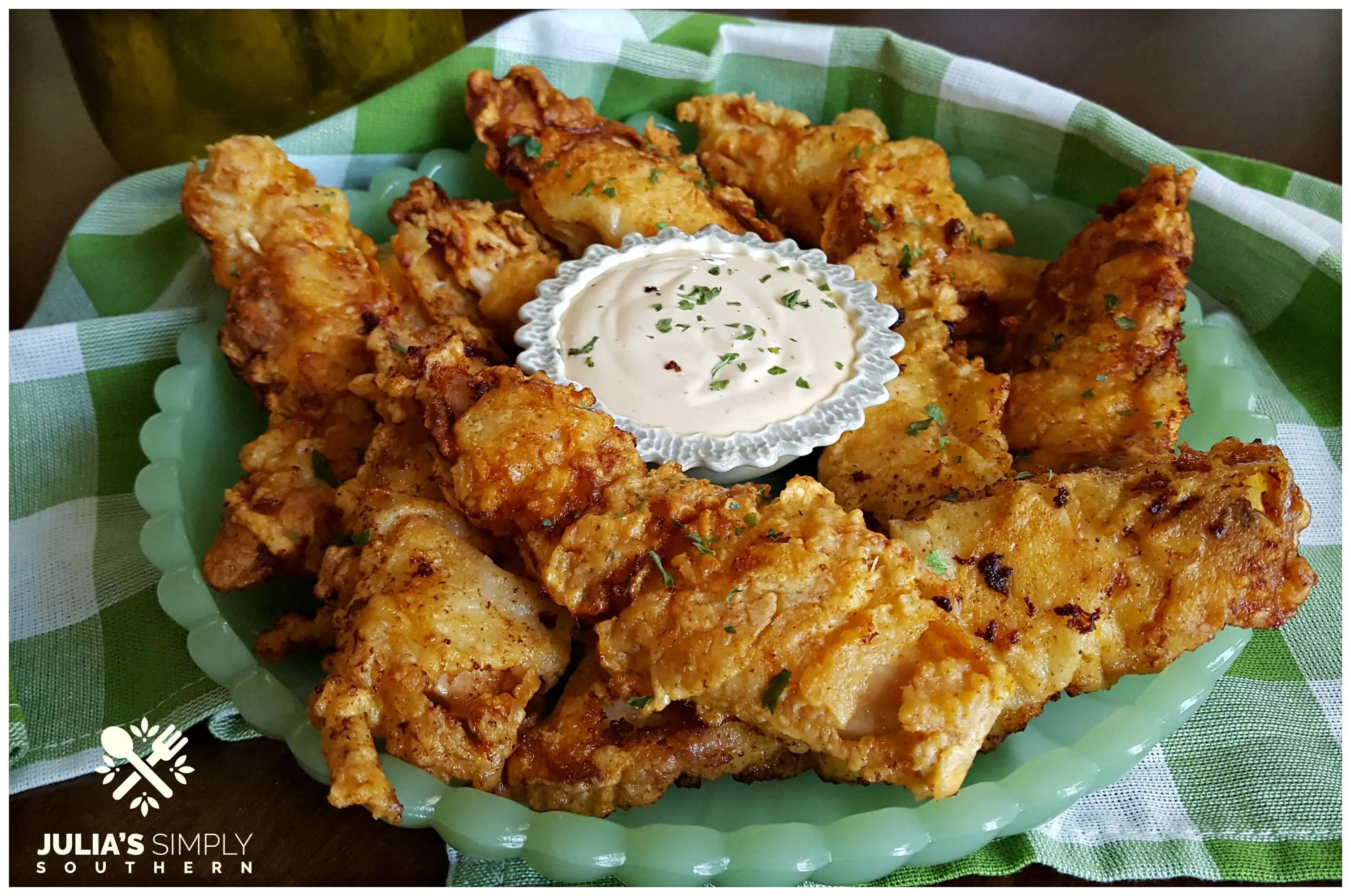 Complete the meal with a couple of side dishes, such as chilled Pork and Beans, Country Green Beans, Okra and Tomatoes or Perfect Creamy Mashed Potatoes.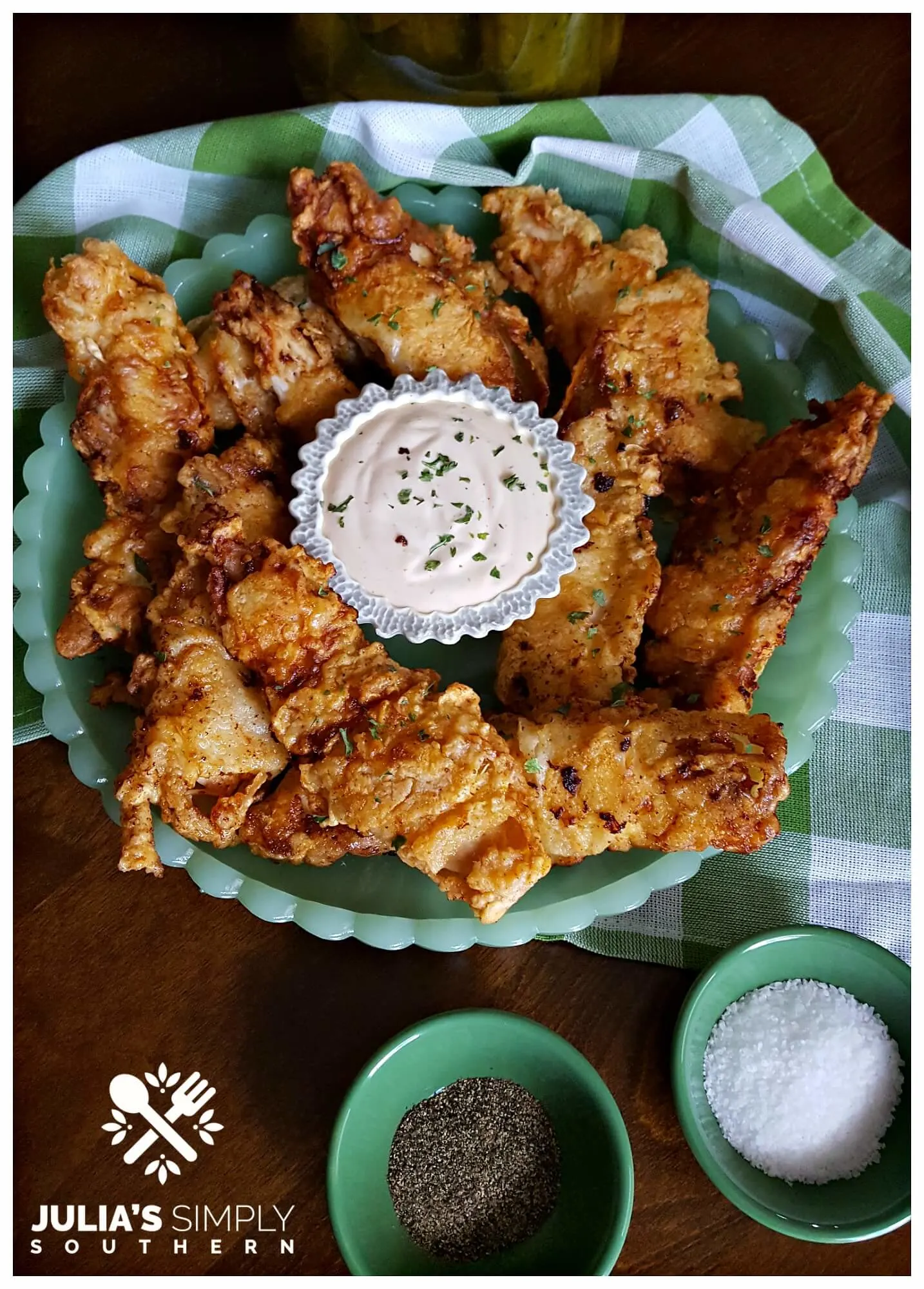 Printable Recipe Card
Pickle Fried Chicken Tenders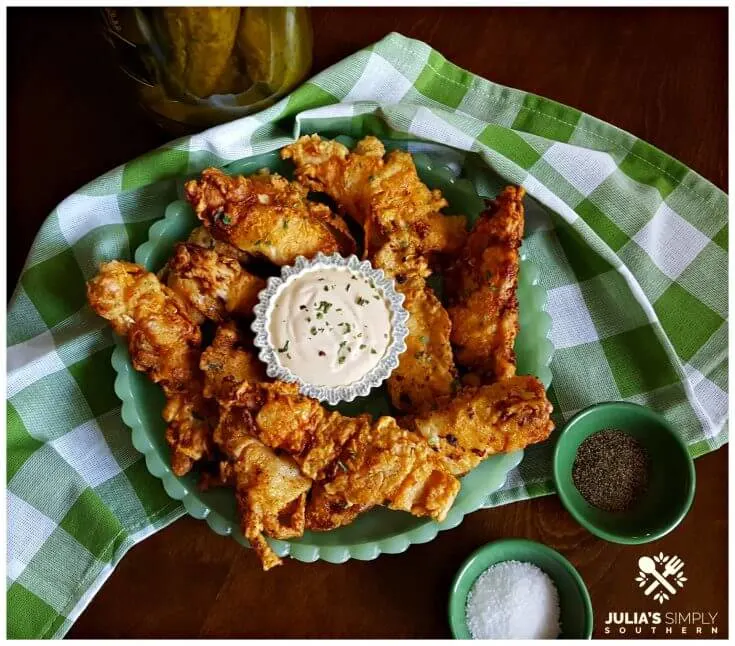 Delicious and kid friendly pickle fried chicken fingers
Total Time
8 hours
25 minutes
Ingredients
2 lbs Thin Cut Boneless and Skinless Chicken Breasts
1 c Dill Pickle Juice
1 Egg
3/4 c Buttermilk
1 tbs Water
1.5 c All Purpose Flour (self rising will work also)
1/2 tsp Salt
1/2 tsp Ground Black Pepper
1/2 tsp Garlic Powder
1 tsp Paprika
Cooking Oil, for frying
**Dipping Sauce**
1/4 c Mayonnaise
Couple of dashes of hot sauce, or to taste
3 tsp Ketchup
1/4 tsp Dried Dill Weed
2 tsp Dill Pickle Juice
Chopped Dill Pickles (optional)
Instructions
Cut the breast pieces in half to form tenders and place in a plastic storage bag then add 1 cup of dill pickle juice.
Seal and store in the refrigerator to marinate 8 hours or overnight. When ready to cook the chicken tenders drain and discard the pickle juice used for the marinade.
Heat a large skillet over medium heat. Add 1/2 inch of cooking oil for frying and all to come to temperature.
Next, prepare the wet batter mixture by beating 1 egg together with buttermilk and water in a bowl.
Next, prepare the dry batter mixture by combining flour and seasonings together in a bowl.
Line a sheet pan with foil. Dredge all of the chicken tenders by dipping into the dry batter mixture, then into the wet mixture and finally back into the dry mixture. Lightly shake to remove excess flour mixture. Place the dredged pieces on the lined sheet so they're handy for frying saving time.
Next add chicken tenders to cooking oil and fry 5-6 minutes per side or until browned as desired. Cook the chicken breast tenders in batches to avoid over crowding the pan. I cooked in two batches and had a total of 12 chicken tender pieces.
Next, prepare a separate sheet pan by lining with paper towels and placing a cooling rack on top. Place cooked chicken tenders on cooling rack to drain excess oils.
** Optional dipping sauce - Combine all ingredients in a small bowl and refrigerate until ready to serve. The dipping sauce can be made in advance if desired.
Nutrition Information:
Yield:
8
Amount Per Serving:
Calories:

391
Total Fat:

12g
Saturated Fat:

3g
Trans Fat:

0g
Unsaturated Fat:

9g
Cholesterol:

124mg
Sodium:

869mg
Carbohydrates:

28g
Fiber:

1g
Sugar:

8g
Protein:

40g
Find this recipe also at the Weekend Potluck
Check out the Latest Recipe Posts
Thank you so much for stopping by! I am so glad that you did.
Be sure to subscribe to my email list while you are here. Subscribers receive a weekly newsletter delivered straight to your inbox with the latest recipes and news here on the blog so that you never miss a thing.
Until next time, Love and Happy Cooking, Friend!
Meet Julia
Author of Julia's Simply Southern
Hey Y'all! I'm Julia, the cook and writer behind the recipes here at Julia's Simply Southern. I began my website so that I could share easy to follow recipes that anyone can use to put a home cooked meal on the dinner table. Thanks so much for stopping by!
Follow me on Facebook | Twitter | Instagram | Pinterest | YouTube