In this post I'll be sharing a delicious and Easy Cheesy Oven Baked Tacos Recipe. A family favorite meal!
Taco night at home is usually a meal that the whole family loves. Am I right? I am all for taco night any night of the week and not just for Taco Tuesday. Tacos are also great for your Cinco de Mayo menu.
Perhaps my memory fails me but I don't ever remember mama making tacos at home. I do remember that whenever we had tacos it was one of the very rare occasions that we went out to eat to have them.
There wasn't a Taco Bell everywhere you went back then either…it was a Del Taco where we went for our taco dinners.
Have you ever taken time to read the instructions on a box of crunchy taco shells? Most people don't. It was years before I ever did. I mean it is taco shells and how hard can that be? Right?
Turns out that you're supposed to toast those shells in the oven. You know what? The toasting part really does make a difference.
So if you gotta toast those crispy shells anyways for better flavor then why not make baked tacos. Baking the tacos gets the cheese all melty and it really does make the shells taste a whole lot better.
Baked Tacos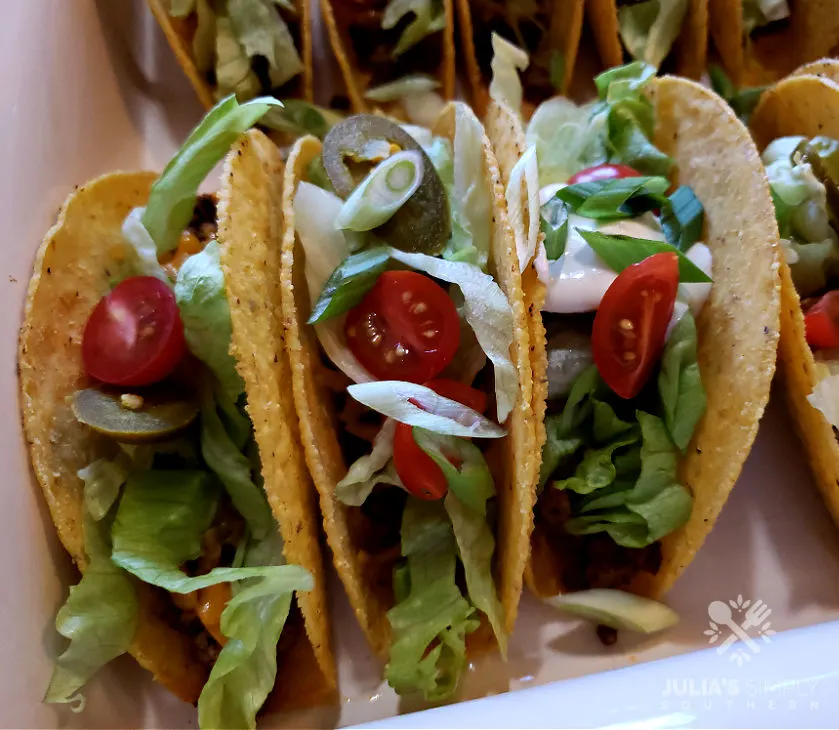 Aren't those tacos mouthwatering delicious?
Everyone has their perfect beef tacos or baked chicken taco….kind of like how you like a sandwich or burger. We all have our favorite toppings depending on what type of taco we happen to be enjoying.
What is your perfect taco?
Sometimes we want soft tacos and other times we're in the mood for crunchy shells.
I like the stand up hard shells for baked tacos because they just work well for the way they're being placed in a baking dish.
It is also easier to add your favorite toppings to the stand up type of taco shell.
Oven Baked Tacos with Hard Shells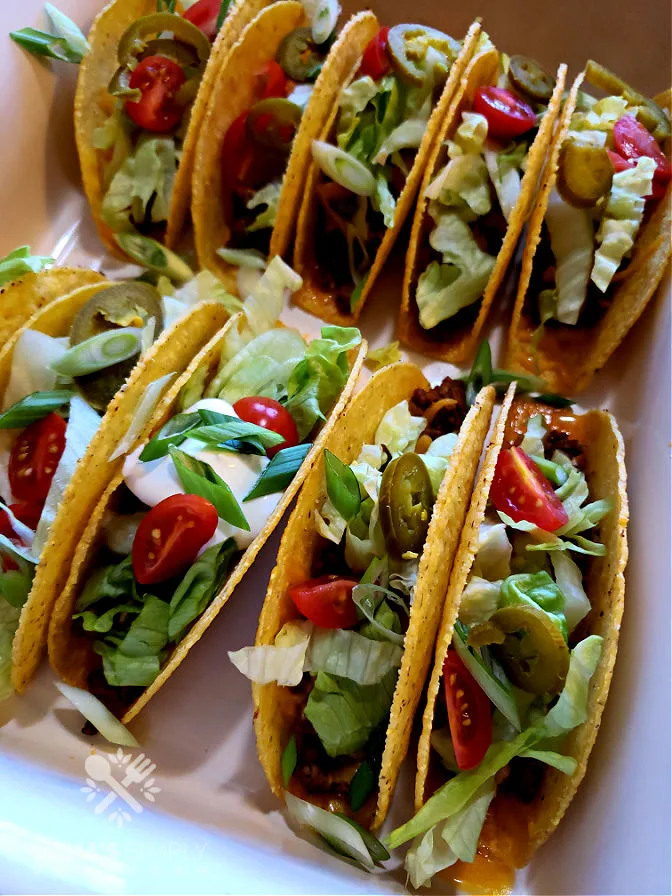 What meats work well in oven baked tacos?
Seasoned Ground Beef (which is what I used for these tacos)
Chicken
Pork
Shrimp
Blackened Fish
Carne Asada
Barbacoa
Birria
If you prefer vegan tacos then you could use beans rather than a meat.
What toppings go on tacos?
Lettuce
Tomato
Cheese
Sour Cream
Guacamole
Refried Beans or other cooked beans (pintos or black beans)
Pico de Gallo
Onions
Pickled Jalapenos
Cilantro (which tastes like soap to me so no thank you)
Salsa
Black Olives
Taco Sauce
Hot Sauce
Green Chilies
The toppings list could go on and on.
Baked Tacos Recipe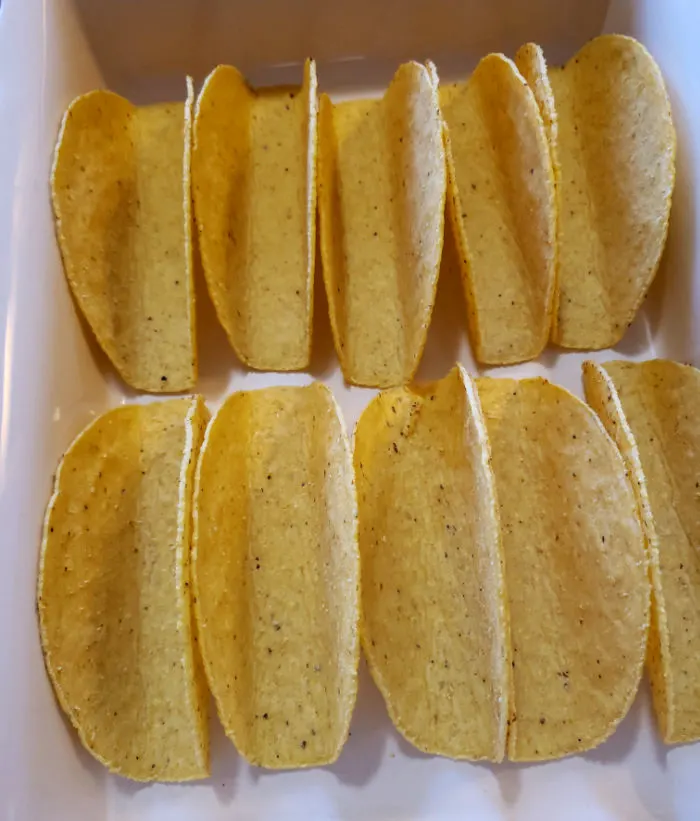 What will I need to make this easy cheesy oven baked tacos recipe?
You'll need ground beef, taco seasoning packet, a good melting cheese like cheddar or Monterrey Jack (I went with cheddar) and stand up crunchy shells. And your favorite toppings, of course.
The soft flour tortillas and soft corn tortilla wouldn't work for this baked taco recipe because you would end up with a really soggy shell.
What kind of ground beef mixture is best for tacos? I prefer ground chuck because it has a nice fat content which keeps the meat moist and flavorful.
Start by preparing your seasoned ground beef by cooking it in a large skillet over medium-high heat breaking it up and stirring until it is cooked through. Drain the beef well to get rid of excess grease.
Next, season the cooked ground beef with taco seasoning. Some folks like a lot…like the whole envelope. I usually use about half of the seasoning in an envelope. Then add a little water and stir so that the seasoning gets into every nook and cranny possible.
Allow the meat mixture to simmer until the liquid has all reduced and it is thickened.
Awesome Cheesy Tacos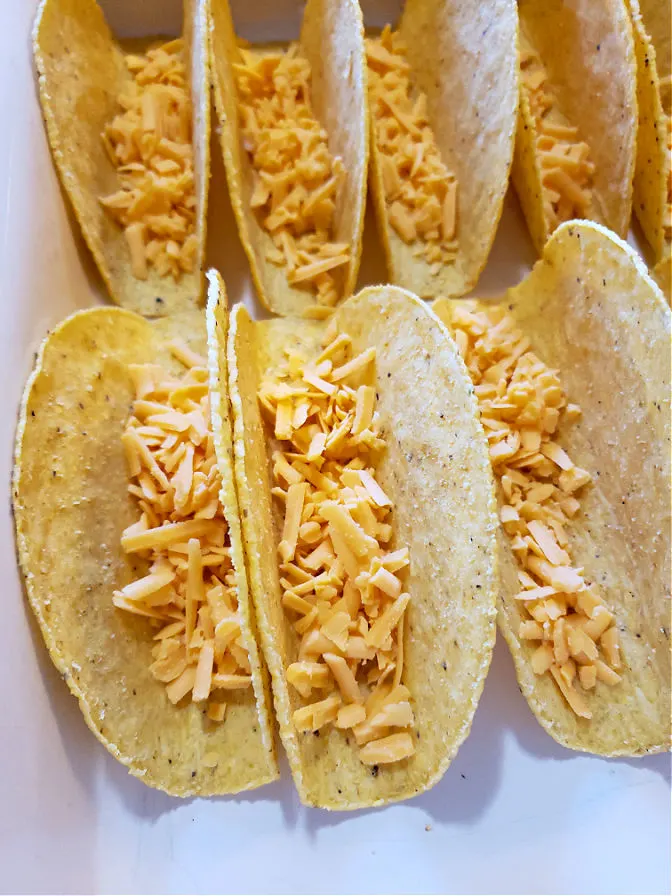 The next step is to place your crunchy flat bottom taco shells in a baking dish and arrange them however you like so they fit nicely. I find that a large rectangle casserole dish works best for holding the tacos. If you have a baking sheet with high sides, that would work too.
First add a nice layer of cheddar cheese in the bottom of each shell for two reasons. One, because the more cheese the better. Two, that layer of melted cheese is gonna keep the bottom of that hard shell from becoming a soggy mess.
Trust me on the cheese layer because I made baked tacos once without it and I will never skip that layer of protective cheesy goodness again.
Taco Tuesday Meal the Whole Family will Love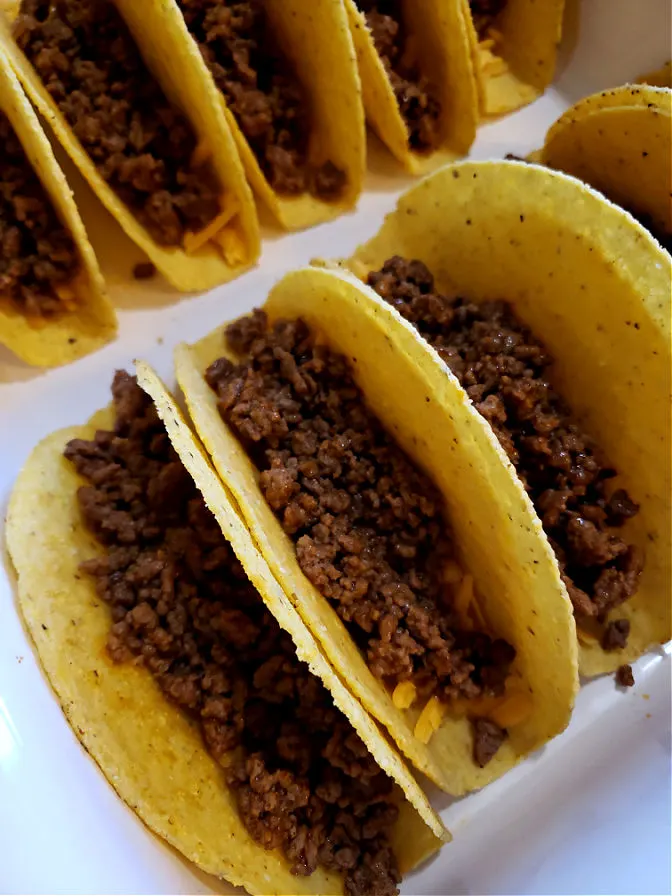 The next step is to add a layer of the seasoned ground beef taco filling. Evenly portion it out among the tacos, which were ten in this case because that is what came in the box. I'm so excited! These are going to be the best tacos ever!
If you happen to find yourself with leftover taco meat, it can be frozen for another time. Just place the leftover seasoned ground beef in a food storage bag, label it and pop it in the freezer until you need it.
Since I just prepared a pound of the meat filling it was just enough for ten tacos.
Cheesy Baked Tacos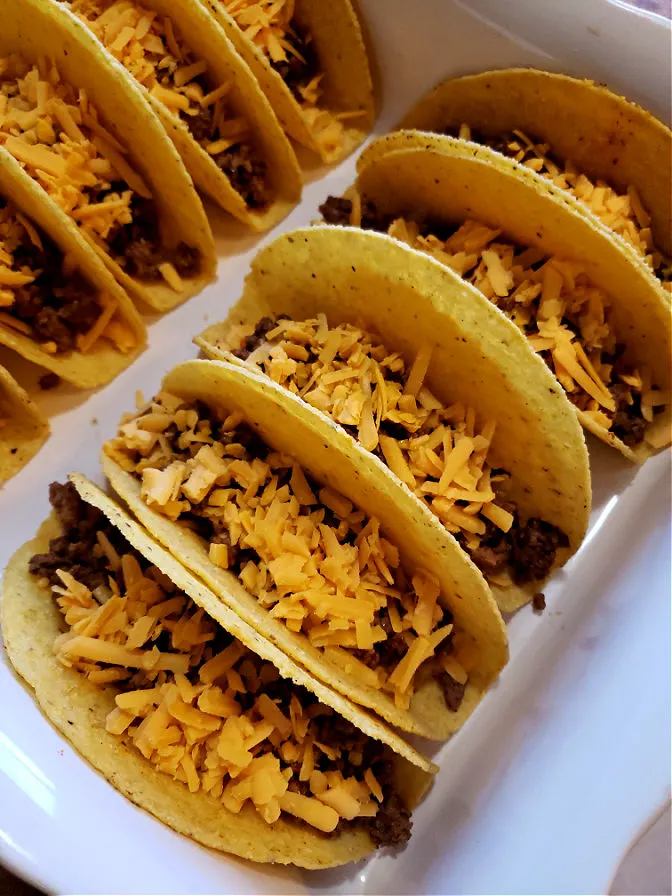 Since these are cheesy baked tacos go ahead and add another layer of cheese. Cheddar makes it better in my book.
That sounded cheesy didn't it?
Easy Oven Tacos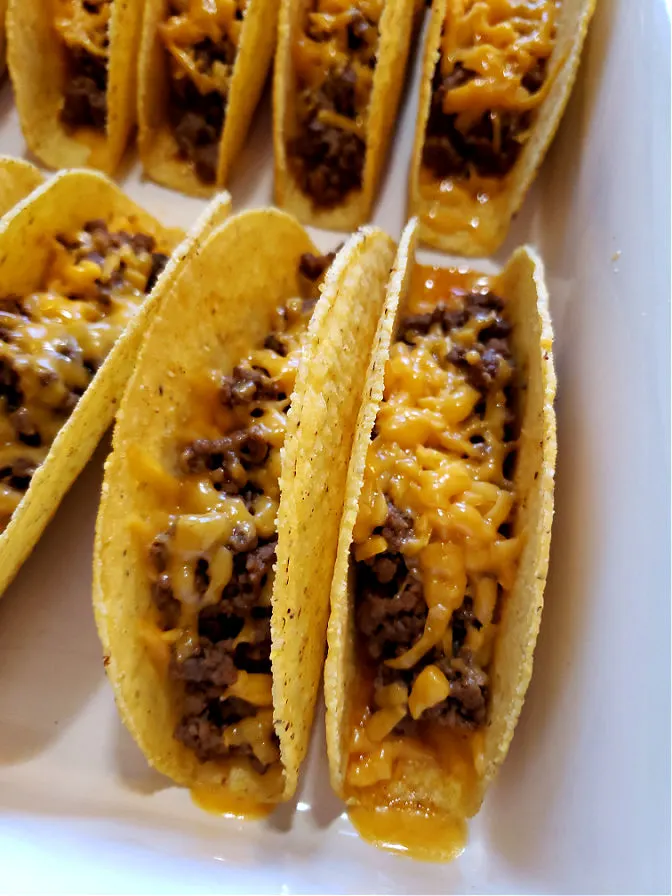 Pop those wonderful tacos into a hot oven and let them bake until that cheese is ooey gooey melted.
Favorite Toppings for Tacos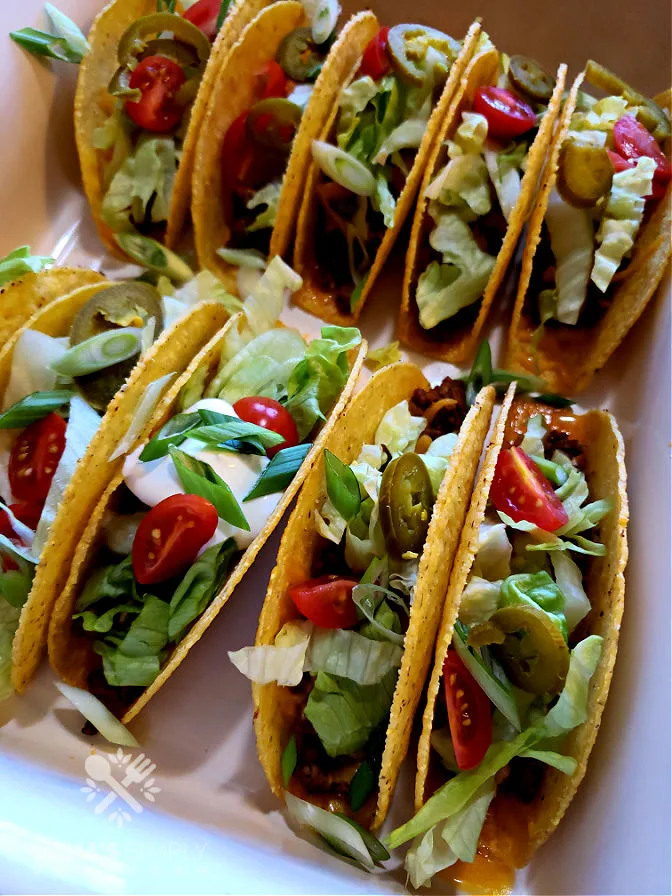 Now for the really fun part – the toppings! Either go ahead and fill each taco with the toppings that your family loves or give everyone their tacos to finish building themselves. A taco bar might be a fun idea.
Since we've already established that I love cheese in my oven baked tacos I'll have some crisp lettuce, pickled jalapenos and maybe a dollop of sour cream please.
This is taco night done right my friends. You can't go wrong with this delicious meal. The best homemade tacos ever!
How many tacos in a serving? I say it depends. I'm going with two. Some sources say that 3 is common and others 4-5.
What do you serve with tacos?
Great side options for your baked tacos include Spanish style rice, refried beans, a salad or chips and salsa. Those are more traditional options and most folks like them.
If you wanted to do a bit of meal prep for your taco dinner then you could already have your meat cooked and ready to be re-heated after a busy day along with having any veggie toppings chopped and ready to go.
This is a quick fix meal however and you'll have it on the table in about half an hour without prepping ahead.
Easy Cheesy Oven Baked Tacos Recipe
Below you will find the printable recipe card for making these delicious cheesy baked tacos.
After the recipe be sure to check out a couple of more taco dinner options that you might enjoy as well.
Yield: 10 Tacos
Easy Cheesy Oven Baked Tacos Recipe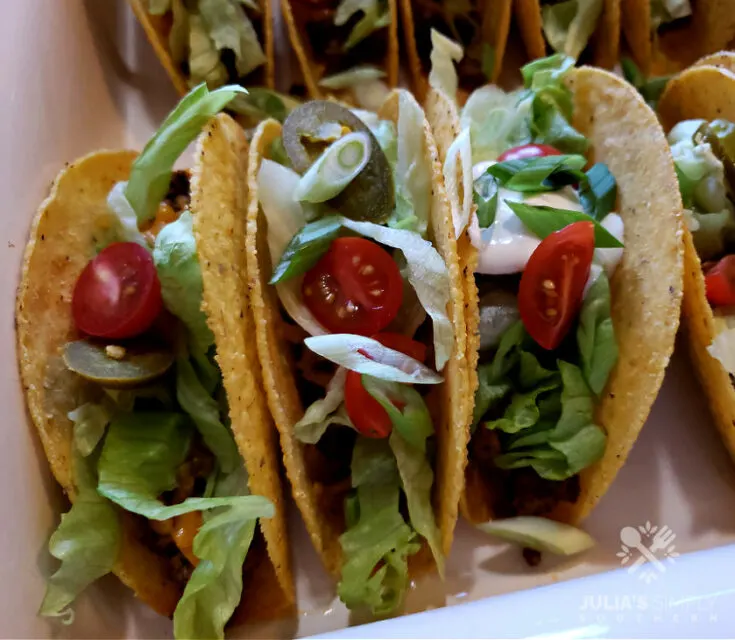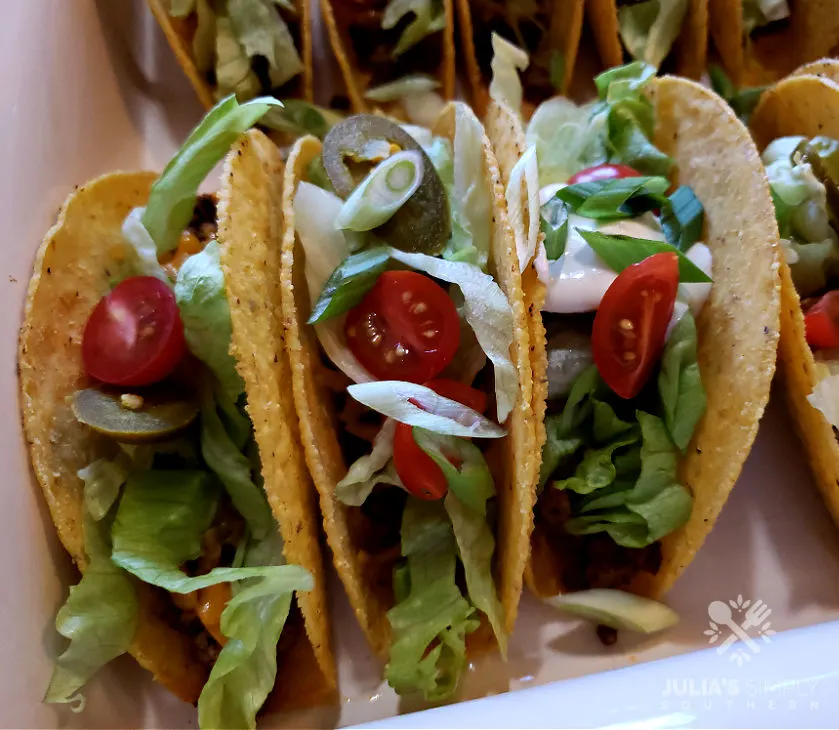 Easy cheesy oven baked tacos is a delicious meal that the whole family will love and so easy to prepare. Taco night is always a great dinner option and these crunchy tacos are toasted until the cheese is melty then add all of your favorite toppings.
Ingredients
1 pound of Ground Beef
1.25 ounce Taco Seasoning Packet
1/2 cup of Water
1 Box of 10 Crunchy Stand 'n Stuff Taco Shells
1 cup of Shredded Cheddar Cheese
Favorite Taco Toppings (see post for list of options)
Instructions
Cook ground beef in a skillet over medium high for 6-8 minutes breaking up the meat and stirring as it cooks through. Drain well of excess grease.
Next, add the taco seasoning and water (note: you can use the entire seasoning packet, I only use half because that works best for us); stir and bring to a boil the reduce the heat to a simmer and cook until thickened.
Preheat oven to 350°F.
Place the crunchy taco shells in a large rectangle baking dish then add a layer of cheese to the bottom of each shell (see notes) then a layer of the seasoned meat mixture and a final layer of cheese.
Bake 5 minutes until the taco shells are toasted and the cheese is melted.
Serve with your favorite taco toppings.
Notes
The first layer of cheese in the bottom of the shell keeps the crunchy shells from becoming soggy from the meat mixture.
Recommended Products
As an Amazon Associate and member of other affiliate programs, I earn from qualifying purchases.
Nutrition Information:
Yield:
5
Serving Size:
2 Tacos
Amount Per Serving:
Calories:

416
Total Fat:

26g
Saturated Fat:

11g
Trans Fat:

1g
Unsaturated Fat:

11g
Cholesterol:

108mg
Sodium:

864mg
Carbohydrates:

11g
Fiber:

2g
Sugar:

1g
Protein:

32g
You Might Also Like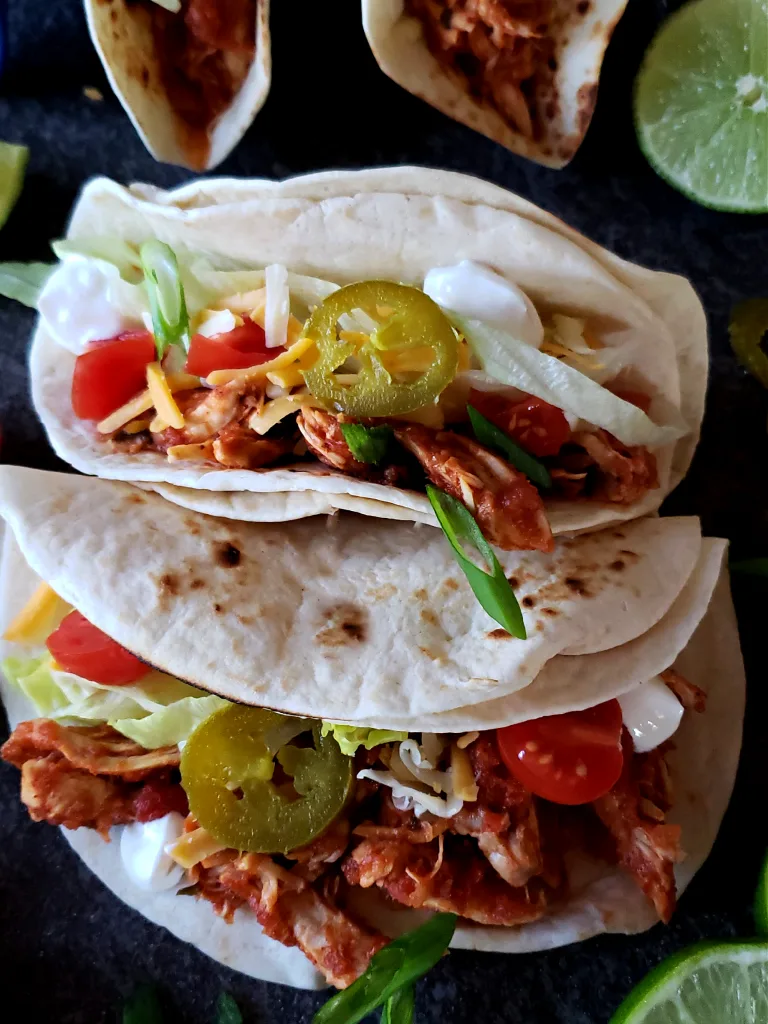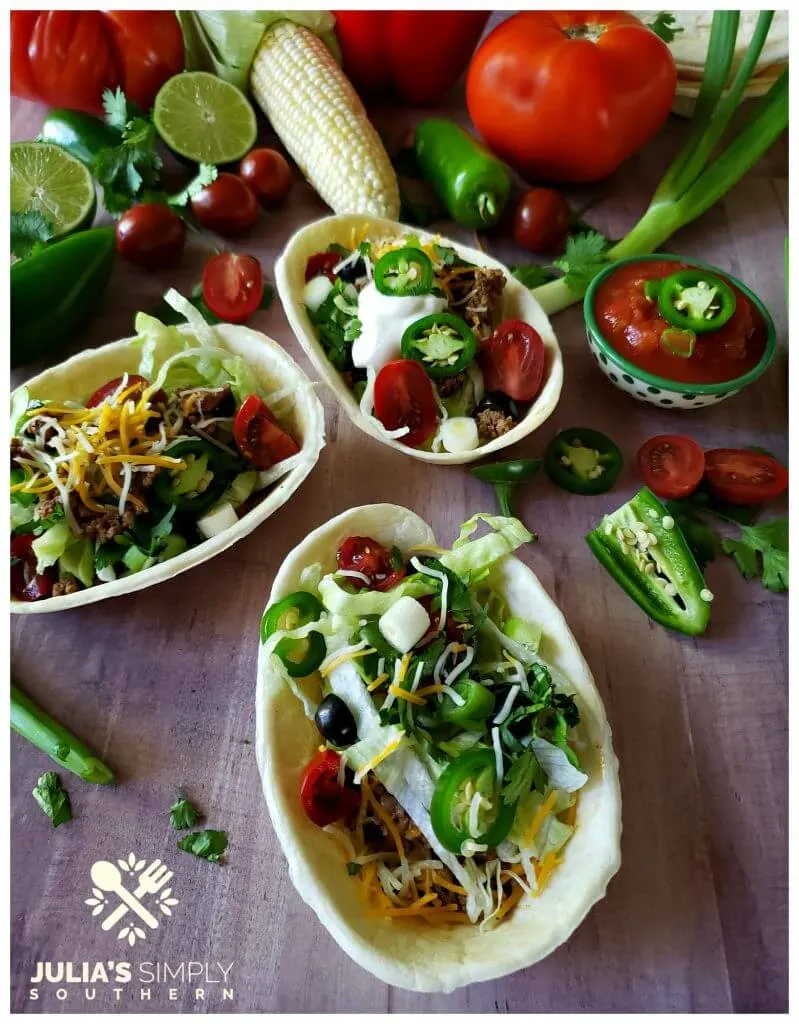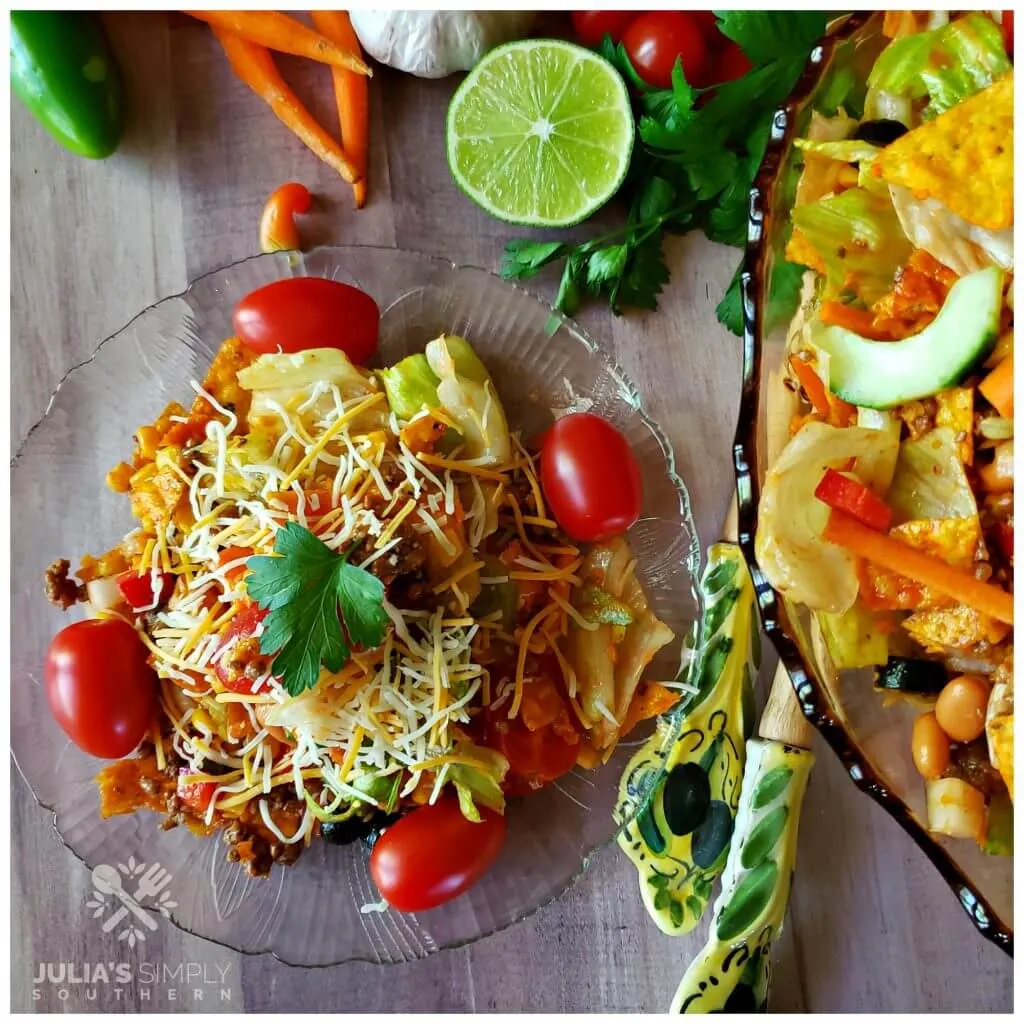 Thank you so much for stopping by! I am so glad that you did. I know that you and your family will love these delicious baked tacos at your next taco night at home dinner.
Be sure to subscribe to my email list while you're here. As a subscriber I will send you a weekly newsletter with the latest recipes and news here on the blog so that you never miss a thing.
The Best Meals are homemade meals made with love!
Meet Julia
Author of Julia's Simply Southern
Hey Y'all! I'm Julia, the cook and writer behind the recipes here at Julia's Simply Southern. I began my website so that I could share easy to follow recipes that anyone can use to put a home cooked meal on the dinner table. Thanks so much for stopping by!
Follow me on Facebook | Twitter | Instagram | Pinterest | YouTube