In this post I'm sharing how to make a Dorito Taco Salad with Catalina.
You may have seen this salad at a potluck or luncheon. It is quite popular. This delicious taco salad has Doritos mixed into it. I've heard it is equally delicious with Fritos corn chips also.
A Doritos taco salad for a crowd is easy to put together. The first time that I had this awesome salad was at an office luncheon party. One bite was all it took….amazing!
I don't know where the recipe originated but you see it everywhere now. I've read that the founder of Fritos and Doritos did. If that's true I'd say he came up with a winner…with the chips and the salad recipe.
You can easily pick up all of the ingredients that you need at your local grocery store or Walmart. This salad is sure to get rave reviews from your family and friends.
Catalina Taco Salad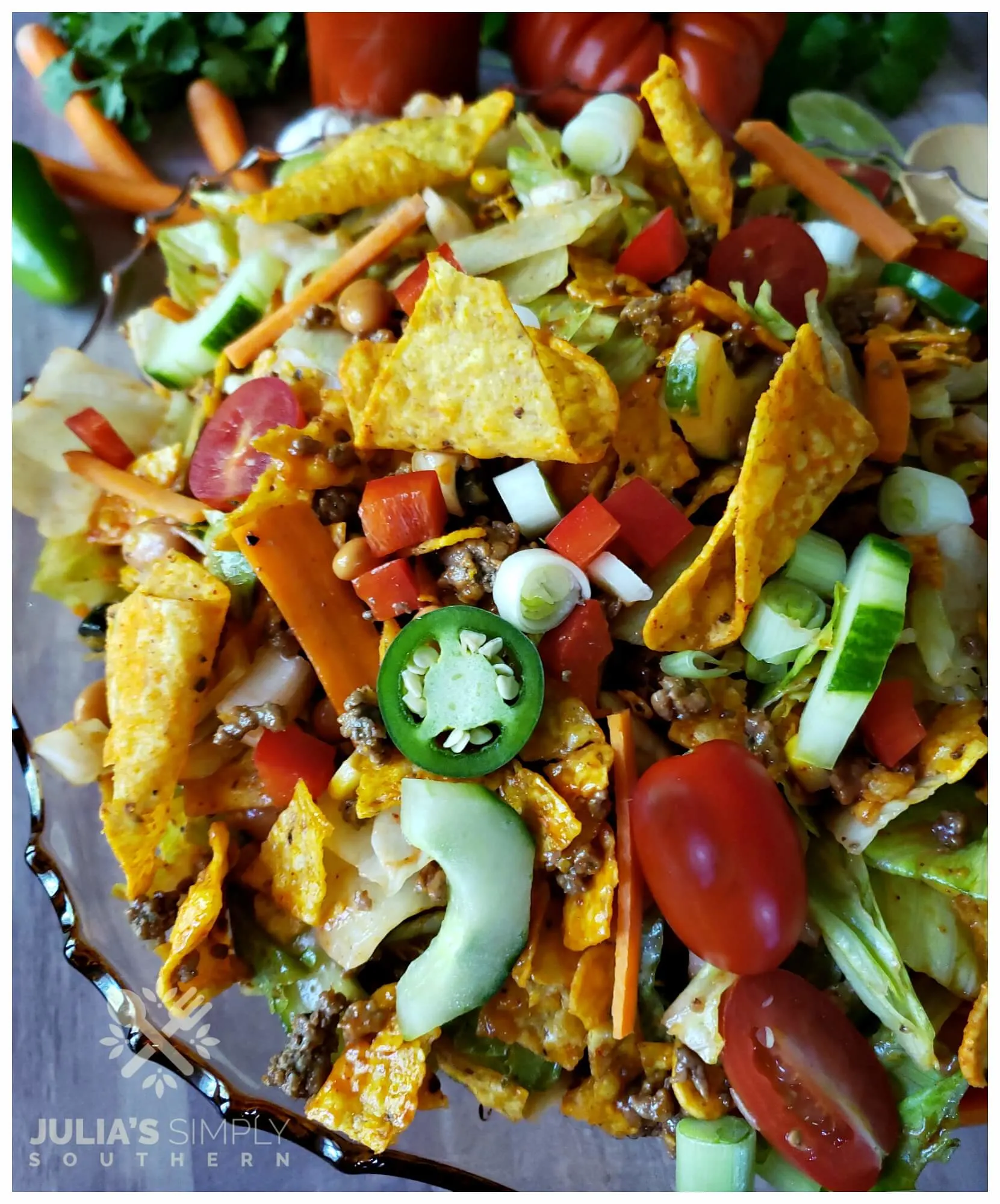 There is seasoned ground beef in this recipe, but you can make a taco salad without meat as well or use ground turkey. There are beans that offer protein.
If you're unsure about the Catalina dressing, I really suggest that you try it. The combination of ingredients work so well together in this recipe.
If your family are ranch dressing fanatics, it's time to try a new flavor. HaHa! You could use ranch though if you really want to.
Easy Doritos Taco Salad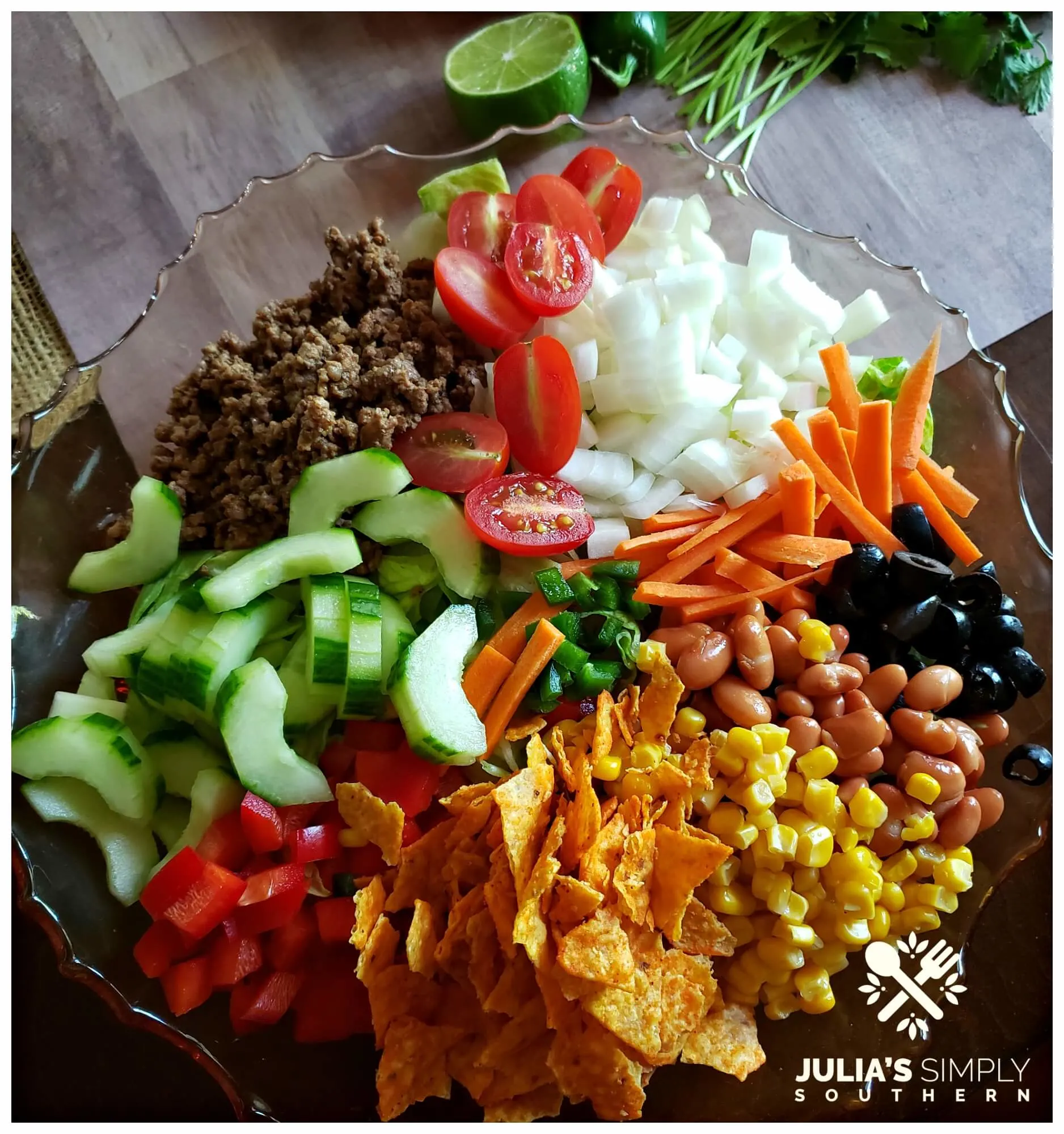 Here's what you'll need to make a delicious Dorito taco salad recipe:
Lettuce – I prefer Iceberg lettuce and will mix in some Romaine lettuce if I have some on hand. I've always really enjoyed the crunch of the Iceberg lettuce.
Beans – Pinto beans, black beans or red kidney beans work well in this salad and are a classic in Mexican inspired dishes. Use one variety of a mix of all of them for larger salads. The beans also offer more protein to the salad making it hearty as a meal or side dish.
Taco Meat – A packet of taco seasoning for minced meat adds a wonderful flavor to this salad. I like ground chuck but you can use a lean ground beef if preferred.
Other Vegetables – I include a variety of other vegetables for flavor, color and variety of flavors for the salad. Carrots, cucumber, chopped yellow onion or red onion, green onions, red bell pepper, corn, chopped cherry tomatoes or diced tomatoes, diced jalapeno peppers are all great options. You can easily adjust the ingredients to suite your own taste for this salad. Just use whatever you like.
Dressing – Sweet Catalina dressing is a popular choice for this salad. French dressing would also be a great option if you prefer it or just have that one on hand.
Chips – Nacho cheese Doritos are my favorite for this taco salad. You could also use corn chips or cool ranch Doritos if you prefer to switch up the flavors. The crushed Doritos add a nice crunchy texture to the salad as well as the flavors that we love in these chips.
Cheese – I love shredded cheddar cheese in this salad. A Mexican grated cheese blend or pepper jack would also be delicious options.
Favorite Taco Toppings – If you have other toppings that you enjoy then feel free to add those too. Black olives are great in this salad.
The recipe calls for an entire nine and three quarters oz. bag of Doritos but somehow I ended up with just nine ounces. Wink, Wink! Oops!
The Doritos chips do soften a bit once in the salad, so I wait until just before serving to add them. Not only does this salad taste really good, it is pretty to look at. I think so anyways. I love colorful food and this salad is always a crowd pleaser!
Dorito Taco Salad with Catalina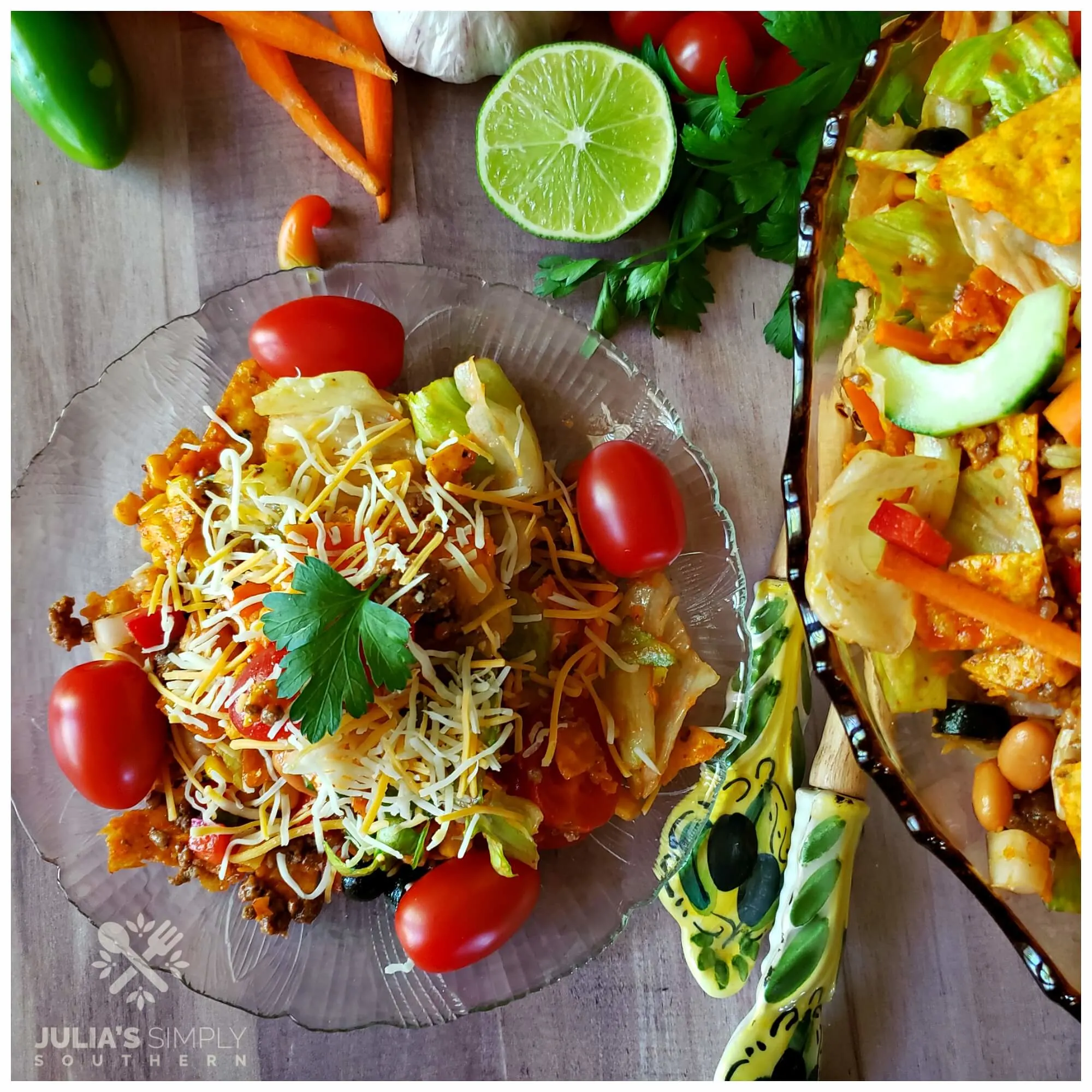 I'd say this salad also works for a Taco Tuesday lunch or Cinco de Mayo side dish. One thing is for sure, you'll enjoy this tasty salad whenever possible.
To prepare the salad, chop all of your vegetables and set them aside while you cook the one pound ground beef in a large skillet.
Mince the meat up and cook until done then drain off the excess fat from the ground meat. Next, add the contents of the taco seasoning packet and add a small bit of water then stir to combine. Simmer the meat mixture over medium heat until the liquid has evaporated and the taco meat has thickened.
Be sure to cool the meat cools down before adding it to the vegetables or it will wilt the lettuce.
Use a large bowl to combine the vegetables, cheese and meat mixture then top the salad with the Dorito chips before serving. Use a wooden spoon to combine everything the transfer to a larger serving bowl.
What to serve with this Easy Taco Salad?
This Dorito taco salad may be served as a meal or as a side dish. Here are a few options to serve with the salad.
Salsa
Sour Cream
Extra Cheese
Extra Chips
Hot Sauce
More recipes you might enjoy: Black Eyed Pea Dip or Ground Beef Taco Boats
Full Printable Taco Salad Recipe
Dorito Taco Salad with Catalina
Yield: 1 Large Salad
Dorito Taco Salad with Catalina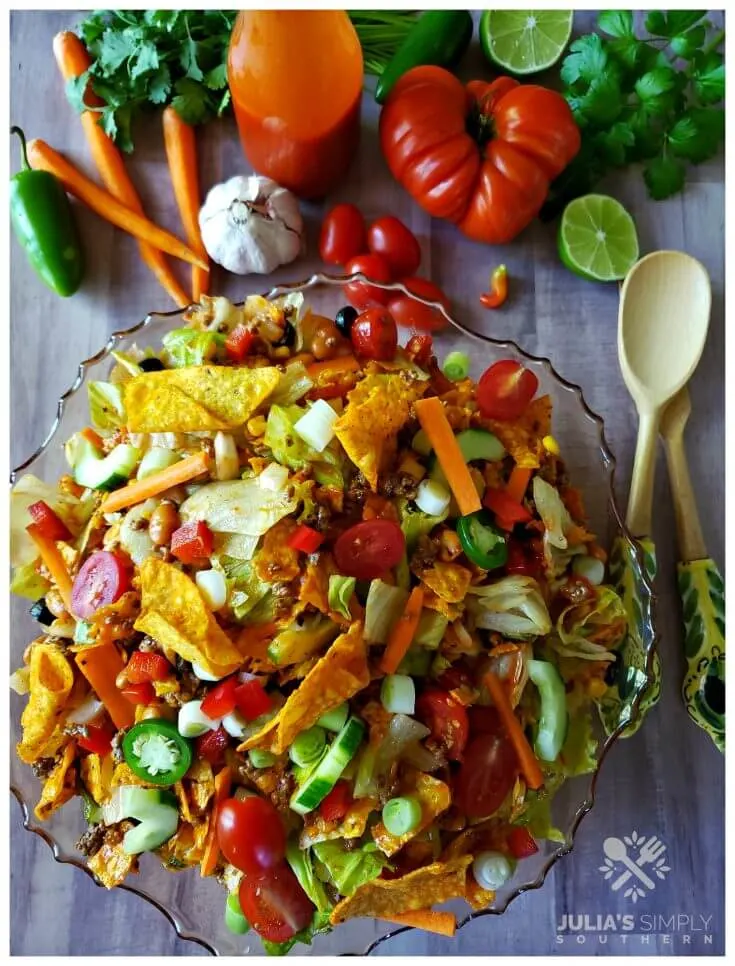 Easy and delicious taco salad with Doritos and Catalina dressing. Perfect for potluck gatherings.
Ingredients
1 pound Ground Beef
1.25 ounce Packet of Taco Seasoning
1/2 cup Water
1 Head of Iceberg Lettuce, chopped
2 or 3 Carrots, peeled and sliced
1 cup Cucumber, sliced or diced
1 Onion, diced
1 Red Bell Pepper, diced
2 Jalapeno Peppers, diced (ribs and seeds removed) - optional
15 ounce Can of Pinto Beans, rinsed and drained
11 ounce Can of Corn Niblets, rinsed and drained
2.25 ounce Can of Sliced Black Olives, rinsed and drained
1 cup Cherry Tomatoes, halved
1 cup Shredded Mexican Cheese Blend
3/4 cup Catalina Dressing, or more if needed to dress the salad.
9.75 ounce Bag of Nacho Cheese Doritos
Instructions
Brown the ground beef, drain of excess oil.
Add taco seasoning and water then mix to combine.
Reduce heat and simmer until the liquid has evaporated.
Allow the meat mixture to cool a few minutes to room temperature.
Combine the meat mixture, vegetables and shredded cheese together.
Next, add the dressing and toss to combine.
Crunch the Doritos in the bag to break into smaller pieces then add to the salad and mix to combine.
Recommended Products
As an Amazon Associate and member of other affiliate programs, I earn from qualifying purchases.
Nutrition Information:
Yield:
12
Amount Per Serving:
Calories:

409
Total Fat:

20g
Saturated Fat:

6g
Trans Fat:

1g
Unsaturated Fat:

12g
Cholesterol:

43mg
Sodium:

643mg
Carbohydrates:

40g
Fiber:

7g
Sugar:

9g
Protein:

19g
Be sure to check out our Doritos Taco Salad Video in this post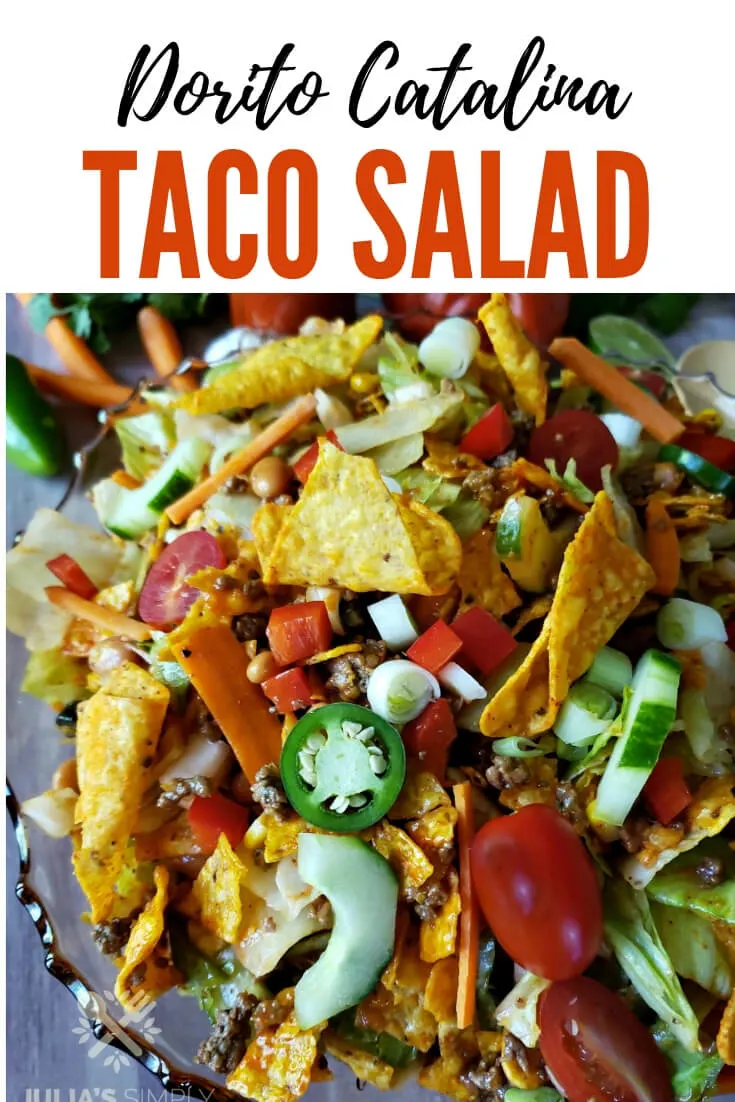 Check out the Latest Recipes
Thank you for stopping by! If you enjoyed this recipe, be sure to share it.
You can also sign up for our free email newsletter so you never miss a new recipe. You can also follow us on Facebook, Instagram or Pinterest.
Be sure to subscribe to my email list while you are here. Subscribers receive a weekly newsletter delivered straight to your inbox with the latest recipes and news here on the blog so that you never miss a thing.
See this recipe shared at Foodie Friday, Meal Plan Monday, Weekend Potluck
Meet Julia
Author of Julia's Simply Southern
Hey Y'all! I'm Julia, the cook and writer behind the recipes here at Julia's Simply Southern. I began my website so that I could share easy to follow recipes that anyone can use to put a home cooked meal on the dinner table. Thanks so much for stopping by!
Follow me on Facebook | Twitter | Instagram | Pinterest | YouTube