In this post I'll be sharing the BEST pork chops with mushrooms recipe. When I say it is the best, it really is! So, so good!
Are you searching for recipes for pork chops? Perhaps something a bit different than your regular pork chops dishes but still easy to prepare. Well, you've come to the right place!
I've got you covered with an amazing boneless pork chop recipe that taste just like something you'd be served in a fancy steakhouse restaurant.
Simple seasonings and a nice pan seared crust is all it takes to make this amazing pork chop dinner with all of those glorious mushrooms served right on top that ensures every bite is the perfect bite.
Mushroom Smothered Pork Chops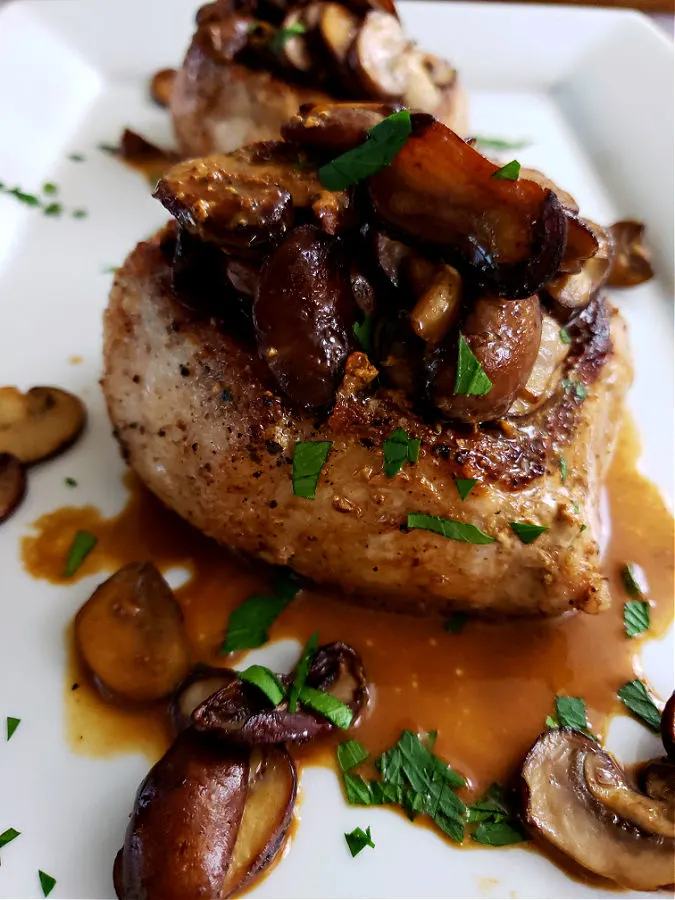 Doesn't that look incredible, friend? Wowzers! Those are some perfect pork chops in my book.
Looks a little bit fancy too, right? But it is not! I only sprinkled some parsley on there to take a few nice pictures to share with y'all.
A little green garnish when taking photos of brown foods is one of the things that I've picked up on my journey as a food blogger.
Those tender pork chops are perfectly cooked and ready to be enjoyed. The secret to juicy chops is to not over-cook them.
Today's recommended internal cooking temperature for pork is 145°F, along with a couple of minutes rest time, ensures tender and juicy pork chops.
Experience with cooking will let you know when you've reached that point or use a meat thermometer to be sure.
Mushroom Pork Chops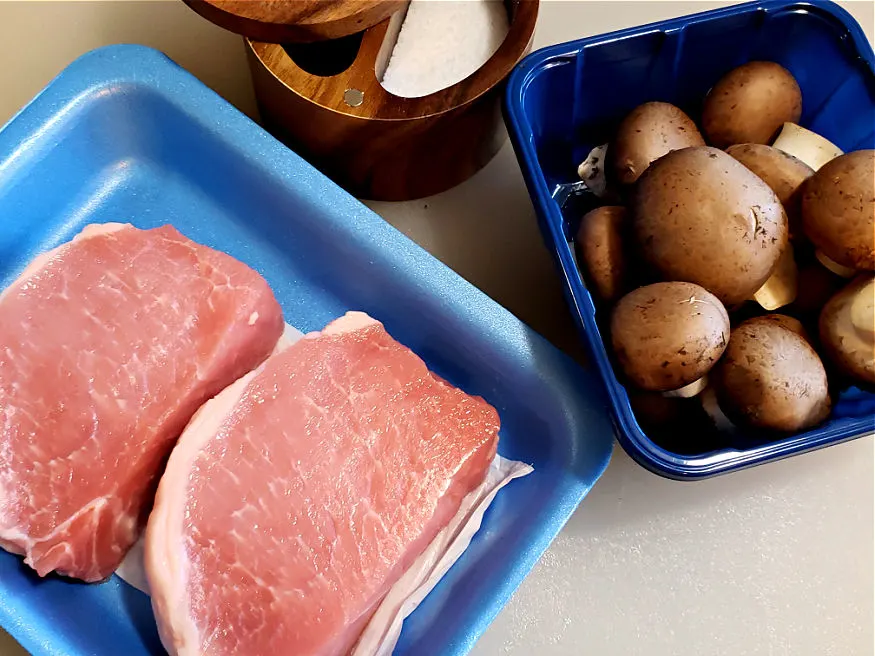 Here's what you'll need to make these delicious pork chops with mushrooms:
Thick Pork Chops – that was the hubs choice. A pound of boneless pork chops will do whether you choose a thinner or thicker cut.
Fresh Mushrooms – I used cremini mushrooms, or baby bella, mushrooms because we enjoy the rich flavor. White button mushrooms will work too.
Seasonings – Kosher salt and freshly ground black pepper are all you need to perfectly season pork chops for this easy dinner recipe.
Wait, what? Where's the garlic powder, Italian seasoning and onion powder and all the stuff? Trust me, you really do not need anything besides kosher salt and cracked pepper for a good steak, a chicken breast or pork rib chops if you plan to sear them. The searing will add flavor too.
Butter and Olive Oil – to add flavor and help with browning.
Optional but recommended – a little bit of chicken broth for deglazing the pan and a splash of heavy cream to thicken the pan juices. I used chicken broth, but if you're feeling fancy and have it, a splash of white wine works too.
That is really all that it takes to transform some mushrooms and pork chops into an amazing quick dinner with tons of flavor.
Tender Pork Chops Recipe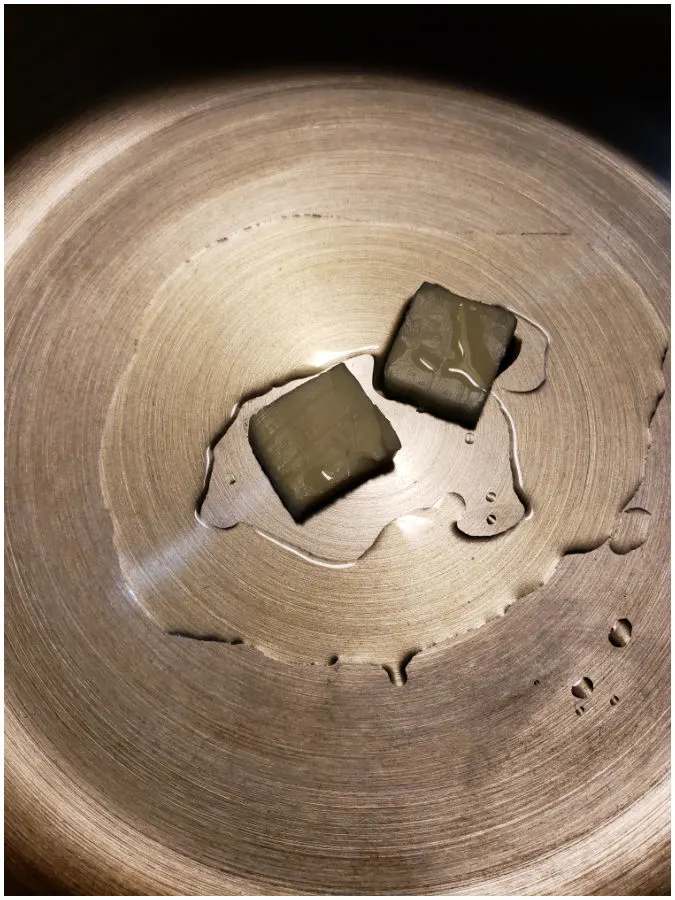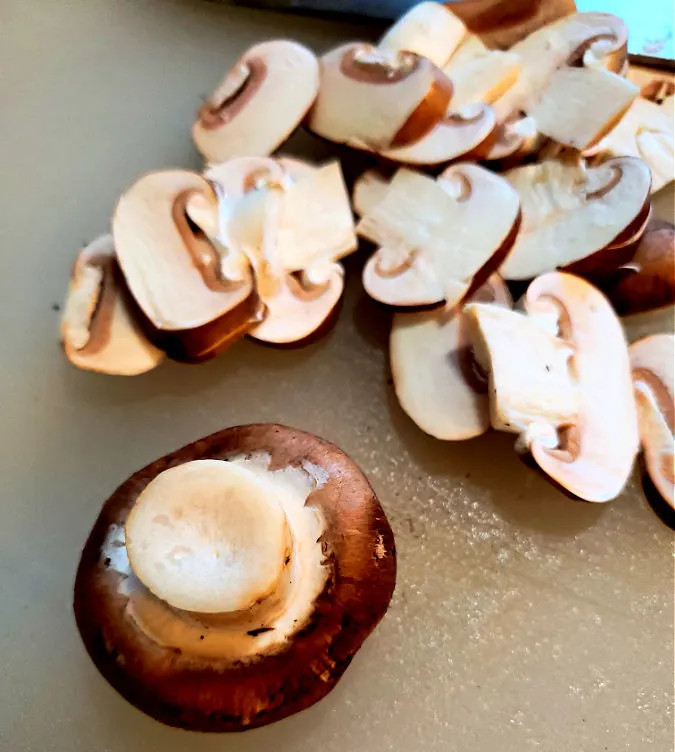 The first thing that we need to do is place a large nonstick skillet (I prefer stainless steel or a large cast-iron skillet) on the stove top over medium heat to medium-high heat depending on your cook surface. I cook on a gas flame so I adjust up and down as needed.
Use a damp paper towel to wipe away any dirt from the mushrooms then slice them up.
Next, add the olive oil and butter to the skillet. Melt butter then add the sliced mushrooms.
Perfect Sautéed Mushrooms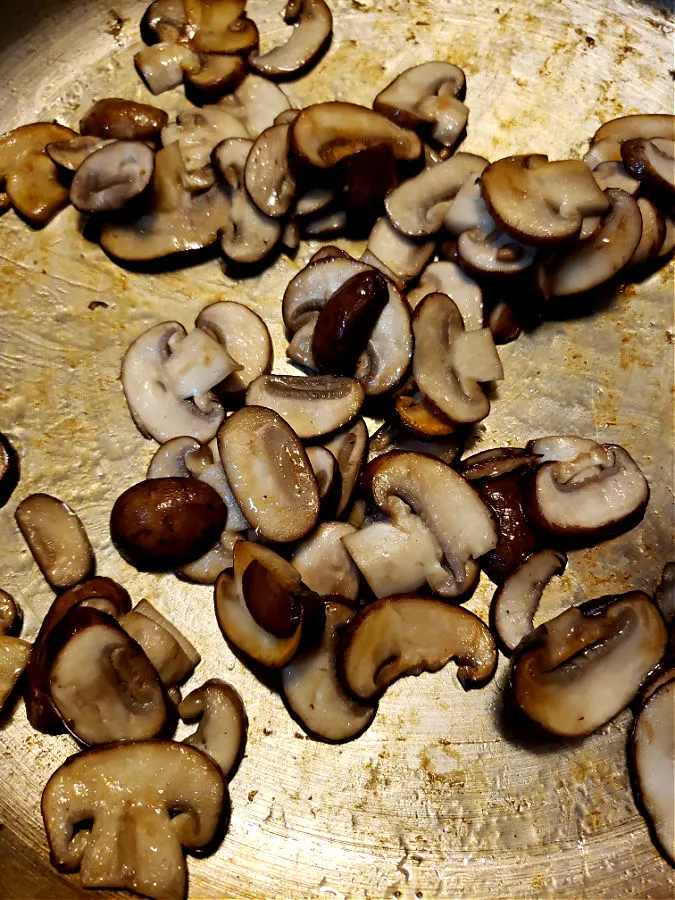 Sauté the mushrooms until they are tender and golden brown making them so delicious for mushroom pork chops. If you like you can season the mushrooms with a pinch of salt and pepper as they cook.
How to Season Pork Chops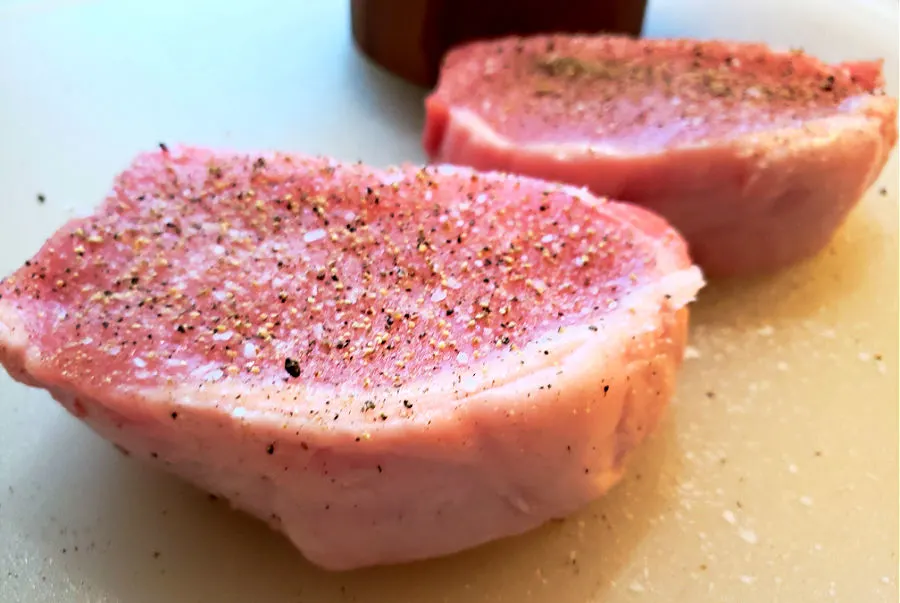 Okay, this is an important part….season the pork chops liberally with the kosher salt and fresh cracked black pepper. See how much? It is not too much so I wanted to show you how I do it.
Aren't those pork chops beautiful? Sparky picked them up at the special meat counter at the grocery store. I think he paid just under five dollars for them, which is not bad at all.
Now to decide which side of each pork chop is your display side, or the side that will show when served. It's a pro tip that I've picked up over my years cooking, and whichever side will be your final display side, is the side that you want to start with in the bottom of the pan.
How to Sear Thick Cut Pork Chops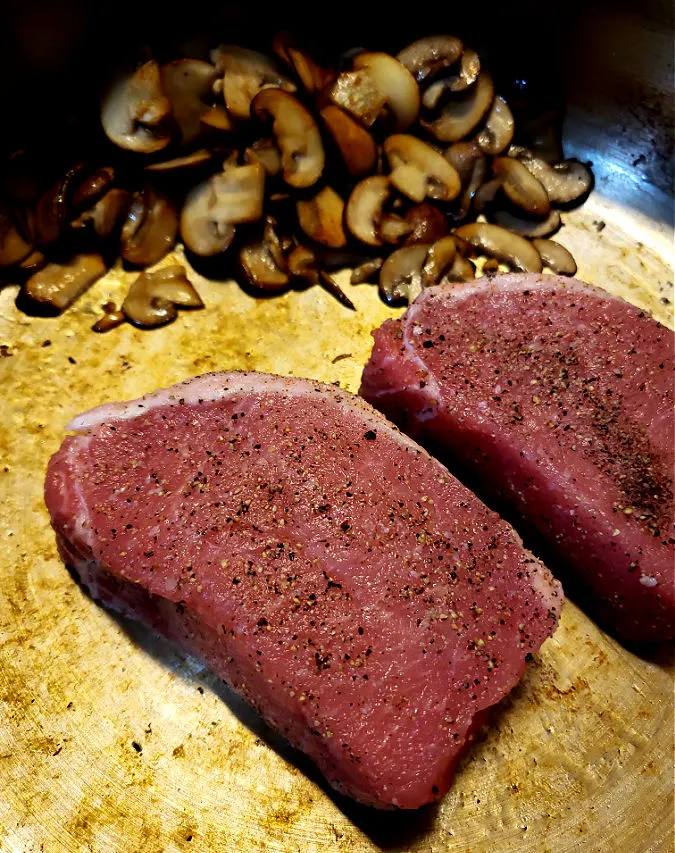 We're gonna crank the heat up for a few minutes here to a medium-high heat. I don't bother removing the mushrooms from the pan and opt to just slide them over to the side out of the way in my large skillet.
Leaving the mushrooms over to the side keeps them hot too.
The next step is to place the "final display side" of those perfectly seasoned pork chops down touching the hot skillet. You should hear the beautiful sound of searing and soon be smelling the aromas of the pork.
Are you a flipper? A flipper is a cook who flips stuff over and over in the pan. I used to be a flipper when I began cooking. I think it is common. If you are a flipper, you are gonna have to control that urge and leave the pork chops alone. Just let them do their thing.
Seriously, don't touch them! It's okay. Just let them sear in that pan. After a couple of minutes, reduce the heat back down to medium and allow them to continue cooking.
The cooking time will depend on how thick your pork chops are but keep an eye on the side of the meat and when the cook line reaches the half-way to three quarters mark, then you can flip them.
Steak House Pork Chops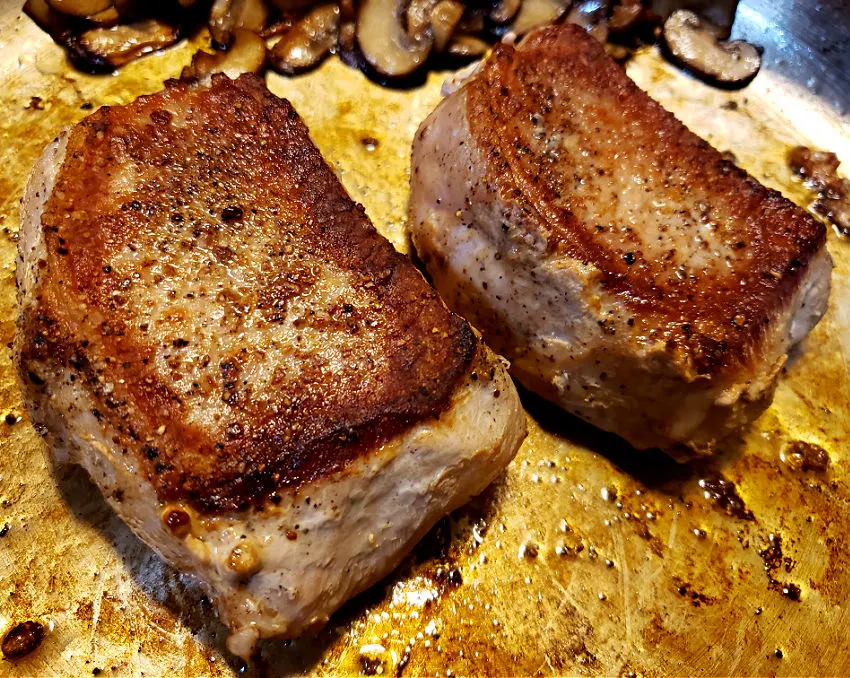 AHHHH, look at that gorgeous crust! Amazing! Super delicious too!! Now, if you've ever found yourself getting annoyed with a stainless or cast iron pan and tried to turn a piece of meat and it was stuck to the pan, that is because the meat wasn't ready to turn.
The proteins in the meat will stick to that pan and release naturally and you'll have no problem turning it.
In my kitchen, I call that a perfect sear on those pork chops. Now that you've turned them over, allow them to cook the rest of the way through. You can see the cook line and it doesn't take as long usually for that second side to finish up.
Remember that the goal is an internal temperature of 145°F (62°C) and do use a meat thermometer if you're unsure. When the pork chops are done, transfer them to a plate along with the sautéed mushrooms, and allow everything to rest for five minutes.
How to Deglaze a Pan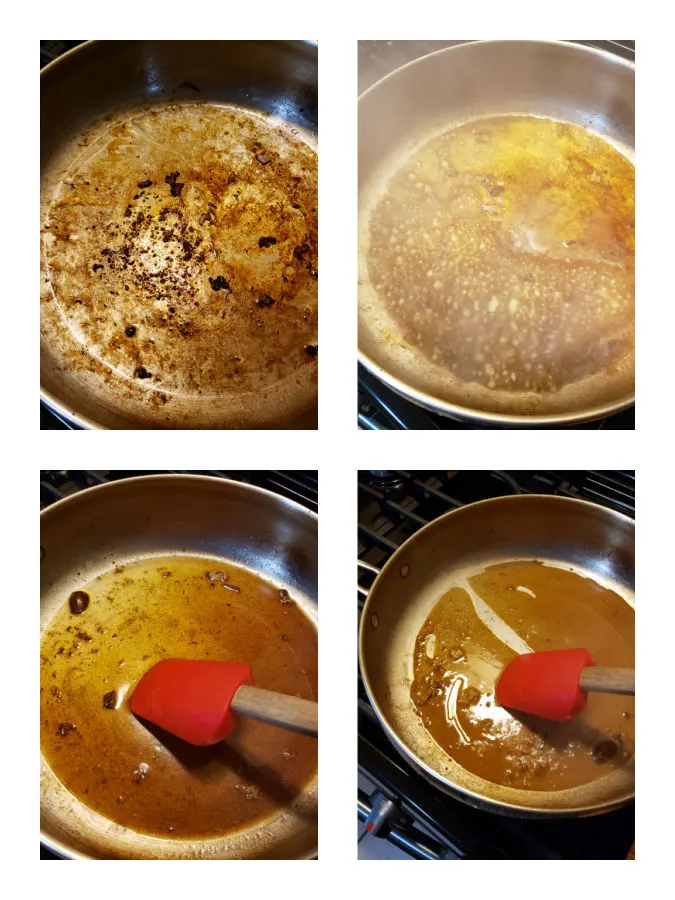 See all of those browned bits in the bottom of the pant? There is a lot of rich flavor in those brown bits, so it is a good idea to deglaze the pan. You don't have to, but just do it….pretty please.
To deglaze the pan, start by adding a little bit of chicken broth or chicken stock to the hot skillet. It will begin to bubble. Use a spatula or wooden spoon to move around scraping the bits from the bottom of the skillet which will be really easy with the hot liquid.
Once you've released all of the brown flavor bits from the bottom of the pan, add a splash of heavy cream and allow the super simple pan sauce to reduce for a minute or two.
The deglazing and creamy sauce all happen so quickly in less than the amount of time your pork chops are resting.
Serve the pork chops topped with the sautéed mushrooms and spoon over some of the delicious sauce you've created.
The BEST Pork Chops with Mushrooms Recipe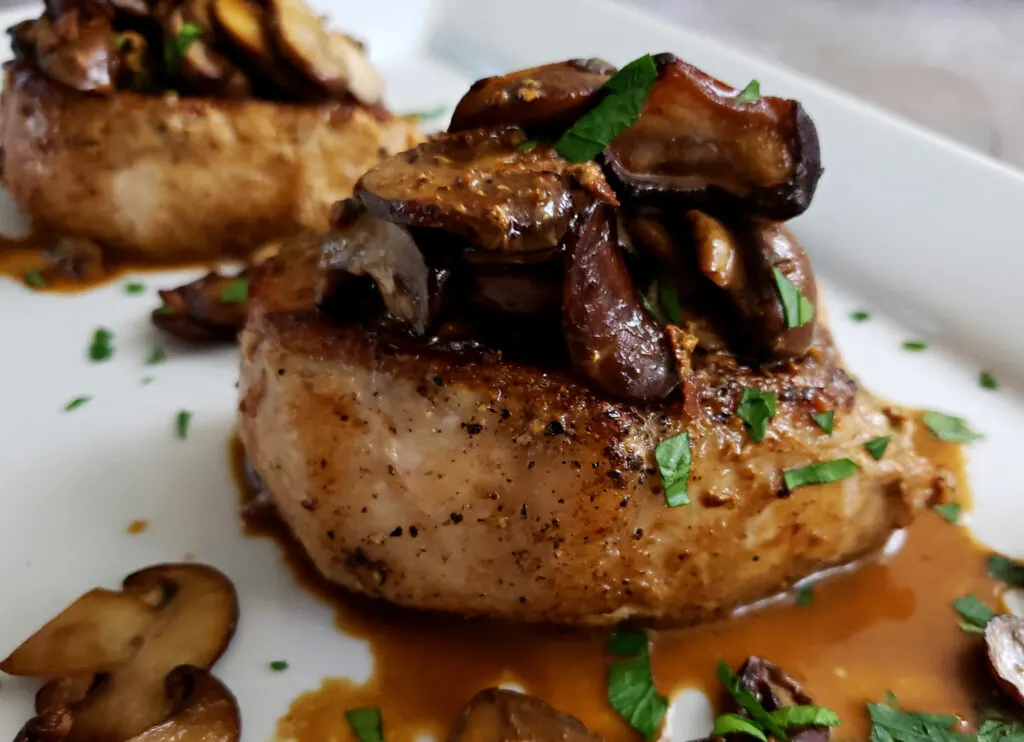 What to Serve with Pork Chops?
Depending on how the pork chops have been prepared, a couple of delicious sides are the perfect choice for a wonderful pork chop dinner.
Mashed potatoes, a baked russet potato with a pat of butter and sour cream or baked sweet potatoes are a nice choice. Green beans or asparagus make great sides for pork chops with mushrooms. Remember that the mushrooms are also a side to the meal.
This is sure to be a meal that the entire family will love. I know that the best pork chops with mushrooms recipe will always be a hug hit at our house.
Printable Recipe Card
The Best Pork Chops with Mushrooms Recipe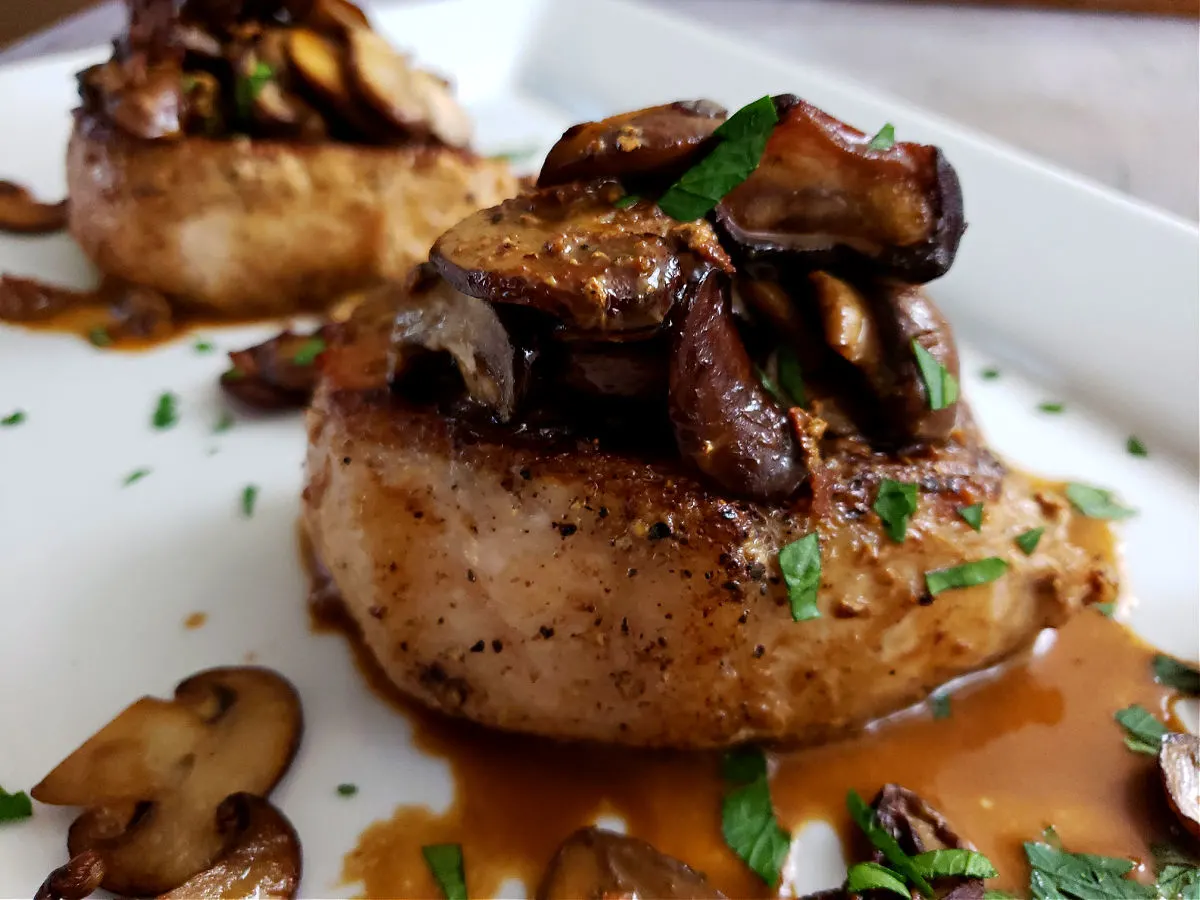 An amazing pork chop recipe for the perfect pork chops dinner. Pan seared pork chops with a beautiful crust and sautéed cremini mushrooms with an amazing pan sauce is the perfect choice for a meal the entire family will love. Just serve along with your favorite sides.
Ingredients
1 Pound Boneless Pork Chops (2 thick chops or 4 thinner)
8 ounces Cremini - Baby Bella Mushrooms, cleaned and sliced
2 tablespoons Butter
1 tablespoon Olive Oil
½ teaspoon Kosher Salt, plus a pinch
½ teaspoon Cracked Black Pepper, plus a pinch
Instructions
Heat a large skillet on medium-high heat; add the butter and olive oil to the pan.
Next, add the sliced mushrooms. Season the mushrooms with a pinch of salt and pepper then sauté 5 to 6 minutes until tender and caramelized in color. Slide the mushrooms off to the slide of the pan.
Liberally season both sides of the pork chops with kosher salt and cracked black pepper and place in the hot skillet. Adjust heat to medium-low if needed; sear the pork chops on the first side until you see the cook line about three quarters up the side of the pork chop (this will take around 15 minutes for thick chops), then turn and finish cooking through (about 5 minutes more.
The internal temperature of the pork chops should be 145°F or higher for safe consumption according to the latest food safety standards.
Transfer the pork chops and mushrooms to a plate and allow to rest for five minutes.
Optional: deglaze the pan by adding ¼ cup of chicken broth to the hot skillet. Use a spatula or wooden spoon to scrape the browned bits from the bottom of the pan. Next, add a splash of heavy cream (about a tablespoon) to the pan and allow the sauce to reduce and thicken slightly, which will take a minute or two.
Serve the pork chops covered with sautéed mushrooms and spoon over the pan sauce, if using, and garnish with parsley if desired.
Notes
TIPS:
Use a damp paper towel to wipe dirt away from mushrooms if needed before slicing.
Season the pork chops well with kosher salt and cracked black pepper and that is all of the seasoning you will need for this dish.
Deglazing the pan is optional but recommended to make a super simple pan sauce in less time than the pork chops need to rest.
Recommended Products
As an Amazon Associate and member of other affiliate programs, I earn from qualifying purchases.
Nutrition Information:
Yield:
4
Serving Size:
1
Amount Per Serving:
Calories:

357
Total Fat:

25g
Saturated Fat:

10g
Trans Fat:

0g
Unsaturated Fat:

14g
Cholesterol:

100mg
Sodium:

302mg
Carbohydrates:

3g
Fiber:

1g
Sugar:

1g
Protein:

32g
Popular Recipes
The Latest Recipes
The Best Pork Chops with Mushrooms Recipe
Thanks for stopping by! I am so glad that you did. I know you'll love these amazing pork chops with mushrooms just as much as we do.
While you are here, please take a moment to subscribe to my email list. Subscribers receive a weekly newsletter delivered straight to your inbox with the latest recipes and news here on the blog so that you never miss a thing.
Meet Julia
Author of Julia's Simply Southern
Hey Y'all! I'm Julia, the cook and writer behind the recipes here at Julia's Simply Southern. I began my website so that I could share easy to follow recipes that anyone can use to put a home cooked meal on the dinner table. Thanks so much for stopping by!
Follow me on Facebook | Twitter | Instagram | Pinterest | YouTube