In this post I am sharing an easy recipe for Creamy Cucumber Salad with Dill.

Creamy cucumbers are a favorite cool summer side dish. It seems to be a particular favorite down here in the South but I'm sure it's enjoyed all over too. I'm partial to the classic cucumber salad myself.
There are a lot of questions from folks on what can you do with cucumbers besides make pickles…well a lot really. Sliced cucumbers can be topped with a number of things for appetizers. They also make a great addition to numerous salad recipes and there's always the dainty cucumber sandwich.
A cucumber salad whether the classic version or the creamy version uses this fruit as the star of the dish. Yes, I did call cucumber a fruit. Technically it is!
If you call cucumbers a vegetable, no worries, you're not alone. I've always referred to them as vegetables too. I'm not about to get all scientific and complicated here either….we're here to make creamy cucumber salad so let's get to it.
Southern Creamy Cucumbers with Onion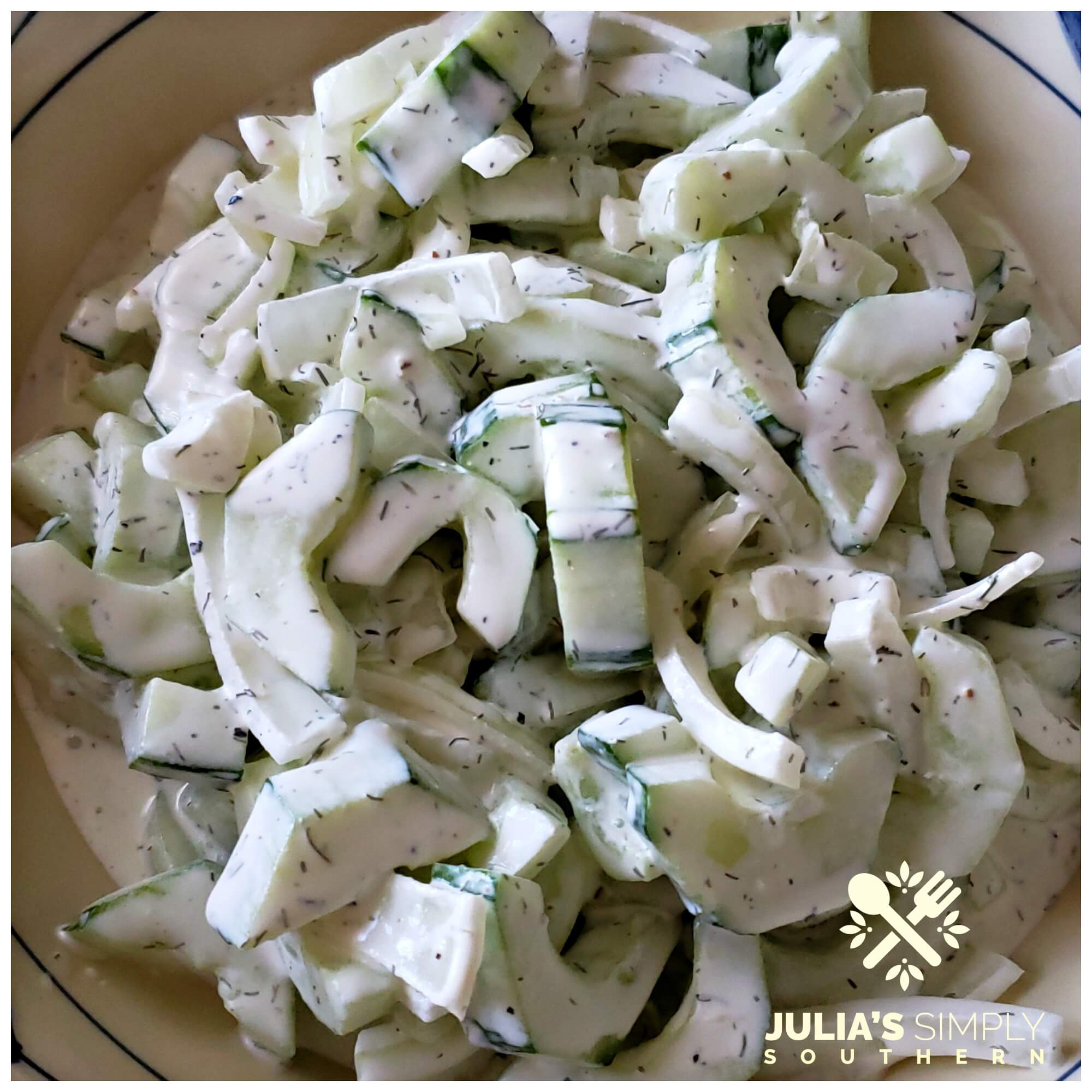 What are the benefits of cucumber? Cucumbers are high in Vitamin B-5 and help promote healthy skin. Since cucumbers contain a lot of water they aid in hydration during the hot summer months of the year. Cucumbers are also low in calories.
The peelings of cucumber are high in fiber. Eating the peelings is optional. I leave a little on for visual interest and remove most of it. This keeps a happy balance in our home since the mister doesn't care for the peels at all.
How do I wash cucumbers before use? Cucumbers can be washed with cool water while rubbing with your fingers to remove any dirt and debris. This doesn't remove the wax often used on vegetables before they're sent to the grocery stores. There are wash solutions that can be used to remove the waxy layer if desired.
Creamy Cucumber Salad with Mayo and Sour Cream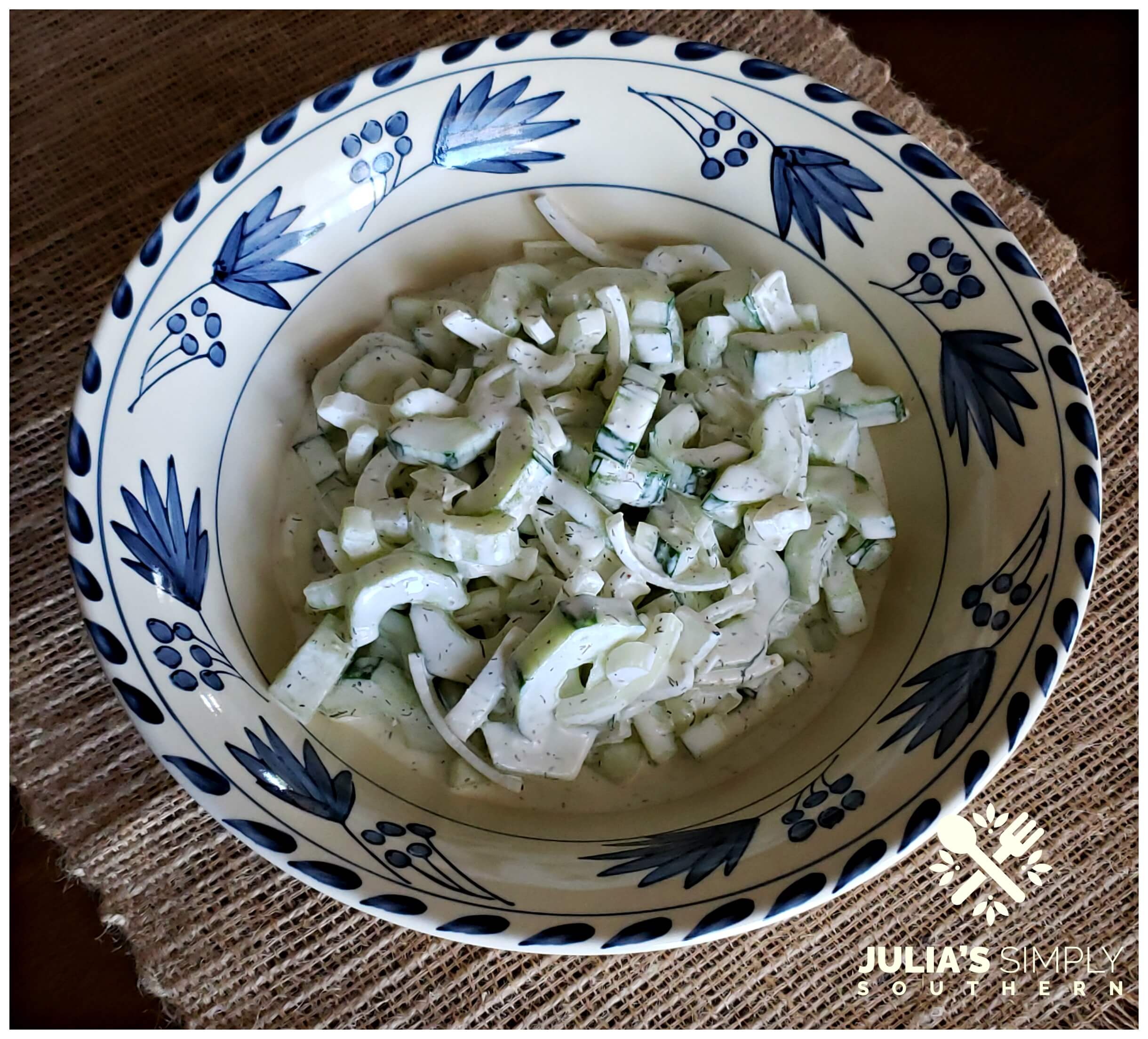 If you prefer not to make the dressing portion of this recipe, another great option is to use ranch dressing. It is a popular variation and equally delicious.
How do I make a creamy cucumber salad? You'll need cucumbers (I've used English cucumbers in this recipe), sweet onion (like Vidalia), mayonnaise, sour cream, buttermilk, dried dill (fresh works fine if you have it on hand), sugar, salt and pepper.
The method to put it all together is quite simple. Prepare the cucumbers by peeling (or not) and slicing up the onion then combine with the creamy dressing. Allow the cucumber salad to chill in the refrigerator a few hours or overnight before serving.
You'll have yourself one tasty cool side dish that will be as refreshing as it is delicious on those warm days of summer.
Creamy Cucumber Salad with Dill
Yield: 6 Servings
Creamy Cucumber Salad with Dill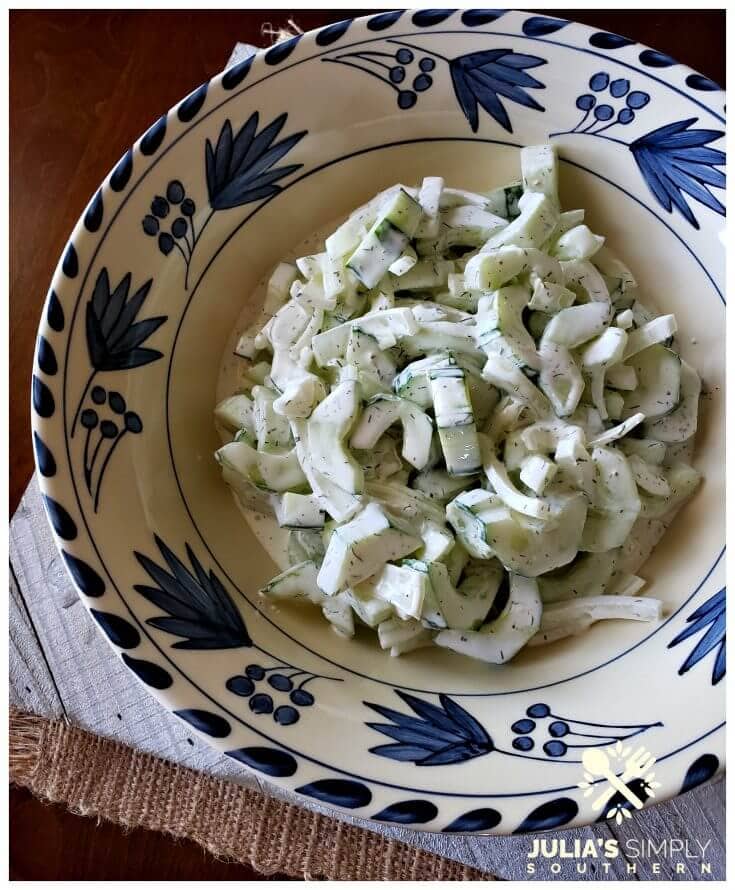 Classic creamy cucumber salad with sweet onion and dill.
Total Time
2 hours
10 minutes
Ingredients
2 English Cucumbers, halved, seeded and sliced (peeling optional)
1/2 of a Sweet Onion. sliced thin
1/3 c Mayonnaise
1/3 c Sour Cream
1/4 c Buttermilk, or enough to think out the dressing a little
1 tsp Dried Dill
1/4 tsp Granulated Sugar
1/2 tsp Salt
Cracked Black Pepper, to taste
Instructions
Combine the cucumber and sliced onion in a mixing bowl.
In a separate bowl, combine the mayonnaise, sour cream and buttermilk.
Add the dill and seasonings to the dressing mixture then pour over the cucumber mixture.
Toss to combine.
Cover and chill in the refrigerator at least 2 hours or overnight before serving.
Nutrition Information:
Yield:
6
Amount Per Serving:
Calories:

152
Total Fat:

14g
Saturated Fat:

3g
Trans Fat:

0g
Unsaturated Fat:

10g
Cholesterol:

14mg
Sodium:

343mg
Carbohydrates:

6g
Fiber:

1g
Sugar:

4g
Protein:

2g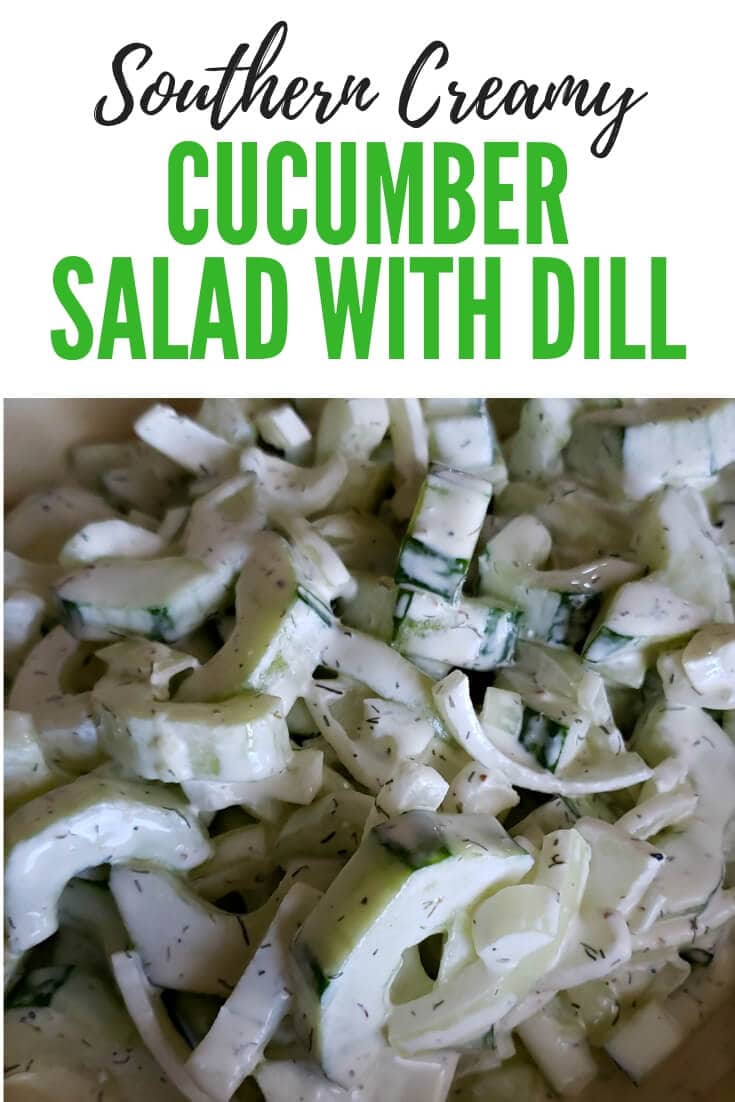 Thank you for stopping by! While you're here be sure to sign up for our free email newsletter so you never miss a new recipe. We send those out about once a month to share our latest posts.
You can also follow along on Facebook, Pinterest and Instagram.
You can also find this recipe shared at Foodie Friday, Weekend Potluck and Meal Plan Monday.
Meet Julia
Author of Julia's Simply Southern
Hey Y'all! I'm Julia, the cook and writer behind the recipes here at Julia's Simply Southern. I began my website so that I could share easy to follow recipes that anyone can use to put a home cooked meal on the dinner table. Thanks so much for stopping by!
Follow me on Facebook | Twitter | Instagram | Pinterest | YouTube