Hey y'all! Julia Jordan here, and I've got a sweet treat easy fruit salad recipe with vanilla pudding that's gonna make your taste buds dance with delight! It is so good!
Now, we all know that summertime calls for refreshing and fruity dishes, and that's why I'm bringing you my easy peasy fruit salad recipe with a twist.
Picture this: a medley of juicy fruits, perfectly nestled in a creamy vanilla pudding mix. It's like a little bowl of heaven that'll have you begging for seconds.
Now y'all, I keep this fruit salad simple with just 5 ingredients, but you can add to it whatever your heart desires.
So, grab your mixing bowls and let's get mixing this fruit salad up! You won't believe how simple and delicious this fruit salad is gonna be. Let's get ready to dive into some deliciousness, y'all!
Vanilla Pudding Fruit Salad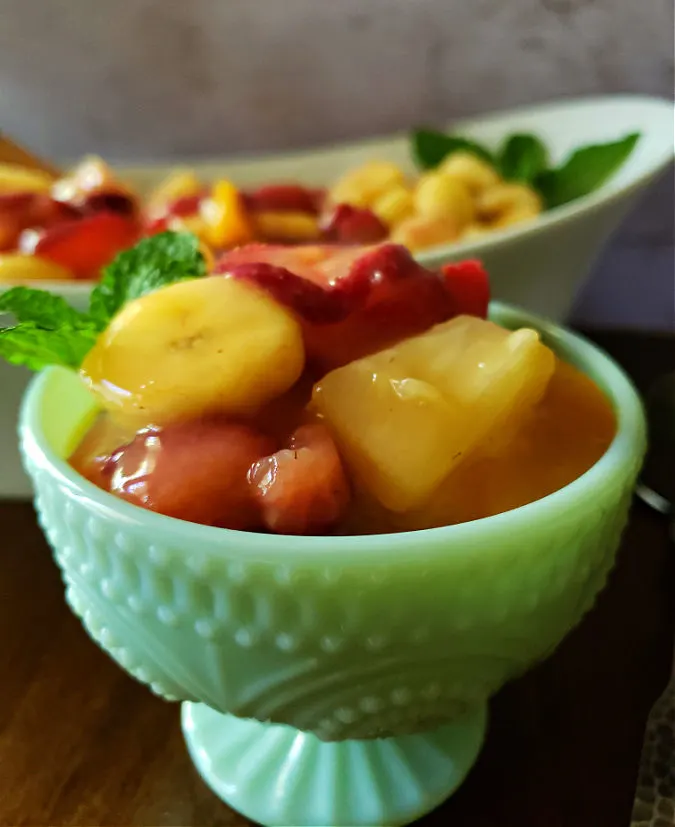 What is a fruit salad?
A fruit salad is a delightful dish made by combining a variety of fresh fruits. It's a vibrant and colorful medley of different flavors and textures. Fruit salad is often enjoyed as a refreshing snack, dessert, or as a side dish to accompany a meal.
Fruit salads can be customized to include a wide range of fruits, such as berries, melons, citrus fruits, grapes, kiwis, and more.
Some recipes also incorporate additional ingredients like nuts, herbs, mini marshmallows, coconut flakes or dressings to enhance the flavors. There are so many possibilities to enjoy in a fruity salad.
Whether served at picnics, potlucks, a special occasion, or enjoyed at home, fruit salads are a delicious and nutritious way to celebrate the natural sweetness of fruits.
I don't know about you, friend, but I find fruits to be so refreshing during the summer-time especially.
Easy Fruit Salad Recipe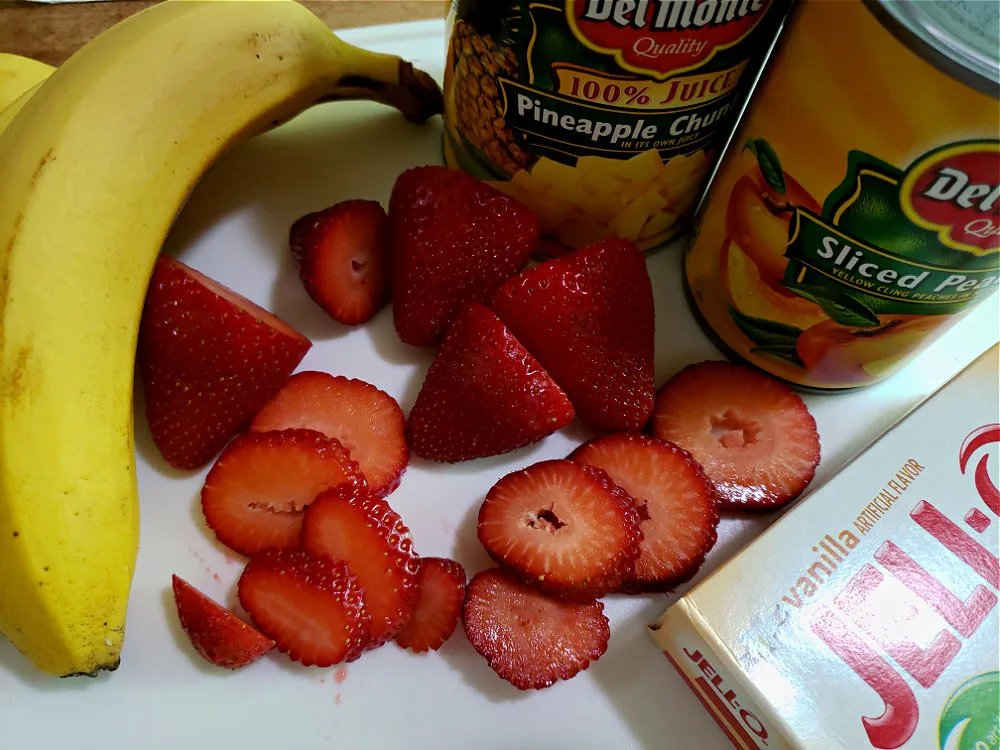 Here's what you will need to make this simple creamy fruit salad recipe:
Fresh Strawberries – fresh strawberries are amazing in this salad. Prep them by washing, drying and slicing. If it is not strawberry season, feel free to use frozen that have been thawed.
Bananas – peeled and sliced are a favorite in classic fruit salad recipes.
Peaches – canned peached, drained work well in this old timey fruit salad. If fresh are in season then by all means, honey, use those instead.
Pineapple – my recipe calls for canned pineapple chunks with the juices. If you have fresh pineapple on hand that you want to use then feel free. Just make sure that fresh pineapple will give you enough juices to incorporate the instant pudding powder.
Jell-O Vanilla Pudding Mix – the vanilla flavor from the instant pudding glazes the fruit and is wo wonderful with all of the fruits in this dish.
I think that the vanilla is the best flavor to use but you could use banana or cheesecake pudding if you want.
If you want to add other fruits to your fruit salad, such as blueberries, mandarin oranges, green grapes, apple chunks, kiwi, or other sweet fruits then feel free to be creative as you wish. Y'all, I know some of you will be wanting to throw some maraschino cherries in your fruit salad. That's fine, just rinse them off first or you'll turn the whole thing pink.
I really do like keeping it simple with just the five ingredients, but any version will be delicious! This mix of fresh and canned fruit is typical of traditional fruit salad recipes.
How to make this simple fruit salad…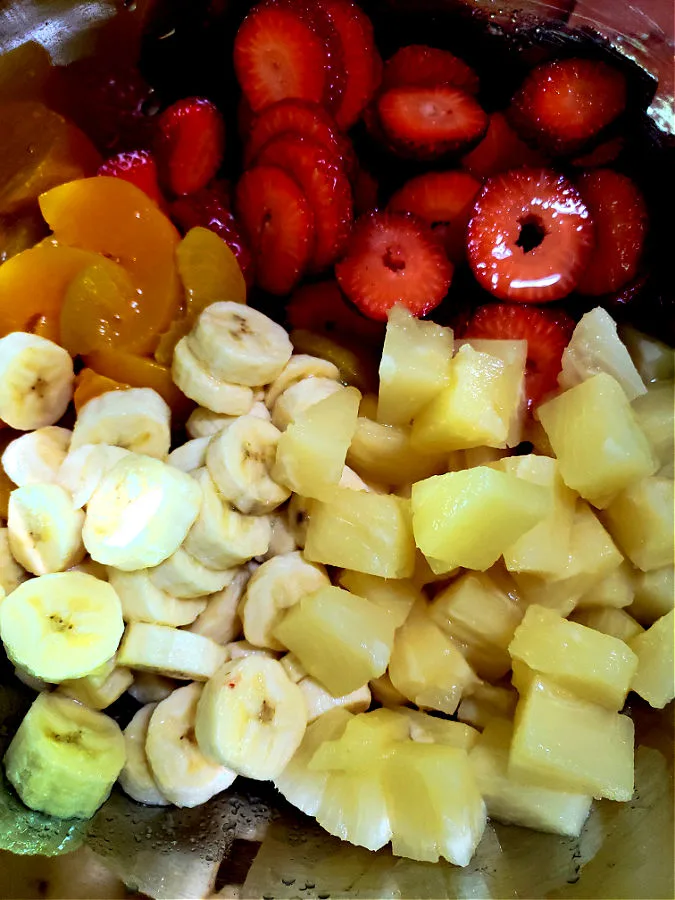 Once you have your fruits prepped, add them to a large bowl.
The Vanilla Pudding Glaze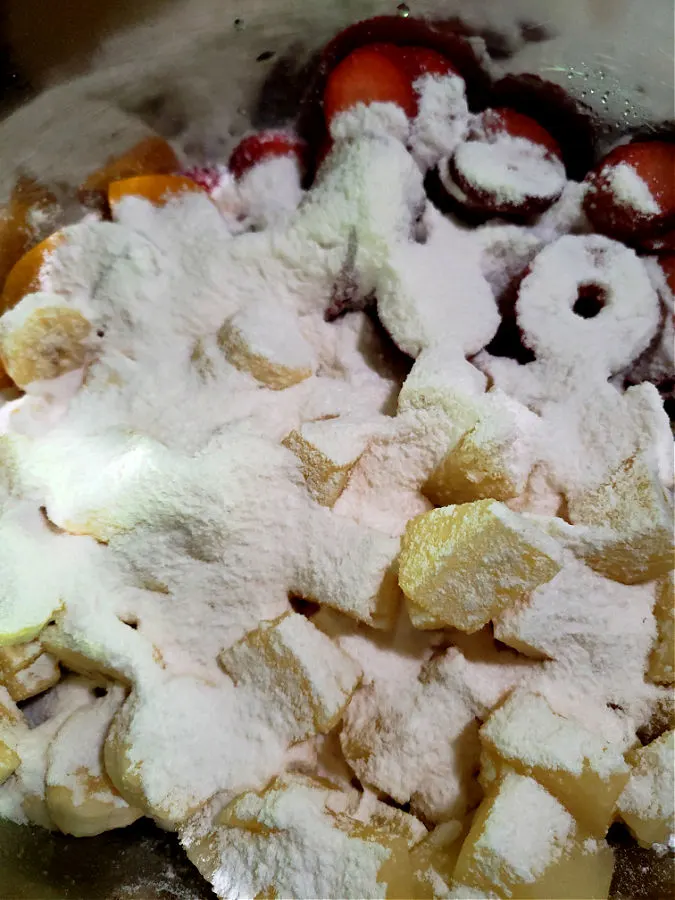 The next step is to add the dry pudding mix to the bowl with the fruit. There is no pre-mixing the instant pudding mix, just throw it in with the fruit.
The instant vanilla pudding mix will combine with the pineapple juice and other fruit juices to create the creamy dressing vanilla glaze for the fruit salad.
Transfer the fruit salad to a airtight container and refrigerate until ready to serve. I recommend preparing this salad a few hours ahead of time, but no more than a day ahead.
When you're ready to serve the fruit salad, transfer it to a pretty serving bowl and enjoy! The best part is seeing how much everyone loves this vanilla-licious fruit salad.
Easy Fruit Salad Recipe with Vanilla Pudding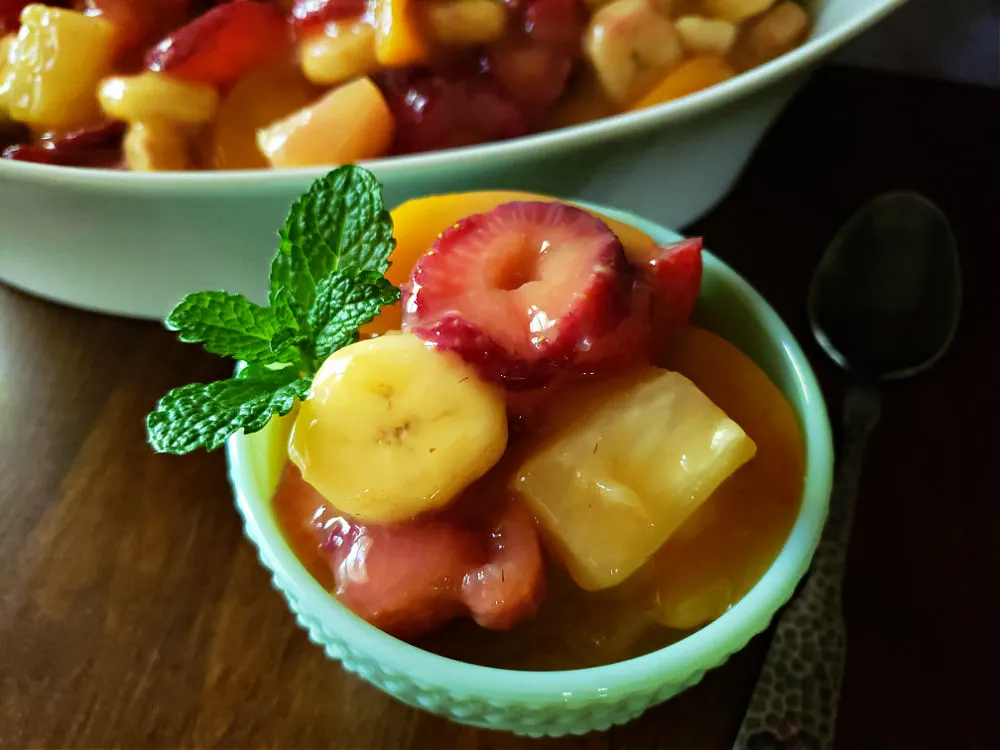 What to serve with vanilla pudding fruit salad?
Well, y'all, when it comes to serving up a delightful fruit salad, I've got just the perfect accompaniments.
How about a fluffy cloud of homemade whipped cream, dolloped generously on top? Or maybe a sprinkle of crunchy granola for that irresistible texture? Oh, and don't forget a drizzle of sweet honey or a squeeze of zesty lemon juice to enhance those juicy flavors.
A fruit salad is the perfect side or sweet treat to go along with your burgers, hot dogs, or grilled barbecue chicken.
Serve this delicious fruit salad recipe with chicken salad sandwiches that the entire family will love!
Printable Recipe Card for this Delicious Fruit Salad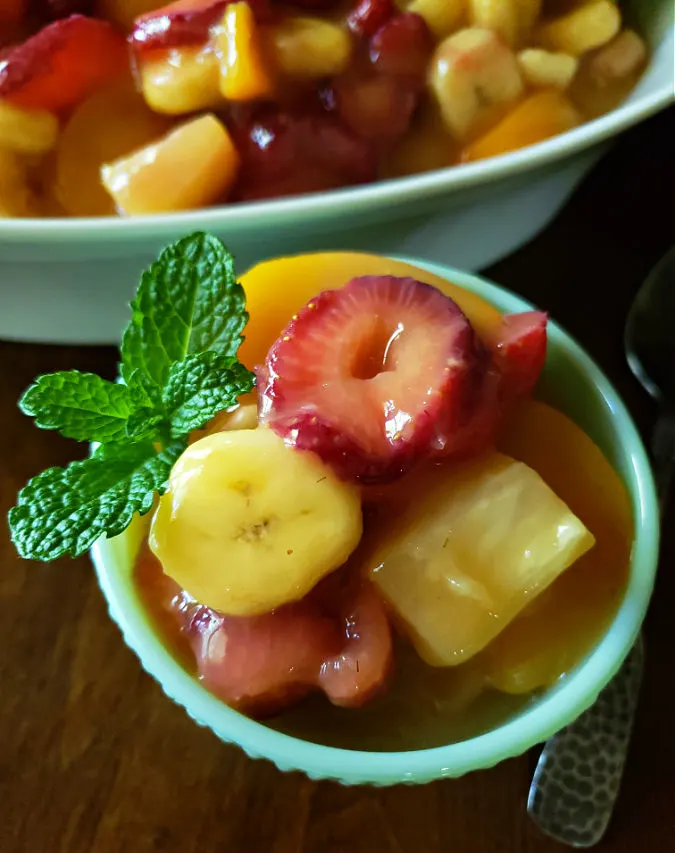 Below you will find the printable recipe card for this easy dessert salad recipe.
Yield: 1 Salad
Easy Fruit Salad Recipe with Vanilla Pudding-5 Ingredients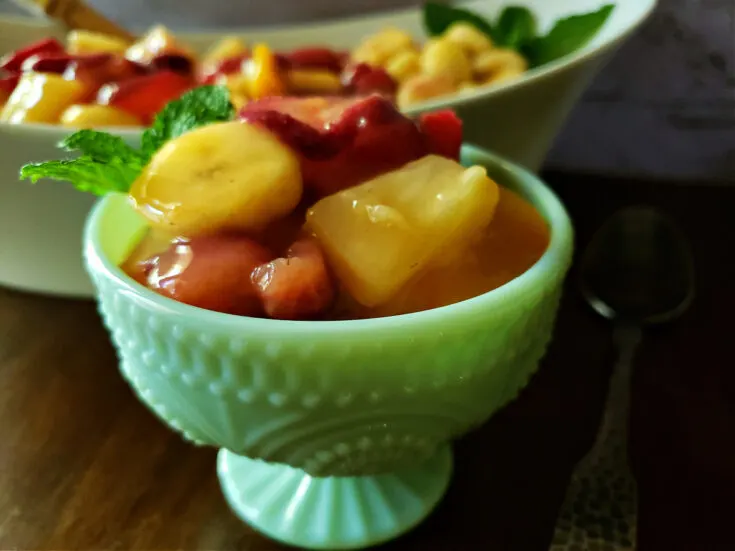 A classic vanilla pudding fruit salad with a medley of fruits, both fresh and canned, with the creamy vanilla glaze. This delicious fruit salad recipe is a classic and perfect for family gatherings, summer picnics, church potlucks, or any special occasion that you want to contribute a simple, but delicious, dish.
Ingredients
3 cups Fresh Strawberry Slices (about a pound)
4 Bananas, peeled and sliced (about 2 cups)
15.25 ounce Can Sliced Peaches, drained
20 ounce Can Pineapple Chunks, with the juices
5.1 ounce Jell-O Vanilla Instant Pudding Mix
Instructions
Prepare the fruits and add to a large bowl.
Next, sprinkle the pudding mix over the fruit then stir to combine.
Place the fruit salad in an airtight container and refrigerate until ready to serve.
Nutrition Information:
Yield:
18
Serving Size:
1
Amount Per Serving:
Calories:

101
Total Fat:

0g
Saturated Fat:

0g
Trans Fat:

0g
Unsaturated Fat:

0g
Cholesterol:

0mg
Sodium:

33mg
Carbohydrates:

20g
Fiber:

2g
Sugar:

14g
Protein:

1g
Well, folks, that's all there is to it! I hope y'all give this easy fruit salad recipe a whirl and enjoy every bite of it. It's the perfect way to cool down on a hot summer day or add a touch of sweetness to any occasion.
Remember, you can always get creative and toss in your favorite fruits or add a dollop of whipped cream on top or Cool Whip whipped topping for an extra indulgence.
So go ahead and whip up this simple fruit salad, and let the flavors burst in your mouth.
Popular Recipes on the Blog
Check out the Latest Recipes
Easy Fruit Salad Recipe with Vanilla Pudding
Thank you so much for stopping by! Be sure to subscribe to my email while you're here! Subscribers receive a weekly e-newsletter from me with the latest recipes and news here on the blog so that you never miss a thing.
Until next time, y'all, keep cookin' with love and savor every moment at the table. Happy eating!
Meet Julia
Author of Julia's Simply Southern
Hey Y'all! I'm Julia, the cook and writer behind the recipes here at Julia's Simply Southern. I began my website so that I could share easy to follow recipes that anyone can use to put a home cooked meal on the dinner table. Thanks so much for stopping by!
Follow me on Facebook | Twitter | Instagram | Pinterest | YouTube