In this post I am sharing an amazing recipe for healthy Low Carb Pork Fried Cauliflower Rice.
I need to have a heart to heart with y'all and share something. I'm the person who reads recipes and see a line…something like "You won't even miss the bread" and I scream LIAR! I. Will. Miss. The. Bread. HaHa!
I know many of you can identify with me on that. I must also confess that I was very skeptical about cauliflower rice. Not only did I like it…I LOVED it! I'm completely amazed, no kidding! It took making it myself to make me a believer.
Honestly…if I had not cooked this myself, I wouldn't have know it wasn't rice. The real rice. Cauliflower rice will go into our regular meal rotation list from now on.
This delicious low carb fried cauli rice is delicious and easy to prepare. Better yet, the leftovers re-heat wonderfully in the microwave without compromising taste or quality. Regular fried rice is at its best when fresh made. Cauli fried rice is wonderful fresh made or re-heated.
I really can't say enough good things about it and I would tell ya the truth! I don't share recipes that I don't believe in and test myself.
Cauliflower Pork Fried Rice Keto Friendly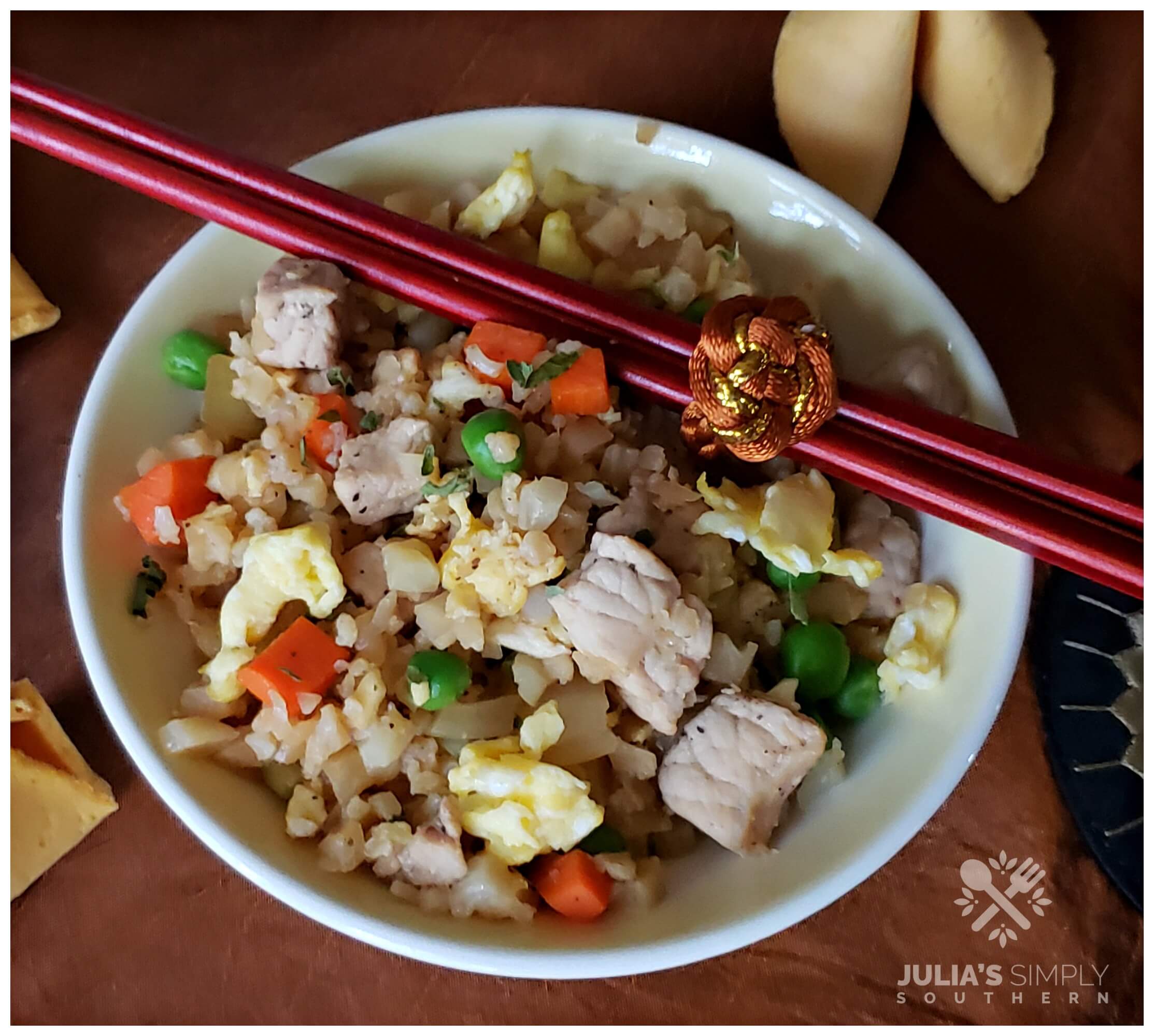 Cauliflower fried rice is not only low carb, it is also Keto friendly. Did you know that soy sauce is Keto friendly for flavoring food? There is only one net carb per tablespoon.
If you're incorporating healthy meal choices into your diet plan, you'll love this flavorful pork fried cauli rice recipe.
Skinny Fried Rice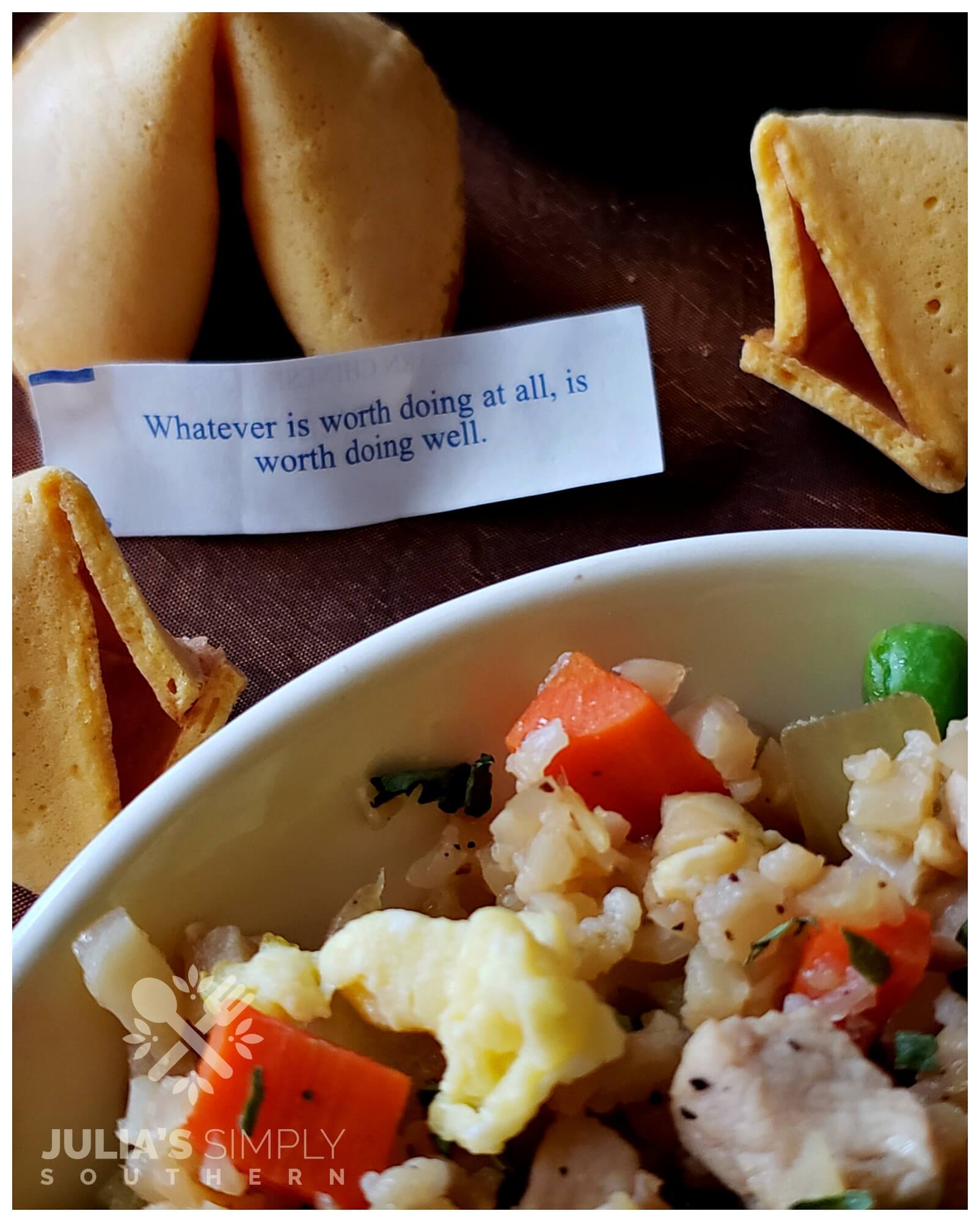 I have been thrilled to be able to share some healthier recipe options with you. Not only did y'all request some healthy options…I wanted to incorporate more healthy dishes into my diet. It's been a win for all of us.
I do have one more confession to share with y'all. I can't even remember the last time that I bought cauliflower. It's been years. I have never considered cauliflower to be one of my favorite vegetables and I just don't buy it.
My husband loves cauliflower though. Poor guy. I've been a bit selfish with the grocery shopping I suppose. He doesn't complain though. Not to me anyways. Have you heard anything? 😯
I decided to take the risk on cauliflower rice because it was marked down at the grocery store. I'm so glad that I did!
Low Carb Pork Fried Rice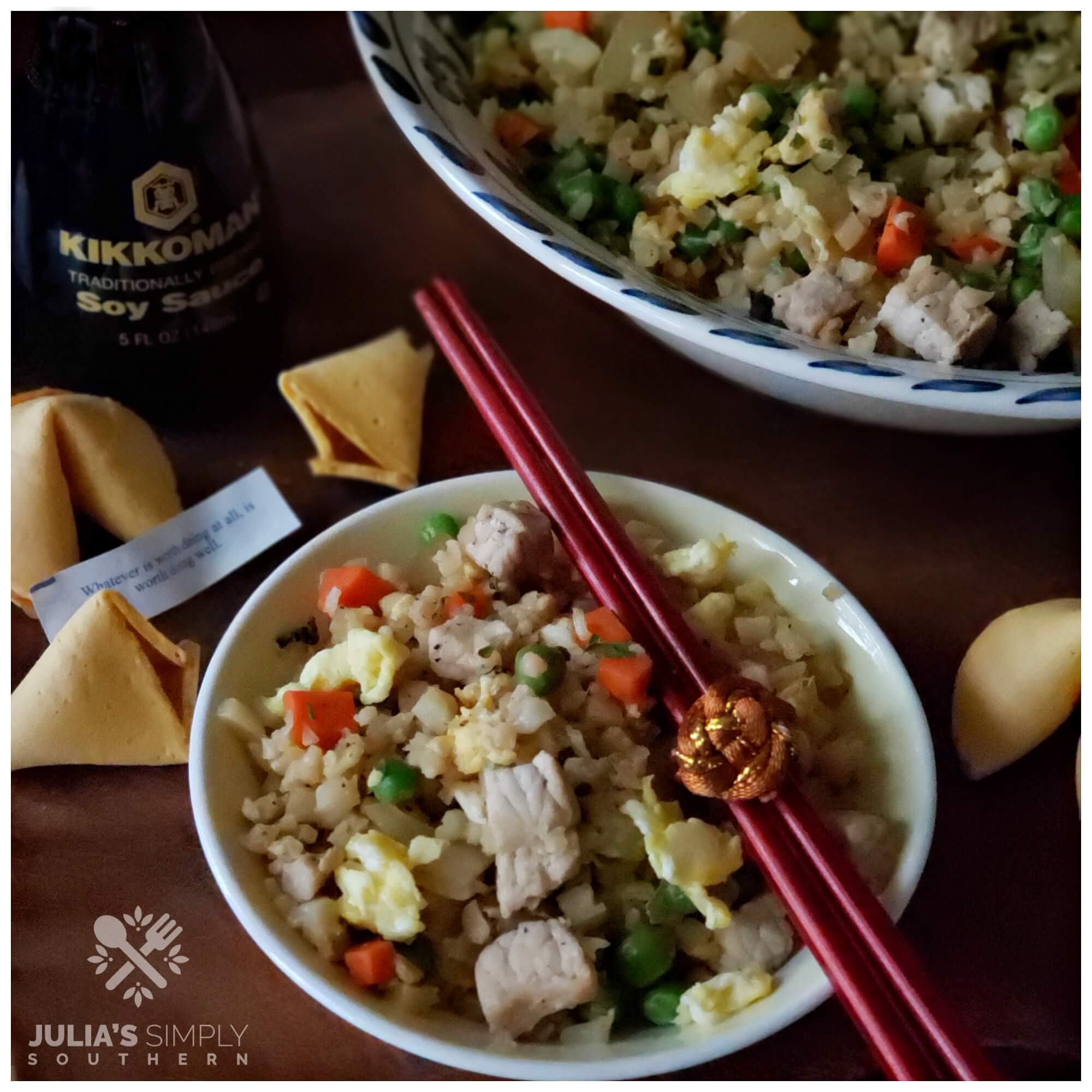 Making this low carb pork fried rice is easy and the meal comes together quickly. It takes just a few minutes of prep work and you're ready to get cooking. I'll take you through it step by step.
Step 1: Make the sauce: In a liquid measuring cup combine soy sauce, ginger paste, toasted sesame seed oil and minced garlic. Set aside.
Step 2: Prep the remaining ingredients: Dice the onion and carrots and set aside. Dice up the boneless pork chop cutlets and set aside. Whisk together two eggs in a small bowl and set aside. Have the remaining ingredients within reach: frozen peas, cauliflower rice and seasonings.
Pork Fried Cauli Rice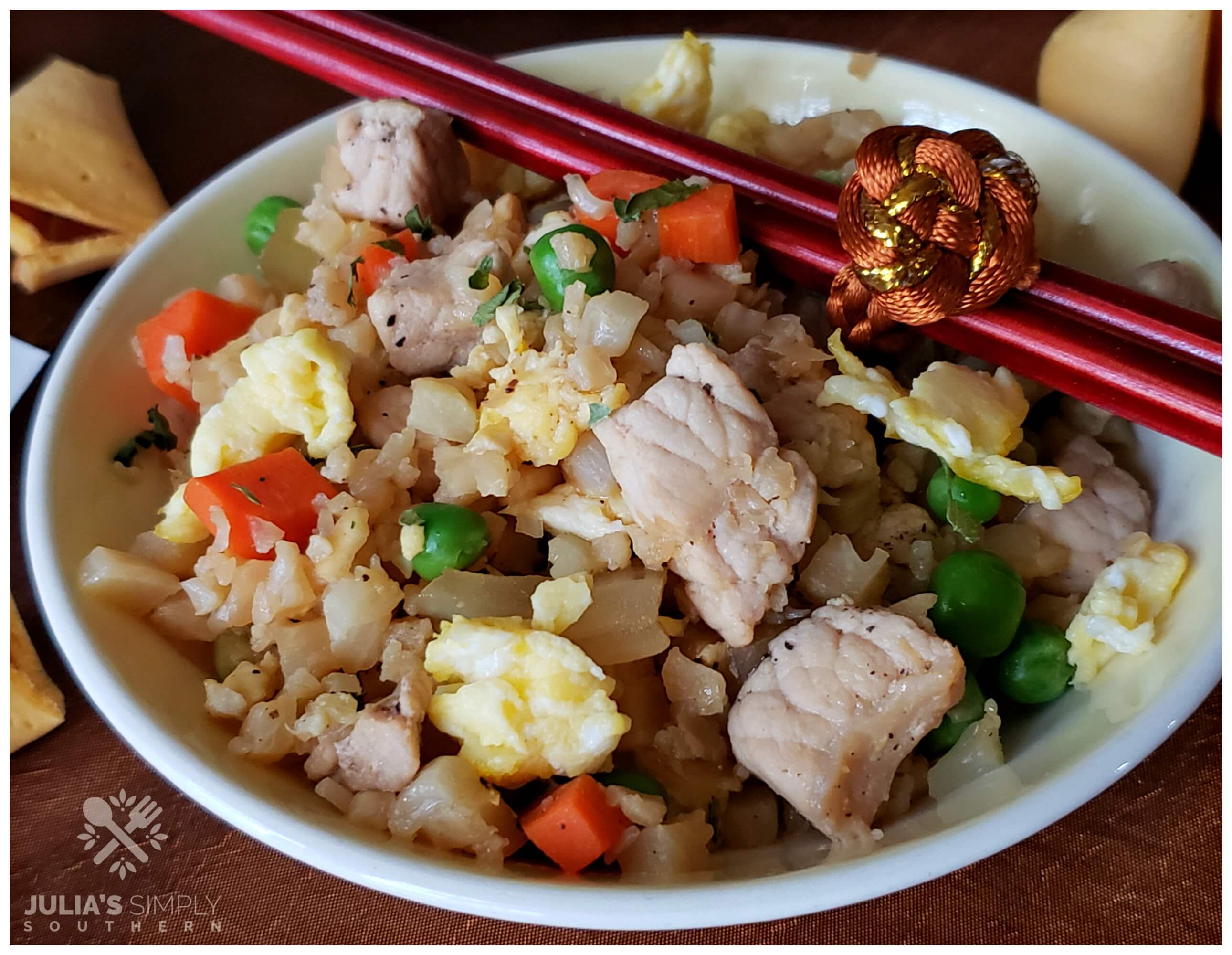 Step 3: Let's cook the Pork Cauliflower Fried Rice: Heat a large skillet over medium heat. I cook on a gas cook top so it heats things up really well. Adjust so that your skillet is a bit on the hot side if needed but not on a high setting. Next, add vegetable or peanut oil to the skillet as it heats up.
When hot, add the diced carrots and onion. Saute until tender then push aside and add the diced pork. Season with salt and pepper.
Turn the pork while cooking three to 4 minutes until done then add the cauliflower rice (make sure it is thawed if you had it in the freezer). Add the frozen peas and pour the sauce you made earlier over everything.
Stir together and cook until heated through. Lastly, push aside the eggs and scramble cook until done then mix with the rest of the fried cauli rice mixture.
Check out the video in this posts for a view of the step by step cooking process.
You'll find a FULL PRINTABLE recipe below.
If you make this Low Carb Pork Fried Cauliflower Rice recipe, stop back by and leave a comment to let me know how you liked it or tag me on social media with a photo of your dish. I'd love to see!
Yield: 2.5 Pounds
Low Carb Pork Fried Cauliflower Rice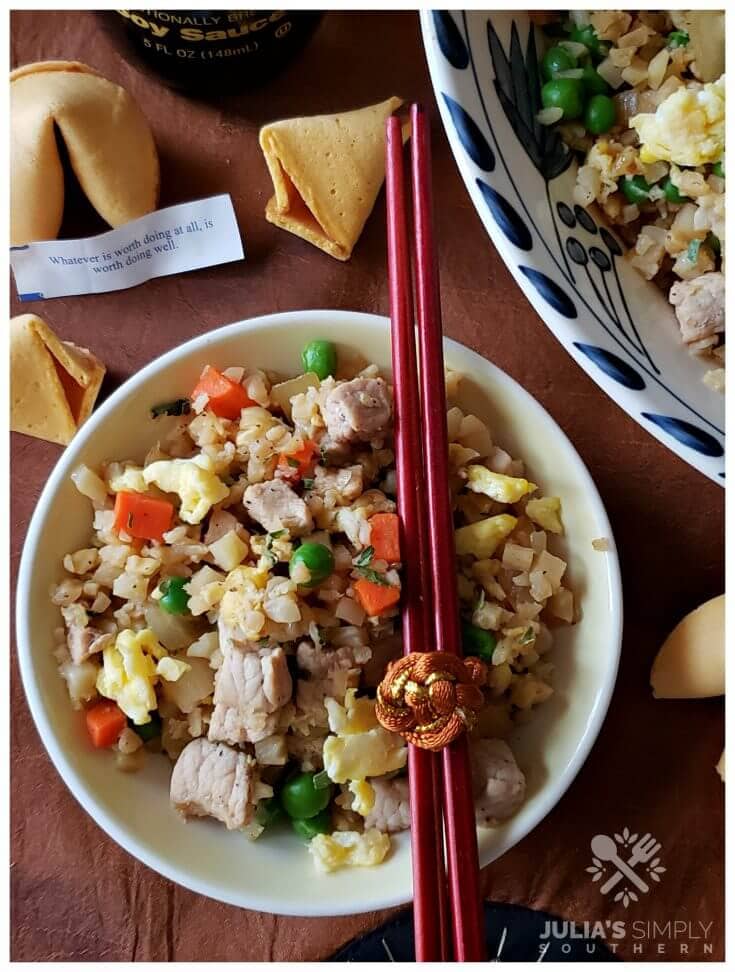 Low Carb Pork Cauliflower Fried Rice is quick to prepare, delicious and healthy. You will not even miss the rice. Really! The whole family will love this dish. It's Keto friendly too.
Ingredients
Sauce
1/4 c Soy Sauce
1 tsp Ginger Paste
1 tsp Toasted Sesame Oil
2 Cloves of Garlic, peeled and minced
Cauli Fried Rice with Pork
2 tbs Vegetable or Peanut Oil
1 Yellow Onion, diced
1/2 c Carrots, diced (about 2 carrots)
0.5 - 1 lb Boneless Pork Chop Cutlets, diced
24 oz Cauliflower Rice
10 oz Frozen Peas
2 Eggs
Salt and Pepper, to taste
Instructions
Prepare the sauce by mixing the soy sauce, ginger paste, toasted sesame oil and minced garlic in a small liquid measuring cup then set aside.
Heat the vegetable (or peanut) oil in a large skillet over medium heat.
Add the diced carrot and onion to the skillet and saute until tender.
Push the vegetables aside and add the diced pork. Season with salt and pepper. Cook 3 to 4 minutes until done, turning occasionally.
Next, add the cauliflower rice and frozen peas.
Next, pour the sauce over everything and stir to combine.
Cook until the cauliflower rice is heated through.
Push the cauli rice mixture aside until you have enough room to scramble cook two eggs. When the eggs are done mix with the other ingredients.
Serve hot with additional soy sauce, if desired.
Recommended Products
As an Amazon Associate and member of other affiliate programs, I earn from qualifying purchases.
Nutrition Information:
Yield:
8
Amount Per Serving:
Calories:

203
Total Fat:

9g
Saturated Fat:

3g
Trans Fat:

0g
Unsaturated Fat:

6g
Cholesterol:

86mg
Sodium:

300mg
Carbohydrates:

12g
Fiber:

4g
Sugar:

4g
Protein:

17g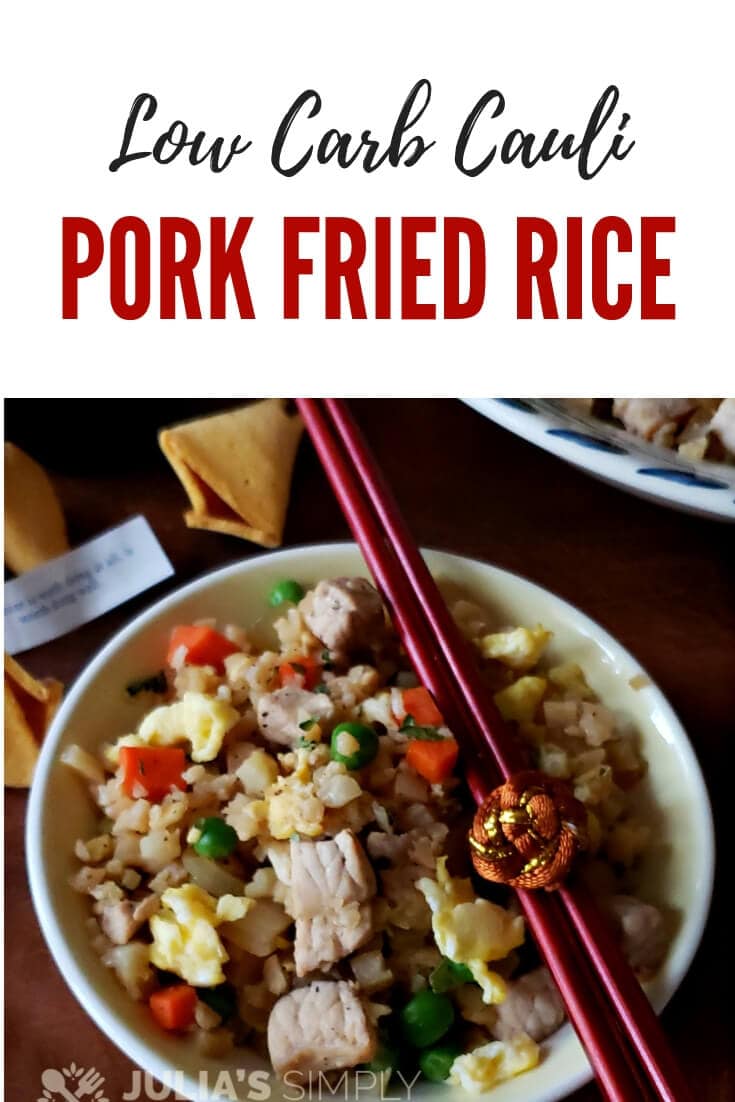 Thank you so much for stopping by. Share this recipe with a friend or on social media.
See this recipe at Weekend Potluck and Meal Plan Monday
Meet Julia
Author of Julia's Simply Southern
Hey Y'all! I'm Julia, the cook and writer behind the recipes here at Julia's Simply Southern. I began my website so that I could share easy to follow recipes that anyone can use to put a home cooked meal on the dinner table. Thanks so much for stopping by!
Follow me on Facebook | Twitter | Instagram | Pinterest | YouTube