In this post I am sharing how to make easy Southern Style Spicy Mexican Cornbread.

It is highly likely that you may have had Mexican cornbread, or at least seen it before. If you haven't…well honey you need to get your cast iron skillet out and heat up the oven cause we're gonna make some.
What is Mexican cornbread? Mexican cornbread begins with the basics of a savory cornbread batter and then loaded up with a few more ingredients, like peppers and cheese.
Mexican cornbread is the perfect way to spice things up with a side of bread at dinner. Of course, I'd be happy with a slice as my dinner. It's so delicious!
What do you serve with Mexican cornbread? This savory bread can be used as accompaniment to chili, Mexican style salads or casseroles, beans or really whatever you like.
If you're looking for more than just a bread recipe…use this batter as the base to create a casserole style meal with the addition of seasoned ground beef.
F

i

e

s

t

a

Cornbread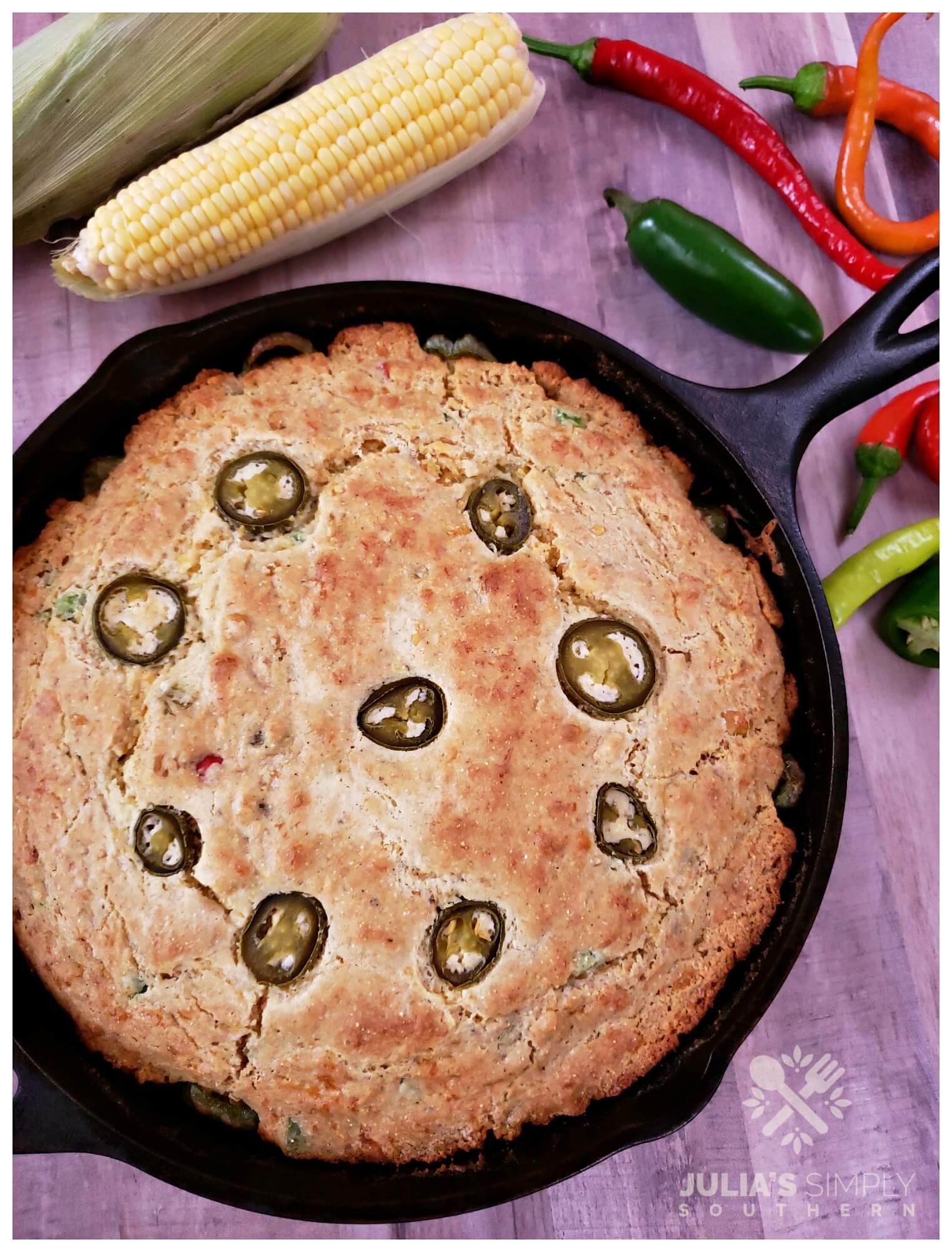 More cornmeal bread recipes you might enjoy: Hot Water Cornbread, Pumpkin Cornbread Muffins, or Southern Cornbread Dressing.
Does Mexican cornbread need to be refrigerated? Mexican cornbread will stay fresher longer if stored in the refrigerator.
Easy Mexican
C

o

r

n

b

r

e

a

d

Recipe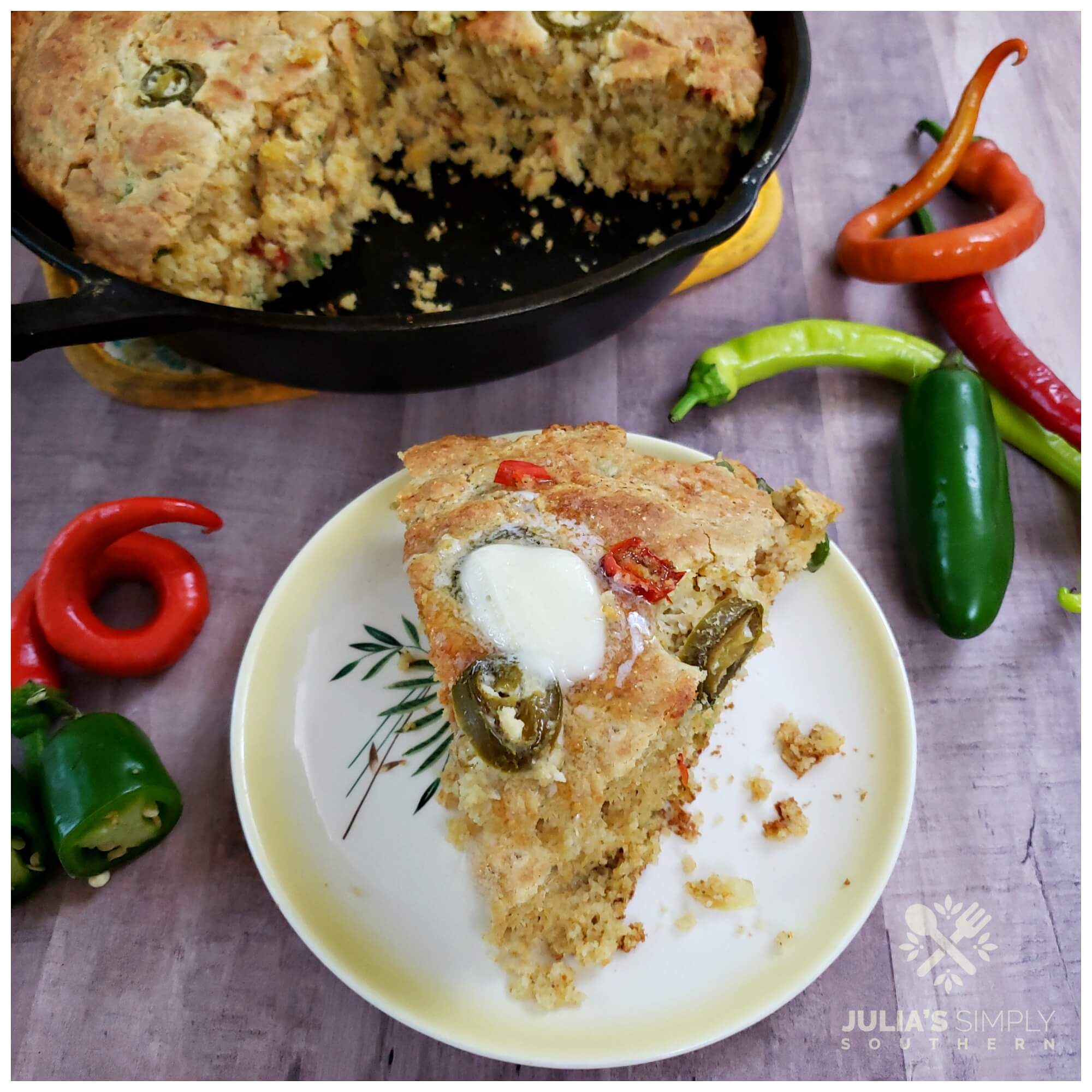 Mexican cornbread is a tad spicy but you can control the level of spiciness to suit your own tastes. I'm a bit of a wimp so I do remove the ribs and seeds from the fresh jalapeno peppers and opt for the mild green chilies.
I do enjoy spicy foods and this has more than enough heat for me. I add colorful sweet chili peppers that have no heat at all for additional interest….cause they look pretty in the cornbread.
While completely optional…I also top the cornbread with a few pickled jalapeno slices, just for visual interest and it looks really good once baked.
Cornbread with Cheese and
P
e
p
p
e
r
s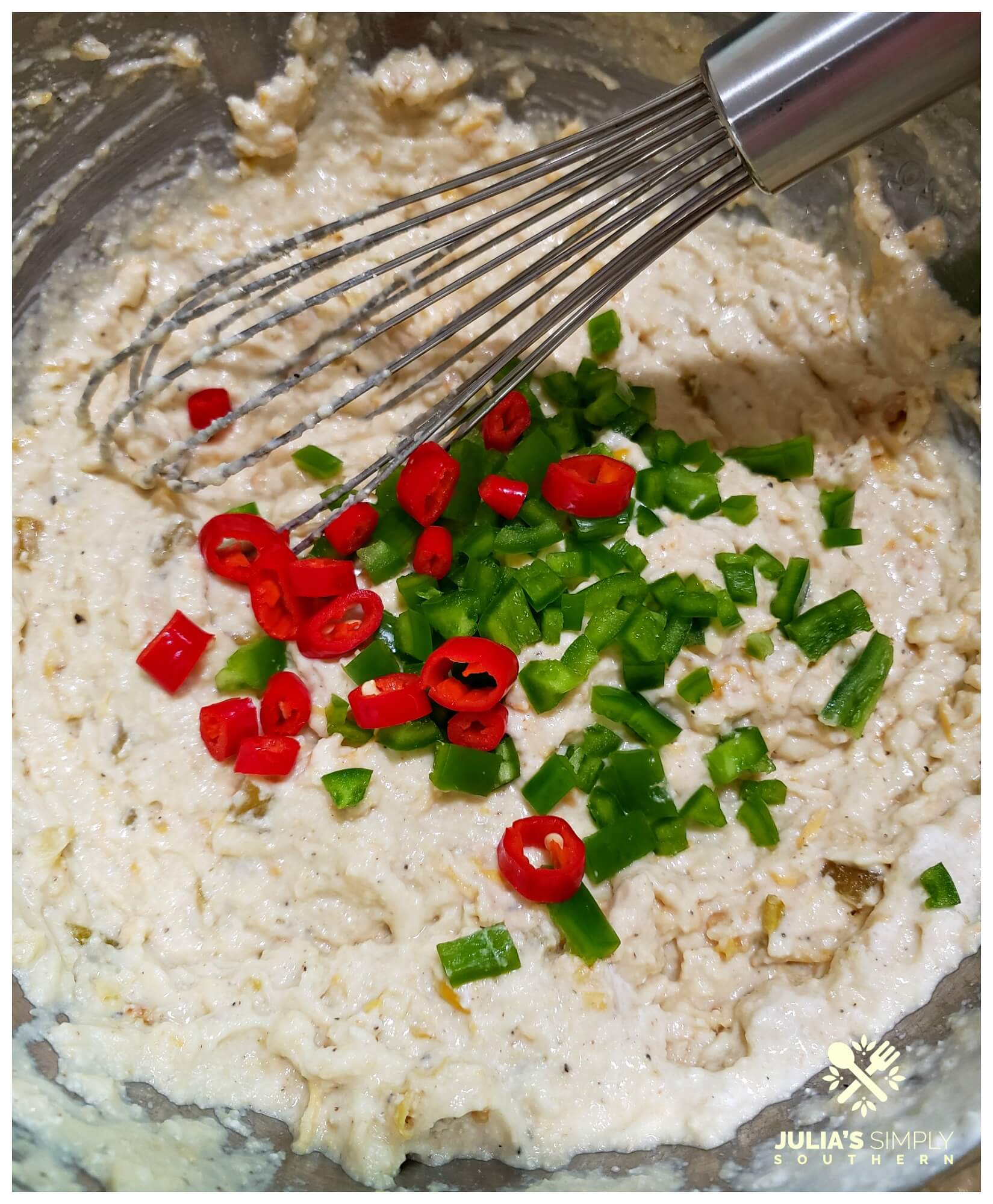 The only thing left for us to do is bake this delicious Mexican cornbread so we can enjoy a wedge with a pat of softened butter.
Southern Style Spicy Mexican Cornbread
Yield: 1 Cake of Cornbread
Southern Style Spicy Mexican Cornbread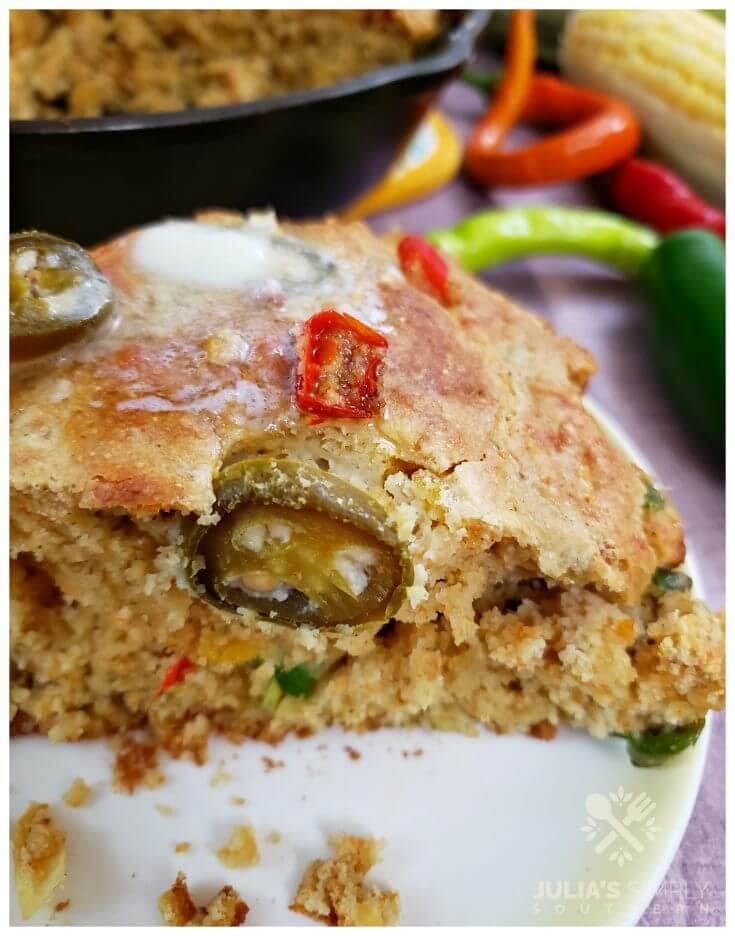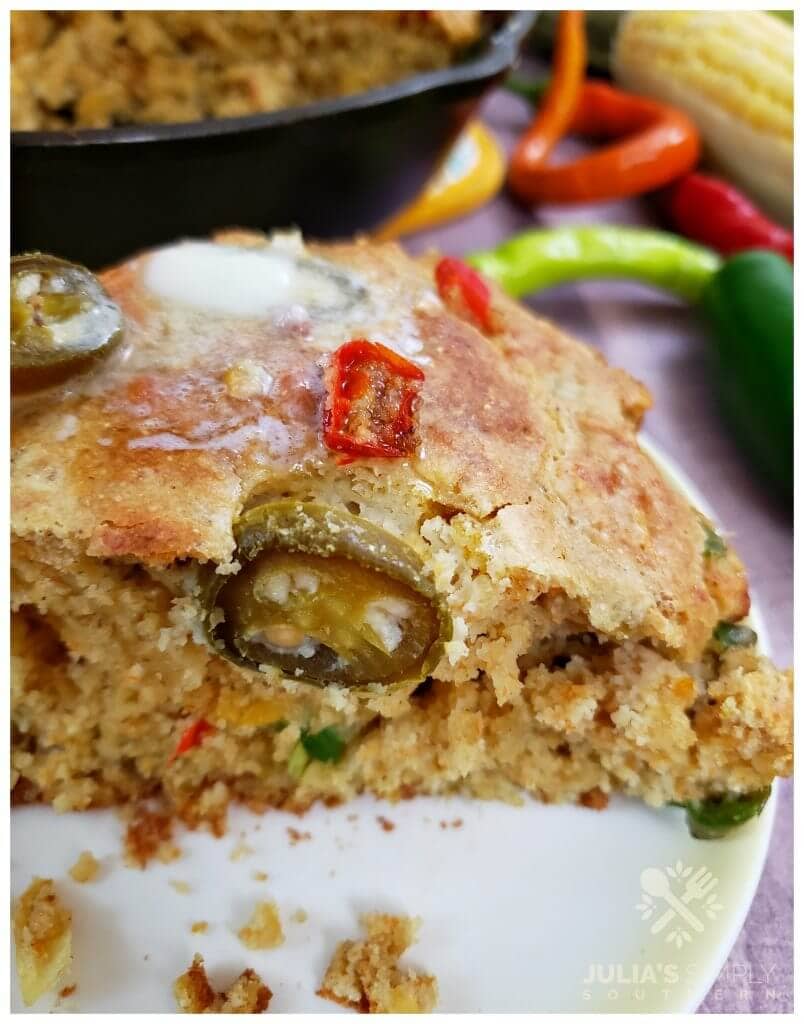 Easy Mexican cornbread recipe is a delicious savory bread side for your meal.
Ingredients
2 c Plain Cornmeal
1/2 c All Purpose Flour
1 tsp Baking Soda
1 tsp Baking Powder
1/2 tsp Salt
Cracked Black Pepper, to taste
4 oz Mild Chopped Green Chilies
1 c Mexican Cheese Blend
2 TBS Vegetable Oil
14.75 oz Cream Style Corn
1/2 tsp Onion Powder
1 c Sour Cream
2 Eggs, slightly beaten
1 Jalapeno, diced with seeds removed (optional)
1 Sweet Red Chili Pepper, diced (optional)
Pickled Jalapeno Slices, for topping (optional)
2 Tbs Butter, to grease the skillet
Instructions
Preheat oven to 425°F (218°C)
Place a 12" cast iron skillet or preferred baking dish into the oven while it preheats.
In a mixing bowl combine the cornmeal, flour, baking powder, baking soda, and seasonings.
Next, add the canned chilies, creamed style corn, vegetable oil, sour cream and eggs then mix to combine with the cornmeal mixture.
Lastly, stir in the diced peppers.
Carefully remove the skillet (or baking dish) from the oven.
Add the butter and allow it to melt in the bottom then add the Mexican cornbread batter.
Bake 25 to 35 minutes until browned and set.
Notes
Adjust cooking times as needed due to variations by oven type.
Bake cornbread until thoroughly set. Under cooked cornbread will stick to the baking dish.
Wrap leftovers in plastic wrap and refrigerate.
Recommended Products
As an Amazon Associate and member of other affiliate programs, I earn from qualifying purchases.
Nutrition Information:
Yield:
8
Serving Size:
1
Amount Per Serving:
Calories:

203
Total Fat:

144g
Saturated Fat:

62g
Trans Fat:

3g
Unsaturated Fat:

66g
Cholesterol:

364mg
Sodium:

237mg
Carbohydrates:

344g
Fiber:

29g
Sugar:

34g
Protein:

82g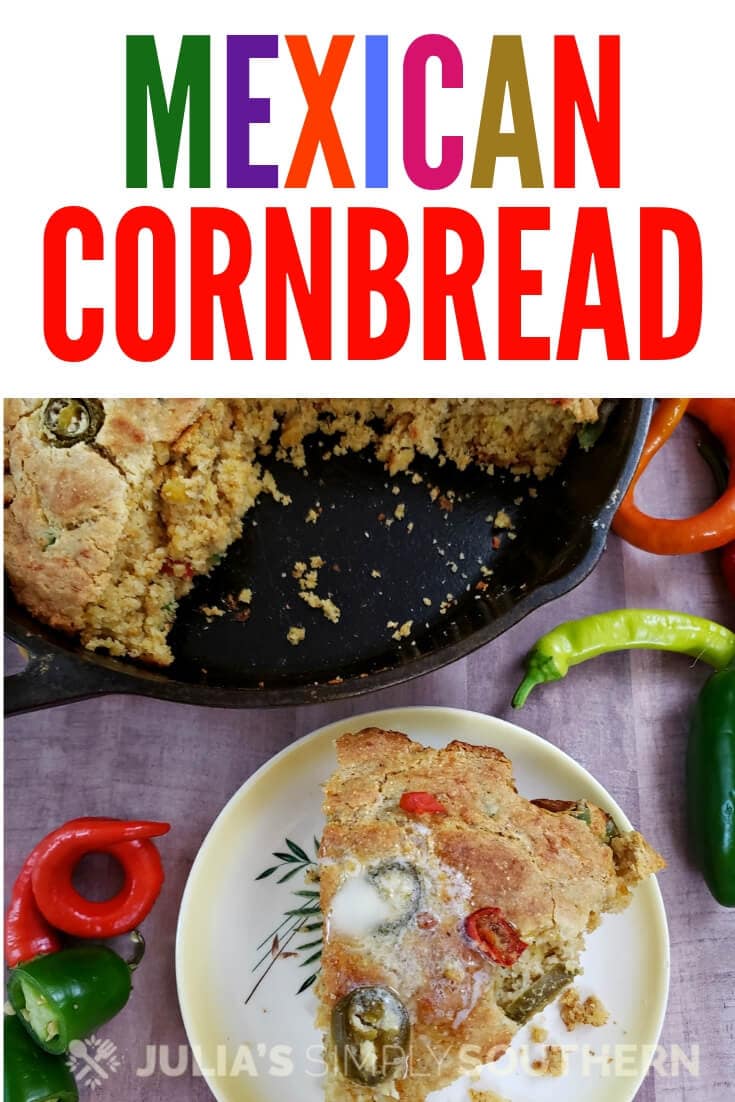 Thank you for stopping by! Be sure to share this recipe with your friends and on social media.
While you're here, you can also sign up for our free email newsletters so you never miss a new recipe and follow us on Facebook, Instagram, and Pinterest. Let's get social y'all!
You can also see this recipe shared at these delicious foodie parties: Weekend Potluck and Meal Plan Monday.
Southern Style Spicy Mexican Cornbread
Meet Julia
Author of Julia's Simply Southern
Hey Y'all! I'm Julia, the cook and writer behind the recipes here at Julia's Simply Southern. I began my website so that I could share easy to follow recipes that anyone can use to put a home cooked meal on the dinner table. Thanks so much for stopping by!
Follow me on Facebook | Twitter | Instagram | Pinterest | YouTube