In this post you'll discover how to make quick and delicious Low Carb Breakfast Sandwiches.

The past few days I've had an idea in my head for a low carb breakfast sandwich that I wanted to try, so yesterday I did. It was such a quick recipe and really delicious.
It was a sort of a spontaneous breakfast…and I made it before my coffee was even finished brewing. So breakfast can be made with just one eye open.
I was pleasantly surprised at how they turned out. Although it wasn't something I had planned to share here on the blog, I snapped a few pictures anyways. Just a picture of my breakfast on a paper plate.
Sharing my breakfast that wasn't on my list of recipes reminds me of the time I started this blog, snapping photos of my dinner that I wanted to share recipes about. See….I have a list of recipes on my desk that I mark off as I share them.
For every three on the list, it is inevitable that I have an idea pop in my head and there goes a post that wasn't planned. HA! It's fun though and I thought you might enjoy this low carb breakfast idea as much as I did.
Bunless Breakfast Sandwich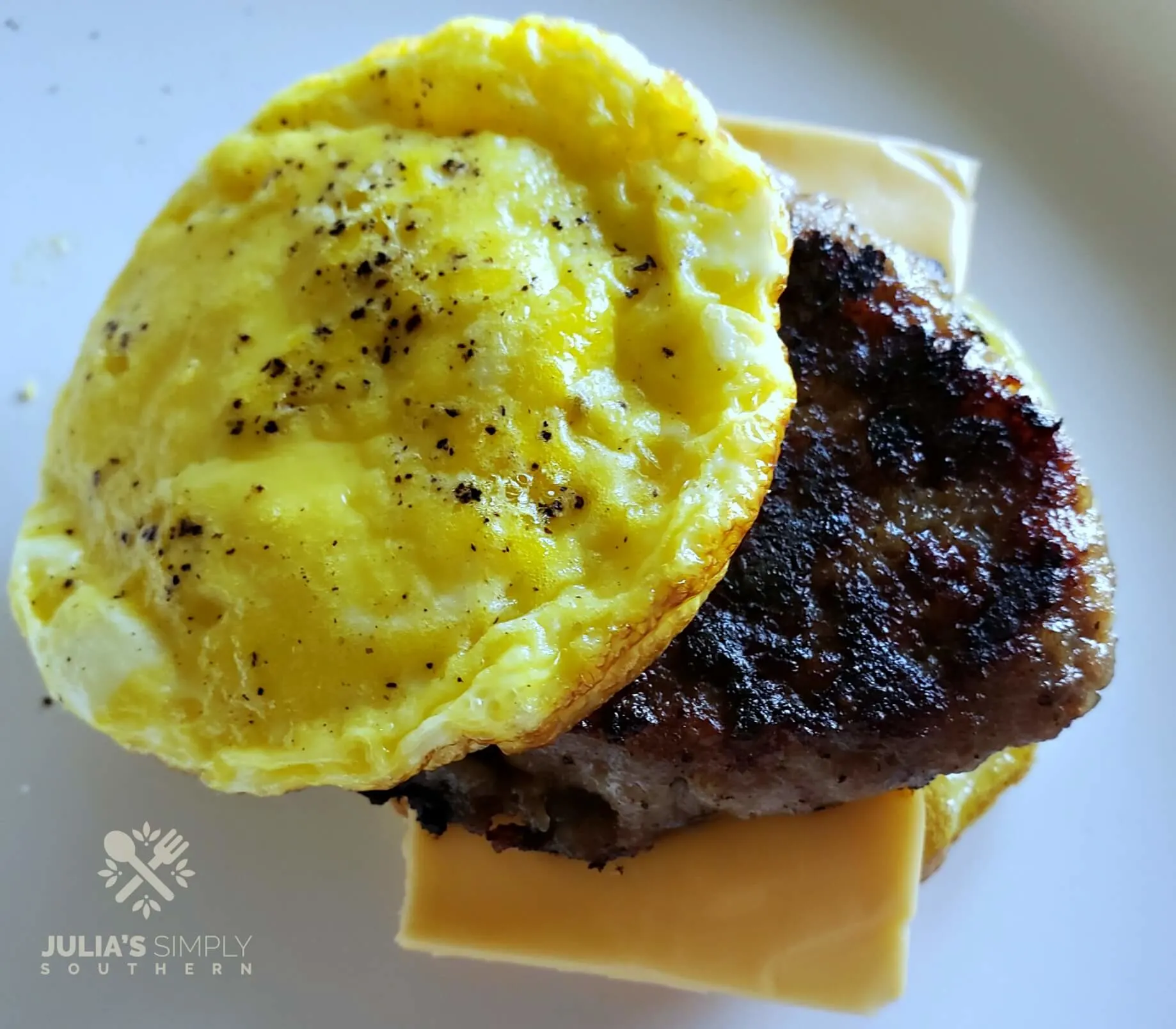 For some reason photographing something yesterday without the planning, styling or pretty china left me a bit nostalgic.
I was remembering when I first began my blog website, the day I first hit the publish button back in 2014 to share some carrots. I just wanted to share those carrots that I love with others.
Honestly, I had no idea if anyone would ever read the recipe…but they did. I had no clue what I was getting into but that day my business began. Julia's Simply Southern was real and I was doing something that I truly love…sharing a bit of my heritage and love of cooking, hoping it inspires others in the kitchen.
I am truly grateful that I'm still sharing my recipes. Of course, these days it takes a bit more work and planning usually…plus trying to snap a decent photo.
I've learned so much in my few years of blogging so far and there is always more to learn. Blogging…..something that didn't even exist when I was growing up. There wasn't even an internet.
If you're of a younger generation, you may be gasping for air right about now wondering how on earth people could live without internet. We did though.
Keto Friendly Breakfast Sandwiches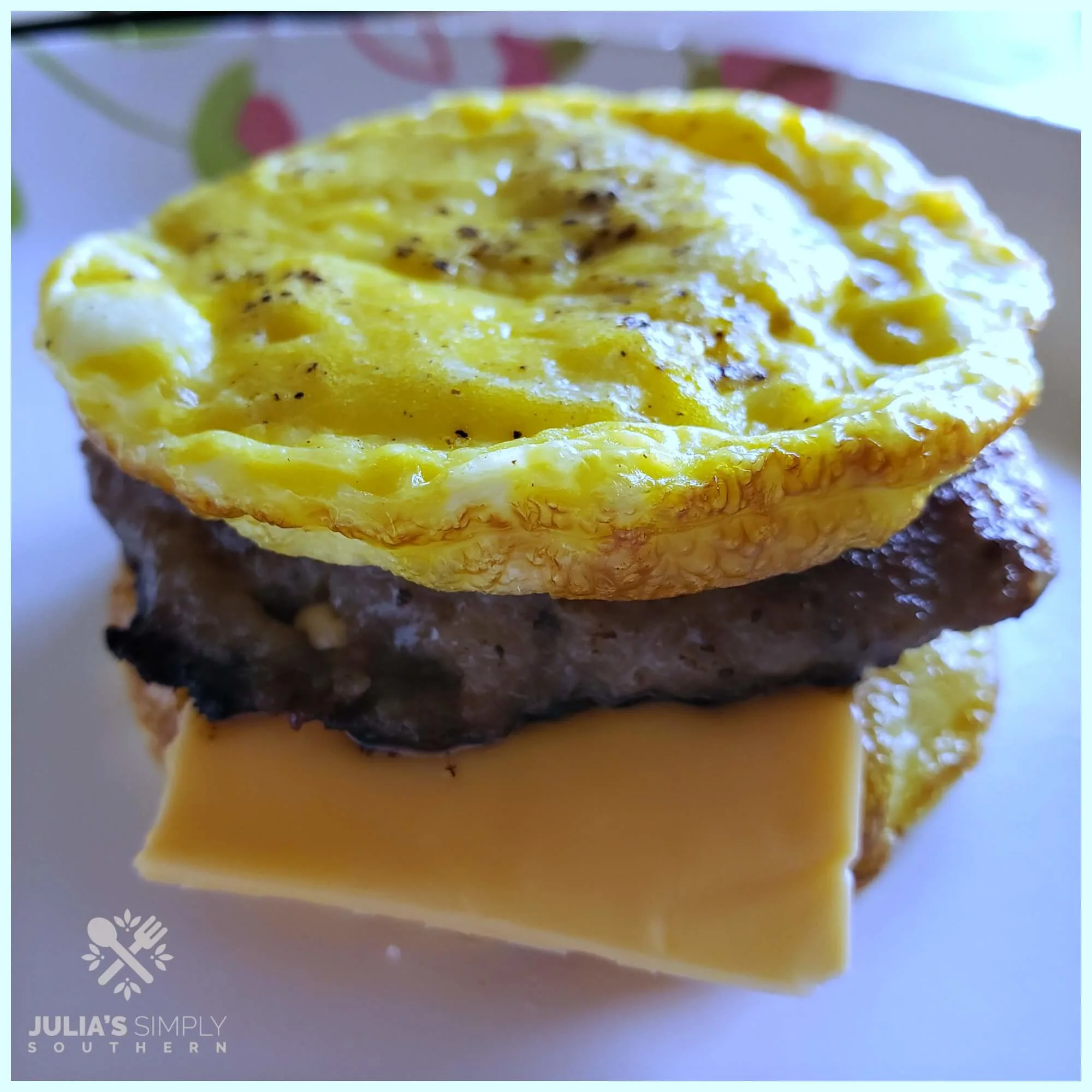 Okay…enough of my ramblings, let's talk about these low carb breakfast sandwiches.
How Do You Make Low Carb Breakfast Sandwiches?
You can make delicious low carb breakfast sandwiches with just a few ingredients. The egg "muffins" are used in place of bread with a simple sausage patty and a slice of cheese.
Breakfast is ready in about ten minutes and delicious. These low carb breakfast muffins are great on the go too.
A quick little note as to why I'm sharing some low carb recipes lately…I have decided to cut carbs for the majority of the week and only eat them on weekends.
By the way…did you see my recipe for Low Carb Air Fried Chicken? It's amazing!
Low Carb Sausage Muffin Breakfast Sandwiches
Another thing I love about this recipe is that it's perfect for making breakfast for one, two or however many you need.
Yield: 2 Sandwiches
Low Carb Breakfast Sandwiches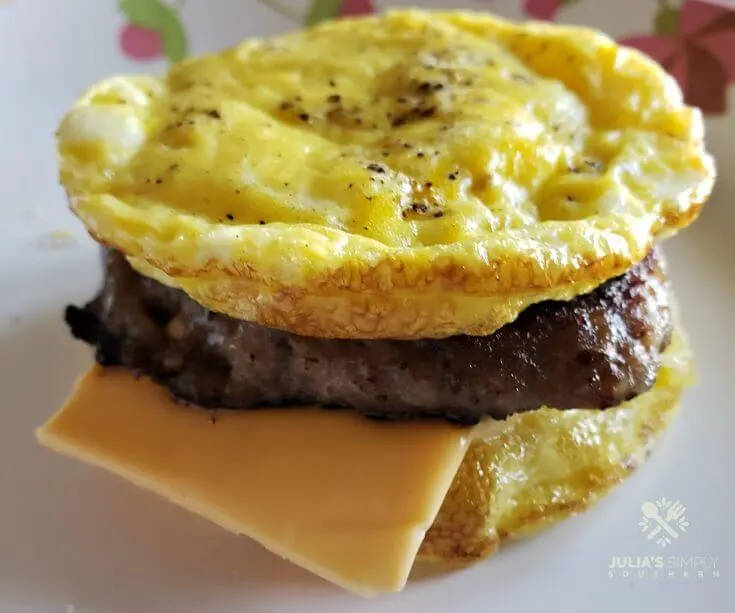 Low carb muffin style breakfast sandwiches that are ready in less than 10 minutes and perfect on the go!
Ingredients
2 Eggs
1/8 c Milk
Salt and Pepper, to taste
2 Sausage Patties
1 Slice of American Cheese, halved (or use the cheese of your choice)
Instructions
Preheat oven to 375°F
Very lightly spray the slots being used on a muffin pan.
Add the milk to a liquid measuring cup then crack in the eggs. Beat together.
Evenly pour the egg mixture into 4 slots of the muffin pan and place into the oven. Bake 7-8 minutes until firm.
While the eggs bake, cook the sausage patties in a skillet.
Use two of the egg muffins as the "bread" and assemble the breakfast sandwiches by placing a sausage patty and half slice of cheese between egg muffins.
Notes
These breakfast muffin sandwiches can be made ahead and reheated in the microwave but for the best taste, make them fresh.
Adjust the recipe for the number of serving needed.
Recommended Products
As an Amazon Associate and member of other affiliate programs, I earn from qualifying purchases.
Nutrition Information:
Yield:
2
Serving Size:
1
Amount Per Serving:
Calories:

255
Total Fat:

19g
Saturated Fat:

8g
Trans Fat:

0g
Unsaturated Fat:

10g
Cholesterol:

232mg
Sodium:

668mg
Carbohydrates:

3g
Fiber:

0g
Sugar:

1g
Protein:

17g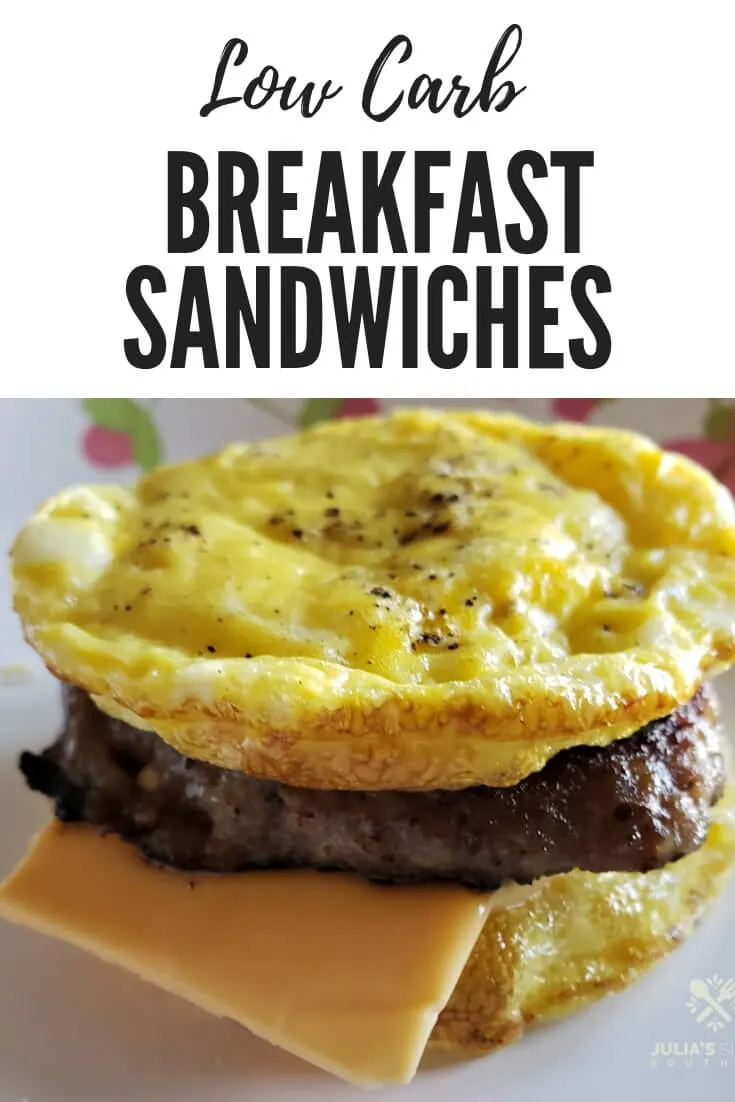 See Our Latest Recipe Posts
You'll find this recipe shared at Weekend Potluck and Meal Plan Monday
Meet Julia
Author of Julia's Simply Southern
Hey Y'all! I'm Julia, the cook and writer behind the recipes here at Julia's Simply Southern. I began my website so that I could share easy to follow recipes that anyone can use to put a home cooked meal on the dinner table. Thanks so much for stopping by!
Follow me on Facebook | Twitter | Instagram | Pinterest | YouTube