In this post I'll be sharing how to prepare Sautéed Swiss Chard with Garlic, a healthy and colorful side dish.
Swiss chard is a delicious and tender leaf vegetable. It is easy to prepare and should be added to your menu rotation, if it is not already. I feel this is one veggie that gets overlooked too often at the market.
The nutrition power of swiss chard ranks up there with kale but is much more tender and delicious like spinach. My husband loves kale and I do not. I'll take swiss chard any day instead please.
Swiss chard may be labeled by different names too, such as red chard, rainbow chard, sea kale, or strawberry spinach to name a few.
Easy Swiss Chard Recipe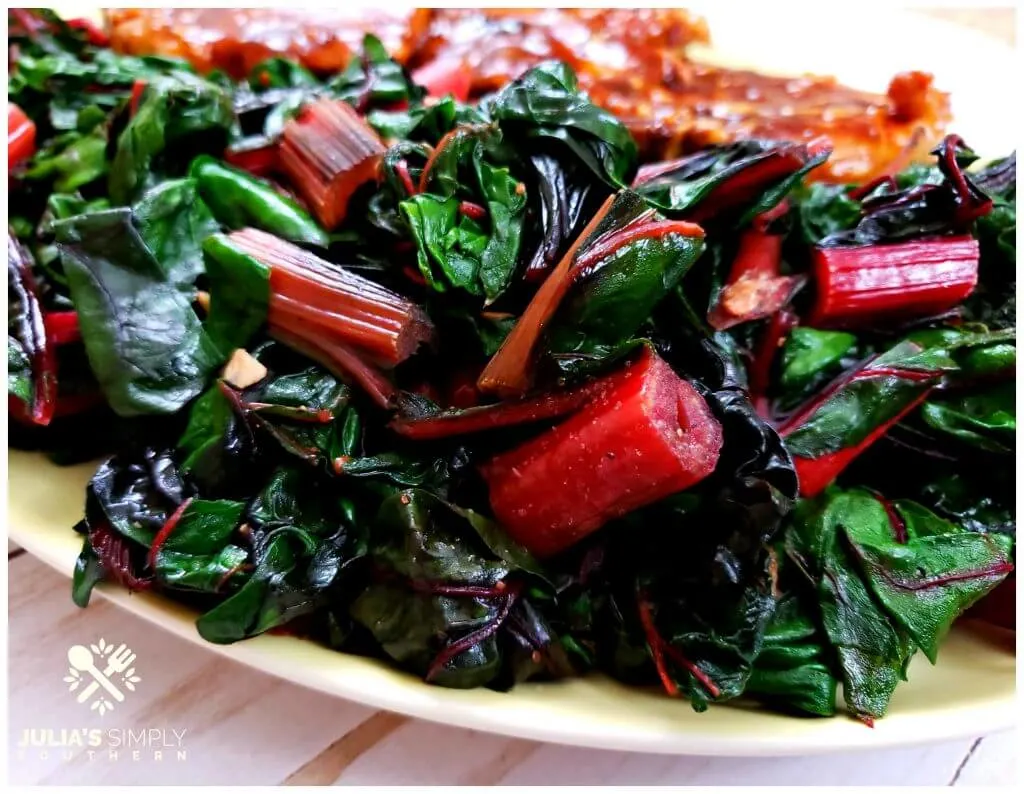 What is swiss chard? Swiss chard is part of the beet but instead of the root being the favored part of the vegetable, it is the leaves that are desired.
What does swiss chard taste like? Chard is mild similar to spinach and may be eaten raw or cooked. The stems are also edible but require longer cooking time to get them tender.
Is swiss chard good for you? Swiss chard is considered one of the healthiest leafy green vegetables.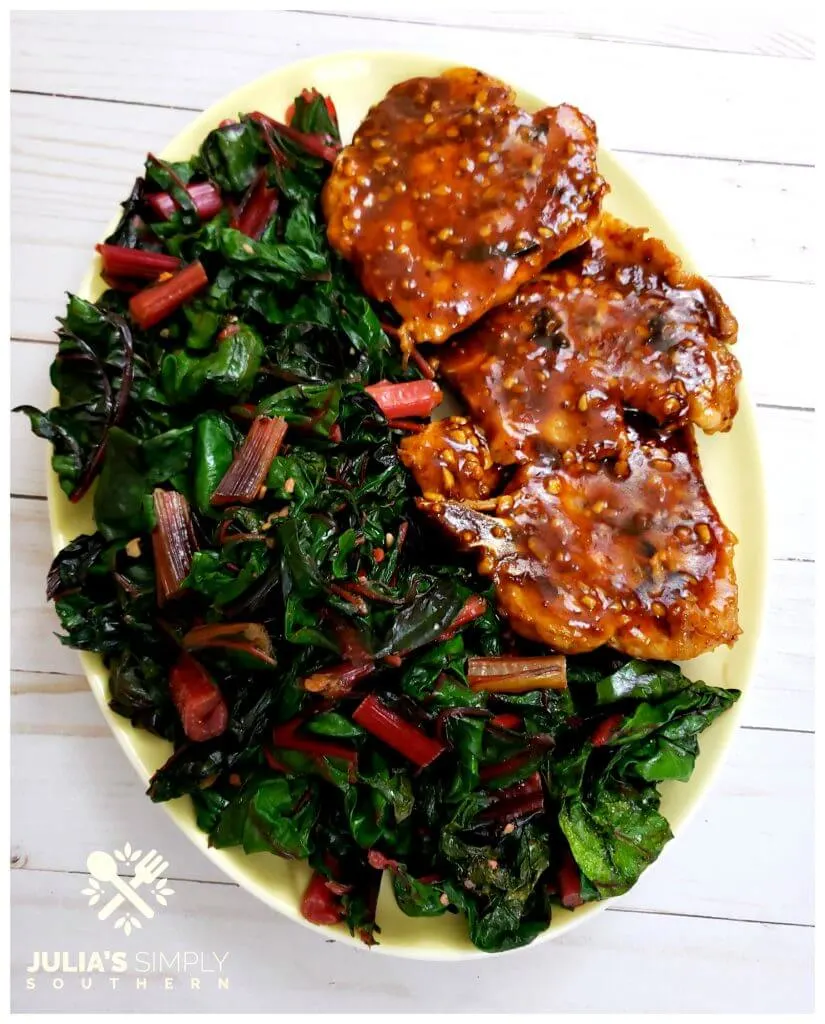 Speaking of the new year (oh we weren't, haha, then let me bring it up), if you're making resolutions to make healthier eating choices then swiss chard is perfect for you.
This beautiful chard would also be a great option for your lucky new year day meal if you don't fancy collard greens. We'll be having collard greens at my house because it is instilled in my brain that we have to.
"You are never too old to set another goal or to dream a new dream." ~ CS Lewis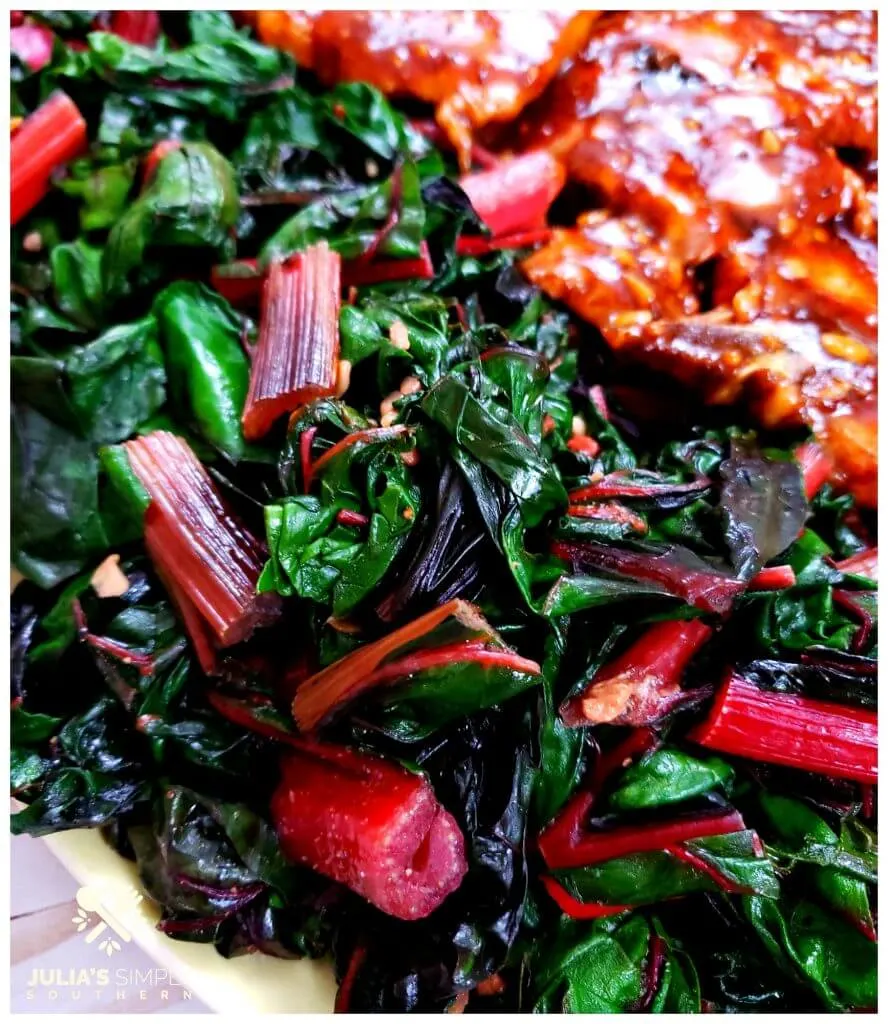 If you're searching for more recipe options for your traditional new year dinner menu, check these out.
Southern Style Collard Greens : a traditional recipe for stewed collard greens cooked in a flavorful broth with seasoning meat.
Hot Collard & Artichoke Dip: a delicious appetizer option for new year's gatherings make up this hot cheesy dip.
Southern Fried Cabbage: delicious and savory skillet fried cabbage with bacon drippings.
Southern Purple Hull Peas: the slightly delicate cousin of the black eyed pea that is slow simmered and perfect for a lucky new year meal.
How Can I Prepare Swiss Chard
There are a variety of ways that swiss chard can be prepared. I am sharing a simple sauteed method in this post.
Swiss chard may also be used raw in salads, included in pasta dishes, or stewed like other greens.
Although the stems are edible, I prepare my chard for cooking in a similar manner to prepping collard greens where I cut the leaves away from the thick stalk.
I include some of the smaller more tender stalk pieces in my dish and save the thicker tougher portions to use in my compost pile.
"Many years ago, I made a New Year's resolution to never make new year's resolutions. Hell, it's been the only resolution I've ever kept!" ~ D.S. Mixwell
If you enjoy vegetable gardening, swiss chard is a great cold tolerant plant to add to your fall/winter garden.
The plant originates from Southern Europe (not Switzerland, as the name may suggest) and has been around for centuries.
Chard is readily available at grocery markets so you shouldn't have trouble finding it if you want to give it a try.
Let's Make Sautéed Swiss Chard with Garlic
Yield: 1 bunch of chard greens
Sauteed Swiss Chard with Garlic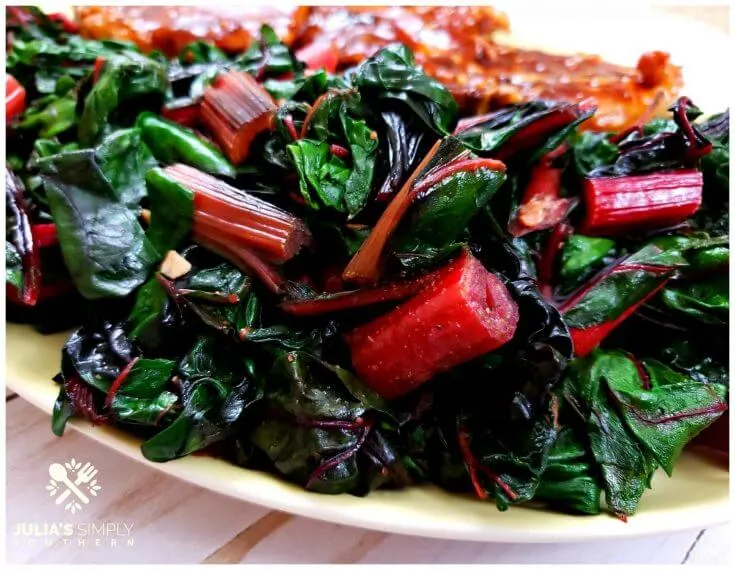 Tender sauteed swiss chard is a delicious and healthy side dish
Ingredients
1/2 tbs Olive Oil
2 lbs Swiss Chard, washed
3 Cloves of Garlic, minced
Pinch of Kosher Salt
Cracked Black Pepper, to taste
Instructions
Rough chop the swiss chard and discard any thick stem pieces (if preferred).
Add the olive oil to a large skillet and heat over medium.
When the oil is hot, add the minced garlic to the skillet and saute for about 30 seconds then add the swiss chard greens.
Turn the greens gently to coat and season with salt and pepper.
Continue to gently turn as the greens cook until desired tenderness, about 7 minutes.
Serve hot.
Notes
Just like with spinach, you'll begin with what seems to be a large amount of greens but chard cooks down (wilts) while cooking.
Nutrition Information:
Yield:
6
Serving Size:
1
Amount Per Serving:
Calories:

45
Total Fat:

1g
Saturated Fat:

0g
Trans Fat:

0g
Unsaturated Fat:

1g
Cholesterol:

0mg
Sodium:

296mg
Carbohydrates:

7g
Fiber:

4g
Sugar:

2g
Protein:

3g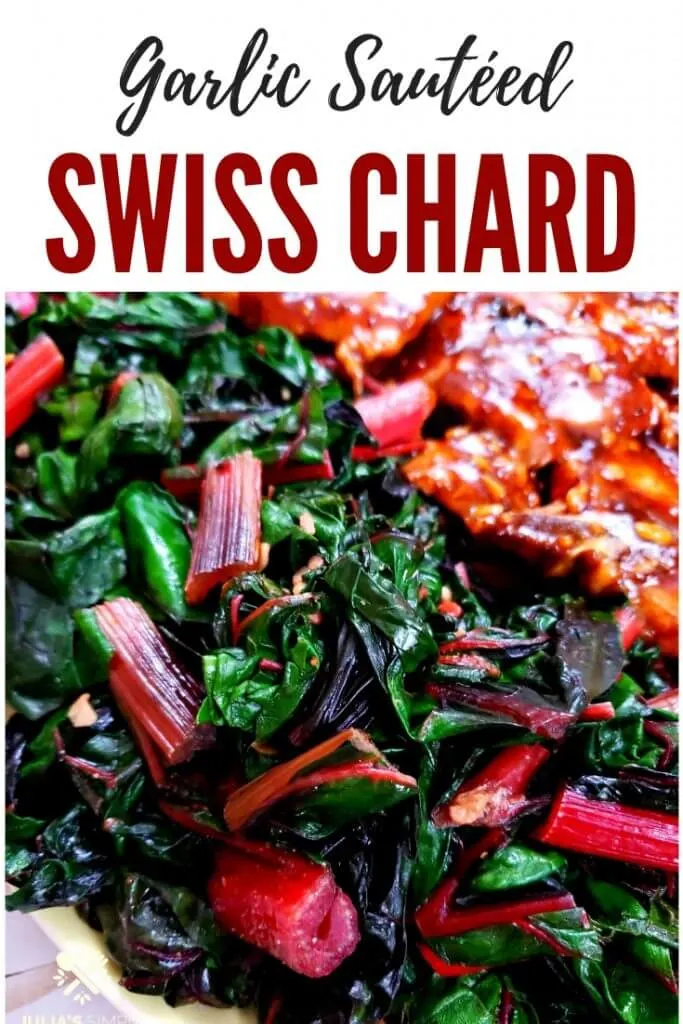 Check Out the Latest Recipe Posts
Thanks for stopping by! Please let me know how you like this delicious healthy side dish when you try it at home.
Meet Julia
Author of Julia's Simply Southern
Hey Y'all! I'm Julia, the cook and writer behind the recipes here at Julia's Simply Southern. I began my website so that I could share easy to follow recipes that anyone can use to put a home cooked meal on the dinner table. Thanks so much for stopping by!
Follow me on Facebook | Twitter | Instagram | Pinterest | YouTube