In this post I'll be sharing an easy recipe for making Old Fashioned Peanut Butter Balls. They make wonderful gifts during the holidays.
It is hard for me not to think of these chocolate peanut butter balls during the holiday season because that is when I've always seen them the most.
This classic candy is so easy to make, requires no baking nor any fancy equipment.
As a bonafide peanut butter lover, I can't imagine a better combination than chocolate and peanut butter. This simple confection is so good y'all and everybody loves them.
If you make treats then you may already have everything that you need for this recipe for peanut butter balls in your pantry.
Peanut Butter Balls No Bake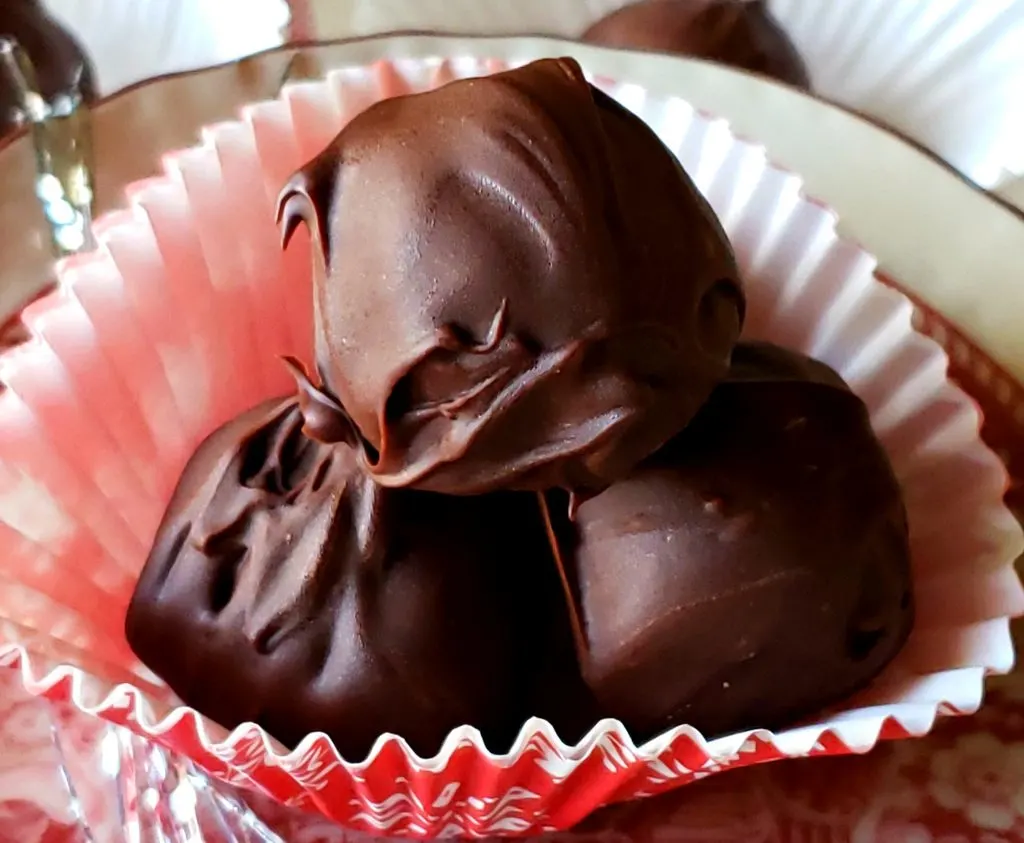 The chocolate covered peanut butter ball recipe makes five dozen scrumptious candies.
We could eat way more than our fair share of these sweet treats so I try to gift them out as soon as possible. HA!
As my husband would say "we gotta get this out of the house". I'm happy to share them with neighbors, friends and family so we don't finish off the whole batch ourselves.
Chocolate Peanut Butter Ball Candy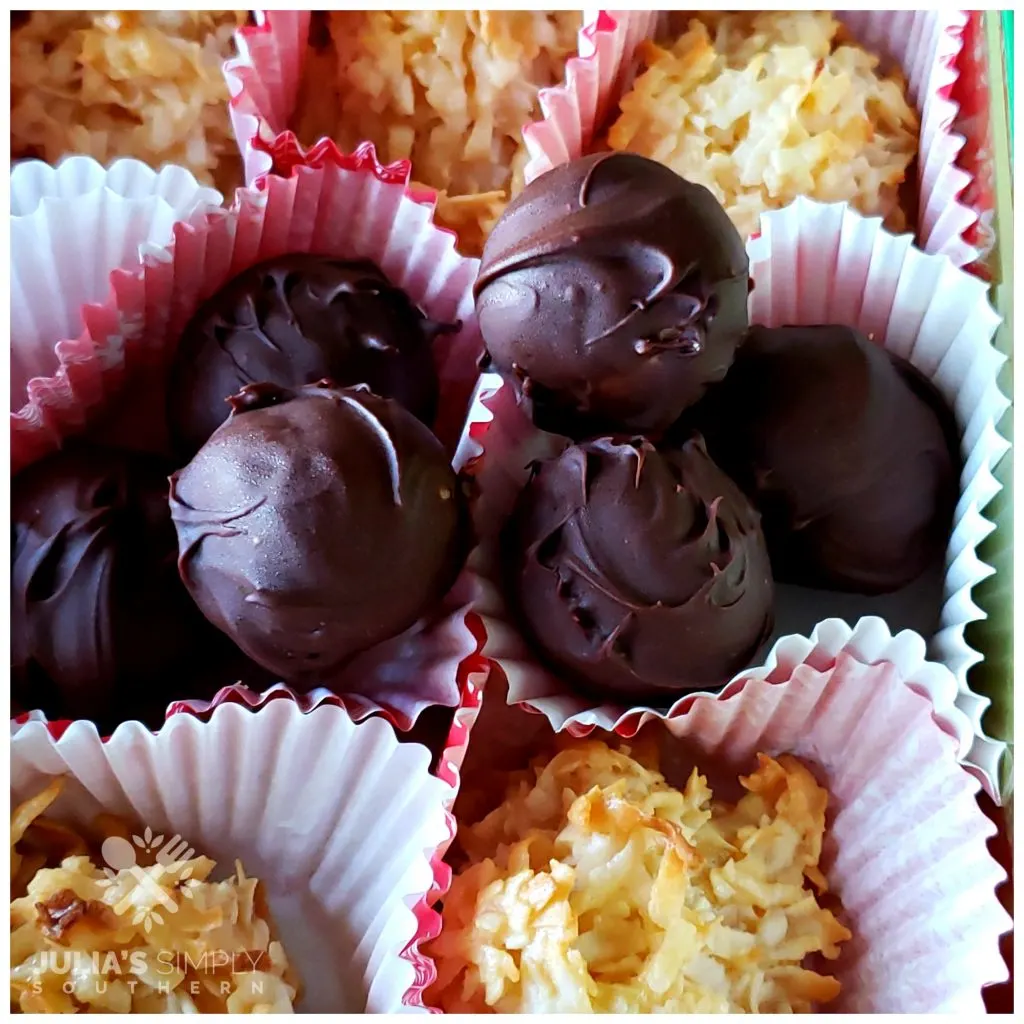 Adding a few of the peanut butter balls to holiday baking cups makes for a nice gift presentation and also keeps everything from sticking together.
This year I arranged coconut macaroon cookies and the peanut butter balls in a Christmas theme tin box and gave them out.
Doesn't it look nice? I think that a thoughtful homemade gift is always appreciated by the recipient.
Old Fashioned Peanut Butter Balls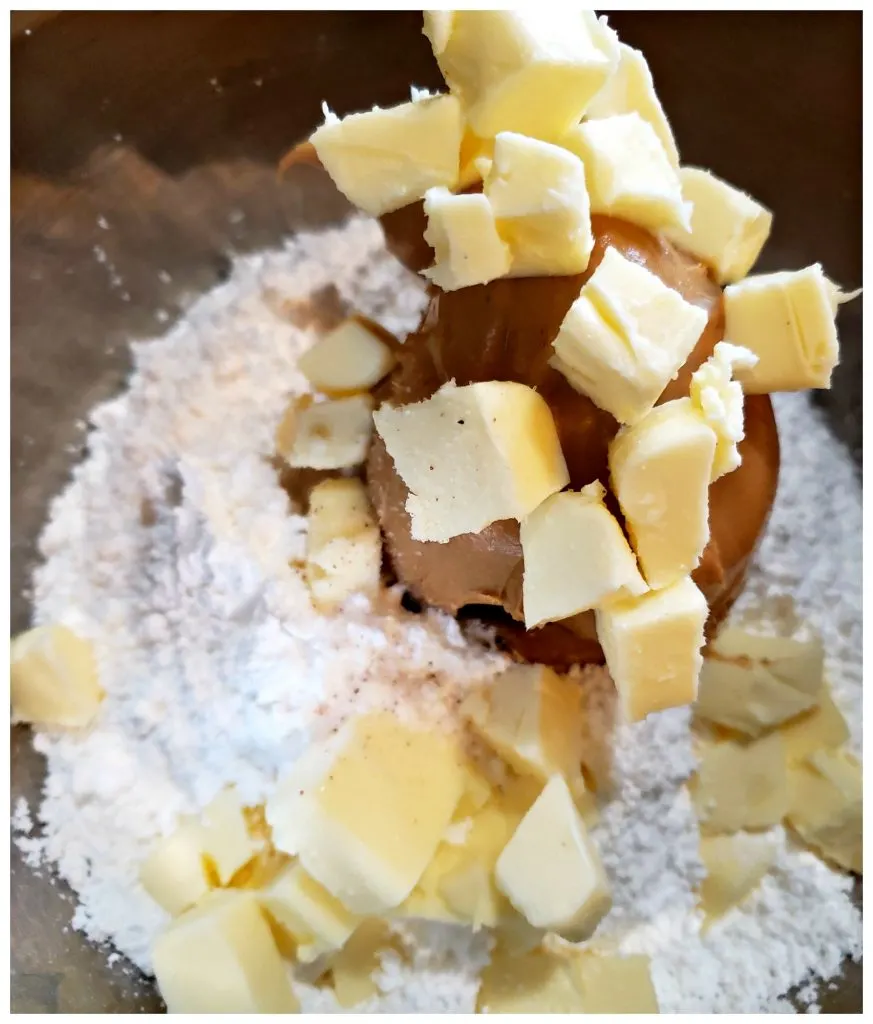 The old fashioned peanut butter filling for this candy is made with confectioner's sugar, creamy peanut butter ( I like Jif but your favorite brand will be just fine), softened butter, vanilla extract and salt.
By the way…a slide type measuring cup makes measuring things like peanut butter so easy and you just slide it right into your mixing bowl. I've shared a link to one in the recipe card below.
Go easy when you start to mix this with your electric mixer or you'll have powdered sugar floating all around your kitchen.
Easy Christmas Candy Recipe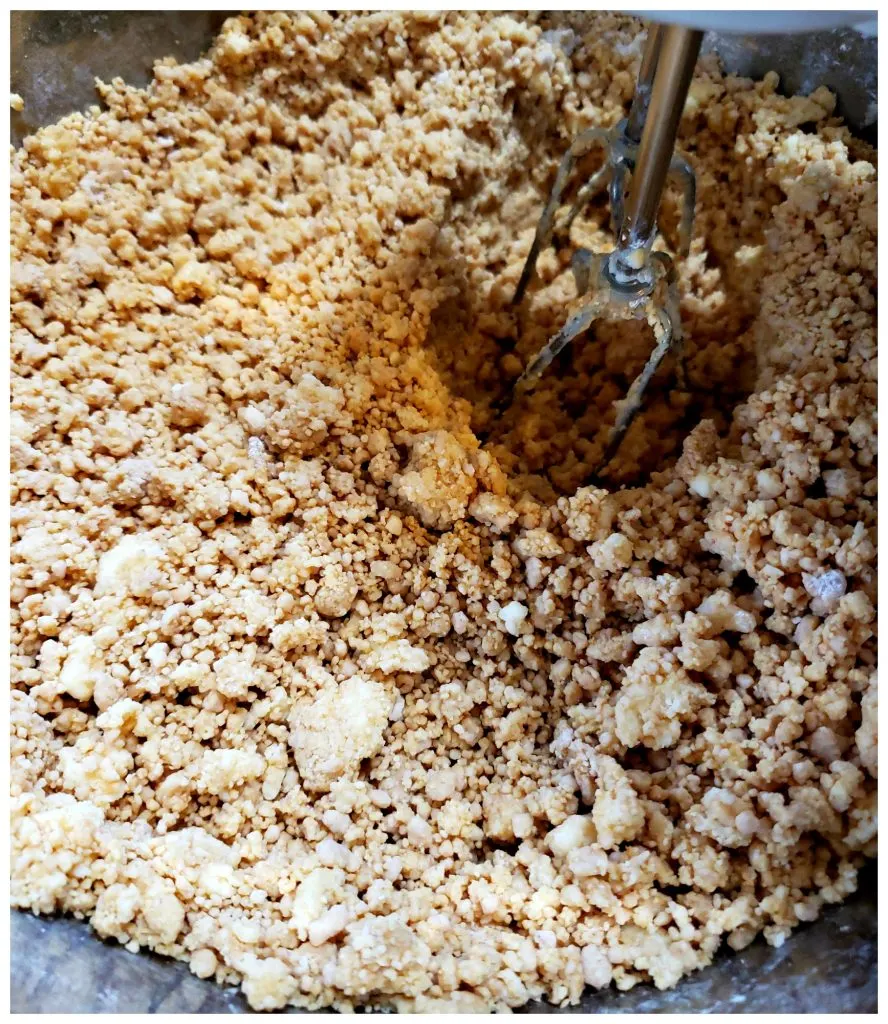 The mixture will look crumbly and doesn't get much better the more you mix. It will just become bigger crumbles as the mixture begins to stick together.
That's okay though because when you form the balls with your hands it will come together just fine.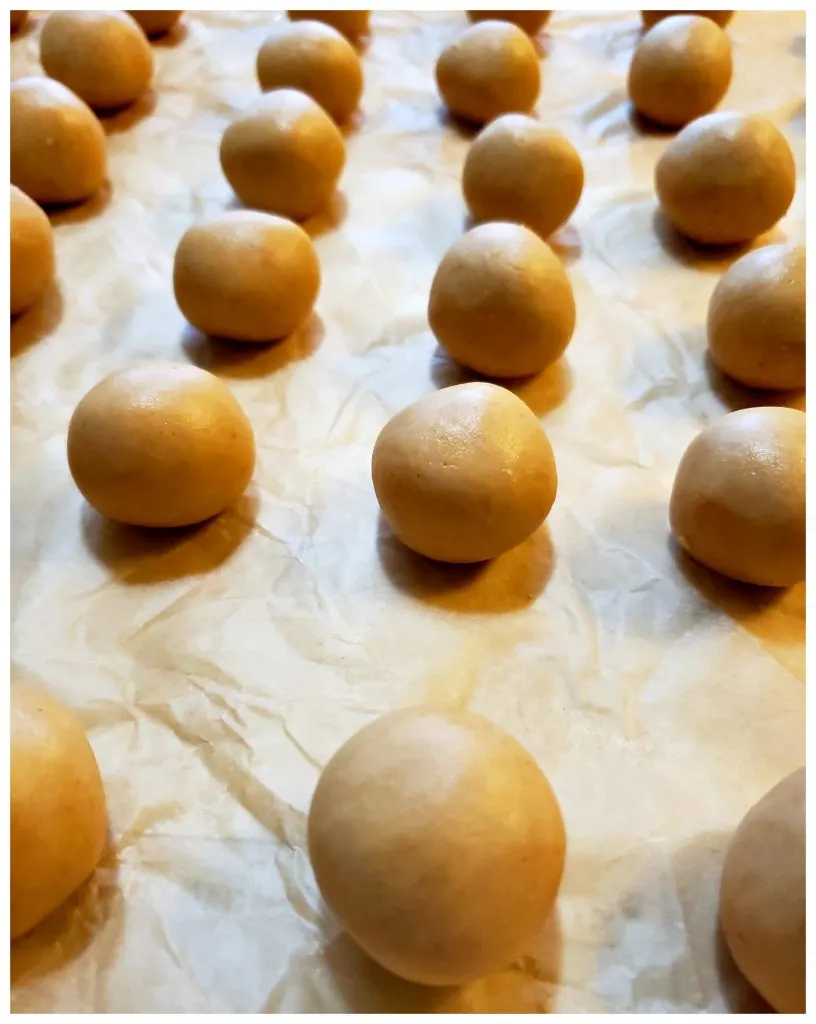 By using a one inch scoop you'll get more consistent sized peanut butter balls.
Get a scoop of the filling then roll it around in your hands, press it together if needed, then roll it into a ball and place on a lined baking sheet.
Cover and chill the candy balls in the refrigerator before coating with chocolate. You can let them hand out in the fridge for about an hour or overnight.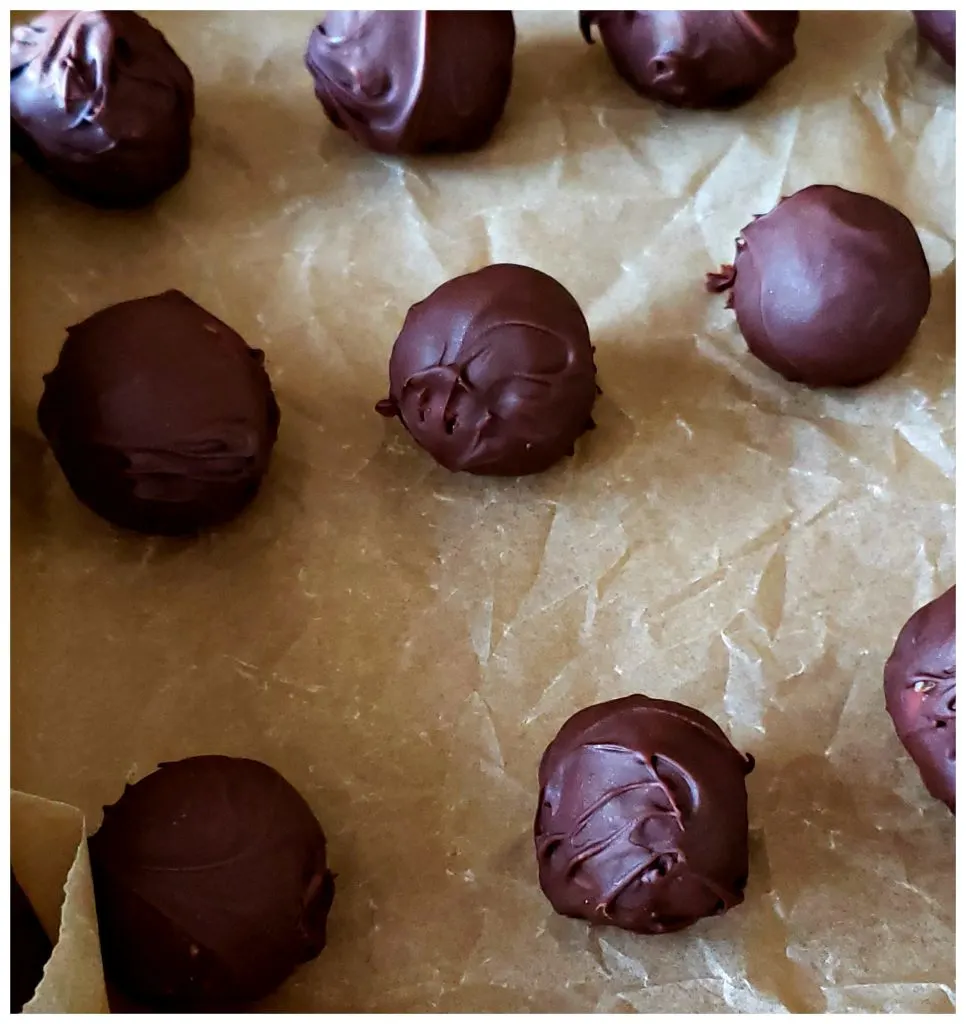 The chocolate coating for the peanut butter balls is made with semi sweet morsels and a little bit of vegetable shortening.
Melt the chocolate mixture in the microwave. Roll the peanut butter balls around in the melted chocolate to coat them and place them on a lined baking sheet.
I pop them back in the refrigerator and chill them until they're set well. It doesn't take long.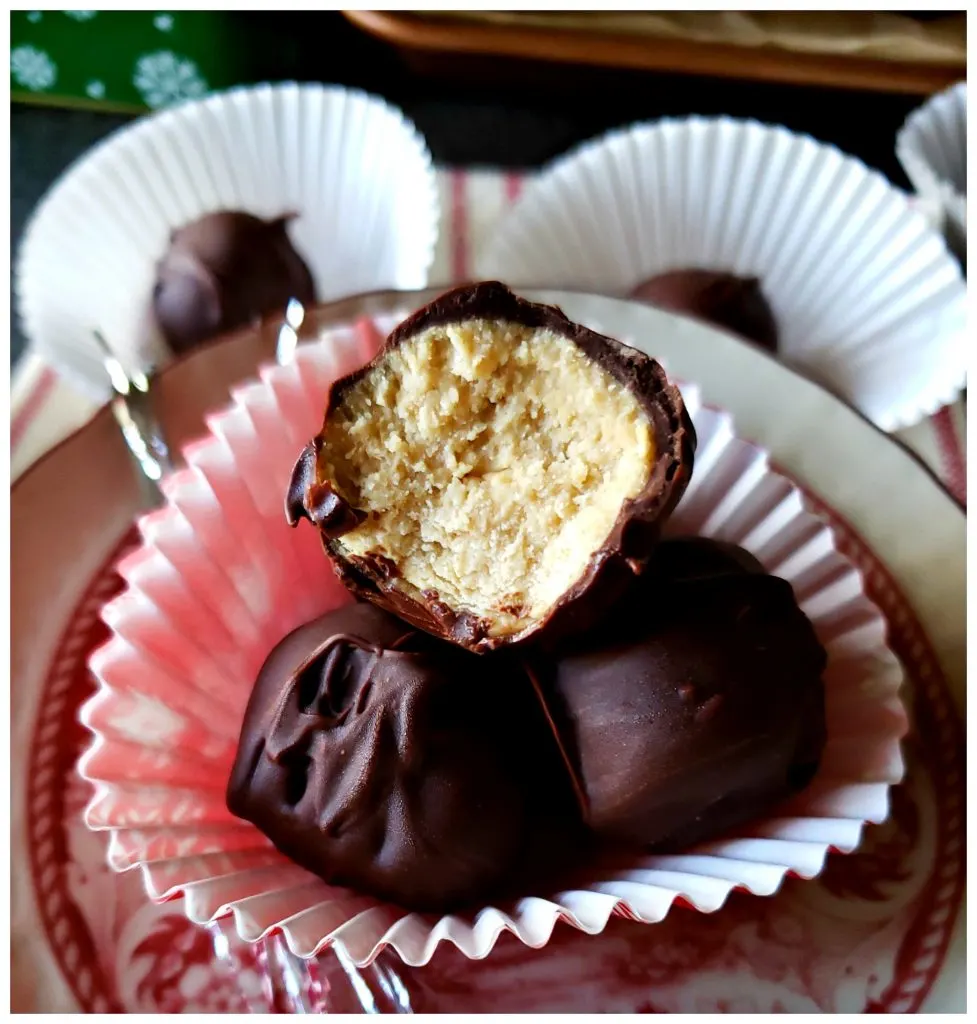 Of course you must sample your holiday confections. There goes one, two, and then a dozen is gone. OOPS!
I am teasing of course but it could easily go that way because these chocolate covered peanut butter balls are so good y'all!
You'll find the amounts and instructions to make these old fashioned peanut butter balls below in the printable recipe card.
Check out the "notes" section for a couple of variations to this recipe.
For a few more simple holiday treat recipes keep scrolling past the recipe card.
Yield: 5 Dozen
Old Fashioned Peanut Butter Balls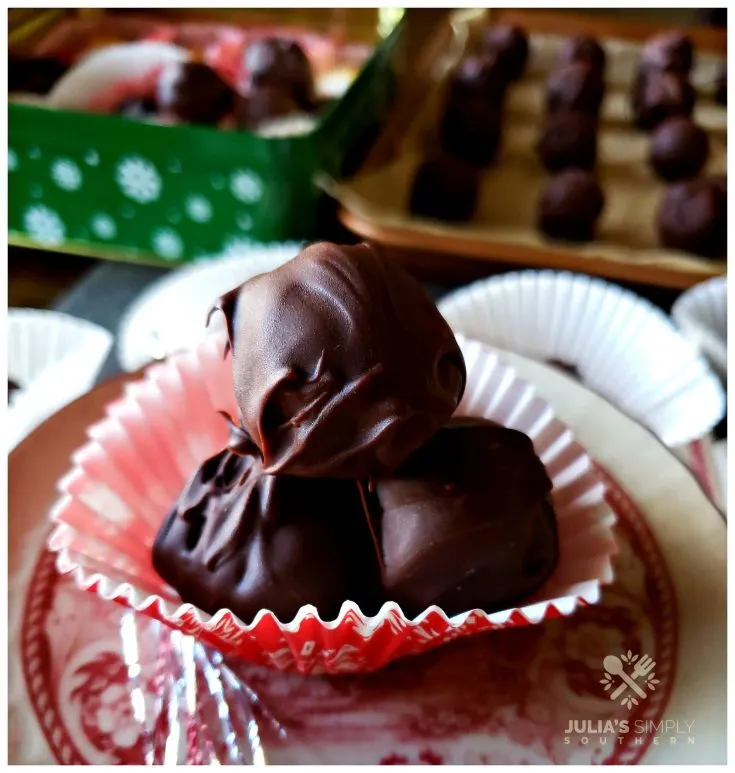 Chocolate covered peanut butter balls are a classic holiday treat that are easy to make and loved by all.
Total Time
1 hour
45 minutes
Ingredients
Peanut Butter Ball Filling
16 ounce Confectioner's Sugar
1½ cups Creamy Peanut Butter
1 Stick of Butter, softened (½ cup)
1 teaspoon Vanilla Extract
½ teaspoon Salt
Chocolate Coating
12 ounce Semi Sweet Chocolate Morsels
1 tablespoon Vegetable Shortening
Instructions
Line 2 baking sheet with parchment and set aside.
Combine the confectioner's sugar, peanut butter, softened butter, vanilla and salt in a large mixing bowl with an electric mixer. Start on lowest speed then increase as ingredients are combined. The mixture will be crumbly.
Use a 1 inch scoop to portion out filling then use your hands to shape into 1 inch balls and place on lined baking sheet. Cover and chill the peanut butter balls in the refrigerator for at least 1 hour or overnight.
Melt the chocolate and shortening in the microwave on high for 45 seconds to 1 minute, stir until smooth. If needed, microwave in additional 15 second intervals until melted and smooth.
Use a fork to dip the peanut butter balls in chocolate and roll around until coated then transfer the chocolate peanut butter ball on a lined sheet pan. Reheat the chocolate if needed while coating to keep smooth and melted consistency ( I re-heated a few seconds about halfway through coating)
Chill until firm.
Notes
If you wanted to make variations using this recipe:
You could opt to make buckeye candies by leaving an "eye" of peanut butter showing instead of fully coating the candy.
You could also make homemade peanut butter cups by adding some melted chocolate to the bottom of a paper baking cup then adding a scoop of the peanut butter mixture and covering with more melted chocolate. Additional chocolate would be needed for this option.
Packaging idea for gifting peanut butter balls: Place 2 or 3 in holiday theme paper baking cups and place into gifting tin.
Recommended Products
As an Amazon Associate and member of other affiliate programs, I earn from qualifying purchases.
Nutrition Information:
Yield:
30
Serving Size:
2 Candies
Amount Per Serving:
Calories:

220
Total Fat:

13g
Saturated Fat:

5g
Trans Fat:

0g
Unsaturated Fat:

7g
Cholesterol:

8mg
Sodium:

122mg
Carbohydrates:

25g
Fiber:

1g
Sugar:

22g
Protein:

3g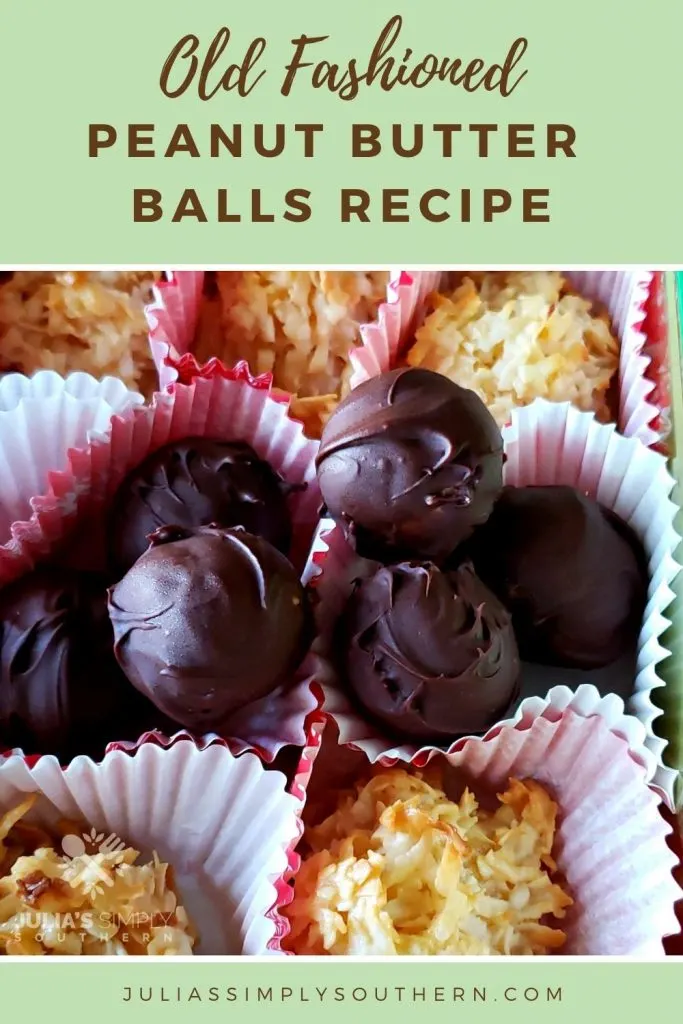 You Might Also Enjoy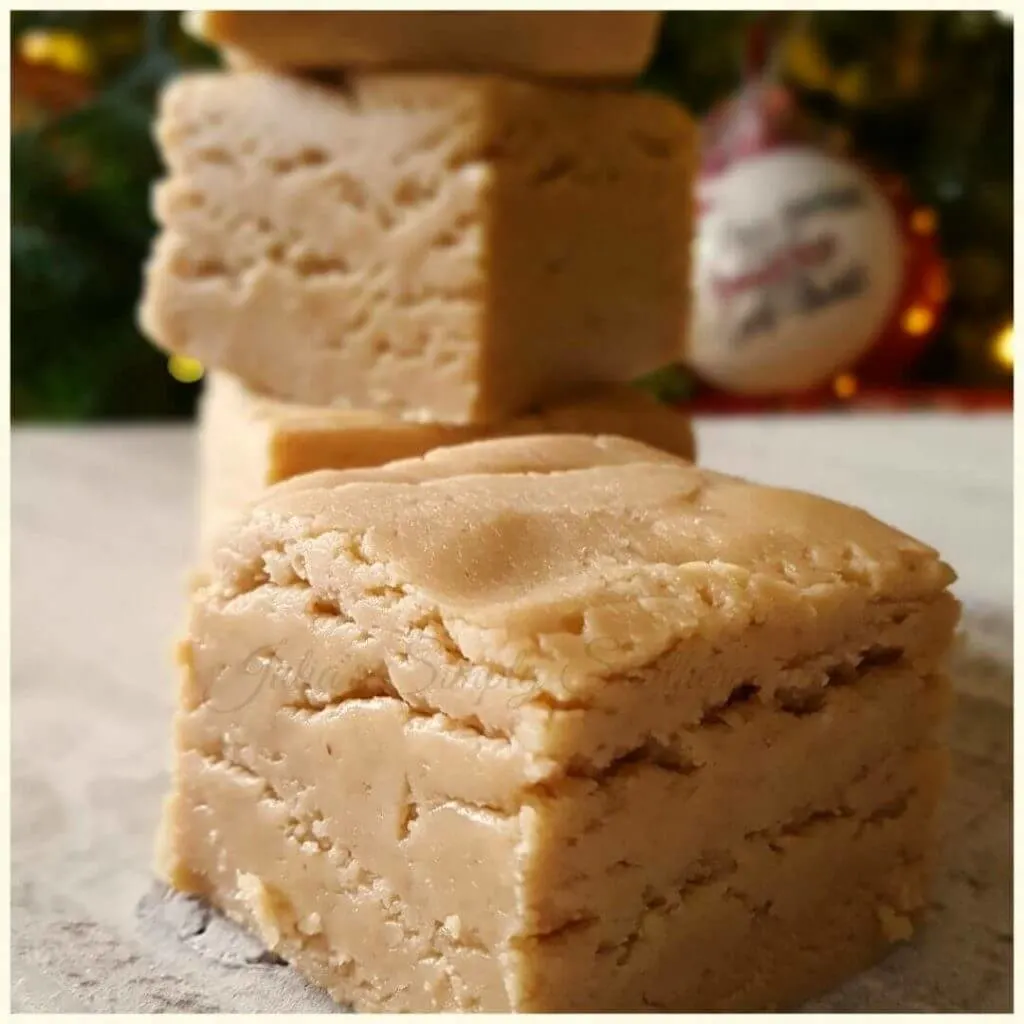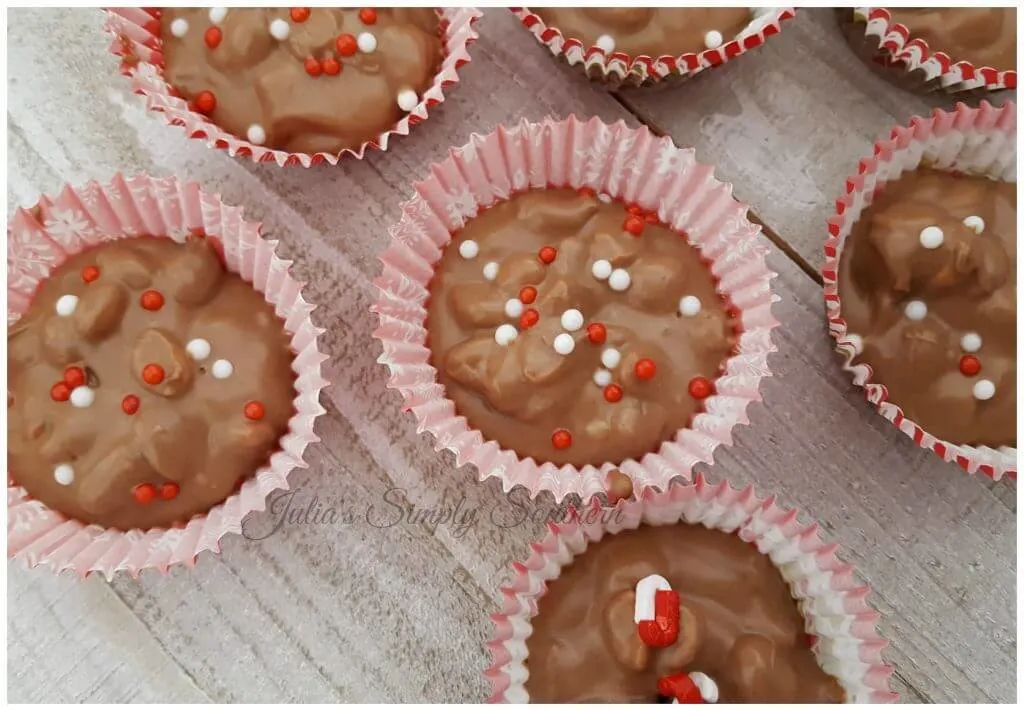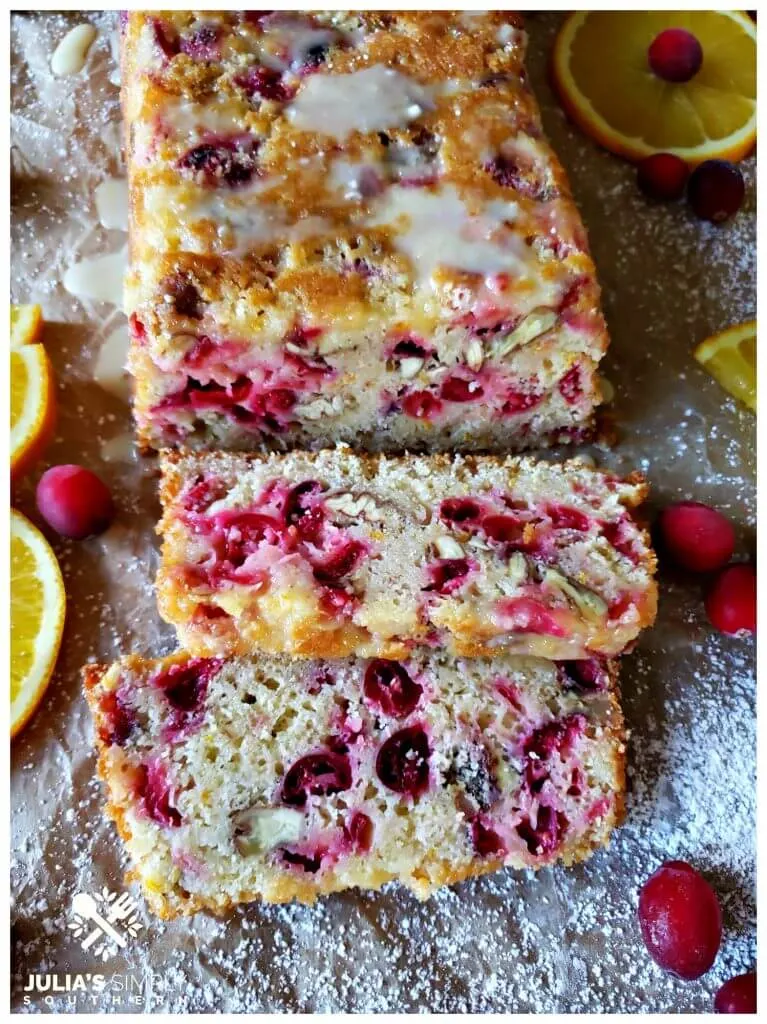 Check out this recipe for Jim Jams, an old fashioned heirloom cookie from South Your Mouth.
Thank you so much for stopping by! I hope that you make a batch of these classic delicious peanut butter candies to share soon. Enjoy a few yourself too!
Subscribe to my email list and never miss my latest recipes here on the blog. I'll send you a weekly newsletter keeping your informed of what's new.
Happy Holiday Blessings to you and yours!
Meet Julia
Author of Julia's Simply Southern
Hey Y'all! I'm Julia, the cook and writer behind the recipes here at Julia's Simply Southern. I began my website so that I could share easy to follow recipes that anyone can use to put a home cooked meal on the dinner table. Thanks so much for stopping by!
Follow me on Facebook | Twitter | Instagram | Pinterest | YouTube