In this post I'll be sharing easy Grilled Pimento Cheese Portobello Caps. These stuffed mushrooms make an amazing appetizer or side dish.
If you love stuffed mushrooms then you're gonna love these pimento cheese stuffed Portobello mushroom caps. Oh. My. Word. They are so good!
Can you believe that there was a time when I wasn't so crazy about mushrooms? Well, I love them now.
The weather has been so nice this spring and we've been spending more time outdoors. That includes with our cooking too and using the grill more.
On this particular evening that I was cooking up this cheesy grilled appetizer I was also grilling us a London broil to go along with it.
It was the smallest London broil that I've ever seen. Well wouldn't you just know it that I was so focused on these stuffed mushroom caps that I ended up over-cooking that piece of meat.
It was like trying to chew on a leather boot to eat it. Lawd! Cooking oopsies happen to all of us from time to time. At least we had some amazing mushrooms to enjoy.
Portobello Mushroom Appetizer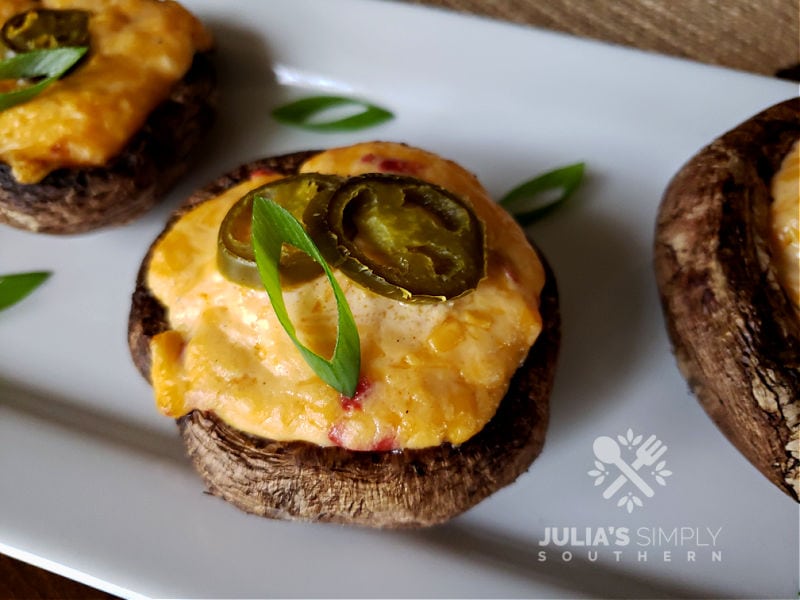 Doesn't that look so good y'all? MMM MMM, they are so tasty! You'll notice that I've topped them with a couple of slices of pickled jalapenos before grilling…well that is completely optional.
Mr. J. loves pickled jalapenos on almost everything. Y'all probably remember my mentioning that. They do make a tasty addition to the Portobello mushrooms appetizers.
Did you know that mushrooms have a lot of potassium? They're a good source of potassium and we all need some of that in our diet.
Pimento Cheese Stuffed Mushrooms Recipe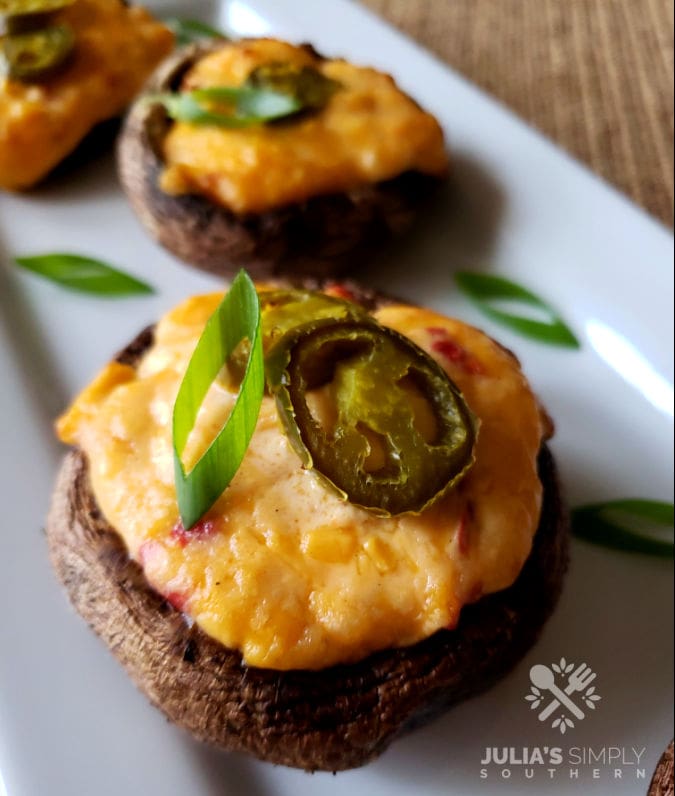 This is one of the tastiest grilled Portobello mushroom recipes out there and I know that you're gonna love it just as much as we do.
I'm keeping this pimento cheese stuffed mushrooms recipe really simple y'all. I think that you'll appreciate how very easy it is.
Usually I would just whip up a batch of my classic pimento cheese spread but I opted for store bought this time. It happens to be my favorite store bought pimento cheese if I decide to buy it rather than make it myself.
I'm sure y'all are familiar since they've become wildly popular….it's the Palmetto cheese brand. There is also cream cheese in the spread and that makes it perfect to use in the mushroom caps on the grill.
What do I need to make the recipe?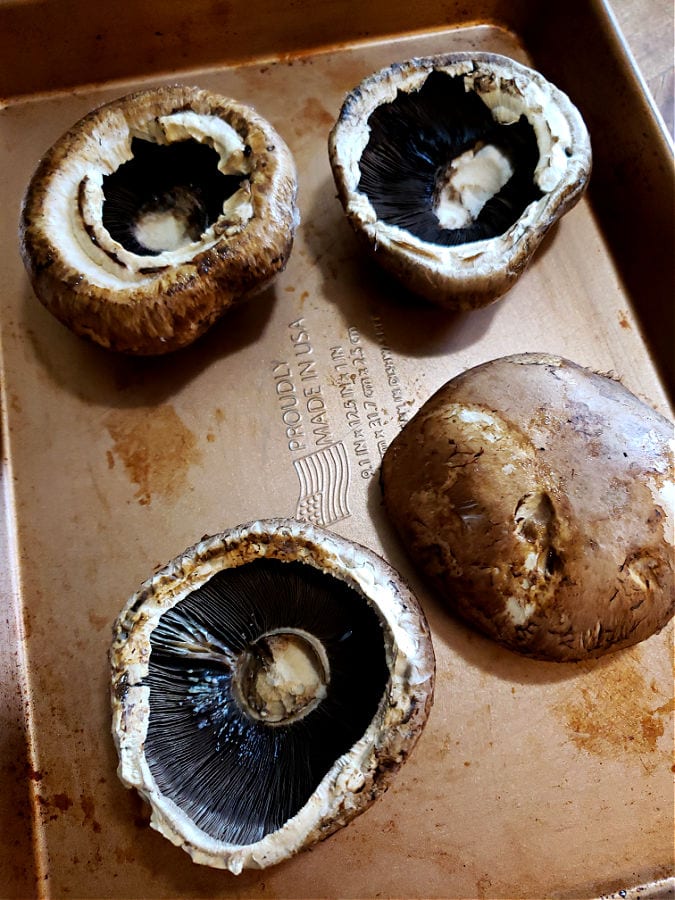 Here's what you'll need to make the grilled pimento cheese Portobello caps:
A package of the large Portobello mushroom caps – these were kind of medium in size, not as large as the really big ones that look like burger buns. There were four in the package and that was perfect for us.
Palmetto Pimento Cheese – the original flavor is so delicious and has a mix of cheese, cream cheese, mayonnaise and the perfect seasonings to give it a little kick. If you would prefer the bacon or jalapeno version then those would work as well.
Pickled Jalapeno Slices – optional but Mr. J. loves it so that is what I did. It's a delicious kick but if you are worried that it might be too spice just omit it and keep it simple.
You'll be able to find every thing that you need to make this recipe at your local Wal Mart or grocery store.
The pre-packaged Portobello caps were pretty clean but I gave them a gentle wipe with a damp paper towel just to make sure there wasn't any dirt or anything then laid them out on a sheet pan to prep.
Grilled Stuffed Mushrooms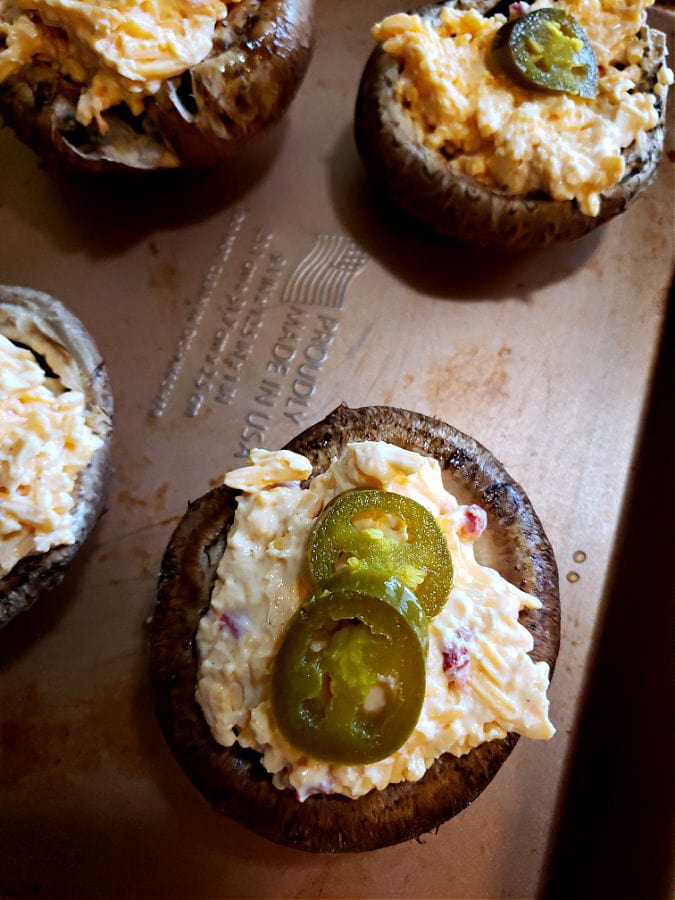 Stuffed mushrooms doesn't get any easier than this. All that you have to do is stuff a generous amount of that tangy pimento cheese into each cap.
Yep that is it! I used about half of the Palmetto cheese container for the four caps so that left the other half that I could enjoy on sandwiches…or more mushrooms.
If you'd like to add a couple of pickled jalapeno slices then go ahead and put them on top of the cheese spread filled mushroom caps before grilling.
Easy Grilled Appetizers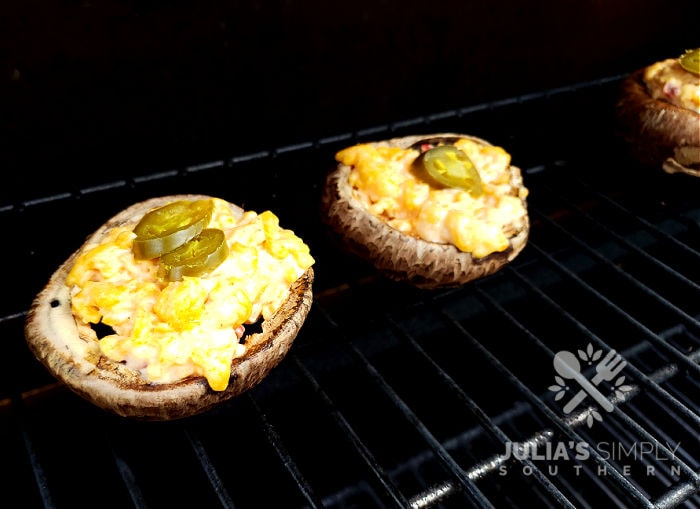 Of course our grill was already being pre-heated so it was ready to go for cooking. Place the mushroom caps on the top rack if you have one or over indirect heat (no flame underneath) for cooking.
Grilling the stuffed mushroom caps will give them nice flavor and takes just a few minutes until that cheese mixture is all melted and the mushrooms are tender.
I'm telling y'all…one bite and you're gonna fall in love with these mushrooms. It tastes indulgently delicious. We enjoyed one each as our appetizer then had the other as our side dish to go along with that over-cooked meat.
I knew that I'd be distracted working on the mushrooms and I should have asked Mr. J. to pay attention to that London broil. I'll do that next time!
Grilled Pimento Cheese Portobello Caps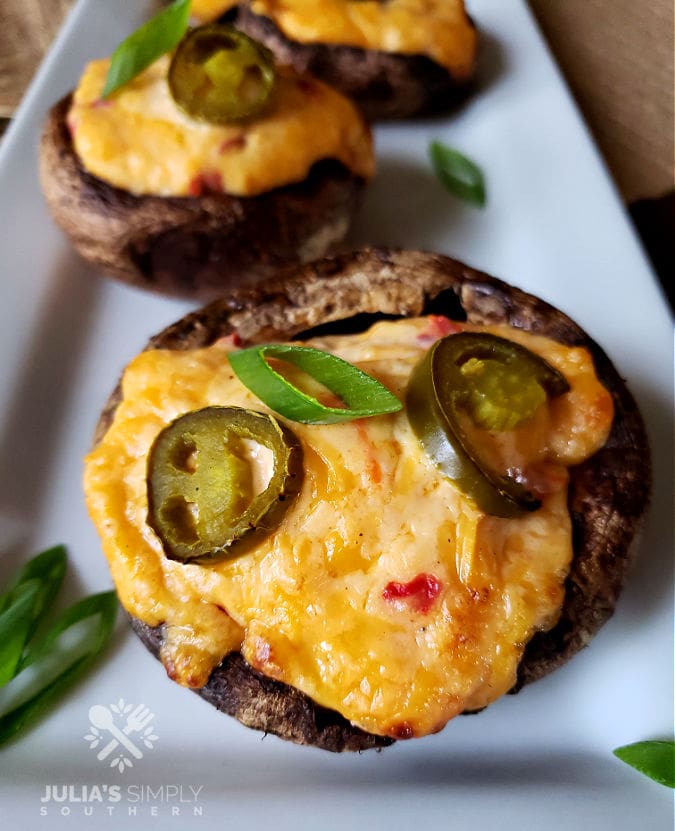 I thought it would look nice to add a few sliced scallions sprinkled around the mushrooms on the serving platter. Particularly for photo purposes but it does look nice when serving to your family and friends too.
Allow the grilled mushroom caps stuffed with pimento cheese to rest a few minutes to cools slightly before serving because that cheese mixture will be hot.
Grilled Pimento Cheese Portobello Caps Recipe Card
Yield: 4 Appetizers
Grilled Pimento Cheese Portobello Caps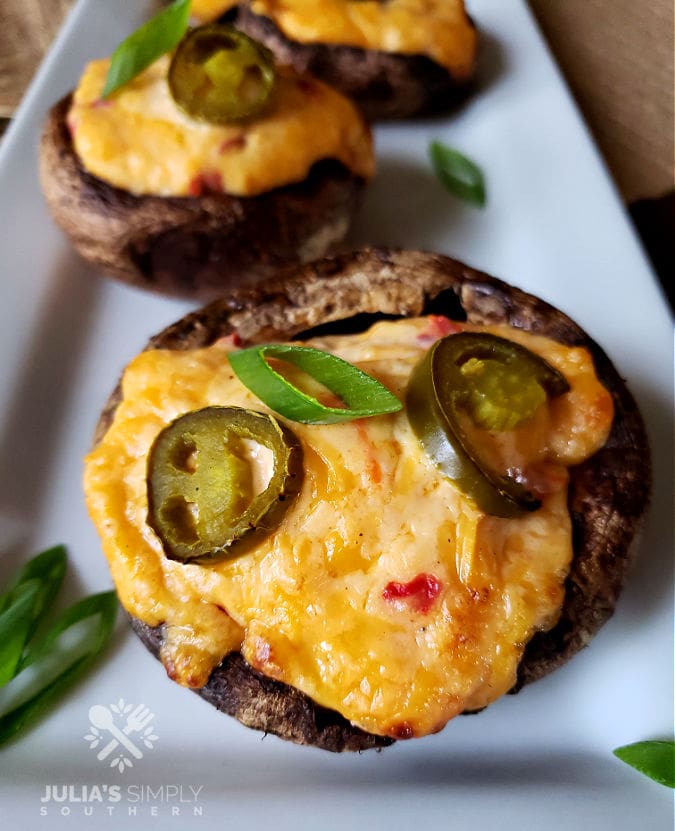 Grilled pimento cheese Portobello mushroom caps filled with a tangy cheese mixture with a hint of a spicy kick make an amazing appetizer or side for your meal.
Ingredients
4 Large Portobello Mushroom Caps
1 cup of Pimento Cheese (I used store bought Palmetto cheese, see notes)
8 Slices of Pickled Jalapeno, optional
Instructions
Preheat the grill while you prep.
Use a damp cloth to wipe over the mushroom caps then place them on a small baking sheet.
Stuff each mushroom cap with some of the pimento cheese spread then top with jalapeno slices (if using).
Grill on a top rack if available or over indirect heat for 8 to 10 minutes until the mushrooms are tender and the cheese mixture has melted.
Allow to cool slightly before serving.
Notes
Palmetto cheese pimento cheese spread is my favorite store bought brand to use if I'm not making my own. It has cream cheese in the mixture which works nice for this grilled mushroom cap recipe. You only need half the container for 4 caps so in this case it is cheaper to buy pimento cheese rather than all of the ingredients to make it yourself.
Recommended Products
As an Amazon Associate and member of other affiliate programs, I earn from qualifying purchases.
Nutrition Information:
Yield:
4
Serving Size:
1
Amount Per Serving:
Calories:

285
Total Fat:

26g
Saturated Fat:

8g
Trans Fat:

0g
Unsaturated Fat:

16g
Cholesterol:

27mg
Sodium:

464mg
Carbohydrates:

6g
Fiber:

2g
Sugar:

3g
Protein:

9g
Grilled Pimento Cheese Portobello Caps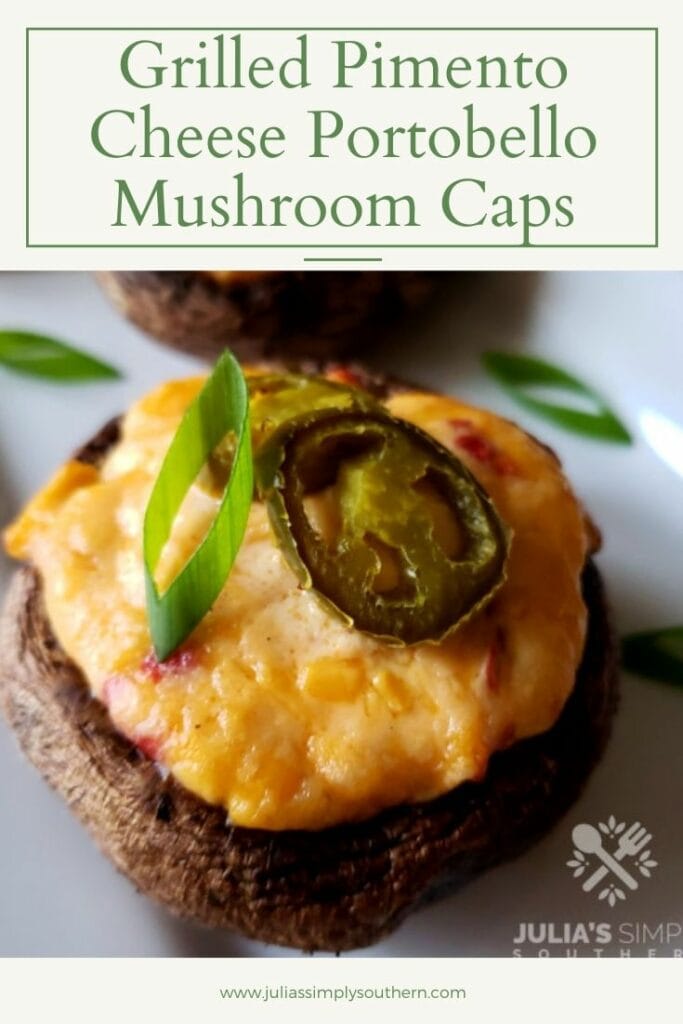 The Latest Appetizer Recipes
Thank you so much for stopping by! I am so glad that you did. I hope that you grill a batch of these wonderful tasty stuffed mushrooms very soon. You're gonna love them!
Be sure to subscribe to my email list while you are here. Subscribers receive a weekly newsletter from me delivered straight to your inbox with the latest recipes and news here on the blog so that you never miss a thing.
Meet Julia
Author of Julia's Simply Southern
Hey Y'all! I'm Julia, the cook and writer behind the recipes here at Julia's Simply Southern. I began my website so that I could share easy to follow recipes that anyone can use to put a home cooked meal on the dinner table. Thanks so much for stopping by!
Follow me on Facebook | Twitter | Instagram | Pinterest | YouTube