In this post I'll be sharing an Easy Enchilada Casserole Recipe with ground beef. It is so delicious and you're gonna love it!
The whole family will enjoy this easy homemade Mexican cuisine meal. It's so good, y'all! The enchilada casserole has all of the flavors of traditional enchiladas in a tasty layered casserole.
I've seen variations of the layered Mexican casseroles from different food bloggers and always think to myself, "that looks really good, we should try it". Then for some reason I just never get around to making it. Well, I'll be making it often now.
I was watching some recipe videos on YouTube recently and saw a variation of an enchilada casserole being made and decided that I was gonna make a simple version of it myself. We loved it! I added a couple of shortcuts and it turned out great in my test recipe so I made it again a few days later to share with you.
My friend, you will love this recipe on those busy nights that you may not really feel like cooking! Home cooked meals never need to be a hassle, even for the busiest families. Let's get cooking!
Enchilada Casserole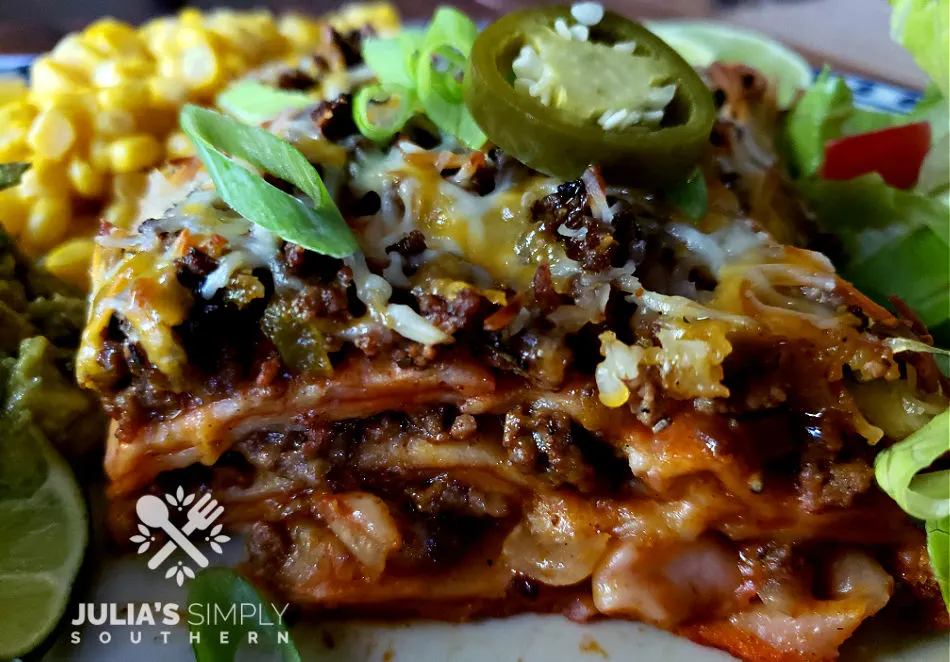 Look at those delicious layers! Doesn't that look delicious? This easy enchilada casserole is amazing and I love serving it up with some tasty sides. Don't forget the sour cream and guacamole!
Easy Beef Enchilada Casserole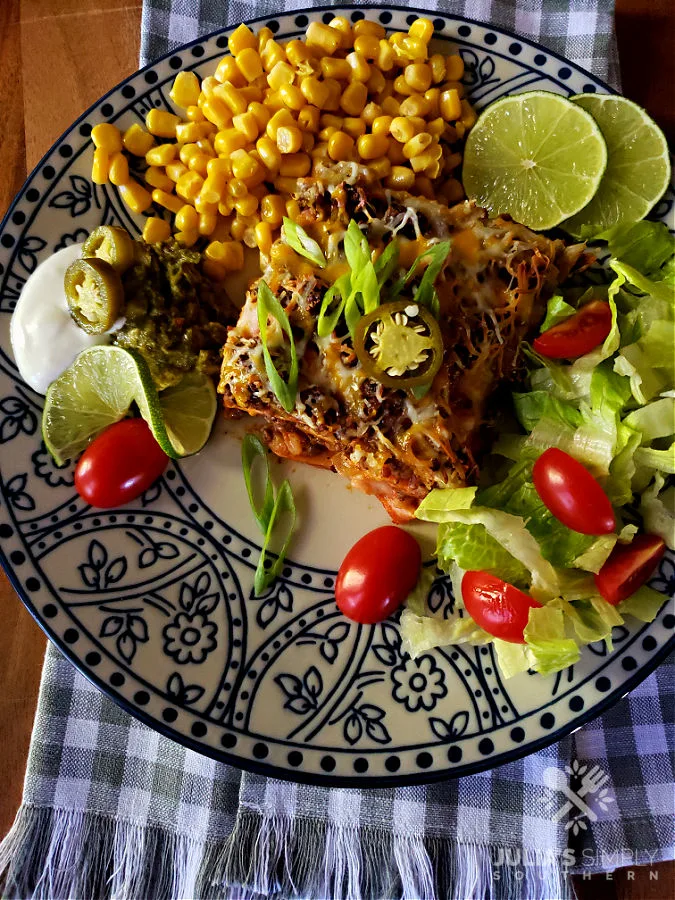 What to serve with enchilada casserole?
We went with a few simple sides to enjoy with our casserole. A simple salad of chopped lettuce and grape tomatoes. We also had a side of corn along with a dollop of sour cream and a bit of guacamole.
Enjoy this meal with any of your favorite toppings that you might also enjoy, like hot sauce, guacamole, sour cream, extra cheese, salsa or sliced black olives.
Our casserole was garnished with a bit of sliced green onions (scallions) and topped with a pickled jalapeno slice. Okay, I had a jalapeno slice. Sparky had a bunch…he eats them on everything!
This casserole would also be delicious with a side of Spanish style rice, restaurant style refried beans or pinto beans.
What do I need to make an Enchilada Casserole?
Ingredients
Ground Beef – minced and seasoned cooked ground beef is delicious in this beefy casserole. I prefer ground chuck. it's an 80/20 blend that is flavorful. If you prefer not to use beef but want a minced meat, try using ground turkey instead.
Seasonings – to add flavor and give the meat mixture the classic Mexican flavors that we all love. I have found that seasoning the beef myself makes it more enjoyable for us. I used salt, freshly ground black pepper, chili powder, cumin, oregano, onion powder and garlic powder. We discovered that there is just a bit too much cumin in taco seasoning packets for us (which causes us to have reflux, sigh) but if you love taco seasoning then just use that instead.
Green Chiles – I used mild but there are options with more heat if you prefer them. The diced green chili adds another delicious layer of flavor to the meat mixture.
Enchilada Sauce – this sauce is the star of the casserole and adds so much flavor. I used a store bought enchilada sauce for our casserole or prepare a homemade enchilada sauce for your casserole.
Tortillas – add layers to the enchilada casserole. Sparky prefers flour tortillas so that is what I always use. I enjoy corn tortillas or flour tortillas. Use whichever you like the best. I have seen that if using the corn tortilla that you can really enhance the flavor of them by taking the time to fry them for a few seconds in a skillet with oil then draining on paper towels before using.
Onion – fresh diced onion adds delicious flavor and a bit of texture to the casserole. I used a yellow onion but a white onion or red onion would be great too.
Cheese – my favorite part of any recipe is the cheese. Melty ooey gooey cheese makes any casserole better and this enchilada casserole is no exception. I used a store bought Mexican cheese blend which is a mix of Monterey Jack, Cheddar, Asadero and Queso Quesadilla cheeses.. The fresh shredded cheese of your choice would also work perfectly.
Delicious Variations to Try
Variations: Want an easy Chicken Enchilada Casserole instead? Use cooked and seasoned shredded chicken breast (or shredded rotisserie chicken). A seafood version would be so delicious with cooked shrimp.
Other optional ingredients that you could include in your enchilada casserole: black olives, diced red bell peppers, a drained can of black beans, drained can of corn, diced tomatoes or diced jalapenos. Fresh cilantro is also a great addition to Mexican style dishes. Unfortunately, I am one of those folks with the genetics and it tastes like soap to me.
So, it is very easy to customize the flavors of this enchilada casserole to suit the tastes you enjoy most and make it a real crowd pleaser.
Easy Beef Enchilada Casserole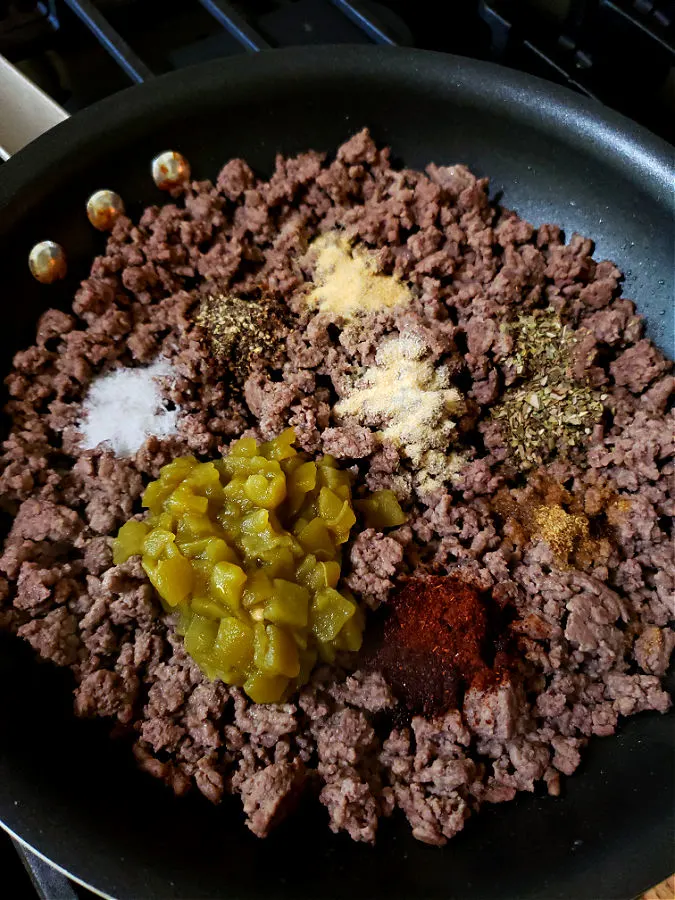 In a large skillet over medium heat; brown ground beef and mince until cooked through then drain off excess grease. Next, add the seasonings and green chiles then stir to combine.
Layered Enchilada Casserole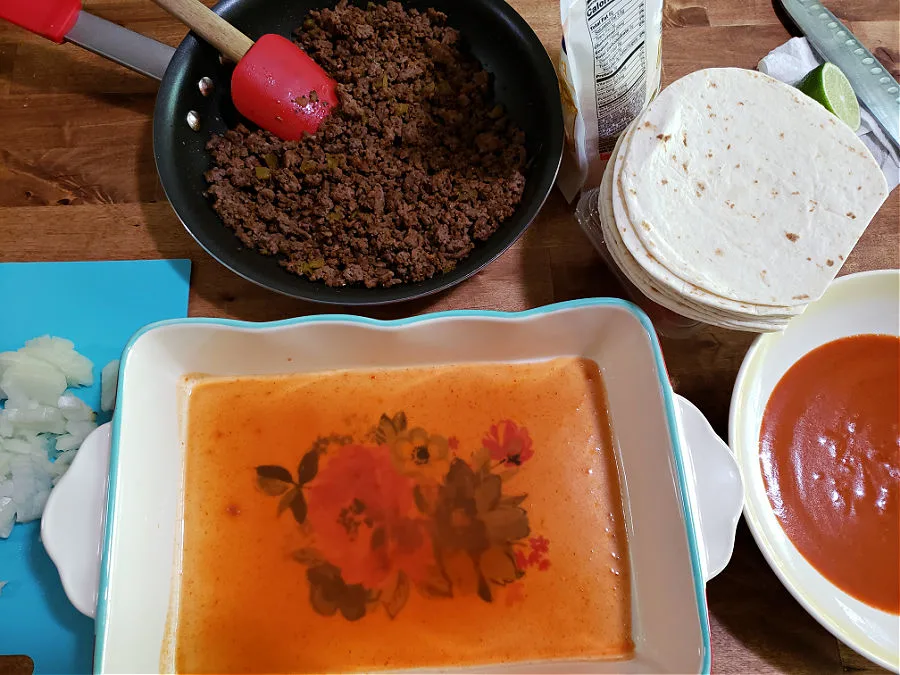 Arrange your casserole assembly work area so that you easily have everything that you need within reach to assemble the delicious layers.
Add a small amount of the enchilada sauce, not even a quarter of a cup, to the bottom of the casserole dish. Swirl it around so that it gives a nice glaze coat to the bottom of the baking dish.
The baking dish that I'm using is on the smaller side and roughly 8½ inch by 11½ inch. Be sure to choose a baking dish that you can get three nice layers into your casserole.
Easy Dinner Recipe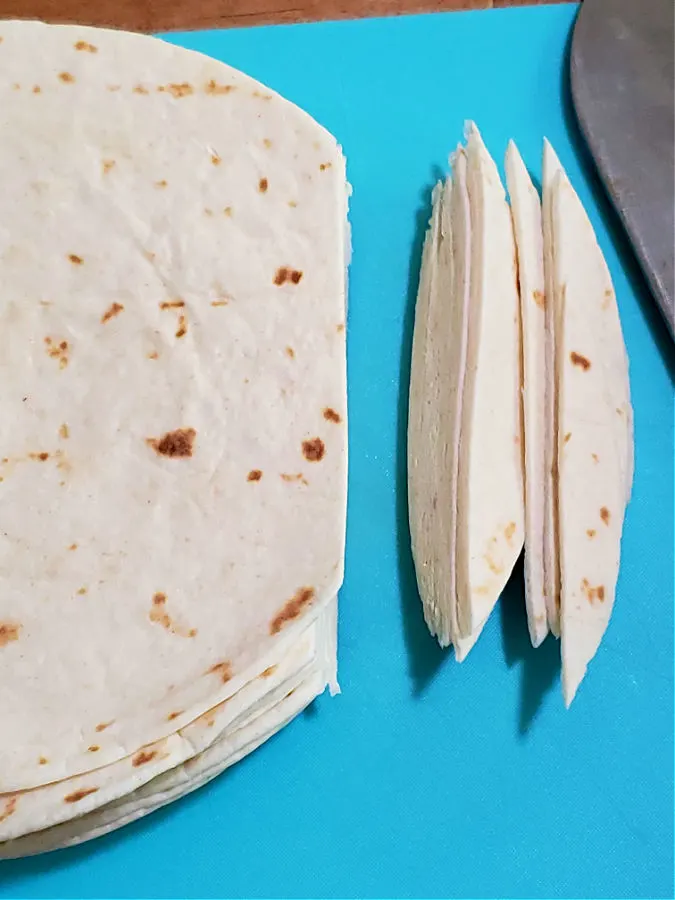 A great tip that I picked up is to trim off a small portion of one side of the tortillas that you'll be using so that the straight edge fits nicely against the side of your baking dish. Completely optional however.
The Enchilada Sauce Tortilla Glaze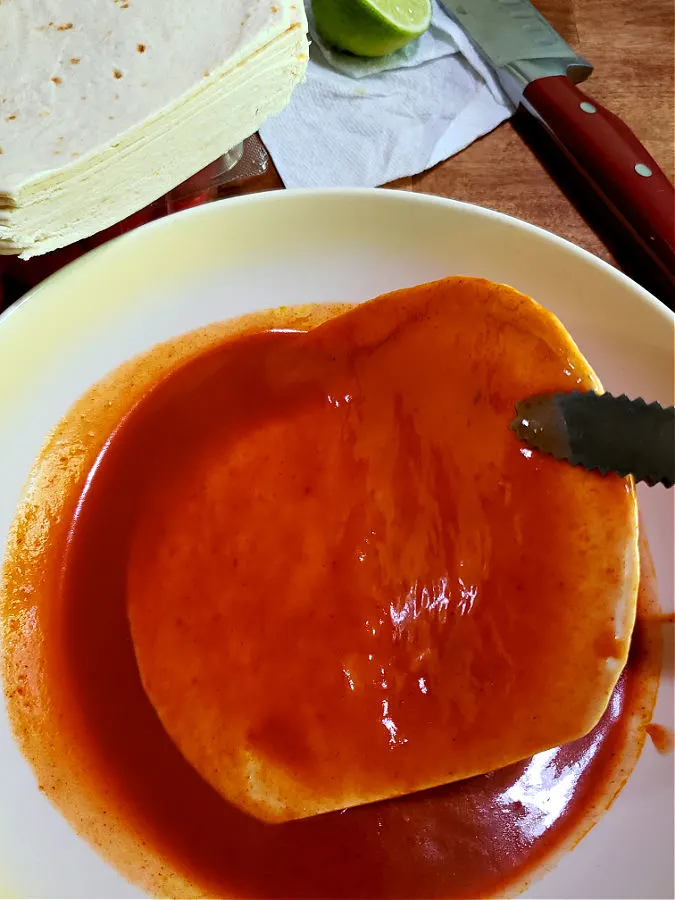 Add the remaining enchilada sauce to a large bowl. The bowl doesn't have to be deep so a large soup bowl will work fine.
Take four of your tortillas, one at a time, and glaze with the enchilada sauce. Place them into the bottom of the baking dish after glazing to form the bottom layer.
Ground Beef Enchilada Casserole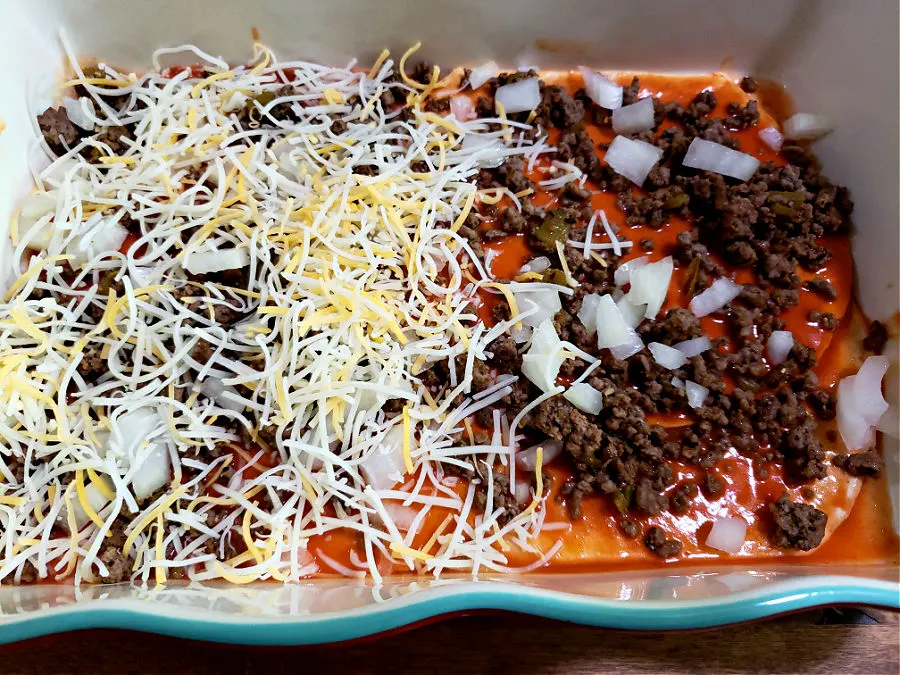 Next, add about a third of the seasoned meat mixture and some of the diced onion and top with some of the shredded cheese.
Repeat the layers twice more so that you end with a top layer of the meat mixture and onions topped with a final layer of cheese.
Cover the casserole with aluminum foil and bake in a preheated oven. Allow the casserole to cool about 15 minutes before serving. This will help to keep the layers together when serving.
Enchilada Casserole Beef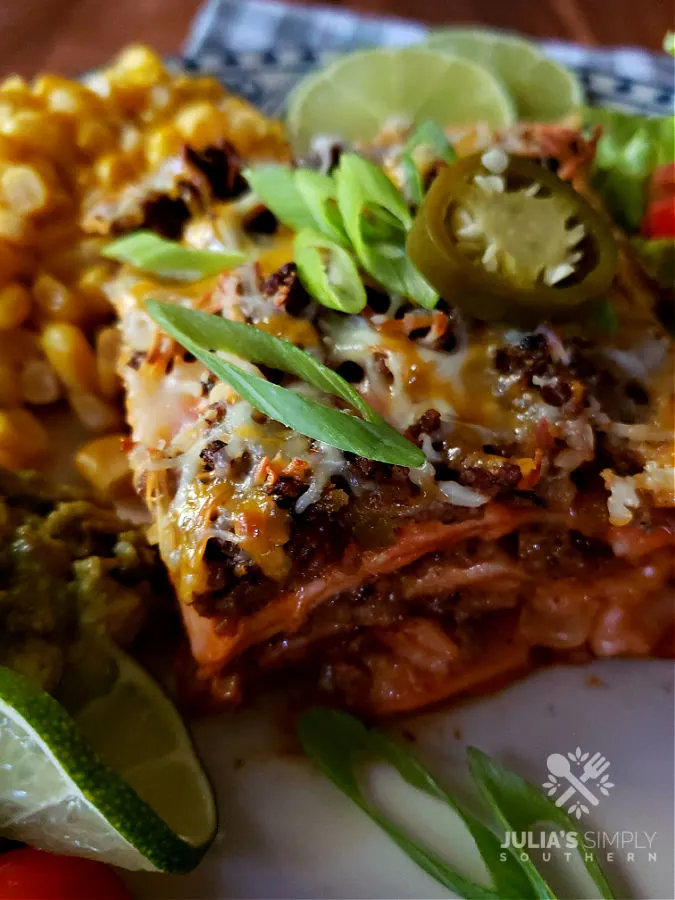 I couldn't resist sharing just one more drool-worthy photograph of a serving of this amazing beefy enchilada casserole.
Oh, and by the way, the leftovers can be refrigerated and reheat beautifully in the oven the next day. That is, if you have any leftover.
Easy Enchilada Casserole Recipe
Below you will find a handy printable recipe card for this easy recipe to add to your collection of amazing family dinner meals. It is sure to become a regular in your supper rotation.
Yield: 1 Casserole
Easy Enchilada Casserole Recipe with Ground Beef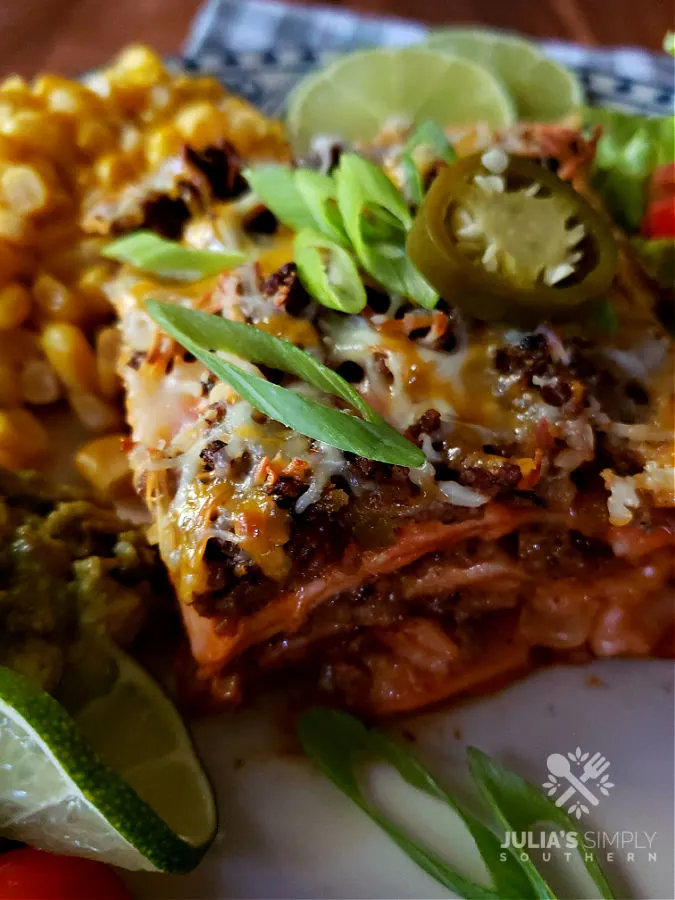 A delicious simple layered beef enchilada casserole recipe that is a real crowd pleaser. Serve this enchilada casserole along with your favorite toppings and side dishes.
Total Time
1 hour
10 minutes
Ingredients
1 pound Ground Beef ( I used an 80/20 blend)
1½ teaspoon Salt
1 teaspoon Ground Black Pepper
1 teaspoon Chili Powder ( I use McCormick )
⅛ teaspoon Cumin
1 teaspoon Oregano
½ Onion Powder
½ Garlic Powder
10 ounce Can Mild Enchilada Sauce
2 tablespoons Mild Diced Green Chiles
1 Small Yellow Onion, diced
12 Flour Taco Tortillas (use corn tortillas if preferred)
8 ounces Shredded Mexican Blend Cheese
Instructions
Preheat oven to 350°F (176°C)
Brown and mince the ground beef in a skillet over medium heat until cooked through; drain excess grease.
Next, add the seasonings and green chiles to the cooked beef and stir to mix until combined. Set meat mixture aside.
Add enough enchilada sauce to the bottom of a 8½ x 11½ baking dish to glazed the bottom (less than ¼ cup). Pour the remaining enchilada sauce into a large bowl.
Take 4 of the flour tortillas and one by one coat in the enchilada sauce and place in the bottom of the casserole dish (see post for tips) to form the bottom layer.
Next, add about ⅓ of the meat mixture on top of the tortillas layer along with some of the diced onions then top with some of the shredded cheese. Repeat layers twice more ending with the meat mixture, onions and a final top layer of the shredded cheese.
Cover the casserole with aluminum foil and bake for 45 minutes. Allow the enchilada casserole to cool about 15 minutes before serving.
Serve along with your favorite toppings and sides. (See full blog post for suggestions as well as recipe variations and optional ingredients).
Notes
One can of the enchilada sauce should be enough to coat the tortillas. Have an extra can on hand just in case you find yourself needing a bit more.
Recommended Products
As an Amazon Associate and member of other affiliate programs, I earn from qualifying purchases.
Nutrition Information:
Yield:
8
Serving Size:
1
Amount Per Serving:
Calories:

472
Total Fat:

22g
Saturated Fat:

10g
Trans Fat:

0g
Unsaturated Fat:

10g
Cholesterol:

77mg
Sodium:

1148mg
Carbohydrates:

39g
Fiber:

3g
Sugar:

3g
Protein:

28g
You Might Also Enjoy
Check out the Latest Recipe Posts
Easy Enchilada Casserole Recipe
Thank you so much for stopping by! I am so glad that you did. I know that you will love this delicious easy enchilada casserole recipe just as much as we do. Stop back by and give me a comment to let me know how you enjoyed it.
Be sure to subscribe to my email list while you are here so that you never miss the latest recipes and news from the blog. I'll send you a weekly newsletter straight to your inbox to let you know what's happening.
Meet Julia
Author of Julia's Simply Southern
Hey Y'all! I'm Julia, the cook and writer behind the recipes here at Julia's Simply Southern. I began my website so that I could share easy to follow recipes that anyone can use to put a home cooked meal on the dinner table. Thanks so much for stopping by!
Follow me on Facebook | Twitter | Instagram | Pinterest | YouTube