Do you ever get to wondering about "What to Serve with Fried Cabbage"? Well my Friend, I've got some great recipe ideas to share with you for a delicious Southern fried cabbage meal!
Southern fried cabbage is a traditional Southern side dish but is often served as the main dish too. Sometimes on its own or with a side of cornbread and maybe throw in some pan fried potatoes to make it a complete meal.
Green cabbage is one of our favorite vegetables. It is a cool season crop and will grow pretty much all winter long in my neck of the woods. It's a versatile vegetable too.
I use fresh cabbage to make my own sauerkraut and egg roll filling as well as preparing it our favorite way, which is fried in a cast iron skillet.
Family dinners can be kept budget friendly, delicious and nobody leaves the table hungry thanks to a humble head of cabbage.
Delicious fried tender cabbage also makes a great side dish for St. Patrick's Day to go along with corned beef or as part of the Southern New Year meal for those who don't care for collard greens.
Southern Fried Cabbage Recipe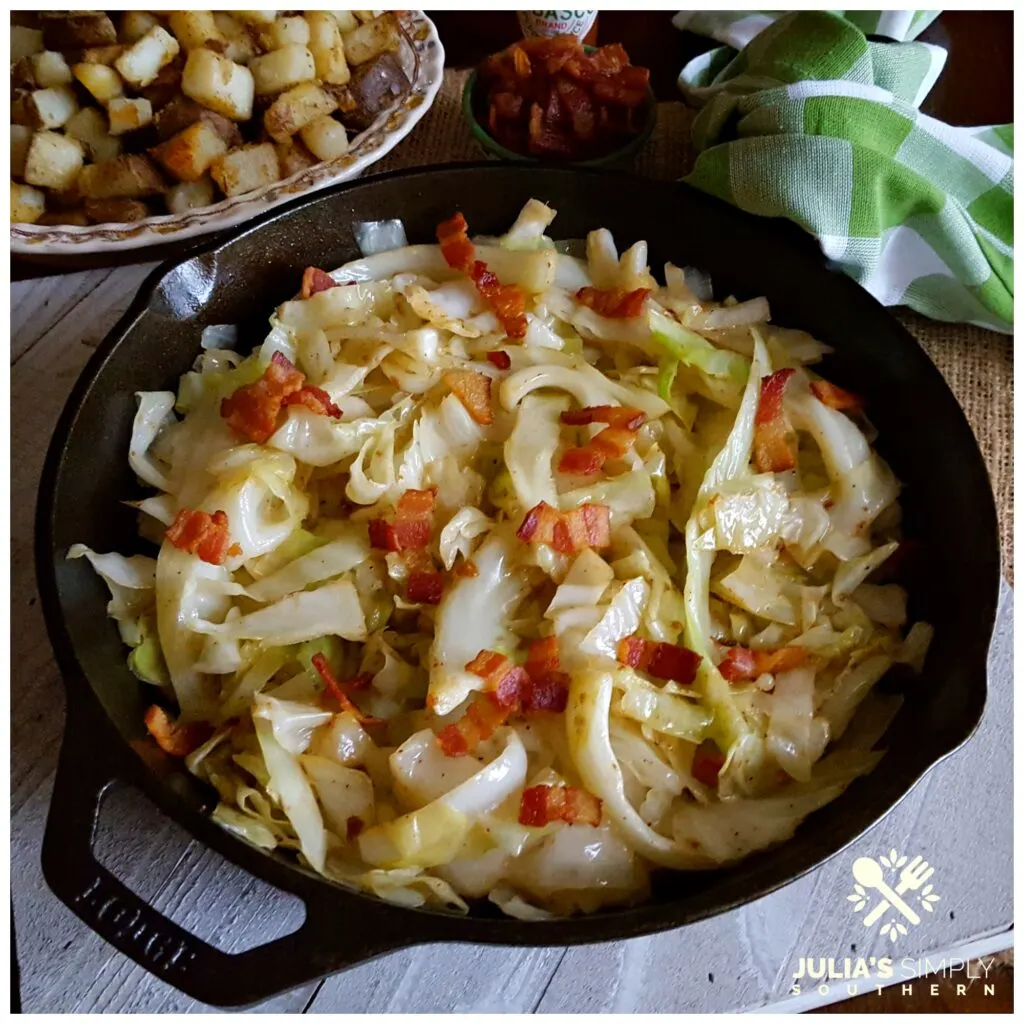 The preparation of fried cabbage takes just a handful of ingredients. Very simple ingredients in fact. Here's what you'll need.
Green Cabbage – the chopped cabbage is the main ingredient of this dish. We prefer this recipe with your basic green cabbage but if you like Napa cabbage then feel free to use that instead.
Thick Cut Bacon – the cooked bacon renders the fat and we need that bacon grease to fry the cabbage. Once cooked, be sure to reserve the crispy bacon to add back to the fried cabbage before serving. Olive oil or your favorite cooking oil may be used instead of bacon fat if preferred.
Black Pepper and Salt – for seasoning, to taste.
That's my basic recipe and you can click the button below to get all of the details on how I like to make it.
The preparation of this great recipe is easy. You'll want a large skillet over medium heat to cook the bacon until it has rendered the fat.
Once the bacon is crisp, use a slotted spoon to remove it from the pan and set aside on a paper towel lined plate to drain the excess grease.
Next, add the chopped cabbage to the skillet and turn to coat with the bacon fat. Increase the heat a bit to medium-high heat and sauté until tender as desired. Season the sautéed cabbage to your liking with a bit of salt and pepper.
Fried Cabbage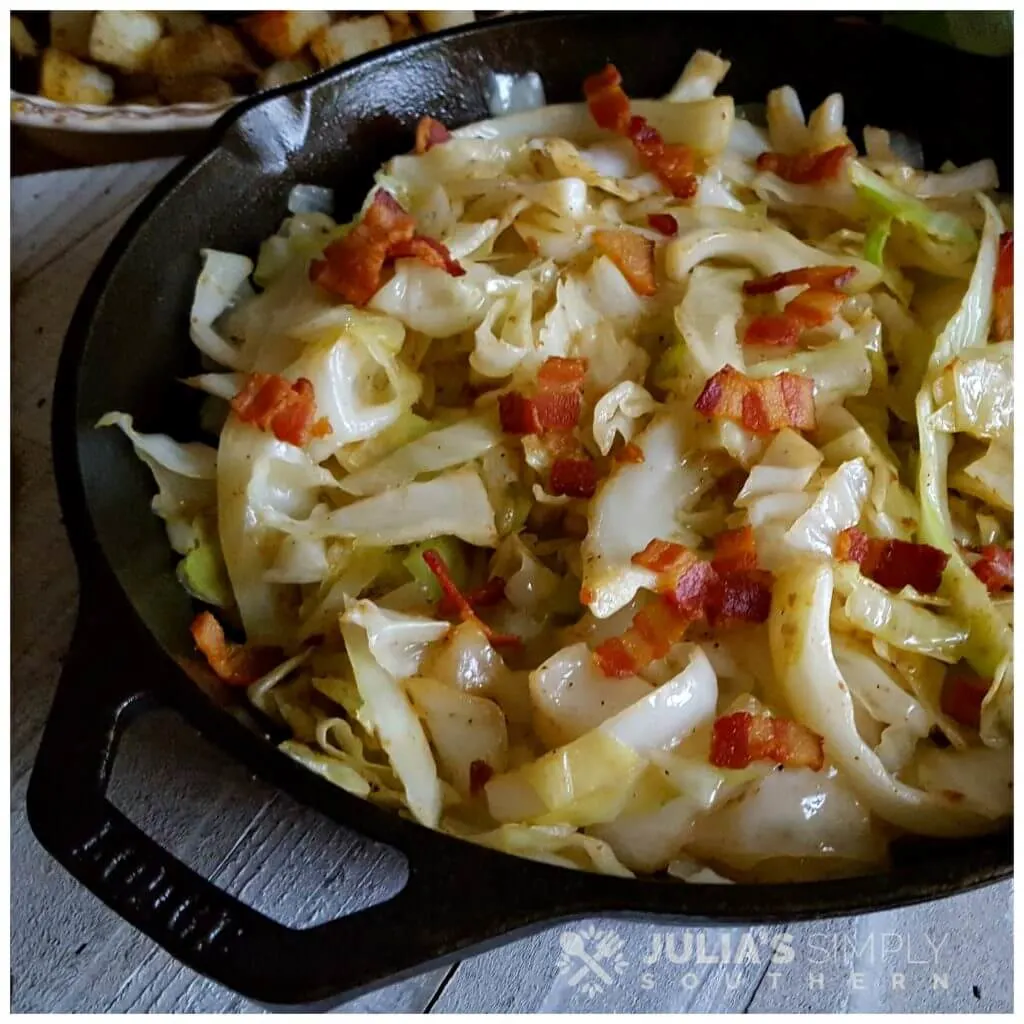 Optional ingredients that you might enjoy in fried cabbage:
If you prefer more bold flavors in your fried cabbage, here are a few additional ingredients to consider. Red pepper flakes, chopped onion, Cajun seasoning, onion powder, garlic powder or a little ground ginger are all great to add more flavor to cooked cabbage.
A splash of apple cider vinegar is also a great option to give it a bit more twang.
What to Serve with Fried Cabbage
Now let's get to all of the delicious recipe options to serve with fried cabbage.
What to Serve with Fried Cabbage
Here are a few of the best recipes to serve with fried cabbage for a delicious meal.
Check out the Latest Recipes
Thank you so much for stopping by! I am so glad that you did.
Be sure to subscribe to my email list while you're here. Subscribers receive a weekly newsletter via email from me with the latest recipes and news here on the blog so that you never miss a thing.
Meet Julia
Author of Julia's Simply Southern
Hey Y'all! I'm Julia, the cook and writer behind the recipes here at Julia's Simply Southern. I began my website so that I could share easy to follow recipes that anyone can use to put a home cooked meal on the dinner table. Thanks so much for stopping by!
Follow me on Facebook | Twitter | Instagram | Pinterest | YouTube