In this post I'll be sharing and easy recipe for Pepper Jelly Cream Cheese Appetizer. It's a Southern classic party food during the holiday season.
This pepper jelly cream cheese dip is one of my favorite appetizers. The spicy, sweet and savory ingredients are one of those great combinations that please the taste buds.
Whether you're an experienced host or this is your first time entertaining, you'll want to add this easy appetizer to your collection.
A pepper jelly cream cheese appetizer is especially great during the festive time of the year. There's no need to be intimidated when it comes to hosting family and friends during the holidays and this easy recipe will be a hit with everyone.
I love how hot pepper jelly comes in festive colors too. Depending on the size of your gathering, you could easily serve a red pepper jelly and cream cheese appetizer as well as a green pepper jelly with cream cheese appetizer. You can't get more festive than that at Christmas time.
We love our pepper jelly in the South and enjoy it all year long and you should too. If you enjoy making your own jams and jellies then try using up those end of season peppers from your garden to make a batch of zesty pepper jelly.
Holiday Party Quick Appetizer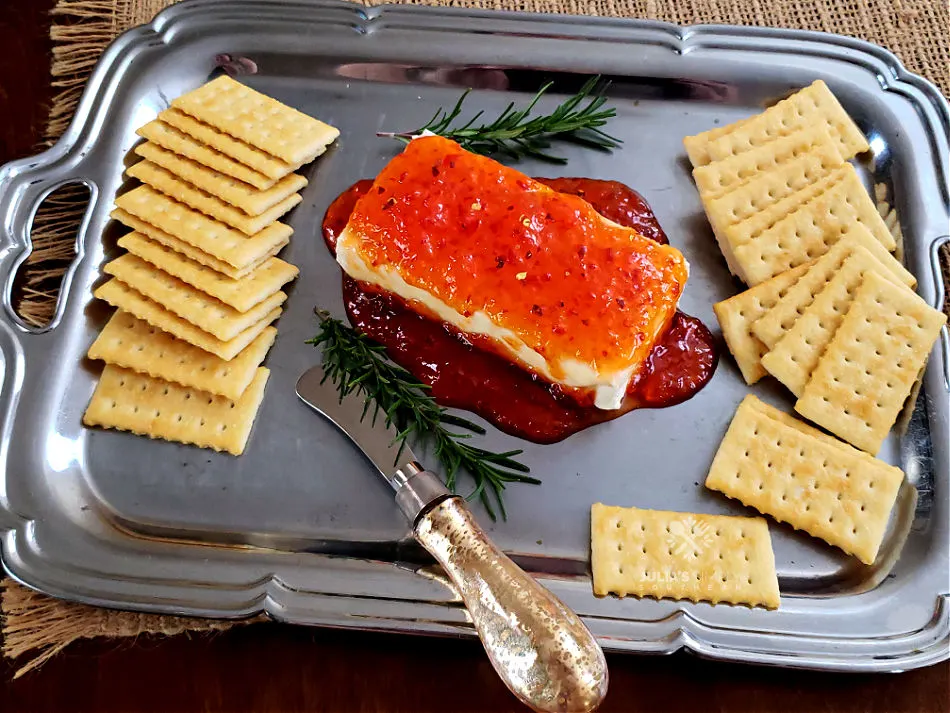 Doesn't that look so pretty? A few sprigs of rosemary and a pretty serving dish are the perfect way to share this appetizer at your special occasion gathering.
I picked this particular serving platter up at a re-sale store for a dollar. It's the perfect size for serving amazing appetizers like this delicious pepper jelly cream cheese spread with crackers.
Pepper Jelly and Cream Cheese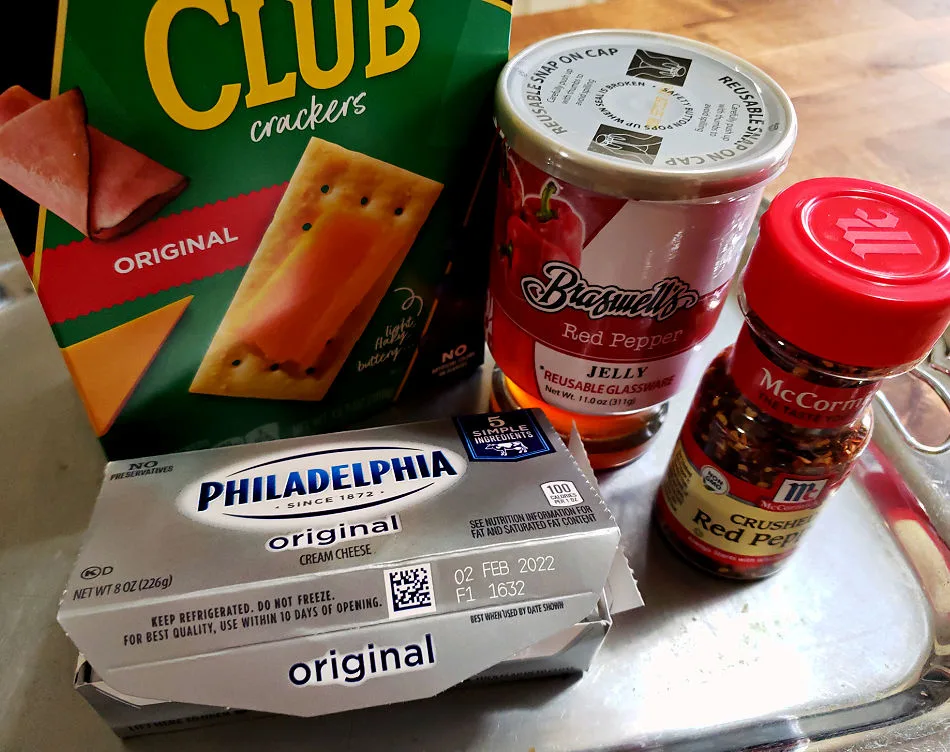 What do I need to make the pepper jelly cream cheese appetizer?
Cream Cheese – softened to room temperature is a great base to this and many appetizers. I try to keep a couple of blocks of cream cheese on hand at all times because it is easy to whip up something delicious if you need to.
If you do not have enough time to allow the cream cheese to sit out on the counter to soften, you can do it in the microwave. Place block of cream cheese on a microwave safe dish and cook on high for ten seconds to soften it.
Hot Pepper Jelly – store bought or homemade jelly if you have it. I usually find this spicy jelly at my local grocery store in the choices or red or green.
Crackers – the best crackers for cream cheese and pepper jelly are the delicious slightly salty crackers. I went with club crackers but Ritz crackers, saltines (or Southern Fire Crackers made with Saltines), wheat thins, appetizer crackers or toast points would all work well too. Use whatever your favorite crackers are and it will be perfect!
Optional: I like to sprinkle a few red pepper flakes to reaffirm that this is a zesty appetizer. During the holiday season garnishing with a few sprigs of rosemary seem to make this perfect appetizer look more festive. You could garnish with some sliced green onions instead if preferred.
Hot Pepper Jelly Cream Cheese Appetizer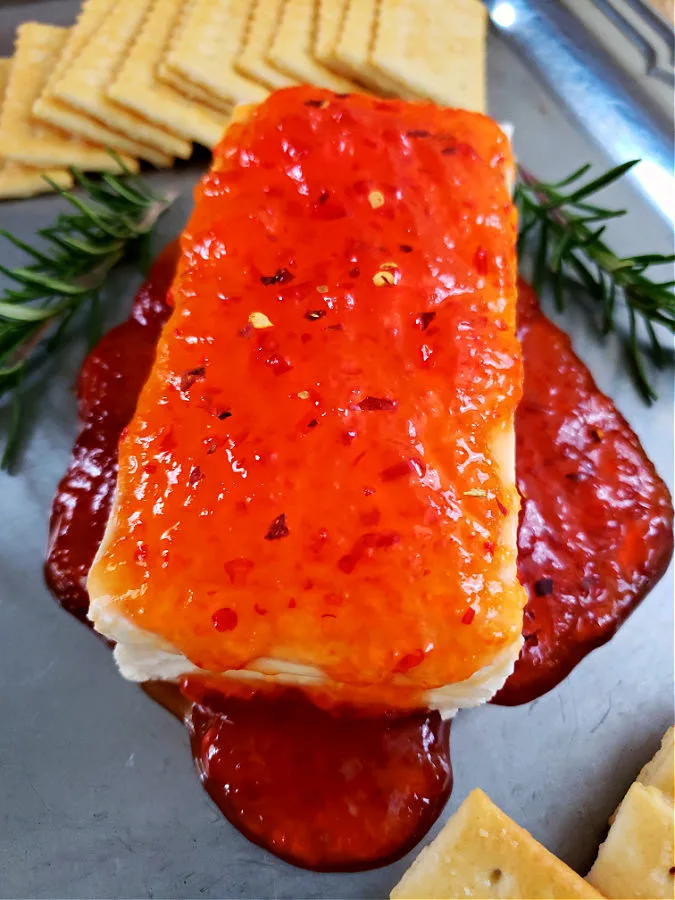 You can really see all of those bits of hot peppers in the jelly and for those who enjoy spicy food will know right away that this is gonna be so good.
Spicy Pepper Jelly Spread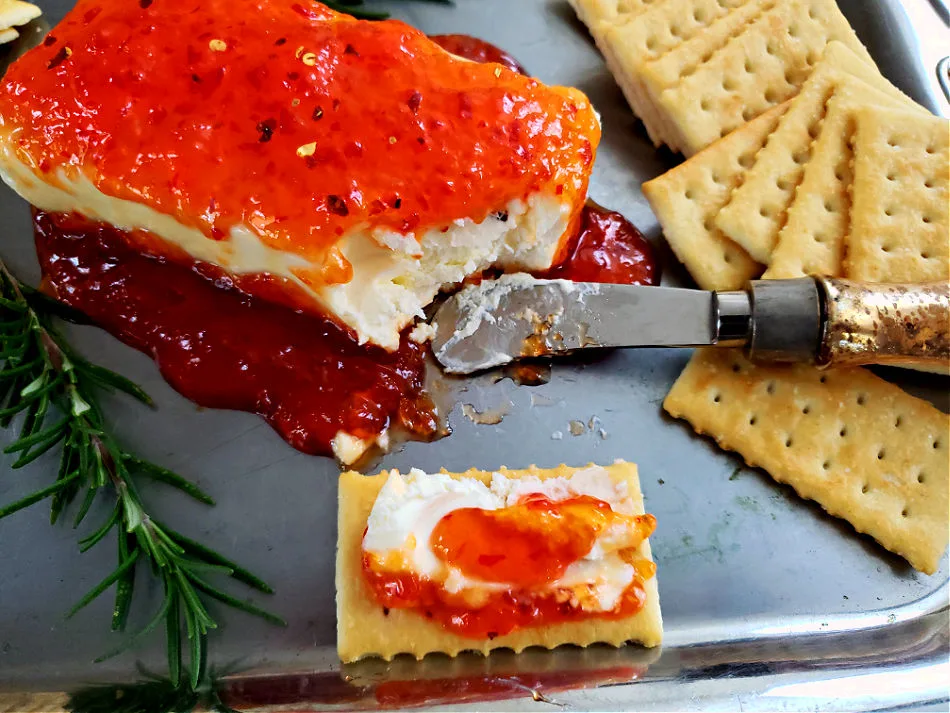 Putting this easy cheesy dip takes just a few moments. That is one of the things that I love about cheese balls is that you can practically throw one together without notice using the most basic ingredients.
How to make a cream cheese and pepper jelly spread?
Arrange the softened block of cream cheese on a serving plate or platter.
Next, add enough pepper jelly to cover the block of cream cheese into a microwave safe bowl. Microwave the jelly on high for a few seconds to loosen it up and give it a stir.
Spoon the red pepper jelly on top of the cream cheese. By microwaving the jelly just a bit gives the best results with how the jelly spill over the sides of the softened cream cheese.
If necessary, use a damp paper towel to wipe away any of the jelly that might drop from the spoon onto your serving dish where you don't want it.
Lastly, arrange your crackers around the pepper jelly dip, garnish and place an appetizer spreader next to the zesty cream cheese mixture.
Your guests are now able to enjoy this great recipe.
Spicy Red Pepper Jelly Cheese Ball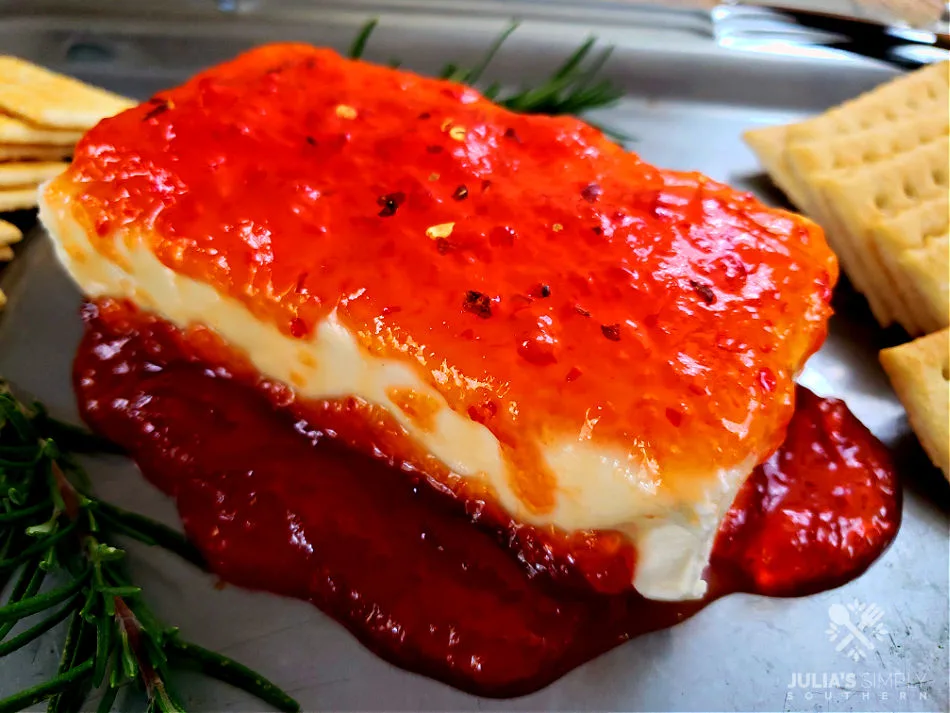 Although this recipe calls for a hot pepper jelly to top the cream cheese, you could easily switch flavors or jelly or use cranberry sauce to make other variations of this basic recipe.
Versatile simple recipes are wonderful to keep in your collection because they really come in handy. You'll always have happy guests as long as you have a few tasty appetizers for them to enjoy.
The Taste Test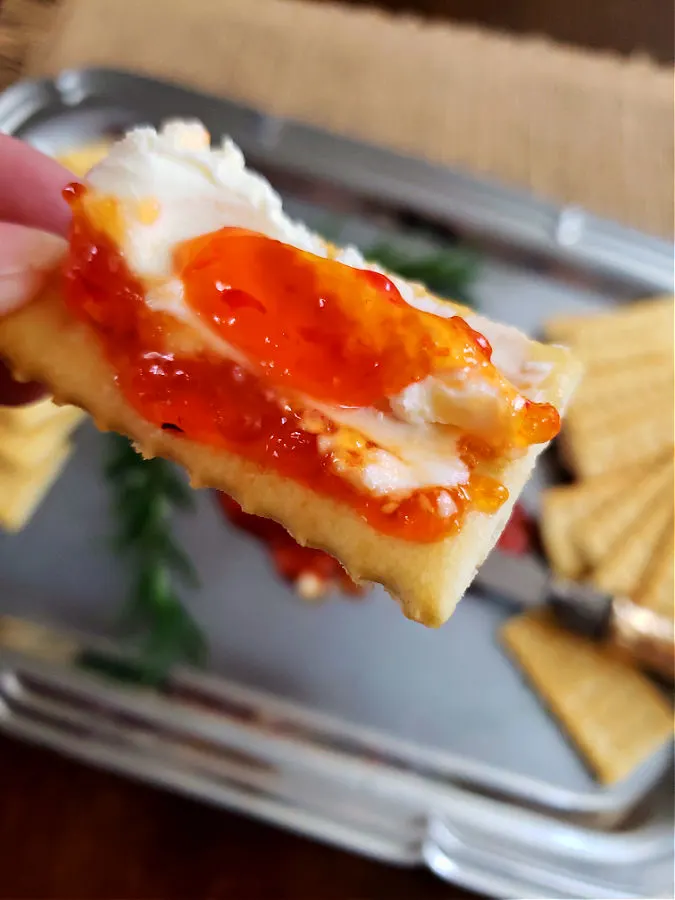 Okay, now comes my favorite part of sharing recipes with you…the taste test. Even though I already know what it taste like, I still have to do taste testing just to be sure. You know what I mean (as in I just want a bite)?
MMM MMM, y'all this is so delicious! The combination of flavors are truly amazing! I love, love, love this pepper jelly cream cheese appetizer and you will too.
What to Serve with a pepper jelly cream cheese appetizer?
Besides the crackers or toast points to spread on your pepper jelly appetizer, depending on the size of your gathering, feel free to serve alongside a few more appetizers that your guests will enjoy.
If you're serving appetizers before a big meal during the holidays, keep the appetizer selection to a minimum so that guests don't fill up on appetizers before enjoying the delicious food of the meal that you've prepared.
Pepper Jelly Cream Cheese Appetizer
You can find the full recipe below in the printable recipe card.
Yield: 1 Appetizer Spread
Pepper Jelly Cream Cheese Appetizer Recipe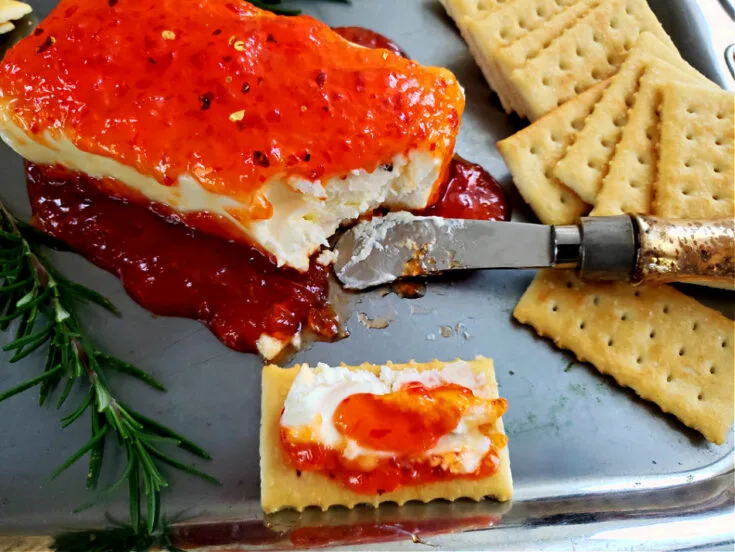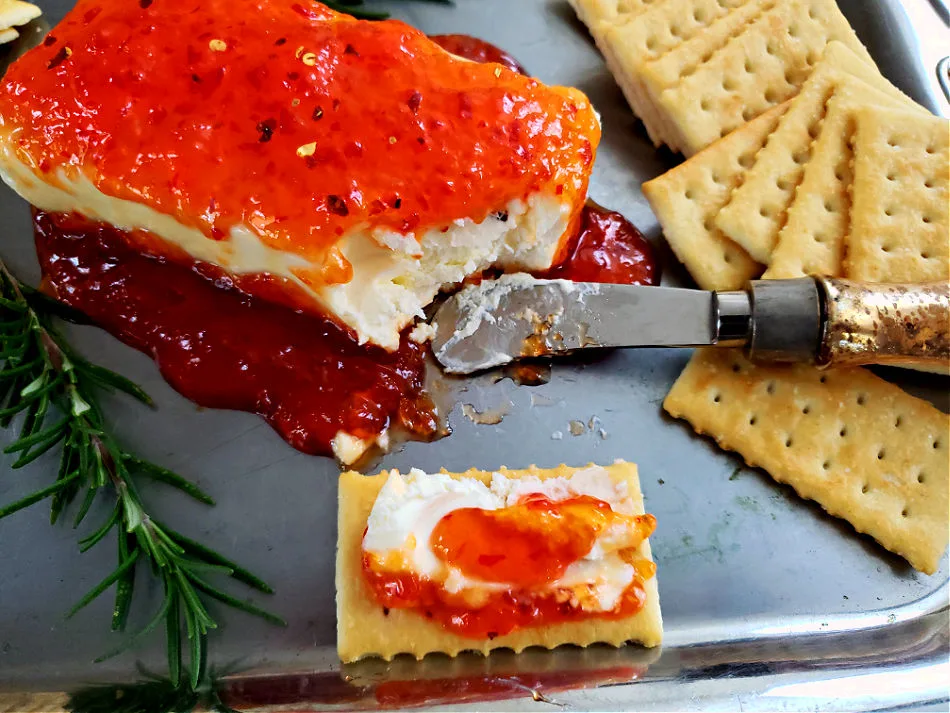 Hot pepper jelly is a Southern classic and makes a wonderful appetizer to share at your next holiday party. Serve with your favorite crackers and enjoy.
Ingredients
8 ounce Cream Cheese, softened to room temperature
¼ cup Red Pepper Jelly ( I used the Braswell's brand. Can use green pepper jelly if desired)
Pinch of Red Pepper Flakes (optional)
13.7 ounce Box Club Crackers, or favorite crackers for serving
2 sprigs Rosemary, garnish (optional)
Instructions
Place the softened block of cream cheese on a serving plate or platter.
Add the hot pepper jelly to a microwave safe bowl and microwave oh high for 30 seconds.
Stir the warmed jelly then spoon over the top of the cream cheese.
Garnish with a pinch of red pepper flakes and rosemary sprigs, if desired.
Serve with crackers.
Notes
If you forgot to place the cream cheese out to soften or are in a rush, place the block of cream cheese on a microwave safe plate. Microwave on high for 10 seconds then follow the recipe directions.
Recommended Products
As an Amazon Associate and member of other affiliate programs, I earn from qualifying purchases.
Nutrition Information:
Yield:
8
Serving Size:
1 ounce
Amount Per Serving:
Calories:

364
Total Fat:

21g
Saturated Fat:

8g
Trans Fat:

0g
Unsaturated Fat:

12g
Cholesterol:

29mg
Sodium:

436mg
Carbohydrates:

41g
Fiber:

1g
Sugar:

11g
Protein:

4g
Check out the Latest Recipes
Thank you so much for stopping by! I am so glad that you did. I cannot wait until you get the chance to serve this appetizer at your next gathering. I just know that you and your guests will enjoy it just as much as I do.
While you're here, be sure to subscribe to my email list. Subscribers receive a weekly newsletter from me with the latest recipes and news here on the blog so that you never miss a thing. It's the best way for us to stay connected so that you always get the latest posts.
Meet Julia
Author of Julia's Simply Southern
Hey Y'all! I'm Julia, the cook and writer behind the recipes here at Julia's Simply Southern. I began my website so that I could share easy to follow recipes that anyone can use to put a home cooked meal on the dinner table. Thanks so much for stopping by!
Follow me on Facebook | Twitter | Instagram | Pinterest | YouTube