In this post I'll be sharing a simple recipe for Easy Crock Pot BBQ Beef Sandwiches. You're gonna love these easy BBQ beef sandwiches! Oh. My. Word. They are so good!
Why you'll love this recipe? My recipe for crock pot BBQ beef sandwiches take just four main ingredients plus a couple of seasonings (as in just salt and pepper, nothing fancy needed).
With this easy recipe, you can get things going for a delicious supper and let it do its thing while you go about your busy day. As a result, you'll be rewarded with delicious aromas and be able to put your slow cooker bbq beef sandwiches on the table quick to enjoy.
These sandwiches are the perfect easy meal for busy family or for when you have large crowds to feed. Don't worry about leftovers either. With the price of beef being what they are these days you can easily freeze leftovers for another meal…if there are any.
I did have leftovers so I re-purposed them the next evening and we enjoyed the shredded beef mixture over rice. So this can easily become a main dish recipe too. It was wonderful so I recommend trying it.
Serving it over rice this way sort of reminds me of South Carolina barbecue hash but I wouldn't go so far as to call it that. Hash is its own thing for sure.
Slow Cooker Barbecue Beef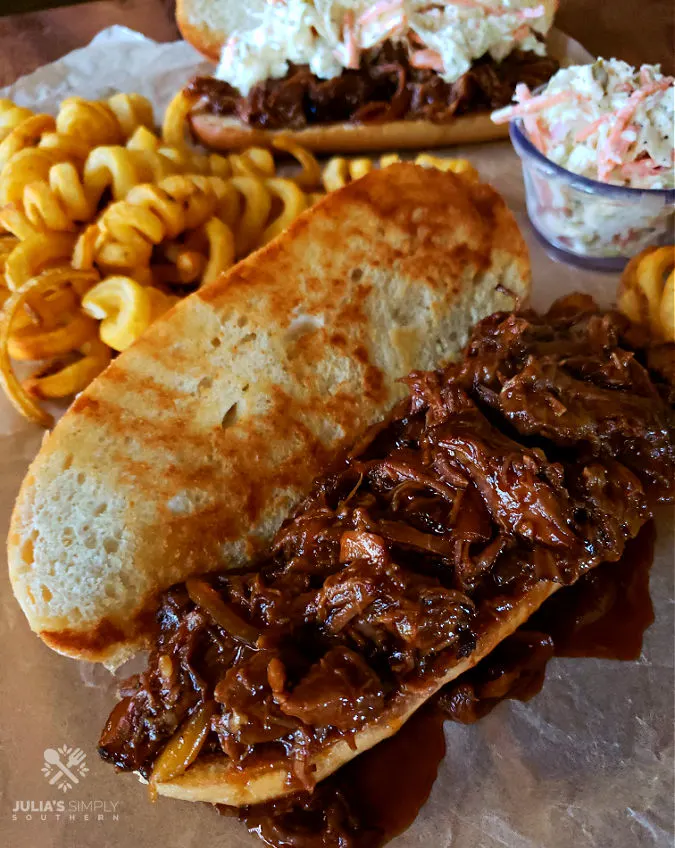 Wowee! Doesn't that look incredible? That juicy barbecued beef on toasted buns with yummy sides is a winning meal. It's so good y'all!
I'm a big fan for toasting buns for sandwiches and burgers because it adds so much more special detail to the meal as well as tasty flavor.
What to Serve with BBQ Beef Sandwiches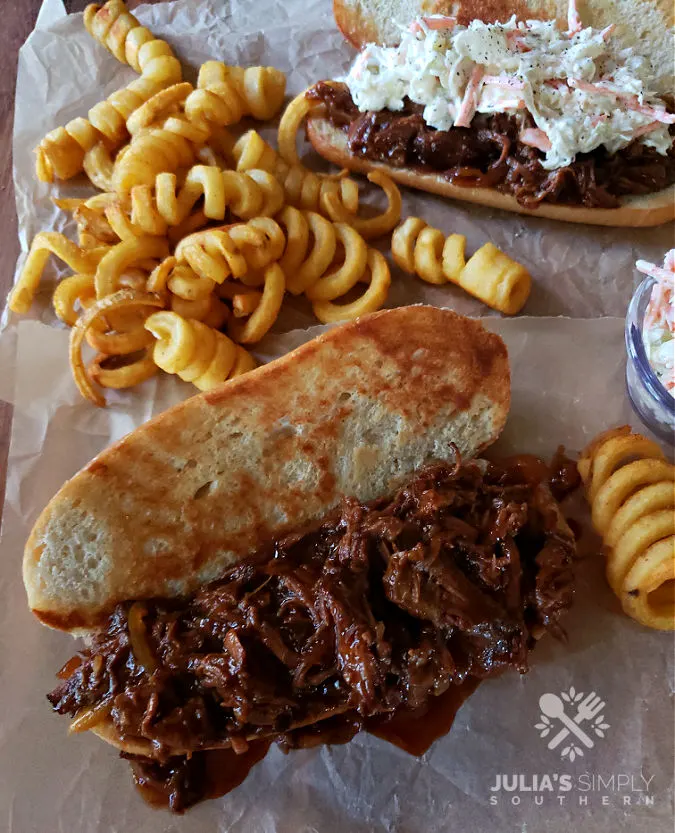 Before we get to the side options, let's talk about BBQ beef sandwich toppings.
Coleslaw – since it is barbecue after all, a tangy coleslaw would work perfectly as a topping for these crockpot bbq beef sandwiches. Just like if it were pulled pork barbecue. Mix your slaw in a small cover ahead of time, cover, and refrigerate until needed.
Dill Pickle Chips – we love dill pickles with barbecue sandwiches. They add delicious crunch, texture and flavor.
Other Toppings – you could opt for using mayonnaise and topping your sandwich with lettuce, tomato and perhaps some raw onion slices.
Now, what to serve with slow cooker barbecue beef sandwiches?
Coleslaw – not only does slaw work well as a topping but also makes a great side for barbecued meat meals. Coleslaw is also easy to prepare with a head of cabbage or just use a coleslaw mix.
French Fries – in any shape that you love or have on hand is always a favorite side for a sandwich.
Baked Beans – I don't think I've ever had a plate of barbecue when eating out that didn't include baked beans. They're delicious and always a great side option.
Potato Chips – easy and come in a variety of flavors.
Potato Salad – a personal favorite at our house. Potato salad might also be the (unofficial) official side for barbecue during the warmer weather months. This is also a favorite Southern side for many meals.
Serve the delicious bbq beef on toasted sandwich buns, hamburger buns or slider buns and enjoy.
What do I need to make Crock Pot BBQ Beef Sandwiches?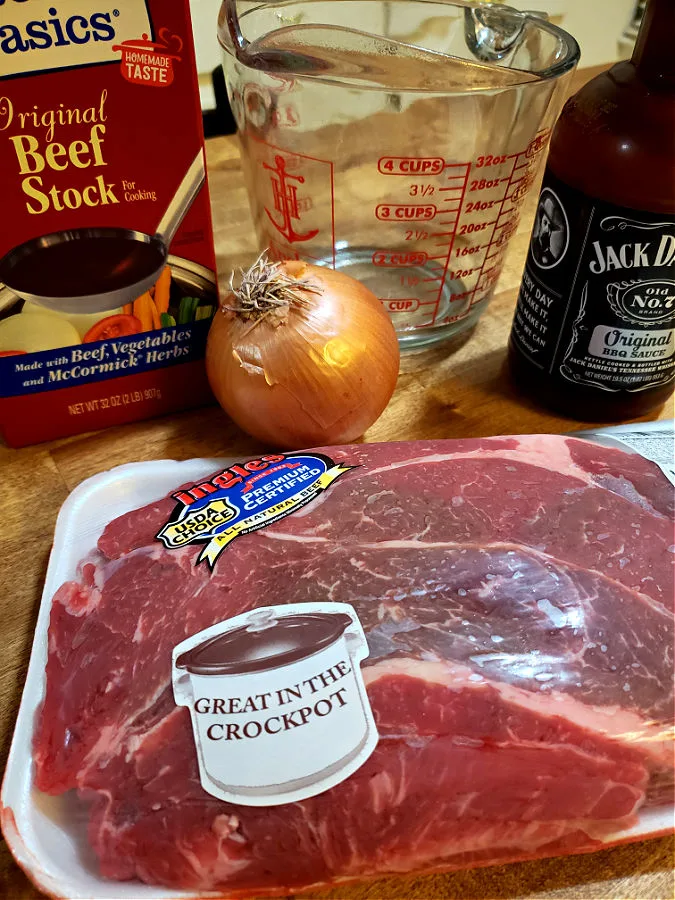 My friend, you are gonna love how super easy and simple my ingredient list is for this easy meal. You'll easily find everything at your local grocery store to make it. Here's what you'll need:
Beef Roast – My choice is a boneless chuck roast because it has a great fat to meat ratio for delicious flavor. This is a popular cut of beef for slow cooking.
Barbecue Sauce – I just used up a jar of store bought sauce that I had on hand. It was Jack Daniels original barbecue sauce and it was on clearance at the store. This sauce was delicious! I enjoy many store bought sauces like Sweet Baby Ray and others that are easy to find. I do sometimes make my own sauce too. Just use whatever is convenient for you.
Beef Stock – adds great flavor and keeps the meat tender and juicy. Use beef broth is you don't have stock on hand. Because many sauces are based with brown sugar or molasses, the beef broth keeps it from burning during cooking.
Onion – I used a yellow onion, cut into thin slices, to add flavor and the onions become part of the meat mixture.
Salt and Cracked Black Pepper – to season.
Feel free to add more seasonings that you and your family enjoy if you like. Garlic powder, onion powder, chili powder or a dash or cayenne would work well too.
If you would like to try making your own homemade barbecue sauce with ingredients like ketchup, brown sugar, Worcestershire sauce, liquid smoke, apple cider vinegar (or red wine vinegar) and a few more simple ingredients then check out this recipe for The Southern Lady Cooks' Make Your Own BBQ Sauce Recipe.
Searing the Beef Adds Flavor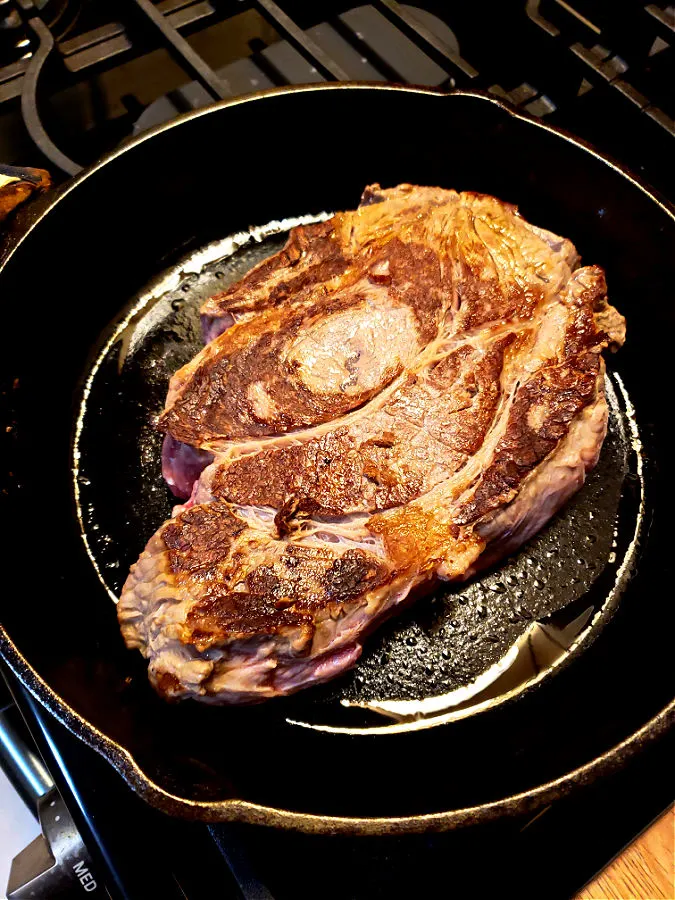 Searing the meat takes just a little effort but delivers big results with added flavor to your beef roast. The searing ensures the best results for a delicious roast beef.
Begin by adding a couple of teaspoons of cooking oil (like peanut or vegetable that can handle high heat) to a cast iron skillet over medium high heat.
Once the skillet is hot, use tongs to carefully transfer your chuck roast to the skillet and allow it to sear a few minutes on each side.
Crock Pot Beef Roast with Barbecue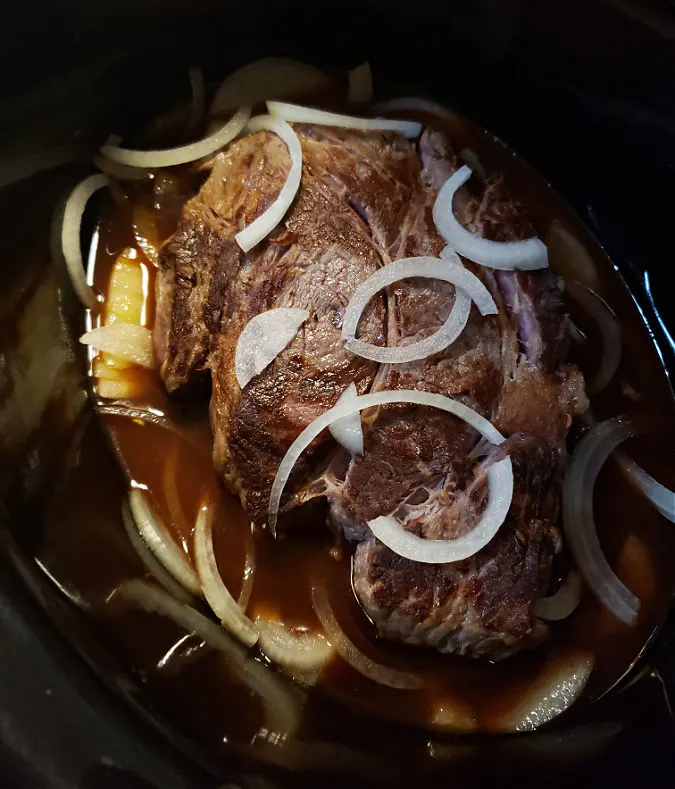 While the roast is searing, preheat your slow cooker on the high setting. In the bottom of the slow cooker, you will add the beef stock, some of the barbecue sauce and sliced onion.
Once the meat has seared, carefully transfer it to the Crock Pot. Place beef in center of slow cooker. Notice that you don't want lots of liquid that completely cover the roast?
Shredded Beef Sandwiches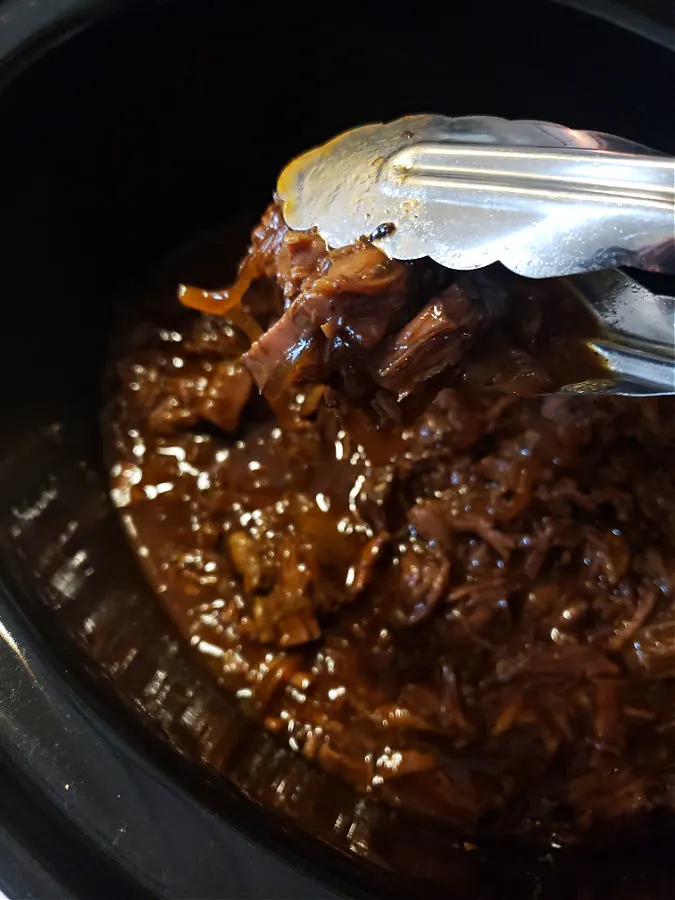 Next, cover the slow cooker and reduce the cook setting to low and cook on the low heat setting for several hours until the tender chuck roast can be easily shredded. Cooking time may vary depending on the size of the roast.
Use tongs or a couple of forks to shred beef and remove any large pieces of fat if there are any that would be unpleasant to chew.
Then add the remaining barbecue sauce to the shredded beef mixture and stir to combine everything together. The amount of liquid and sauce should combine perfectly with the shredded beef so that you have a delicious juicy meat filling for your sandwiches.
Slow Cooker Sandwiches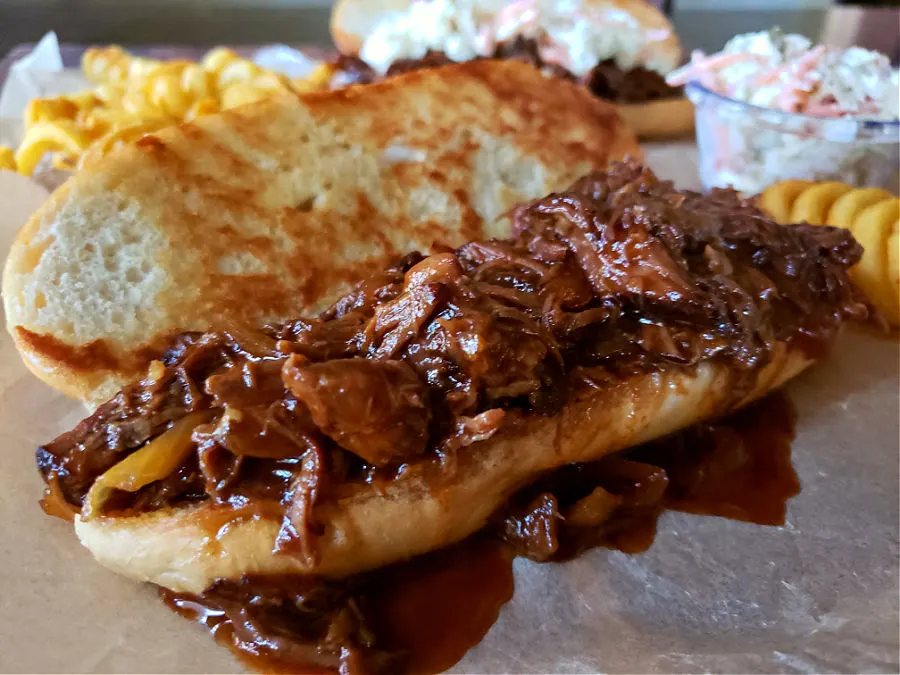 To assemble the slow cooker barbecue beef sandwiches, first toast the buns. I used my griddle and once it was hot, I added a pat of butter and melted it then placed the buns on the griddle and toasted them until the centers were golden brown.
Besides being tasty, the toasted bread smells so wonderful.
Next, use tongs or a slotted spoon to drain off excess liquid from the shredded meat mixture then transfer it onto the toasted buns.
These barbecue sandwiches made with beef are the perfect meal to enjoy after a long day and are sure to get rave reviews from your family.
This slow cooker bbq beef recipe is a great way to get in your daily value of nutrients.
Cooks Note: Assemble the sandwiches when you plan to eat them. Since the barbecue beef is juicy it can make the bun soggy if it sits for a while.
Easy Crock Pot BBQ Beef Sandwiches
Yield: 2 pounds BBQ Beef
Easy Crock Pot BBQ Beef Sandwiches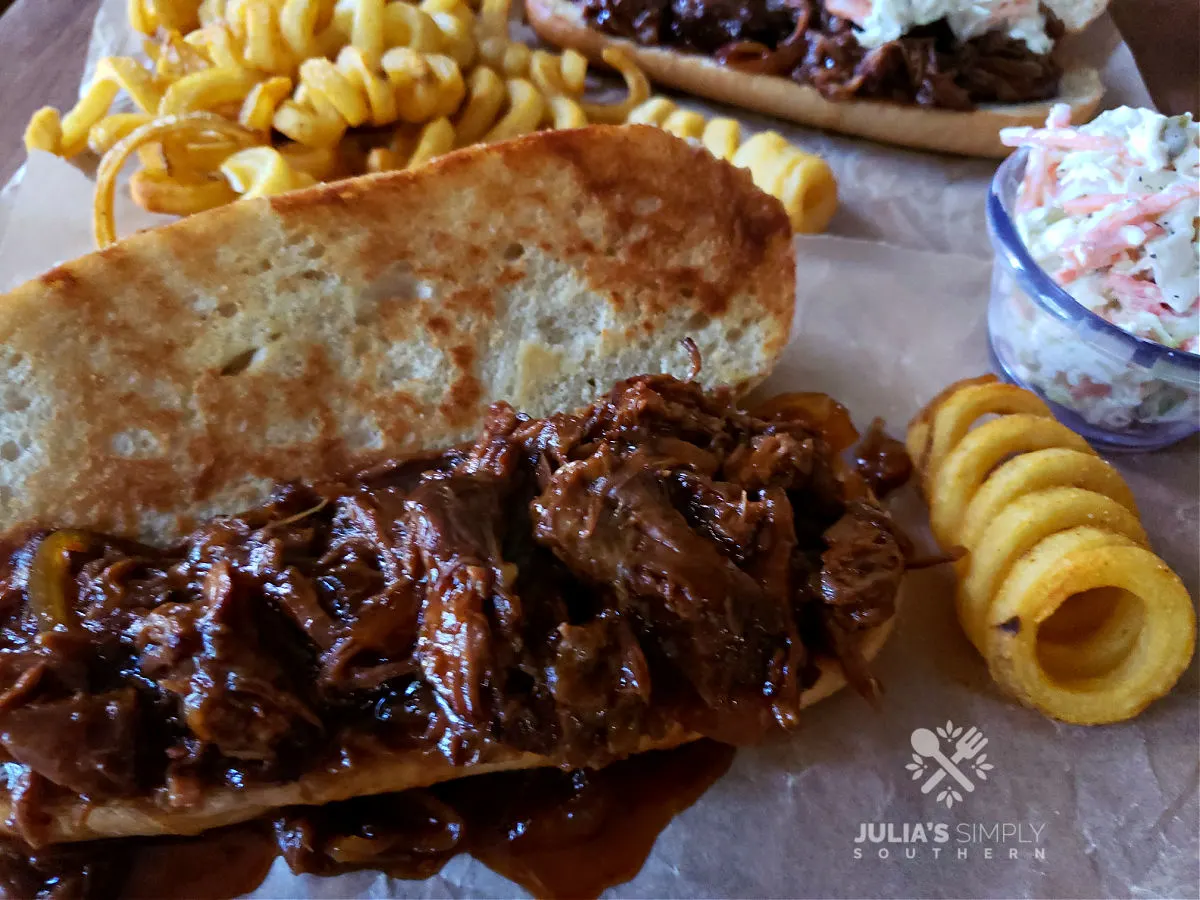 Slow cooker bbq beef sandwiches are a great crockpot recipe and perfect for busy days. Serve the delicious barbecued beef on toasted sandwich buns with your favorite toppings and sides for a meal that the whole family will love.
Ingredients
2 pound Boneless Chuck Roast
2 teaspoons of Vegetable Oil, for searing (or high heat cooking oil)
1 cup Barbecue Sauce, divided (I used Jack Daniel's original in this recipe)
1½ cup Beef Stock (or broth)
1 Yellow Onion. peeled and thinly sliced
1 teaspoon Kosher Salt, or to taste
¼ teaspoon Cracked Black Pepper, or to taste
Instructions
Preheat your slow cooker with the lid cover on the high cook setting.
Heat a cast iron skillet over medium-high heat until hot. Next, add the vegetable oil to the skillet then transfer the beef roast to the skillet; sear the meat 3 to 4 minutes per side. NOTE: Allow the beef to naturally release from the bottom of the skillet. When it has finished searing, it will easily release.
Combine ½ cup of the barbecue sauce with the beef stock by whisking them together then pour the mixture into the bottom of the slow cooker along with the sliced onion.
Transfer the seared chuck roast to the Crock Pot, cover and reduce the cook setting to low; cook for 8 hours or until the tender beef easily shreds.
Shred the beef with tongs or using two forks and remove any large fat pieces if there are any. Add the remaining barbecue sauce and stir to combine.
Serve the barbecue shredded beef mixture on toasted buns with your favorite toppings and sides (see full post for ideas).
Recommended Products
As an Amazon Associate and member of other affiliate programs, I earn from qualifying purchases.
Nutrition Information:
Yield:
8
Serving Size:
4 ounces BBQ Beef
Amount Per Serving:
Calories:

350
Total Fat:

19g
Saturated Fat:

7g
Trans Fat:

1g
Unsaturated Fat:

10g
Cholesterol:

94mg
Sodium:

696mg
Carbohydrates:

16g
Fiber:

1g
Sugar:

13g
Protein:

29g
Check out the Latest Recipes
Thank you so much for stopping by! I am so glad that you did. I hope that you try this recipe soon as it is my absolute favorite way to easily prepare crockpot bbq beef sandwiches.
Be sure to subscribe to my email list while you're here. Subscribers receive a weekly newsletter from me with the latest recipes and news here on the blog so that you never miss a thing.
Meet Julia
Author of Julia's Simply Southern
Hey Y'all! I'm Julia, the cook and writer behind the recipes here at Julia's Simply Southern. I began my website so that I could share easy to follow recipes that anyone can use to put a home cooked meal on the dinner table. Thanks so much for stopping by!
Follow me on Facebook | Twitter | Instagram | Pinterest | YouTube