In this post I am sharing how to make a Grilled Turkey Breast that has been brined. This turkey breast is juicy, delicious and perfect for a small Thanksgiving or Christmas dinner.
A turkey breast is a great option for intimate holiday meals. They don't take up valuable oven real estate either.
There are many great options for cooking a turkey breast that include roasting, grilling (like in this post), instant pot or slow cooker.
How to Brine a Turkey Breast
White meat of turkey or chicken tend to dry out easily. To ensure you'll be serving up a moist turkey breast, brine it. The brine adds extra moisture to the turkey meat as well as seasons within. Every bite will be more flavorful.
The brine itself does not have to be anything fancy at all. Since I season the outside of my turkey I use a simple basic brine of salt, sugar and water. Feel free to add herbs, peppercorns and other seasonings to your brine if you like.
Prepare the brine and add your thawed turkey breast the refrigerate 12 to 24 hours.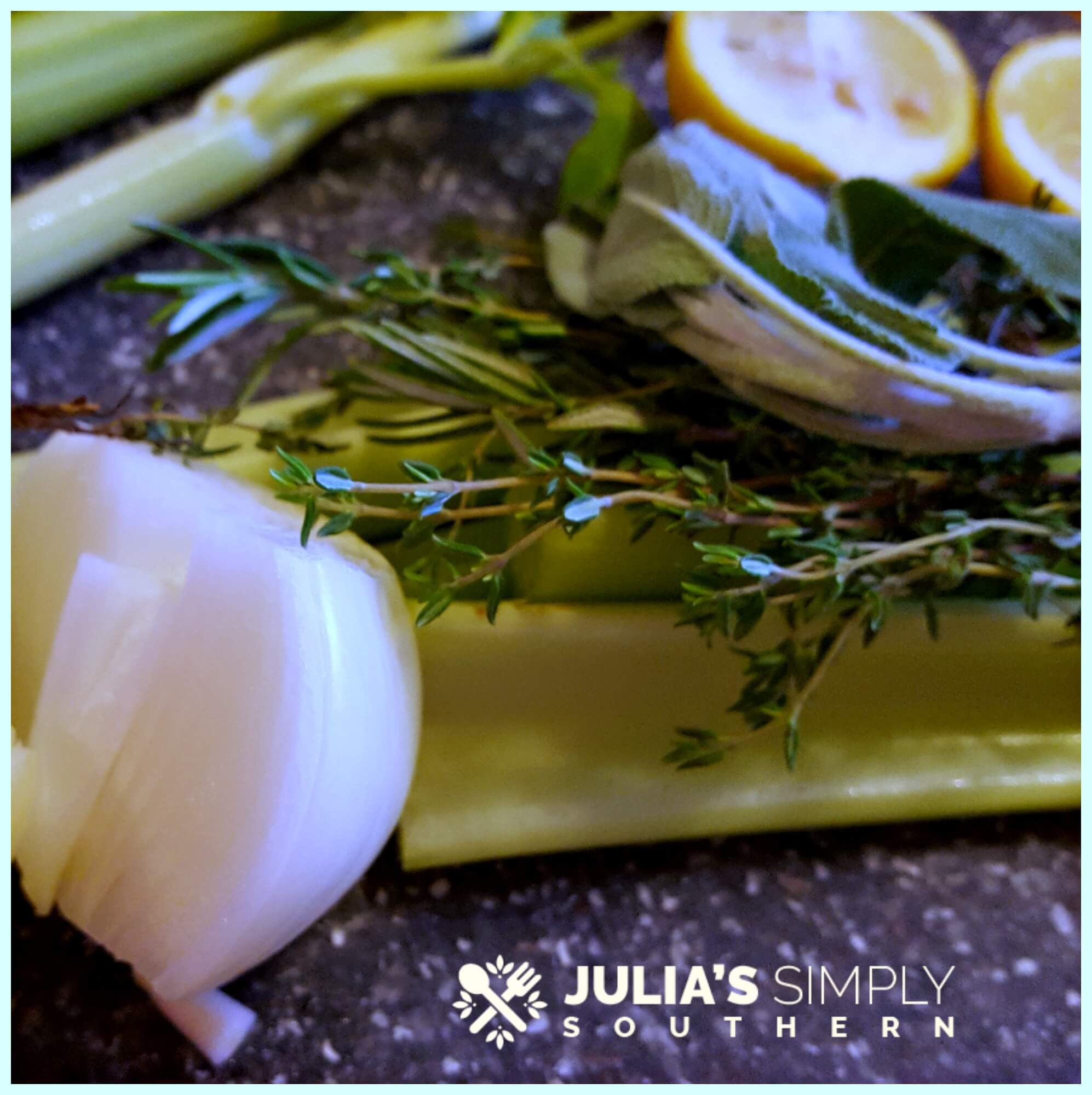 Grilling your turkey breast on a gas grill is really easy. One of the features that I really like about our grill is that there is a temperature gauge, so for me it's like an outside oven basically.
I begin by pre-heating the grill by turning on all burners to high, closing the lid and going to prepare the turkey breast.
Grilled Bone In Turkey Breast
Remove the turkey breast from the brining liquid and place into a roasting pan. I add a couple of vegetables, such as carrots and a few stalks of celery so that my turkey breast is not resting on the bottom of the pan.
Discard the brining liquid. Use paper towels to completely dry the turkey breast.
Add a few aromatics to the cavity of the turkey breast, this add even more moisture during cooking as well as flavor. My favorite aromatics include a lemon, an onion, a stalk of celery, fresh rosemary, thyme and sage.
The neighbors are going to be peeking over to see what you're grilling because it's gonna smell so good as it cooks. Okay, if it's Thanksgiving they'll probably guess turkey but they'll still enjoy the tasty fragrance floating through the air.
Before anyone smells anything let's get the bird on the grill. Use room temperature butter and coat the turkey, under the skin and outside all over. Season according to taste with kosher salt, cracked black pepper, onion powder, poultry seasoning and paprika.
Add a fair amount of paprika, it gives the turkey (or any poultry) a beautifully browned skin.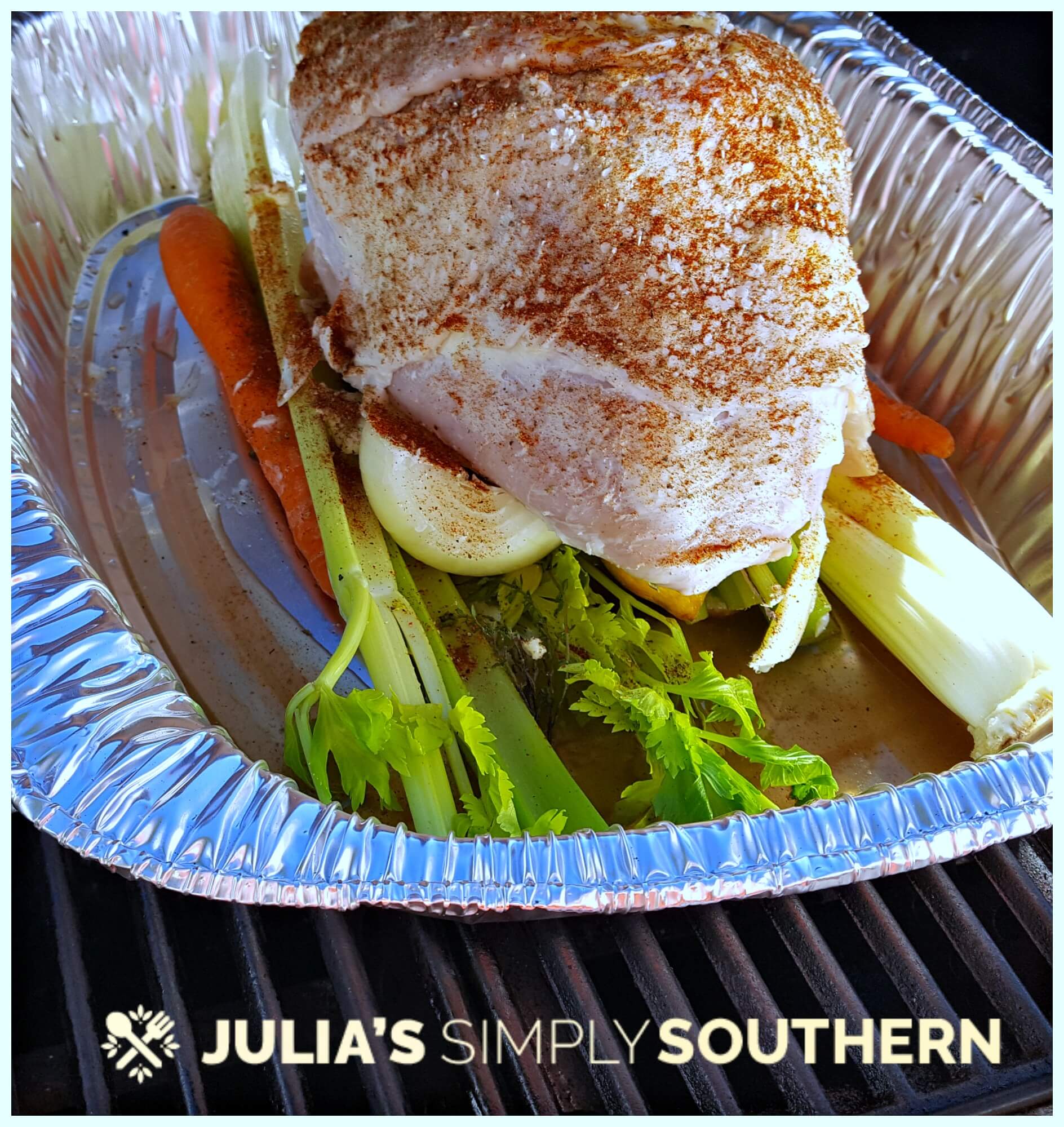 Grilled Brined Turkey Breast
Place the roasting pan with the turkey on the grill. You want to cook the turkey over indirect heat. Our grill has four burners so I turned off the two in the center of the grill and left the two outer burners on.
I adjusted the heat until the thermostat on the grill read 325°F.
The turkey breast will cook at this temperature for one to one and a half hours, or until the internal temperature reads 165°F.
I do recommend that you have a meat thermometer for testing meat doneness. There is nothing worse than a dry over-cooked turkey. Does the Griswold turkey come to mind? Nobody wants a Griswold turkey!
When the turkey reaches temperature, remove it from the grill and cover with foil. Allow the cooked turkey breast to rest 20 to 30 minutes before carving.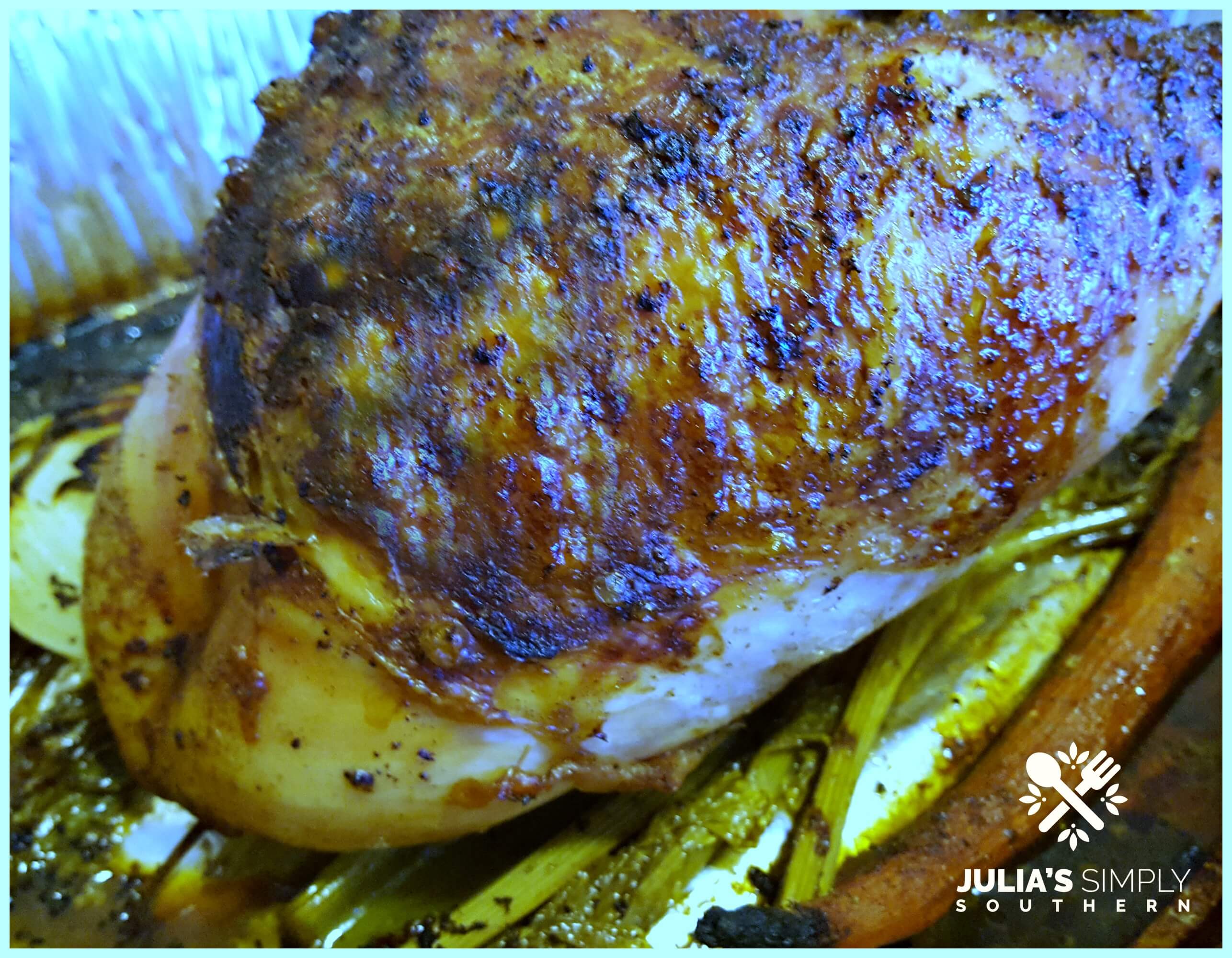 More Recipe Ideas for a Small Thanksgiving Dinner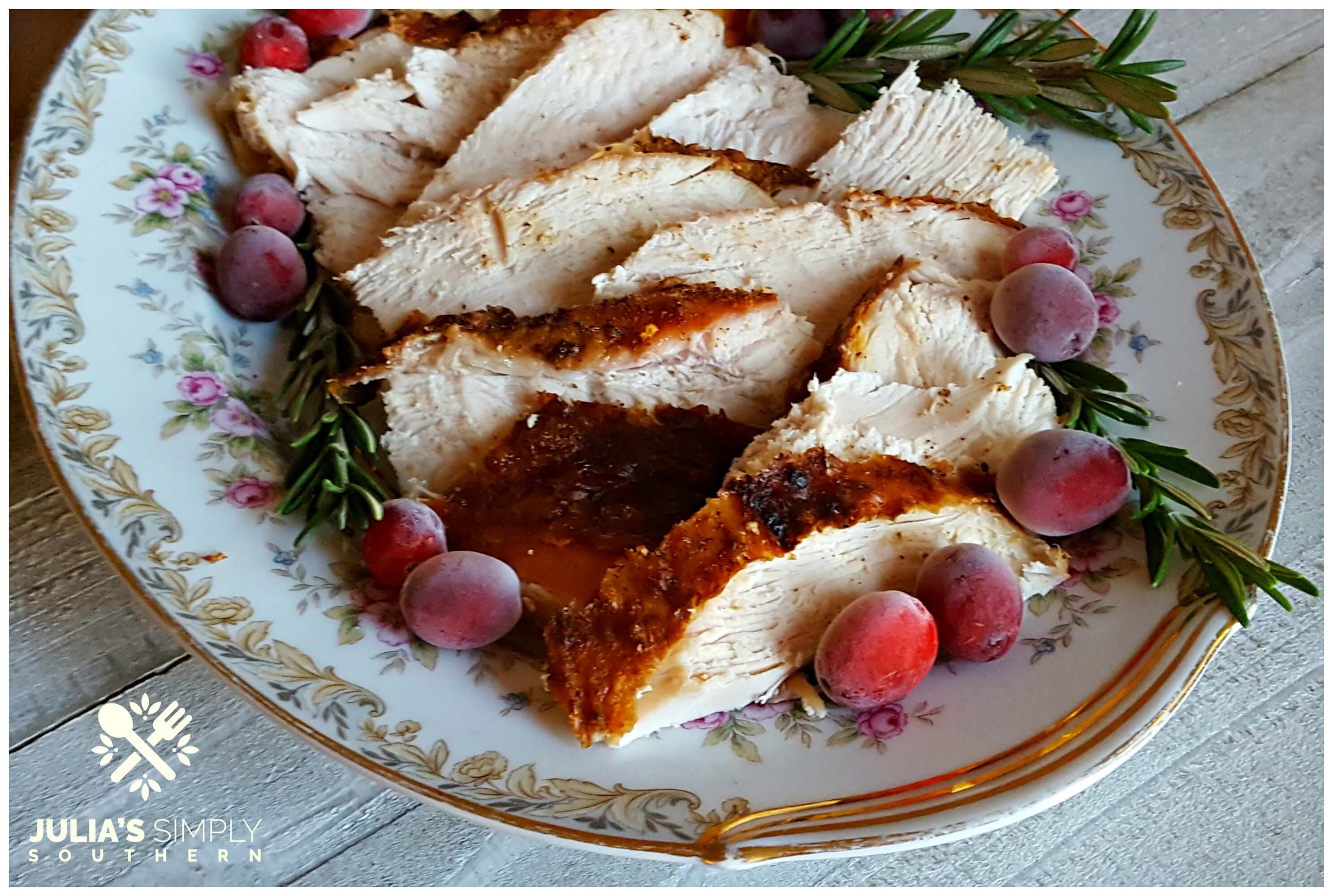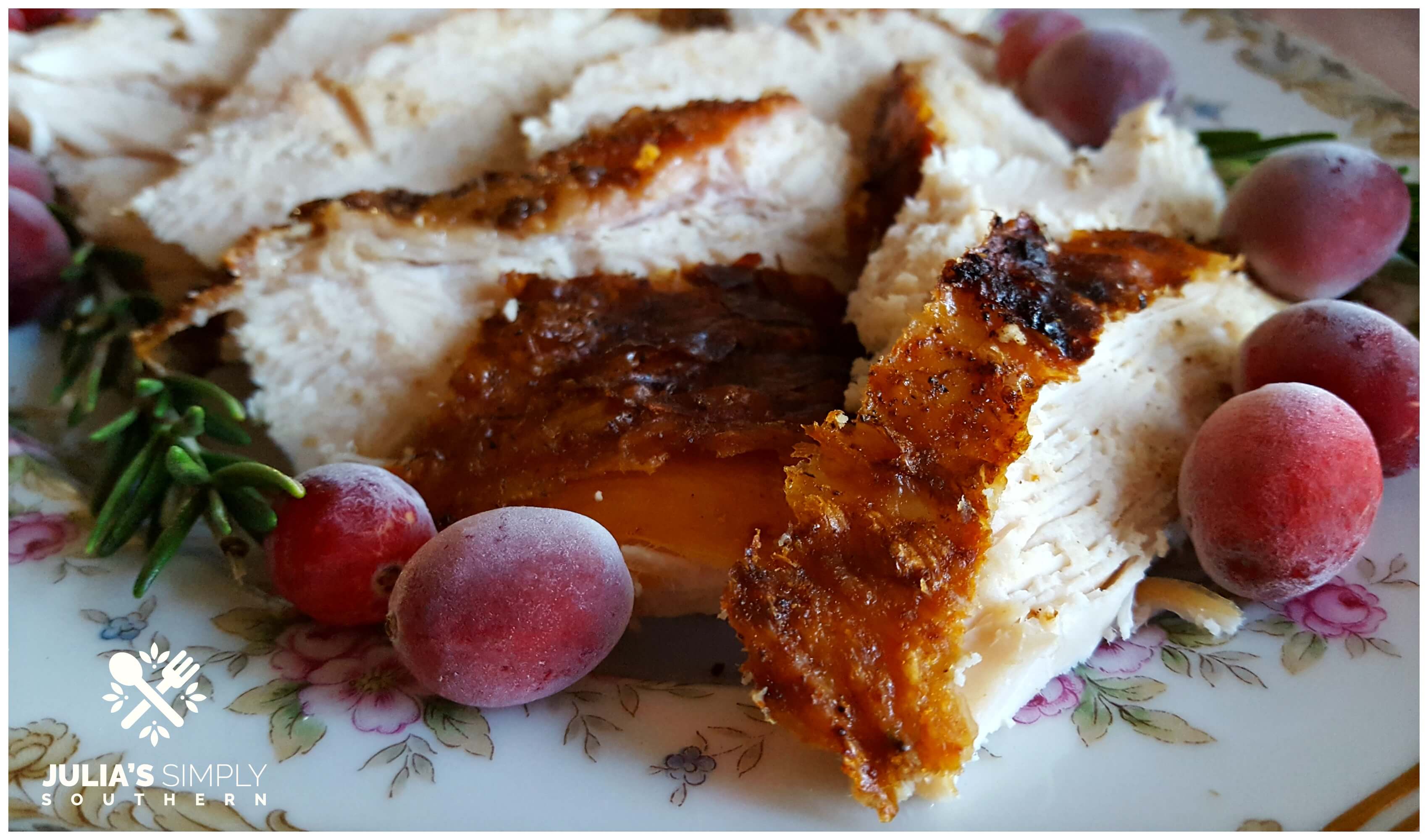 Printable Recipe Card
Yield: 1 Grilled Turkey Breast
Grilled Turkey Breast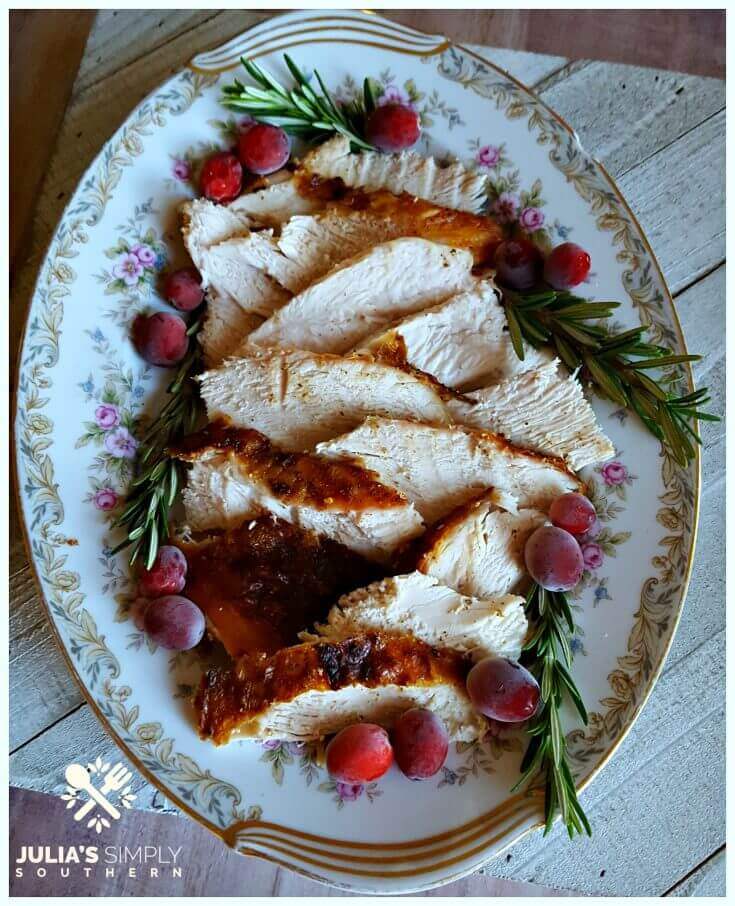 An easy grilled bone in turkey breast that is moist and delicious, perfect for intimate holiday gatherings.
Cook Time
1 hour
30 minutes
Total Time
13 hours
50 minutes
Ingredients
Brine for Turkey Breast
1/4 c Kosher Salt
1/4 c Granulated Sugar
2 c Water, for diluting salt and sugar
3 c Ice
1 Gallon of Cold Water
Turkey Breast for Grilling
4-5 lb Bone In Turkey Breast
1 Lemon
1 Small Onion
3 Stalks of Celery
2 Carrots
1 Small Onion, peeled and halved
Fresh Herbs (Rosemary, Thyme, Sage)
1/2 Stick of Butter, room temperature
Seasonings (Kosher Salt, Cracked Black Pepper, Poultry Seasoning, Onion Powder and Paprika)
Other
Foil Roasting Pan
Gas Grill
Instructions
Brine
Add the salt, sugar and 2 cups of water to a large pot over medium heat and stir until the salt and sugar are dissolved (no need to boil) Remove from heat immediately.
Add the ice and stir to cool.
Add the thawed turkey breast then add a gallon of cold water.
Cover the pot and refrigerate 12 to 24 hours.

Grilling the Turkey Breast
Preheat the gas grill by turning all burners on high and closing the lid.
Place a couple of carrots and celery stalks on the bottom of a roasting pan.
Remove the turkey from the brine solution and pat dry with paper towels, until the outside is completely dry.
Discard the brining solution.
Add a cut lemon, onion, stalk of celery and sprig of rosemary, thyme, and sage to the cavity of the turkey breast.
Next, use room temperature butter to spread under the turkey skin and all over the outer skin of the turkey breast.
Next, season according to taste using kosher salt, cracked black pepper, onion powder, poultry seasoning and paprika.
Adjust burners so that the roasting pan with the turkey breast will sit over indirect heat.
Close the grill lid and adjust heat setting until the grill thermometer reads 325°F.
Grill the turkey breast 1 to 1.5 hours, or until a meat thermometer reads the internal temperature of the turkey breast reads 165°F.
Remove the turkey and cover with foil to rest 20 to 30 minutes before carving. Resting meat is important, don't short cut this step.
Notes
If you're searching for an easy brine for a whole turkey:
1 c Kosher Salt
1 c Sugar
2 Gallons of Cold Water
Recommended Products
As an Amazon Associate and member of other affiliate programs, I earn from qualifying purchases.
Nutrition Information:
Yield:
6
Serving Size:
2 Slices
Amount Per Serving:
Calories:

125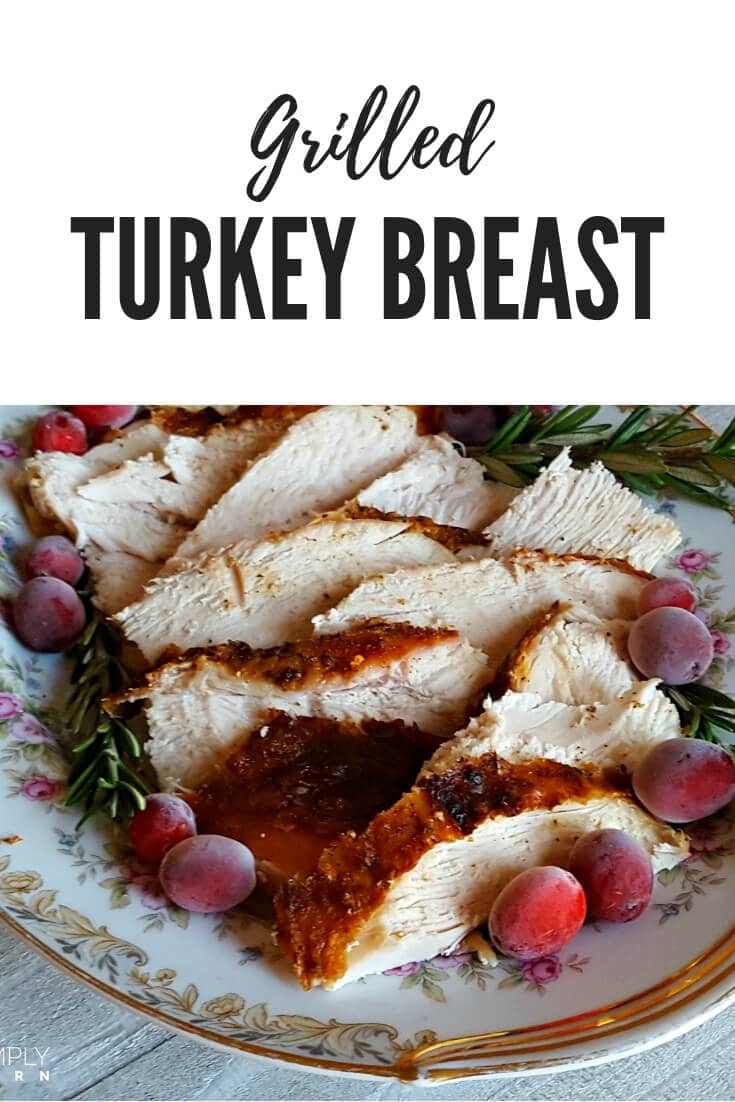 See this recipe shared at Meal Plan Monday and Weekend Potluck
Thank you so much for stopping by! I am so glad that you did.
Be sure to take a moment to subscribe to my email list while you are here. Subscribers receive a weekly newsletter from me with the latest recipes and news here on the blog.
Meet Julia
Author of Julia's Simply Southern
Hey Y'all! I'm Julia, the cook and writer behind the recipes here at Julia's Simply Southern. I began my website so that I could share easy to follow recipes that anyone can use to put a home cooked meal on the dinner table. Thanks so much for stopping by!
Follow me on Facebook | Twitter | Instagram | Pinterest | YouTube