In this post I am sharing the classic Fried Bologna Sandwich.
The other night, I made fried bologna sandwiches for supper. It is rare for us to share this as a meal together but Mr. Simply Southern requested it.

It got me wondering….how often do you enjoy a classic fried bologna sandwich?
By the way, we call it baloney in my neck of the woods (pronounced BA-LON-EEEEE).
"If you were raised in the South, a bologna sandwich was a crucial part of childhood." ~ Jenn Rice
If I'm being completely honest, I don't love bologna as much as the mister does. He will grab one of those pre-packaged deals with the red snappy plastic ring around it to snack on.
I however will only eat bologna if it is fried and these days I get it from the deli. Growing up though, there was no deli to get fancier bologna. It was all the stuff with that red plastic ring and we were glad to have it.
I think that bologna was a popular choice because it was cheap and you never knew if you'd just be feeding your own children or all of the kids from the neighborhood.
I can remember my mama even frying it up for breakfast if there was no bacon or sausage.
Fried Bologna Sandwich on White Bread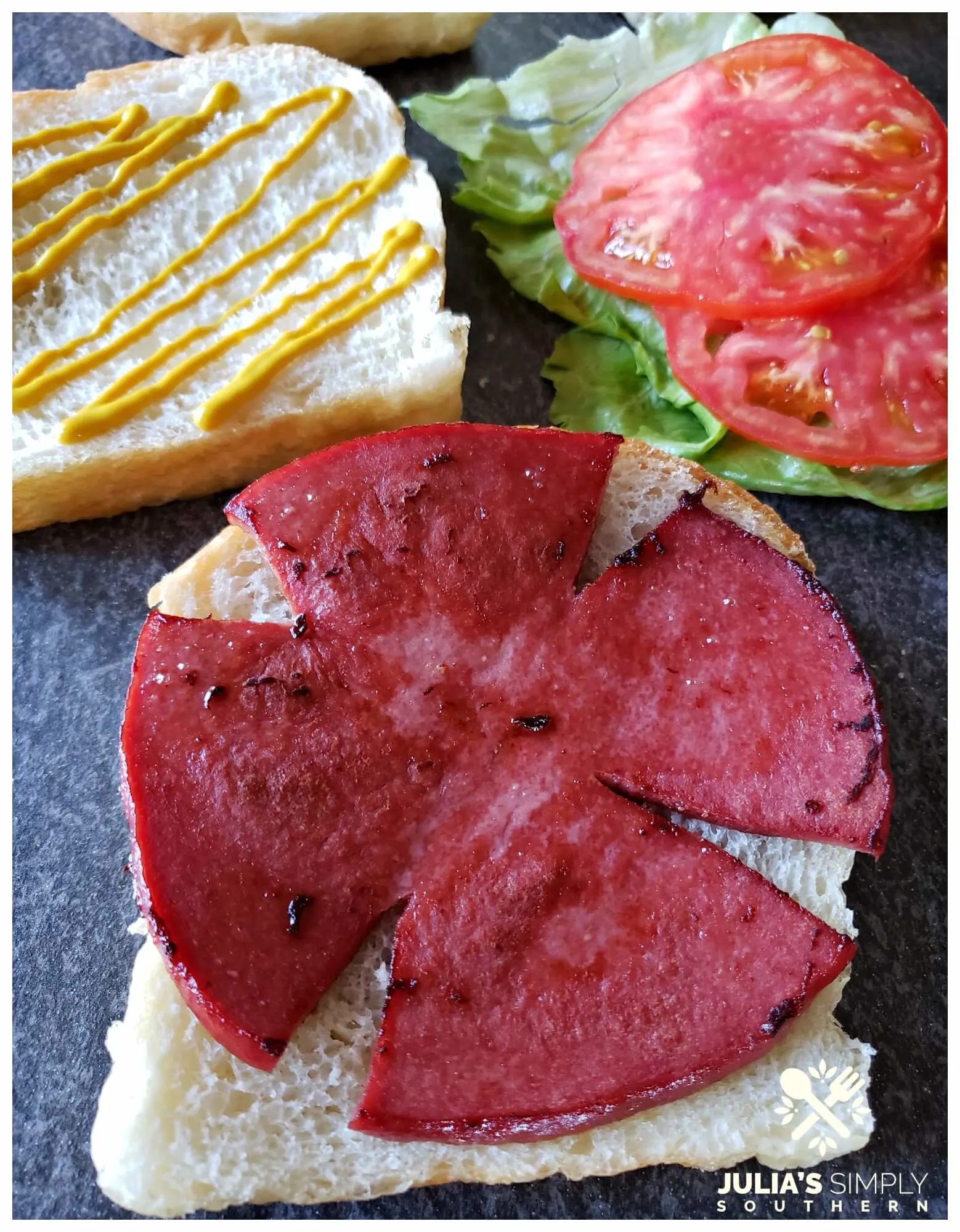 What do I need to make a bologna Sandwich?
Bologna
Bread
Condiments – like mustard or mayonnaise
Cheese – if desired
Toppings – like lettuce, tomato or onion if desired.
There is only but one rule to a bologna sandwich. It must be made on squishy white bread. No exception!
What do you put on a bologna sandwich? Toppings can vary according to taste. I prefer my fried bologna sandwich pretty basic with some yellow mustard. The hubs prefers Duke's mayonnaise, melted American cheese, lettuce, tomato, and thin slivers of onion.
Leave me a comment below and let me know what you prefer on your baloney sandwich 🙂
Needless to say that we enjoyed our supper the other night. It was delicious and the deli bologna I picked up had a bit of a spicy kick to it.
Lunch Box Sandwich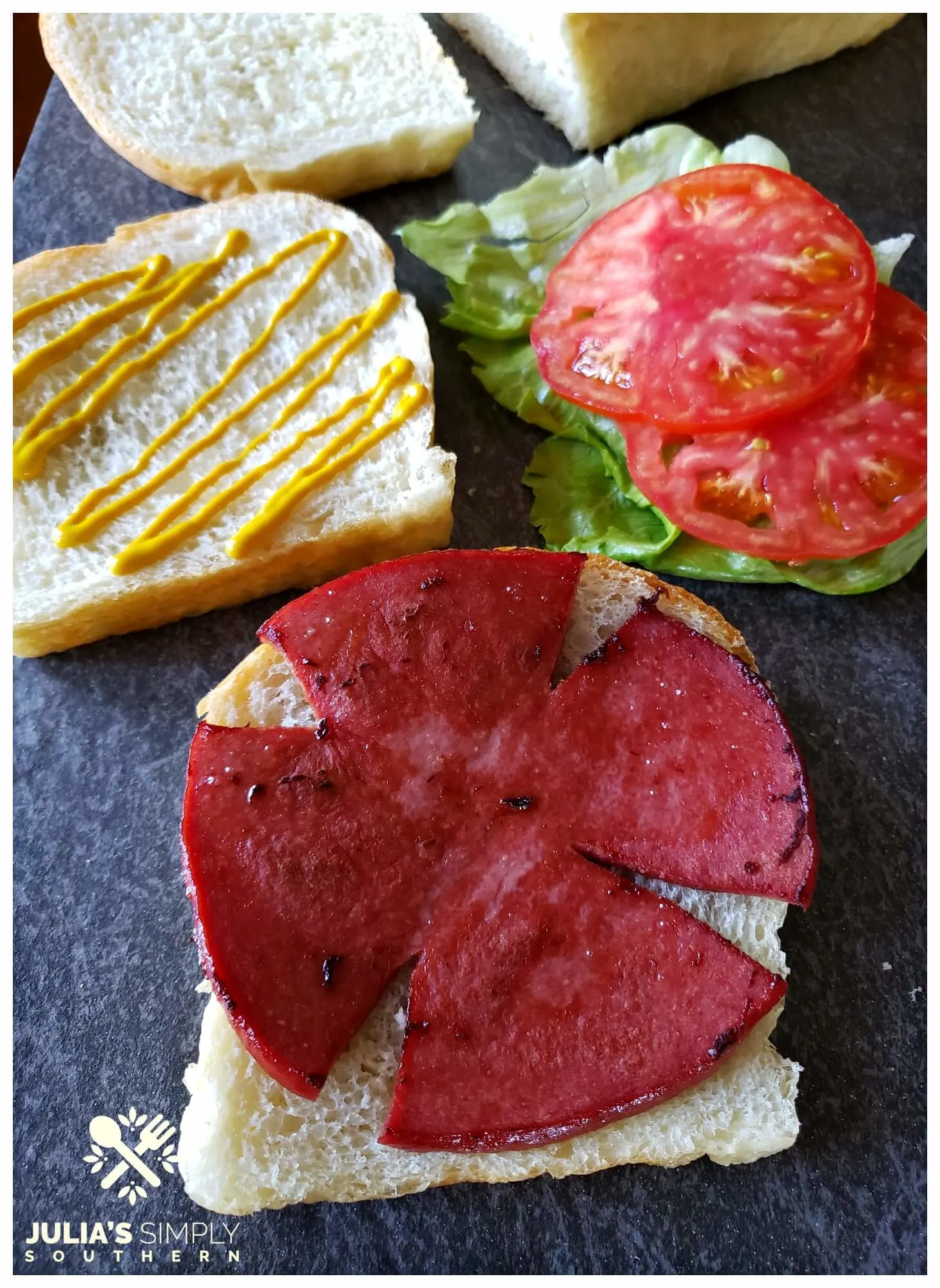 One of the things that I love about growing up and and living in South Carolina is that there are countless local favorite lunch spots with the best food ever.
You're guaranteed to find a fried bologna sandwich on the menu too, in case you have a hankering for one. Plenty of people do too.
How to Make a Fried Baloney Sandwich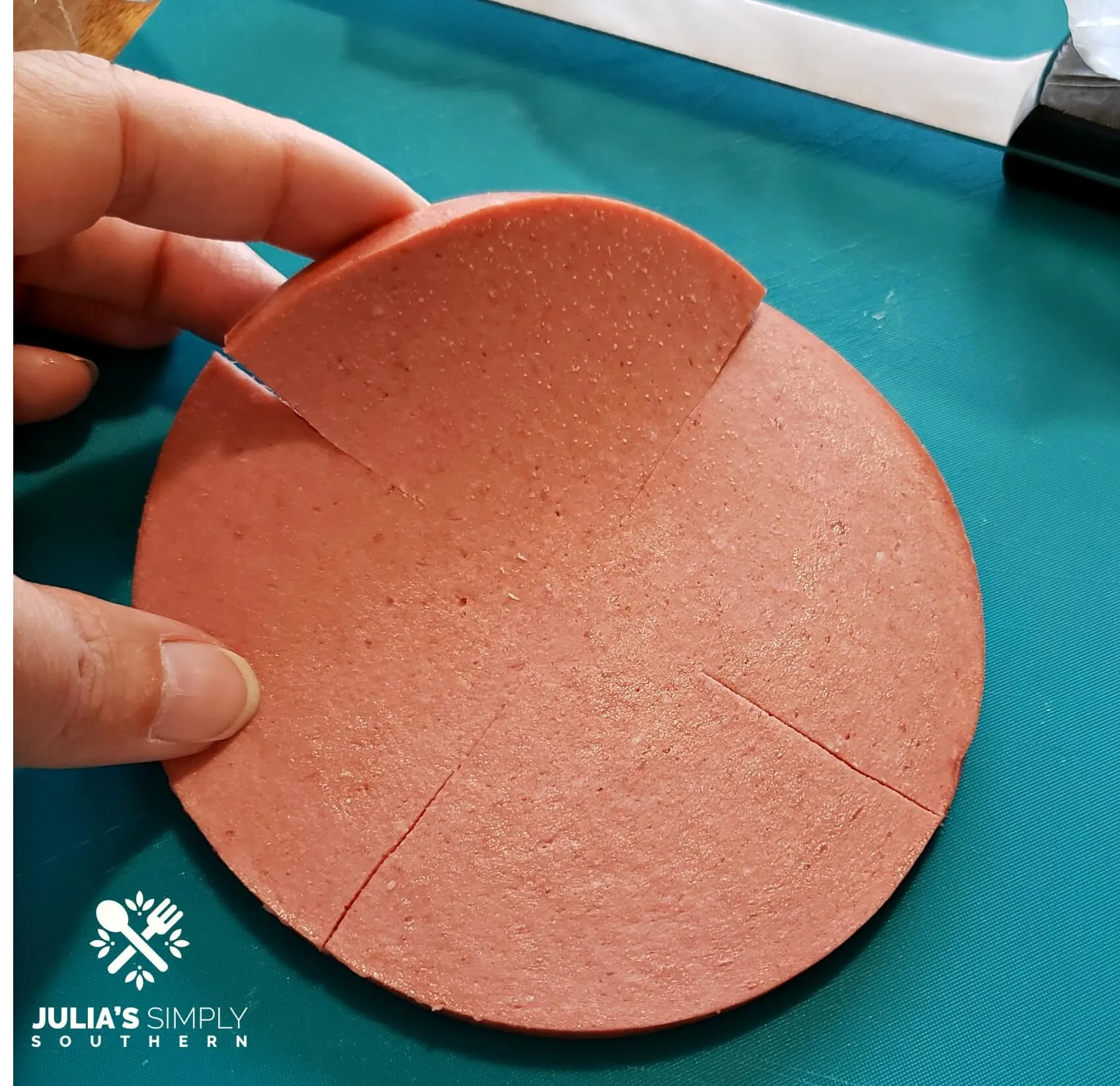 It takes just a few minutes to make yourself a fried bologna sandwich. The first thing you gotta do it cut some slits around the bologna.
I cut four, just like mama always did, to keep it from bubbling up in the pan. If you don't cut the slits then the center of the bologna will rise up in the pan like something is hiding up under it.
The slits just help keep it flat so it gets caramelized all over and fits on the bread good.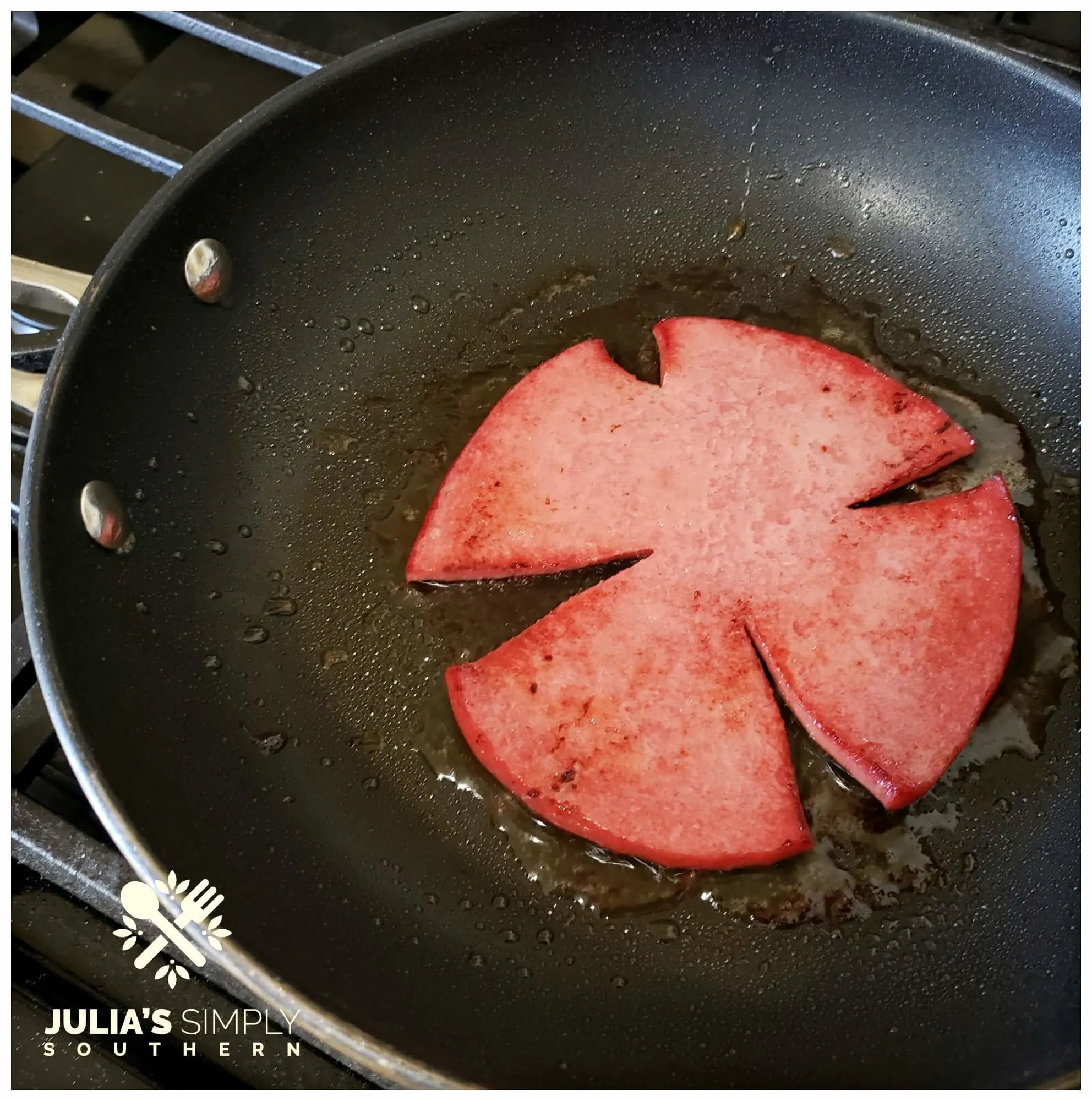 Add a drizzle of cooking oil to the skillet and heat over medium. Bologna is a pretty fatty sausage meat so a teaspoon or so will do. As it fries, the baloney will release some of it own fat into the pan.
Fry the baloney until browned as desired on both sides. Then place it on your squishy white bread and finish making your delicious sandwich.
It just so happened that I had baked a loaf of fresh white bread on the day we made our sandwiches and boy oh boy was that a special treat!
Fried Bologna Sandwich
Yield: 1 Sandwich
Fried Bologna Sandwich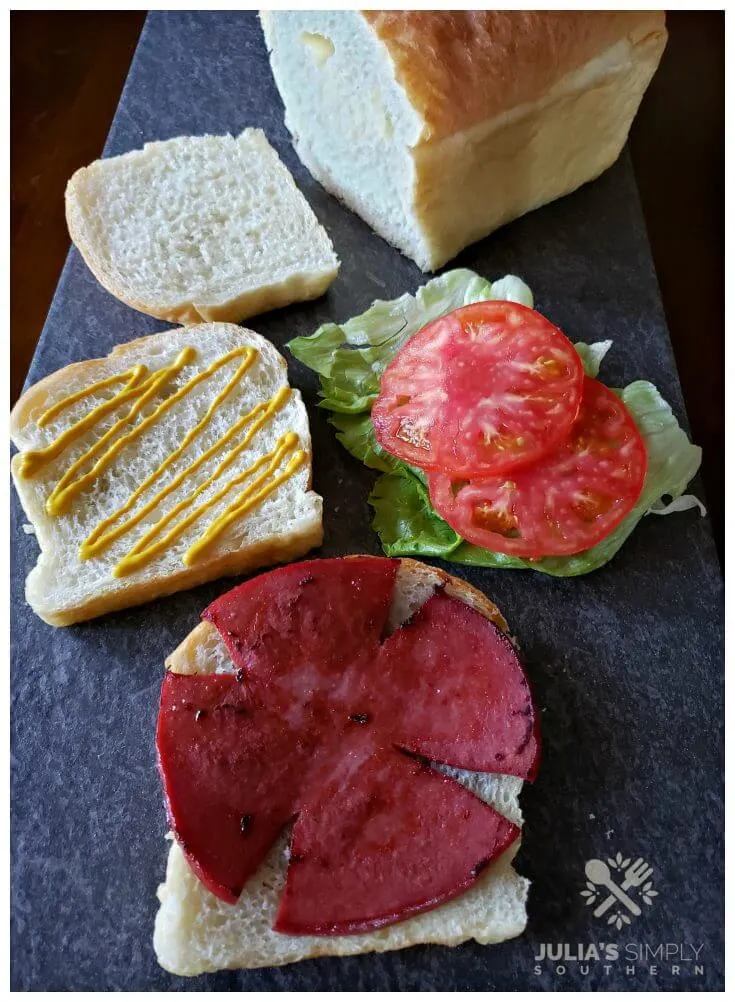 Classic fried bologna sandwich on white bread
Ingredients
1 tsp Vegetable Oil or Butter
Thick Sliced Bologna
2 Slices of Fresh White Sandwich Bread
Mayonnaise or Yellow Mustard
Crispy Lettuce (optional)
Sliced Ripe Tomato (optional)
Sliced American Cheese (optional)
Instructions
Add a drizzle of cooking oil or a small pat of butter to a small skillet and heat over medium.
Make 4 small slices around the outer edges of each bologna slice.
When the skillet is hot, cook each slice of bologna until browned on each side as desired.
Place on squishy white bread and top with your favorite toppings and condiments.
Always slice your sandwich in a diagonal then enjoy.
Nutrition Information:
Yield:
1
Serving Size:
1 Sandwich
Amount Per Serving:
Calories:

132
Total Fat:

10g
Saturated Fat:

4g
Trans Fat:

0g
Unsaturated Fat:

5g
Cholesterol:

17mg
Sodium:

243mg
Carbohydrates:

7g
Fiber:

1g
Sugar:

2g
Protein:

3g
What goes with a fried baloney sandwich? The sandwich is great itself or you can have it along with chips, fries, a pickle or macaroni salad.
Thank you for stopping by! Share this post with your friends. You can also sign up for our free monthly newsletter if you'd like and follow us on social media.
As an email subscriber, you will receive my weekly newsletter with the latest recipes and news here on the blog so you never miss a thing.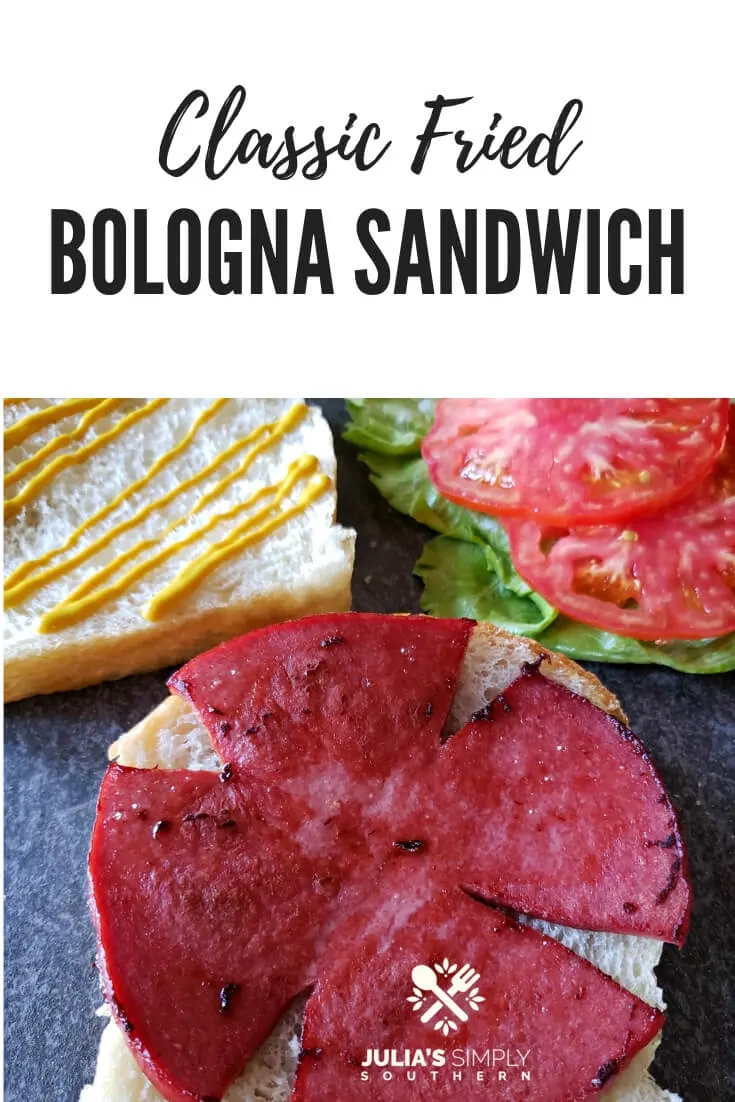 See this recipe shared at Weekend Potluck and Meal Plan Monday
Check Out Our Latest Recipe Posts
Meet Julia
Author of Julia's Simply Southern
Hey Y'all! I'm Julia, the cook and writer behind the recipes here at Julia's Simply Southern. I began my website so that I could share easy to follow recipes that anyone can use to put a home cooked meal on the dinner table. Thanks so much for stopping by!
Follow me on Facebook | Twitter | Instagram | Pinterest | YouTube