In this post I'll be sharing over 50 of my Best Southern Thanksgiving Recipes!
It's that time of year, Friends! It is a great time to start planning your traditional Southern Thanksgiving menu for your family's holiday meal.
Well…as it turns out, I happen to be somewhat of an expert on the Southern Thanksgiving meal. It is my favorite meal of the year. I love every part of it from planning the menu, cooking all of the food and fellowshipping with my friends and family around the dining room table.
Thanksgiving is an important tradition for me and I've vowed to make it an annual gathering for the family just as my grandmother did before me.
Southern Thanksgiving Menu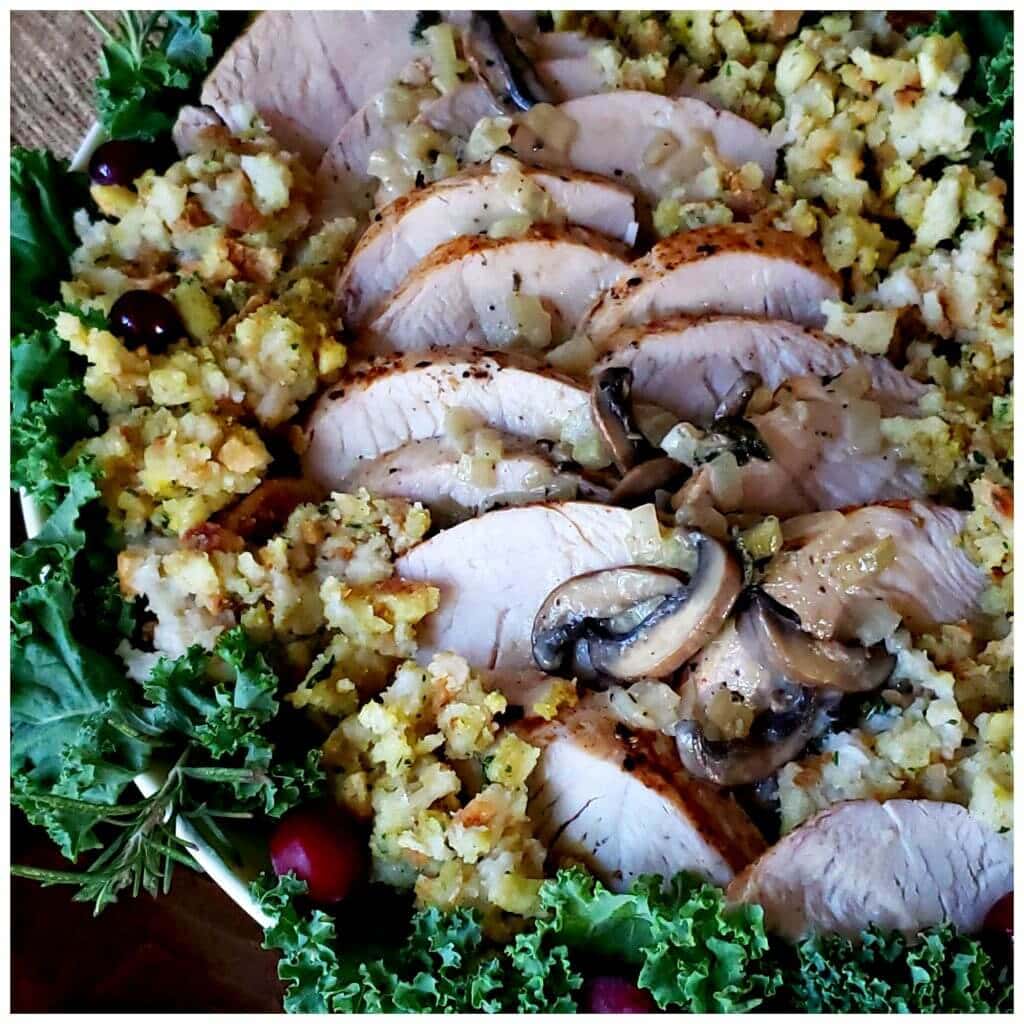 What is a typical Southern Thanksgiving dinner? Traditionally the Southern Thanksgiving meal will consist of turkey, cornbread dressing, a potato dish, a vegetable side, plenty of deviled eggs and dessert options.
There is usually an abundance of food and you'll want to sample every bit of it. The baked macaroni and cheese is always a favorite dish and you would have to fight me to keep me away from the old fashioned soul food sweet potato pie.
You can count on eating leftovers for a few days after this delicious feast of food. Bellies will be full, laughter will fill the air and somebody will be nodding off for a nap.
Southern Thanksgiving Dinner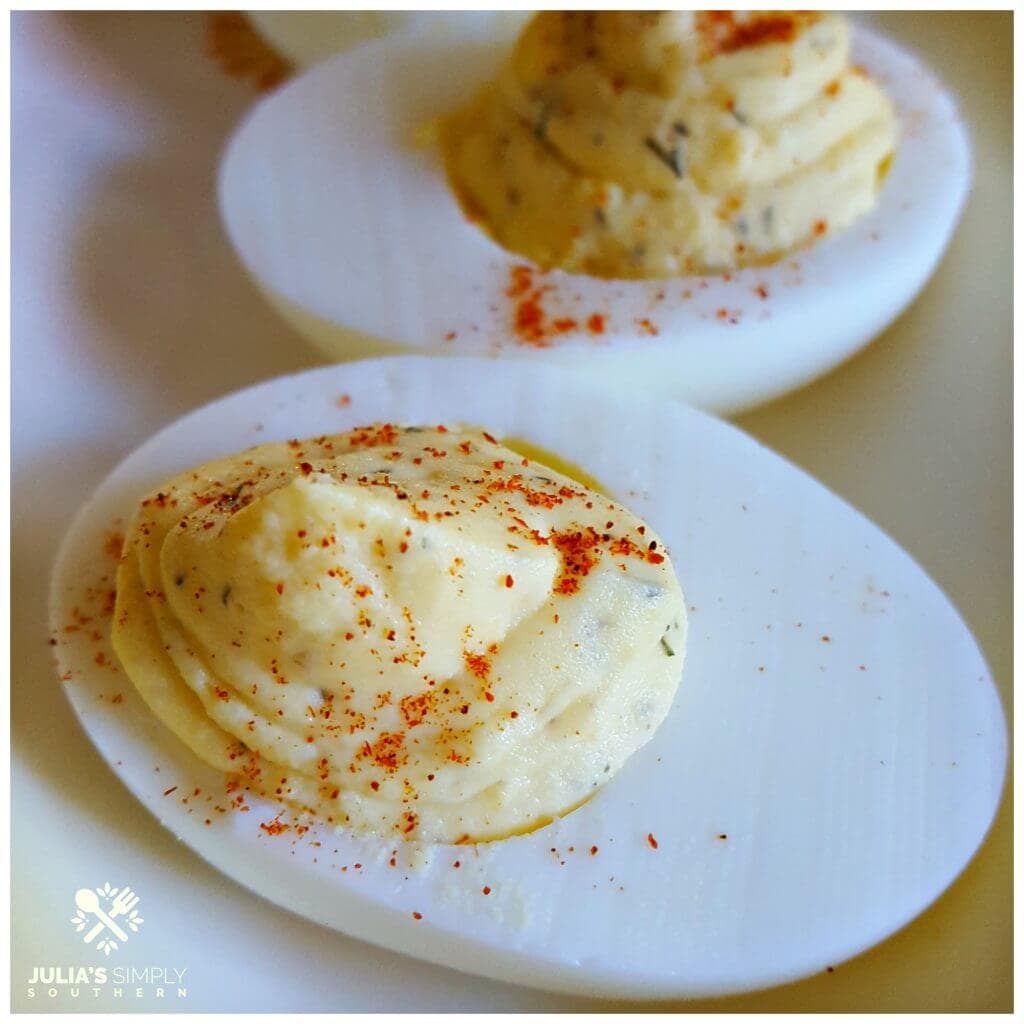 Cornbread dressing would likely rank as the most popular side dish at Thanksgiving. Deviled eggs are also a must and it is an unwritten law that you'll have them or else.
I'm not sure how serious that unwritten law is but I have never risked it and always make a double batch of deviled eggs.
Traditional Southern Thanksgiving Dinner Menu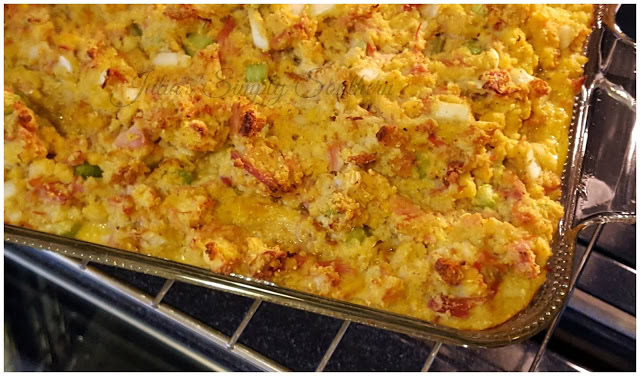 Planning your holiday meal menu is really simple. To begin it depends on how many you'll be serving dinner to so you can plan for enough food, although that is rarely an issue at Thanksgiving. It is more difficult not to make too much food. So, will you be having a small Thanksgiving dinner or a big one?
I've got you covered with plenty of delicious options no matter what size you gathering will be.
Plan out your cooking over several days so that you do not get over-whelmed. This is a big meal and if you're cooking it yourself then you'll need a few days.
What Will I Find in this Recipe Collection?
Southern Thanksgiving Appetizer Recipes
Southern Thanksgiving Side Dish Recipes
Thanksgiving Main Course Options
Southern Thanksgiving Dessert Recipes
So now that you mouth is watering thinking about all of this delicious food, let's get to the Best Southern Thanksgiving Recipes, shall we? There is a printable recipe card for each recipe.
Best Traditional Southern Thanksgiving Recipes
Planning your Southern Thanksgiving menu will be a breeze with this collection of traditional Southern Thanksgiving recipes. Each one is tried and true delicious.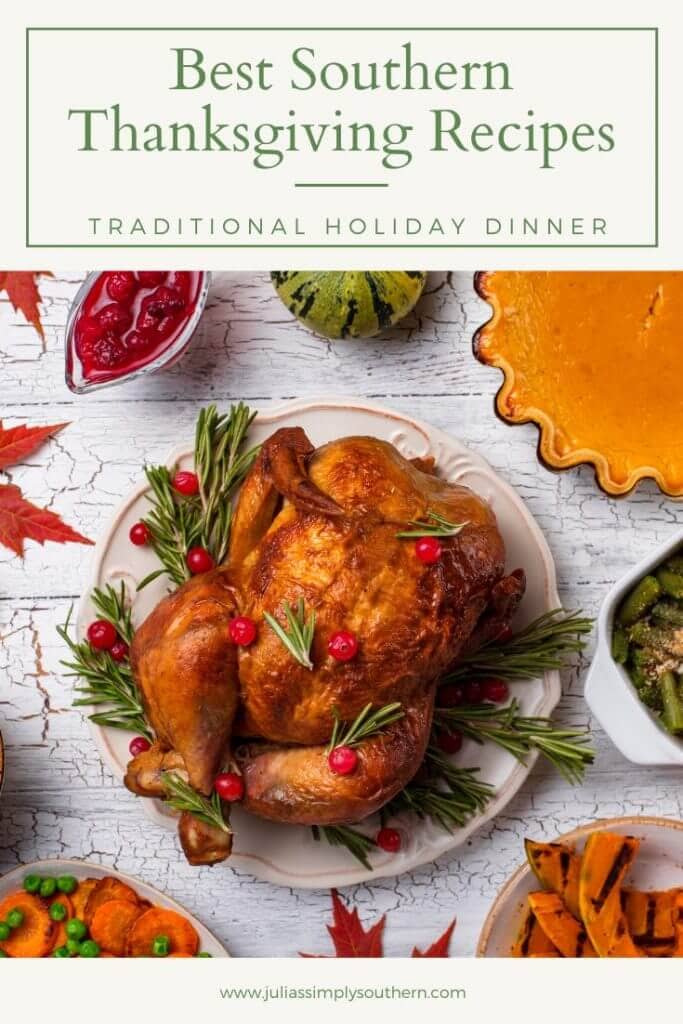 This this recipe for Coca Cola Glazed Ham from South Your Mouth.
Thank you so much for stopping by! I'm so glad that you did. I'd like to take this opportunity to wish you and yours a very happy Thanksgiving. May your holidays be filled with happiness and love!
Be sure to subscribe to my email list and I'll send you a weekly newsletter so that you never miss my latest recipes here on the blog. You can also follow along with me on Facebook, Twitter, Instagram and Pinterest. I'll see you there.
Meet Julia
Author of Julia's Simply Southern
Hey Y'all! I'm Julia, the cook and writer behind the recipes here at Julia's Simply Southern. I began my website so that I could share easy to follow recipes that anyone can use to put a home cooked meal on the dinner table. Thanks so much for stopping by!
Follow me on Facebook | Twitter | Instagram | Pinterest | YouTube