In this post I'll be sharing my easy Southern cornbread recipe without buttermilk.
Well, y'all, I do declare, there ain't nothing quite as comforting as a big ole hunk of Southern cornbread straight out of the oven!
Honey, when that golden crust gets all crispy and the butter starts melting on top, it's like a warm hug for your soul.
Now, I've been cooking up a storm down here in the South for as long as I can remember, and let me tell you, cornbread is a staple in every Southern kitchen.
I get this question a lot, not just for cornbread, for substitutions if you don't keep buttermilk on hand for cooking. If you find yourself craving that classic Southern cornbread but don't have any buttermilk on hand, don't you worry none!
There's a way to make some mighty fine cornbread without it. You see, buttermilk adds a delightful tang and tenderness to cornbread, but we can still whip up a delicious batch using other liquids. While buttermilk is delicious in your classic Southern cornbread, there is certainly no law that says it is a must.
So, grab your cornmeal, flour, and a few other pantry staples. I'm gonna share with you my tried-and-true, down-home recipe for the most delicious Southern cornbread you've ever tasted.
Easy Cornbread Recipe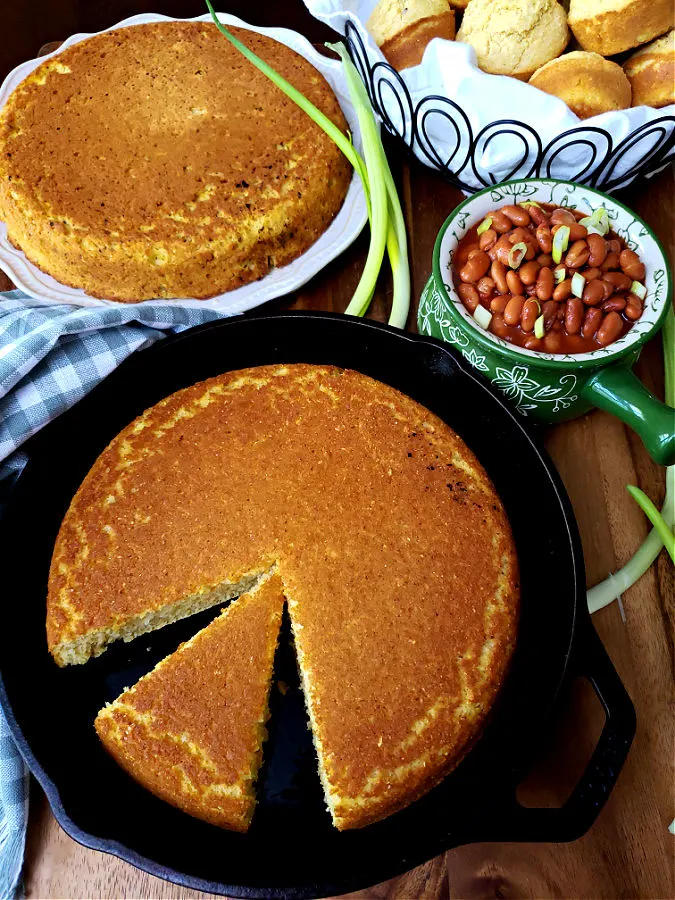 There was always a side of cornbread or biscuits on the table growing up. That quick bread ensured that nobody left the table hungry.
I'll be using milk in this recipe that I am sharing, but there are other options. I remember even seeing Mama make cornbread with water if need be.
What liquids can you use to make cornbread?
The choice of liquid can influence the flavor and texture of the cornbread. Here are some common liquids you can use:
Milk: This is a classic choice and I prefer whole milk, which we called sweet milk growing up. Milk adds richness and tenderness to the cornbread. Heavy cream would also be a great choice for cornbread batter.
Buttermilk: Buttermilk is a Southern favorite for its tangy flavor and ability to create a tender crumb. If you don't have buttermilk on hand, you can make a buttermilk substitute by adding a tablespoon of white vinegar or lemon juice to a cup of milk and letting it sit for a few minutes to curdle.
While I don't enjoy drinking buttermilk, like Nanny did, I do keep it on hand for cooking. You can even buy small containers of it if you don't expect to use too much. I consider buttermilk a pantry staple at my house.
Sour Cream: Sour cream can make cornbread incredibly moist and tender. It also contributes a tangy flavor. If I don't have sour cream, I will throw in a dollop of Duke's mayonnaise. Yogurt could be used too.
Water: In a pinch, you can use plain water as the liquid for your cornbread. While it won't add any additional flavor or richness, it will still yield a basic, no-frills cornbread. A broth or stock could also be used.
Keep in mind that different liquids may slightly alter the taste and texture of the final product, so feel free to experiment to find your favorite combination.
Traditional Southern Cornbread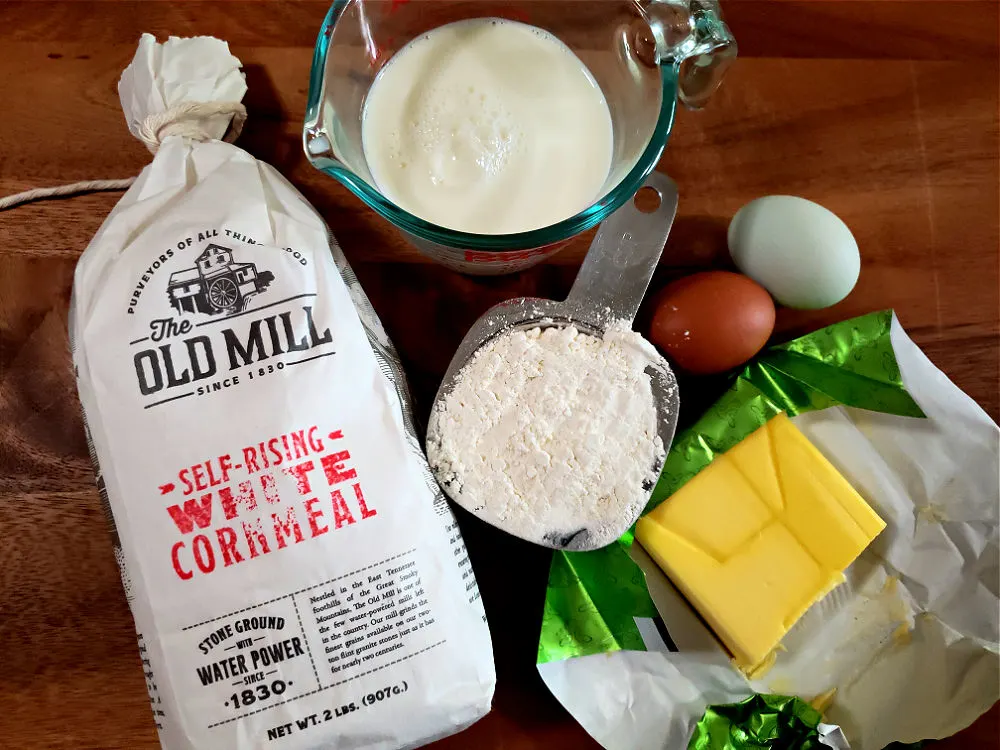 Y'all know the best Southern-style cornbread is homemade. It does not come in a box mix. Besides, cornbread takes just a few simple ingredients to prepare.
Here's what you'll need to make this easy homemade cornbread:
Butter – a little for the hot skillet and more for serving. Does it get any better than softened room temperature butter spread over warm cornbread? It is so delicious!
Self Rising Cornmeal – I prefer stone ground cornmeal and the self rising blend already has the leavening agent. Whether you use yellow cornmeal or white cornmeal is a matter of personal preference. The primary difference in the color of cornmeal is the type of corn it comes from.
Self-Rising Flour – my preferred brand is White Lily, unbleached self rising flour, which is a soft winter wheat flour. If you use all purpose flour then you'll need to add the leavening agent…like baking powder.
Eggs – are the binding agent that holds everything together, as well as adding a bit of rich flavor and helps keep the cornbread moist. The rich color of the yolks in the local free range eggs that I buy can also add a hint of color to the cornbread.
Whole Milk – helps create moisture to form the batter.
Now, depending on where you are from, you likely noticed that I didn't include sugar. We are savory cornbread people. If you prefer a sweet cornbread recipe, then by all means add a bit of sugar or honey to your cornbread batter.
Personally, I find that cornbread has a natural hint of sweetness from the corn itself that has been ground into meal.
There are people in the North and in the South that prefer their cornbread on the sweet side. That is neither right or wrong (so none of that "true Southerners" talk) and personal preference that depends on where you grew up and whether or not that is how your Mama made it.
Southern-Style Cornbread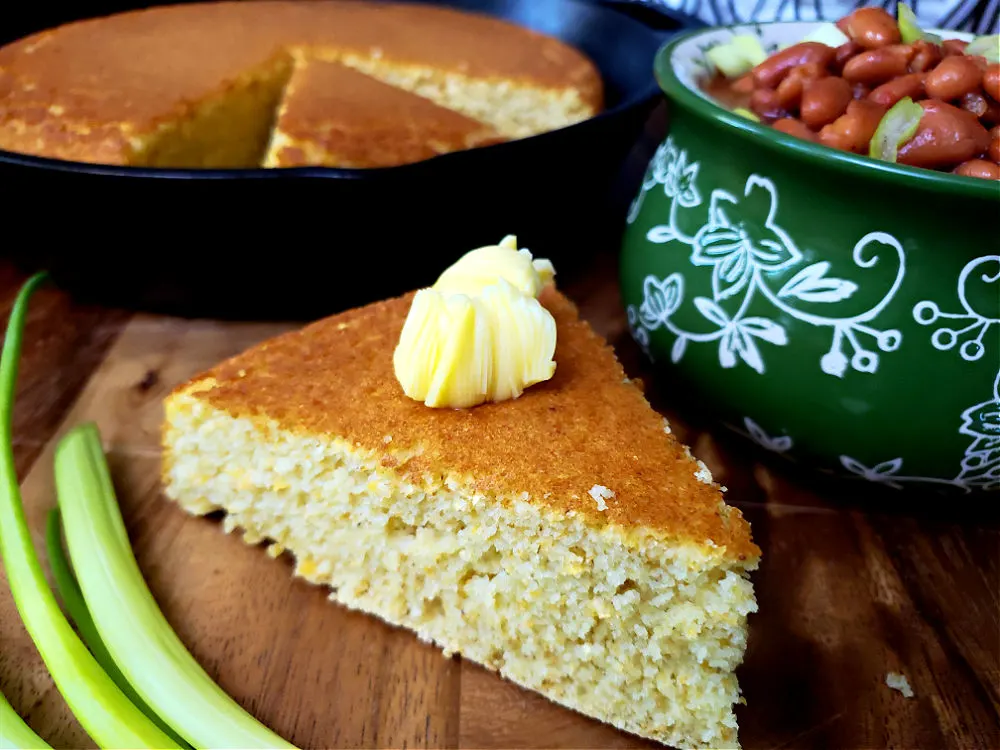 Look at that scrumptious cast-iron skillet cornbread with golden brown crispy crust. That crispy brown crust is the bottom part that has been flipped.
I am not sure if everyone serves their fresh baked cornbread like this, but we always flip it and serve the bottom side up because it looks prettier. Or, at least, that is how my people do it.
How to make this delicious cornbread recipe?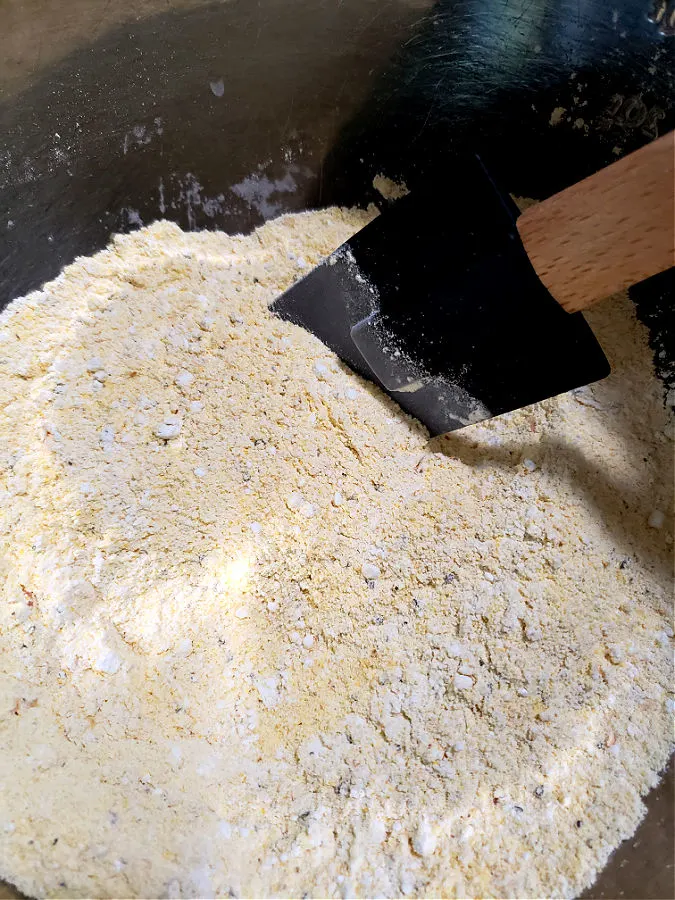 The first step in making your traditional homemade cornbread is to preheat your oven. Add a bit of butter, or if you prefer bacon grease, or a tablespoon of vegetable oil to your cast iron skillet and place it into the oven while it heats up.
Next, add the dry ingredients to a mixing bowl or large bowl and whisk together.
Homemade Cornbread is the Best!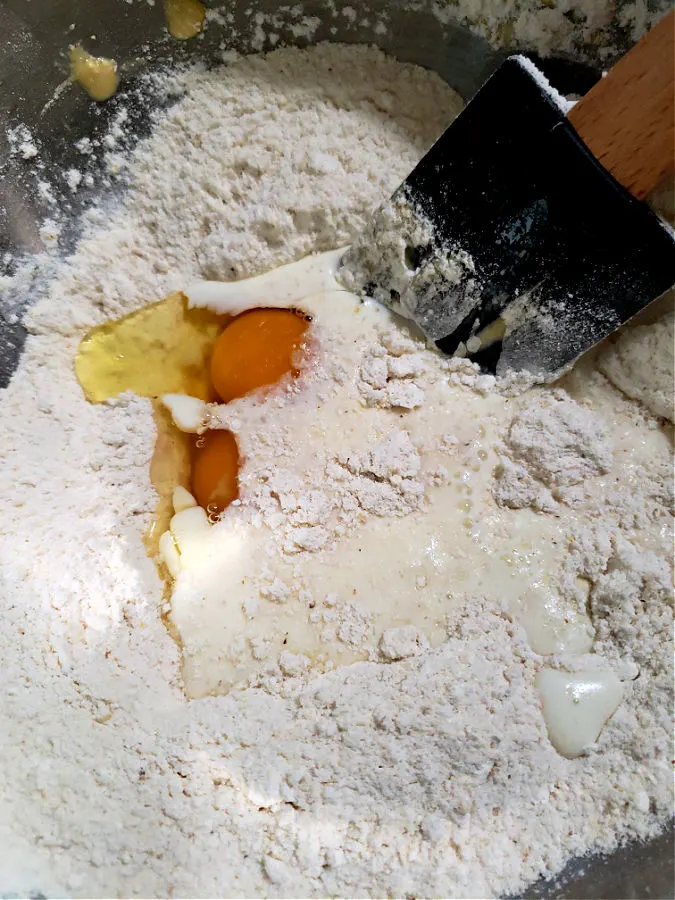 Then add the eggs and milk and use the tip of your spatula to break the yolks and start mixing everything together.
Simple Moist Cornbread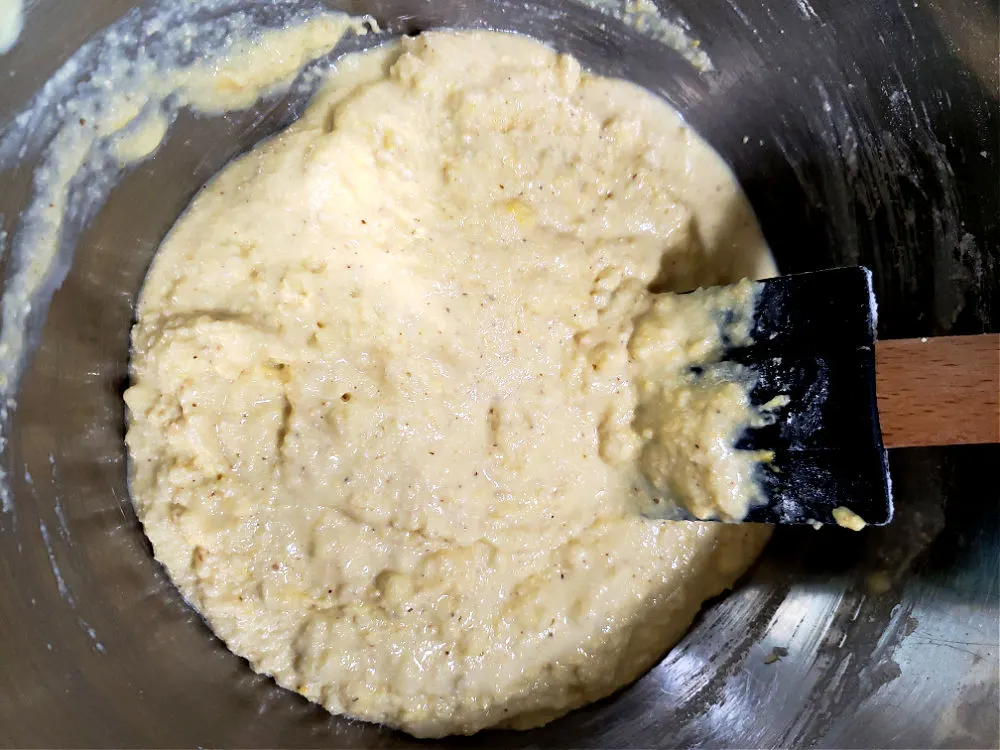 Stir the wet ingredients just enough to form the cornbread batter. The batter should be wet but not runny.
Southern Skillet Cornbread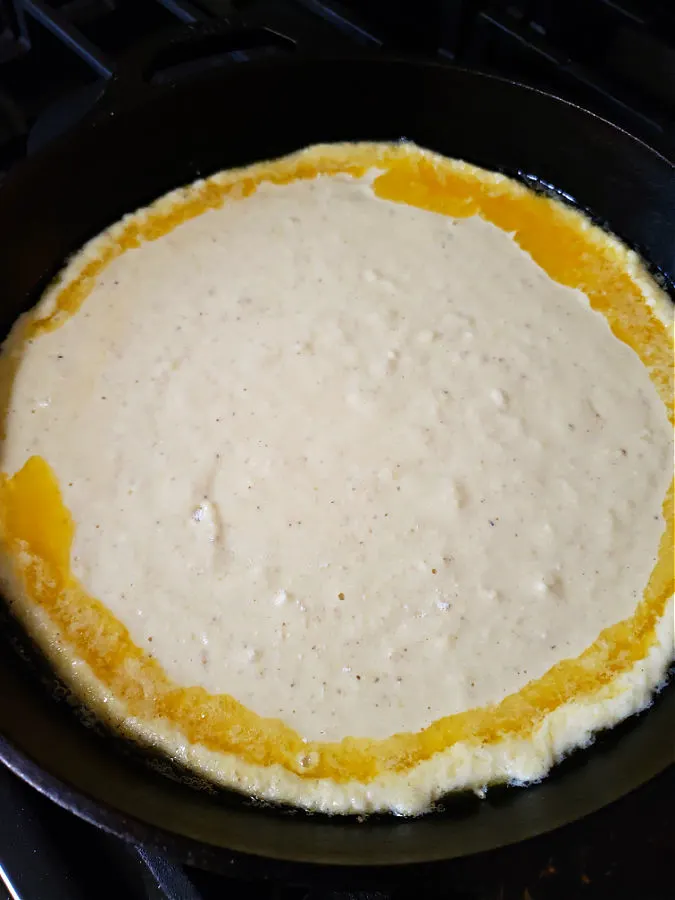 Carefully, using pot holders, pull that hot skillet from your oven then pour the cornbread batter into the melted butter (or bacon drippings or oil if using instead).
Use your pot holders to transfer the hot skillet with the cornbread mixture back into your piping hot oven to bake until golden brown.
Fresh From the Oven Cornbread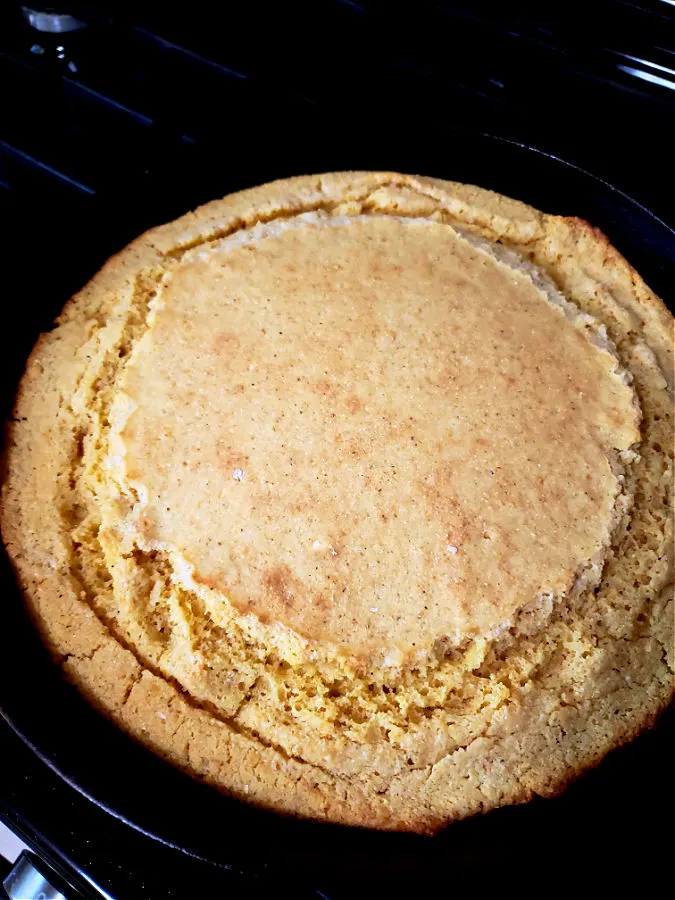 When the cornbread is browned on top and you see the edges pulling away from the side of the pan, it is ready to come out of the oven.
Y'all can see in the photo above what I meant earlier that the top side of the cornbread is not the prettiest, which is why we flip it and leave the bottom side facing up to serve.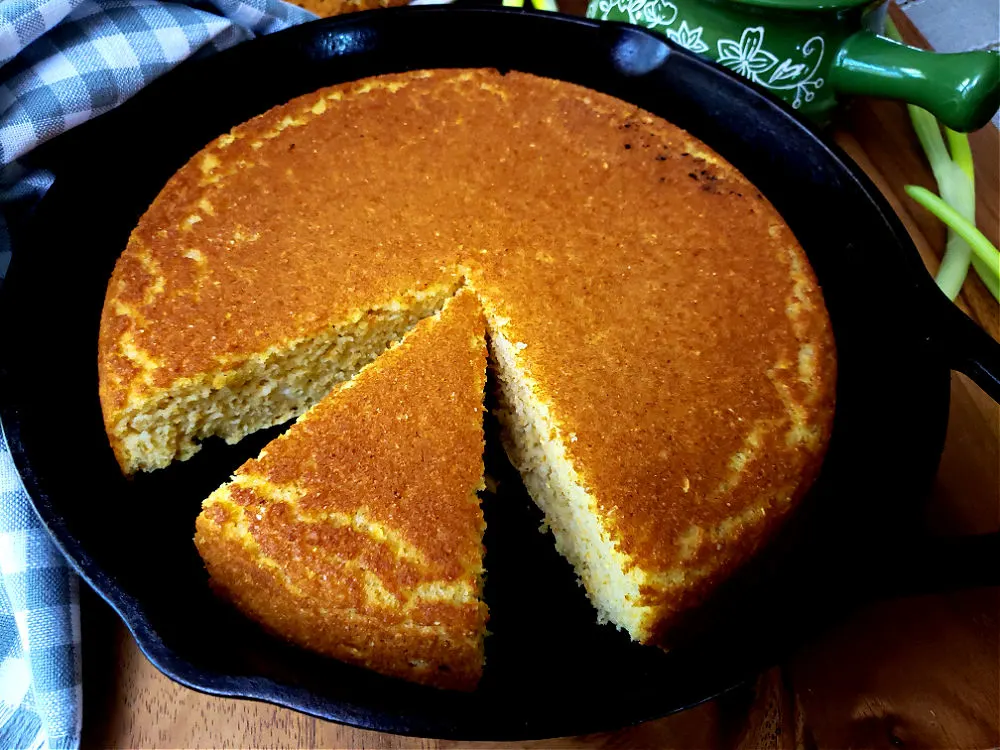 Printable Recipe Card
Yield: 1 Cake of Cornbread
Easy Homemade Southern Cornbread Recipe without Buttermilk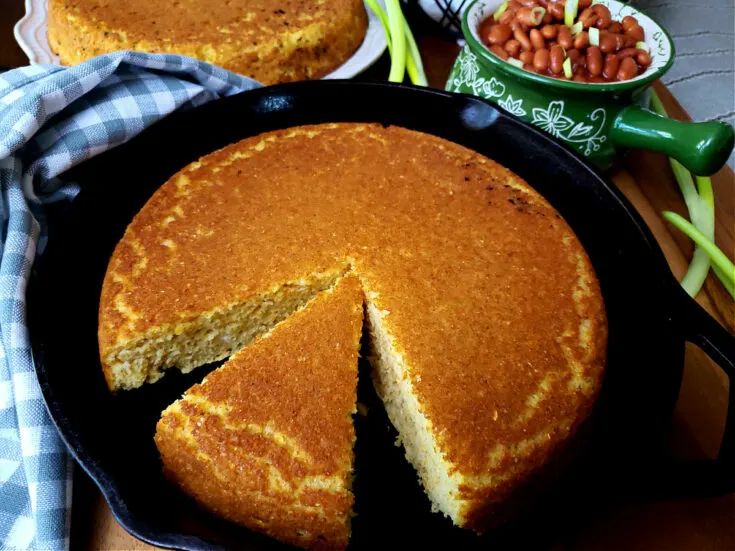 Well, y'all, there ain't nothing quite like a good traditional Southern cornbread. This golden treasure is a true Southern classic, y'all. Made with love, a bit of liquid, and a touch of butter or bacon grease, it's crispy on the outside and melt-in-your-mouth tender on the inside. It's the perfect sidekick to any meal, but trust me, you might just find yourself makin' it the star of the show! Enjoy your homemade cornbread with pinto beans, fried chicken homemade soups, and more for a feast that is sure to please.
Ingredients
1 tablespoon Butter, plus more for serving
1½ cup Stone Ground Self-Rising Cornmeal
½ cup Self-Rising Flour
2 Eggs
1½ cup Whole Milk, divided
Instructions
To start: add a tablespoon of butter to a cast iron skillet and place it into the oven. Preheat the oven to 400°F (204°C).
While the oven pre-heats; add the cornmeal and flour to a mixing bowl; stir to combine the dry ingredients.
Next, add the eggs and 1 cup of the milk to the dry ingredients. Slowly add the remaining milk as needed to form the cornbread batter. It should be moist but not too runny. Do not over mix the batter.
Use an oven mit and carefully remove the piping hot skillet from the oven then pour the batter into the skillet. Carefully return the hot skillet to the oven and bake the cornbread for 20-25 minutes, or until golden brown and the cornbread is pulling away from the sides of the pan.
Remove the cornbread from the oven when done and carefully flip the cornbread onto a serving plate; allow to cool slightly then serve.
Notes
See full post for more details, tips, and serving options for cornbread.
Recommended Products
As an Amazon Associate and member of other affiliate programs, I earn from qualifying purchases.
Nutrition Information:
Yield:
8
Serving Size:
1
Amount Per Serving:
Calories:

163
Total Fat:

5g
Saturated Fat:

2g
Trans Fat:

0g
Unsaturated Fat:

2g
Cholesterol:

55mg
Sodium:

427mg
Carbohydrates:

24g
Fiber:

2g
Sugar:

2g
Protein:

6g
What to Serve with Southern Cornbread?
Southern cornbread is a versatile and delicious dish that pairs well with a variety of Southern and comfort food classics. Here are some delightful options to serve with your Southern cornbread:
Pinto Beans: A classic Southern dish, pinto beans cooked with seasoning meat, like bacon or ham, and served with cornbread is a comforting and hearty meal. We like our soup beans with a sprinkle of diced onions too.
Chili: Cornbread and chili are a match made in comfort food heaven. The slightly sweet and crumbly texture of cornbread complements the savory and spicy flavors of chili. Top it with some grated cheese, sour cream, and chopped green onions for the ultimate combination.
Fried Chicken: Southern fried chicken and cornbread are a Southern tradition. Of course, we enjoy our fried chicken dinner with biscuits too, so either or will work. But, why not have both?
Collard Greens: A classic Southern combo, cornbread and collard greens make for a soul-satisfying meal. I can't imagine the Southern new year's day meal without collards, purple hull peas, ham, and a side of cornbread.
Barbecue: Whether it's pulled pork, brisket, or ribs, cornbread is a fantastic side dish for barbecue.
Soup Beans and Greens: Cornbread goes well with a simple and hearty combination of beans (such as black-eyed peas, lima beans or pinto beans) and sautéed greens. Throw in a side of pan fried potatoes, and my oh my, is that good eating. It's a staple of Southern cuisine.
Fried Catfish: Southern-style fried catfish and cornbread are a delicious duo. The crunchy fish pairs beautifully with the soft and crumbly cornbread.
Honey, Butter or Apple Butter: Sometimes, all you need is a drizzle of honey or a pat of butter on a warm slice of cornbread. It's a simple yet delightful treat. Apple butter is also amazing slathered over a slice of cornbread.
Homemade Soup: Creamy potato soup, vegetable beef soup, or good ole chicken noodle soup and cornbread make for a warm and comforting combination, especially on a chilly day.
Gravy: Pour some creamy sausage or country gravy over your cornbread for a hearty breakfast or brunch dish known as "biscuits and gravy." Cornbread makes a great alternative to biscuits in this classic recipe.
Feel free to mix and match these options to create a Southern feast that suits your taste buds. Southern cornbread is incredibly versatile and can complement a wide range of dishes, making it a beloved staple of Southern cuisine.
Other things to consider when making cornbread
Can I use this recipe to make cornbread muffins instead? Yes, this recipe will also make a dozen corn muffins. The baking time will be less than baking the skillet style cornbread. Spray your muffin tin and portion batter into each section and bake, check them at about 15 minutes for doneness.
How do I store leftover cornbread? Allow it to cool then wrap in plastic wrap, aluminum foil, or just place it in an airtight container with a lid. The cornbread can stay out at room temperature for a couple of days and will last a few days more if refrigerated. Growing up, a favorite treat was eating leftover cornbread in a glass with buttermilk or regular milk.
What kind of dish can I bake cornbread besides a cast iron pan? You can bake your cornbread in a muffin tin, muffin top pan, square baking dish, round cake pan, or molded pans. Remember that baking times may vary according to your choice of baking pan. The great thing about cast iron is it delivers that wonderful crust.
Remember that Southern cornbread recipes can vary from family to family and region to region. Feel free to experiment and adjust these tips to suit your personal taste preferences.
Popular Recipes on the Blog
The Latest Recipe Posts…
Easy Southern Cornbread Recipe without Buttermilk
In the end, Southern cornbread is more than just a dish; it's a taste of tradition and a slice of Southern hospitality.
Whether it's served with a steaming bowl of chili on a crisp winter evening or alongside a platter of smoky barbecue in the heart of summer, this golden delight never fails to bring comfort and joy to the table.
So, gather your loved ones, savor each crumb, and cherish the memories made around a pan of Southern cornbread.
It's a true Southern treasure that'll keep warming hearts and filling bellies for generations to come.
I can't tell you enough, how grateful that I am that you stopped by! Thank you! I hope that you make a delicious skillet of cornbread with this great recipe to enjoy soon.
Before you go, be sure to subscribe to my email to receive the weekly e-newsletter so you never miss the latest recipes and news here on the blog.
Until next time, love and happy cooking!
Meet Julia
Author of Julia's Simply Southern
Hey Y'all! I'm Julia, the cook and writer behind the recipes here at Julia's Simply Southern. I began my website so that I could share easy to follow recipes that anyone can use to put a home cooked meal on the dinner table. Thanks so much for stopping by!
Follow me on Facebook | Twitter | Instagram | Pinterest | YouTube