In this post you'll find the recipe for delicious Turkey Burgers.
Turkey burgers are a delicious way to save a few calories in your meal when compared to regular ground beef burgers. It's just a few calories though….there is no significant difference in calories between turkey burgers and ground beef burgers.
We occasionally have turkey burgers because we really like them. There is no replacing a good old fashioned grilled beef burger and we have those way more often.
Turkey can tend to be on the dryer side. A ground turkey mix of white and dark meat will have more fat and provide a juicier turkey burger. It's also okay to add some fat if needed to make sure your turkey burgers are juicy.
The hubs adds a little bit of bacon fat into the mixture to ensure we have flavorful and juicy turkey burgers. That's completely optional of course but it works.
Easy Turkey Burgers
What will I need to make delicious turkey burgers? Here is what you'll need to make amazing turkey burgers the whole family will love: ground turkey, bread crumbs, a raw egg, and a few seasonings.
I like onion powder, garlic powder, salt, pepper and Creole seasoning or chili powder. Use whatever you like to suit your taste.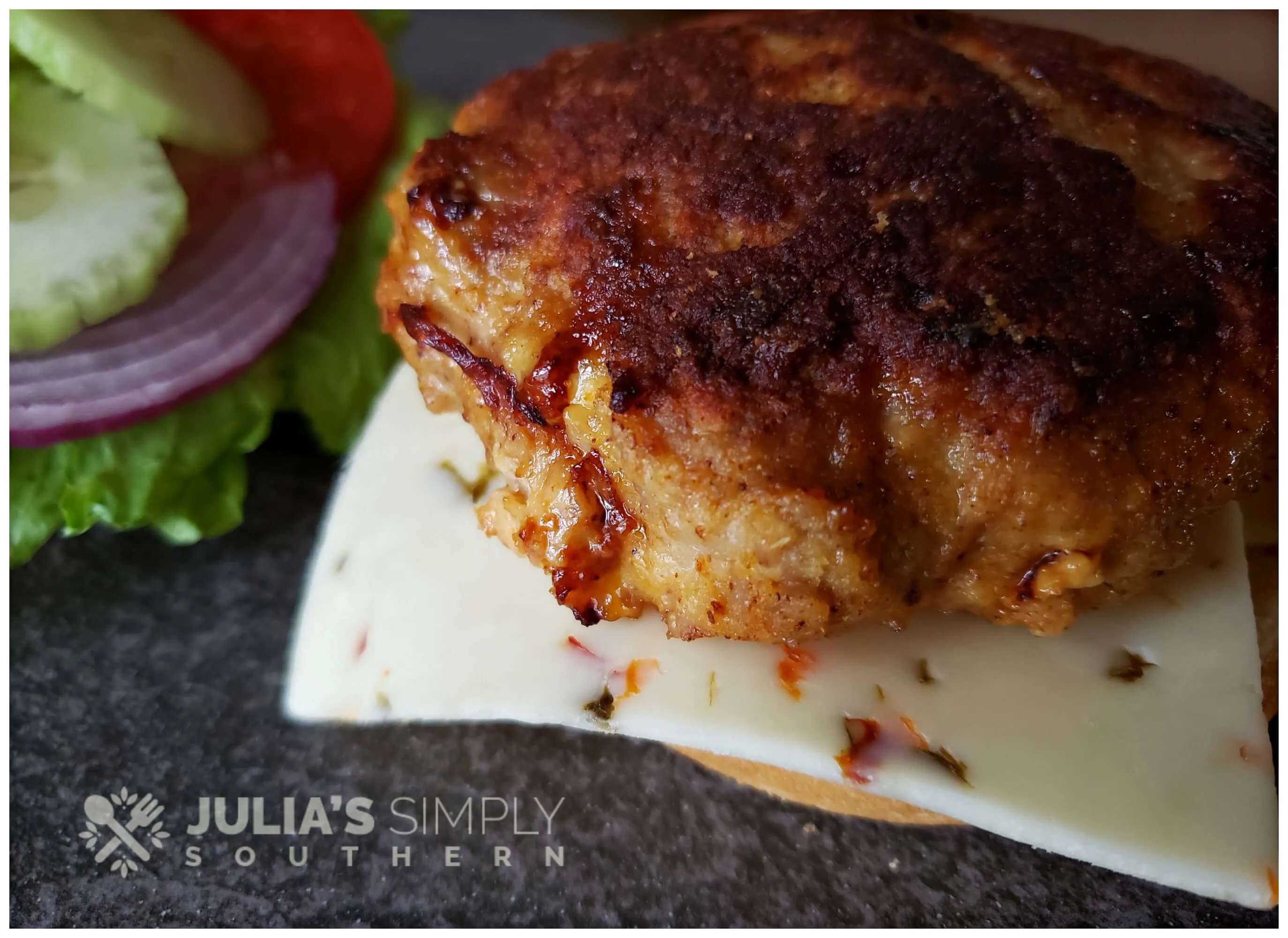 Grilled Turkey Burgers
Combine all of the ingredients together then form into patties. I usually get 3 patties out of this mixture. You can easily get 4 patties though if you make them a tad bit smaller.
After I've formed the patties I usually sprinkle with a little more chili powder or Creole seasoning on the outside for a little extra spiciness and it gives the turkey burgers a nice color during cooking.
Can you grill ground turkey? Yes! Grill the turkey burgers, turning halfway through cooking, until completely done. About 20 minutes.
We had turkey burgers for supper last night and the plan was to grill them. The mister discovered we were out of propane though so I cooked them on the stove top. They are delicious either way.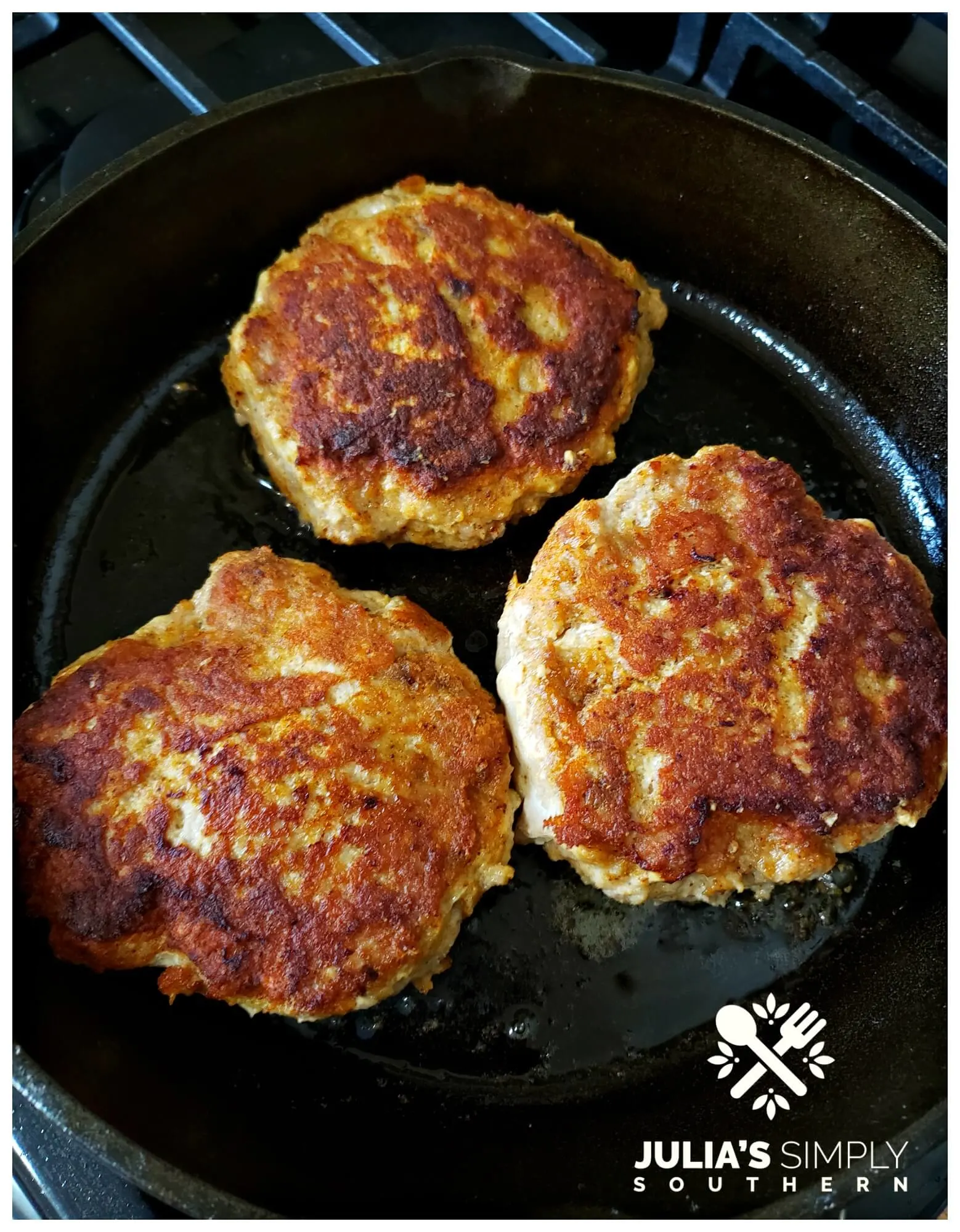 Turkey Burger Recipe Stove Top to Oven
Turkey burgers are also delicious cooked in a skillet on the stove top with a little cooking oil then transferred to the oven to finish cooking.
How to make turkey burgers on the stove? Heat a heavy skillet (I prefer cast iron) over medium heat. Add about a tablespoon of cooking oil (vegetable or peanut recommended).
Once the skillet is hot add the turkey burger patties. I cover the skillet with a splatter guard and let them hang out and sizzle for four to five minutes then flip and do the same. This forms a nice crust on the out edges.
Transfer the skillet to a preheated 350°F (176°C) oven to finish cooking through (about ten minutes). It is very important to fully cook ground turkey burgers to an internal temperature of 165°F.
Consuming under cooked turkey can cause illness.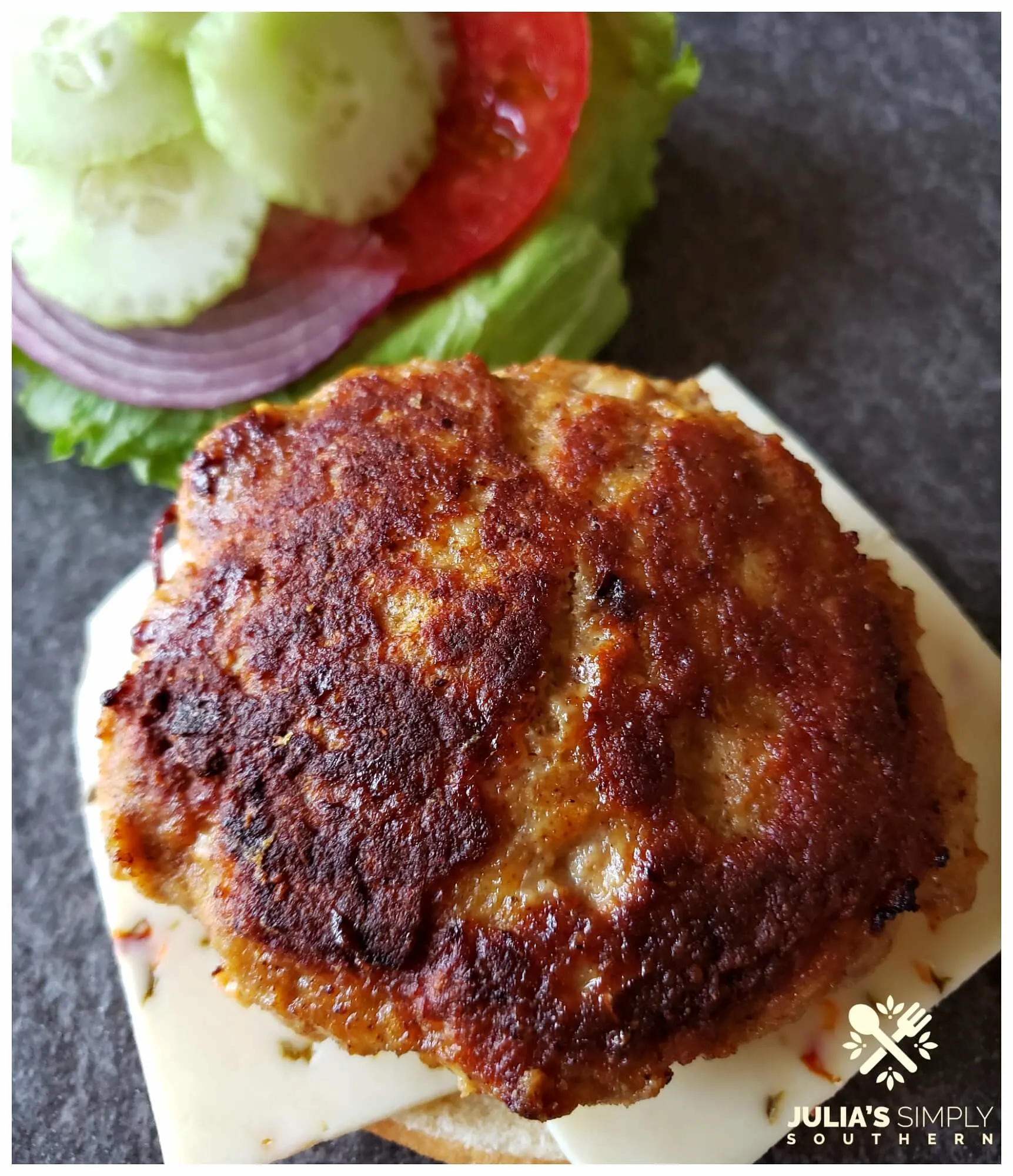 Toppings for Turkey Burgers: Top your turkey burgers with your favorite toppings, much like you would a regular hamburger. A few topping suggestions would be lettuce, tomato, onion, pickles, sliced avocado, cheese, bacon and your favorite condiments.
Yield: 3 Turkey Burgers
Turkey Burgers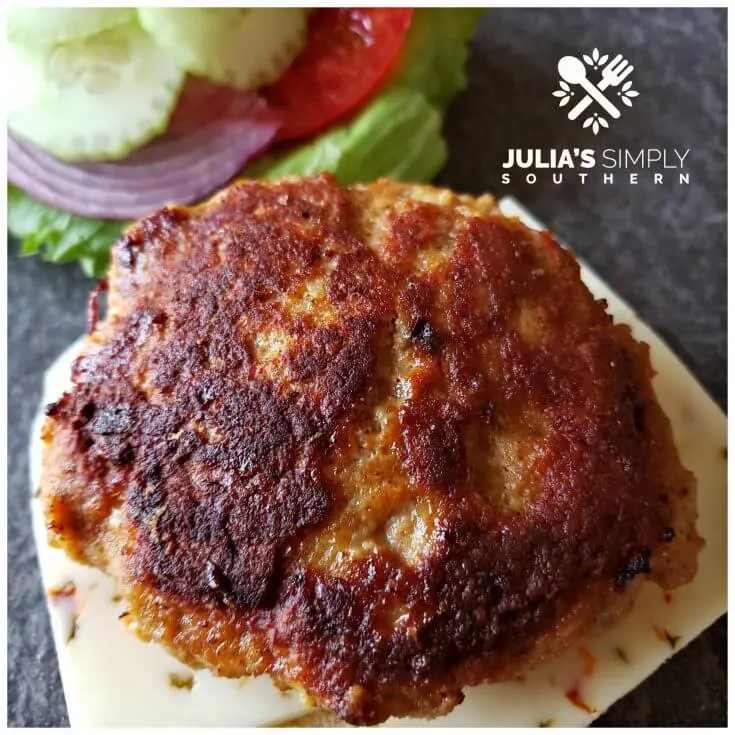 Grilled or pan fried to oven turkey burger recipe that are moist and delicious.
Ingredients
1 lb ground Turkey
1/4 c Bread Crumbs (Plain or Seasoned)
1/4 tsp Onion Powder
1/4 tsp Garlic Powder
Salt & Pepper, to taste
1/4 tsp Chili Powder or Creole Seasoning
1 Egg, lightly beaten
Your favorite burger toppings (cheese, veggies, condiments)
Instructions
Combine all ingredients in a mixing bowl then form into patties.
Grill the turkey burgers, turning halfway through cooking, until completely done. About 20 minutes.
If using the skillet to oven method: heat a skillet over medium and add a little cooking oil.
When hot add the ground turkey patties and sear on both sides 4-5 minutes to give nice color and a bit of crust then transfer the skillet to a preheated 350°F oven to finish cooking through.
The internal temperature of ground turkey burgers should be 165°F when completely done.
Nutrition Information:
Yield:
3
Amount Per Serving:
Calories:

193
Total Fat:

28g
Saturated Fat:

8g
Trans Fat:

0g
Unsaturated Fat:

17g
Cholesterol:

222mg
Sodium:

323mg
Carbohydrates:

7g
Fiber:

1g
Sugar:

1g
Protein:

41g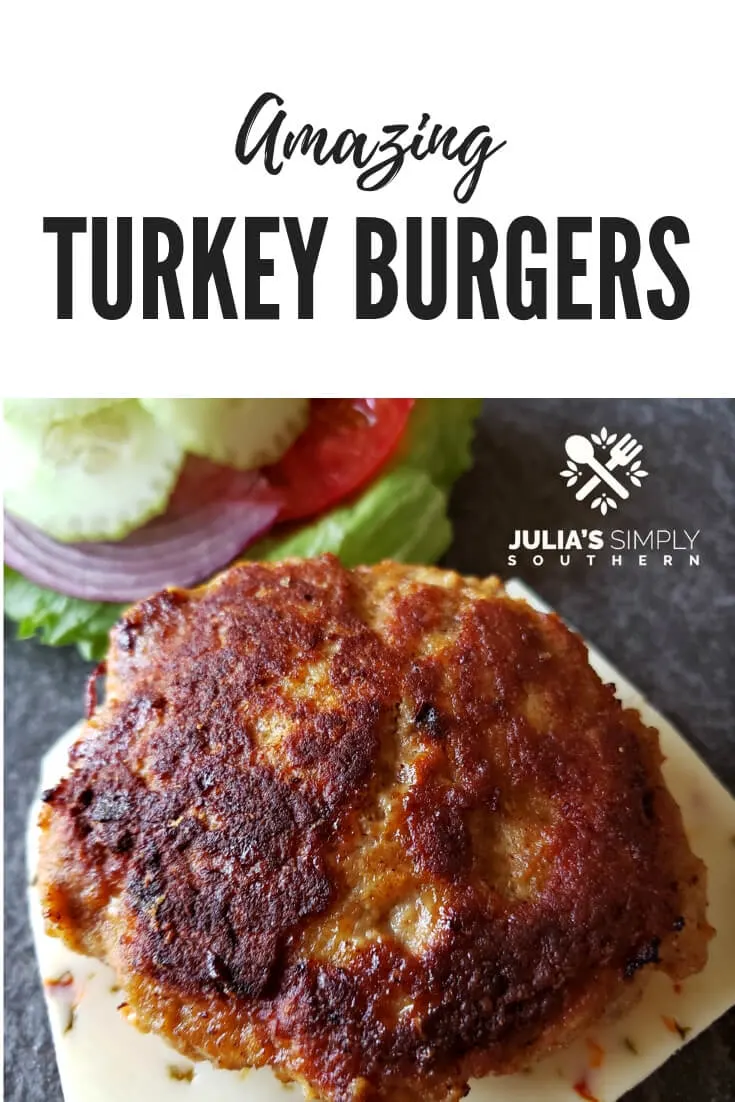 What goes well with turkey burgers? Chips, fries, coleslaw or macaroni salad are all great options.
More delicious recipes you might enjoy: Beer Braised Brats & Sauerkraut, Low Carb Pork Fried Rice, or Air Fried Chicken.
As I updated this recipe with new photos, nearly five years after originally posting it, I realize that my photography skills have improved greatly.
The photography aspect of blogging wasn't something I'd considered when I started this journey and I truly cringe at some of my old photos. I'm gonna share the hideous old photo with you below. I hope you get a good chuckle.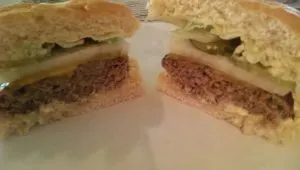 Thank you for stopping by! I hope you'll sign up for our free email notifications so you never miss a new recipe. You can also follow along with us on Facebook, Twitter, Instagram and Pinterest.
As an email subscriber, you will receive a weekly newsletter with the latest recipes and news here on the blog so that you never miss a thing.
Check out the Latest Recipe Posts
Meet Julia
Author of Julia's Simply Southern
Hey Y'all! I'm Julia, the cook and writer behind the recipes here at Julia's Simply Southern. I began my website so that I could share easy to follow recipes that anyone can use to put a home cooked meal on the dinner table. Thanks so much for stopping by!
Follow me on Facebook | Twitter | Instagram | Pinterest | YouTube