In this post I'll be sharing my Best Air Fryer Baked Potato Recipe. It is so easy and makes the best baked potatoes ever!
Baked potatoes are a very popular side and happen to be my favorite side to go with a delicious steak dinner and some asparagus. Does it get any better than that? Oh yeah, let's throw in a lobster tail. That is heavenly!
My go to method for baking potatoes was always to wrap it in aluminum foil with a bit of kosher salt and bake it in the oven. I also love roasting potatoes in a campfire.
About the only way I don't care for cooking a baked potato is in the microwave. I just don't think the microwave does it justice.
Well, since air fryers are the "big thing" these days, I thought I would cook a couple of potatoes that way. Folks seem to be on the lookout for new recipes for their air fryer.
The baked potatoes turned out perfectly! The best baked potatoes with the perfect fluffy texture that we all love.
The air fryer is like a mini convection oven so it saved me from heating up the big oven, and the kitchen, on a hot summer afternoon since we were grilling the rest of our meal.
Air Fryer Baked Potato Recipe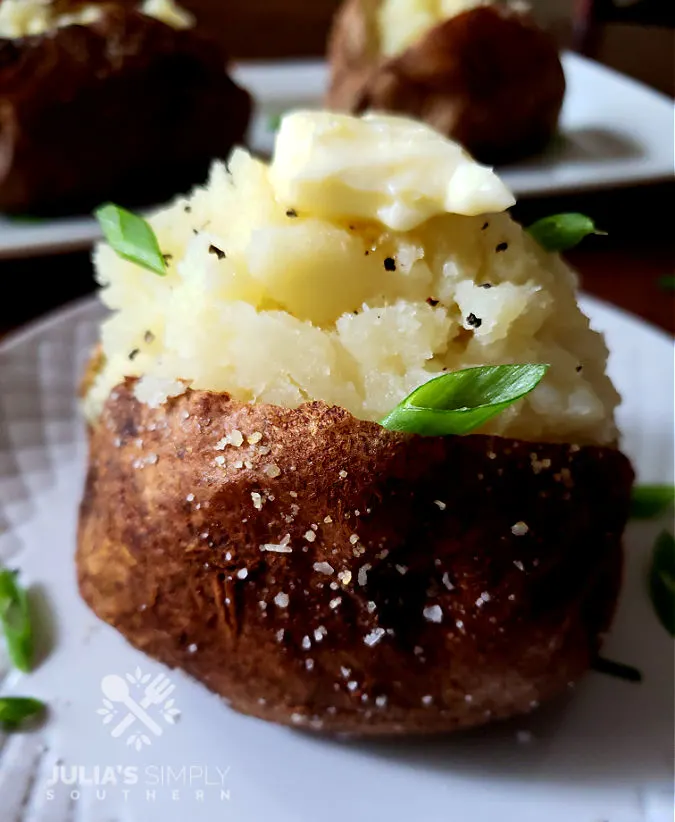 Doesn't that tater look amazing! Yeah, it does! It's ready to serve with your favorite toppings. For me that is butter and sour cream. Sparky (the hubs) takes his loaded.
Topping Ideas for a Great Baked Potato
Those are the classics. Of course baked potatoes can become the entire meal and topped anyway that you'd like, such as with broccoli and cheese or taco baked potatoes. If you prefer other seasonings, such as garlic powder, go ahead and use it.
If you're baking sweet potatoes you might prefer savory toppings like butter, salt and pepper or go for the sweet flavors of brown sugar and cinnamon.
I wanted to mention sweet potatoes because they can also be prepared in the air fryer following the recipe method that I'm sharing today. The cooking time for the sweet potatoes would need to be adjusted because they don't take quite as long as russet potatoes.
Tip: Piercing the potato skin once with the tines of a fork releases steam while the potato cooks and can prevent the potato from exploding in your oven or air fryer. This is optional however.
While it is possible that potatoes can burst while baking, I've never had it happen thankfully. I do pierce the potato skin when wrapping in foil for the oven but chose not to for this air fryer recipe.
Perfect Baked Potato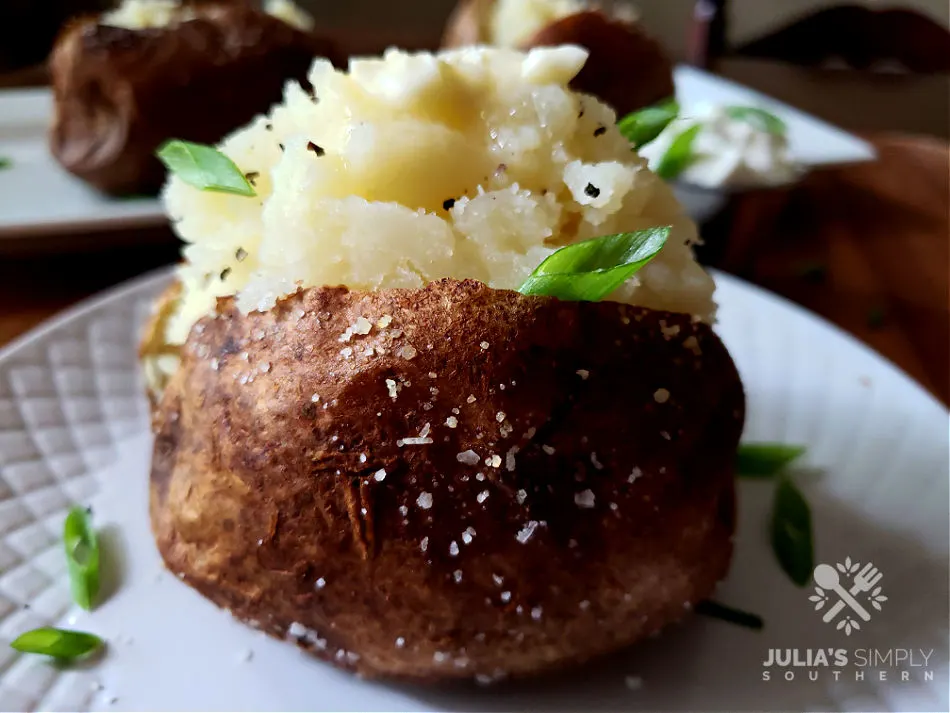 Is there anything better than the perfect crispy skin of the potato jacket covered in those kosher salt flakes? Incredible! The salt ensures flavorful skin every single time.
This easy air fryer recipe for baking a potato is perfect for beginner cooks too. If it is your first time making your own baked potatoes, I'm sharing all of the steps you'll need to for the best results for a perfect baked potato.
Preparing the potatoes in your air fryer will take a little less time but I'm not gonna hype that part up because it's not by much.
My oven baked potatoes usually take and hour and fifteen to hour and a half to get the perfect fluffy texture. The air fryer shaved off fifteen to thirty minutes.
Cooking times can vary by your air fryer model or size of your potatoes however but the best part is they're super easy to prepare this way.
I classify myself as a traditional cook so I don't use my air fryer a lot. I was so impressed by how the baked potatoes turned out however that it is now one of my favorite ways to make them.
Baked Potatoes in Air Fryer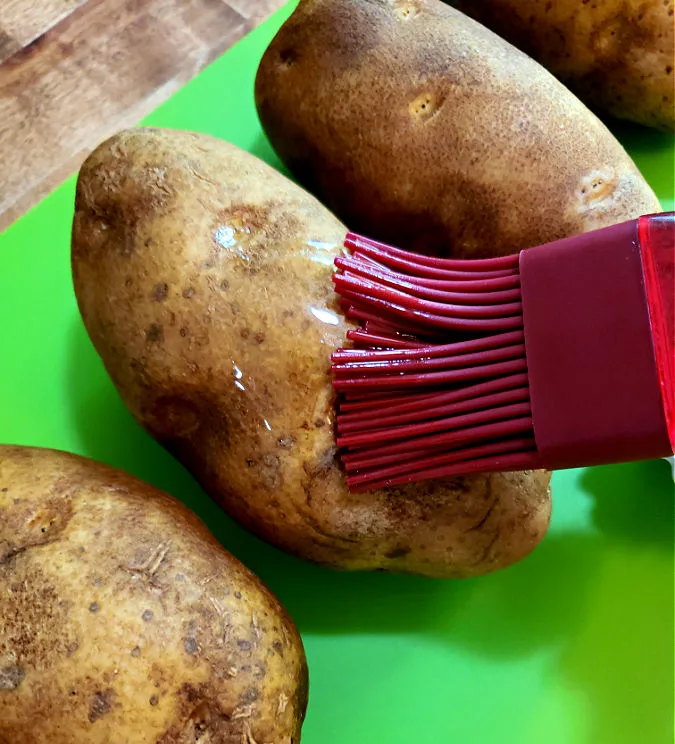 What you'll need to make this recipe:
That's it! Just 3 ingredients are all that you'll ever need to make the best baked potatoes in your air fryer or oven.
To prep your potatoes for baking, first wash the skin thoroughly to remove any dirt, then pat dry with a paper towel. Next, brush the potatoes with your preferred cooking oil to coat. Just a light layer of oil will be needed for the salt to stick and help with crisping the skin.
I prefer using large potatoes for baking. Smaller potatoes work too. The size of the potatoes will determine cook time so adjustments may need to be made.
Potato in Air Fryer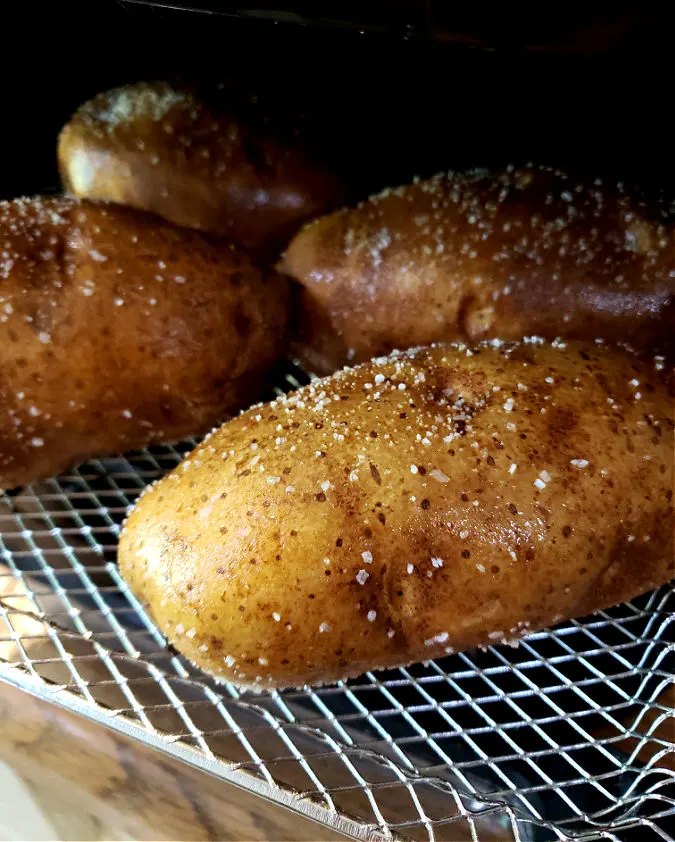 Once your potatoes have had the jackets coated in oil, sprinkle them with salt. I used kosher and you can see the big flaky crystals on the skins.
I wanted to mention that I am occasionally asked what the best air fryers are. I'm not really sure. Mine is a Power XL, multi cooker model that was a gift. I do like the racks rather than the basket styles however. It is just personal preference.
Next, transfer the seasoned baking potatoes to the rack or your air fryer or air fryer basket, depending on the model that you have.
Easy Air Fryer Baked Potatoes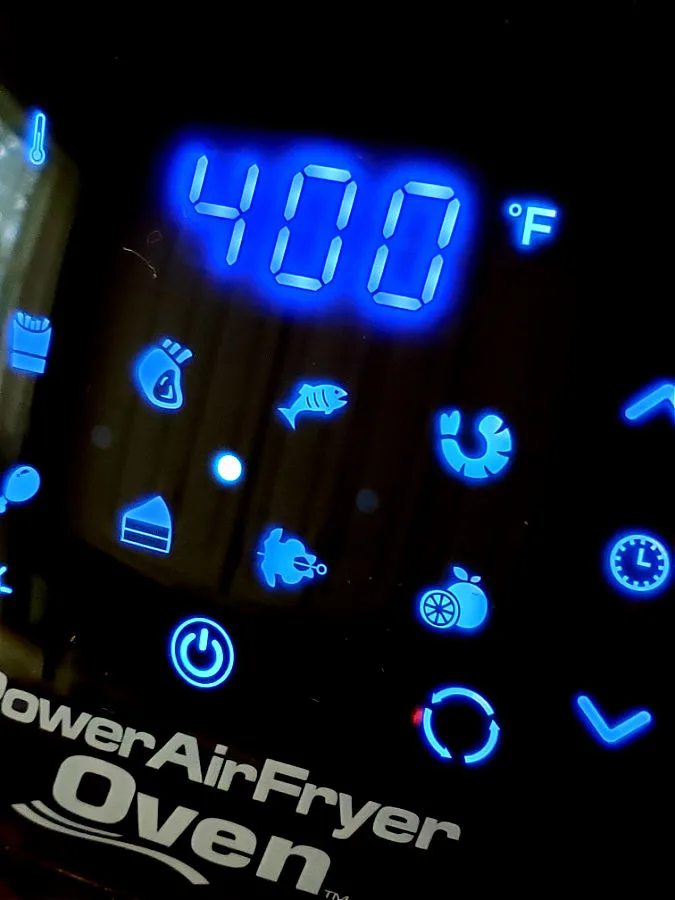 Let's get these taters to cooking y'all! I arranged all of the potatoes on a single rack and set the temperature to the highest setting. Then, I set the cooking time and let the air fryer do its thing.
You can check the potatoes around the 45 minute mark. Test the potatoes by giving one a gently squeeze. I wanted mine to go the full hour and were perfect when I checked them.
How to tell when a baked potato is done?
The potatoes should be soft when gently squeezed, fork tender with fluffy insides. Don't skimp on cooking time and adjust as needed. There is nothing worse than an undercooked baked potato.
Use tongs to transfer the hot potatoes out of the air fryer. Be gentle with the tongs so that you don't pierce the tender skin of your air fryer potatoes.
Best Air Fryer Baked Potatoes Recipe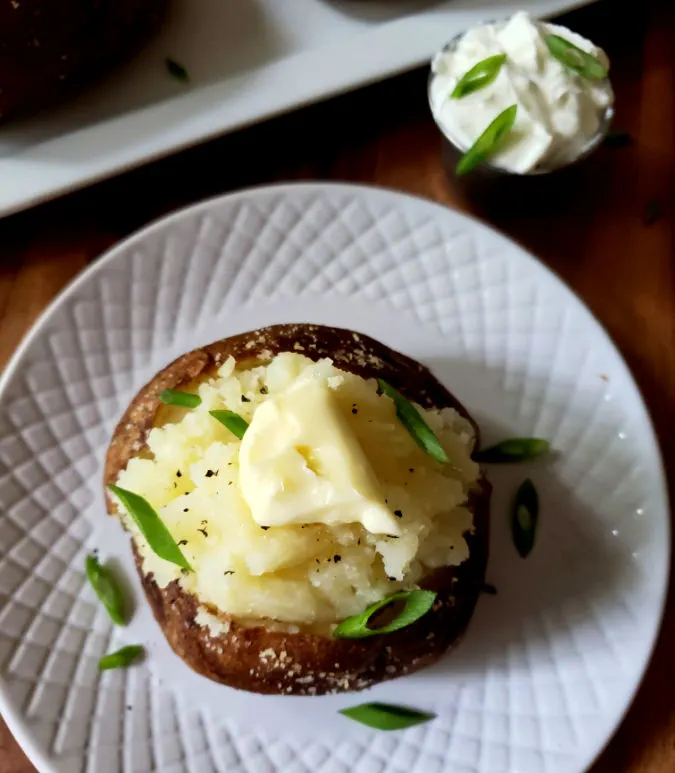 Serve your amazing air fryer baked potatoes hot and enjoy with all of the amazing toppings that you love.
Below you'll find the recipe card with the how to to make these easy air fryer baked potatoes. I'll include the model of air fryer that I use in the Amazon (affiliate links) section if you want to check it out.
You'll also find approximate nutrition information for the baked potatoes but that can vary depending on potato size and the toppings that you choose to have with them.
Yield: 4 Baked Potatoes
Best Air Fryer Baked Potato Recipe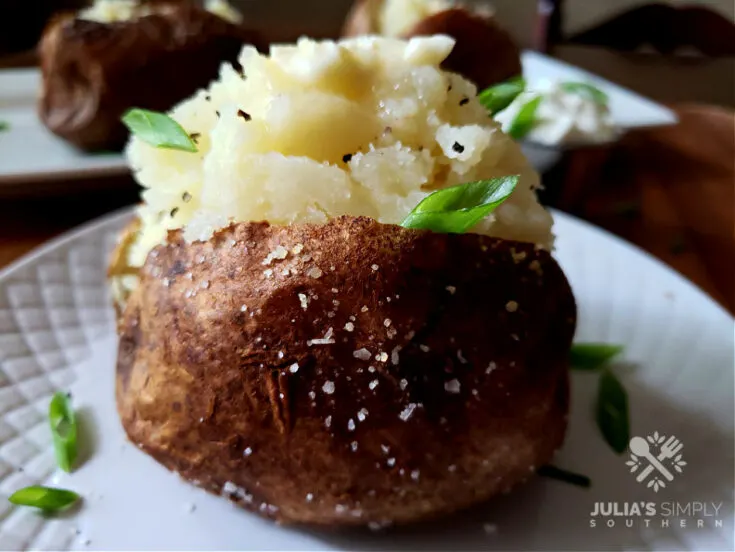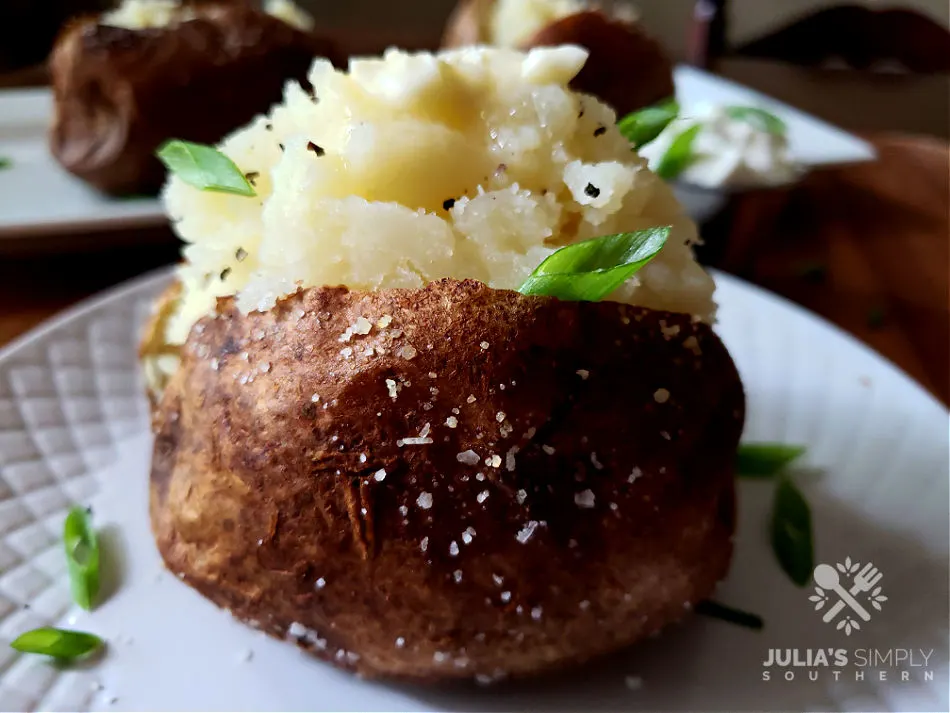 Perfect fluffy baked potatoes with seasoned crispy skin prepared in the air fryer. Air fryer baked potatoes make a wonderful side to your meal.
Total Time
1 hour
5 minutes
Ingredients
4 Russet Baking Potatoes (medium to large in size), washed
1 tablespoon Cooking Oil
1½ teaspoon Kosher Salt
Instructions
Pat the washed potatoes dry with a paper towel. Use a brush and coat each potato entirely with a think layer of cooking oil. Sprinkle salt over the potato skins.
Next, place the potatoes in the air fryer. Set temperature to 400°F and set cooking time for 1 hour then press start and allow the potatoes to cook.
Cooking times may vary depending on the size of potato and your particular air fryer model. Consult the user manual for your model for cooking tips. Potatoes are done when they are soft when gently squeezing the sides.
Serve the air fryer baked potatoes hot with your favorite toppings for baked potatoes.
Notes
See the full post for more tips and suggestions.
Recommended Products
As an Amazon Associate and member of other affiliate programs, I earn from qualifying purchases.
Nutrition Information:
Yield:
4
Serving Size:
1 potato
Amount Per Serving:
Calories:

199
Total Fat:

4g
Saturated Fat:

0g
Trans Fat:

0g
Unsaturated Fat:

3g
Cholesterol:

0mg
Sodium:

496mg
Carbohydrates:

37g
Fiber:

4g
Sugar:

2g
Protein:

5g
Are baked potatoes good for you? Baked potatoes are low in fat and high in potassium. They are a starchy food and carb if you are monitoring your carbohydrate intake.
What to serve with baked potatoes?
What can you do with leftover baked potatoes? They can be reheated if you like or transform them into a new dish. Twice baked potato skins are a great option or use the potato filling for casseroles or soups.
Chopped baked potatoes can be pan fried for crispy and delicious breakfast potatoes.
Can I make baked potatoes in the Instant Pot? Yes, check out how it is done.
Check out the Latest Recipes
Thank you so much for stopping by! I am so happy that you did. I know you'll love these perfect baked potatoes made in your air fryer just as much as we do.
Be sure to subscribe to my email list while you are here. Email subscribers receive a newsletter each week with the latest recipes and news here on the blog so that you never miss a thing.
Until next time, Love and Happy Cooking, Friend!
Meet Julia
Author of Julia's Simply Southern
Hey Y'all! I'm Julia, the cook and writer behind the recipes here at Julia's Simply Southern. I began my website so that I could share easy to follow recipes that anyone can use to put a home cooked meal on the dinner table. Thanks so much for stopping by!
Follow me on Facebook | Twitter | Instagram | Pinterest | YouTube